Everyone wears tights, but only a few people know what shoes go perfectly with them. This article will clear your doubts about wearing tights with sandals.
Tights, otherwise known as pantyhose or leggings, are a common part of women's outfits. In recent years, most people wear adorable tights with equally stylish tops, only to be at a loss of what shoes to wear with them.
Since sandals always appear to go with almost all kinds of outfits, it's only natural to try wearing tights with a pair of sandals. However, there has been much debate about the compatibility level of tights and sandals and if you should try pairing tights with sandals.
In this article, we'll analyze the topic of sandals and tights extensively and determine if you should stay avoid wearing them together. Then, you'll get some suggestions of what shoes to wear with tights to help you look your best when wearing one.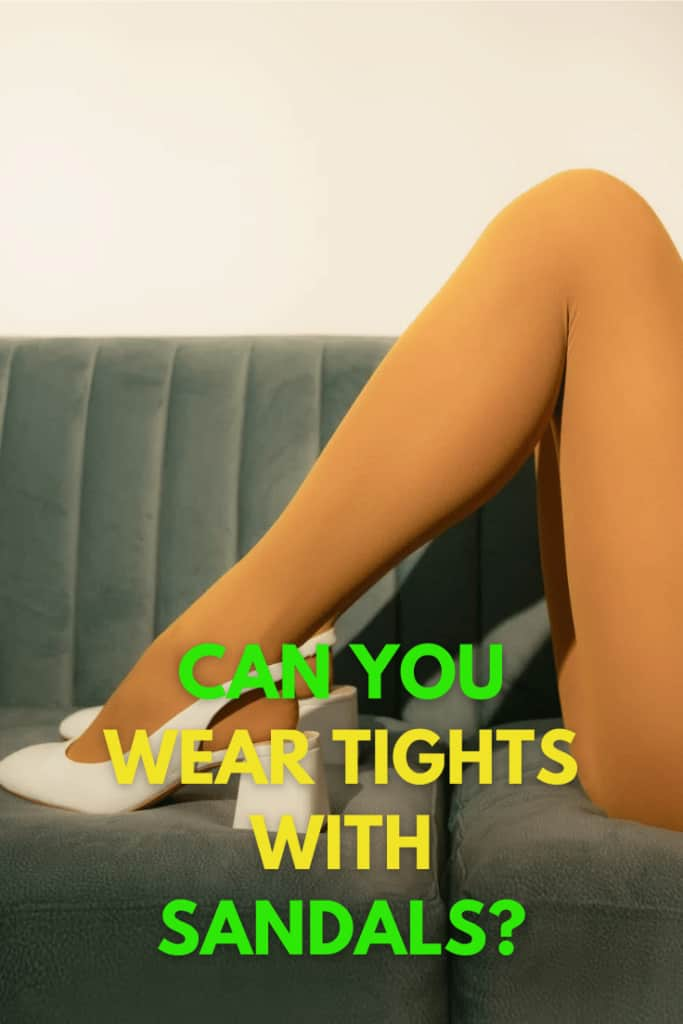 Can You Wear Tights with Sandals?
If you think sandals with tights look a little bit out of place, you might be correct to some extent. Depending on how you define sandals, it may be unstylish to wear a pair of sandals with your leggings, either casually or on other occasions.
Tights pair badly with flat sandals and most other kinds of flat shoes, for that matter. For some unknown reason, trying to sport leggings with a stylish pair of sandals always gives a bland-looking outfit that nobody is proud of.
However, it's a different story if you're referring to heeled sandals. When you pair your pantyhose with any pair of shoes with heels, it starts to look ready for any occasion or outing.
Also, try ensuring that the sandals you're wearing with your tights have a closed or peep toe. Open-toed sandals look terrible with leggings, as they make you look like an oldie that doesn't pay much attention to their dressing.
If you're planning to look your best in a pair of tights and sandals, you should always keep an eye out for one with heels to avoid a bland-looking outfit in general. Also, consider looking at the toe section to ensure that the toe is either peeped or closed for the best results.
Tips for Wearing Tights with Sandals
As explained above, wearing your tights with sandals isn't exactly a terrible idea. However, many mistakes might make or break the entire process, and these mistakes are easier to make than you think.
To deter you from making rookie mistakes that most ladies make when finding shoes for their tights, here are some tips for choosing sandals for your tights.
1. Don't wear flat sandals
If you're going for the best look with your tights, you should generally avoid wearing flat shoes. For unclear reasons, flat shoes don't have the same elegance with tights as heeled shoes, making heels the logical shoe choice for your tights.
2. Find peep-toed sandals
Open-toe sandals are always great until you try pairing them with a pair of leggings. If you're looking for sandals that match your tights excellently, you should only go for the heeled ones that don't leave your toe open. An open toe only makes your entire outfit look dated and out of place.
Nobody can explain why open-toe sandals look weird with leggings, but most people know they do. If you only have open-toe sandals, you may want to shop for additional footwear to go with your sandals specifically. 
Best Shoes to Wear with Tights
Knowing what not to wear with tights may be helpful if you already have a slew of shoe ideas for your dresses. If you don't, you may be looking for some shoe suggestions that work well with your pantyhose.
To help you complete your outfit, here are some of the best shoes to pair with tights to retain a stylish look all around.
1. Black Boots
If you can recall, the primary reason tights won't work well with some pairs of sandals is because they're completely flat. Any shoes with heels pair perfectly with your leggings, making the casual wear look so great that you'll want to wear it every day.
Heeled sandals with peep or closed toes work wonders, but the charm is in black tights and black boots combination. Find a pair of boots with comfortable heels, and you'll find a match with your tights that you'll never want to try another pair of shoes again.
2. Kitten Heels
Another footwear that works almost every time with tights is a pair of kitten heels, which also possesses the fundamental quality of footwear that pairs well with leggings. Kitten heels are your best bet if flats are your thing, but you have to wear something with heels since you're wearing leggings.
With kitten heels, you're inheriting most of the advantages of your average flats. Basic activities like walking and balancing are much easier on kitten heels than on sky-high heels. However, you may want to keep kitten heels casual since they don't offer the glamour of proper heeled shoes.
3. Sneakers
One minor exception to the heeled rule of leggings is sneakers, which isn't surprising since sneakers are known to match every kind of outfit. The fact that a pair of sneakers could work doesn't mean it's the best option; it's just an indication that pairing your tights with sneakers might be a terrible idea.
An outfit consisting of tights paired with sneakers will be great for a gym outing. Since it's almost impossible to hit the gym in your heels, you'll need something akin to sneakers to make it work. And did I say leggings are one of the most comfortable outfits for a quick run at the gym?
4. Wedge booties
If you're deathly allergic to heels (that's not a thing), you may want to find something that offers the benefits of heels without all the disadvantages. Also, you'll want this footwear to naturally go well with your leggings. Interestingly, a pair of wedge booties tick all the above boxes, making it one of the best footwear for tights.
With wedge booties, maintaining balance will be easier than most other shoes, apart from flats. Since flats are a no-no for your tights, wedge booties are about the only option for those incapable of doing away with their flats.
5. Block Heel Boots
If you love the feeling of wedge booties but not the look, block heel boots are another compelling option to try. Thanks to the heels perfectly distributed across a chunky block at the boot's sole, maintaining balance with these shoes is overwhelmingly easier than trying it on traditional heels.
For the most comfortable walking experience without compromising on comfort, try keeping the heels on your blocks heels to less than three inches. Anything higher than that, and you'll struggle to find the difference between them and traditional heeled sandals.
Conclusion
Tights are comfortable, stylish, and an emerging fashion trend over the past few years. Wearing tights with specific tops is just a no-brainer, but trying to find a matching sandal for your tights can be challenging, especially if you fancy sandals without heels.
The fact that you don't fancy heels is the exact reason why all your footwear choices don't go well with tights. This article has explained all you need to know to wear sandals with tights stylishly. Also, I've outlined some footwear ideas that work well with tights apart from heeled sandals.
And that's all about my post to answer the question: can you wear tights with sandals? Want more? Don't forget to check out the following posts.
I hope you enjoyed this piece of content. Do well to rate this post, and don't forget to share this outfit compilation with your friends.
See ya soon with more exciting and cute articles on outfit ideas. Also, make sure you follow me on Pinterest so you see all my latest updates.