The spring brings about the perfect temperature for trying your favorite outfits. Here are 25 casual spring outfits for over 40 you'll want to try.
When most people get older, they start to worry less about what they wear, generally resorting to very casual wear. While that may not apply to you, you should prefer dressing casually as a 40-year-old to fit in circles.
Choosing casual outfits that fit in circles isn't an easy job. However, the secret is going with what you love from a sea of options.
While I can't help you decide what you love, I can provide you with tons of options for you to choose whatever makes the most sense to you.
Casual Spring Outfits for Over 40
1. White Vest with Distressed Jeans + Trench Coat + Heels + Midi Handbag + Sunglasses
A pair of distressed jeans coupled with a white vest is an easy spring outfit idea that strikes a perfect balance between comfort and chicness. Add a pair of sunglasses and you'll see why she looks so elegant.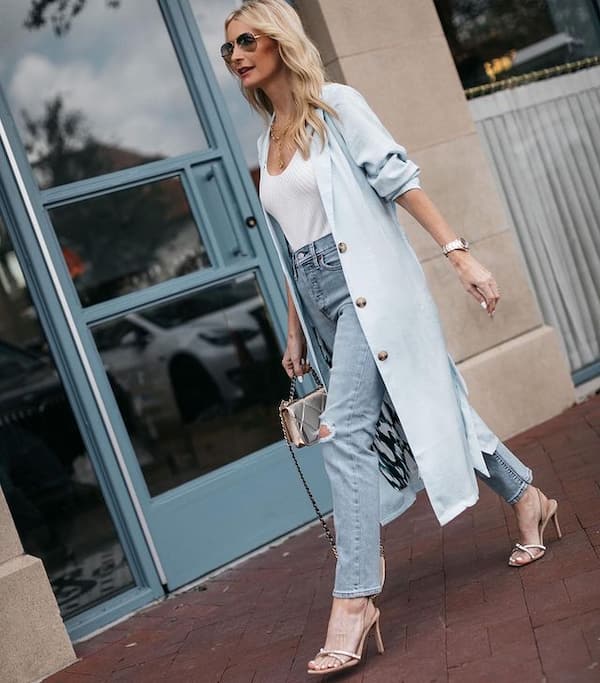 2. Green Sweatshirt with Touches of Pink + Pink Pant + Heels
You don't always see two colors complementing themselves so beautifully as they do on this model. However, if you see one, you should try replicating it down to the bob cut, if that's possible.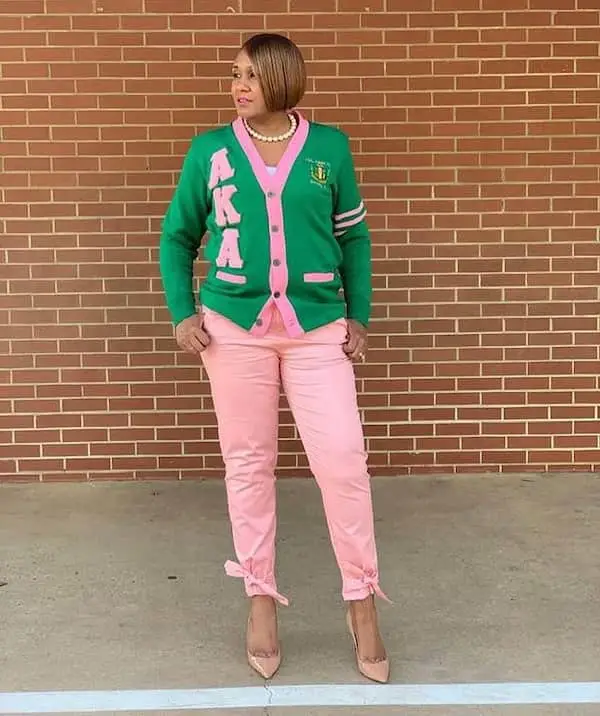 3. Graphic Tee with Deep Lemon Pant + Loafers + Maxi Handbag
What's a better spring outfit than a graphic tee with regular lemon pants? Throw a lightweight trench coat over the combo and you'll have a beautiful outfit like in this outfit inspiration.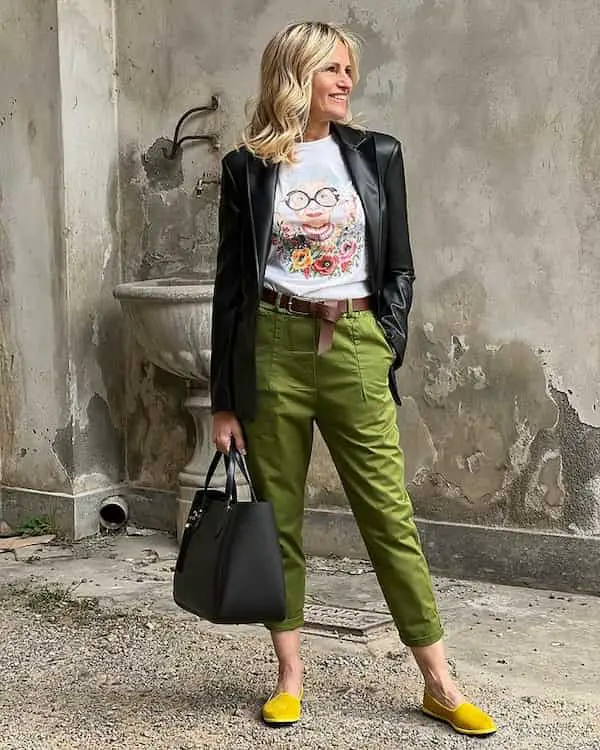 4. Black Trench Coat with Muffle + Jean Pants + Boots + Maxi Handbag + Sunglasses
This outfit works excellently for formal events in the spring and is nothing short of fashionable. Look at the subtle traces of blue and black throughout the outfit and you'll understand why it looks so chic.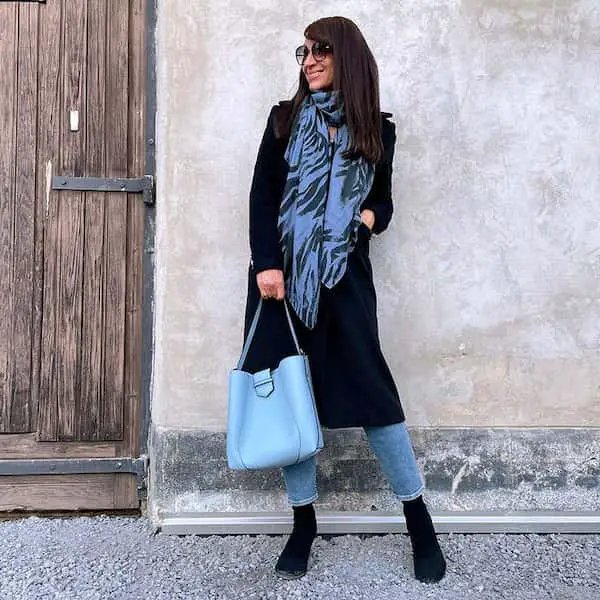 5. Floral Purple with Blue Touches Top + Blue Jeans + Heels + Sunglasses
Floral tops with the right set of colors will always work well with blue jeans. Throw in sunglasses and a pair of yellow heels and you've successfully copied her excellent look.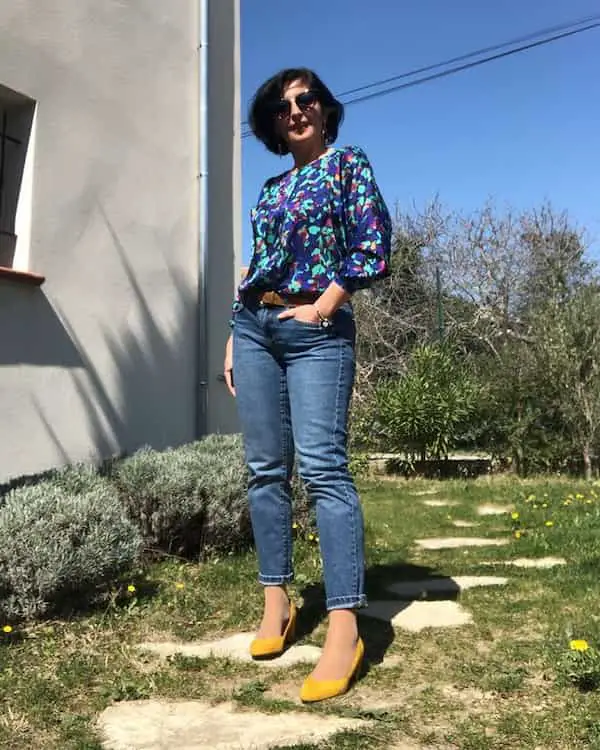 6. Cantered Striped Midi Dress with Heels + Sunglasses
Going for a casual event in the spring also requires a casual dress. This outfit strikes a balance between casual and formal, making it one of the best multipurpose outfits for the spring.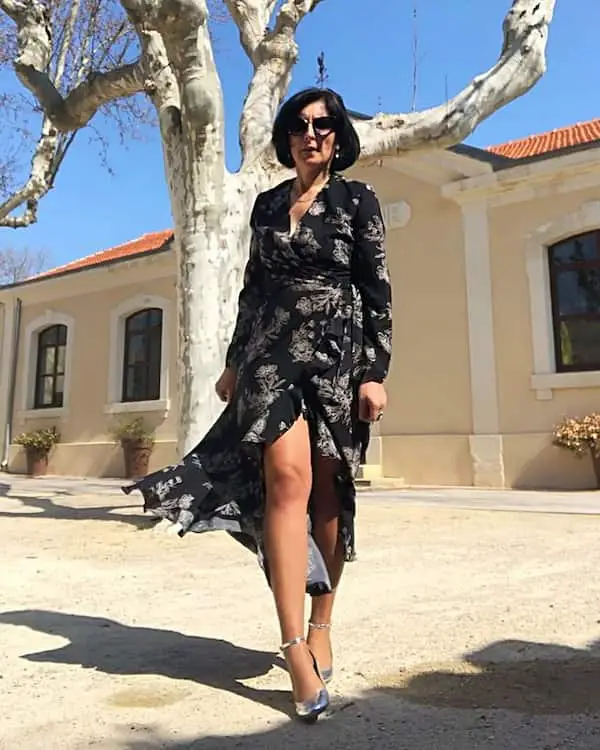 7. Baby Pink Button Front Shirt with Flared Jeans + Loafers + Maxi Handbag + Sunglasses
This outfit looks simply elegant without breaking any of the basic rules of formal dressing. Here, the sunglasses may be optional, depending on how casual you want the entire outfit to look.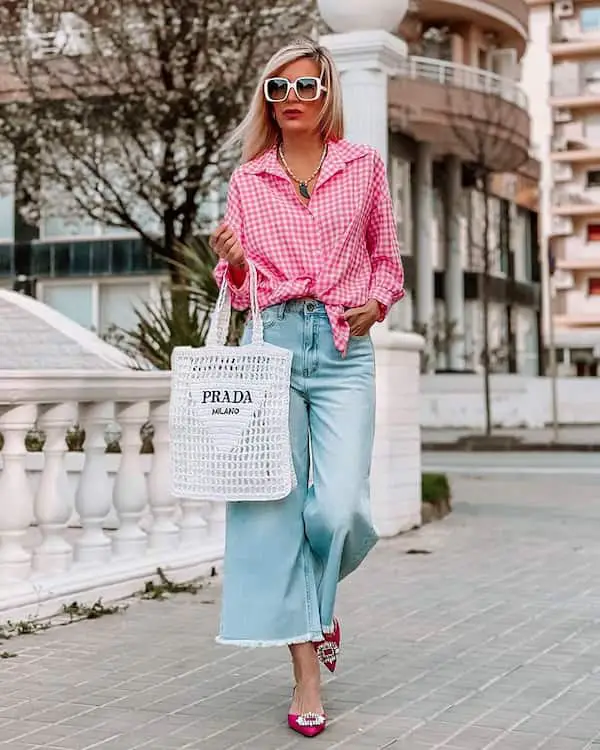 8. Black Sweat Shirt with Free Pant + Boots
This outfit idea is proof that you can look professional and fashionable without wearing unconventional dresses. With a simple black sweatshirt, loose pants, and boots, you can steal her excellent look.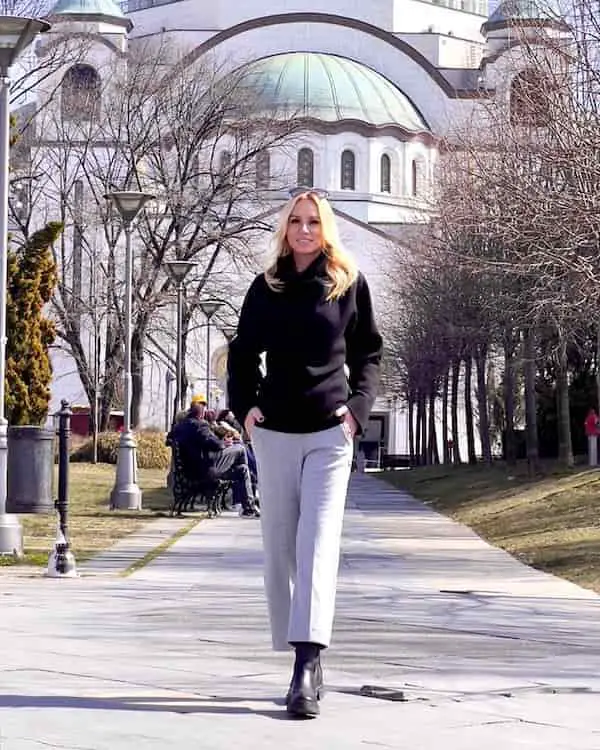 9. V-Necked Shirt with Floral Mini Skirt + Black Tummy Belt + Midi Handbag + Sunglasses
This outfit builds upon the simplicity of the preceding idea, with a v-necked top and a floral skirt taking the place of the pants and sweatshirt. With a pair of sunglasses, you're always ready to go.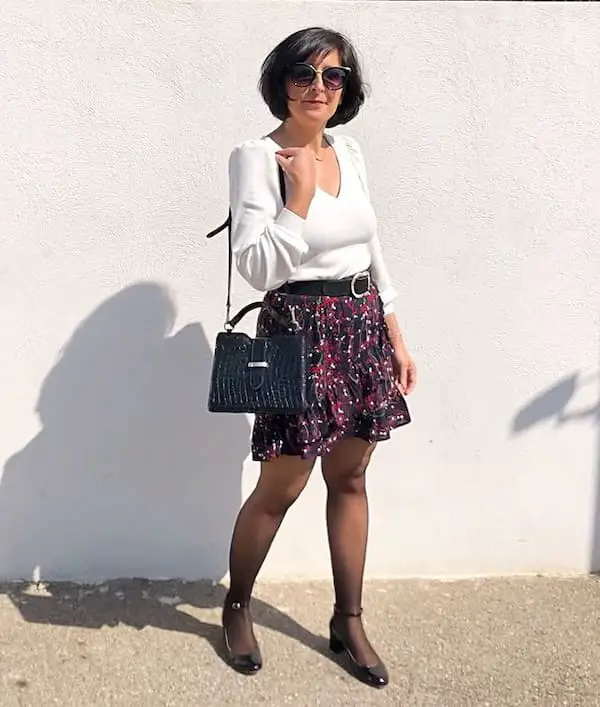 10. White Button Front Shirt with Blue Trench Coat + Blue Jeans + Sneakers + Midi Handbag
The different colors in this outfit come together to create a cohesive look, with the white shirt matching with the sneakers and the trench coat going with the jeans. The result? An excellent outfit for both professional and casual events!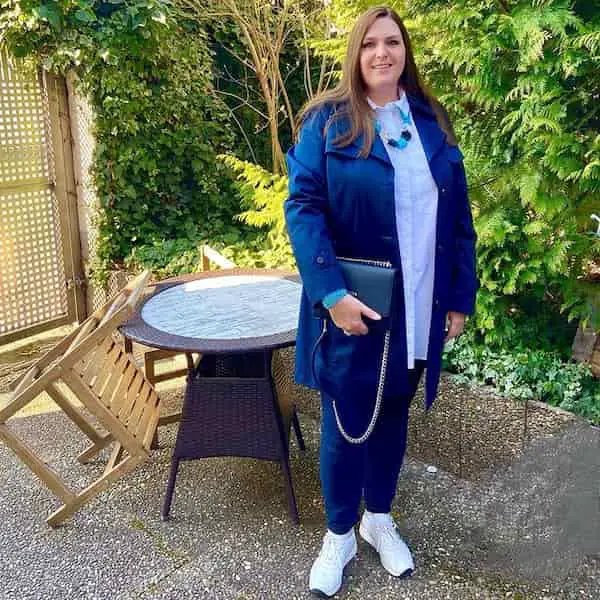 11. Vintage Short Dress with Heels
During the warmer parts of the spring, all you need to look great in an event might just be a vintage short dress. With heels that are only a shade darker, you don't need much work to make an elegant outfit.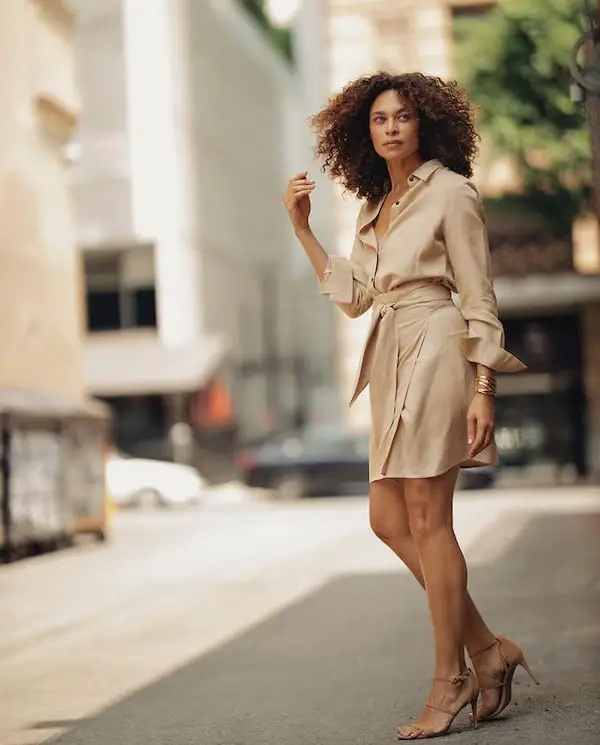 12. White Maxi Dress with Wedge Shoes + Clutch Purse
For older ladies that favor conservative dressing, a white maxi dress will be one of their favorite options. Add wedge shoes and a clutch purse to steal her entire outfit; smile to make it even better.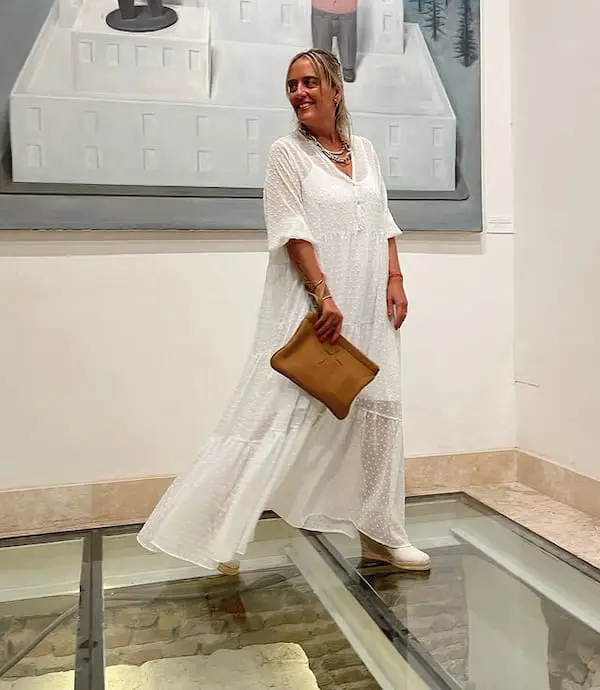 13. Oversized Purple Blouse with Black Vest + Leather Pant + Heels
Sometimes, the right size isn't really the best for you. Try upping the size by a few to see how that looks on you. As the outfit here proves, an oversized purple blouse will do more good than harm in terms of spring fashion.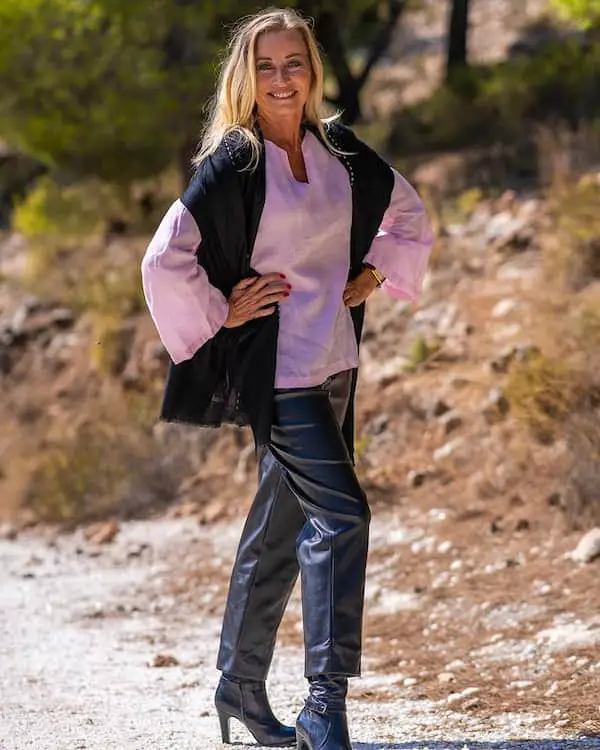 Still on oversized beauty outfits, here's another way to make the most out of an oversized blazer. Pair that with an animal skin skirt and it becomes an excellent fashion choice for most events.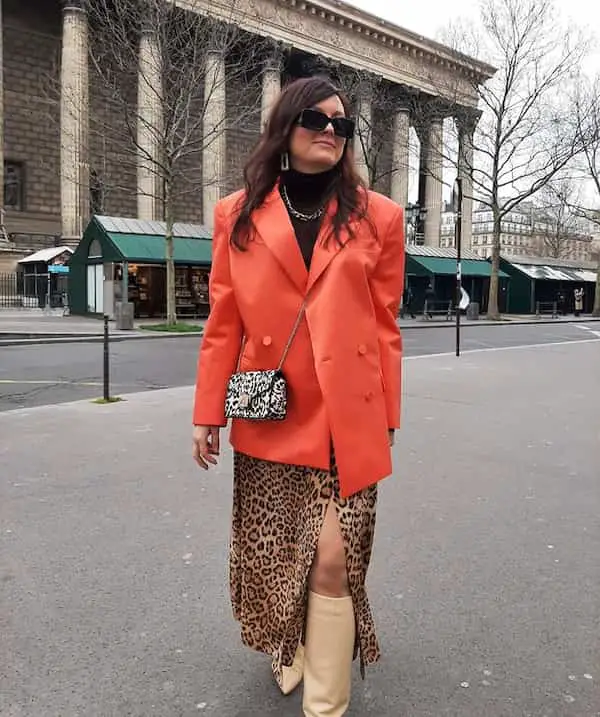 15. Maxi Red Dress with Heels
Trying to determine how to combine and layer multiple apparel can be very annoying. Instead, why not use a simple maxi red dress like in this picture to make a fashion statement. However, I wish the heels were more visible.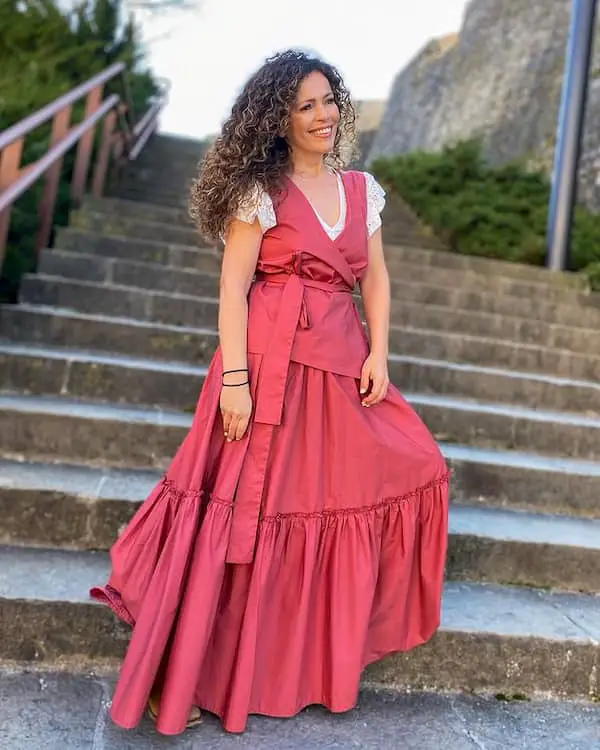 16. Floral Knee-Length Dress with Heels + Maxi Handbag + Sunglasses
Continuing with the idea of a single dress to rule them all, here's another dress that doesn't require mixing and matching. Consider matching the color of your belt with that of your bag to steal her look completely.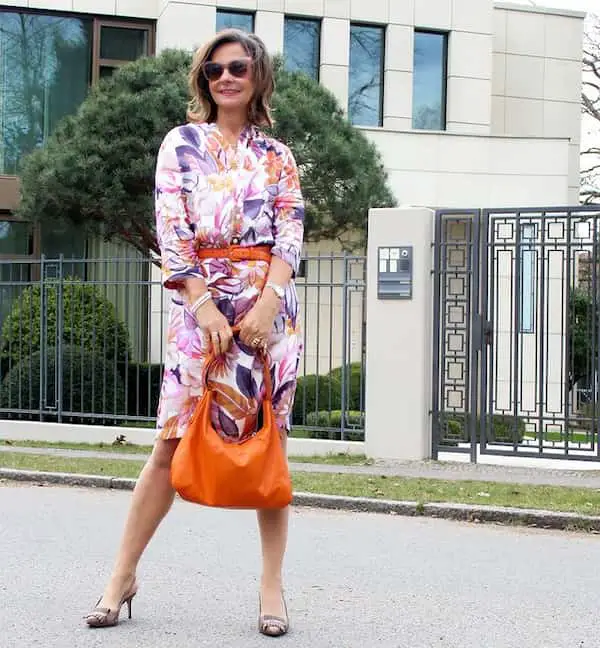 17. Pink Short Dress with Pink Blazer + Heels + Clutch + Sunglasses
If you have an affinity for the pink color, here's the perfect outfit for you. From a pink dress to a pink blazer with pink heels, how much more pink could you ask for without making the outfit look out of place.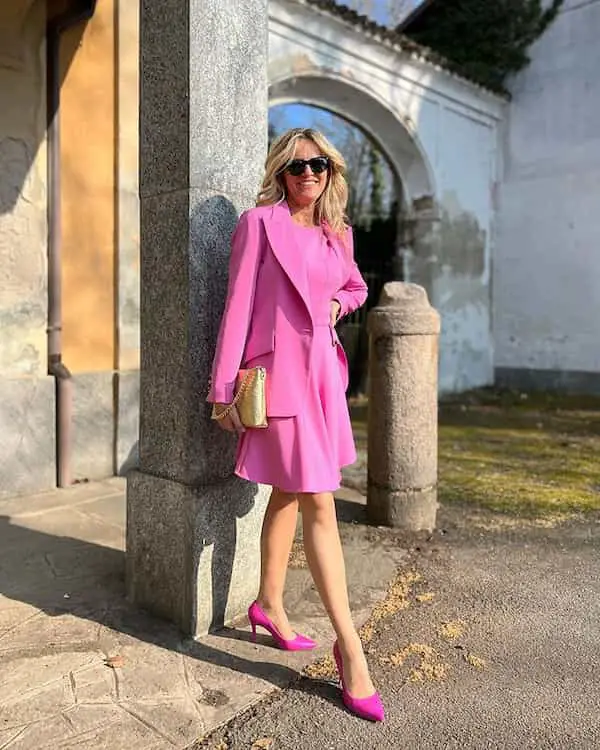 18. White Top with Ash Coloured Joggers + Sneakers
If you want a simplistic look that leaves you ready to go, here's an excellent option. Not only is this ready for super casual events, it's also a great way to show up at the gym on a Saturday.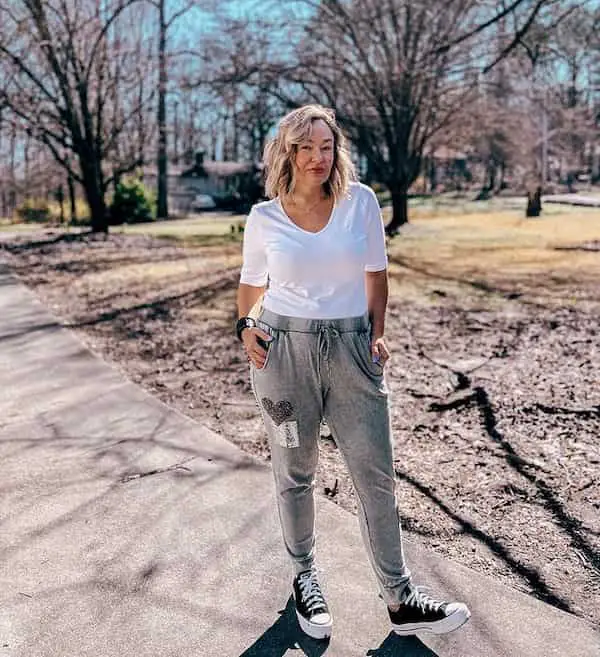 19. Graphic Top with Leather Pant + Trench Coat + Sneakers + Maxi Handbag + Sunglasses
The color choice and combination in this outfit are just excellent. Note the matching colors of the top and the sneakers, down to the secondary color. The trench coat, leather pant, and handbag also share the same, making the outfit complete.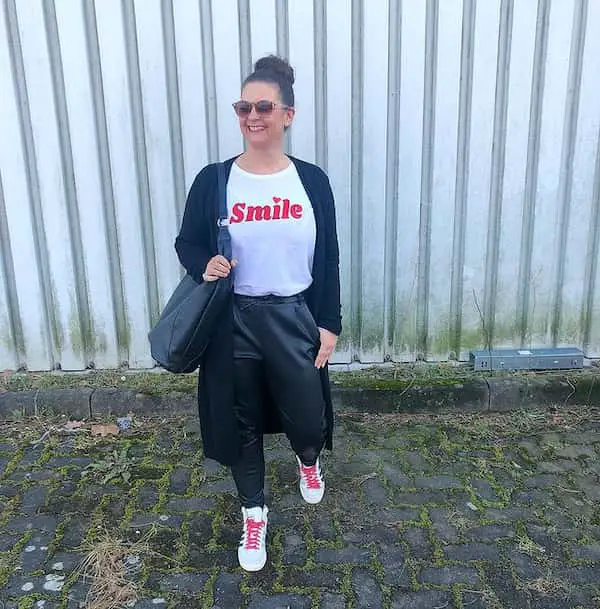 20. Knitted Yellow Top with Inner Striped Top + Leggings + Sneakers + Sunglasses
Knitted tops aren't usually the easiest to style, but they'll certainly look chic when you get your colors right. With a knitted yellow top, all you need to copy this elegant outfit is a pair of jeans.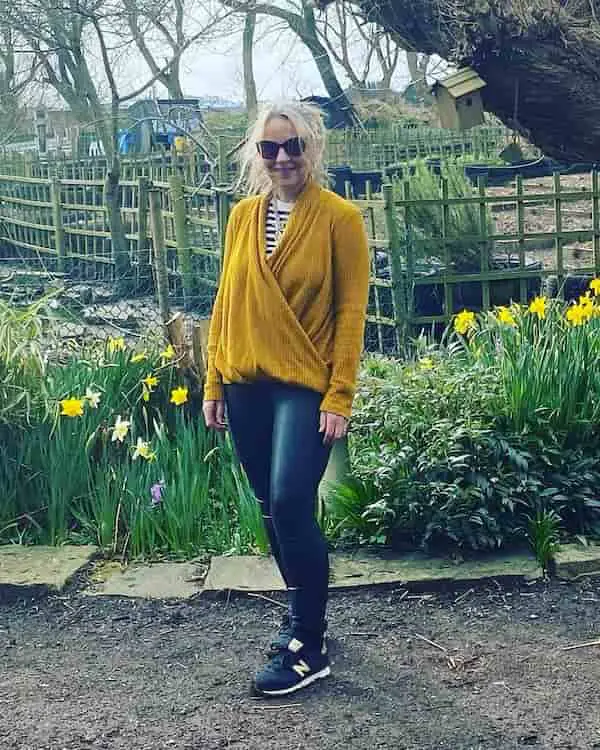 21. White T-shirt + Tan Jacket + Jeans + Loafers + Cross Bag
There are too many colors in this outfit if you ask me, but probably not too many to throw it off balance. Besides, it's hard to make an outfit look terrible when you can smile brightly, even when over 40.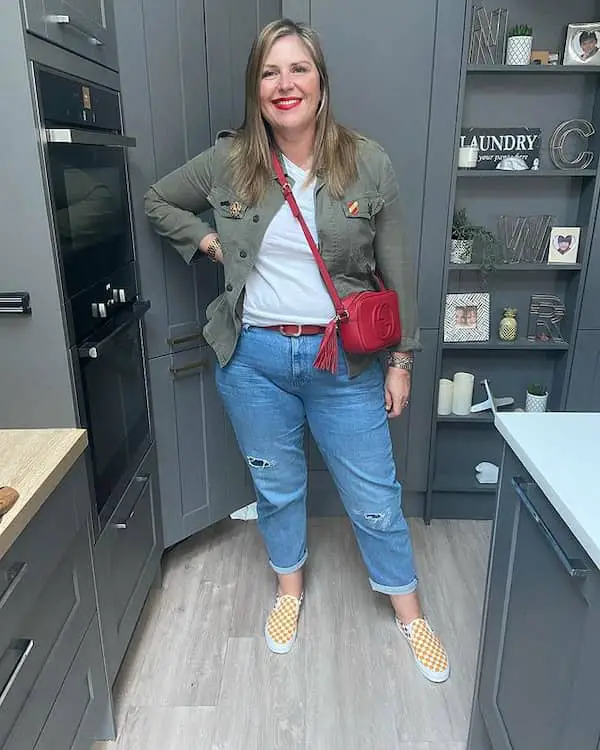 22. Animal Skin Jacket with Black Inner Vest + Belt + Swead Pants + Heels + Midi Handbag
If you're the type that fancies parties, you should try copying this outfit idea for an event someday. For a cohesive and elegant look, try to recreate the match between the handbag and the heels for extra flair.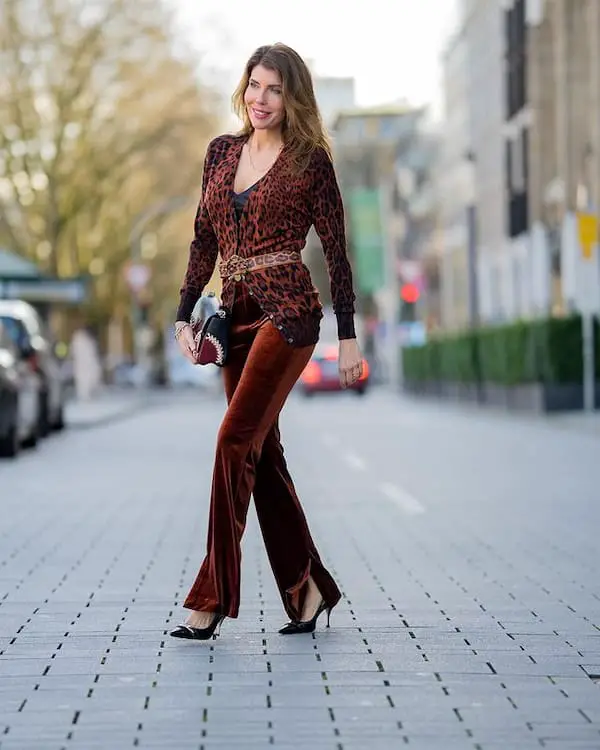 23. White Dress with Oversized Blazer + Cowboy Boots + Cross Bag
All-black outfits may be common, but have you considered trying an all-white outfit? Here's an example for you, with the model showing it in its full glory, There's also the white cowboy boots, which are a rare oddity in the world of fashion if you're a follower.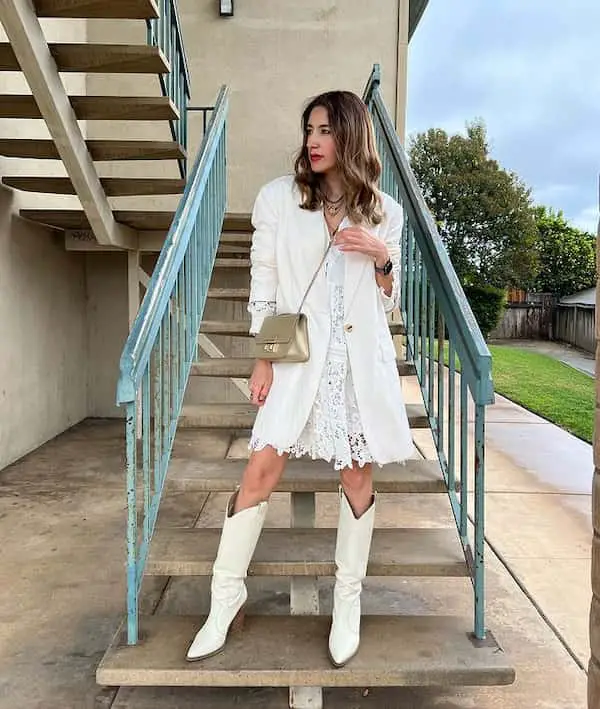 24. Long Sleeve Pink Shirt with Animal Skin Vest + Ugg Pants + Midi Handbag
If you hate outfits with many moving parts, you should probably skip this inspiration. The long sleeve shirt sounds like something you'd wear in the winter, but who cares when you feel comfortable in the dress during the spring?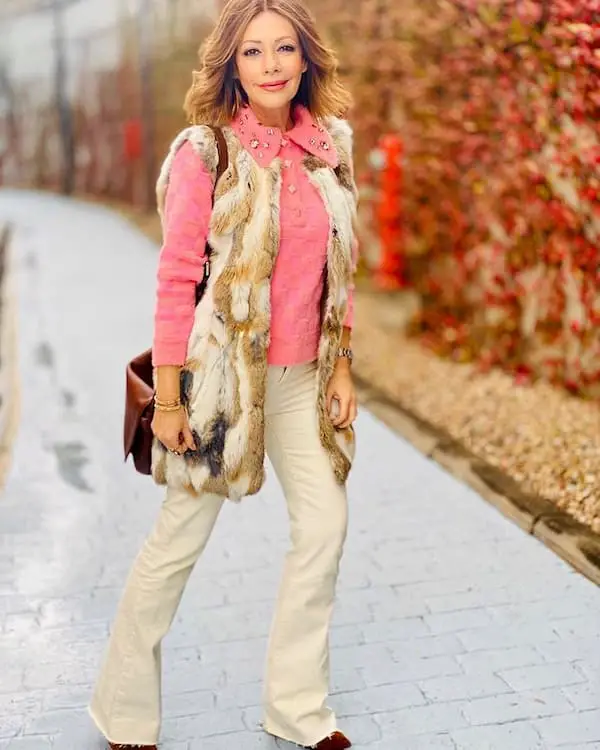 25. Tan Long Sleeve Shirt with Maxi Skirt + Sneakers + Hat + Midi Handbag + Sunglasses
This outfit may look somewhat complicated and hard to replicate, but it's not. Wear a long sleeve shirt and a maxi skirt and you're already halfway through replicating the outfit. Most of the other apparel are optional and do not dictate your final look.
And that concludes my collection of the most adorable spring outfits for over 40. For more outfit ideas, don't forget to check out these blog posts.
I hope you enjoyed this piece of content. Do well to rate this post, and don't forget to share this outfit compilation with your friends.
See you with more exciting inspirations. Trust me; you wouldn't want to miss any of our upcoming outfits compilation, so make sure to follow us on Pinterest.
Pin for Later.