Looking for casual outfits for work in the summer? Here are some of the best summer work outfits you should try this season.
When dressing up for work in the summer, you don't want to layer multiple clothes together. In a bid to go as simple as possible, you'll notice that the majority of your work outfits in the summer will fit the definition of casual.
Choosing the best casual work outfit for your next workday in the summer can be a tiring experience. If you're out to be the most fashionable lady in the room, we're here to help.
Casual Summer Work Outfits
Here is a collection of the most adorable work outfits in the summer.
1. White Camisole with a Neutral Colored Crop Blazer + Jeans Pants + Heels + Midi Handbag + Sunglasses
A simple white cami with jeans might be the simplest way to show up at work during the summer. With this model as proof, it's evident that simplicity can also be very adorable.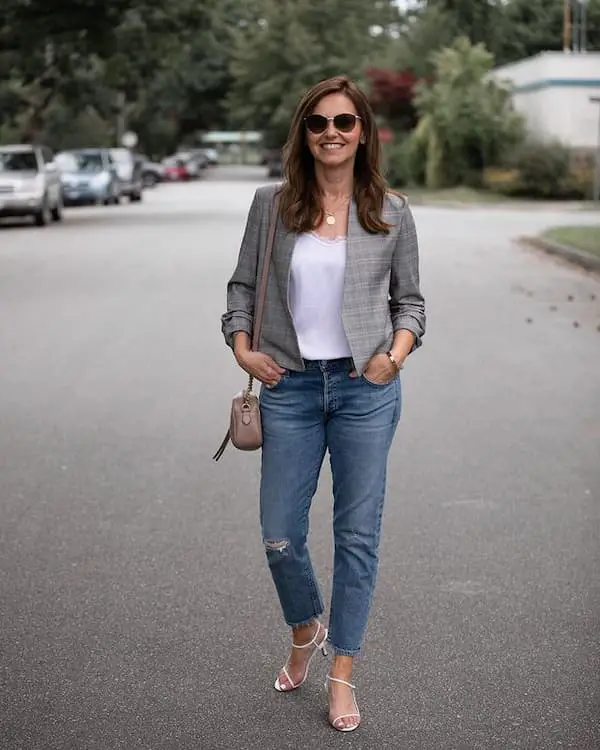 2. Line Stripped Top with Jeans Pants + Heels
While this doesn't have all the properties of a typical work outfit, it doesn't break any rules either, making it generally acceptable. Thanks to the short sleeves, there's enough space for you to get some air.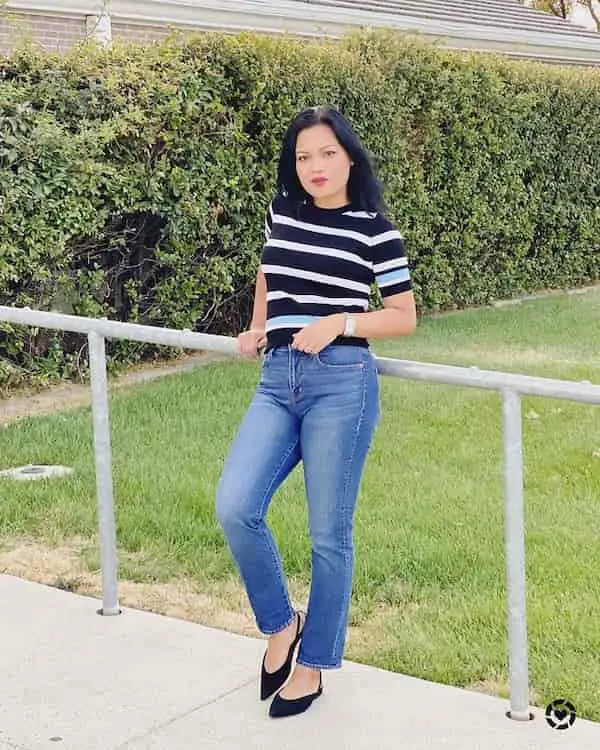 3. Black Top with White Blazer + Black Pants + Heels + Maxi Handbag
Black has always been popular with career women and this model pushes the color to its fashionable limits. The white blazer works well with the handbag and heels to create a bossy look.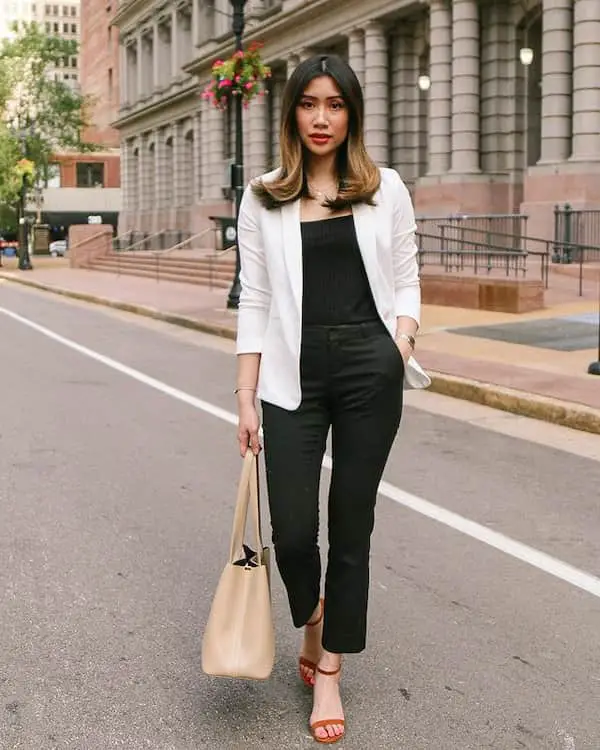 4. Knee-Length Dress with Pockets + Sneakers
If you're not a fan of the bossy career woman look, here is an outfit depicting the opposite. Here, you assume the look of the typical housewife, but it makes a great work outfit nonetheless.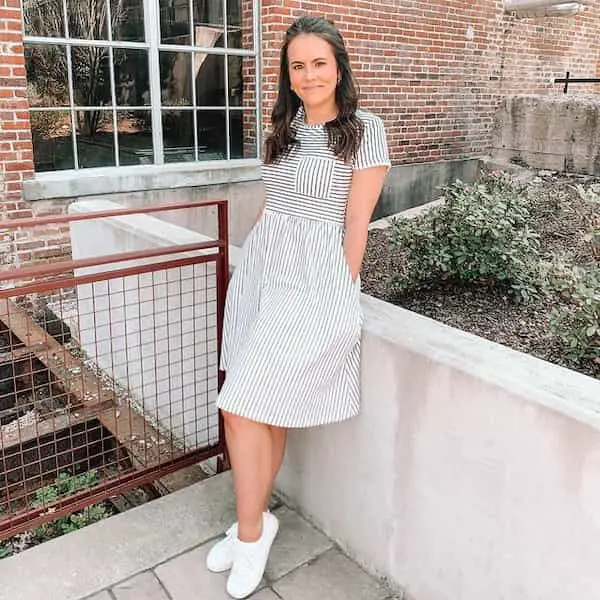 5. Denim Shirt with Black Crop Pants + Sandals
How about a denim shirt with cropped pants and sandals? Looking at this outfit, it's evident that it was made for the workplace, as it basically ticks all the boxes. The handbag is a nice addition by the way.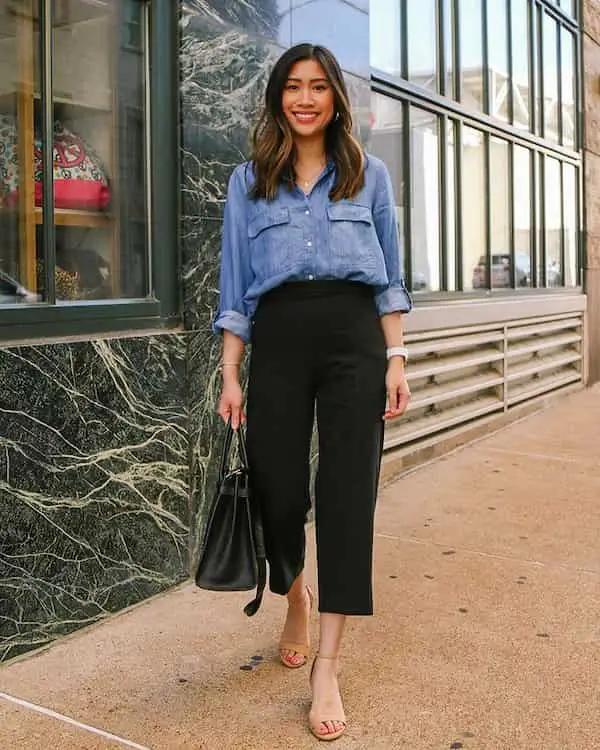 6. Cotton Knee-Length Dress with Pockets + Heels + Maxi Handbag
Nothing defines casual better than a simple knee-length dress. By wearing this to the workplace, the only things you have to struggle with are the constant stares and the pockets, maybe.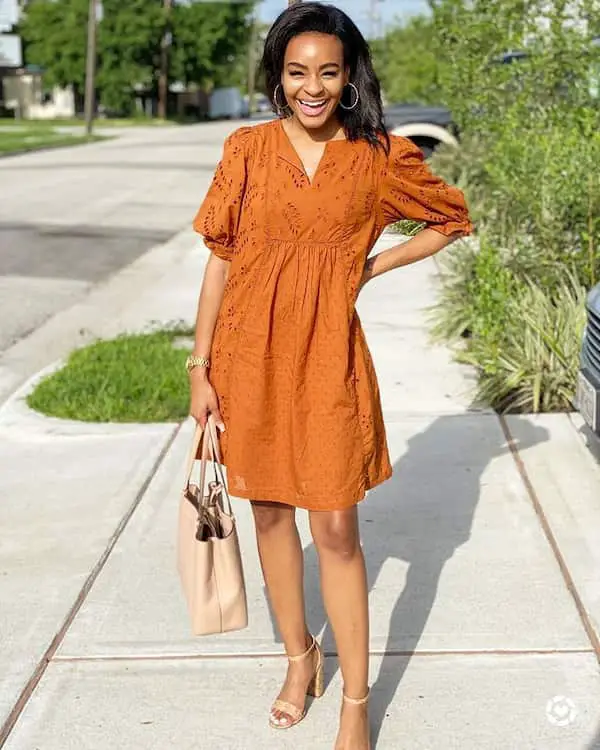 7. Sleeveless Shirt with High Waist Tan Pants + Heels + Midi Handbag
A sleeveless shirt isn't what's recommended at the typical workplace, but it's necessary during the summer. When you pair it with free tan pants, who has the right to complain?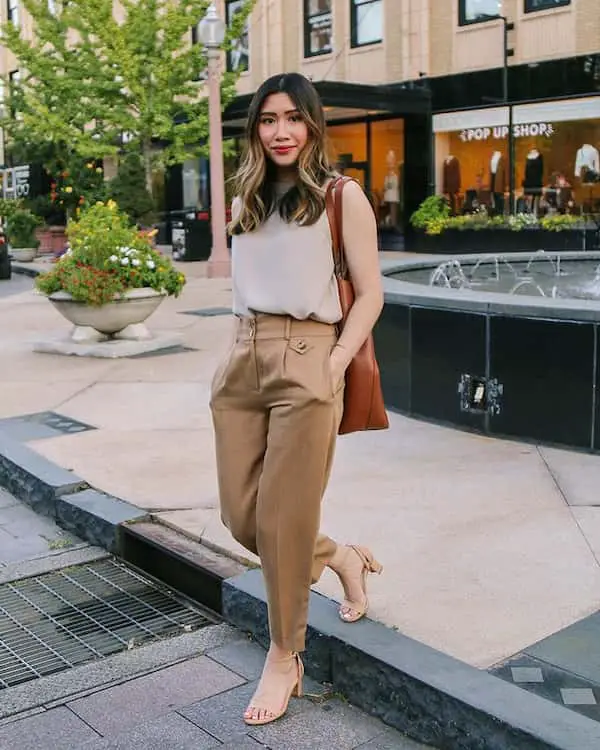 8. Long Sleeve White Shirt with High Waist Plain Pants + Mule Shoes + Midi Handbag + Sunglasses
Here's another outfit idea to try if you're gunning for the bossy look. With chic mixes between black and yellow and a healthy touch of brown with the handbag, nothing looks more fashionable.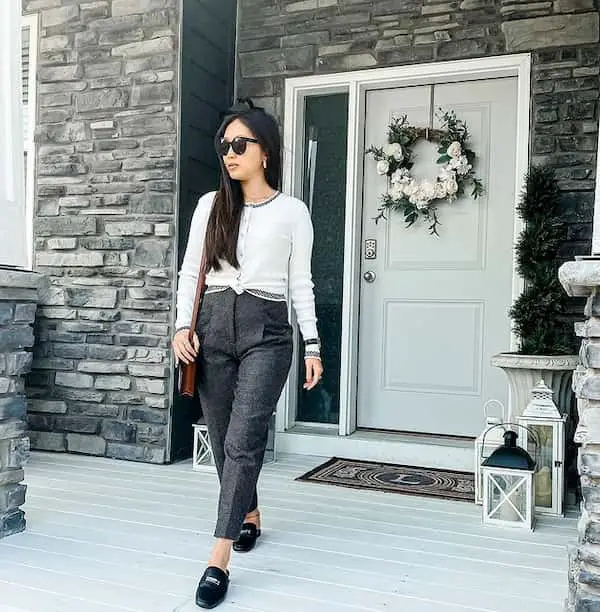 9. White Shirt with Neutral Colored Blazer + Jeans Pants + Sandals + Midi Handbag
When you pair a white shirt with jeans, you're already good for the workday. Adding a blazer to the mix just makes you several times chicer.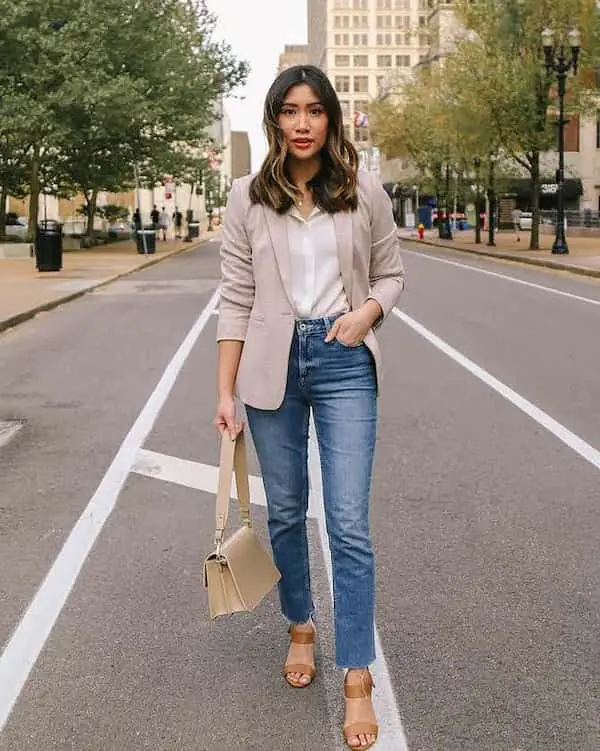 10. White Button-Down Shirt with Black Trench Coat + Jeans + Heels + Midi Handbag
This outfit mightn't be optimal during the warmer parts of the summer, but it's unbelievably cute. Building on the white shirt with jeans idea, I doubt there's a related outfit that looks better.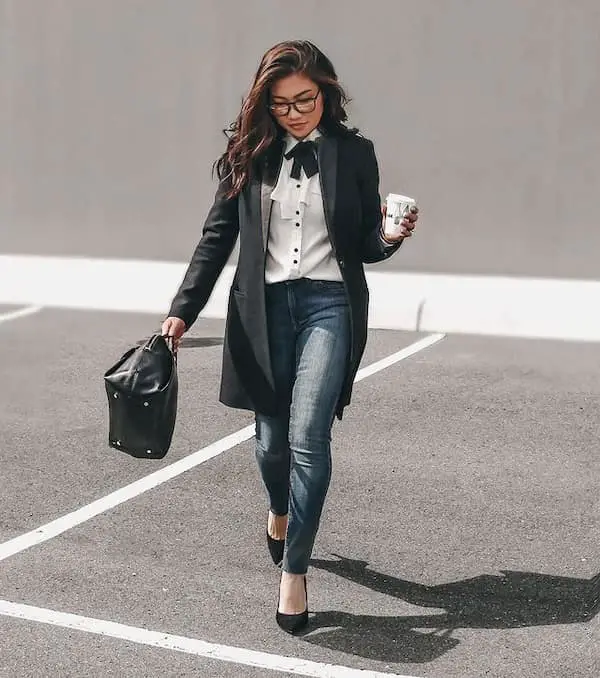 11. White Tank Top with Beige High Waist Pants + Heels + Midi handbag + Sunglasses
Here's another outfit that barely qualifies to be a work outfit. The tank top are highly discouraged per se, but pairing them with high waist pants makes it a great work outfit.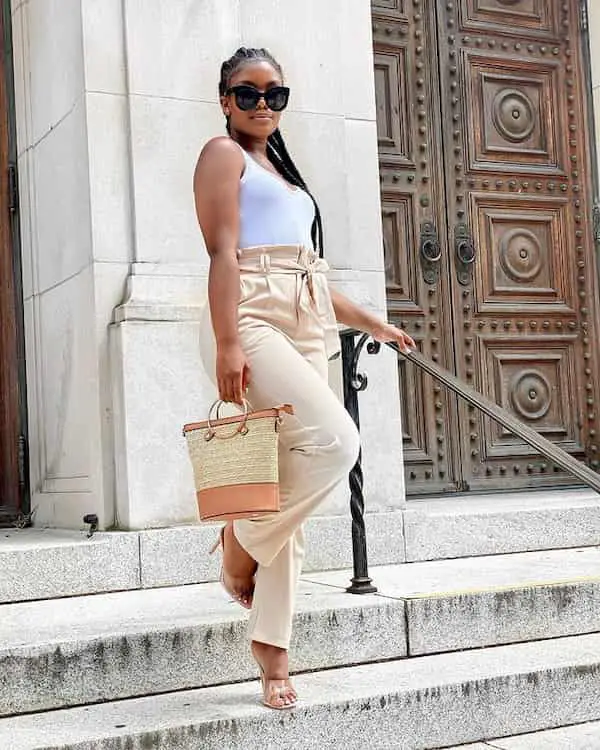 12. Plaid Dress with Sneakers
This outfit is taking the idea of a casual work outfit too seriously. Frankly, I don't think you can get any more casual than a plaid dress with a pair of sneakers.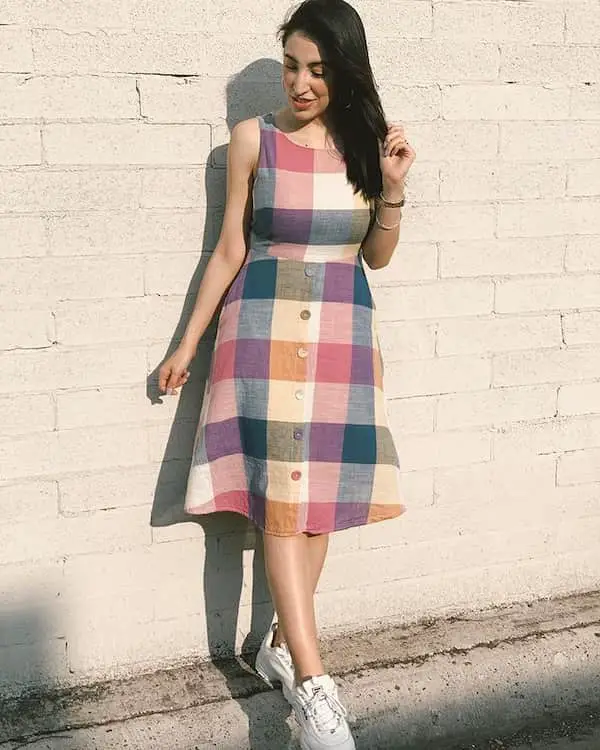 13. Midi Long Sleeve Dress with Sandals + Sunglasses
If you prefer your dresses to be conservative, here's an exciting idea. Not only does it look casual, but the outfit is also incredibly comfortable to wear.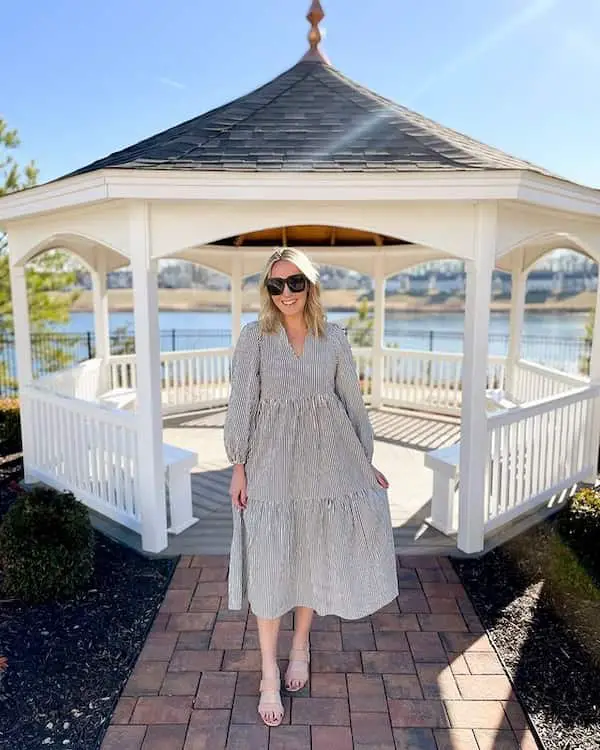 14. Plain Blouse with White Skinny Pants + Heels
When you get tired of wearing white shirts with jeans, you can try some other colors too. Talking of alternate colors, here's a fashionable idea to get you started.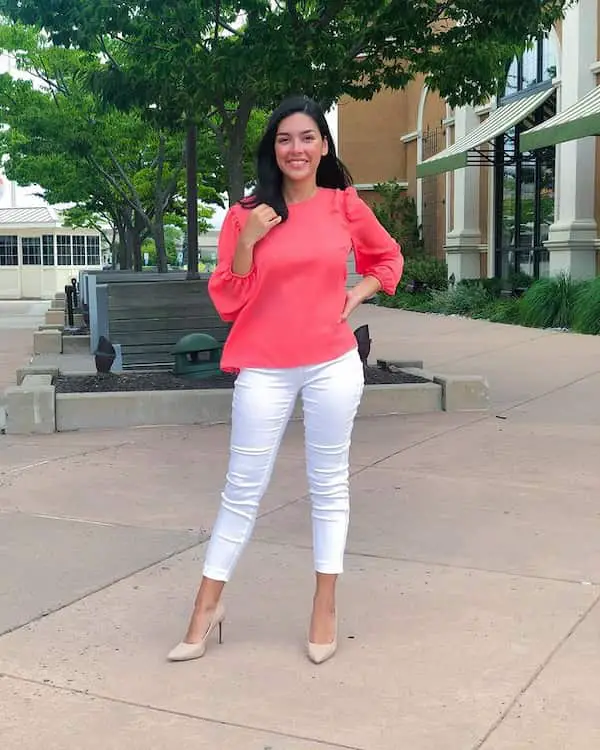 15. Sleeveless Blouse with Jacquard Pants + Heels + Midi Handbag
If you love trying out a variety of new outfits, you'll love this blouse and pants combo. Featuring a color you almost certainly love, it's one of the more satisfying ways to show up at work in the summer.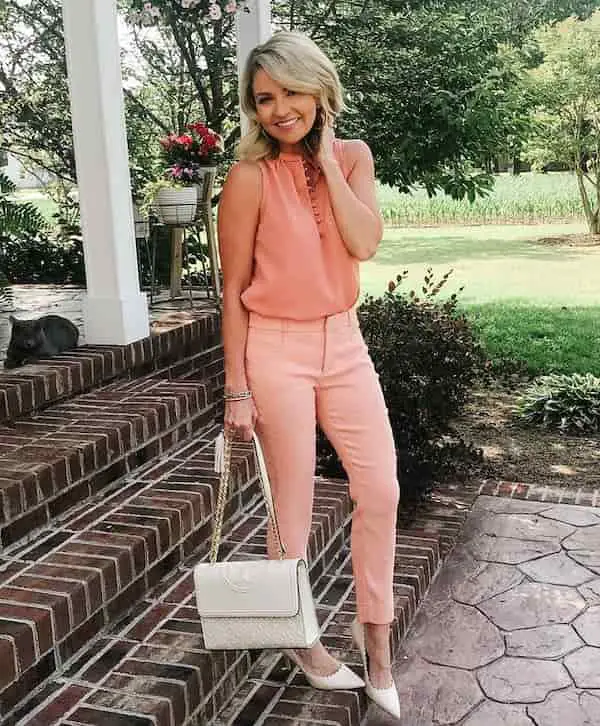 16. Sky Blue Sleeveless Blouse with Floral Pants + Heels
Sky blue is my favorite color, and that makes this outfit one of my favorite in this collection. However, the primary reason why it's my favorite is that it looks chicer than most objectively.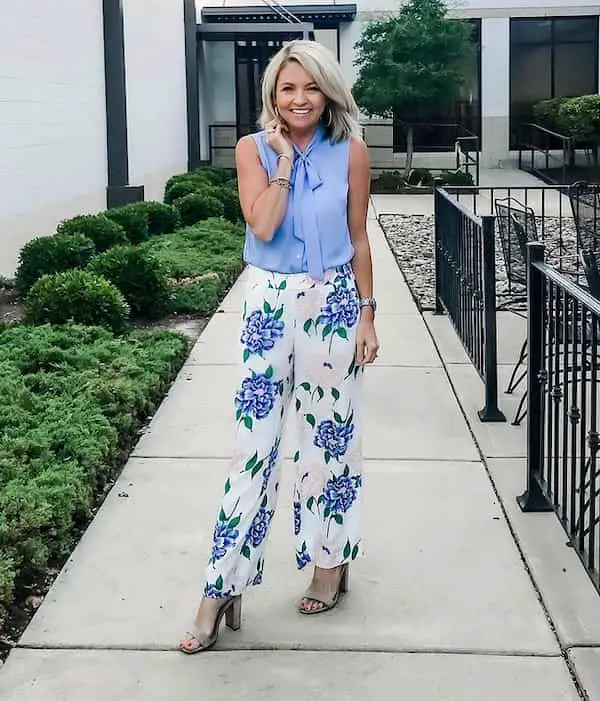 17. Pink Blouse with White Pants + Heels + Midi Handbag
Here's another beautiful alternative to a white shirt with jeans. It's hard not to love how the upper part of the outfit is totally pink, while the lower part is white; it simply makes everything cohesive.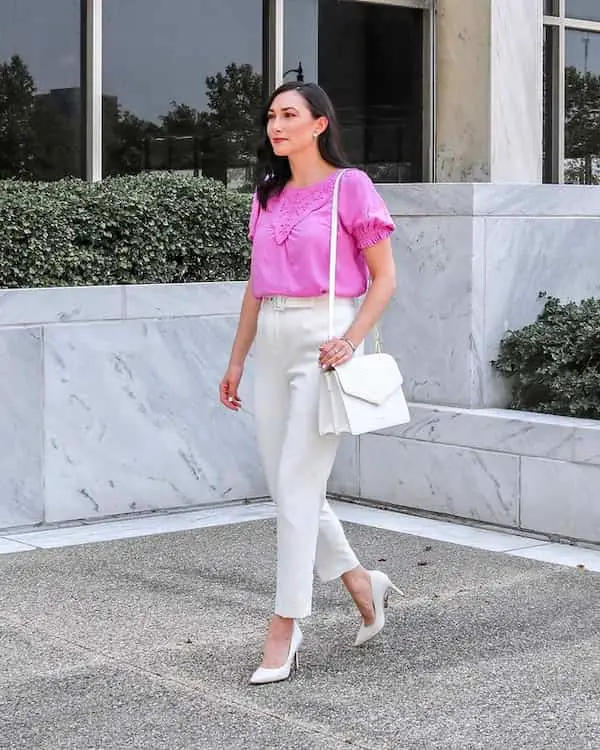 18. Green Short Dress with Sandals + Midi Handbag
I love dresses because you don't have to think deeply about what to pair with them. With this outfit idea, you don't have to think at all; everything is done already.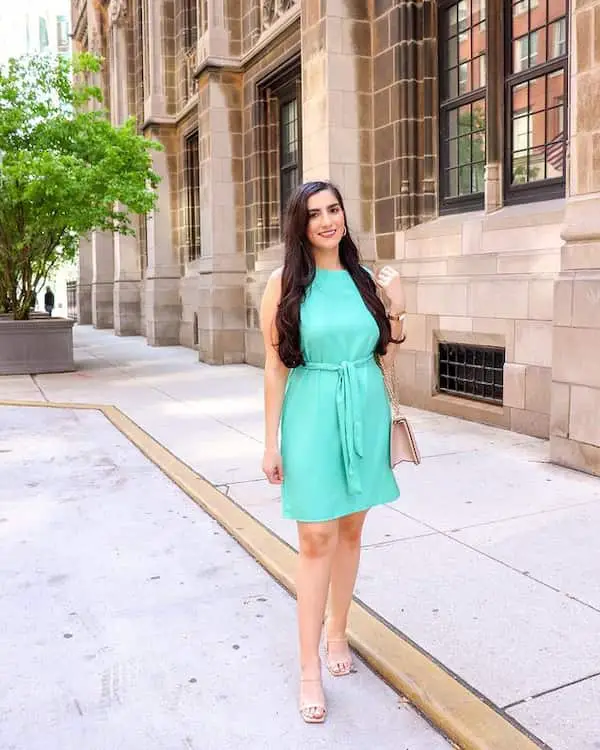 19. Blue Dotted White Blouse with Red Free Pants + Heels + Maxi Handbag + Sunglasses
Here's another summer work outfit that encapsulates the bossy look quite perfectly. The color selection is also on point, and I'll wear this all seven days of the week.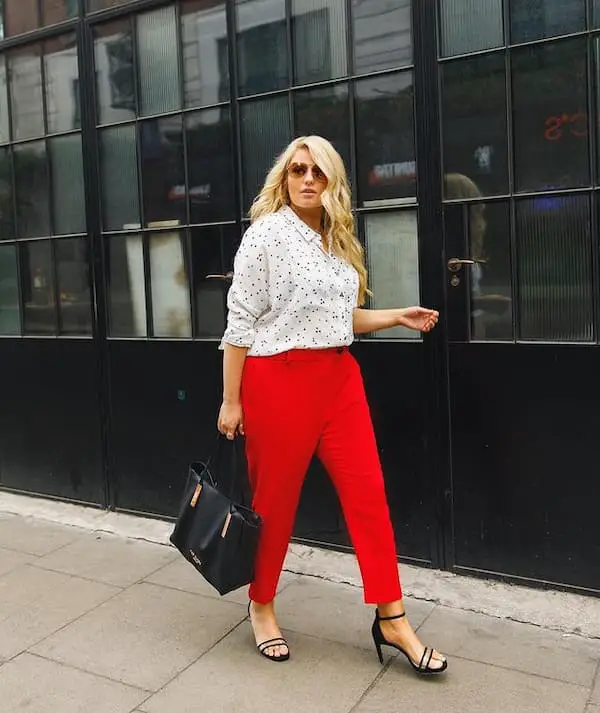 20. White Cami with White Blazer + White Pants + Heel + Clutch Purse
White is a common color in the workplace, but this model takes white in the workplace to a whole new level. The funniest part is that the color of her teeth matches that of the entire outfit, making everything look cohesive.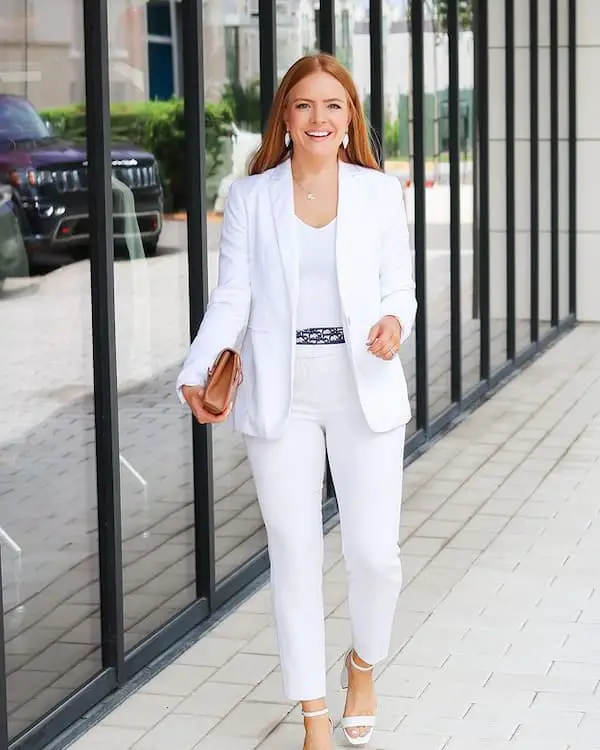 21. Puffed Hands Short Dress with Loafers + Maxi Handbag
If you think the white outfit above is chic, here's another idea you'll love. However, this isn't an all-white outfit, but the radiant smile with the white teeth is also visible here.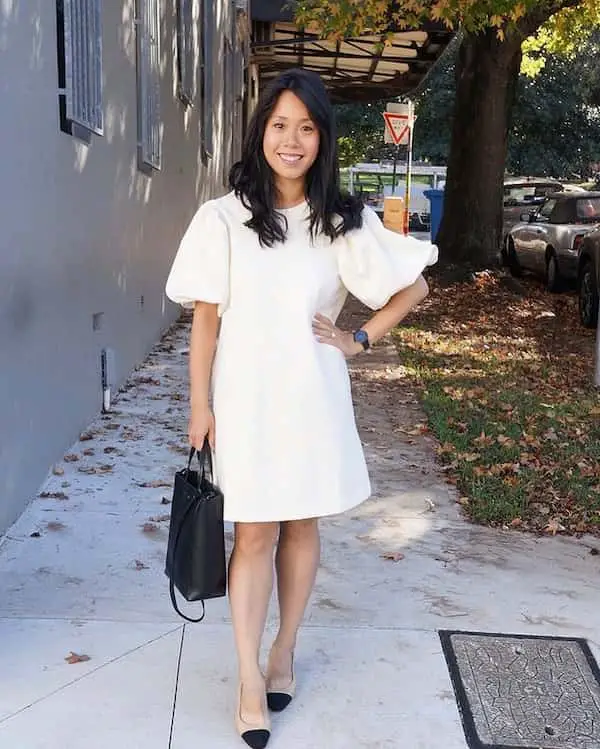 22. Blue Short Dress with White Long Sleeve Shirt + Heels + Midi Handbag
How about a short dress in my favorite color to stay cool in the summer. In addition to making you feel cool, this outfit will also make you look cool, as the model in the photo demonstrates perfectly.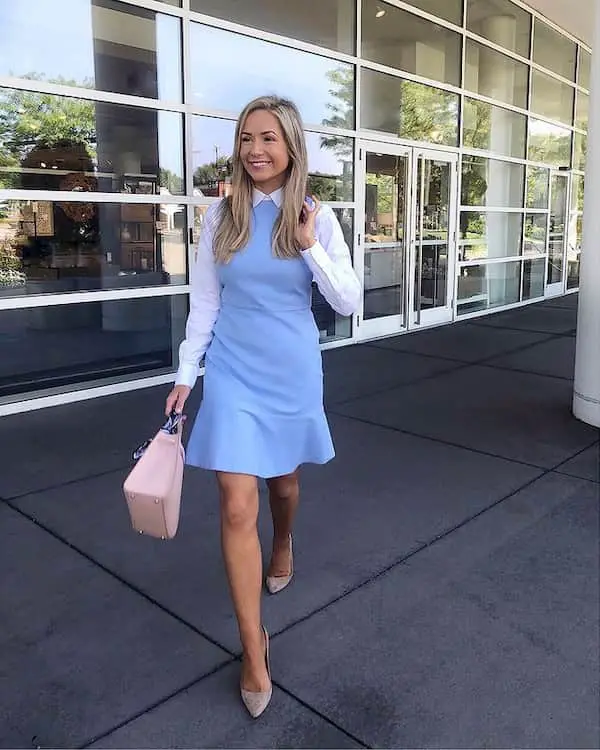 23. Orange Knee-Length Dress with Heels + Midi Handbag
Here's another short outfit idea that's a perfect fit for the hot summer. The short sleeves and the length of the dress leave just enough skin for you to feel as comfortable as possible.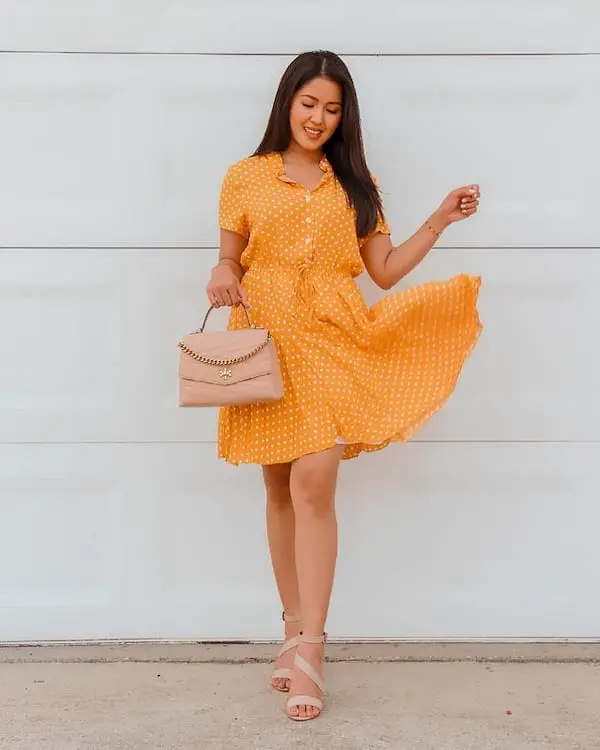 24. White Blouse with Tan Casual Pants + Maxi Handbag + Heels
Here's another white shirt outfit, but this time not with jeans, but flared tan pants. The pants look somewhat big for the season, but they're insanely comfortable, and they don't heat you up.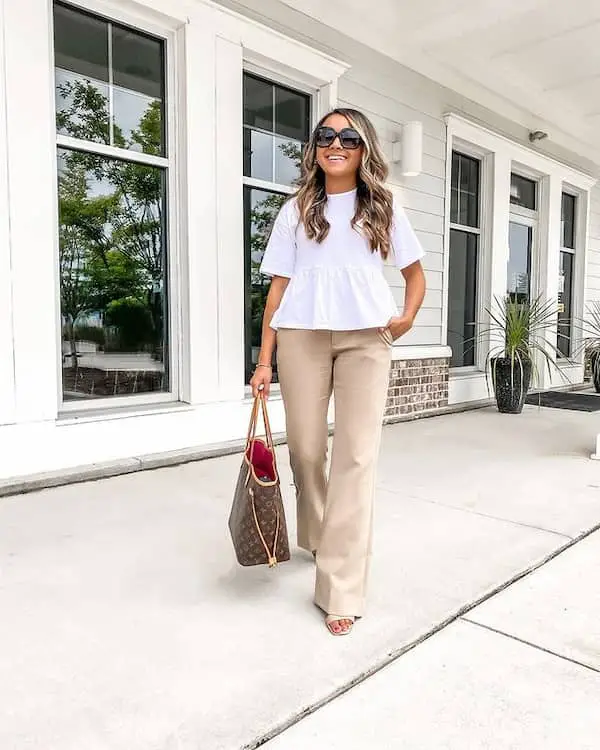 25. Black Tight Dress with Heels + Clutch Purse
Skin-tight dresses may not be as comfortable as flared pants for example, but it's difficult to not acknowledge their chicness. This model is a perfect example of what a tight work dress should look like, and it's not disappointing.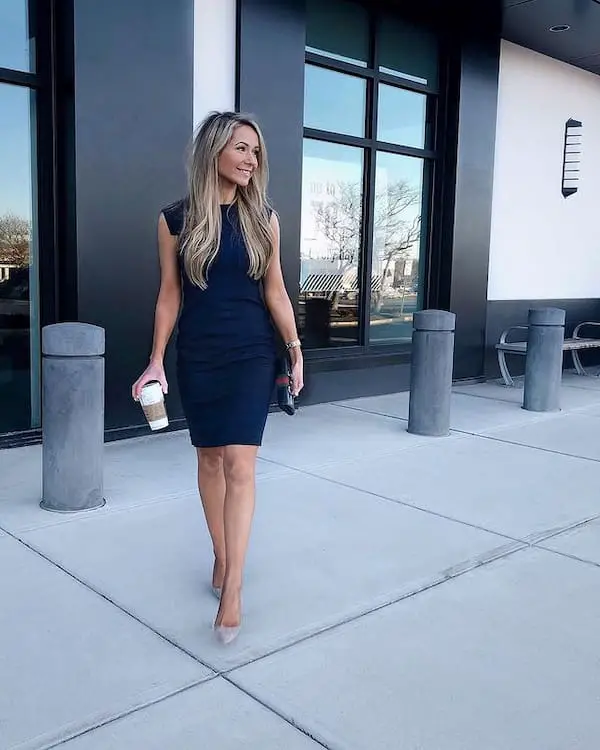 And that's all for my post on the best casual summer work outfits. Want some more outfit ideas? Then you might want to check out these blog posts.
I hope you enjoyed this piece of content. Do well to rate this post, and don't forget to share this outfit compilation with your friends.
See you with more exciting inspirations. Trust me; you wouldn't want to miss any of our upcoming outfits compilation, so make sure to follow us on Pinterest.
Pin for Later.