Are you in a situation where you find yourself deliberating on what color shoes to wear with Burgundy Dress for that perfect match?
Stress no more, because this post got you covered with a simple hack that'll help you make the best decision.
Choosing stylish clothes and shoes is usually not a problem for most people, but choosing colors that complement each other can be quite tasking. Since not everyone has the time to learn advanced color psychology, it's normal to make some blunders in choosing shoe colors.
However, you don't need to wear a poor color combination. The chic look models wear isn't just accidental; it's the result of a careful selection of matching colors.
In the case of a burgundy dress, what color shoes are best for them? In this article, you'll learn the best shoe colors to wear with a burgundy dress to make for the perfect outfit, both in style and in color.
What Color Shoes to Wear with Burgundy Dress?
Burgundy got its name from the Burgundy wine from France. The wine's color looks like a mix of red and purple, but very dark versions of both colors.
When people refer to burgundy, they're usually talking about the color, as Burgundy wine simply falls under the classification of red wine. Apart from being the color of a popular wine, burgundy is also winning popularity as a preferred color for ladies' dresses.
Since burgundy looks pretty similar to red, it will work with most footwear that works perfectly with your red dress, and more. Here is a list of the shoe colors to prioritize when trying to style a burgundy-colored dress.
1. Black
Black is the default fallback shoe color for anyone undecided about what to wear. While it may not look stunning with specific colors, it never looks objectively bad, making it a compelling multipurpose option.
However, black is more than a fallback shoe color for burgundy dresses; it's about the best color you can get. Burgundy is already on the dark side, and wearing dark shoes won't create a disturbing contrast in your overall dressing.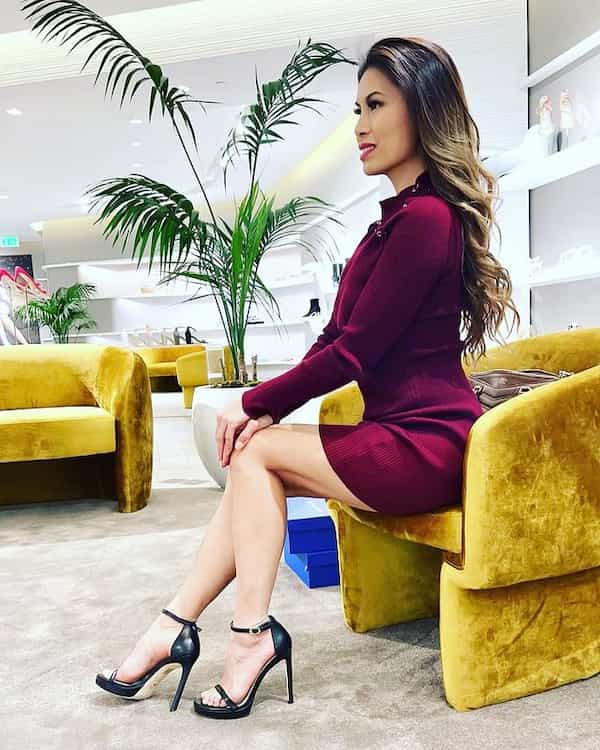 2. Silver
With black coming up as the preferred color, it may come as a bit of a surprise that a color like silver will even appear on this list. But thanks to the versatility of burgundy, it's hard to pick a color that feels out of place, and silver is just one of those colors that look chic.
If you want a metallic touch to your outfit, no color works better than silver. If you think your silver-colored shoes will be a terrible match, why don't you try them with your burgundy dress to see how well it looks?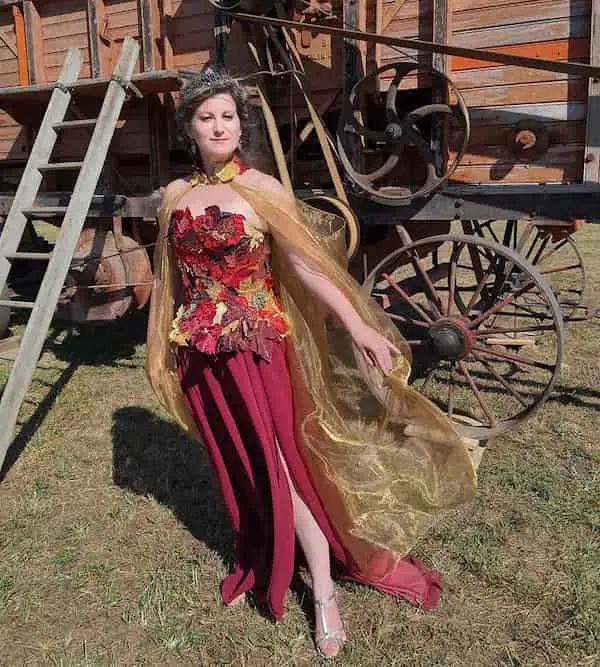 3. Gold
Burgundy works pretty well with metallic colors. With metallic colors for shoes, you only have two practical options: silver, and gold. While silver will look better in some instances, pairing a burgundy dress with a gold outfit will always birth an elegant outfit.
If you're looking for a color shoe that works with most of your outfits without much thought, you should consider shopping for golden footwear. To further beautify your outfit, consider using golden adornments and accessories.
4. Beige
The quickest way to pick a color shoe that won't look bad is by picking one that's almost the color of your screen. Nude-colored shoes always go with reddish outfits, and since burgundy can be described as a shade of red, you'll never go wrong by choosing a beige shoe.
Beige shoes help to focus most of the attention on your dress, as the shoes are the same color as your skin. Flat beige shoes work best, but you can also try heels for some height and attention to your feet.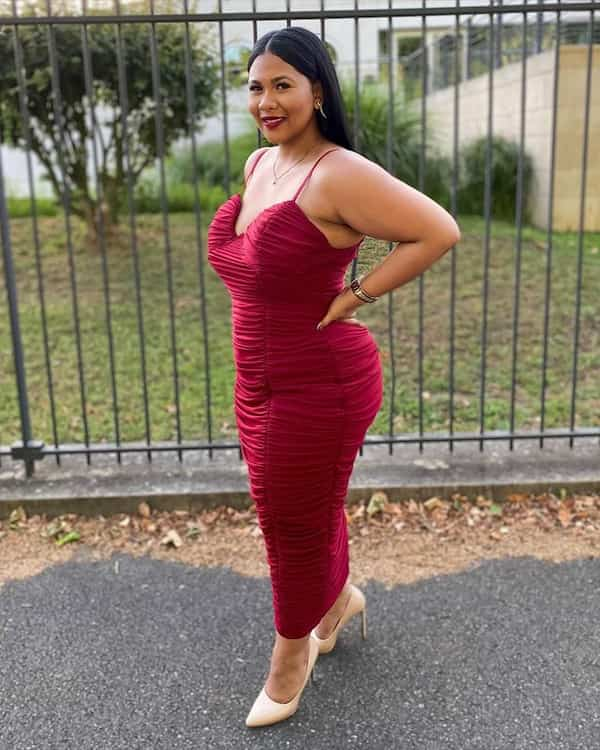 5. White
The appearance of white in this list is very predictable, given that I listed silver somewhere above. White shoes work well with most red outfits, and they work even better with darker-toned reds like burgundy.
If the footwear looks too boring, you may want to consider choosing a two-toned color with white as the dominant color. White and black, white and silver, and white and gold are some of the best dual-tone colors that work well with a burgundy dress.
White doesn't make your outfit look dramatically better or worse. It all depends on the style you end up choosing. The perfect shoe style for your dress won't depend on the color, but on the style of your outfit as a whole.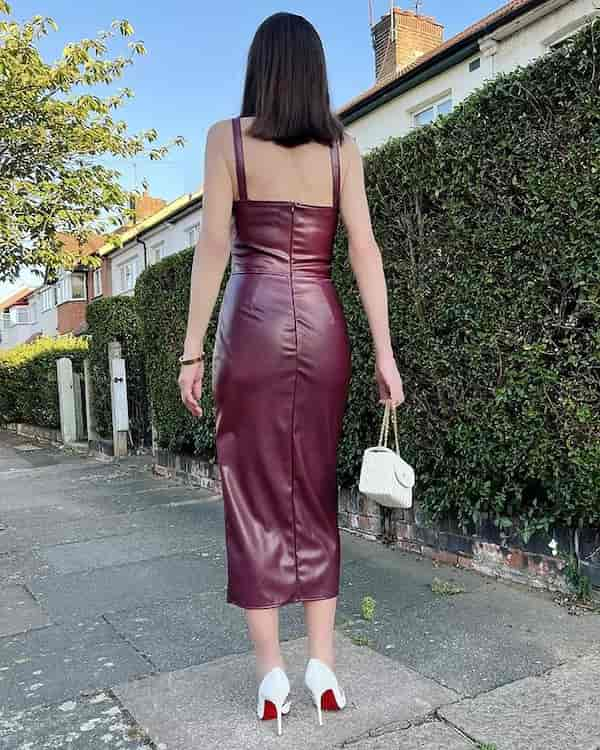 6. Brown
Brown isn't the best color shoe for burgundy dresses, but it works particularly well in certain instances. If you have a darker skin tone, a brown shoe will look more beige, making it blend better with your skin than someone with a lighter skin tone.
If you have a darker tone of burgundy, an equally dark brown will work best. However, combining these colors will give your outfit a mute tone, making it unsuitable for events that should be exciting.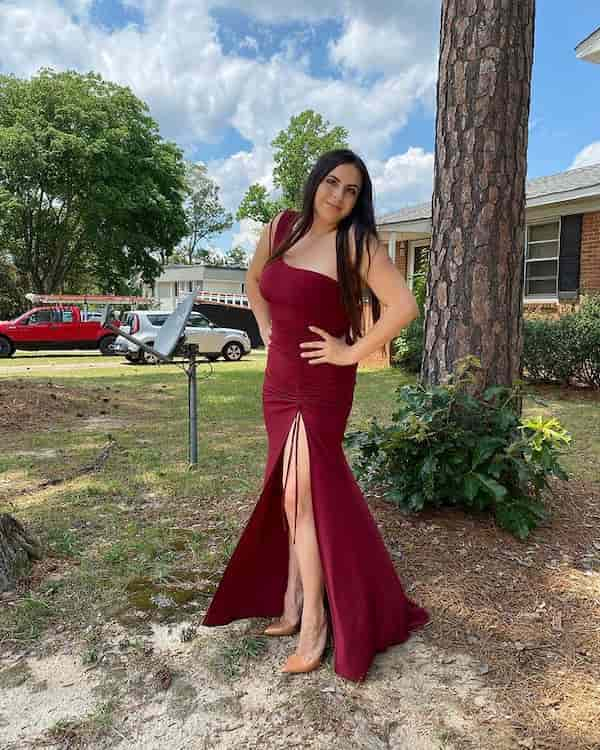 7. Red
Burgundy is a shade of red; matching it with red shoes will make for a monotone outfit that isn't necessarily bad. If you can find shoes that are almost the same color as your burgundy outfit, combining them won't look as weird as you think it would.
If you want your feet to be more in focus, consider trying bright red footwear. Depending on how well you style it, the results may range from magnificent to slightly out of place.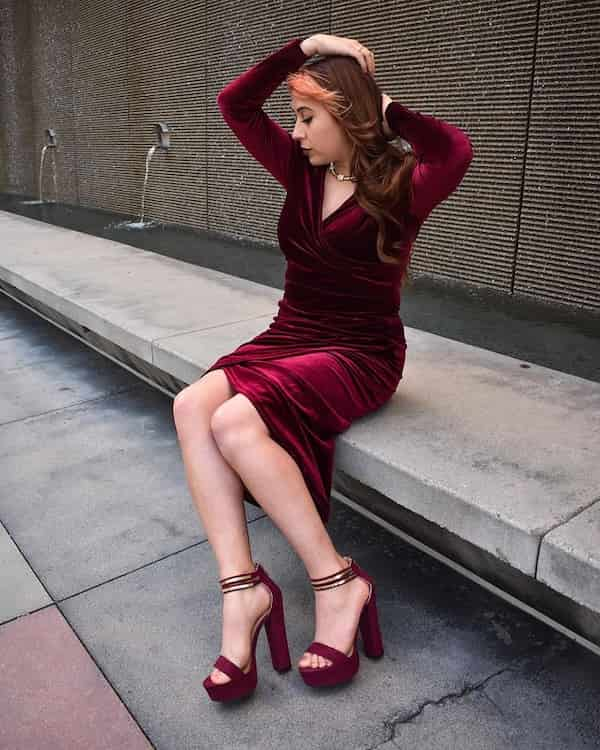 8. Grey
Grey may sound like a weird color for a burgundy dress, but they're not very different from silver, except that they aren't metallic. If you don't want a metallic touch to your outfit, picking grey over silver will be a no-brainer.
Before paying for those grey shoes, it's important to confirm how well it looks with your outfit. Depending on the tone of the grey and the burgundy, combining them may be your best design decision, or simply ridiculous.
Conclusion
Combining colors is pretty difficult, but you don't have to master the art. Instead of trying tirelessly to see how well your bright blue shoes combine with a burgundy dress, why not check out our list of the best color shoes to wear with burgundy dresses?
In this article, we've listed the best color shoes for a burgundy dress and some of the reasons why they make this list.
I hope you enjoyed my post on the coolest color shoes to wear with Burgundy dress. Do well to rate this post, and don't forget to share this article with your friends.
Want some more outfit ideas/inspiration, then you might want to check out these posts;
See you soon for more exciting inspirations. Trust me; you wouldn't want to miss any of our upcoming outfits compilation, so make sure to follow us on Pinterest.
Pin for Later.