Looking for cute cowgirl outfit ideas? Then this post got you covered.
The countryside dressing style has been in existence for decades, and trust me; it has come to stay. As most people call it, the Western or cowgirl-cowboy style has evolved into a great fashion sense.
Presently, I have come to love this cowgirl fashions sense, and I can't wait to show you these 25 unique and cute ways you recreate cowgirl's style. And, I know you are excited about it.
Cowgirl Outfit Ideas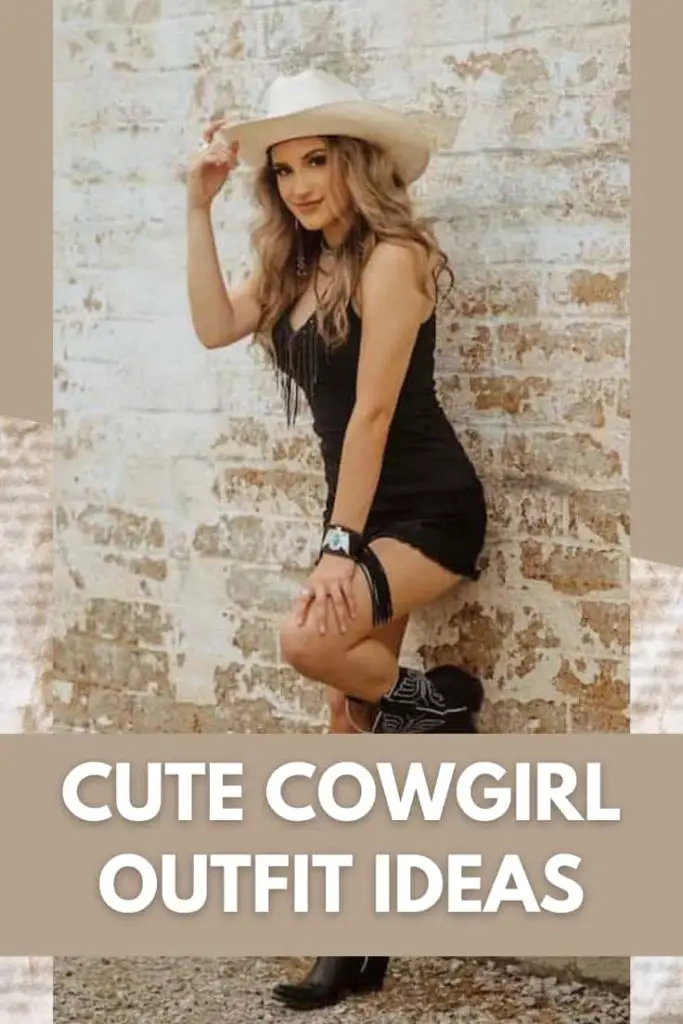 1. White Strapless Crop Top + Wide Legged Jeans + Cowgirl Hat
If you want an outfit that will give you a modern outlook but a countryside touch, you can try out this one.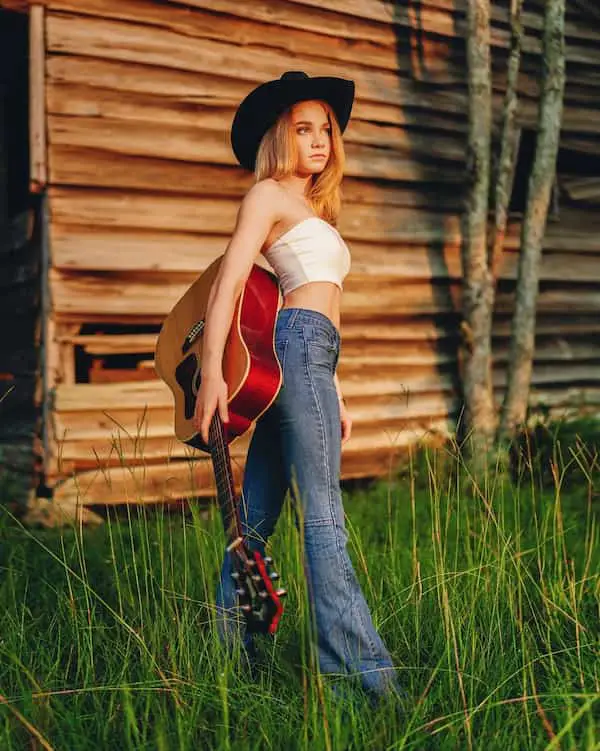 2. Black Mini Bodycon Top + Hat + Cowgirl Boots
Do you know you can also look sexy and hot for that great party with the cowgirl hat and boot? Just check out this outfit.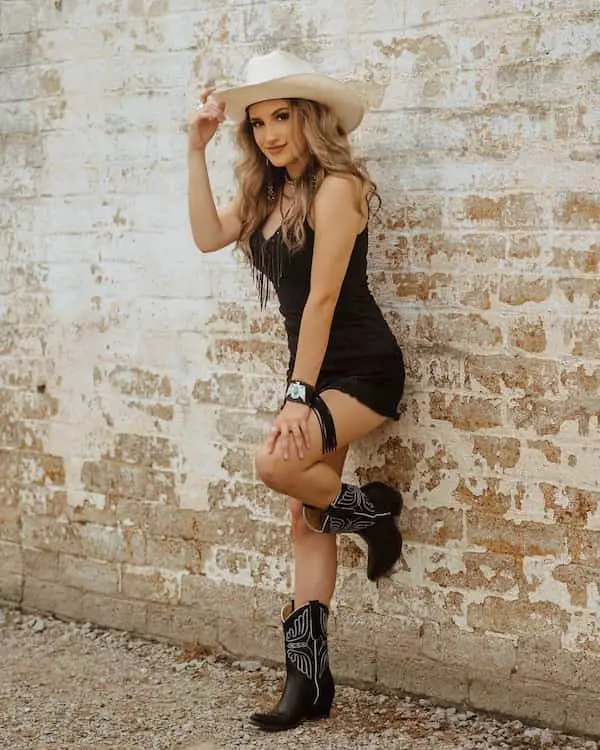 3. Long Sleeve Shirt + Black Jeans + Belt + Hat
The Cowgirl outfit is never without sauce. Just like the outfit below, you can add spice to the western dress sense to make it look corporate.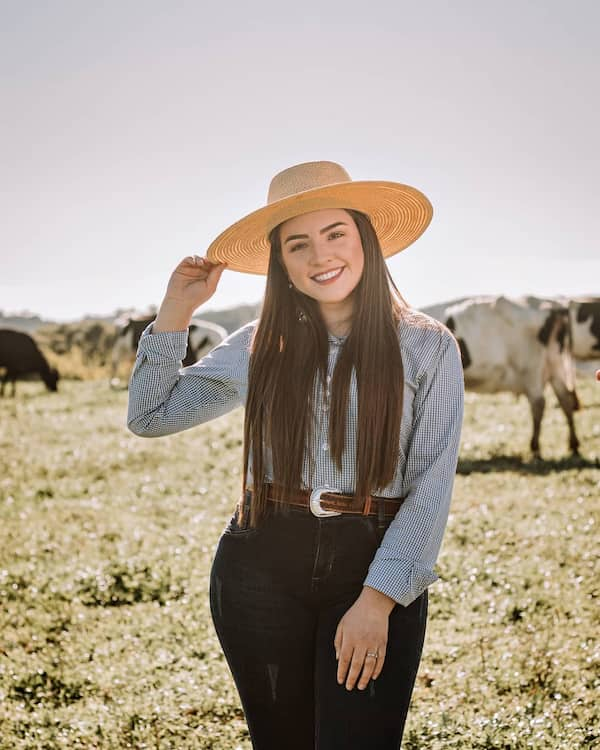 4. Western Plaid Long Sleeve + Leather Pant + Boots + Hat
Suited comfortably with your cowgirl hat and leather pant trousers. You can wear this outfit for outdoor games, which include horse riding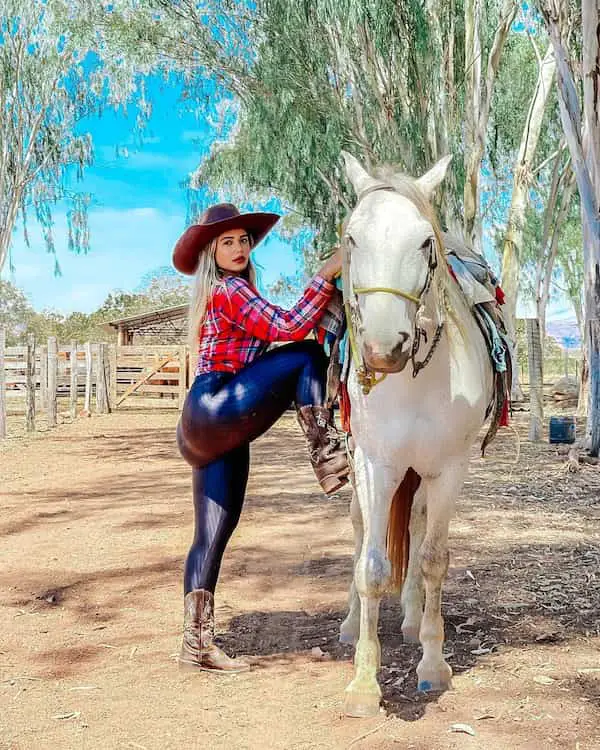 5. Ripped Short + Long Sleeve + Hat + Shoe
This is what I call "flannels and fairs." Do you want to go for a vacation to Paris during the summer? This is one of the outfits you should go with.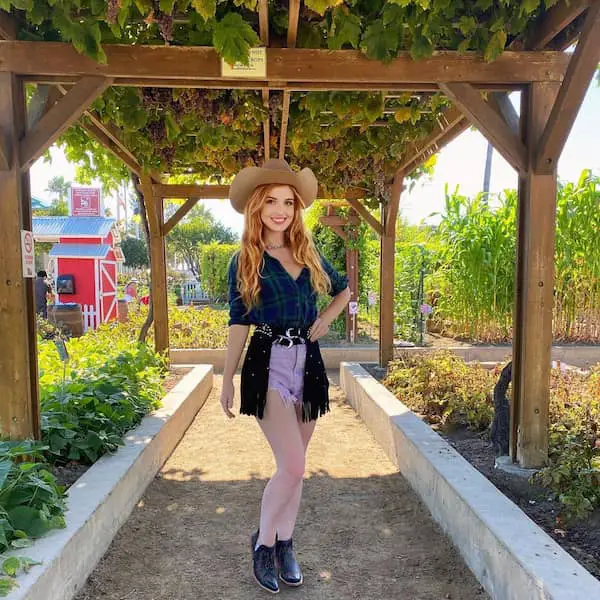 6. T- Shirt + Trouser Pant + Hat
For a simple cowgirl outfit for summer days, I recommend you check this out. You can spice it up with nice pair of boots.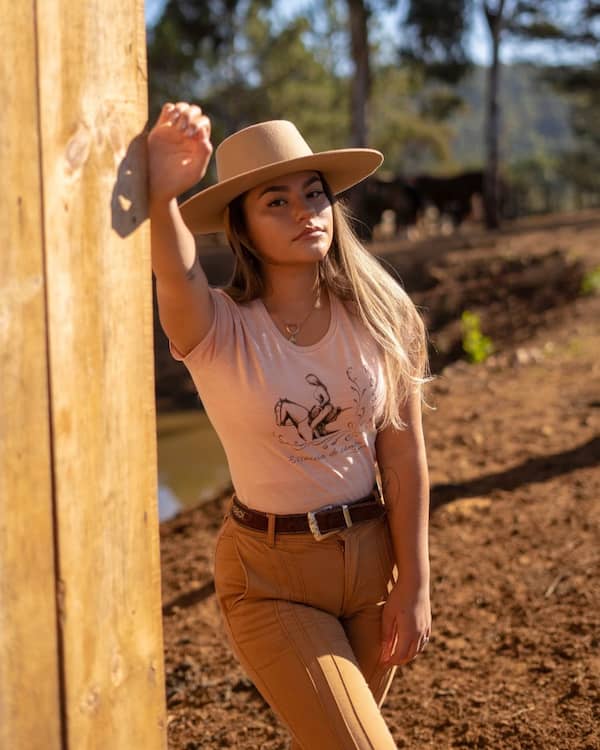 7. Deep V-Neck Tie Front Top + Jean Short + Boots
A red-colored top with blue can go a long way and can be a perfect choice for you, depending on where you are going. It will come out beautiful no matter how bad you style it suggest you spicy it up like the one below.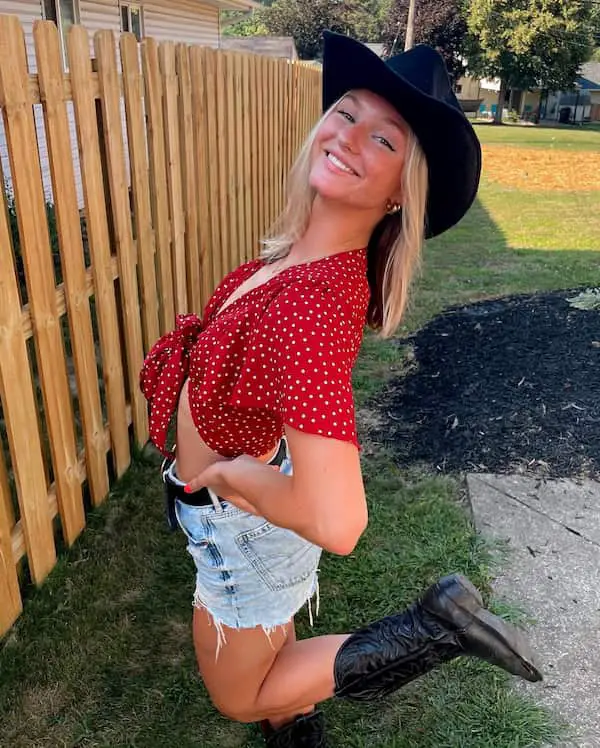 8. Crochet Top + Short + Cowgirl Boots
Suppose you're looking for a super-hot and cute look on a cowgirl outfit, the dressing style below will do you some justice.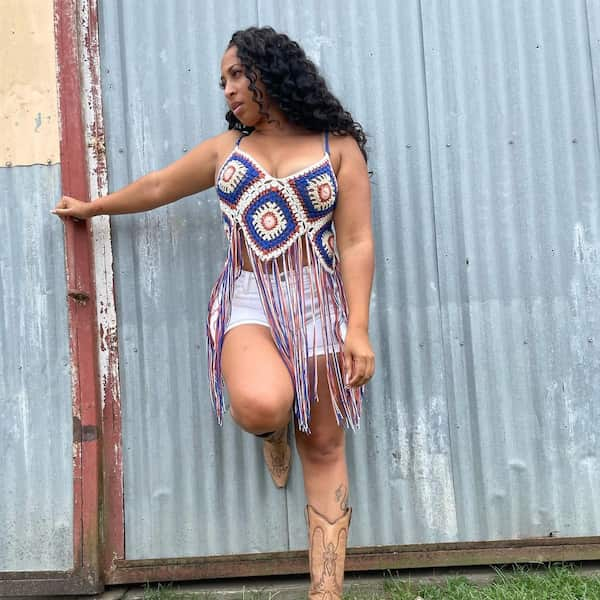 9. Strapless Crop Top + Jean Bum Short + Hat + Boots
For a beach cruising on a sunny day, you can dress like a hot cowgirl by combing a strapless crop top with a jean bum short complimented with a cap and boots.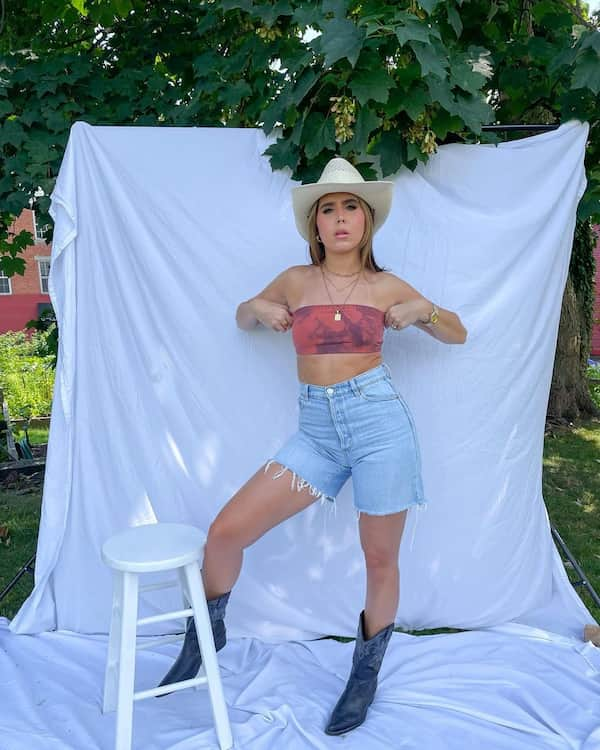 10. Joggers + Crop Tank Top + Hat + White Sneakers
You can be a cowgirl in sports. All you have to do is to get your hat on and your snickers intact, both complementing your tank top and joggers.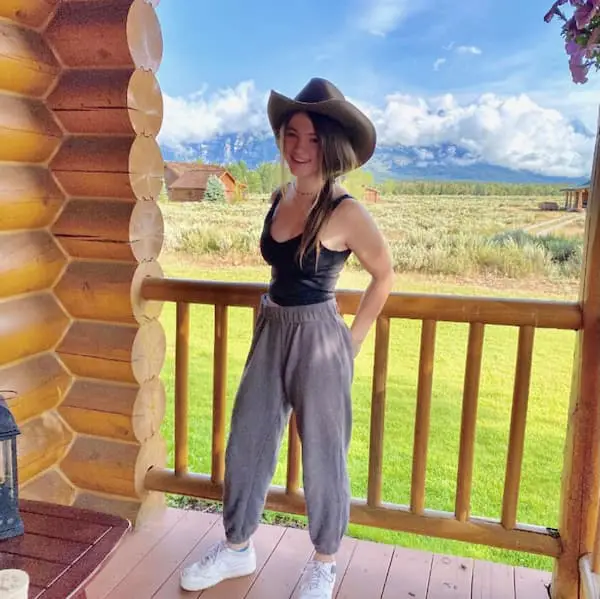 11. Long Sleeve + Face Cap + Open–ended Jeans + Boots
Are you a lover of free pants? Do you want some air in your pant? This great outfit might be a great choice for you.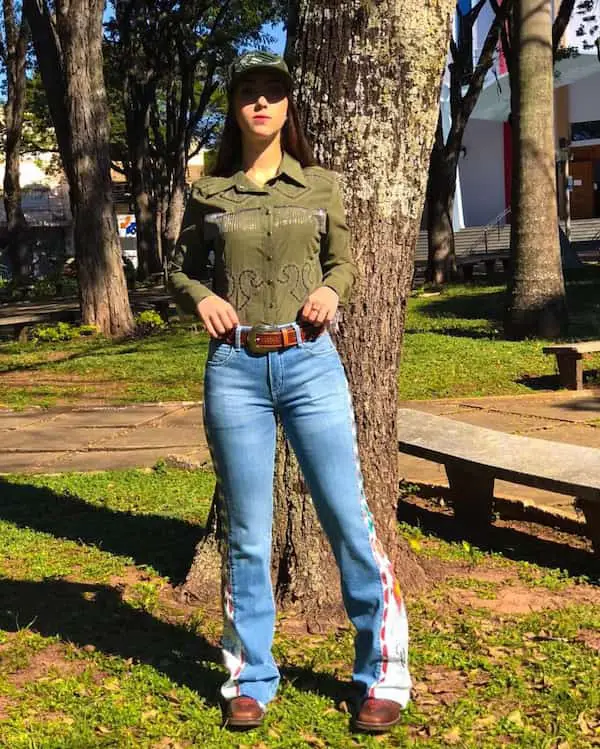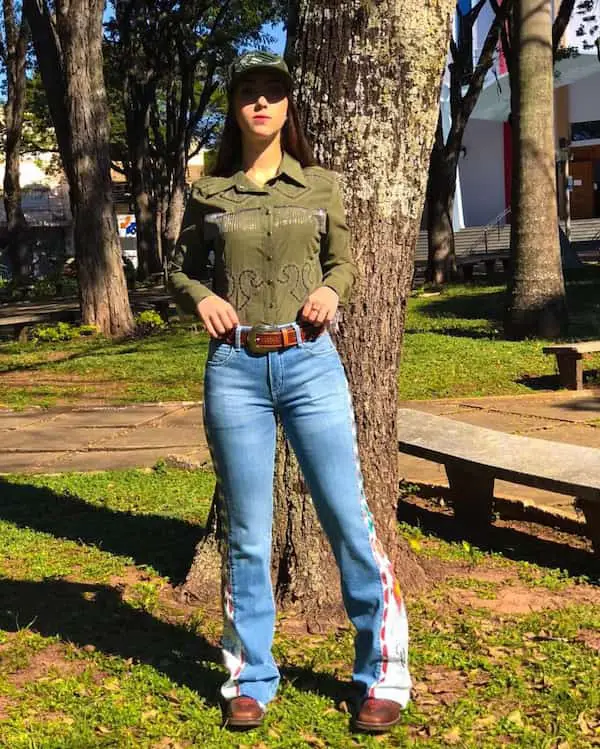 12. Long Sleeve Mini Dress + Boots
Do you know you can keep it simple by topping your game with western style in your short gown/mini dress? All you have to do is to complement the gown with a set of boots.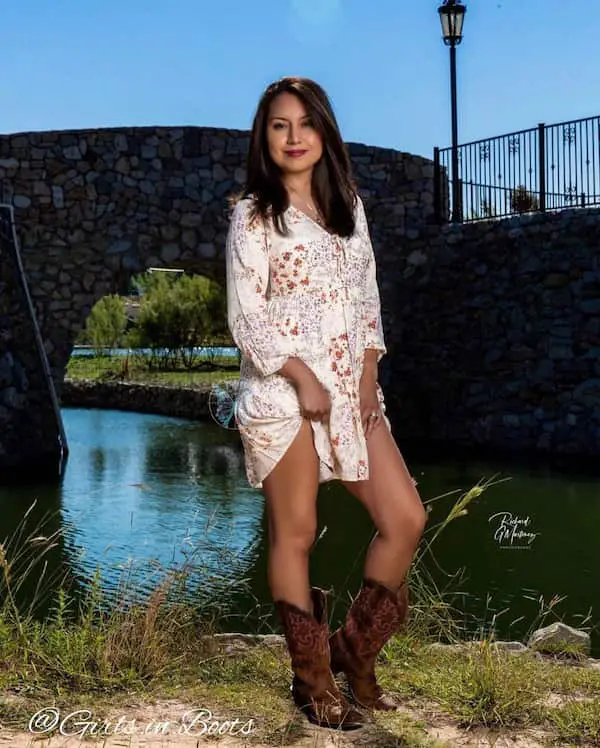 13. Long Sleeve Shirt + Open-ended Jeans + Hat
For the countryside and a beautiful look at classes and school activities, I suggest this outfit for you. Cowgirl with the sauce!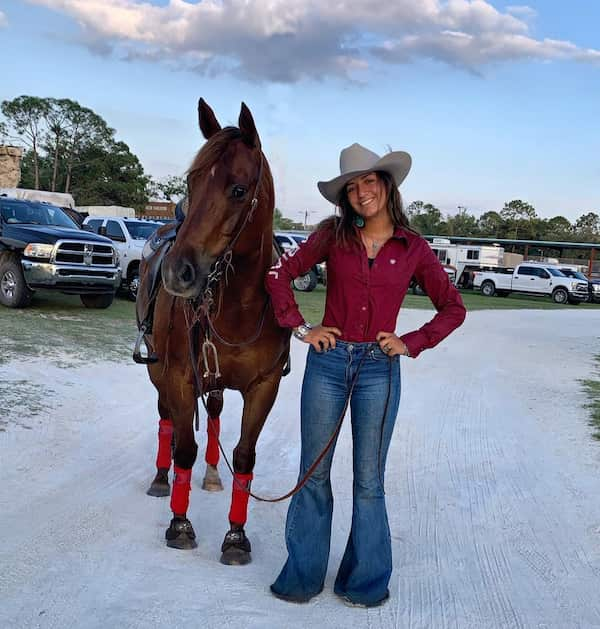 14. Long Sleeve Crop Top + Short Skirt + Hat + Boots
This outfit is one of the best choices you can make while going for an evening walk or an evening outdoor activity. Sometimes not just evenings stuff.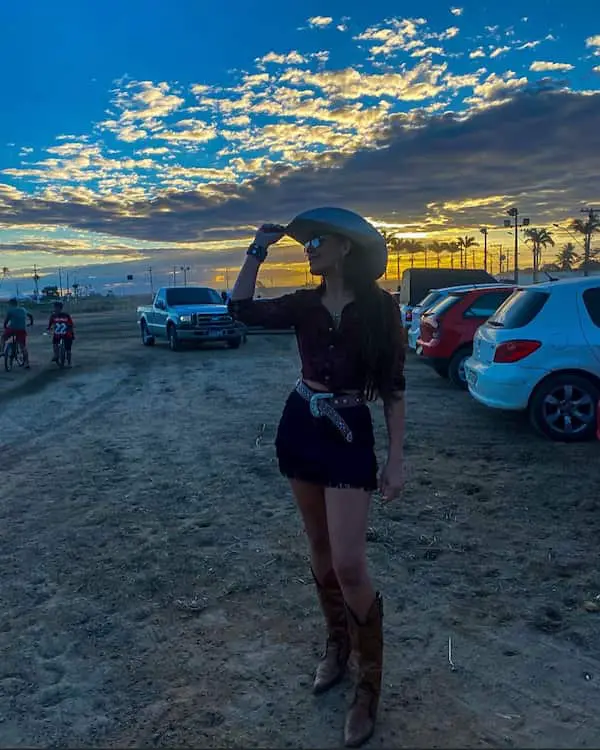 15. Jean Jacket + Strapless Crop Top + Bum Short + Boots
For a casual hookup and date on the beach, you can try this out. This is what I called "maintaining culture and beauty."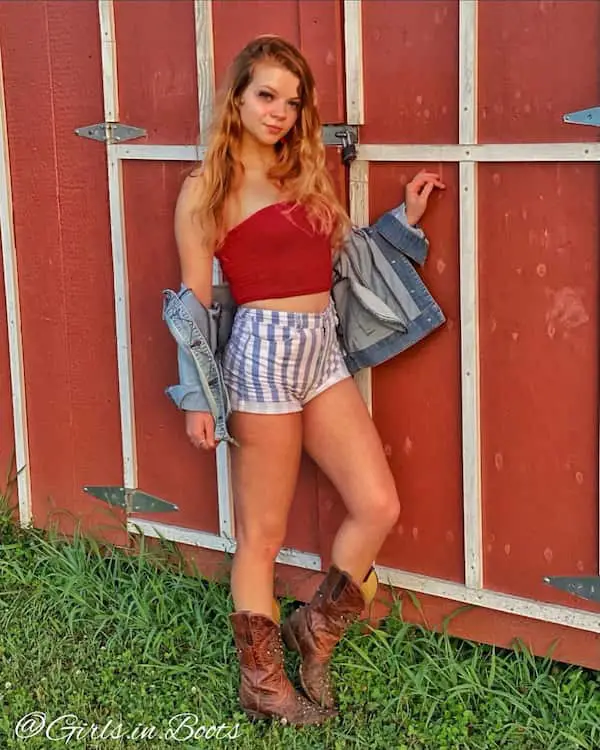 16. Two Piece Outfit + Boots
This outfit gives you a more girly look with a western touch—all you have to do is get your skirt and floral top with a set of boots.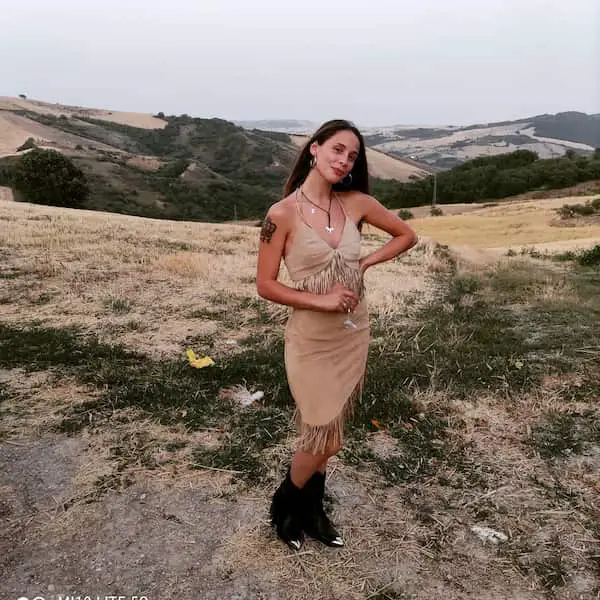 17. Spaghetti Hand Mini Gown + Hat + Cowgirl Boots
The cowgirl boss lady! This outfit is for you if you are a boss lady. You can wear it out for day events.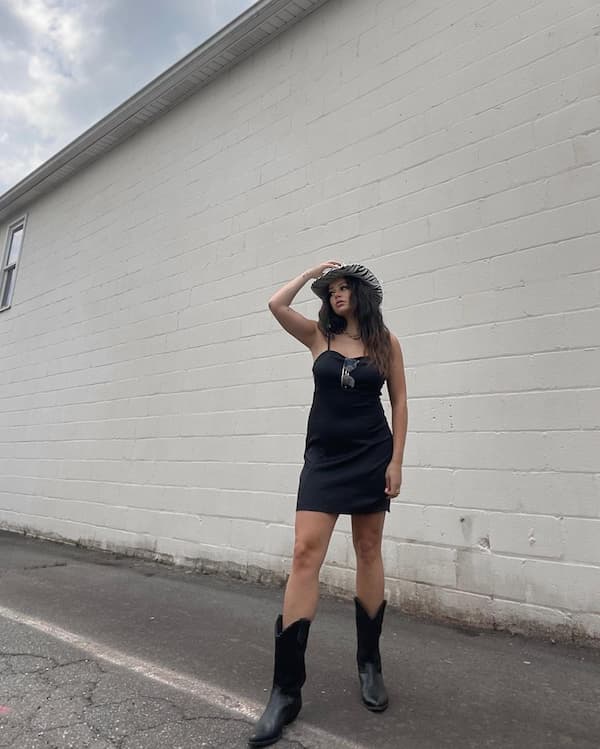 18. Blue Jean Long Sleeve + Black Trouser + Scarf + Boots
For hunting, forest walks, horse riding, or jungle hiking, the outfit will suit well. The boots are comfortable for long walks.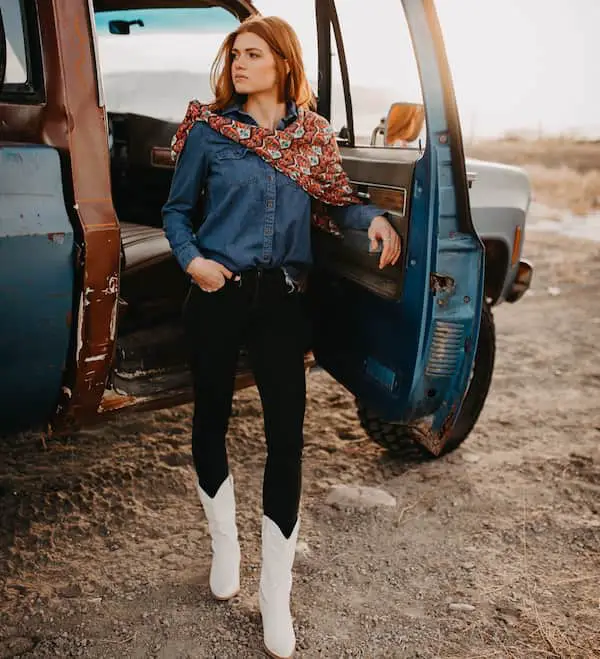 19. Long Gown + Hat + Cowgirl Boots
Are you a model, and you want to shoot something unique and different? Check out this cowgirl style. It is an excellent choice.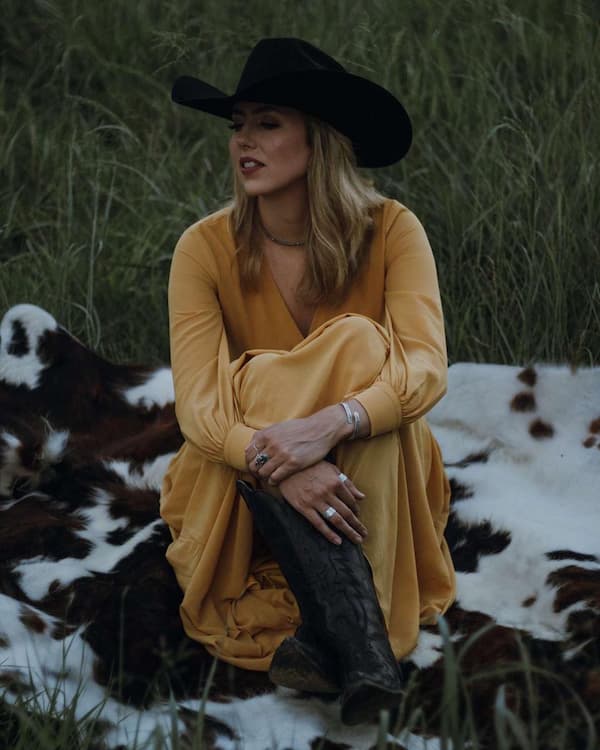 20. Long Sleeve Shirt + Ripped Jean + Hat + Boots
With ripped jeans, you can still slay as a cowgirl. You have to get your hat and boot ready. Then you are good to go.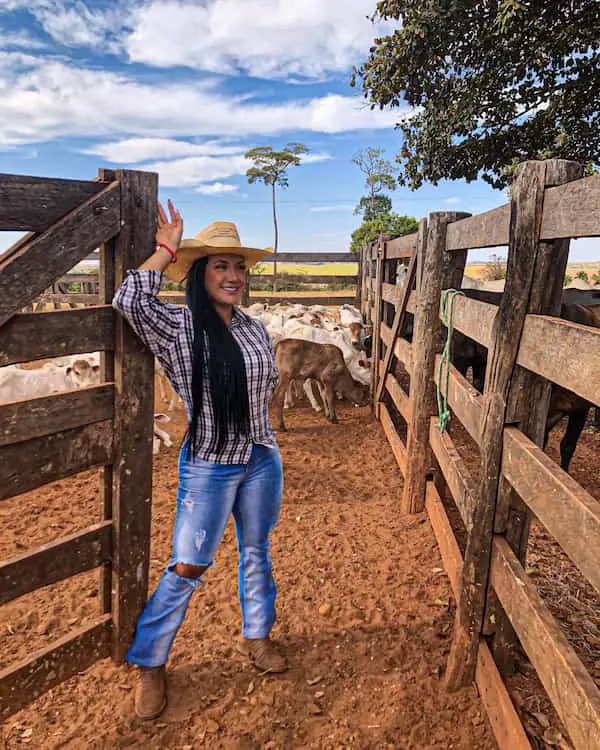 21. T Shirt + Leather Mini Skirt + Cowgirl Boots
For a vacation to the forest side or camping in the riverside, I recommend this outfit. The knee-length boot will serve as security for your pretty legs.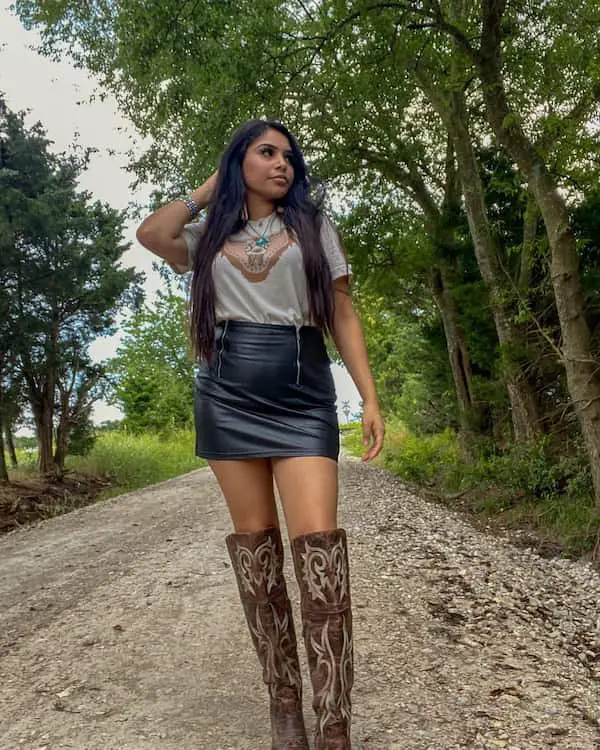 22. Long Sleeve Shirt + Handless Jacket + Jean + Boots
In the midst of the Falling leaves and shivering breeze, you still can look all western and beautiful. Just check out this outfit.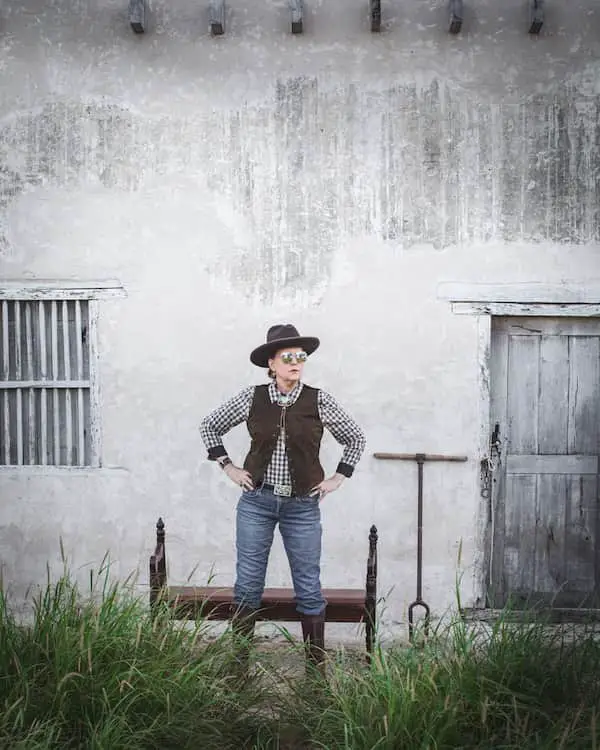 23. Cowgirl Jacket + Blue Jean + Boots (Winter Style)
During the winter, staying warm becomes a priority. So you can still be beautiful and keep yourself warm under those cowboy jackets.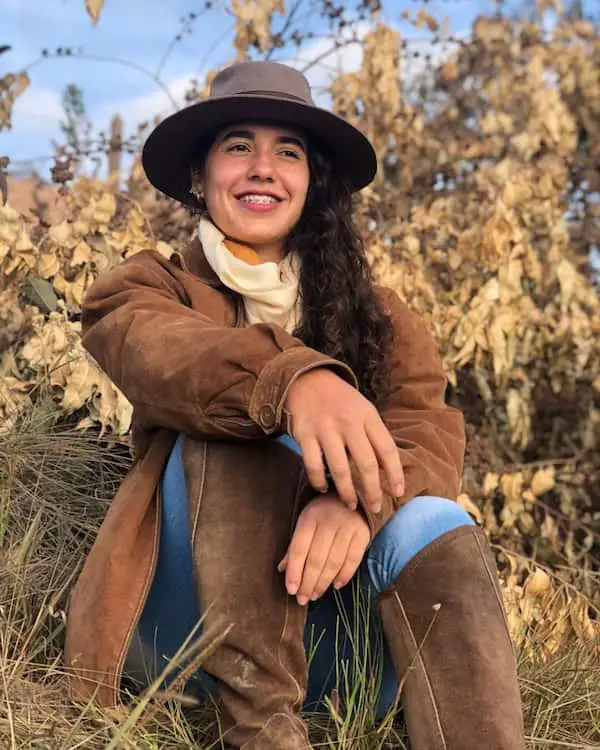 24. Crop Top + Short Skirt + Boots
As a western dress lover, you can still preserve your culture while going for private hangouts. Just check out this outfit.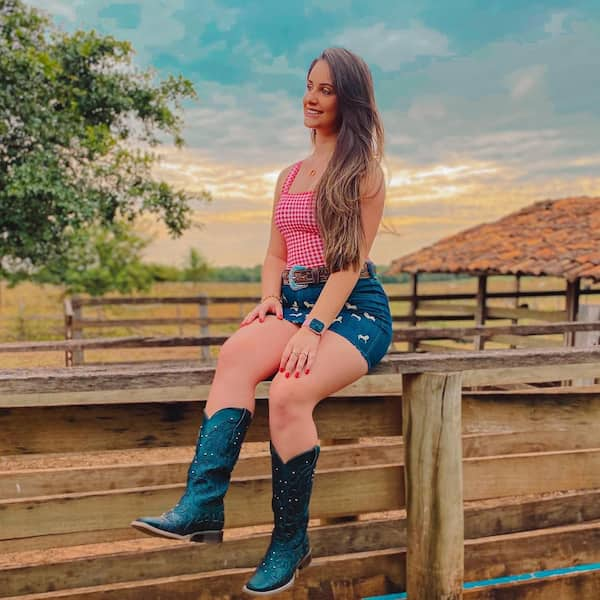 25.  Cowgirl Outfit Style for Plus Size Women
Plus-size ladies are not left out on this one. You can still look beautiful and western at the same time be the big boss lady.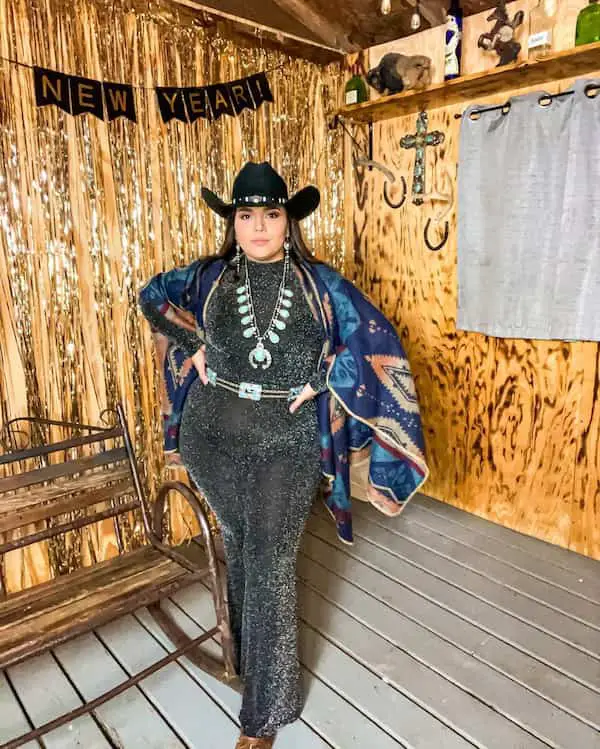 For now, This is all I got for the cowgirl outfit ideas. Want some more outfit ideas? Check out these blog posts.
I hope you enjoyed this piece. Do well to rate this, and don't forget to share this article with your friends.
We will be back with more exciting articles on outfit ideas. Trust me; you wouldn't want to miss any, so make sure to follow us on Pinterest.