Suppose you're looking for a cute dress and blazer outfit ideas that'll inspire your next look? Then this post got you covered with the best you've always wanted.
Blazer on gown dress recently became a trendy style for women on Pinterest. But one thing some of them forgot is that there are so many ways to creatively style and rock blazers while following the trend.
And that's a problem.
So right here in this post, I will be showing you some insanely cool and fashionable ways to rock dress and blazer.
I know you're going to love this.
Fashionable Dress and Blazer Outfits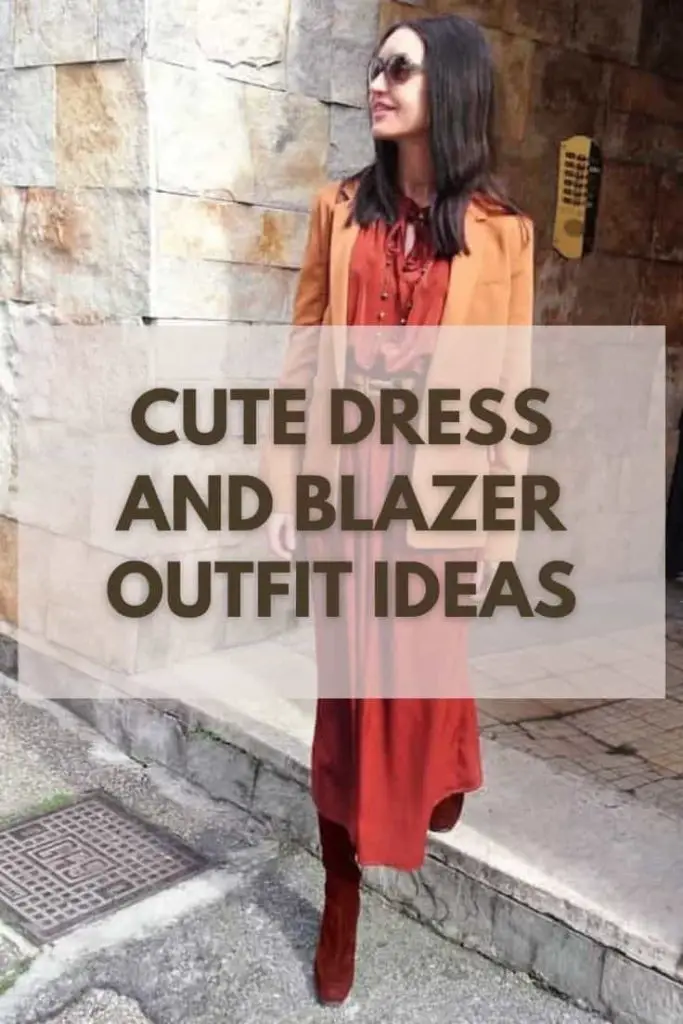 1. Zara Blazer + Black Slip Dress + Handbag + Heels
You can wear this dress for a late-night date night. It is always nice when you dress beautifully to enjoy dinner in the big city.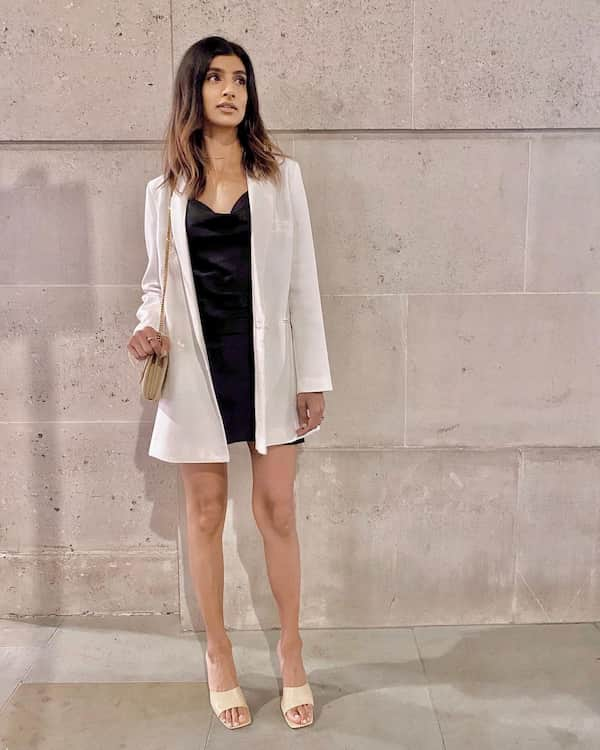 2. Black Blazer + U-Neck Slip Cotton Gown + Heels + Sunglass + Handbag
There is no better way to appear to work on Monday than to look unique, vibrant, and beautiful. And this outfit spells out the simplicity and elegance you desire.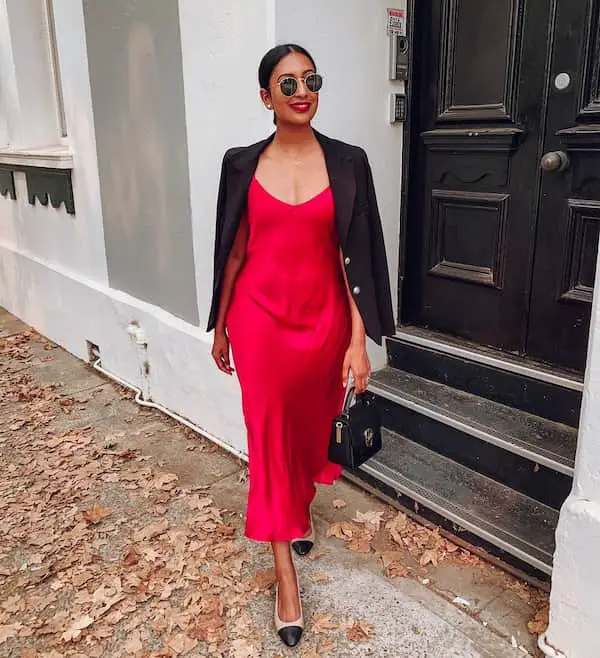 3. Ash Coloured Blazer + High Waist Pants + Black Top + Heels
Blazers can go perfectly on a long gown, as seen in the featured picture. You can dress like this to any place you desire.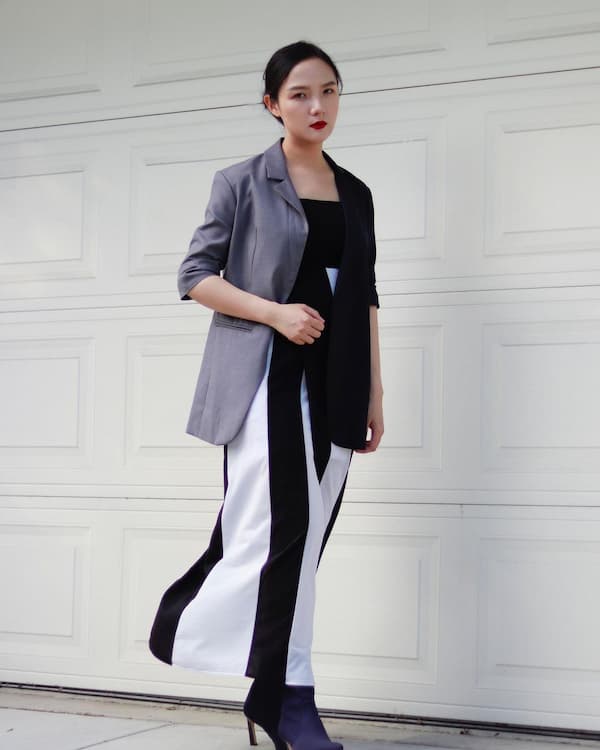 4. Blazer + Short Gown + High-Heel Boots + Handbag
Your week is completely blissful at work with this kind of outfit. For a very classic and corporate look, you can try this out.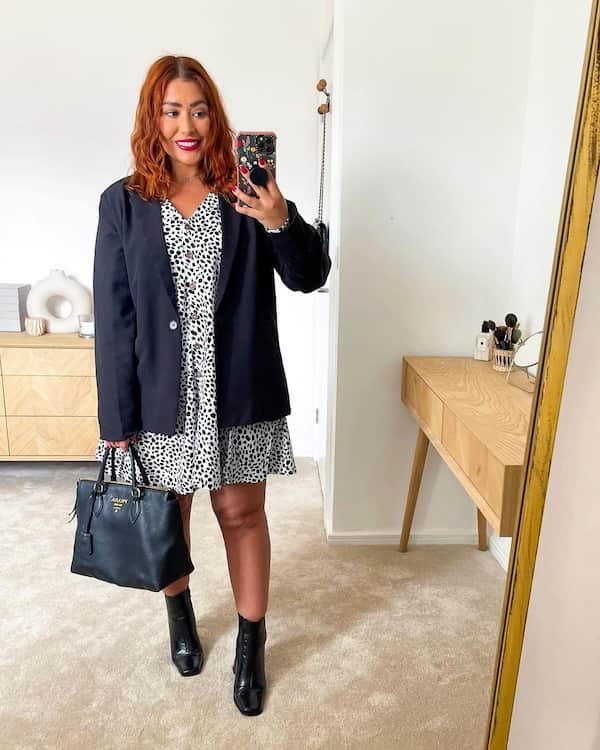 5. Khaki Blazer + Neutral Coloured Gown + Flat Footwear + Wristwatch
When a blazer is your time essential, you don't need someone to tell you to go for it. Great for layering to keep those summer dresses going for a while longer.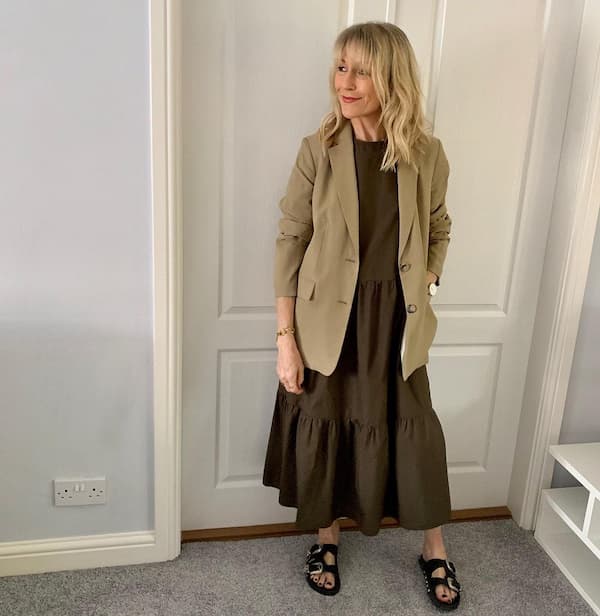 6. Belted Short Gown Dress + Blazer + Sneakers + Sunglass
You can wear this perfect-looking gown with your blazer not only to work but also to big city events that need you to appear serious and at the same time foxy .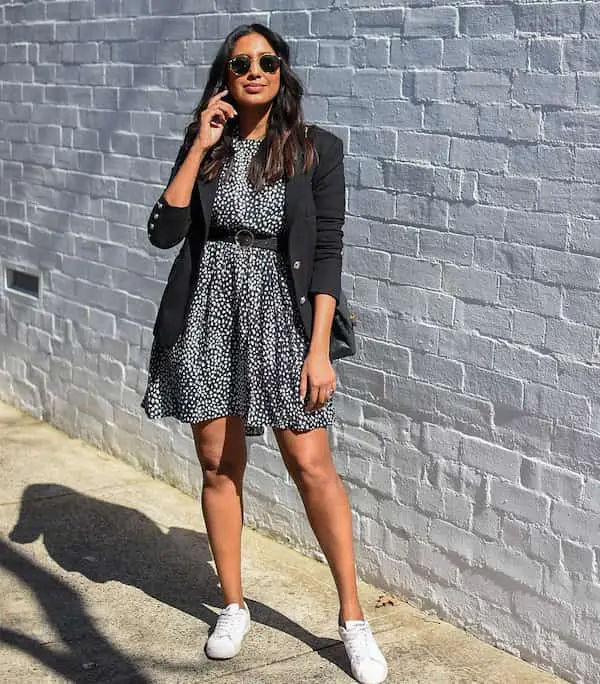 7. Cropped Leather Blazer + Zoey Zebra Mini Dress + Boots + Sunglass + HandPurse
When nothing can stop you from looking good, then you have known Peace. I think this is a cool outfit to include in your vacation outfits collection.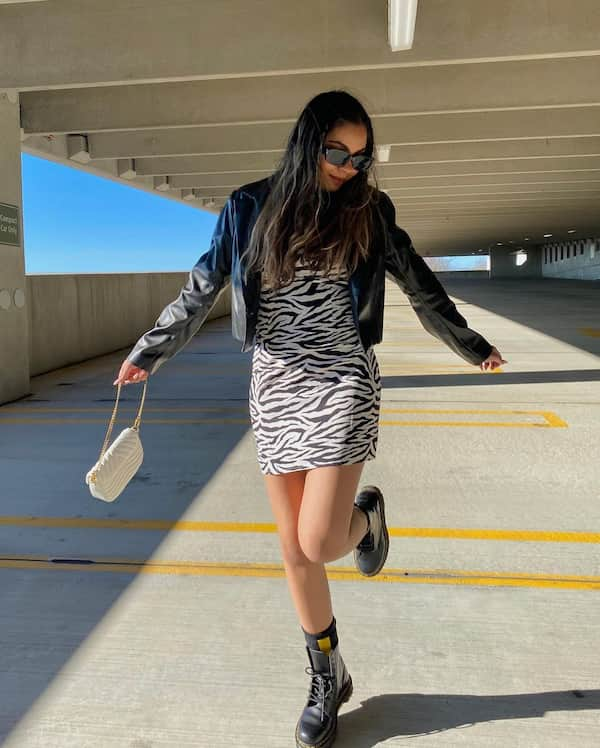 8. Blazer + Long Gown Dress + White Sneaker + Handbag
As a mum, you need something very free and comfortable and at the same time beautiful, and this outfit fulfills these three criteria perfectly.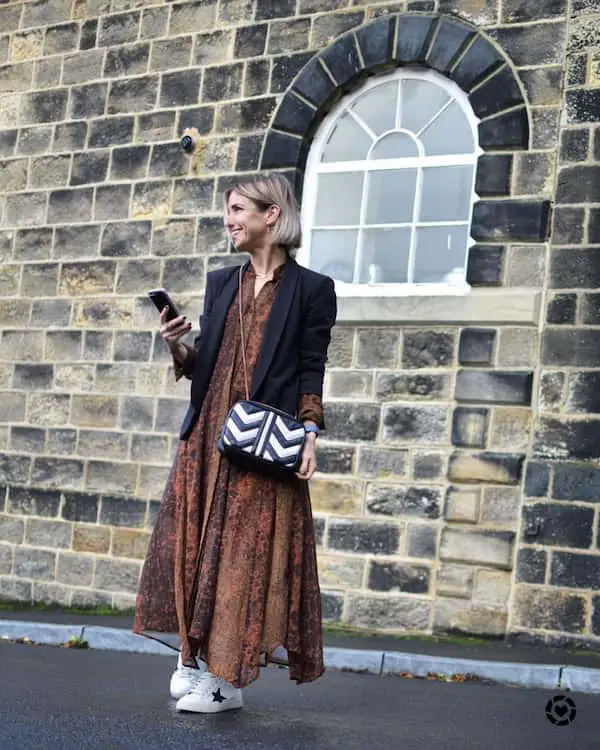 9. Mini Gown + Blazer + Leggings + Boots
With your full thickened gown, blazer, and leggings to cover your legs, you are prepared to face the winter.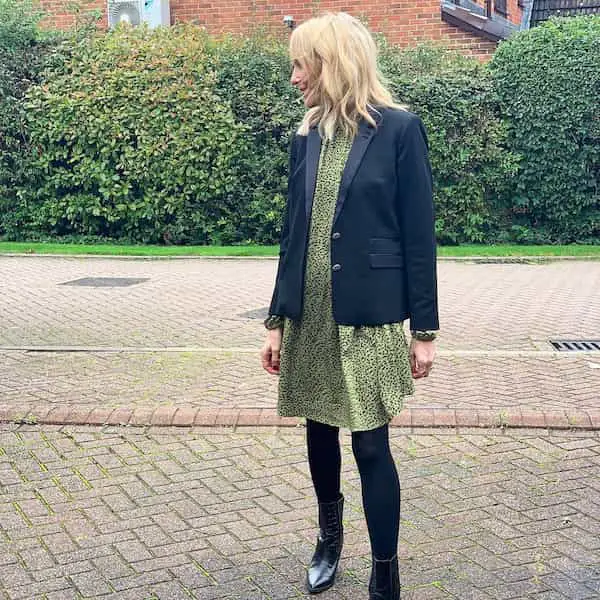 10. Peach Blazer + Oxblood Long Belted Gown + Boots + Sunglass
As an older lady, you can wear this to work on Monday. This outfit would look very good on you if you have an average height.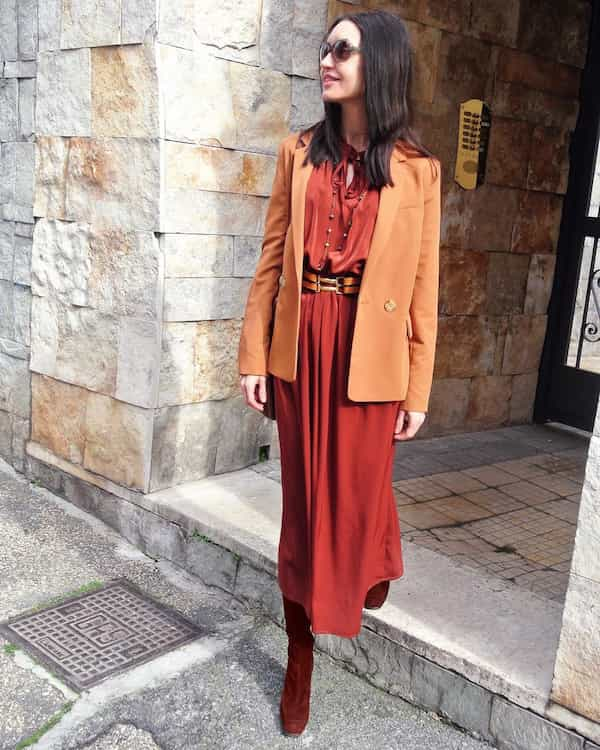 11. Black Blazer + V-Neck Dress + Shoe + Sunglass
Suppose you're going out on weekends, let me say, visiting the sandbanks or beach, you can wear this outfit especially if the weather is a little bit cold.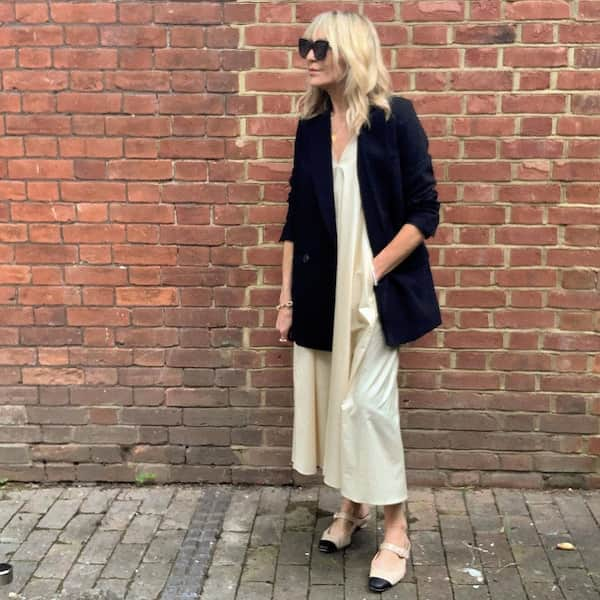 12.  Gray Blazer + Red Gown Dress + Pump
With your mini red gown and blazer, you are perfectly ready to meet with your lover on Val's days. You have to get this now and keep it for the next Val's day.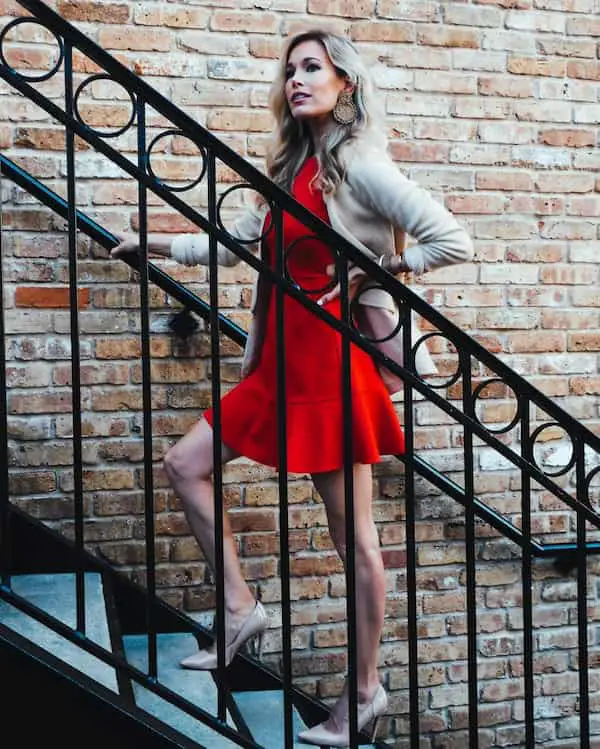 13. Pink Long Dress + Blazer + Sneakers + Sunglass + Handbag
I recommend this outfit for mums and older ladies. You can slay in this while you go out for work or corporate meetings.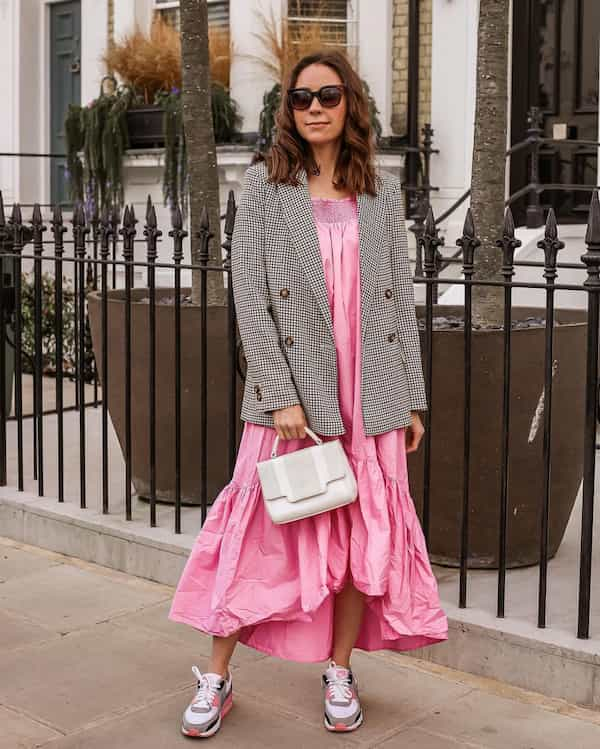 14. White Blazer + Floral Gown + Shoe + Sunglass
To make your Thursday exciting and beautiful, you need to spice it up with your dressing, and this outfit does it better. A perfect mix and match outfit for work.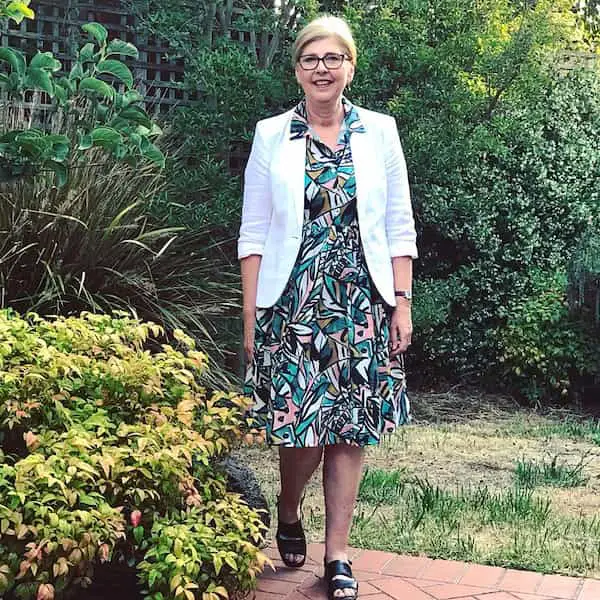 15. Ash Blazer + V-Neck Gown Dress + Lace Up Shoe + Sunglass
For a more relaxed and conservative dressing, you can go with the mix match below. This will suit you perfectly regardless of your size.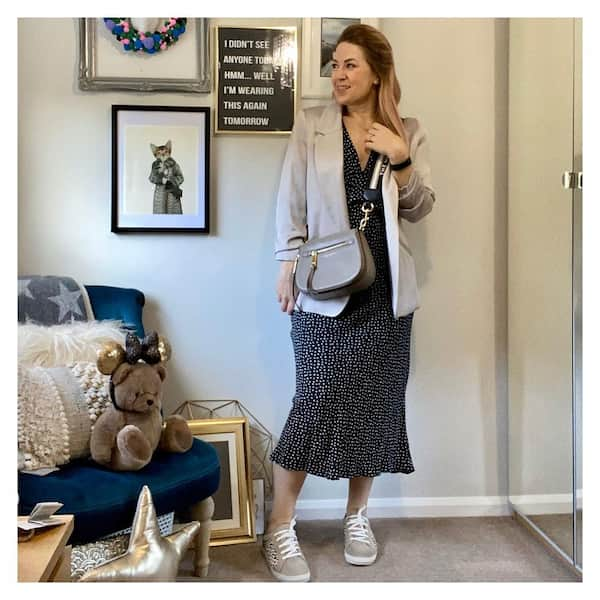 16. Black Blazer + Black Gown Dress
A boxy blazer is a nice coverup on your slip dress.  To brighten it up, you can wear heels and a chic hat.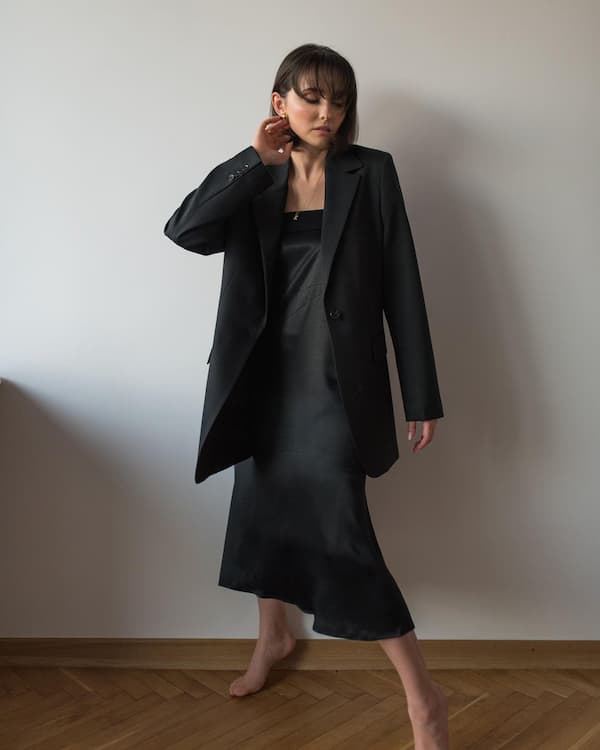 17. White Blazer + Dotted Light Red Gown +Sunglass + Handbag + Flat Slippers
Looking for a perfect Friday dress to lighten up your day? I have another idea you'll love. A one-time simple and classic outfit.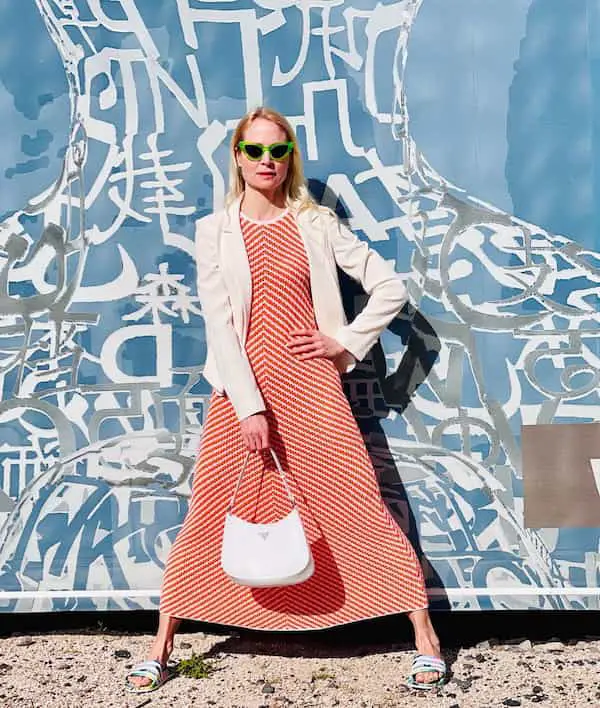 18. Black Blazer + B&W Floral Gown + Leggings
This floral dress, blazer, and neck warmer combo is a perfect mix-match to use to take a shot on mother's day. It would be best if you considered adding this to your collection.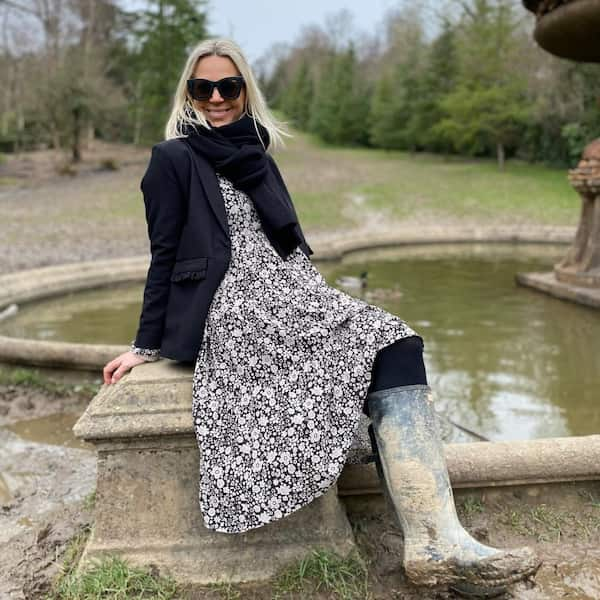 19. White Blazer + V-Neck Belted Floral Gown + Sneakers +Handpurse
One of the best choices you can make in summer concerning clothing selection is to have this kind of dress as part of your selected collections.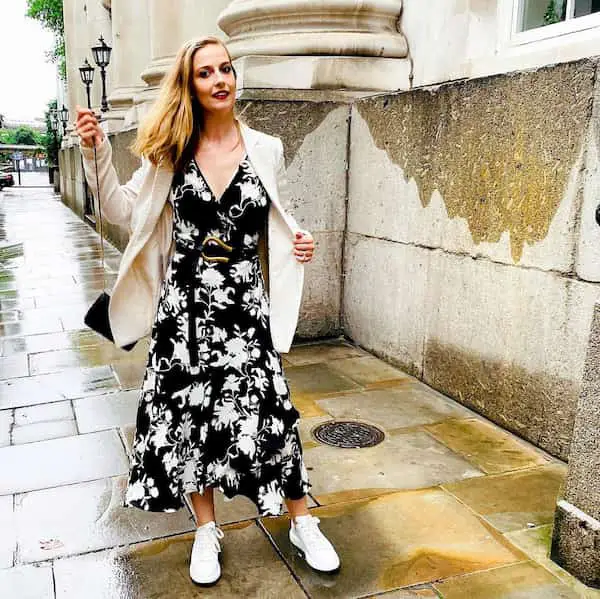 20. Gray Blazer + Peach Gown + Heels + Purse
You can't go wrong in this gown. All you have to do is complement it with a  set of heels, and then you are good to go.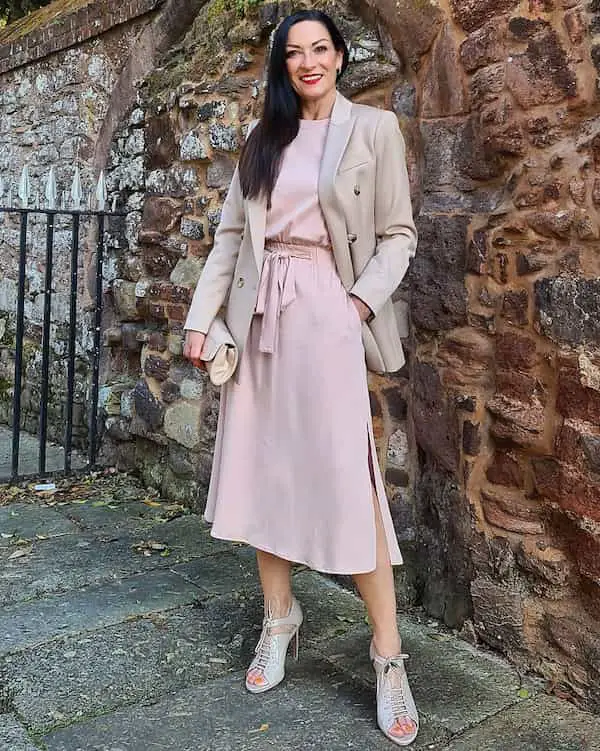 21. Blazer + Floral Body Hug Gown + Handbag + Heels
For a more curvy and smart look, you can go for this pick of gown. With the blazer on, you look more corporate and confident.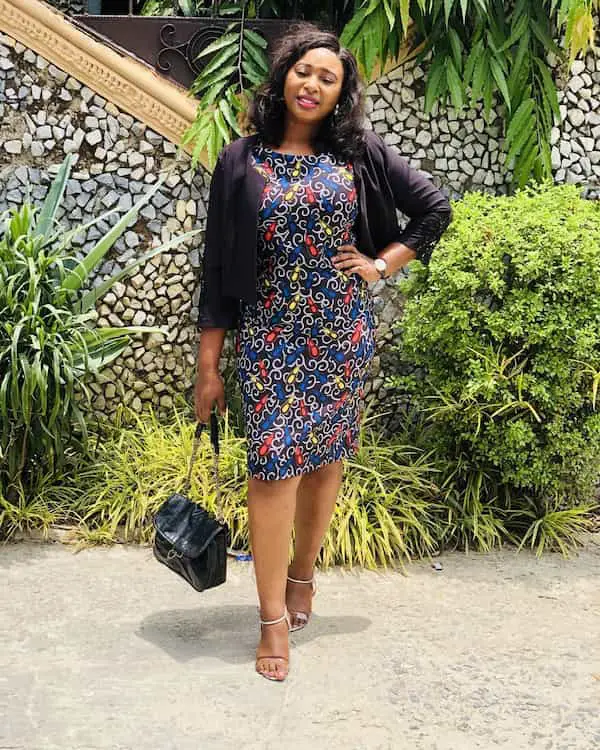 22. Yellow Blazer + White Dress + Sneakers
To get this expression, "Your dress is lovely" "I like the way you are dressed." You have to give this outfit a try.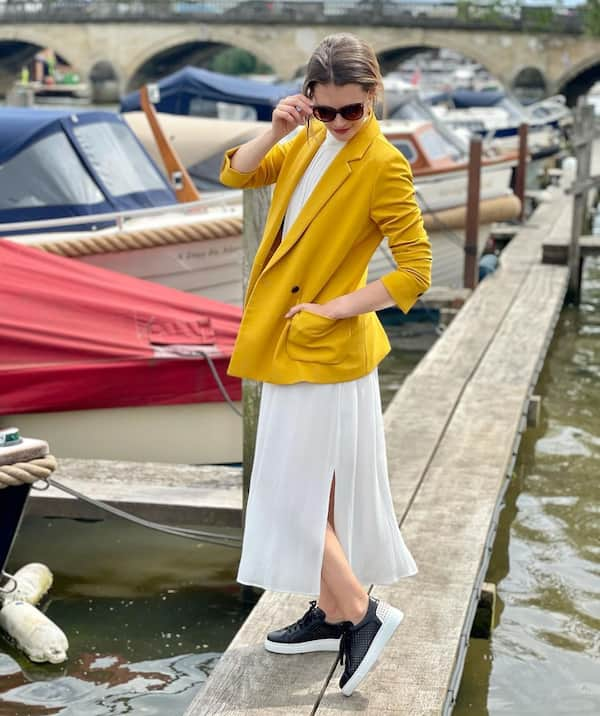 23. Blazer and Dress Outfit for Plus Size
As a big lady, you can also slay comfortably in your short gown and blazer. You can complement it with either a shoe or heels.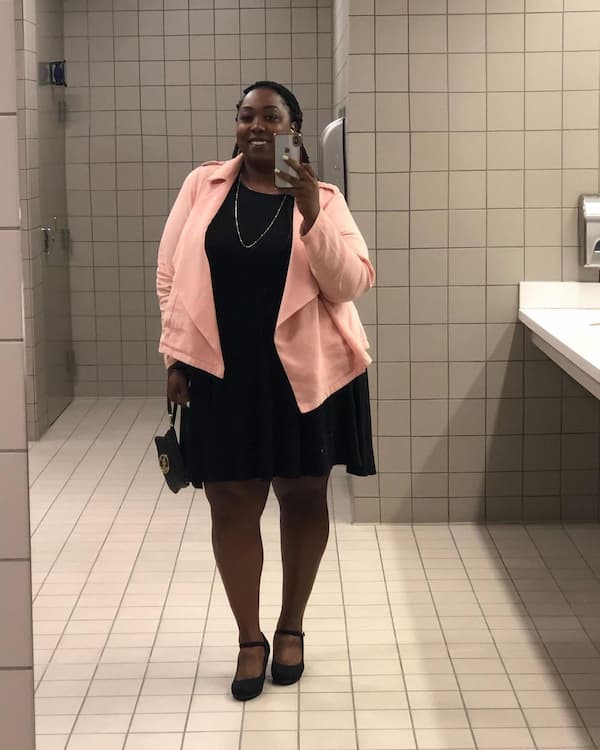 24. White Blazer + Designer Gown + Heel Shoes
For a more reserved look, you can decide to wear the blazer fully on the gown or leave it hanging for a more classy look.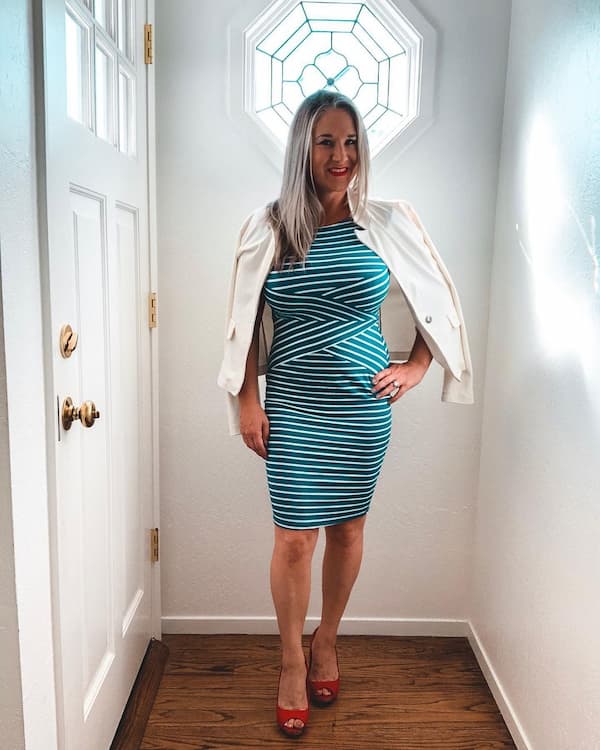 25. High Low Dress + Blazer + Sneakers + HandBag
Looking for an elegant dress to wear to attend that exclusive party in the city? Look no more. Check this out.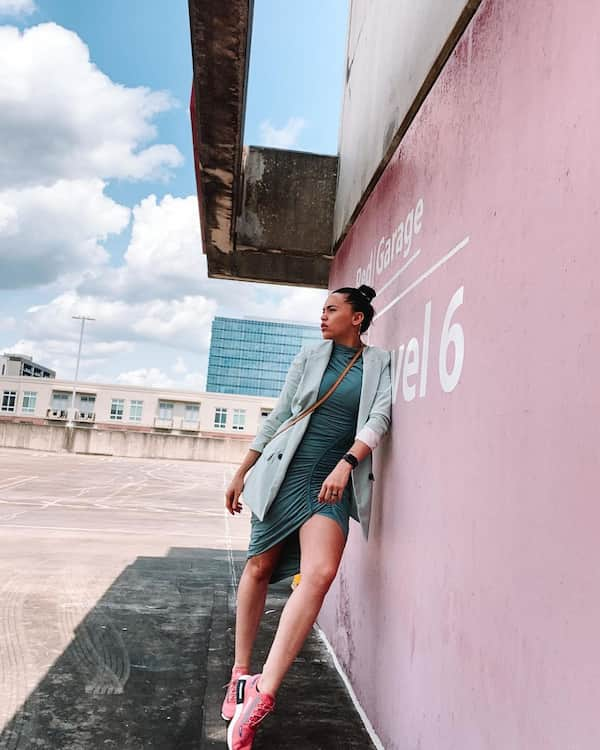 And this is all I got for dress and blazer outfit ideas. Want some more outfit ideas? Check out these blog posts.
I hope you enjoyed this piece. Do well to rate this post, and don't forget to share this article with your friends.
See you with more exciting inspirations. Trust me; you wouldn't want to miss any of our upcoming outfits compilation, so make sure to follow us on Pinterest.