Easter Sunday Outfits– Easter is an amazing time to showcase your gown-styling skills, and frankly, it's a competition. Outdoing others in the practice of wearing a fascinating Easter Sunday outfit is an achievement that isn't always recognized.
If you're a fashionista, however, you'll want to do it nonetheless. However, choosing a great grown for Easter and matching it with the right apparel to look like a model is no easy job.
To avoid having to come up with an outfit idea yourself, here are 25 of the best Easter Sunday outfit ideas for the coming Easter.
Cute Easter Sunday Outfits
1. Floral Dress with Wedge Shoes + Hat
The average lady will find it somewhat difficult to hate a pink dress. However, matching it with other apparel to look great is where the problem lies. As this model shows, wedge shoes and a large hat might be all you need for your dream look.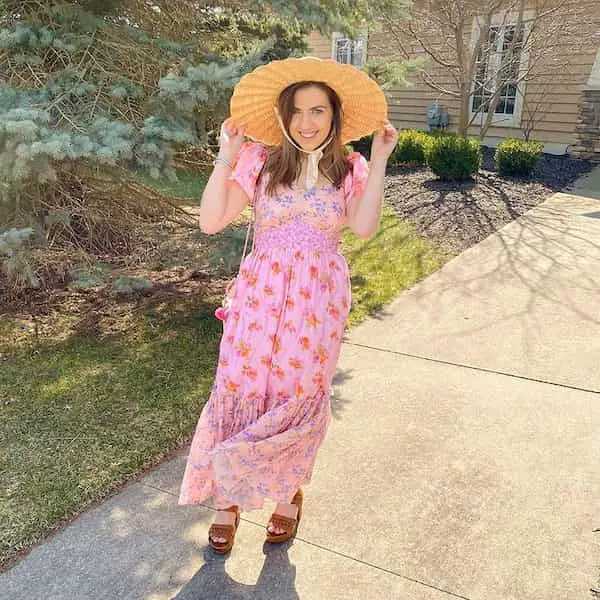 2. Maxi Dress with Sandals + Clutch Purse + Sunglasses
Plus-sized women can have most of the Easter looks I've listed here, and more. Part of the more is this, which consists of a maxi dress and sandals that match your clutch purse.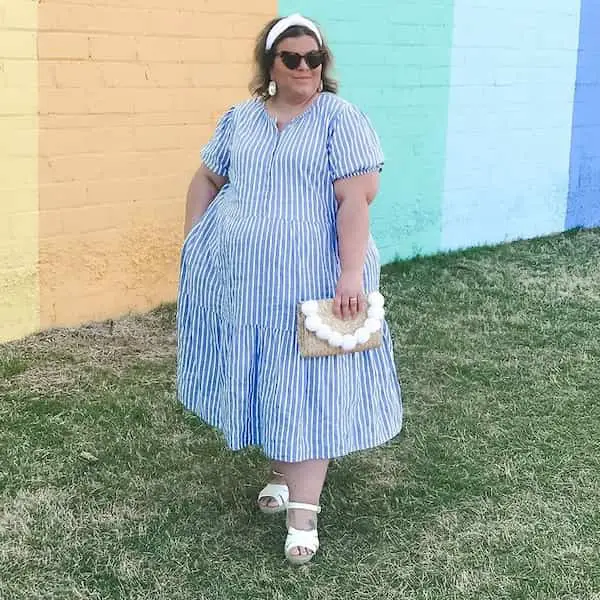 3. Floral Long Dress with Ankle-High Boots + Midi Handbag
A floral dress is an excellent way to dress for Easter Sunday. It's even a better recommendation when you have a background like she's taking the picture. The match between her handbag and the background is just phenomenal.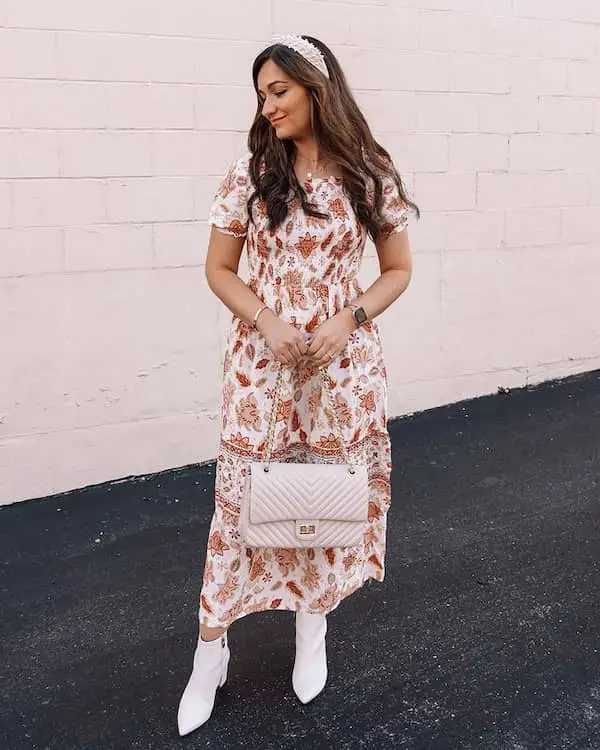 4. Up-shoulder Dress with Sandals
A fascinating truth about dressing for Easter is that all dresses work, as long as they're no mini dresses. Apparently, this up-shoulder floral dress qualifies, and don't forget about the basket that pairs partially with the dress and partially with the shoes.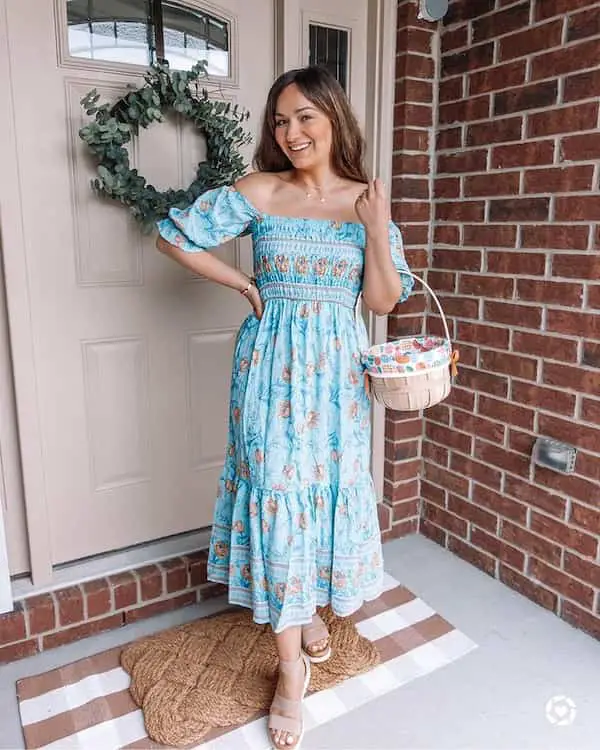 5. Knee-Length Dress with Denim Vest + Boots
A knee-length dress should be long enough for Easter Sunday, and a denim jacket only shows that you're a fashionista. Add a pair of boots and you'll have her excellent look.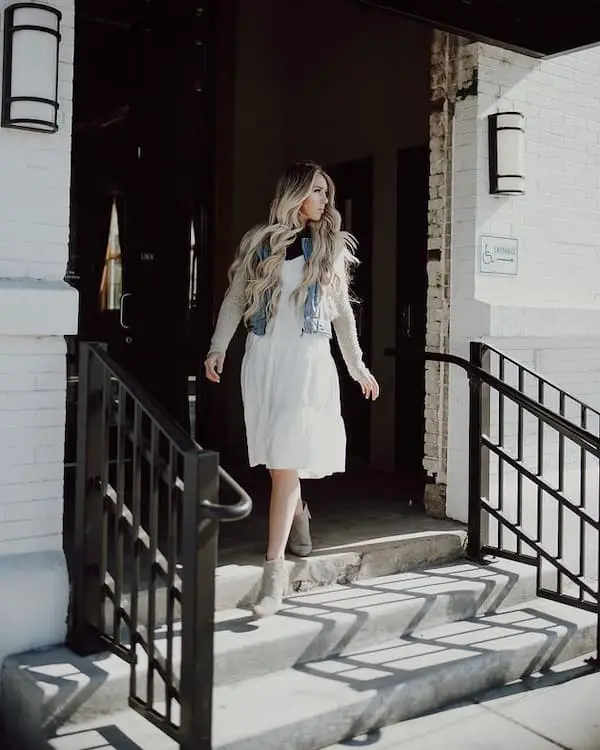 6. Up-shoulder Long Dress + Wedge Shoes + Sunglasses
Here's another up-shoulder dress idea that looks perfect for Easter Sunday. If you're looking to recreate this alluring photo, consider finding a similar atmosphere to make the greens contrast the yellows.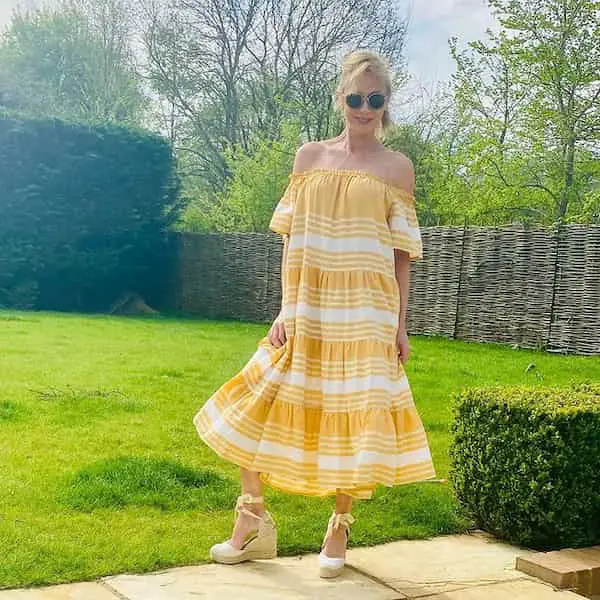 7. Button–front Long Dress with Sneakers
Ever since Princess Aurora from Sleeping Beauty, pink dresses have rarely gone out of vogue. Pair a button-front long pink dress with a pair of sneakers for this not-quite-a-princess look.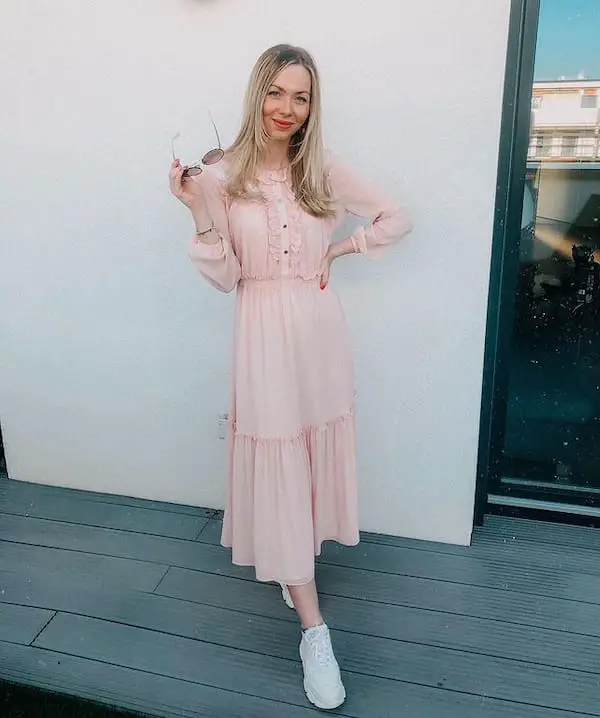 8. Maxi Dress with Midi Handbag + Hat + Sandals
A maxi dress with a hat seems to be the default costume for Easter Sunday, but you're free to choose the color and pattern. Here, she went with a dark green that matches the surroundings, and it looks simply perfect.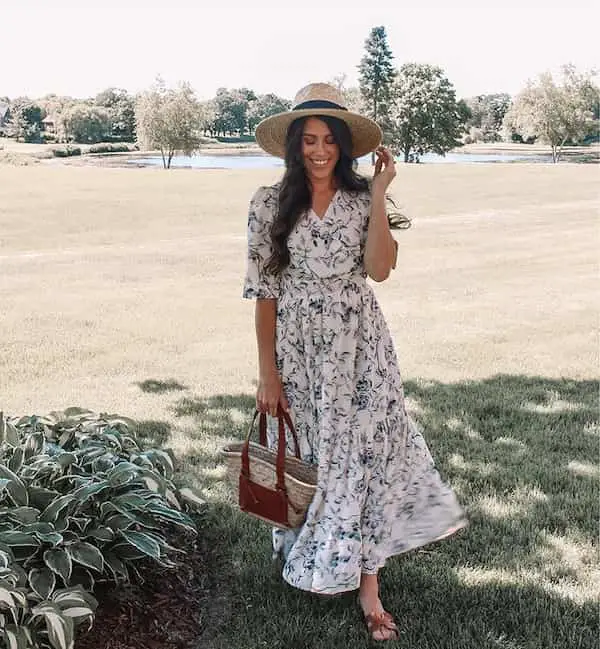 Why waste your time trying to choose the best floral pattern for your dress when you can make do with a blue dress with yellow heels. With such a beautiful smile, no dress will look bad anyway.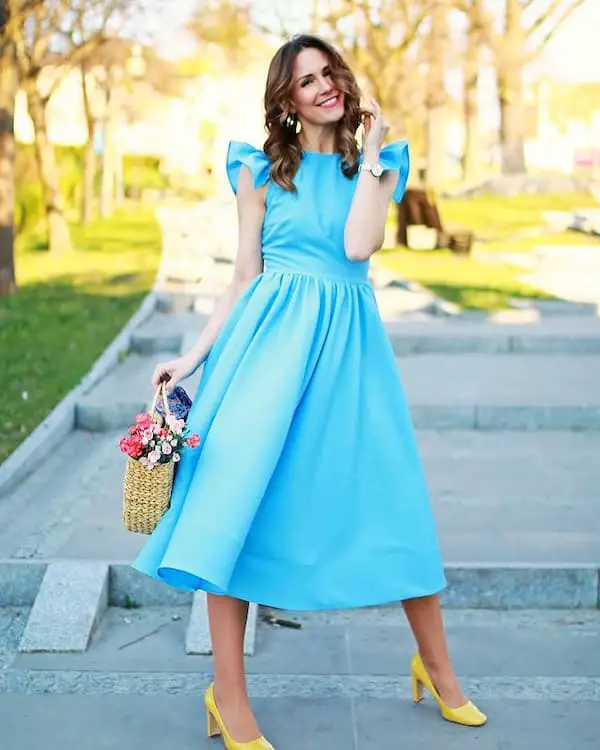 10. Layered Dress with Heels
The layered dress is another style that has gotten increasingly popular over the years. This model proves that it's all you need for an excellent look at your church's Easter Sunday service.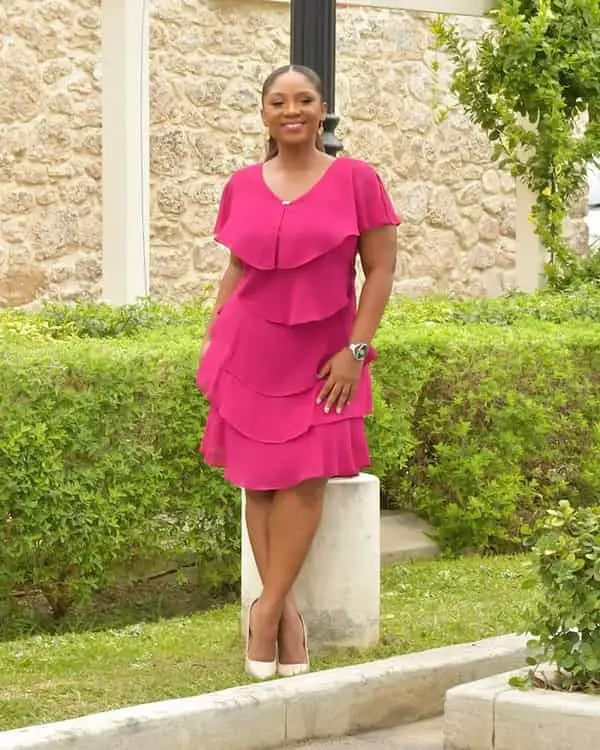 11. Balloon Maxi Dress with Sandals
A maxi balloon dress is one of the best ways to get all of the Easter joy in a beautiful outfit. With multiple colors, it just looks like a natural blend for every environment, and with that smile, everything looks gorgeous.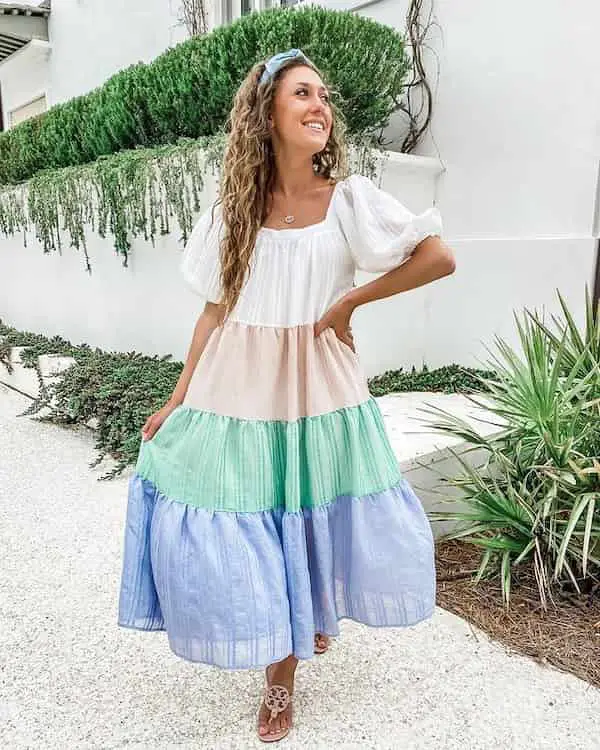 12. Maxi Dress with Heels
The simplest way to dress for Easter might be to wear a maxi dress and a pair of heels. In this outfit idea, the model showed us that this simplicity might be the best way to show up for the Easter Sunday service.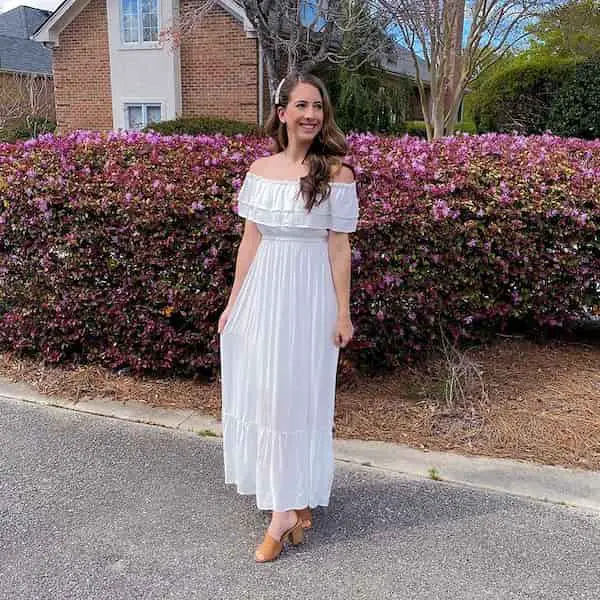 13. Long Dress + Wedge Shoes + Knitted Handbag + Sunglasses
This dress is just as simple as the preceding idea but in a totally different color. Also, the fact that you have to worry about a handbag and sunglasses is an extra pain, but they're well worth it.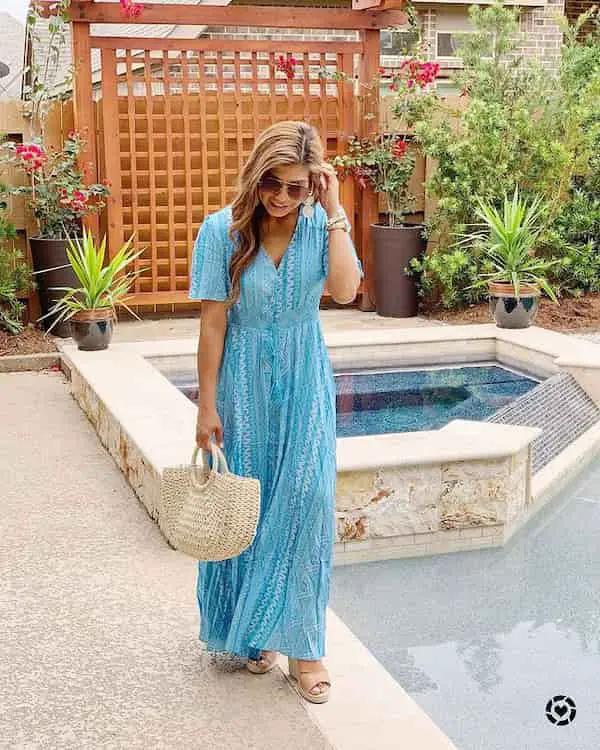 14. Long Sleeve Blouse with Wide Legs Pants + Sunglasses + Heels
Easter Sunday isn't about gowns alone; a long sleeve blouse with loose pants is another excellent way to show up at the church. Add heels and sunglasses and you're basically the church's fashion queen.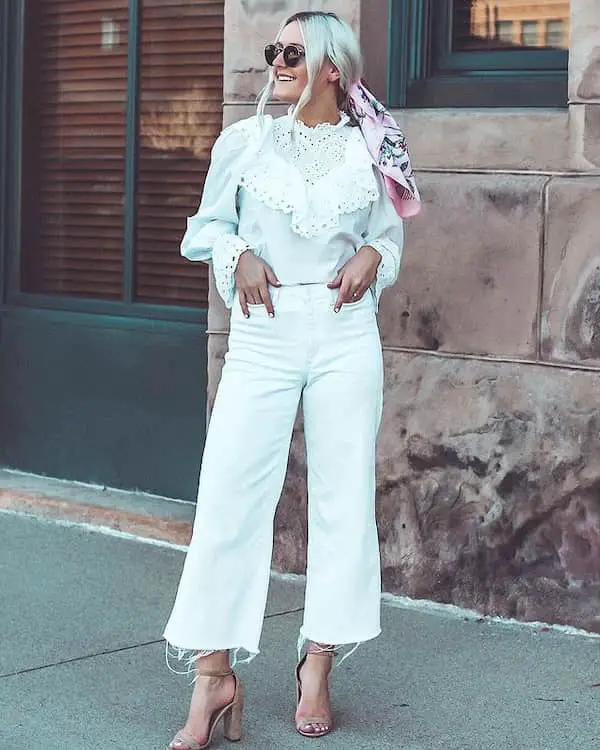 15. Multi-Colored Dress with Midi Handbag
One advantage of multi-colored dresses is that they look like they're made for every setting. When you pair them with heels and a handbag, you have a ready-to-go look for any Easter service.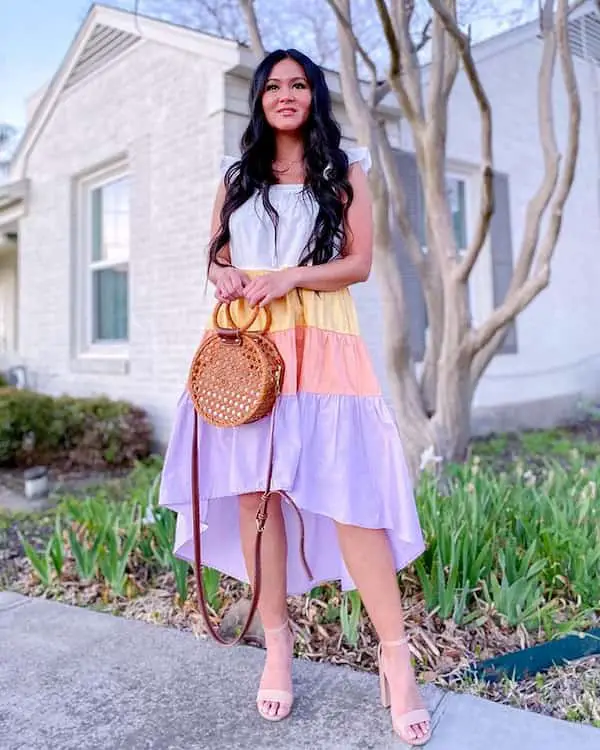 16. Knee-Length Dress with Midi Handbag + Wedge Sandals
Why worry about combining colors when you can simply show up like this model for Easter. A simple knee-length dress with a pale white color and a brown handbag that matches your shoes should do the job.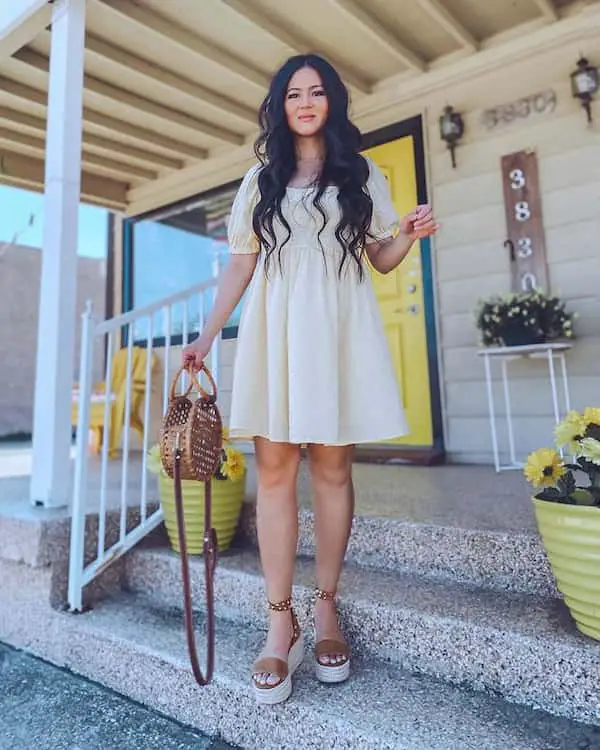 17. Tiered Ruffle Dress with Heels + Midi Handbag
Anything goes for the Easter Sunday service, as long as it's not remotely inappropriate. If you're going for a neutral look, your only option besides white is black, and this model shows how to style it with a tiered dress.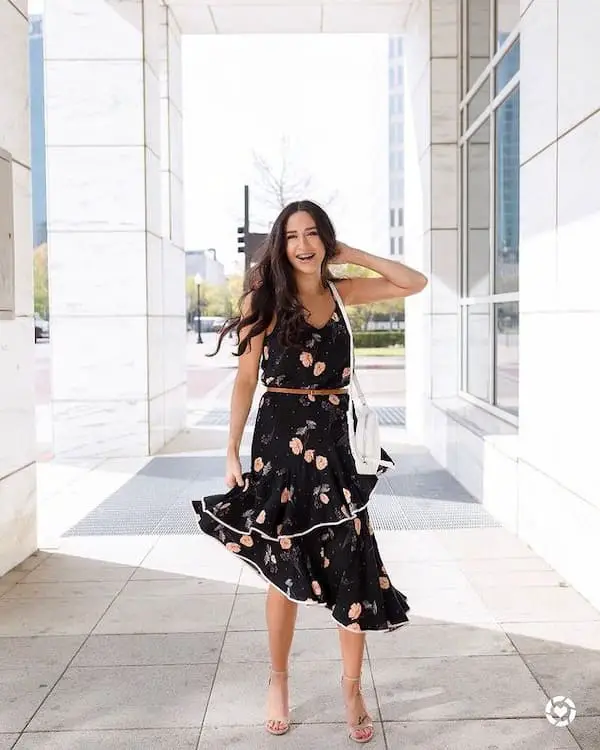 18. Puffed Hands Blouse with Maxi Skirt + Heels + Handbag
Here's another Easter outfit inspiration for the gown-haters. A puffed hands blouse and a maxi skirt will do just enough to simulate the look of an Easter gown, leaving the handbag and heels to complete the outfit.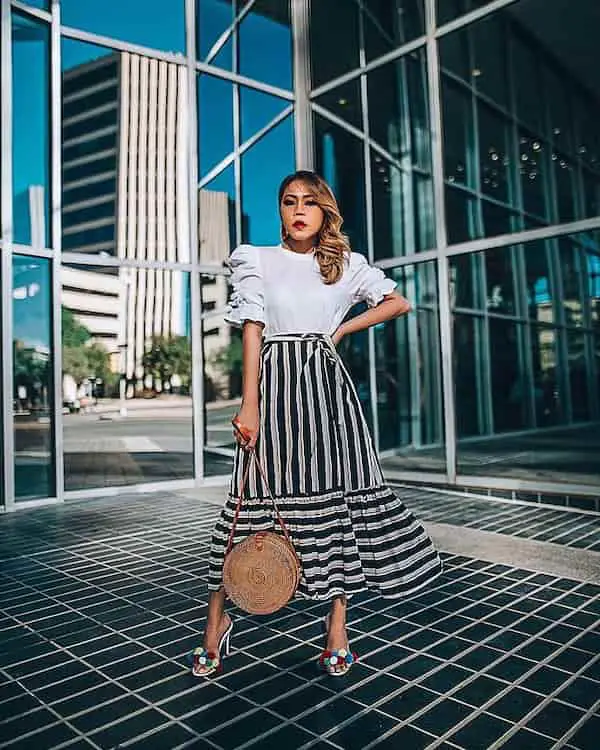 19. Floral Long Gown with Heels + Clutch
This compilation has featured countless floral gowns, but this is another idea if you haven't found your match. For some reason, I seem to fancy the purple color of the clutch, and how it matches subtly with the rest of the outfit.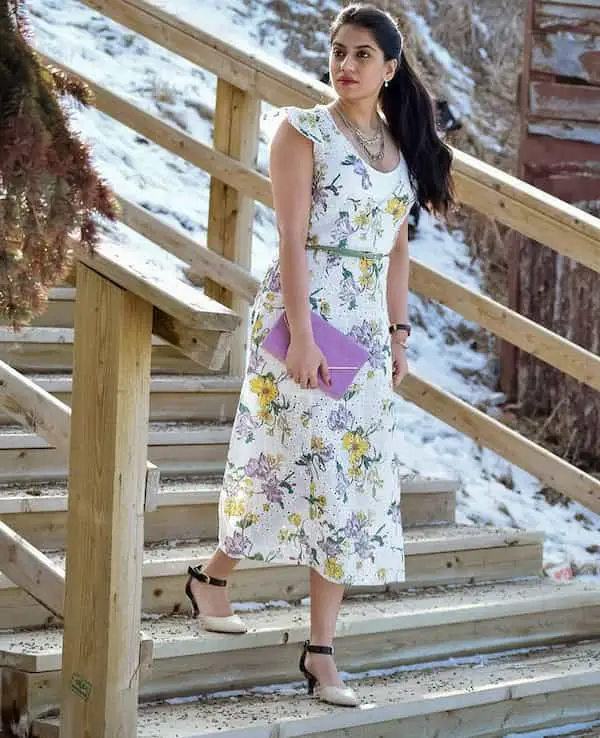 20. Stepped Long Dress with Heels
For the fans of the pink color, here's your dream Easter Sunday outfit. If I were to add something to this outfit, it would be a pink clutch, to go all out with the pinkness. Be prepared to stand out in the church tho.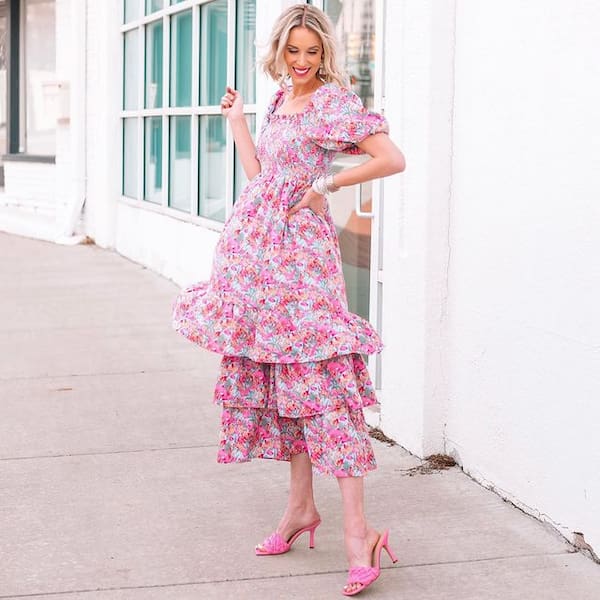 21. Long Sleeve Blouse with Silted Palazzo Pants + Handbag
If floral gowns don't wow you, why not try a long sleeve blouse with long palazzo pants. According to the picture here, getting the combination remotely well will give you an elegant look, just like the model.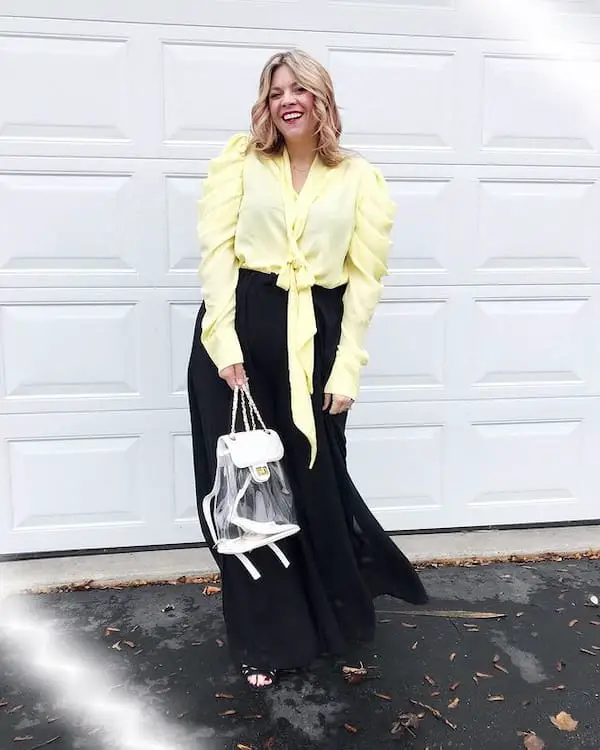 22. Knee-Length Dress with Denim Jacket + Heels
If you'd rather stick with a casual look, a knee-length dress with heels should be all you need. For extra flair, you can add a denim jacket and a cute smile, and you'll get her insanely alluring look.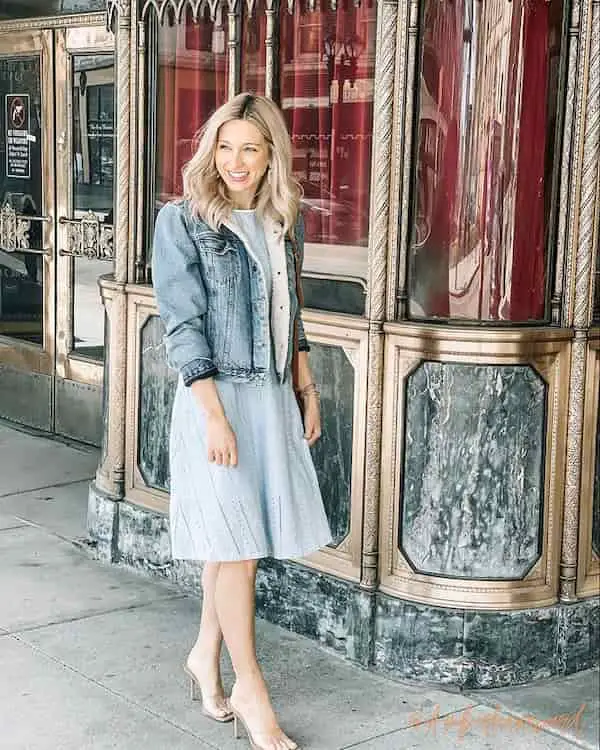 23. Long print Shirt Dress + Demi Flats + Clutch
Back to floral dresses, here's a long print shirt dress that's a great option for Easter Sunday. While it looks excellent on her as a plus-size model, you don't have to be her size to look great in the pink-blue dress.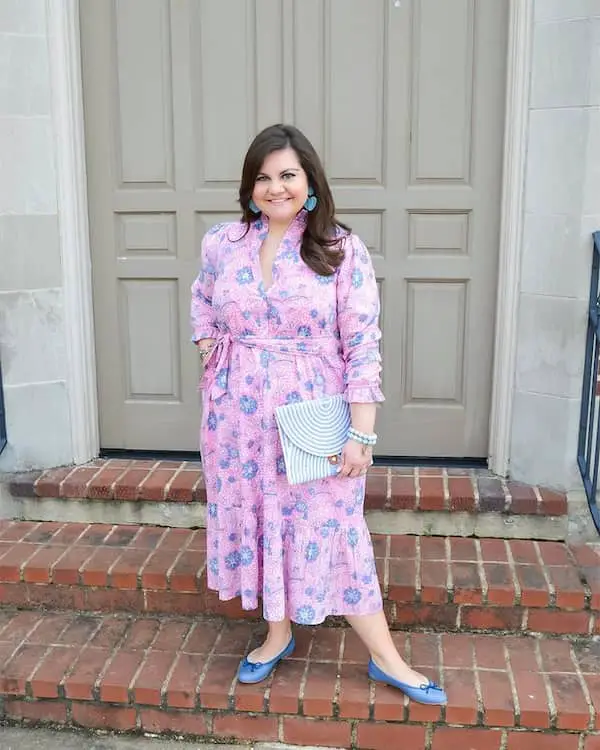 24. V-necked Blouse with Jean Skirt + Heels
Pairing a v-necked blouse with a pencil skirt makes you look more like someone going for a party than for a church service, but it still works. While I'm not a fan of the red shoes, it doesn't really look out of place.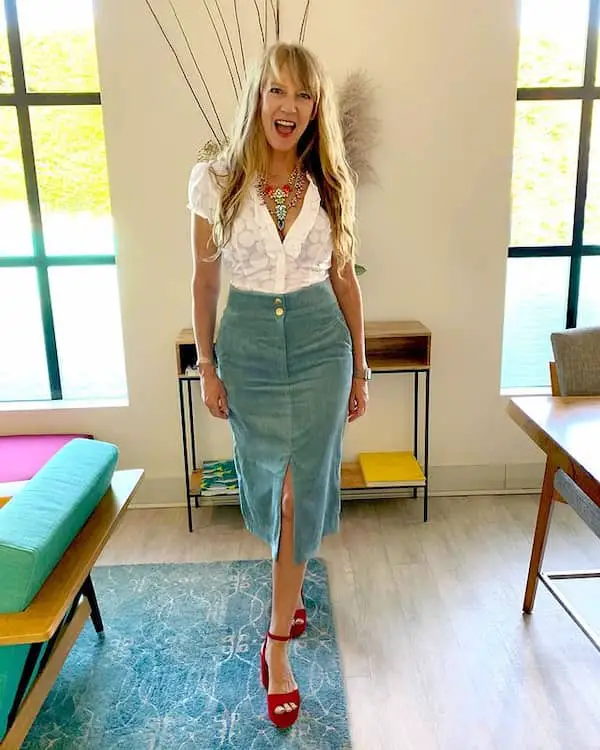 25. Sleeveless Top with Fur Skirt + Flats
And finally, for ladies looking to skip a dress for this Easter, a sleeveless top is the way to go. With her cute smile, it's difficult to definitively opine that her dress is the reason for her radiating beauty.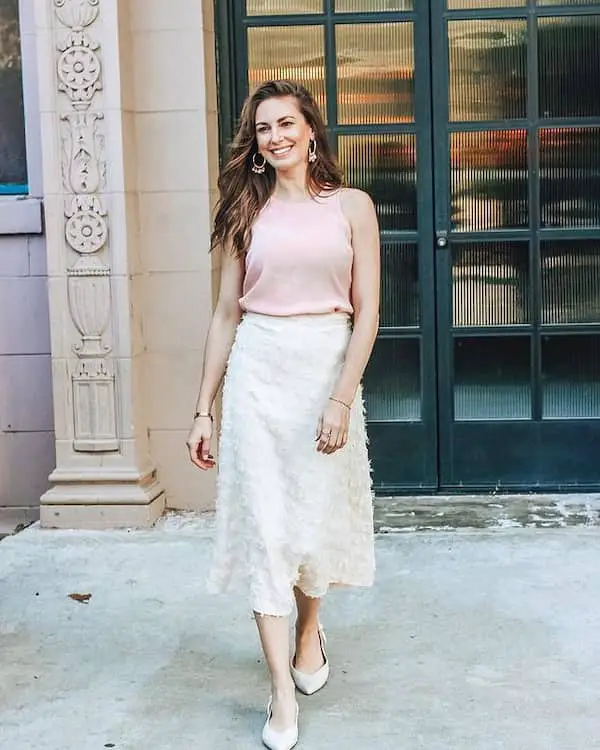 And that's all for my post on Easter Sunday outfits. Want some more outfit ideas? Then you might want to check out these blog posts.
25 Adorable Easter Family Outfits
I hope you enjoyed this piece of content. Do well to rate this post, and don't forget to share this outfit compilation with your friends.
See you with more exciting inspirations. Trust me; you wouldn't want to miss any of our upcoming outfits compilation, so make sure to follow us on Pinterest.
Pin for Later.