It's the Eastertide again, and it's time to show off your new outfits. Here are 25 exciting outfit ideas to flex your fashion muscles.
It's the exciting Easter season again, and you can finally wear your excellent floral dresses and Easter bonnets. Everyone is in on the race to outdo others while looking their best at an Easter event or even the Easter Sunday service.
However, looking elegant is not an easy job, especially during the Eastertide when the bar for elegance has been raised. You have to get the best combination of dress, shoes, and other apparel just to look relatively great.
Exciting Easter Outfits
For absolute beauty, you can simply copy what others are doing right. Here are 25 Easter outfit ideas from people that are certainly doing it right.
1. Jumpsuit with Heels + Midi Handbag
In an age where everyone wears gowns for Easter, a jumpsuit with heels is an exciting change. With a midi handbag, it's legitimately hard to find something that looks better than this for Easter without mentioning "floral gown."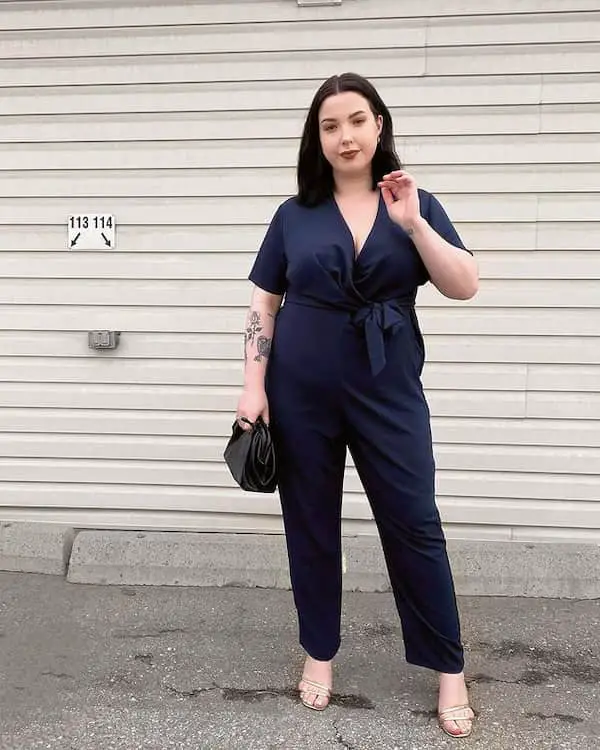 2. Sleeveless Floral Gown with Heels + Hat + Clutch Purse
As expected, a floral gown is one of the best ways to steal the show during Easter. When you match the colors of your hat, shoes, and handbag, you have a combination that's hard to beat.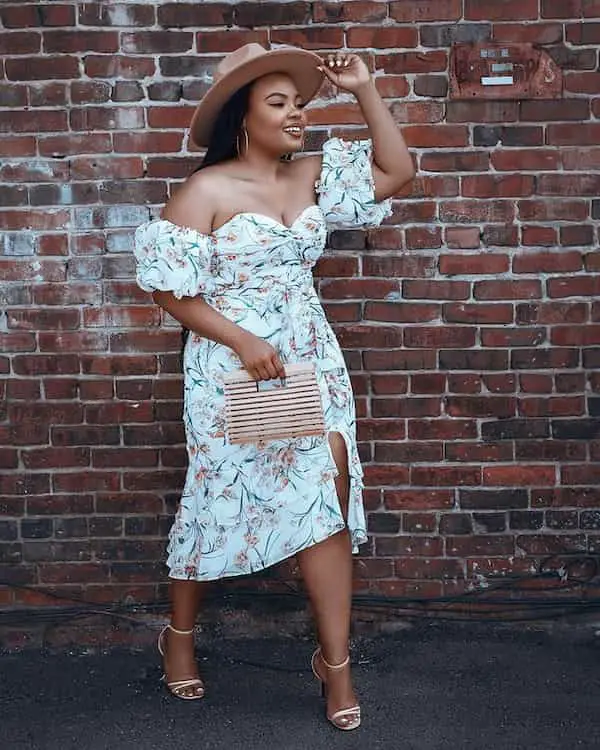 3. Midi Swead Gown with Swead Jacket + Sneakers + Midi Handbag +Sunglasses
For fans of all-black outfits, here's one of the closest you can get to that. Save for the white sneakers that by the way look amazing, everything else on the outfit is black, and beautifully so.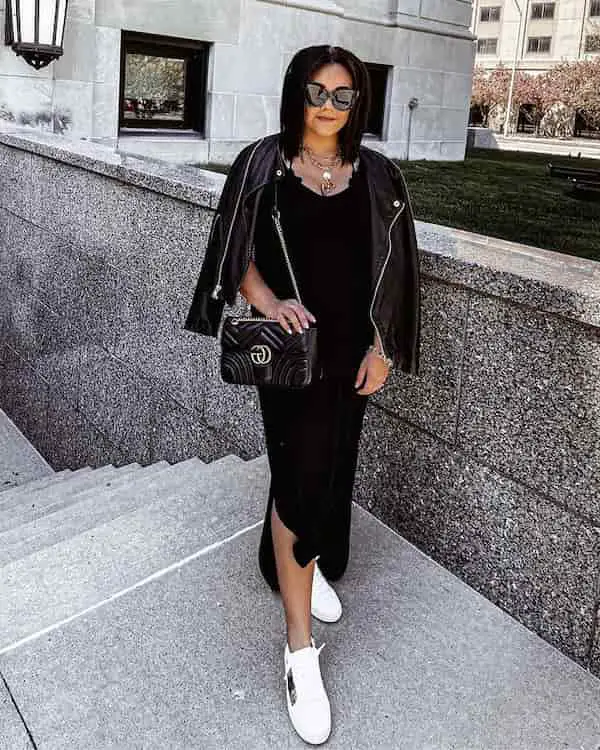 Whether going for an Easter party or church service, a knee-length gown never looks bad. Pair it with a denim jacket and a pair of sandals and you'll see why gowns are the default wear for Easter.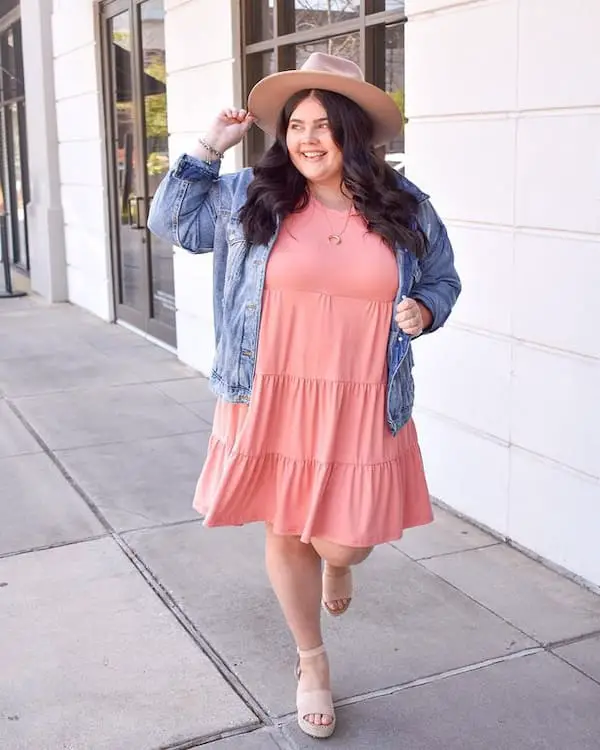 5. Long Net Gown with Heels
Who needs to worry about a blouse with pants when you wear a netted gown. Gowns are a popular option not only for their beauty but also for the fact that they're a preferred outfit choice during Easter church service.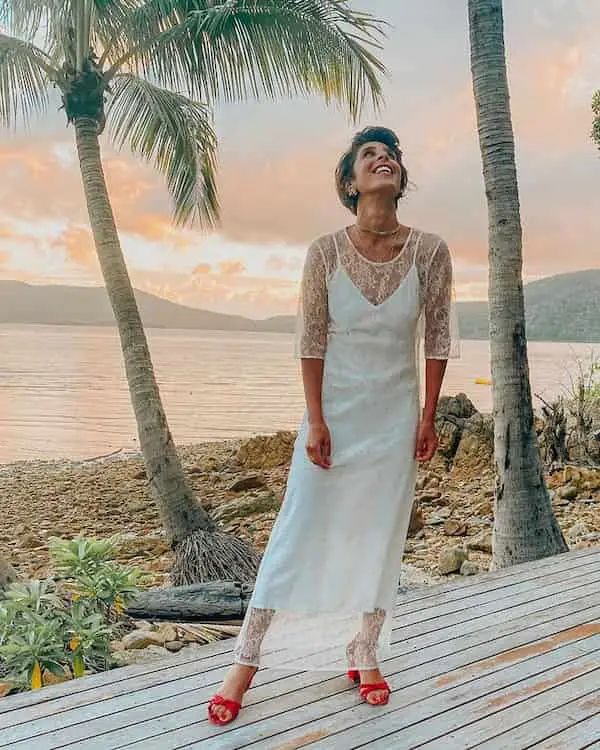 6. Sleeveless Top with Floral Printed Wrap Skirt
A sleeveless top with a floral skirt works best for parties, especially if your church frowns at certain outfits. The hat makes the outfit look even better, and you can go with any footwear of your choice.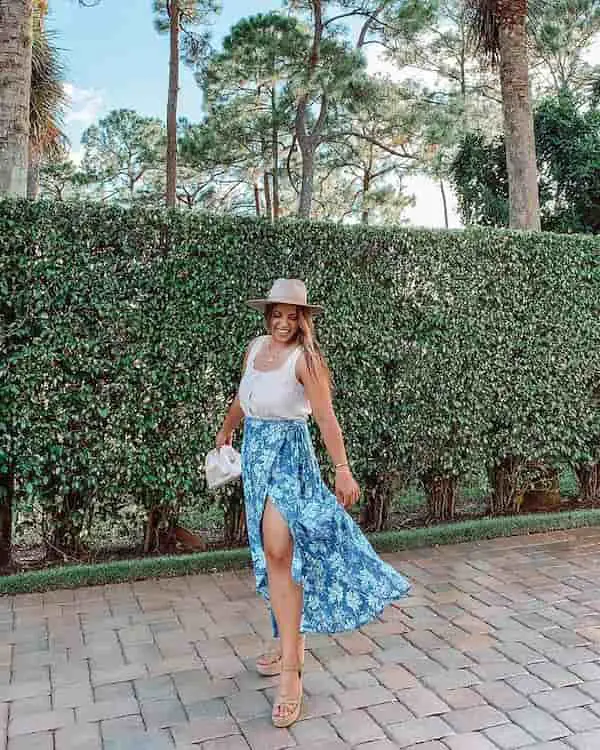 7. Maxi Gown with Heels
Thigh-high heels may sound over the top for a church service, but they're an excellent way to outdo everyone during the Easter family picture. While the way she held the hat looks sick, I'd rather keep it atop my head.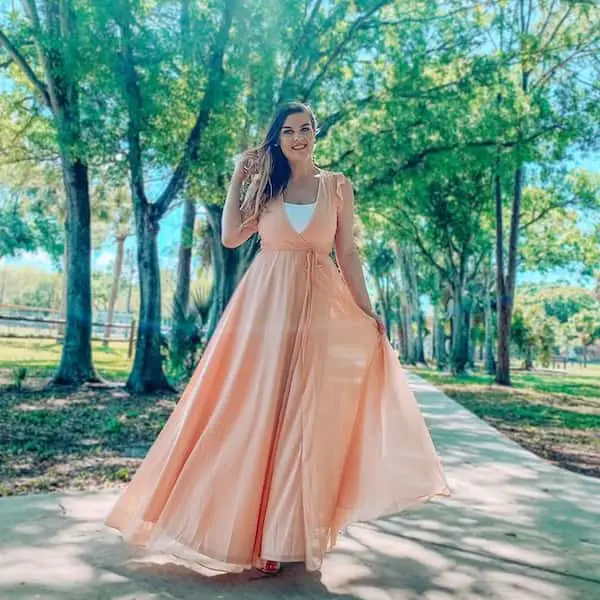 You don't necessarily need a gown to dress for the Eastertide. If you prefer to look casual, you can go with a simple blouse with straight pants. The brown belt is also an important part of the outfit and you shouldn't forget the heels.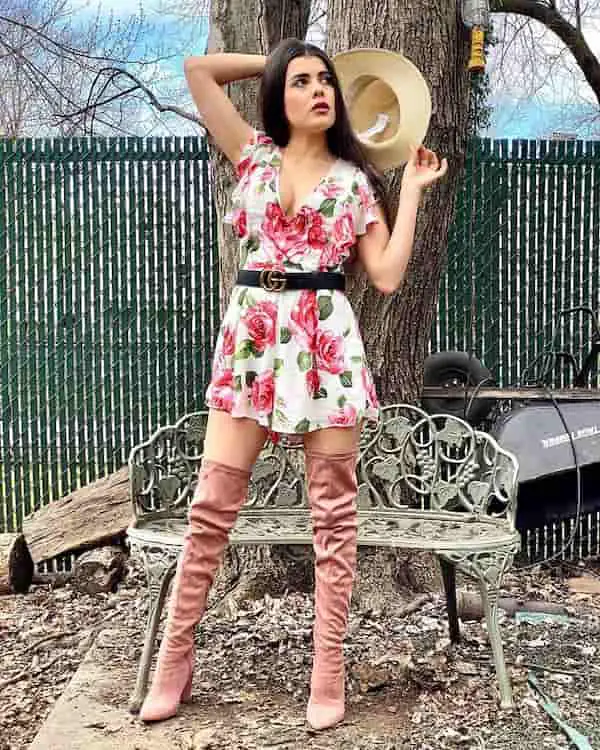 9.  Blouse with Straight Pant + Belt + Heels
If you have enough time to style a layered blouse, here's an excellent outfit idea for you. You only get to flash such an excellent smile if you're aware that the different parts of your outfit come together to form a beautiful piece.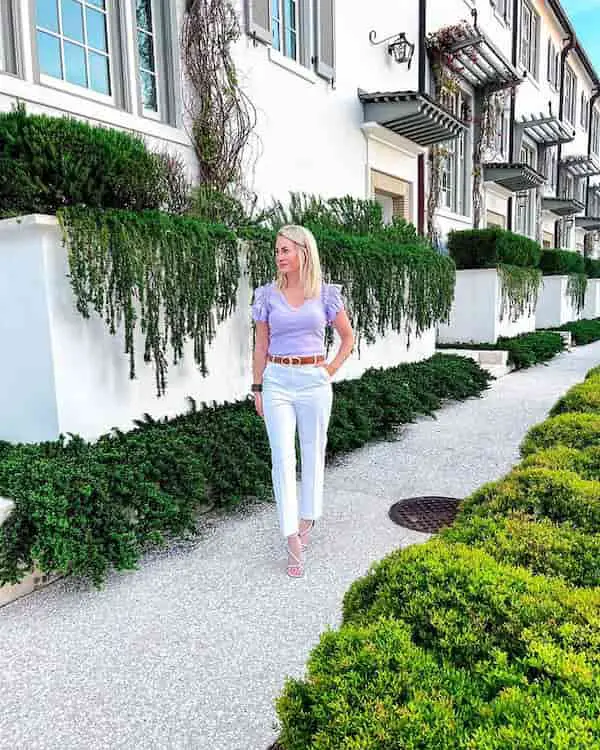 10. Layered Blouse with Pleated Skirt + Knee-High Boots
There's no real need to worry about a handbag, sunglasses, or even a hat if you're going to church service. Showing up at a party in a maxi dress with heels is also not unheard of, making this an excellent multipurpose outfit.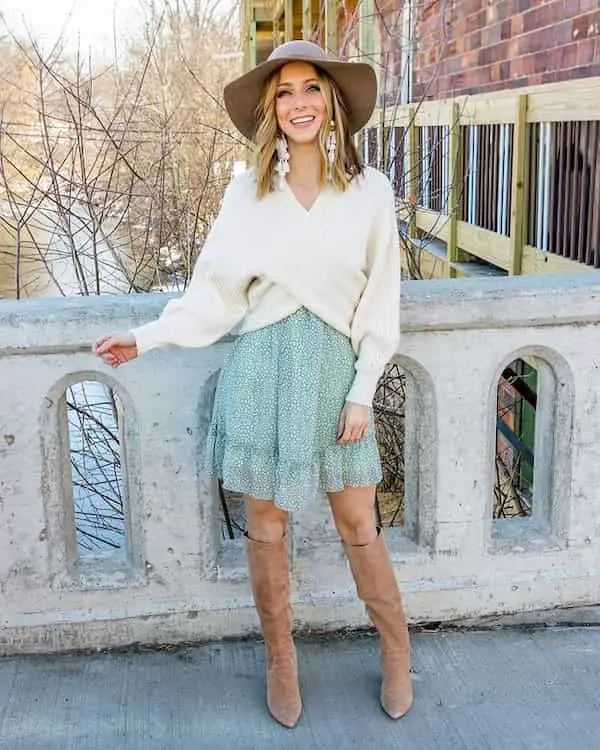 11. Rainbow Ombre Sweater with Wide Leg Pants + Heels + Sunglasses
A rainbow-colored sweater only naturally matches with pink pants and even lighter pink heels. This outfit idea will work best for parties and outings while being acceptable for church services and a family photo.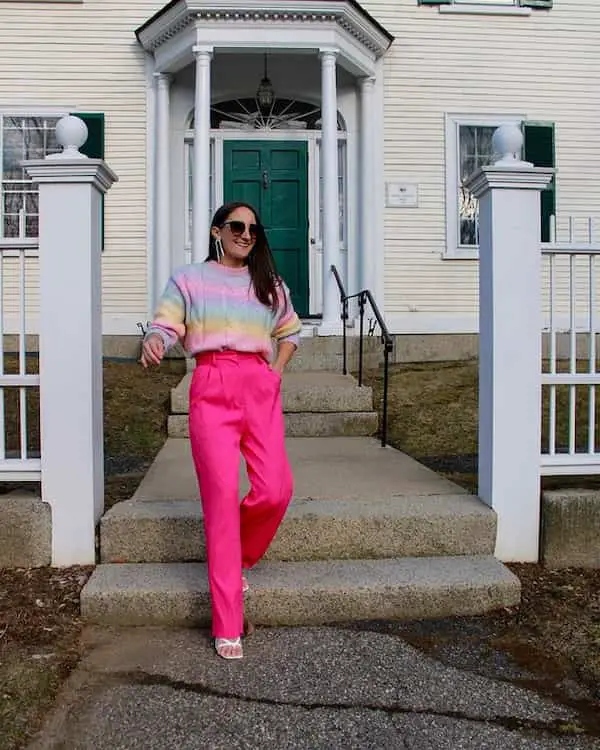 12. Floral Maxi Gown with Sneakers
Building upon the pink trend from earlier, here's another mostly pink gown. Pair this with white sneakers and you have the perfect Eastertide look.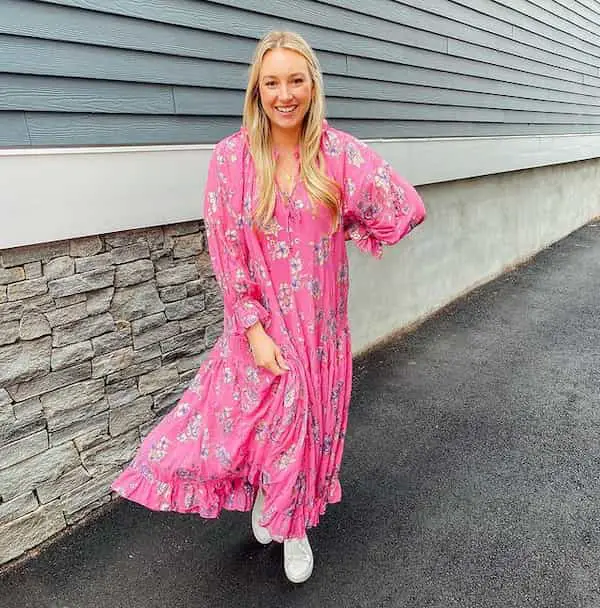 13. Maxi Silted Gown with Ankle-High Boots + Hat
This gown does enough to show your body shape, making it one of the most fashionable options on this list. For a distinct Easter look, consider adding a hat. Matching that hat with your ankle boots (color-wise) makes for a cohesive outfit.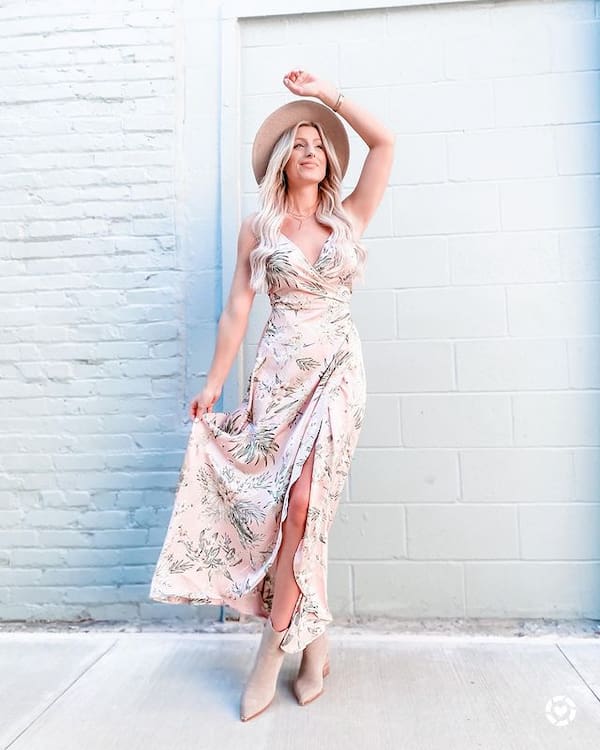 14. U- Neck Blouse with Wide Leg Crop Pant + Clutch Purse + Sunglasses
Who wants a v-neck blouse when a u-neck blouse looks just as beautiful and feels as comfortable. Add a clutch and a pair of glasses and you're good to go for any Easter photoshoot.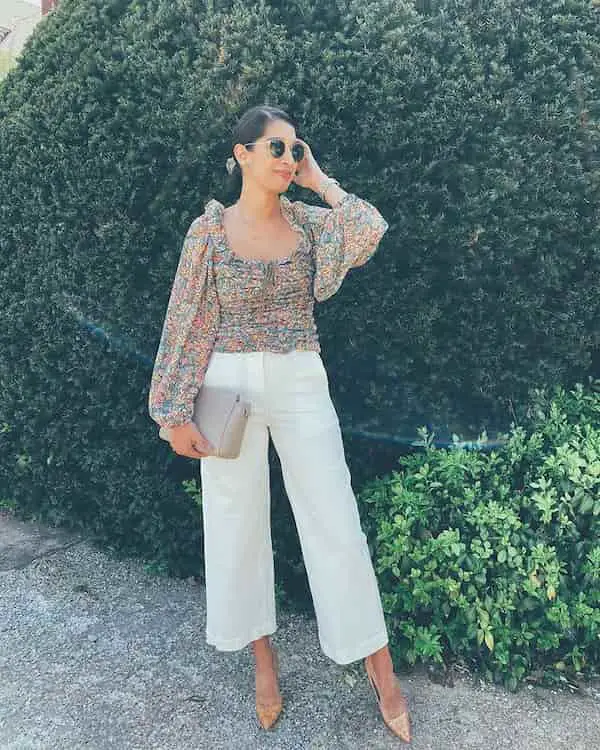 15. Camiri Ruffle Frills Mini Dress with Heels + Midi Handbag
If you're not very conversant with the fashion world, this mini dress might sound strange to you. However, do you care how it sounds if you stand a chance of looking as elegant as she does?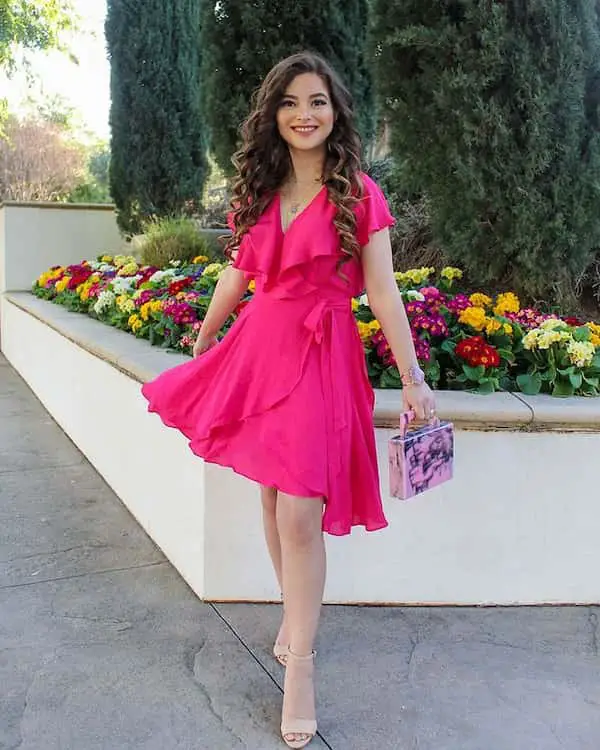 16. Floral Mini Dress with Heels
If it's a floral dress, it's decent for Easter. While mini dresses are usually discouraged during Eastertide, they're a decent option if you don't plan to show up at church in them.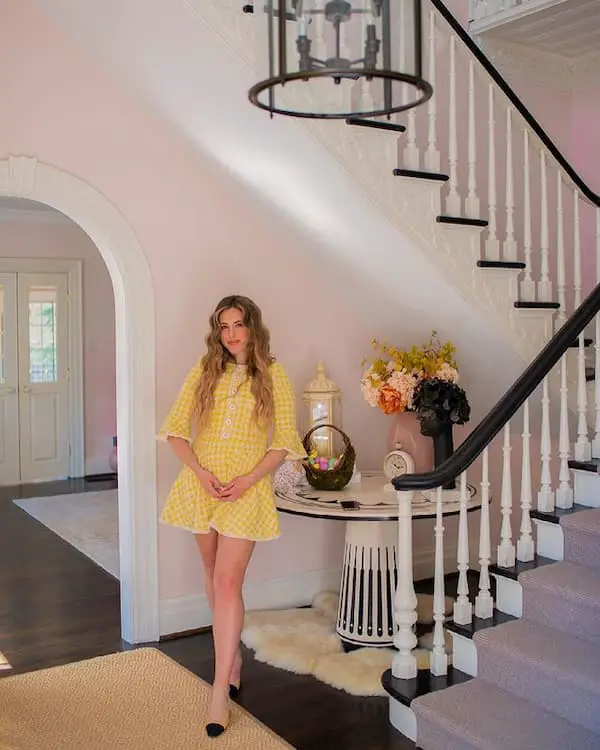 17. Animal Skin Top with Maxi Pleated Skirt+ Blazers + Heels + Sunglasses
Compared to most other outfits in this compilation, this is pretty unique. While you may be unable to replicate the colored hairstyle, it's imperative to copy everything else about the outfit for her unapologetic look.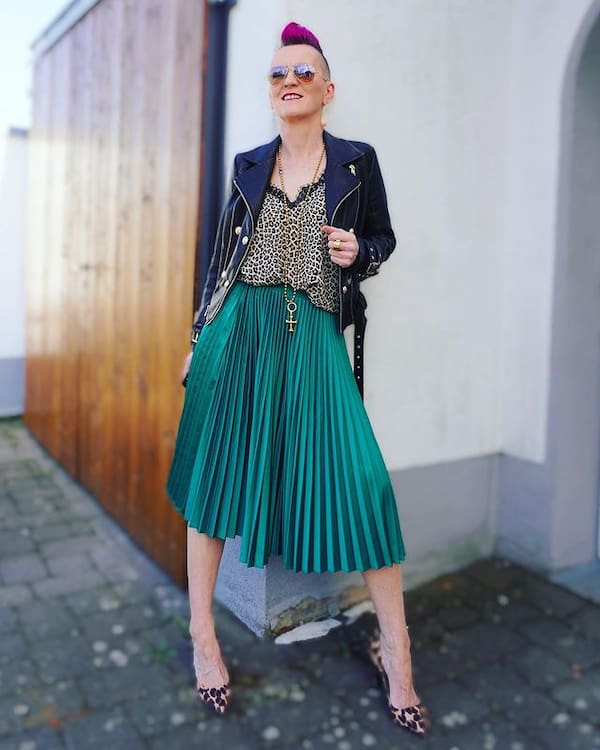 18. Beige Trouser Suit with White T-shirt + Large Pouch Bag + Sandals
This outfit is the result of blowing everything out of proportion to get a chic result. The oversized trouser suit works well with the large pouch bag to give a business casual look. Summarily, it's an excellent way to show up in church without a gown.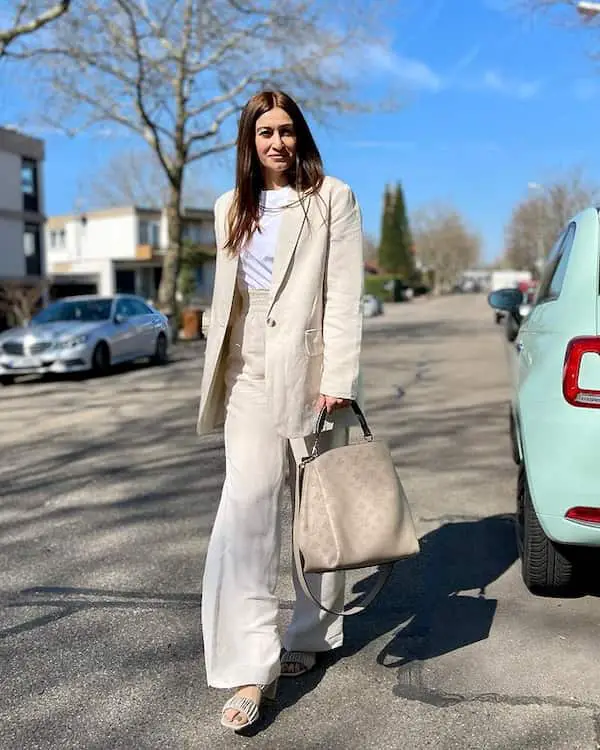 19. Pastel and Minimal Ruffles with Heels + Midi Handbag
This simple outfit looks just like a skin-tight gown, but it isn't quite one. Who cares what it is when it looks so elegant. Pair this outfit with sunglasses and a midi handbag to replicate her alluring look.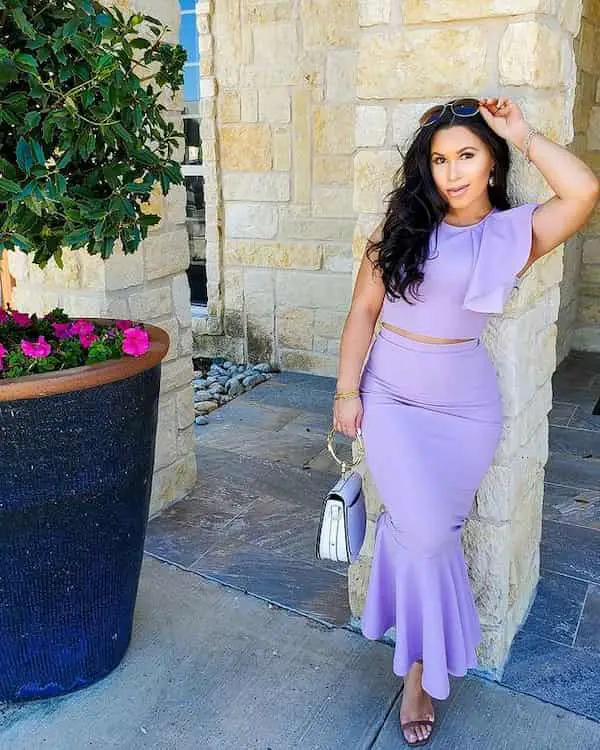 20. Floral Stepped Mini Gown with Denim Jacket + Knee-High Boots + Midi Handbag + Hat + Sunglasses
A floral mini gown is the fashionista's dream clothing during Eastertide. Add a denim jacket, an Easter bonnet, and a midi handbag into the mix to capture her look. To replicate the amazing picture, you'll need to flash an amazing smile to the camera.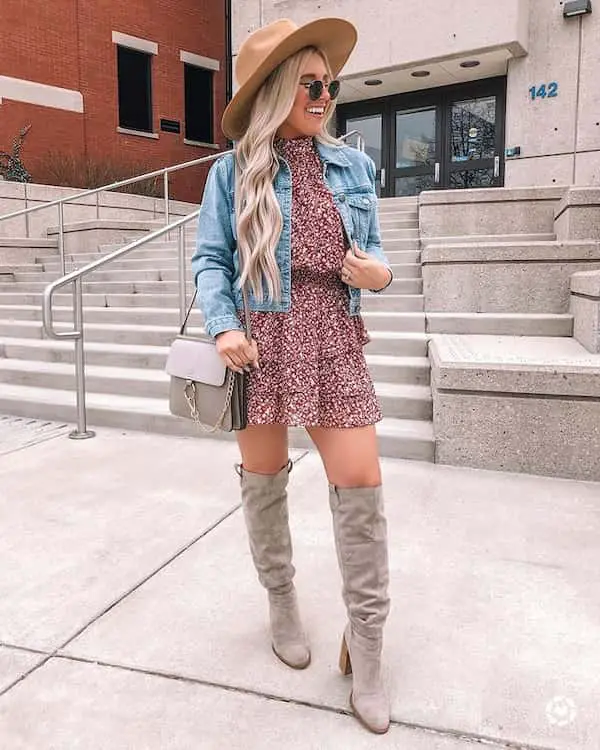 21. Floral Mini Gown with Blazers + Ankle Boots
Building upon the floral mini gown trend from earlier, here's another idea to consider copying this Easter. What makes this special is the match between the colors of the boots and the blazer; simply alluring.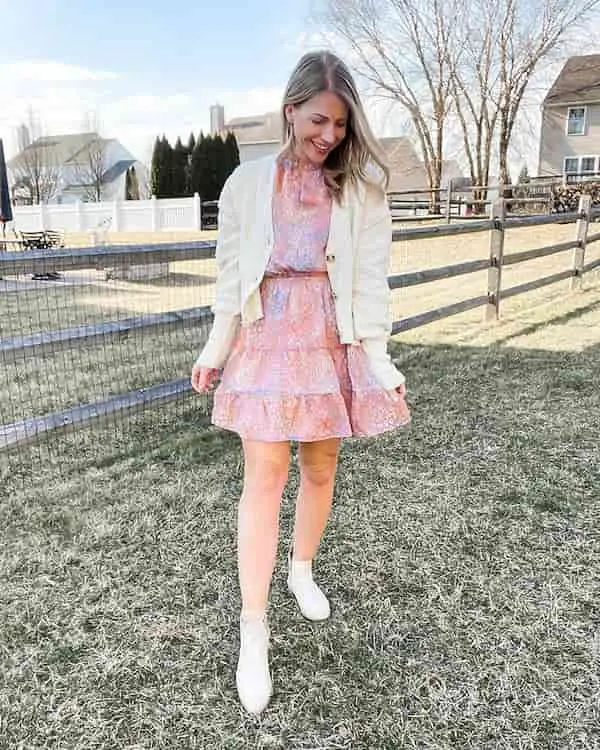 22. Floral Mini Gown with Heels + Midi Handbag
Again, a floral mini gown is the star of the show in an elegant Easter outfit idea. This outfit works best for Easter parties, photoshoots, and nights out. If you're going for Easter Sunday service, however, you may want to get something longer.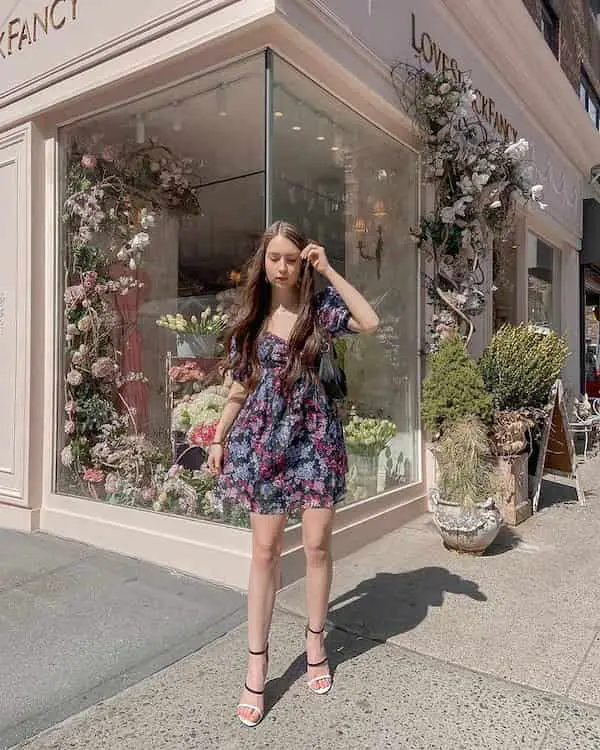 23. Mini Gown with Blazers + Heels + Midi Handbag
Who says we've exhausted all the possible outfit ideas with mini gowns? This outfit doesn't really comprise a floral gown, but the floral blazer gives it that look, and it looks just as good as a regular floral mini gown.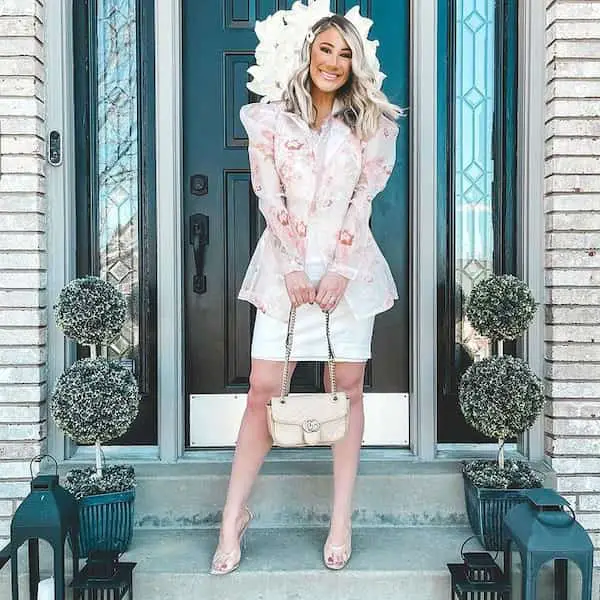 24. Balloon Sleeve Gown with Wedge Shoes
An Easter photoshoot requires an elegant outfit, which is exactly what the model showcased in this outfit idea. With the simple wedge shoes and the absence of an Easter bonnet, handbag, or sunglasses, you can easily tell she was going for a simple look.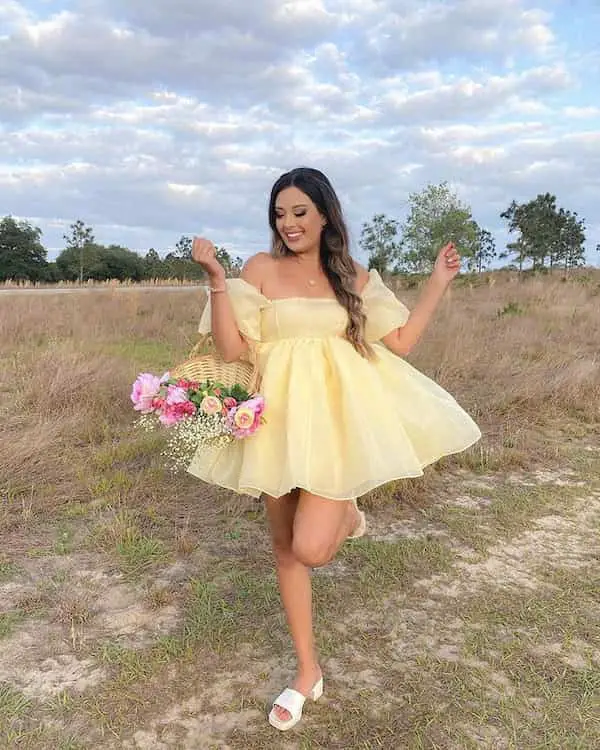 25. Mini Free Gown with Ankle-High Boots + Hat + Midi Handbag + Sunglasses
Dressing up for an Easter party doesn't have to be a chore. You can simply copy her outfit to the letter, and you'll look just as elegant as she does. While it does look simple, there are also many moving parts, so you shouldn't underestimate the effort.
And that's all for my post on the most exciting Easter outfits for the season. Want some more outfit ideas? Then you might want to check out these blog posts.
I hope you enjoyed this piece of content. Do well to rate this post, and don't forget to share this outfit compilation with your friends.
See you with more exciting inspirations. Trust me; you wouldn't want to miss any of our upcoming outfits compilation, so make sure to follow us on Pinterest.
Pin for Later.