In today's post, I'll be sharing some of the best inspiration I handpicked online on how to style a Cami top effortlessly like a boss lady.
Cami tops are incredibly versatile, easy layering pieces that you can wear in winter and rotate to Summer under blazers, sweaters, and over turtleneck tops and long sleeve shirts. 
Cami top very is a must-have essential in every lady's wardrobe. As you already know, Cami tops come in different fabrics and sizes.
Before we head straight to the visual inspiration, there are key things I want to share with you.
So,
How to Style a Cami Top
A silk loose-fitting cami top can serve as a great casual going-out top when paired with jeans pants and sneakers. You can wear a denim jacket over if the weather is a little bit too cold for you.
For a polished look, wear a smooth cupped bra underneath the cami top, or look for cami tops with a built-in shelf bra. You can tuck into a high waist pencil skirt and a pump for a mixture of modern and sexy looks.
You can wear a silk well-fitted cami top beneath a blazer over high waist flare pants with wedge or heels for classic formal wear.
Crop Cami tops can also serve as great workout wear, if paired with joggers over a pair of trainers.
You can style up a lace fitted cami top beneath a kimono and bum shorts or skinny jeans with a knee-length boot to achieve a feminine street look, which is often chic.
Infant, there are plenty of ways to creatively style Cami top without looking indecent.
Can Camisoles Be Worn Alone?
Despite the fact that cami is great for layering, you can stylishly wear them alone as tops. However, in doing so, try to pick up the right bra. Cupped bras go perfectly with a cami top.
What is the Best Season to Wear a Cami Top?
A cami top can go in all seasons. There isn't a specific season where you can't wear a cami top. You can wear it underneath a sweater during the winter. You can pair the cami top with shorts, jogger pants, or jeans during the summer.
What Are the Comfy Shoes to Wear with a Cami Top?
A Cami top can go with basically all kinds of shoes – heels, wedges, flats, loafers, mules, sneakers, boots, and trainers. The choice of shoe is greatly dependent on your overall dressing.
Tips to Wear a Cami Top Like A Classy Lady
Cami tops should be worn with a cupped bra or convertible bra to appear confident, decent and all organized.
Colourful cami tops should be worn on neutral colored pants and skirts, including denim jeans.
Avoid wearing a cami top over loose blouse or shirts; It's best worn over fitted shirts.
Go for cotton cami tops during the summer; the silk ones goes perfectly well in during the winter or fall.
I know you've been waiting for this moment, now let's dive in to the real deal.
20 Perfect Ways To Style a Cami Top in 2022
Here's my gallery of best decent Cami Top outfit ideas that'll inspire your next dress style.
1. Floral Cami Top + Tan Bum Shorts + Flat Slides + Chic BodyCross Bag + Shades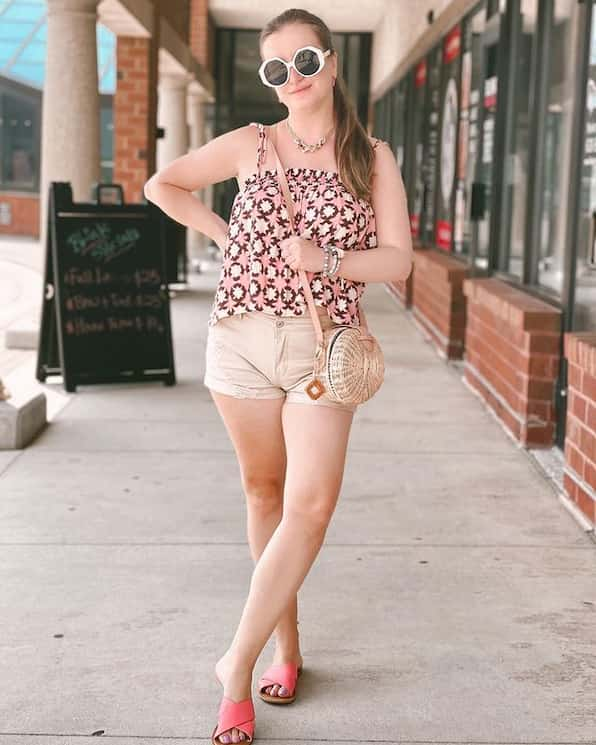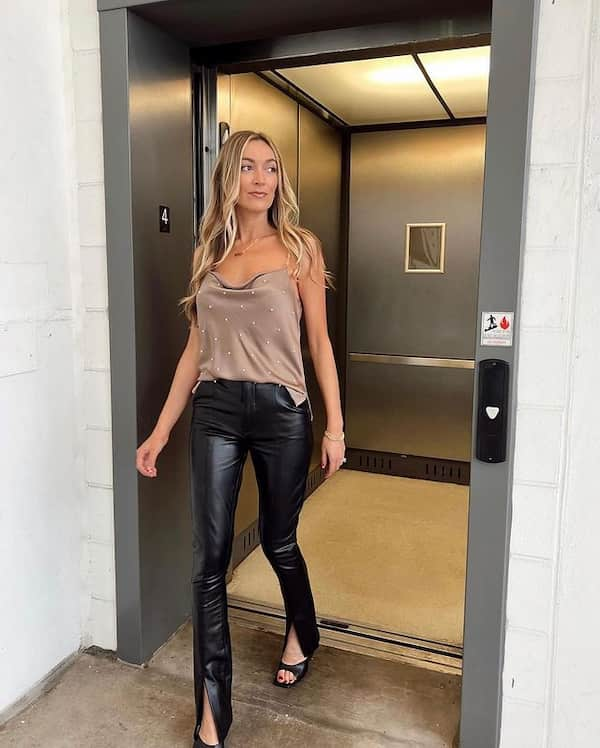 3. White Well-fitted Cami Top + Black Mini Skirt + Black Jacket + White Knee High Boots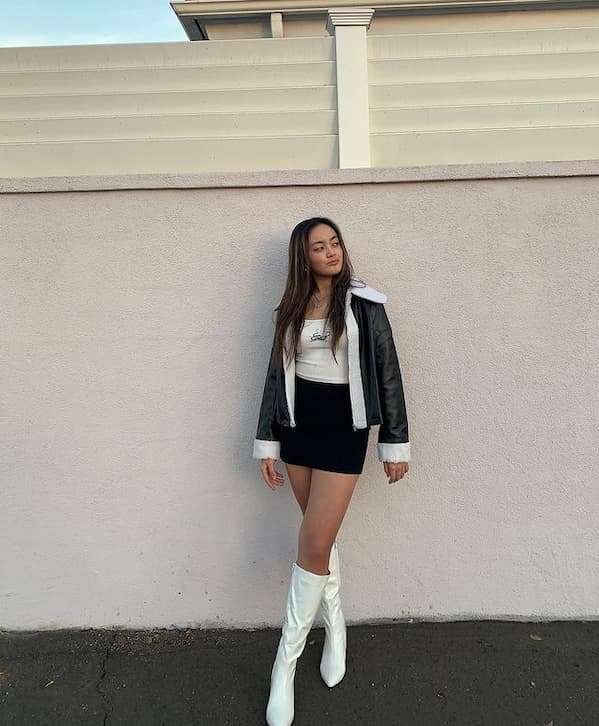 4. Brown Shade Tan Cami Top + Tan Shorts + Brown Mules+ Handbag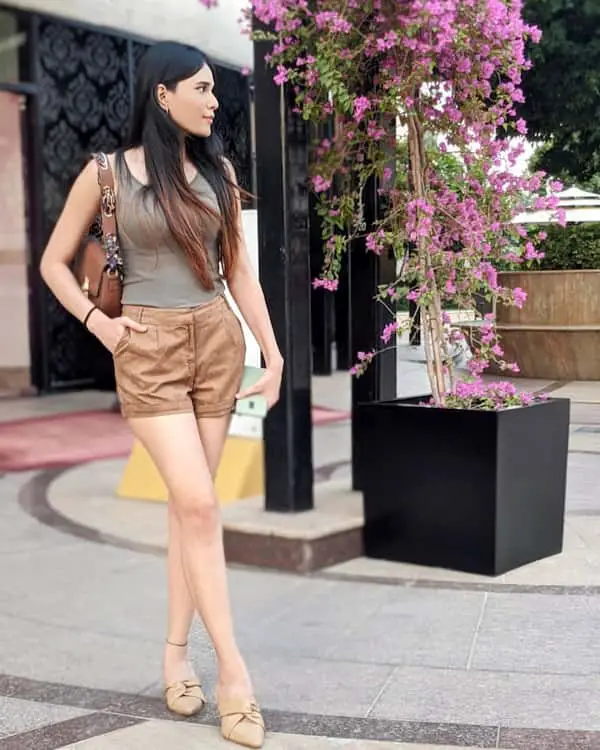 5. Orange Cotton Cami Top + Chambray Jogger Pant + Black Flat Slides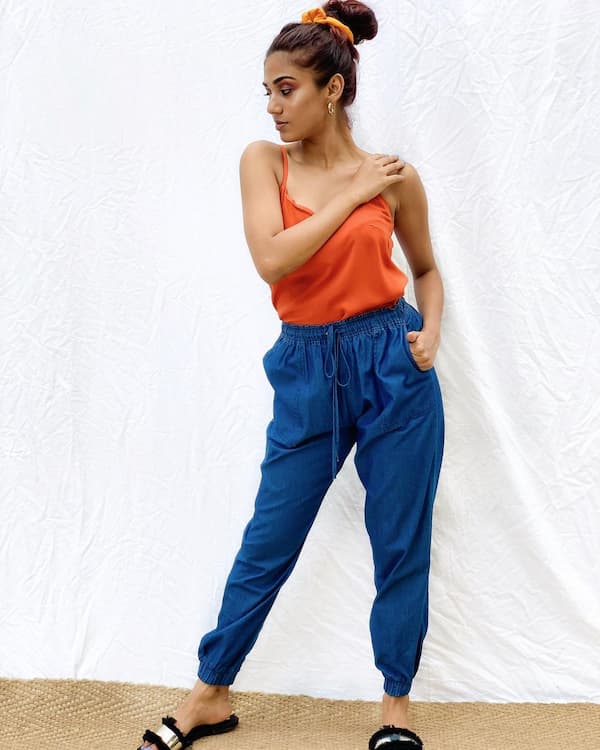 6. Blue Cami Top + White Shorts + Sandals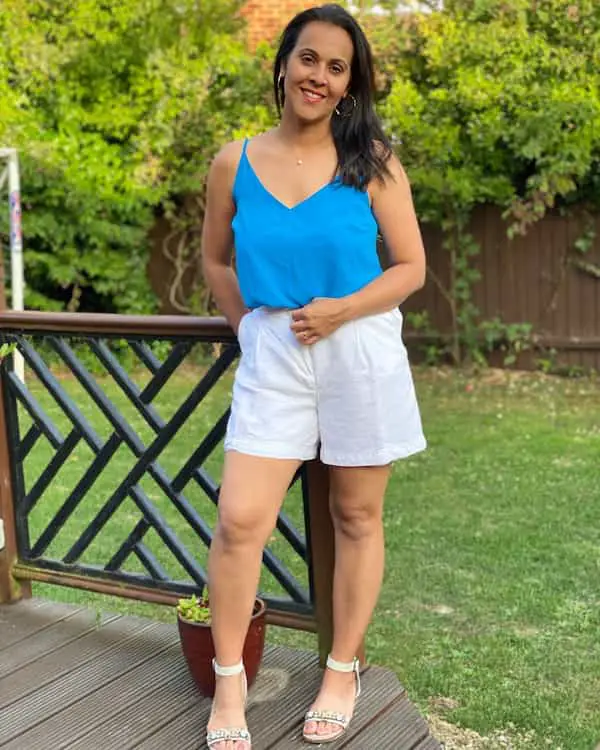 7. Black Crop Cami Top + High Waist Split Thigh Flair Leg Pants + White Sneakers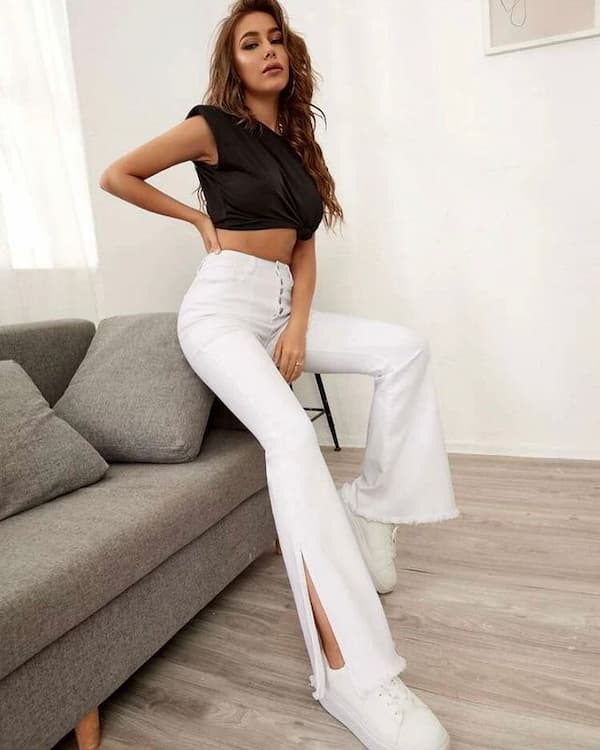 8. Lemon Green Crop Cami Top + Floral Loose Pants + Black Wedge + Handbag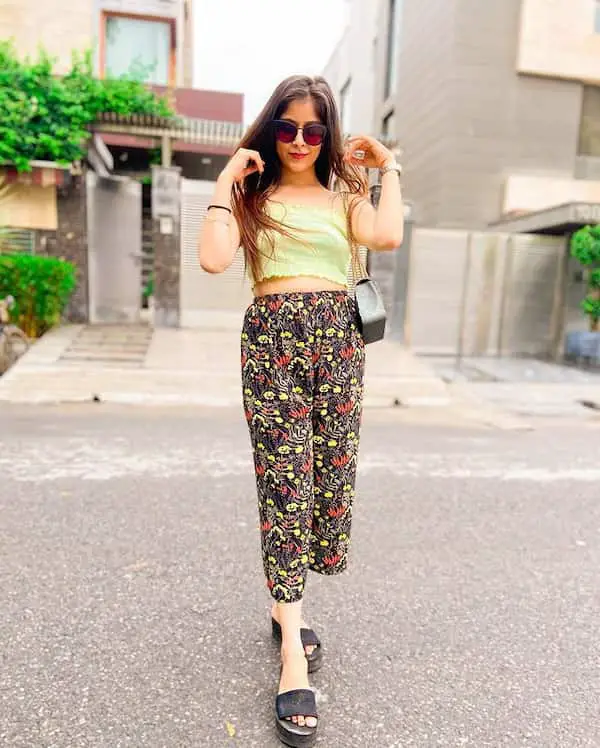 9. Linen Cami Top with Bow Details + High Waist Ripped Jeans + White Heels + Handbag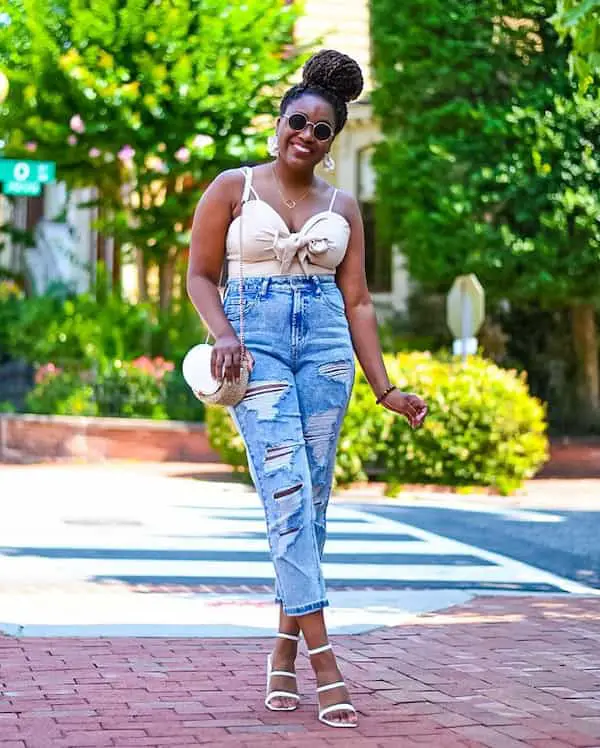 10. Deep V-necked Cami Top + Indigo Jeans + Black Mule + Sunglasses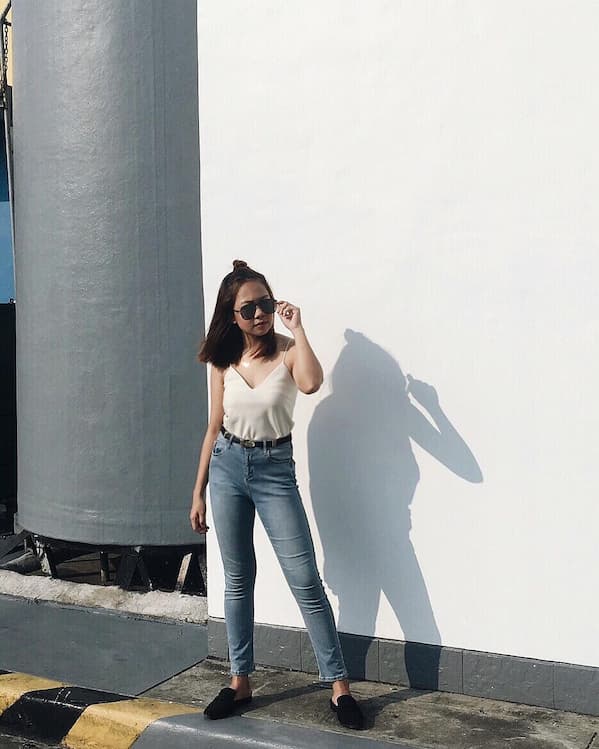 11. Polka Dot Cami Top + Floral Thrifted Skirt + Flat + Handbag + Gucci Hat + Sunglasses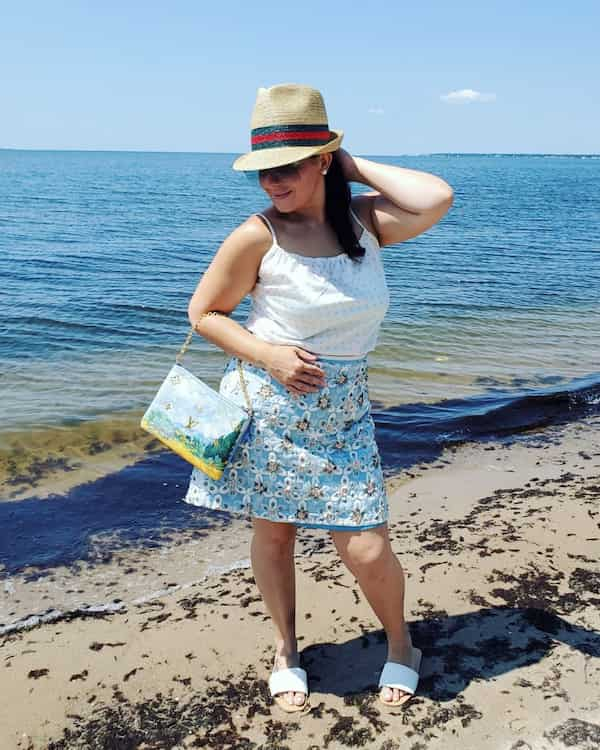 12. V – neck Pink Cami Top + Distressed Skinny Jeans + Heels + Muffle + Handbag+ Sunglasses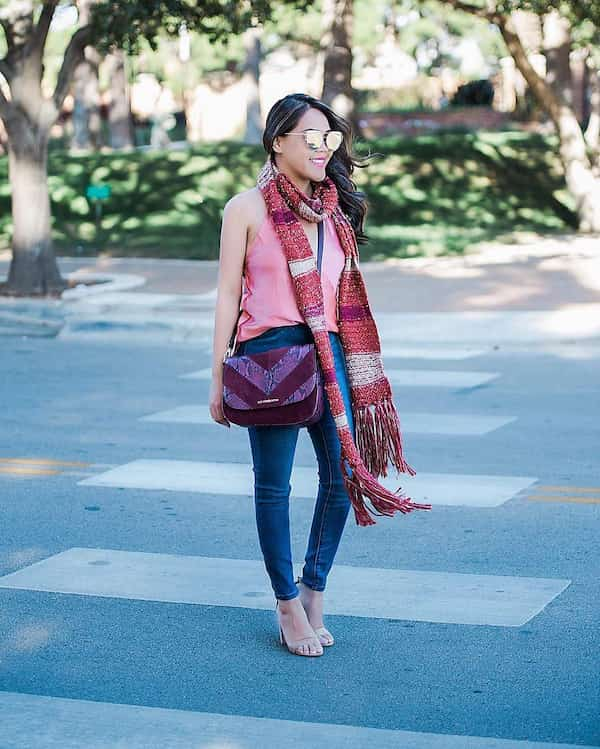 13. Olive Ruffle Cami Top + Light Blue Jean Shorts + White Shoes + English Hat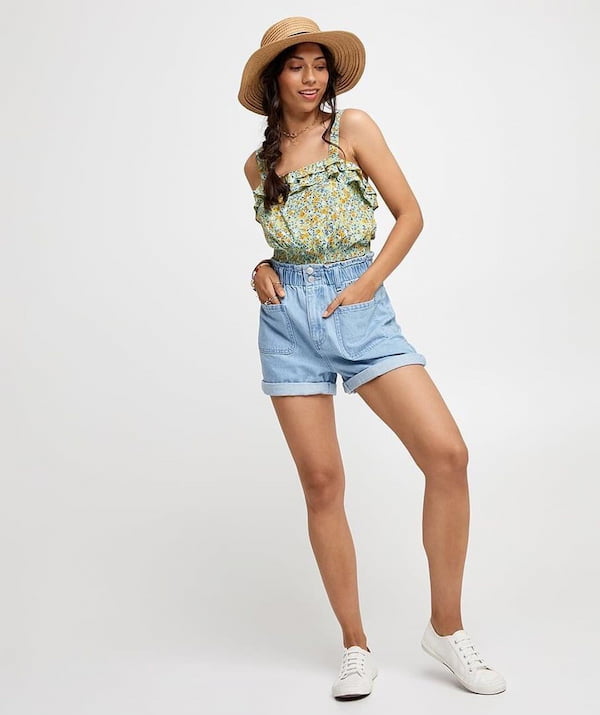 14. Floral Loose-Fitting Cami Top + Black Pants + Slides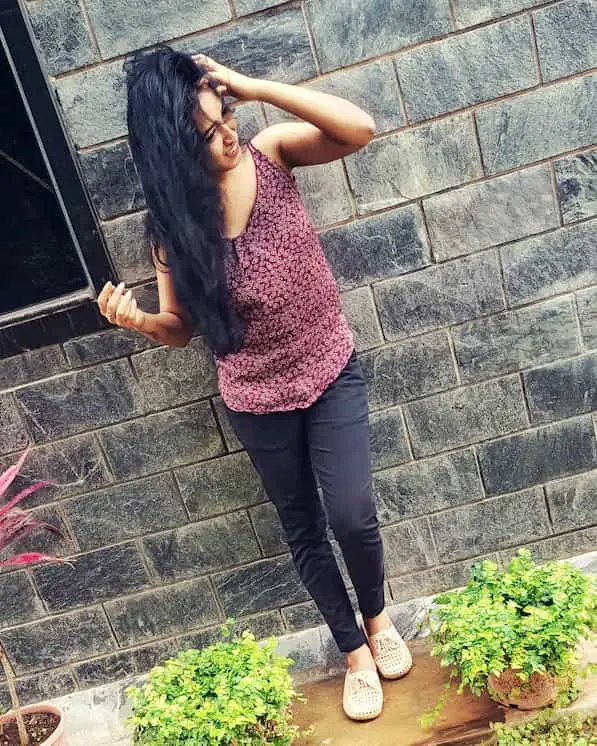 15. Red Velvet Cami Crop Top + High Waist Skinny Jeans + Flat Sandals + Handbag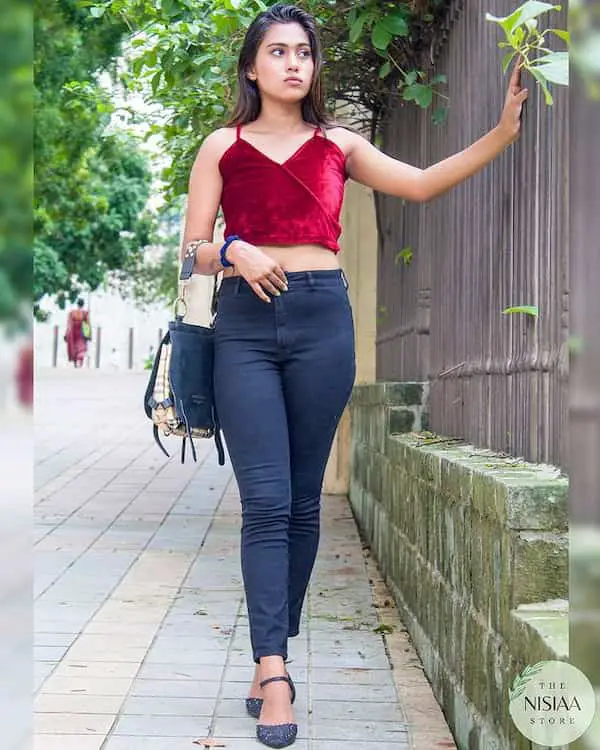 16. White Cami Top + White Blazer + Iconic Joggers + Heels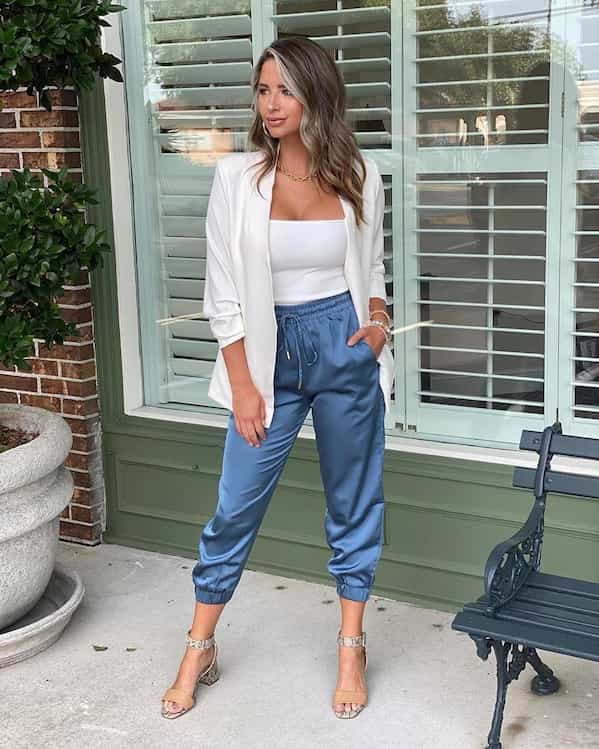 17. Silk Floral Cami Top with Denim Pants + Wedge Shoes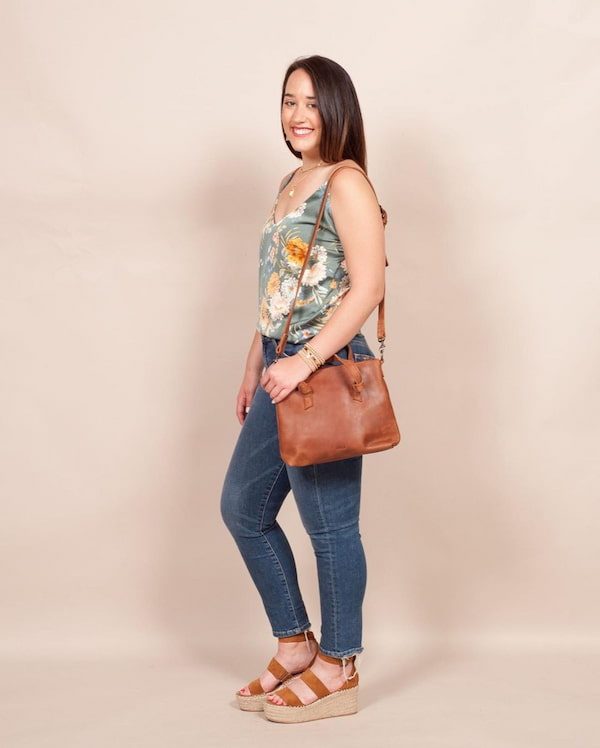 18. Mock Cute Cami Top + High Waist Flare Skirt + Heels + Purse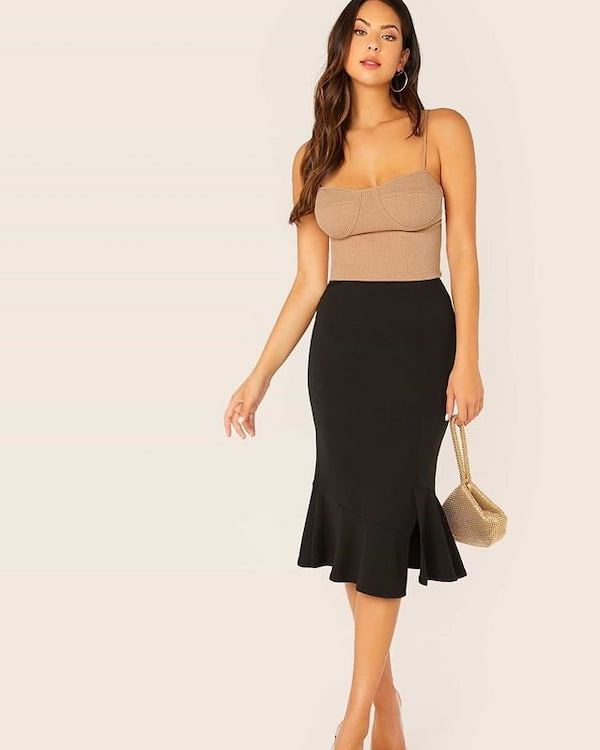 19. Yellow Cami Top + Ripped Jeans + White Sneakers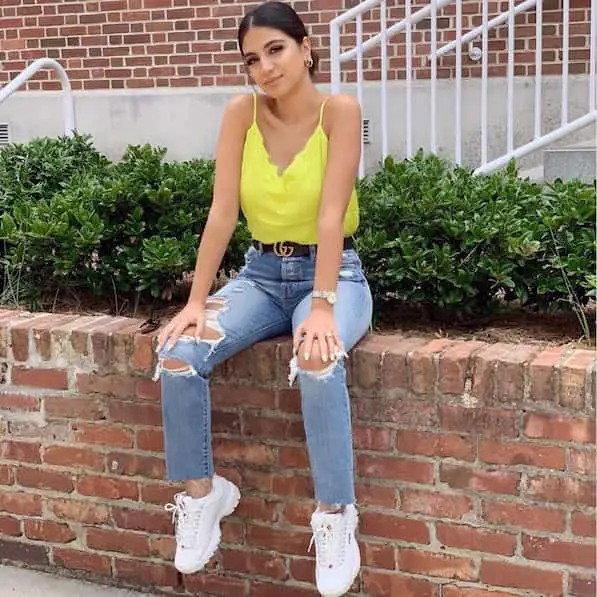 20. Ox Blood Cami Top + Jeans Shorts + White Kimono + Ankle Boots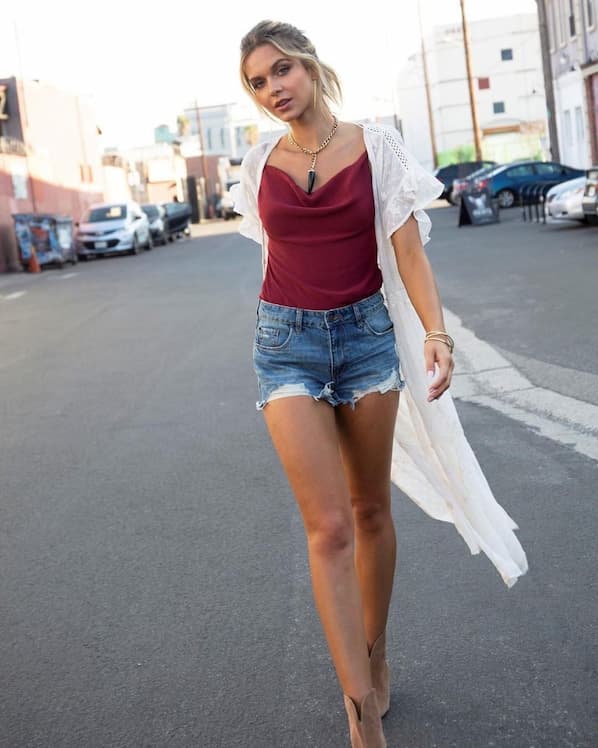 And that's all for my post on how to style a Cami top. Want some more outfit ideas? Then you might want to check out these blog posts.
I hope you enjoyed this piece of content. Do well to rate this post, and don't forget to share this outfit compilation with your friends.
See you with more exciting inspirations. Trust me; you wouldn't want to miss any of our upcoming outfits compilation, so make sure to follow us on Pinterest.
Pin for Later.