This post contains fashionable and cute jumper dress outfit ideas, so if this is what you're looking for, then you're in the right place.
Most times, people confuse themselves while trying to find the difference between a jumper and a sweater.
Well, both are the same; they both help you walk through cold weather. But to make the dress count and look better, there are sure-fire ways you can style jumper dresses to look stunning.
And that's what I am going to show you in this post. So without wasting much of your time, let's proceed.
1. Hounstooth Pattern Knitted Pullover + Inner White Long Sleeve
What a unique knitted dress for a beautiful lady. You can wear it out to casual events and hangouts. It can be complemented with a pair of black sneakers/boots.
2. White Jumper Dress + Black Blouse
A nice dress for a blissful summer day. You can wear this unique jumper dress for summer parties in school.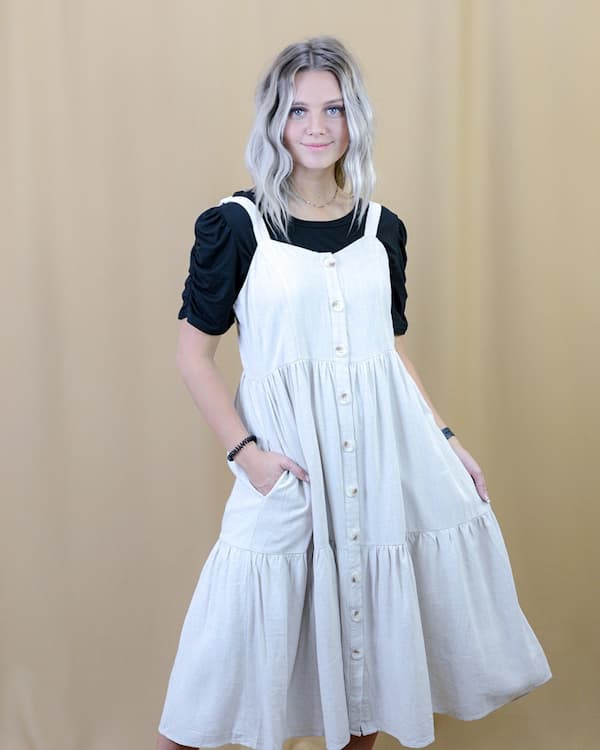 3. Knitted Orange Wool Jumper Dress + Sunglass + Sneakers
Are you a city girl looking for a pretty dress to rock your Friday?  If yes, I suggest you try to recreate this style.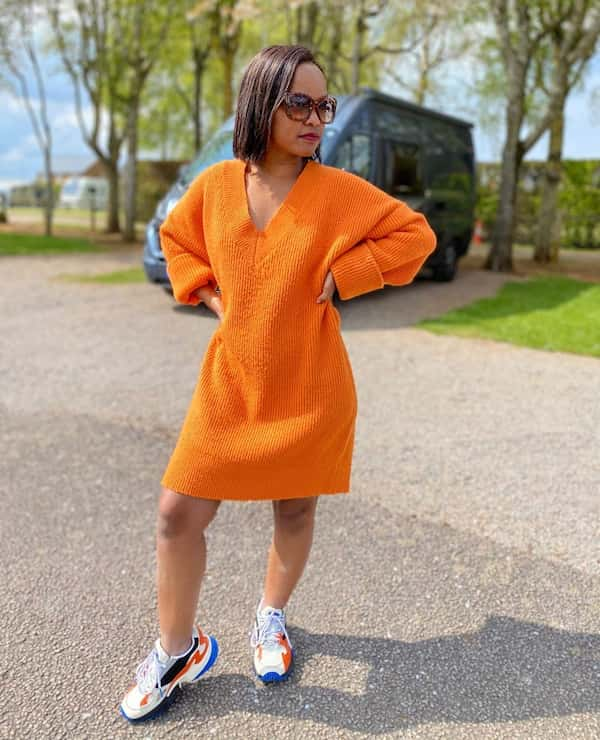 4. Netural Knitted Jumper Dress + Knee High Boots
Where are my cowgirls! For a more modernized and rebranded cowgirl style, I present to you this outfit. You can wear it with a knee-length boot for a match.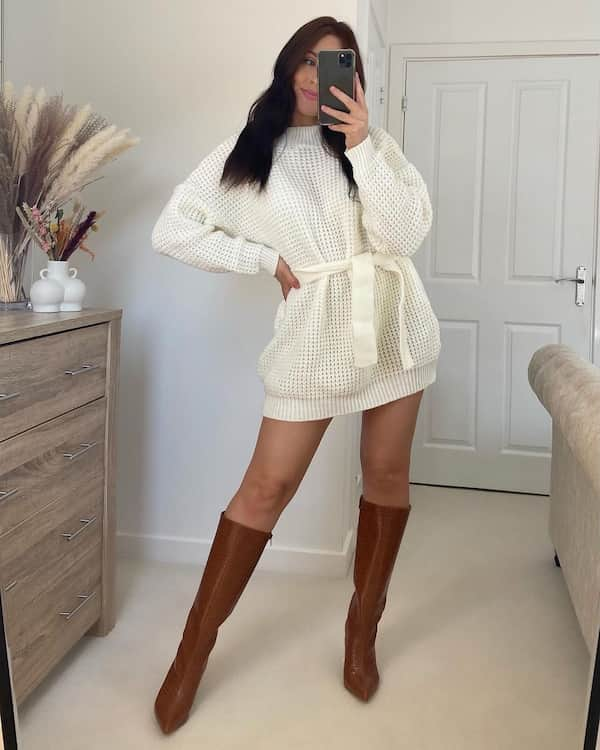 5. Multi Colour Mini Jumper Dress + Black Boots
To catch up on the weekend vibe, you need something radiating to do this. And, you can't go wrong with this dressing style.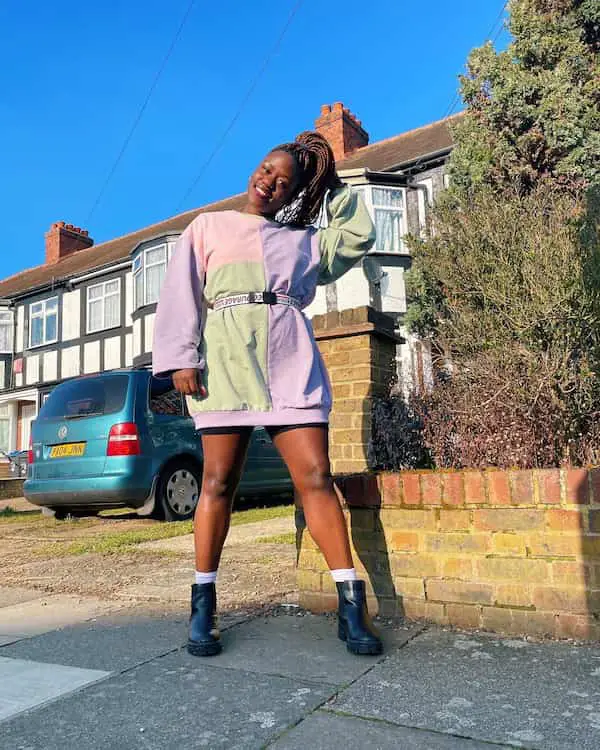 6. Denim Jean Jumper Dress + Turtle Necked White Long Sleeve
Suppose you want to try out a simple outfit for a spring weekend date; you can try this out. You need to complement it with a set of nice sneakers.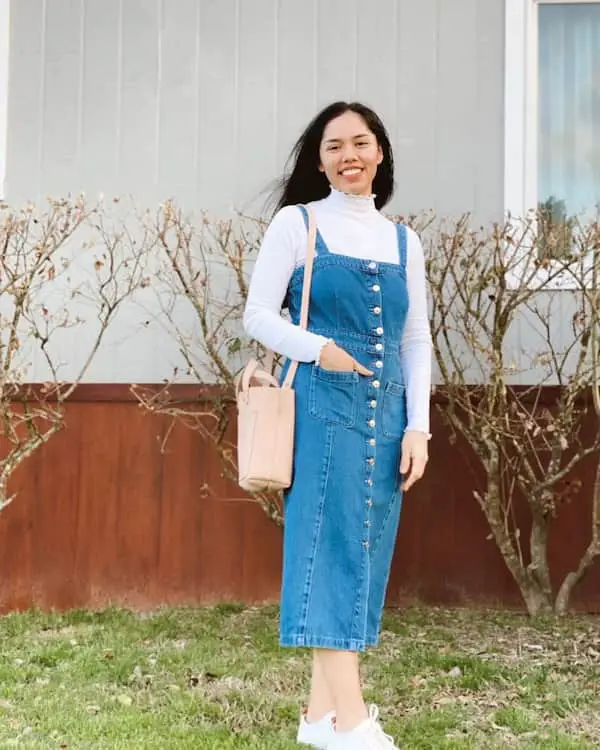 7. Cute Jumper Dress Outfit for Winter
You can also slay in the midst of the falling snow. You have every right to mix with a knitted dress with a coat, knee-length socks, and boots.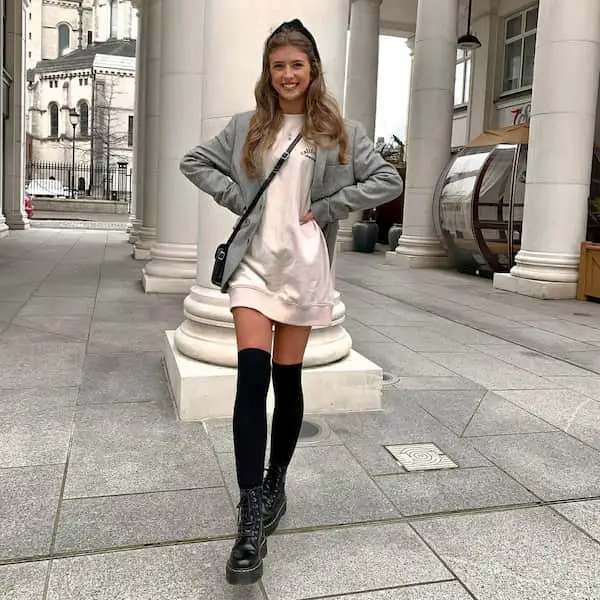 8. Pink Jumper Sweatshirt + Leggings + Sneakers
This pink sweatshirt also serves as a jumper mini dress. It is best worn during the Fall when the weather isn't too cold nor hot.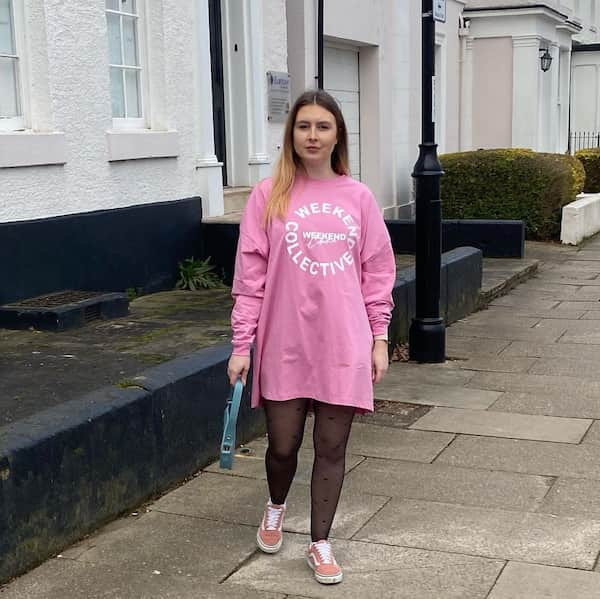 9. Short Ash Colored Dress + Jacket + Converse Shoes + Sunglass
You can never exhaust the Jumper dress styles. Check out this one and tell me what you feel about it.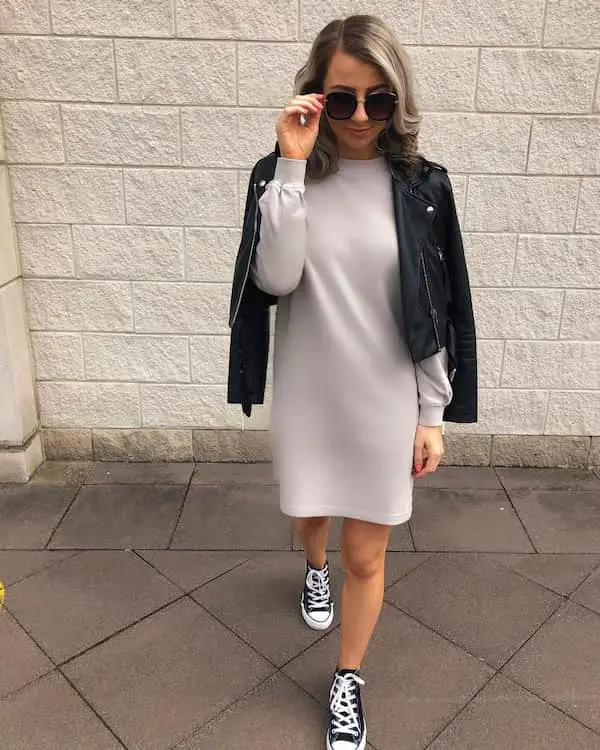 10. Jumper Dress + Timberland + Handbag
Do you love body-free dresses? If yes, I suggest you check out this cute short and very free jumper dress.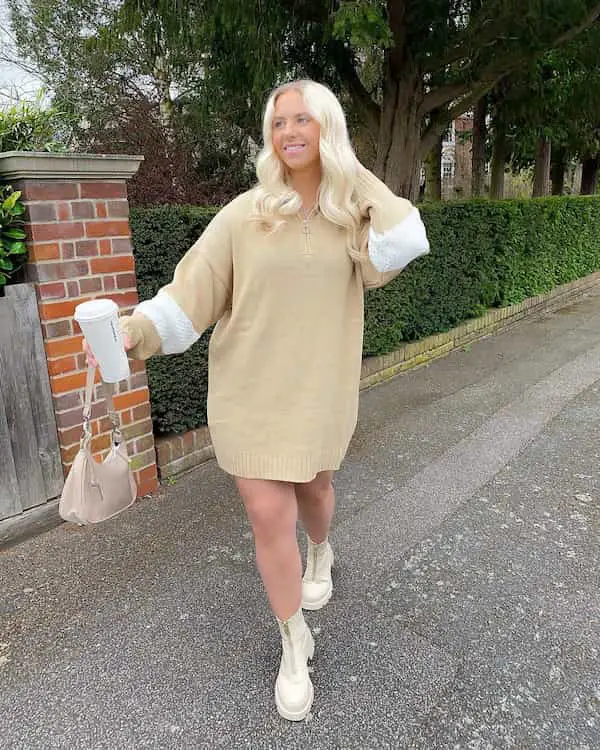 11.  Jean Jumper Dress + Black Blouse + Embroide Red Heel Shoes
Are you looking for something simple and modest for Sunday? I recommend this outfit to you.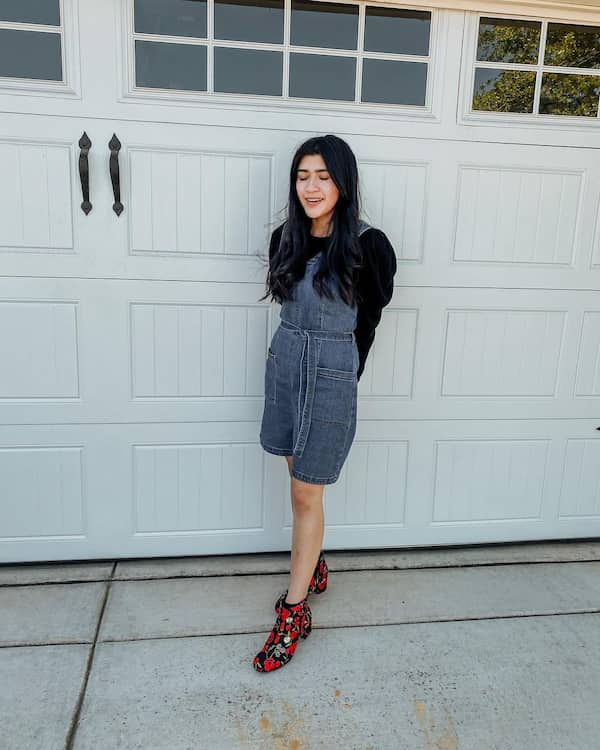 12.  Coffee Brown Jumper Dress + Belt
Are you a boss lady looking for a non-revealing but elegant jumper dress? I recommend you go for this.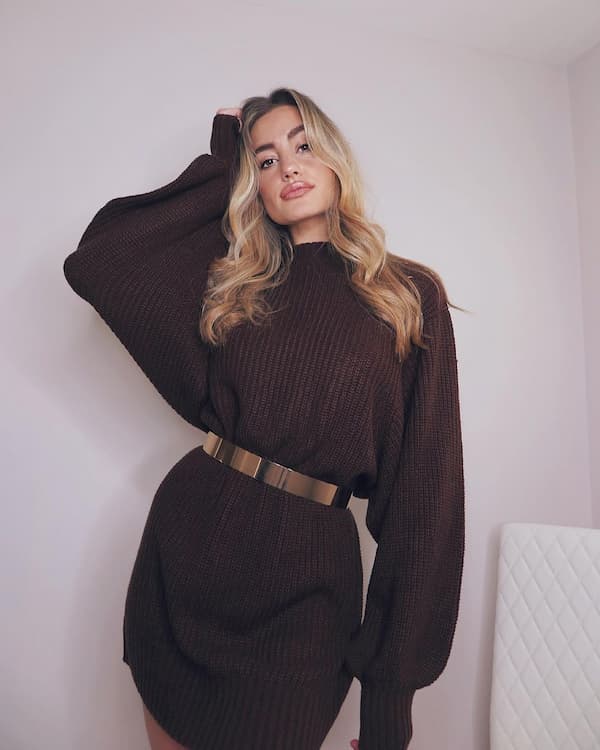 13.  Knitted Brown Turtle Neck Jumper Dress + Sneakers
This dress is one of the best dresses you can wear for a vacation, especially at the end of summer. It is matched with sneakers for easy comfort.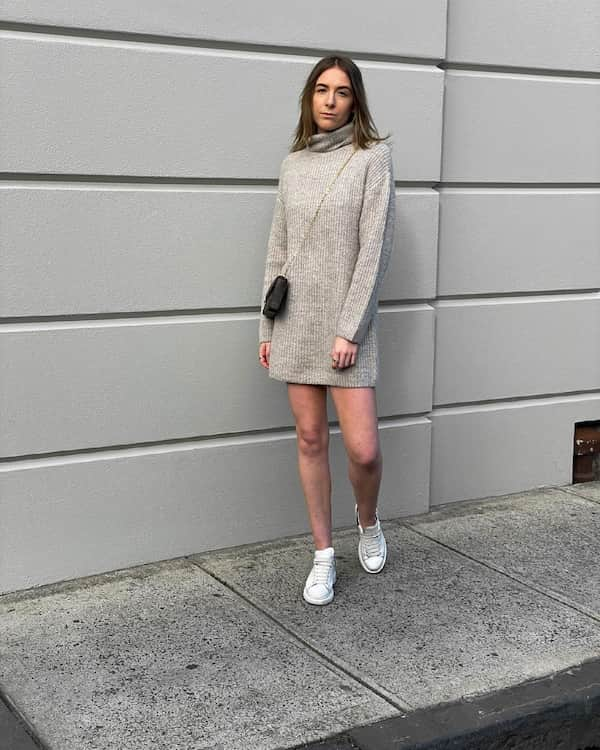 14.  Jumper Dress + Knee Length Boot Heels
At the beginning of winter, you will need something not very thick nor too light. This is when this kind of jumper dress becomes a necessity.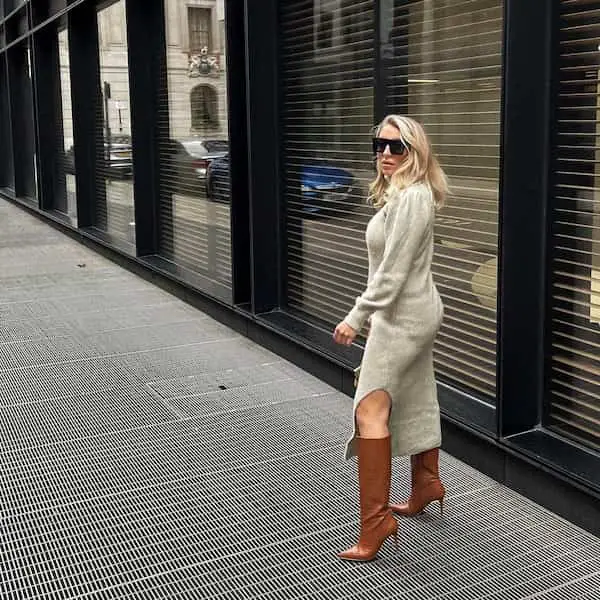 15. Hat + Jumper Dress + Belt + Black Boots
You can't go wrong during the yuletide season. For a unique dress style during this period, you can try out this one.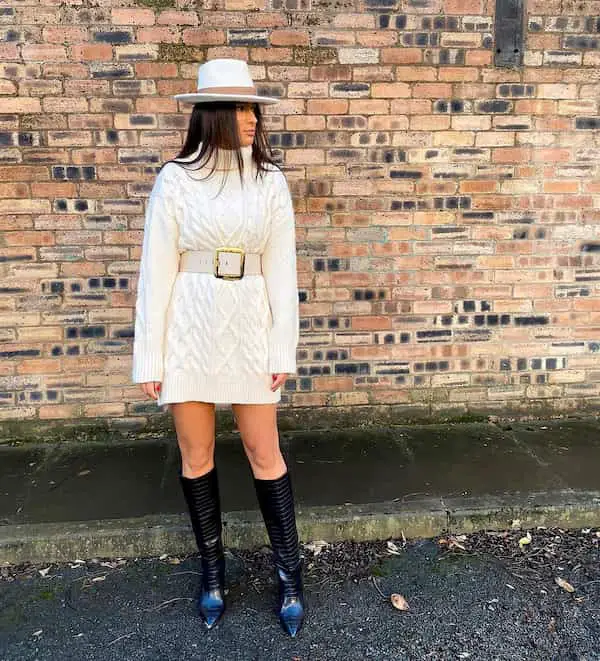 16. Knitted White Sleeveless Jumper Dress + Thigh Length Boots
For a more street or hoody look, you can try out this one. The long boots make the outfit more unique than normal dresses.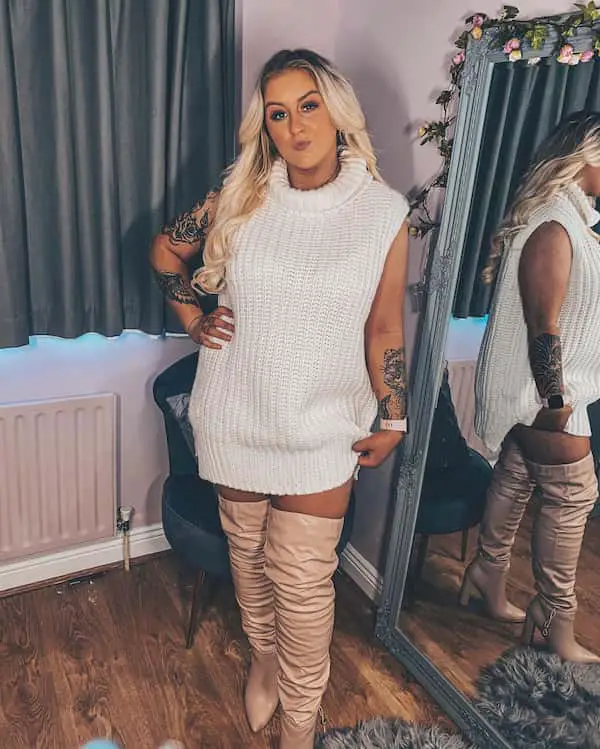 17. Turtle Neck Jumper Dress + Belt +Chunky Black Boots
During the spring, when the rain does fall freely upon nature, you will need warm clothing to keep you warm. In such cases, you can try out this.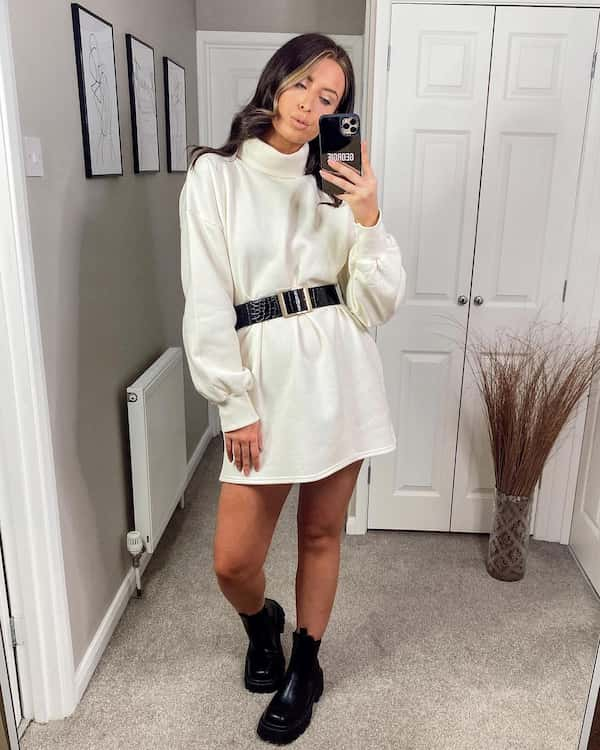 18. Jumper Dress Outfit For Spring
This is the perfect transitional dress for spring. Your warmth is guaranteed with this dress and boots.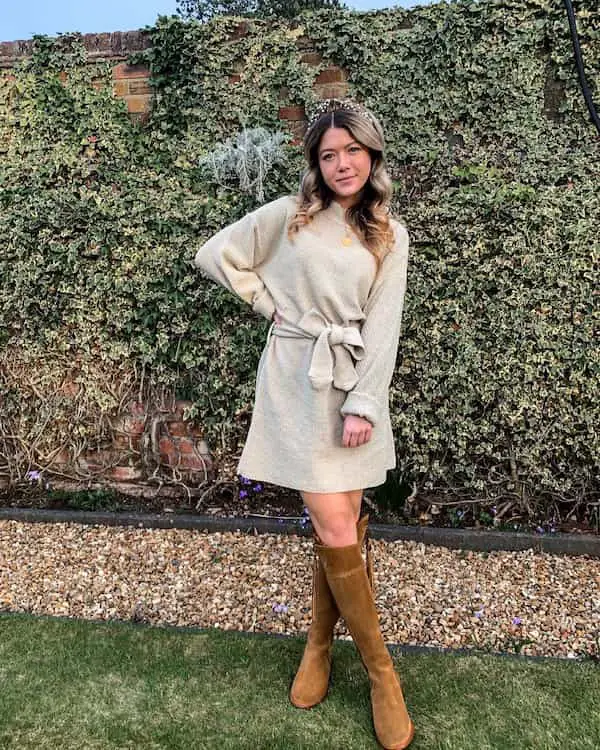 19. Jumper Dress + Leggings + Thigh Length Boots
As a pregnant lady, you are not exempted from this. You can also slay and look beautiful in season and out of season.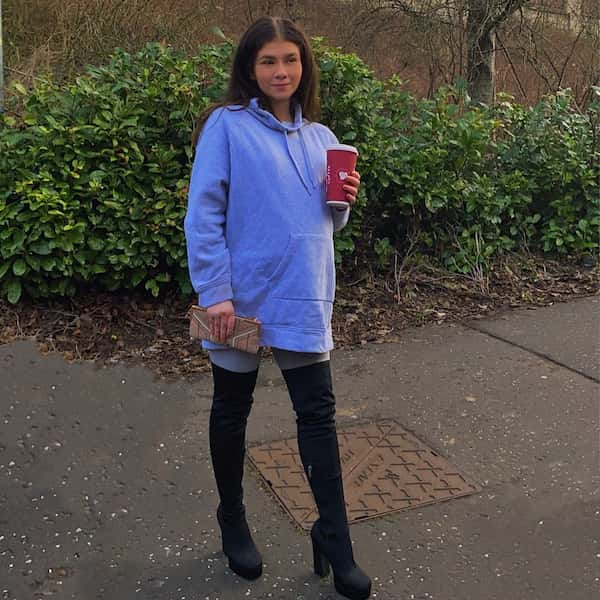 20. Knitted Jumper Dress + Sock Boots
With this up shoulders free knitted shirt dress, you are sure to slay. You can wear it to beach parties and weekend hangouts.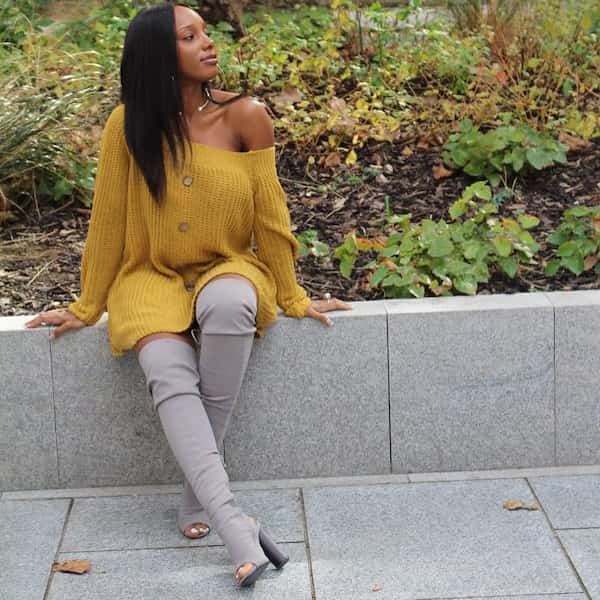 21. Jacket + Jumper Dress + Leather Knee Length Boots + Handbag
Are you a musician, artist, or TV shows presenter, and you have a presentation to make in a show and you are confused about what to wear? If yes, check out this one.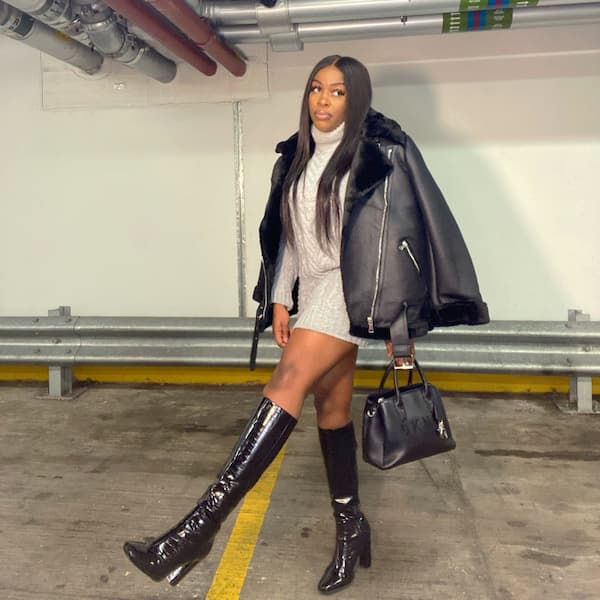 22. Floral Jumper Dress + Leather Boots + Sunglass
For my ladies that love appearing hot and beautiful. What are you babes saying about this? I believe this should be among your clothing collection.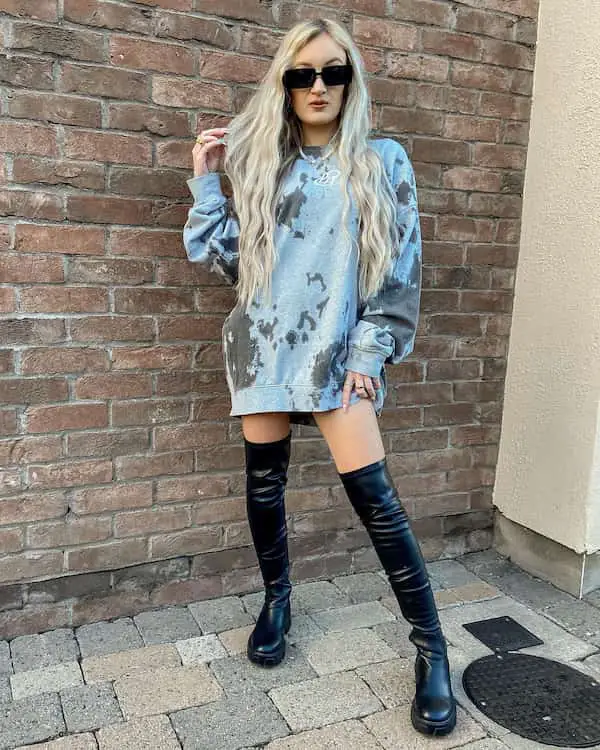 23. Sweat Dress + Pants + Tiger Print Shoe 
You can wear your sweater dress with leggings pants for a more cool look. In this way, you look matured and classic.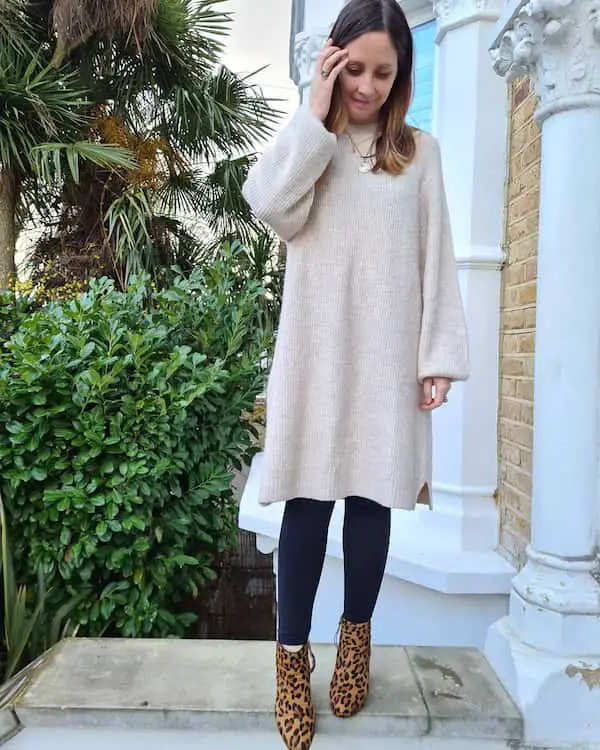 24. Overall Jumper Dress + Flat Slippers
The ladies that love overall dresses are not left out on this one. This inspiration tells you that you can see just a jumper dress and still look gorgeous.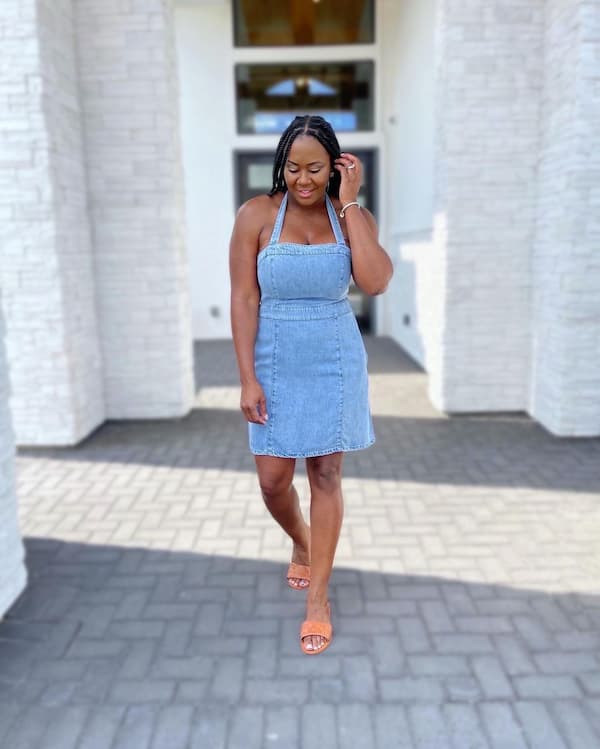 25. Simple Jumper Style Dress + Boots
As a plus-size lady, you can also rock your Jumper suit stylishly. You can check out this as a startup.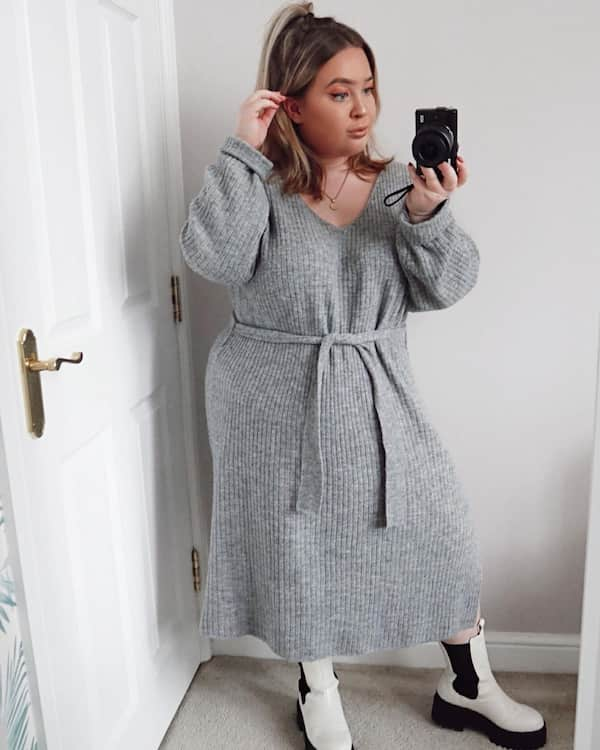 Jumper Dress Outfit Ideas Pin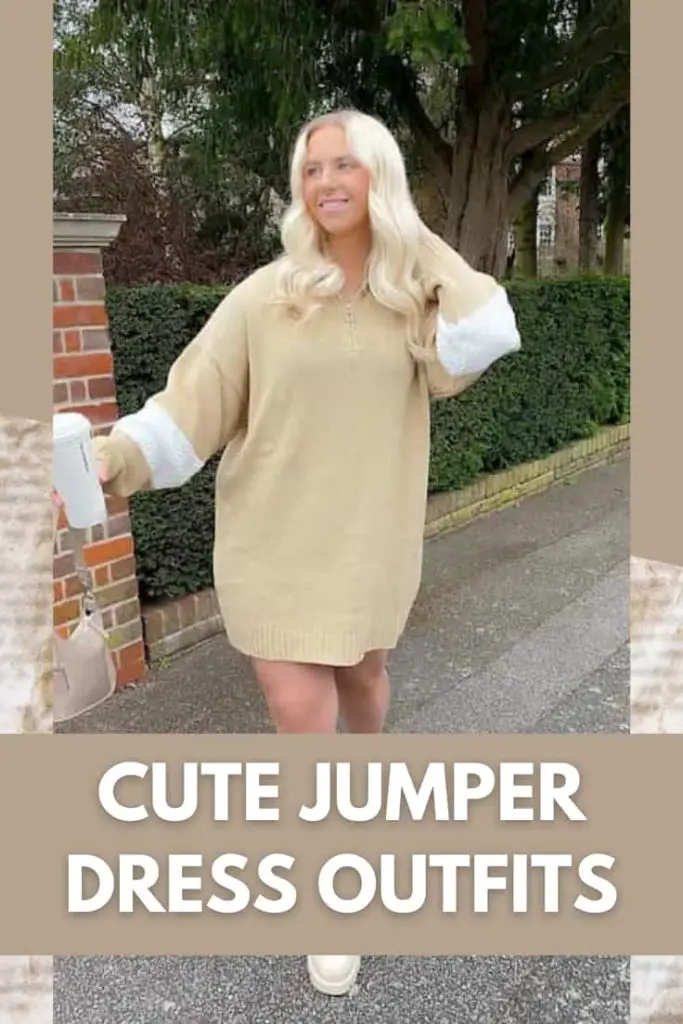 And this is all I got for jumper dress outfit ideas. Want some more outfit ideas? Check out these blog posts.
I hope you enjoyed this piece. Do well to rate this post, and don't forget to share this article with your friends.
See you with more exciting inspirations. Trust me; you wouldn't want to miss any of our upcoming outfits compilation, so make sure to follow us on Pinterest.