Suppose you are looking for fashionable modern vintage outfit ideas that'll inspire your next look? Then this post got you covered with the cutest you can ever find on the internet.
I can remember quite well that I stumbled upon a vintage hashtag on Instagram, and I was so in love with the outfit inspirations I saw.
And today, Modern Vintage outfit has turned classy and trendy style among ladies.
So in this article, I will be showing you 25 different ways to dress in the modern vintage way.  I hope you find this compilation inspiring.
Modern Vintage Outfit Ideas for Female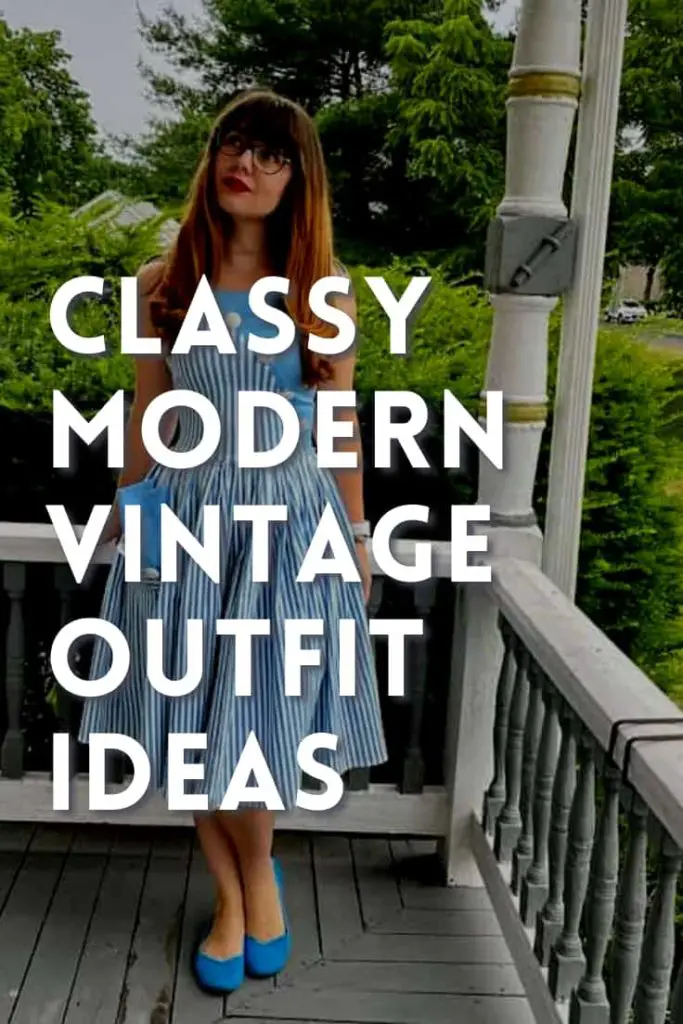 1. Belted Gown + Yellow Heels + Sunglass
This dress is best suited to be worn at corporate gatherings. It is complemented with a yellow belt tied around the waist to give your dress a nice shape and body fitting.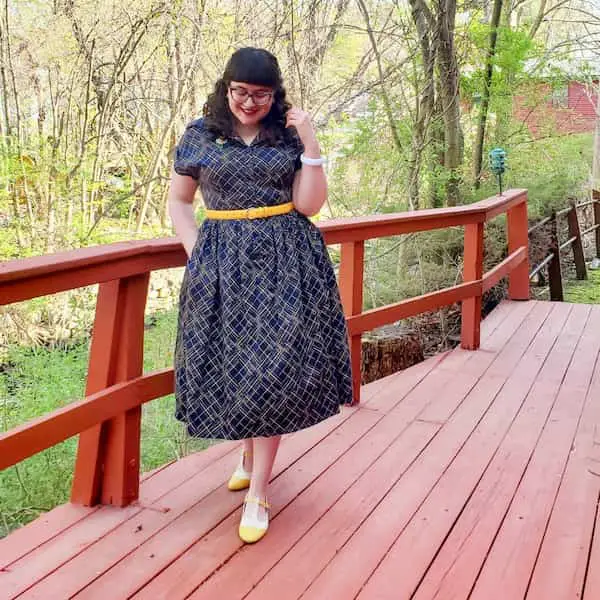 2. Full Cover Jumpsuit + Belt
Is your birthday near, and are you looking for an outfit to take a birthday shot with? If yes, you can try this out.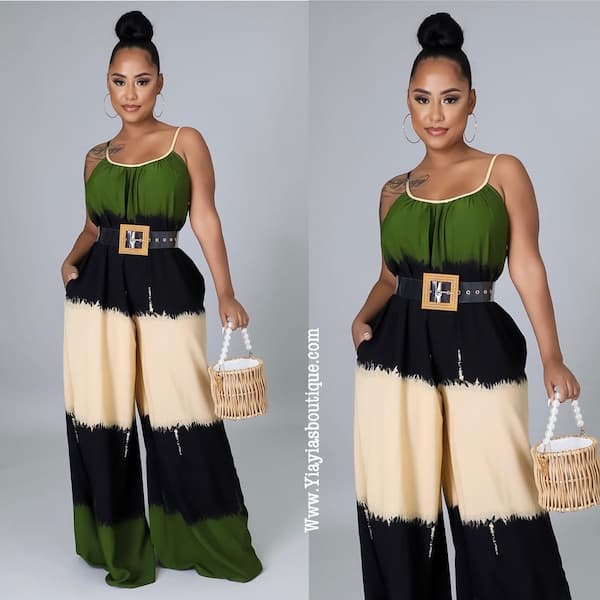 3. Gown + Crop Jacket + Heels + Handbag + Sunglass
For a blissful and exciting summer Monday, you need a dress that replicates the vibe, and this is what this dress exactly portrays.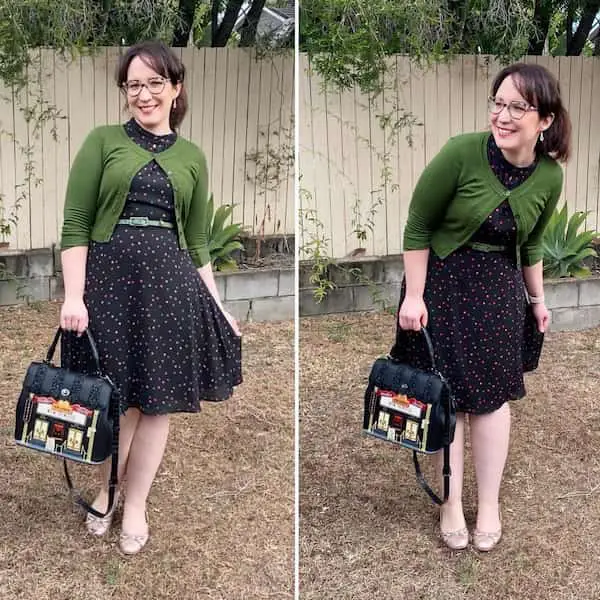 4. Sleeveless Gown + Heels + Belt + Heel Shoe
Is there an exclusive party you need to attend, and are you looking for a beautiful modern vintage outfit to recreate? I have the best choice here for you.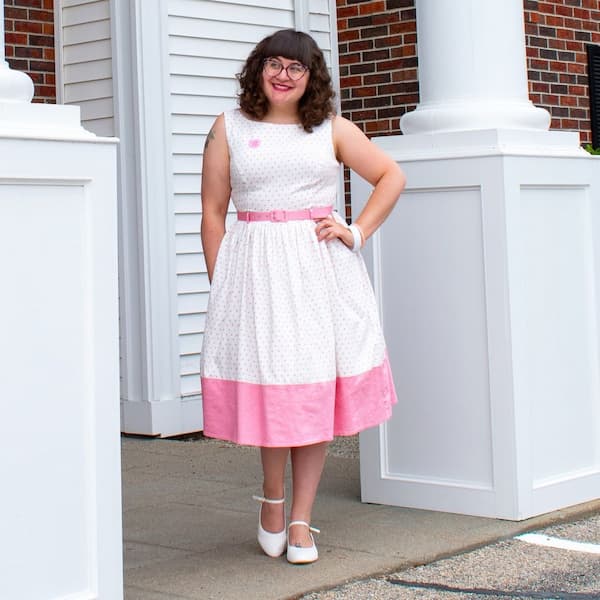 5. Two Piece Vintage Blouse and Skirt + Heels + Hat
You can wear this outfit on Mondays to the office. You can also spice it up with a chic hat and heels like the one in the featured image.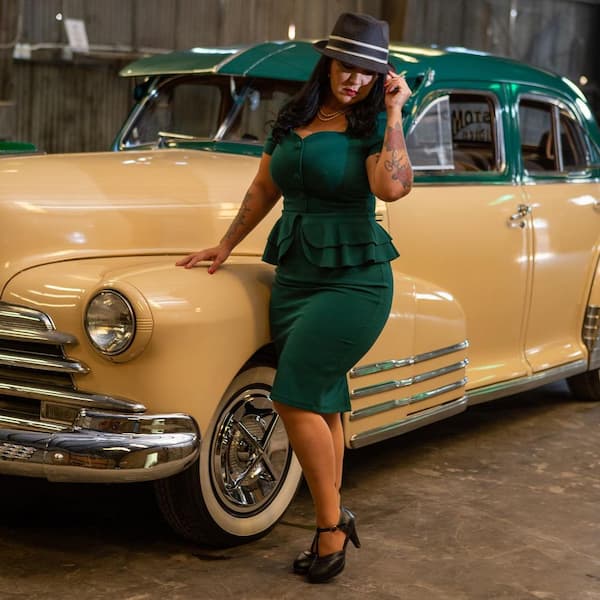 6. Retro Maxi Vintage Dress + White Shoe + Small Handbag
For all my maxi dresses lovers, I bring a unique modern vintage maxi dress that you can wear to church on Sunday or any occasion.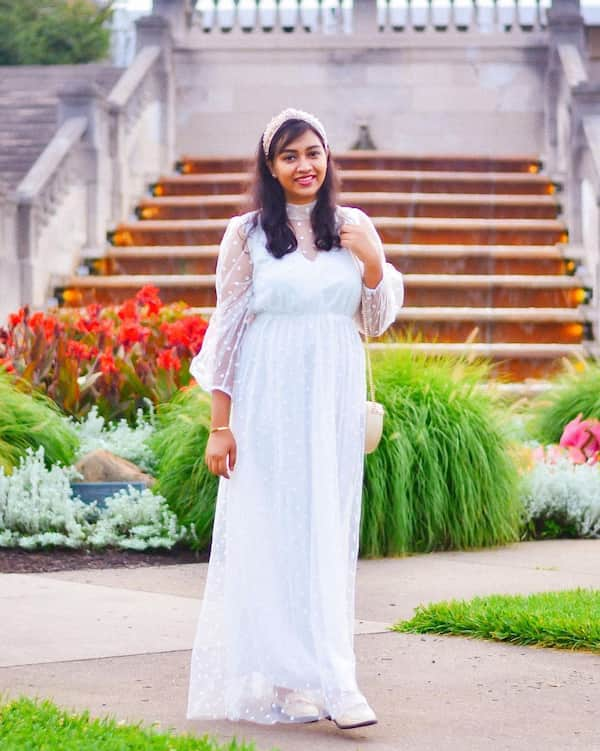 7. Flowery Vintage Gown + Shoe
For a colorful day at work, you need to put on something that radiates color and beauty. And this gown does it better.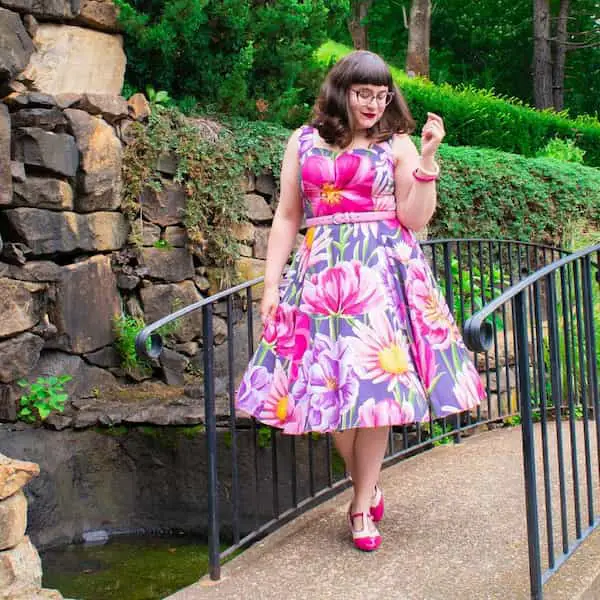 8. Purple Spaghetti Hand Vintage Gown + Sandals
You can wear this gown to classic parties and conferences. For a more classic look, complement it with nice sunglasses and heels or flat shoes.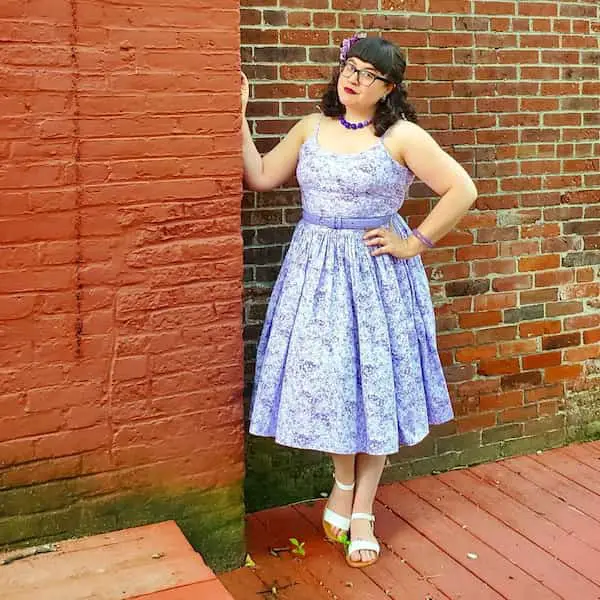 9. Modern Vintage Outfit for Valentine
Your Valentine cannot be completed without you having the right outfits. With this good mix of vintage and modern touch, your valentine's experience is sure to be awesome.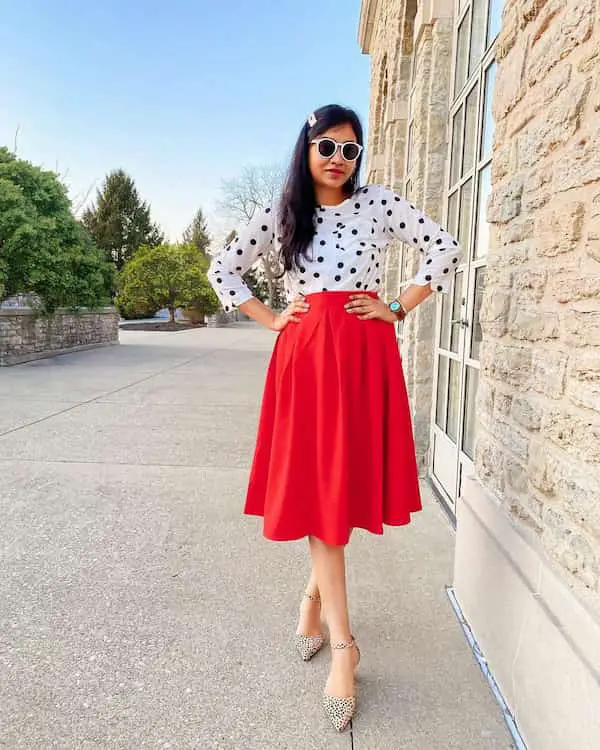 10. Petticoat + Dress + Shoes
Christmas is one time of the year where everyone wants to look their best. To this effect, I present you with one of the best outfit ideas to celebrate your holiday with.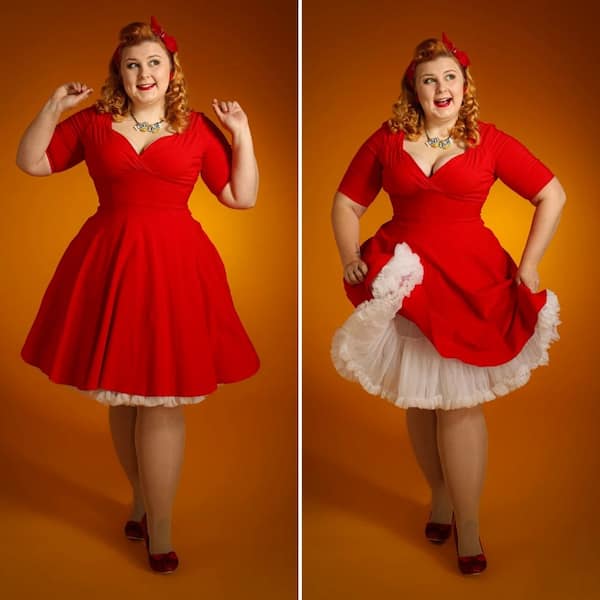 11. Blue Vintage Gown + Flat Shoes + Sunglass
The multi-blue design on the dress makes it a perfect choice while going out to big events. Flat shoes or heels can complement the look so well.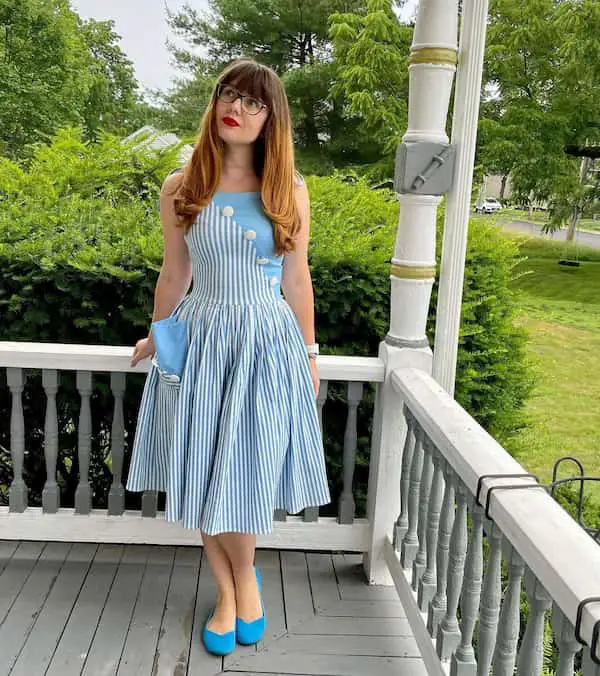 12.  Red Polka Dot Belted Gown + Heels
For a more corporate and confident look, you can try out this type of gown. Complementing it with dress color-match heels makes it even classy.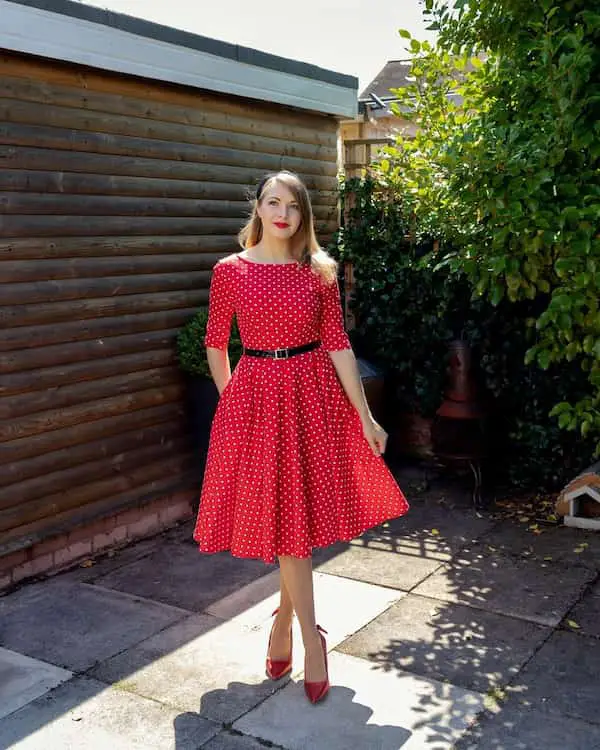 13. Leather Jacket + Black Skirt + Heels
Are you a lover of black outfits? If yes, This outfit wouldn't be a bad choice. You can easily wear it to work and corporate meetings.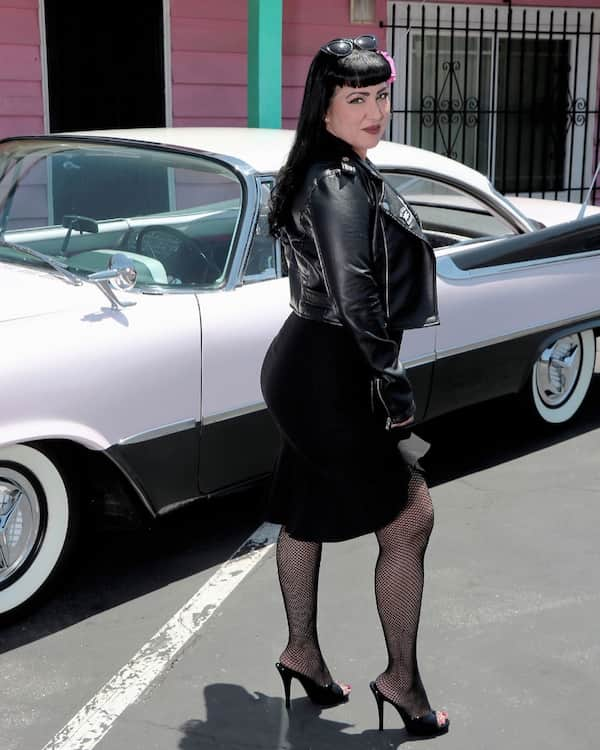 14. Crop Top + Blazer + Pants + Heels + Beret + Sunglass + Handbag
Where are all my boss ladies? I bring to an outfit that matches your elegance. You can wear this outfit to work and social gatherings like Carnival.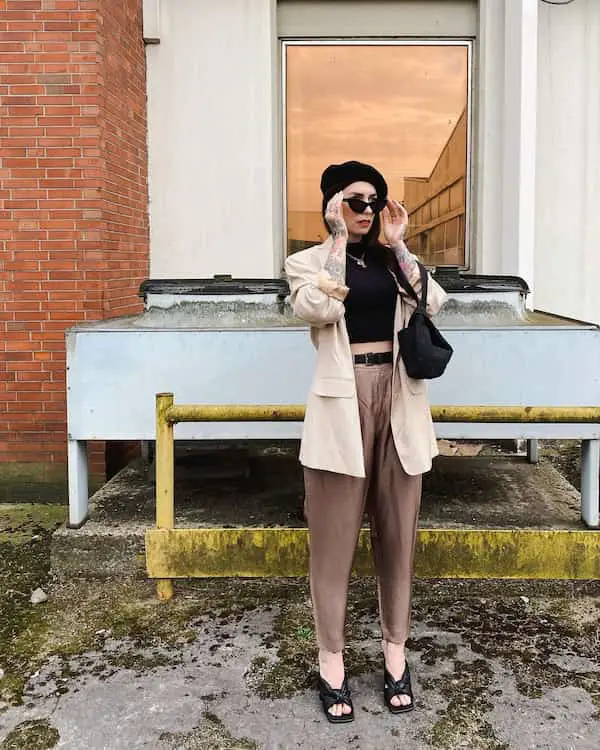 15. The Casey Dress + Hat + Belt + Shoes
Do you want something simple and cute for day-to-day activities? I bring to you a Casey dress that can be complemented with a hat for a fashionable look.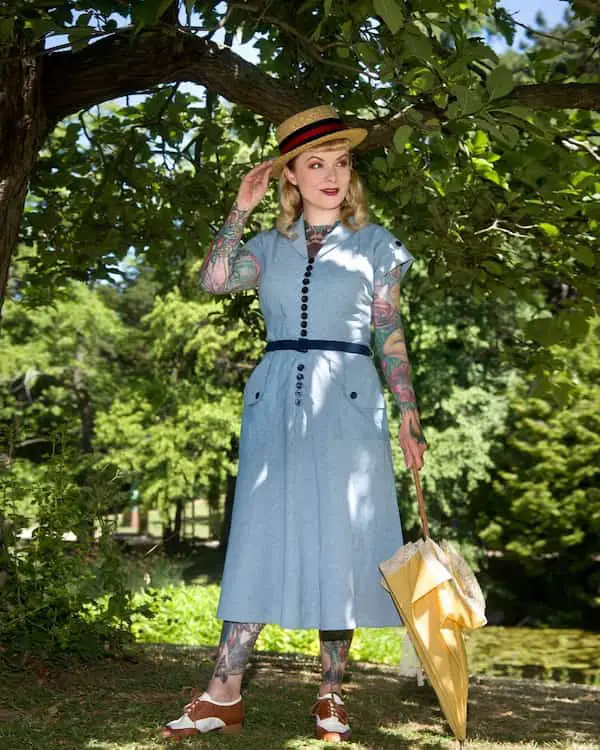 16. Pink Blouse + Wild West Corina Skirt + Flat Shoes
For a more relaxed look and composure at work, you need something light and free. So I think this outfit would be the best match.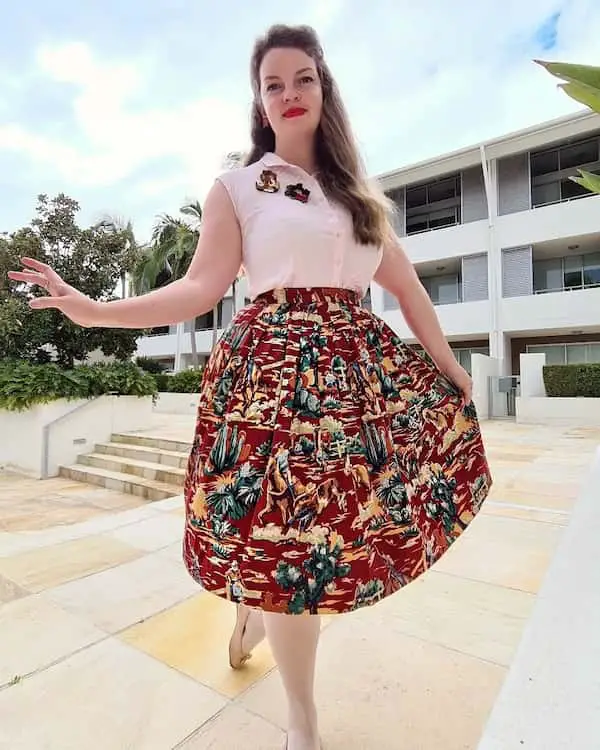 17. Modern Vintage Outfit for Winter
For an exclusive date during winter, I recommend this style of dressing. This outfit is also a good source of warmth and class.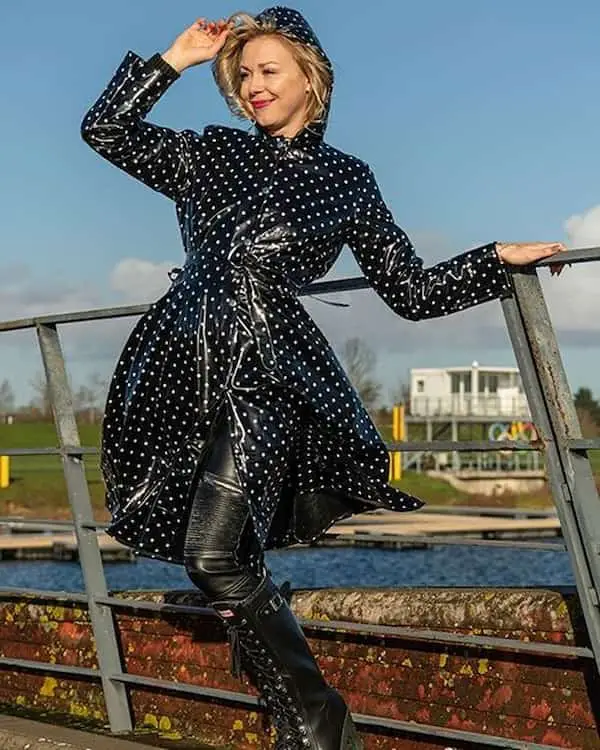 18. Two Piece Modern Vintage Outfit for Older Women
As an older lady, you are not left out on this one. You can still dress in your old-fashioned jacket and still look modern.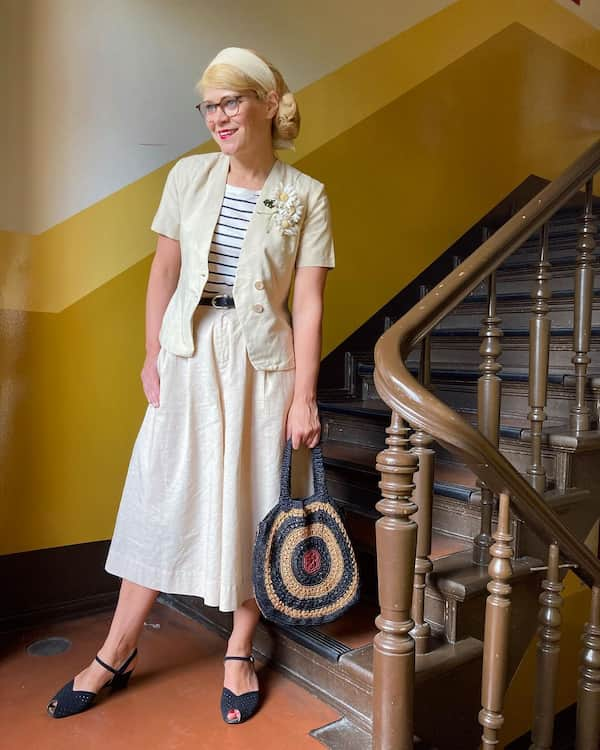 19. Black Vintage Gown + Red Jacket + Red Heels
You can wear this outfit during the yuletide season and in February (Valentine's Day). Feel free to pair the dress with red heels to spice up your appearance.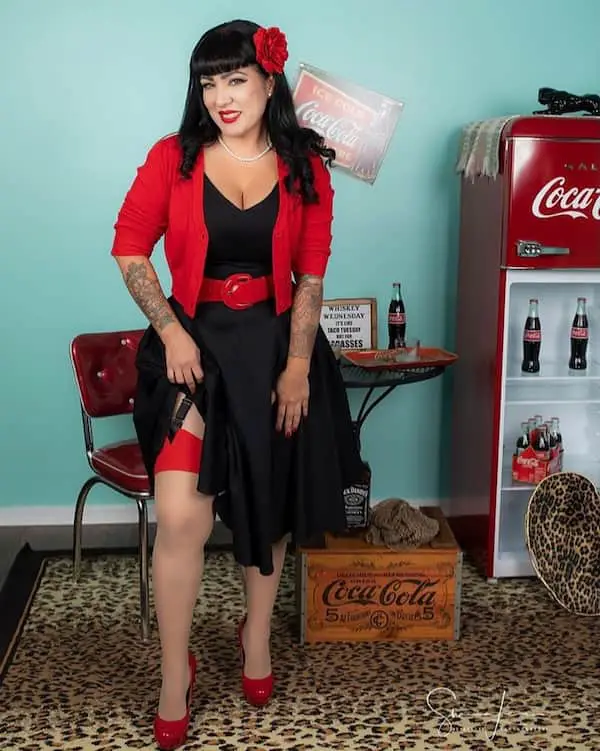 20. Green Maxi Vintage Gown + Hat
For nature-seeing or outdoor tours, It wouldn't be bad if you wear a green gown that will enable you to connect better with nature.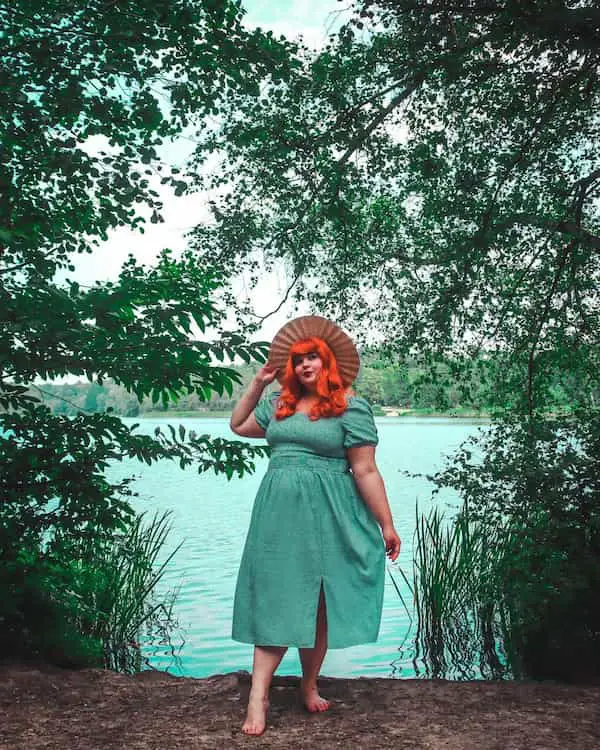 21. Tiki Style Dress + Heel Sandals
You can wear this outfit on a sunny day while going out for a walk or a lunch date. And it wouldn't be bad if you pair it with heel sandals.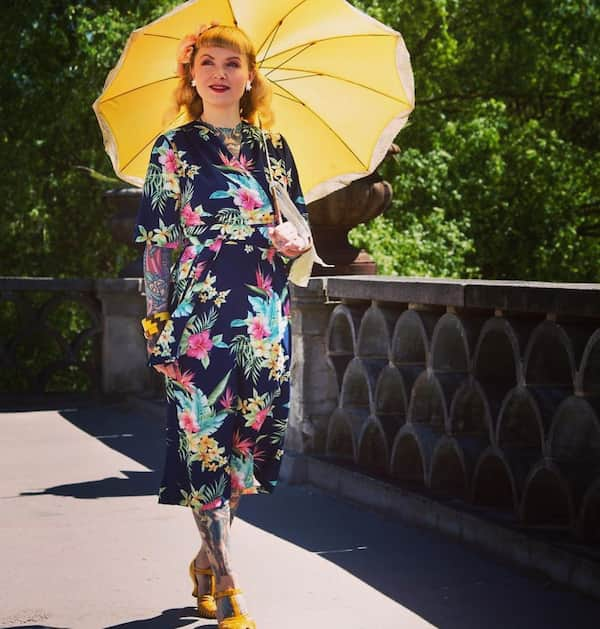 22. Dotted Black Vintage Gown + Boots
You can wear this when you want to go out, especially around the neighborhood as an older lady. You can also wear it when you want to catch some breeze outside.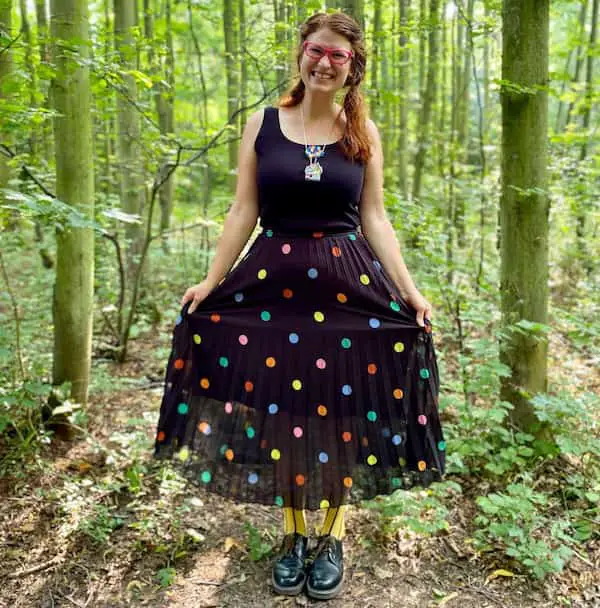 23.  Ophelia Floral Vintage Gown + Flat Shoes
This outfit can go well with casual events or small places, like going to the coffee shop or a small restaurant along the street.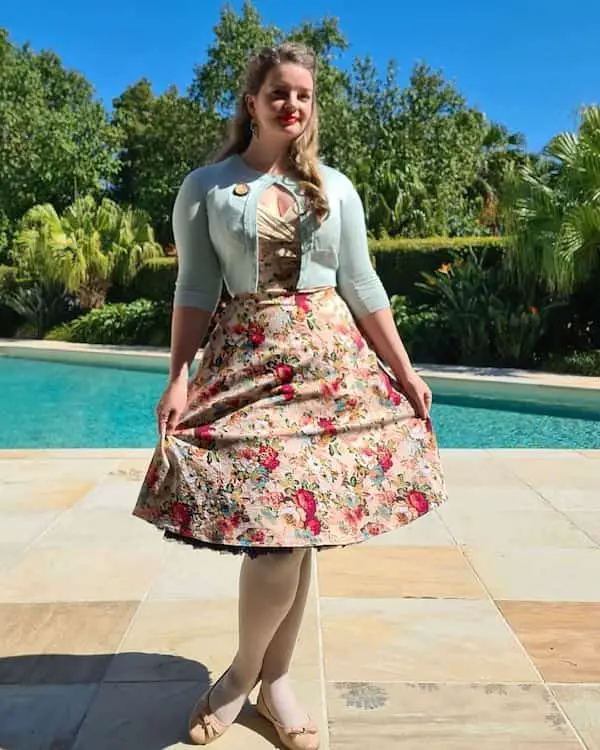 24. Fairytale Mini Dress Paired with a Red Cardigan
Looking for a cute gown to attend the girls' hangouts, I recommend this fairytale long-sleeve gown.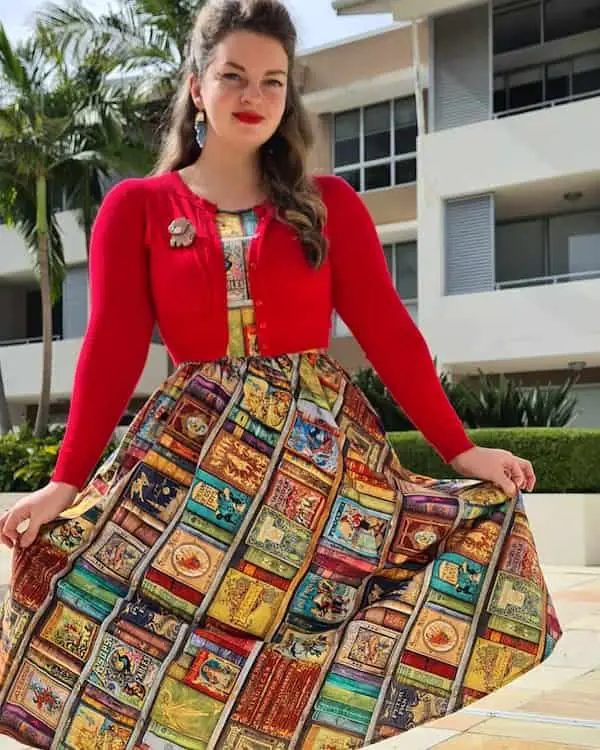 25. U-Neck Leopard Skin-Red Vintage Outfit
Looking for an outfit that will go down with corporate or official events. It's also a perfect choice of outfit for a vacation.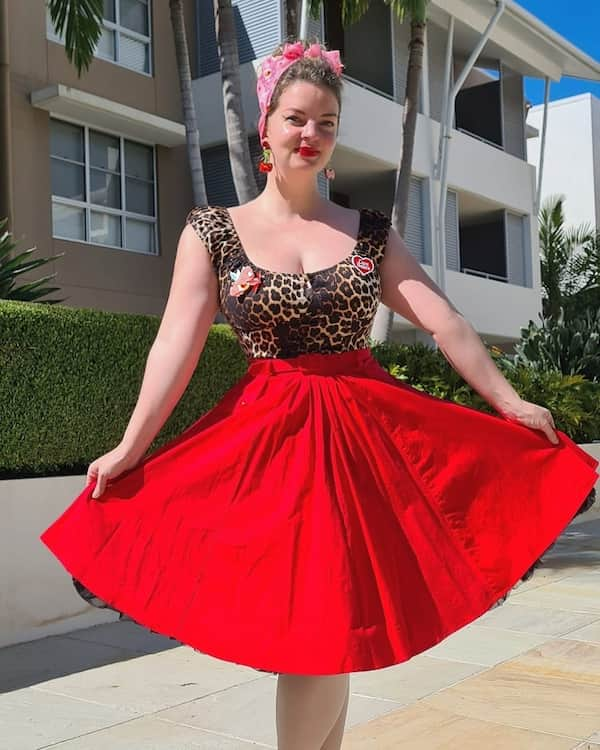 And this is all I got for modern vintage outfit ideas for ladies. Want some more outfit ideas? Check out these blog posts.
I hope you enjoyed this piece. Do well to rate this post, and don't forget to share this article with your friends.
See you with more exciting inspirations. Trust me; you wouldn't want to miss any of our upcoming outfits compilation, so make sure to follow us on Pinterest.