Looking for cute outfits with black boots? you're in the right place. This post got you covered with some cute and smart inspirations, so make sure to stick around till the end.
There are many different colors and sizes of boots that work for very different scenarios. While there are cases to be made for other shoe colors, everyone can admit that black boots are the most common, and by a long shot.
If you have black boots of any size, you might be wondering what kind of outfit goes best with them. No need to wonder anymore, since this collection is here for just that.
Here are some of the best outfits to wear with black boots for a chic look all day round.
25 Classy Outfits With Black Boots
1. Black Long Sleeve with Mini Leather Skirt +Knee-High Black Boots
Starting with knee-high boots is excellent, given that it's a current trend. For some reason, this outfit looks incredibly chic, regardless of how you look at it. While your hair color may not match the skirt, you can still get something close to this elegance.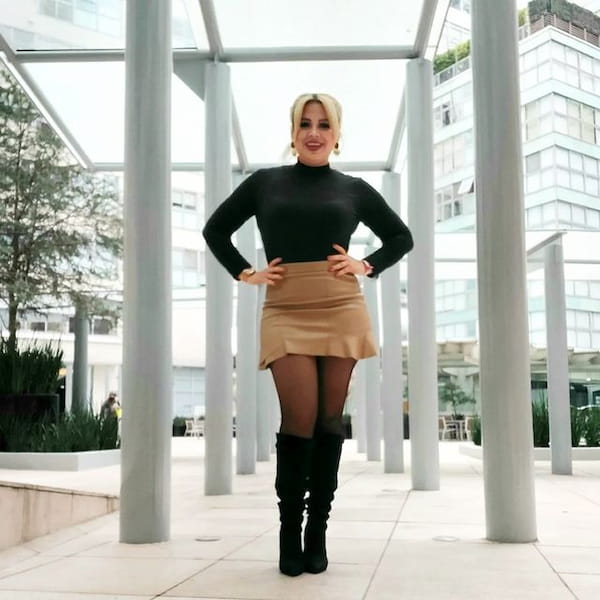 2. Turtle Neck Top with Ripped jeans + Black High Heels Boots
Tucking a simple white turtle neck top into equally simple (but slightly ripped) jeans will look below. Except for the knee-high boots, the resulting outfit is simply casual.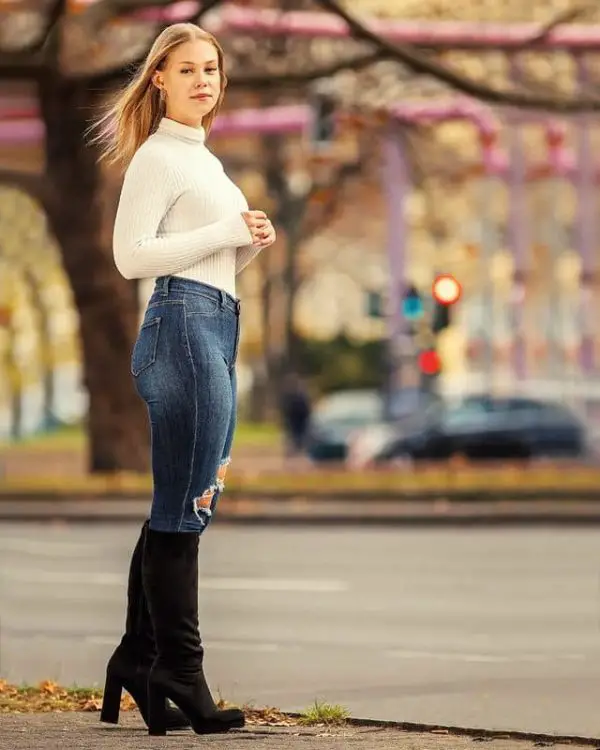 3. Black Top with Fur Jacket + Blue Jeans + Knee-High Boots
The fur jacket has almost covered the entirety of the blacktop in this scenario, but you get the idea. You can cover as much or as little as you want, depending on the temperature then.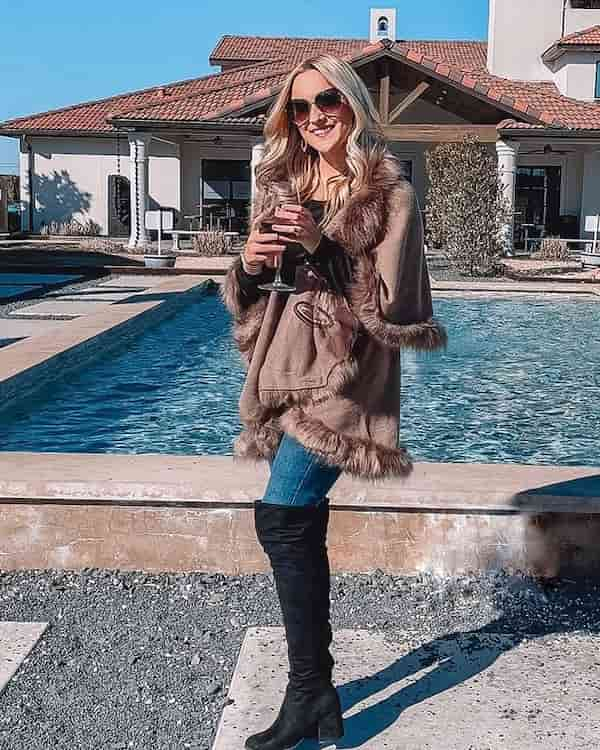 4. Turtle Neck Top with Mini Leather Skirt + Oversized Blazer + Knee-High Black Boots + Handbag
With this being the second turtle neck top in this collection, it's hard to rule out a relationship between boots and turtlenecks. Regardless, the outfit looks simply elegant; exactly like what you'd want to wear to work.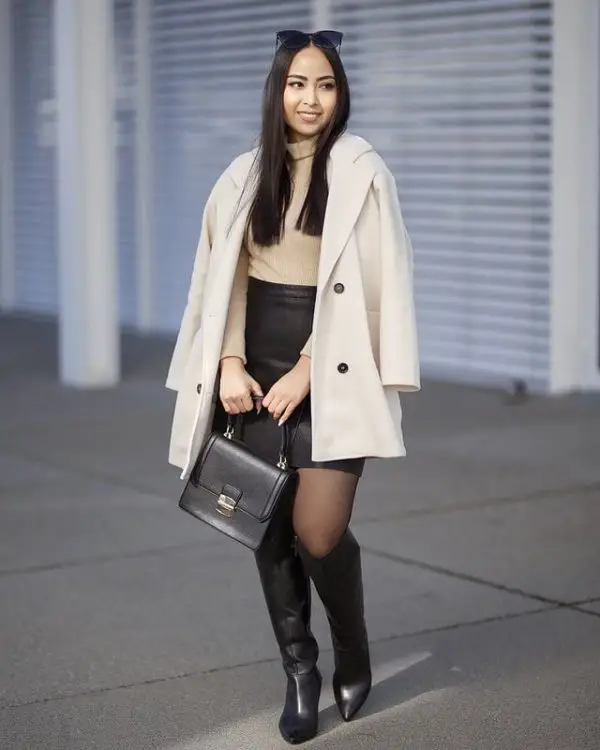 5. White Shirt with Fuax Coat + Leather Pant + Suede Boots
With almost all of the outfits coming up to your knees, it's refreshing to see this for a change. Note that you can copy the exquisiteness of this outfit, even if your boots aren't suede.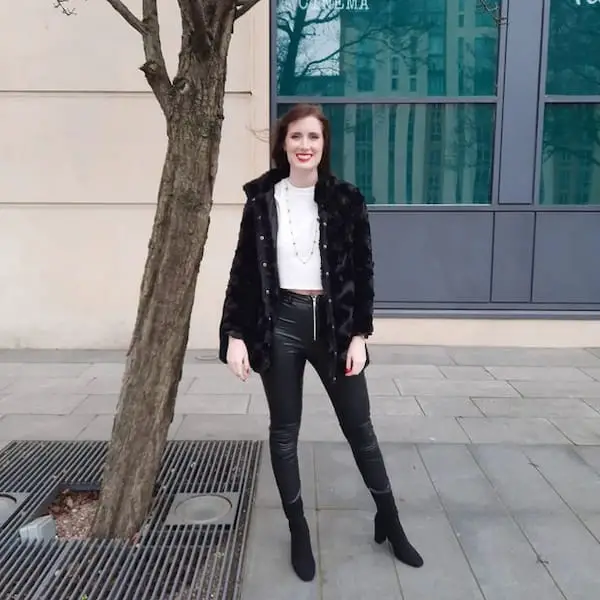 6. Well Buttoned Purple Coat with Knee-High Leather Black Boots + Handbag
The black bag matches the black knee-high boots correctly to create a cohesive outfit. While you can see her holding sunglasses, I don't think it would be of much help here, but it wouldn't hurt to try it.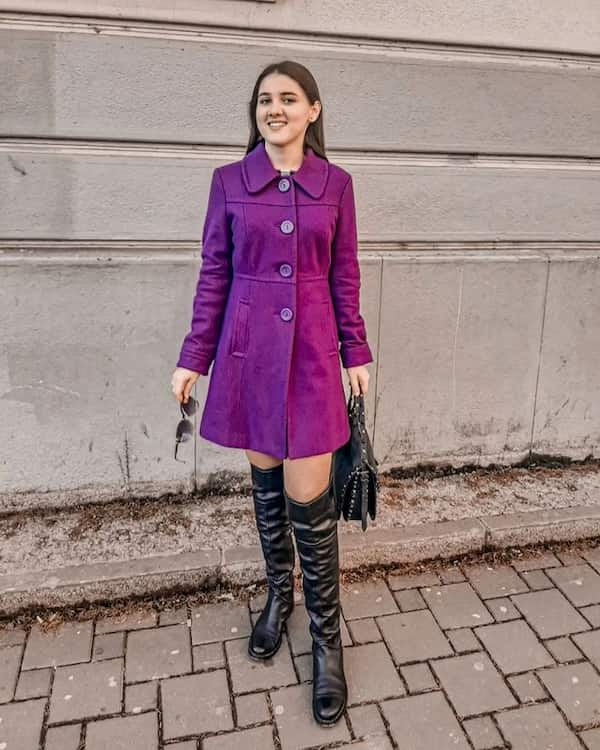 7. Strapless Top with High Waist Asymmetrical Skirt + Vintage Jacket + Black Combat Boots + Handbag
This outfit is especially chic for plus-sized ladies as the model demonstrated below. I can imagine the outfit looking just as good without the vintage jacket, but you don't want to risk it.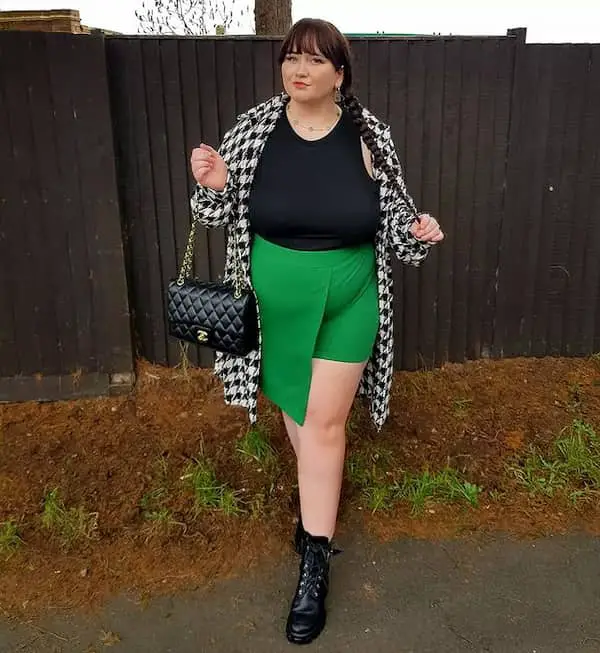 8. Black Jumpsuit with Black Ankle Boots + Handbag
Wearing a fashionable belted jumpsuit with black ankle boots might be all you need to look your best. The super-long hair sure did help here, but the outfit is chicer by all means.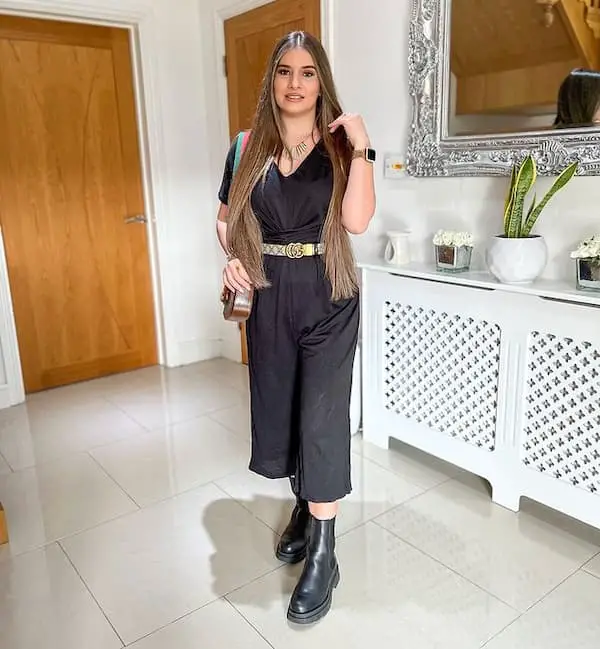 9. Buttoned Up Leather Jacket + Skinny Pants + Boots + Handbag + Sunglasses
Going for an all-black outfit won't be a terrible idea with boots. While she kind of overdid it with the sunglasses, the charm is exactly in the overdoneness, and nobody could have done it better.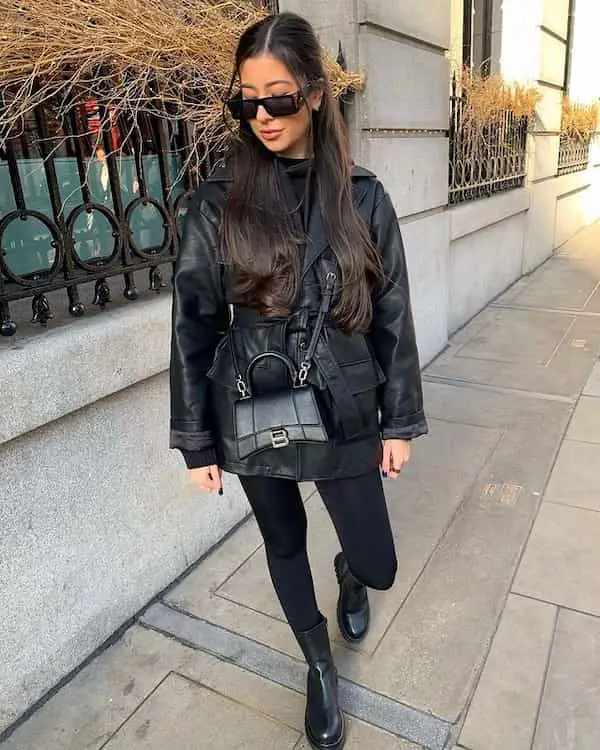 10. Pink Hoodie + Thigh-High Boots
If you have boots that go all the way up to your thigh, all you need to style it is a long pink hoodie. Pairing a long hoodie and thigh-high boots will leave just enough skin to make it acceptable. Just know dressing that way in certain areas is off-limits.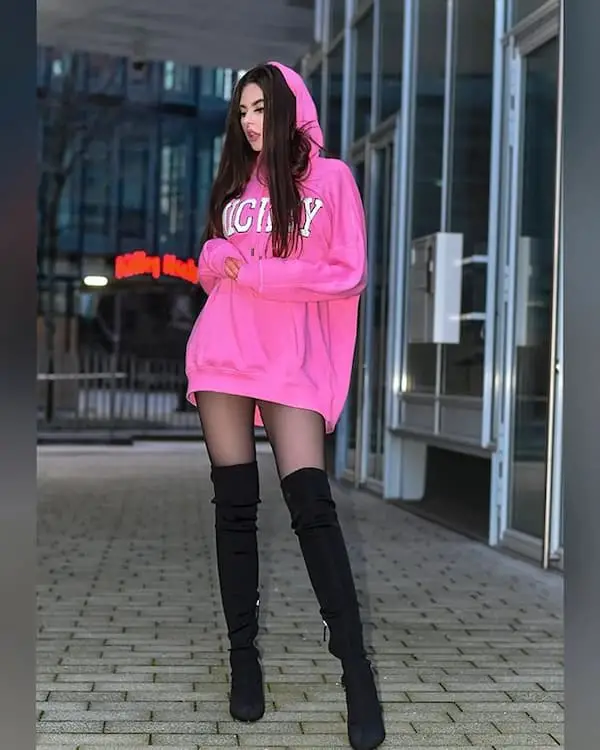 11. Black Button-down Shirt + Knee-High Boots + Handbag
Here's another fashionable all-black outfit that you can wear with your black boots. To capture the elegance, consider copying the entire outfit as-is, and you're ready for any event.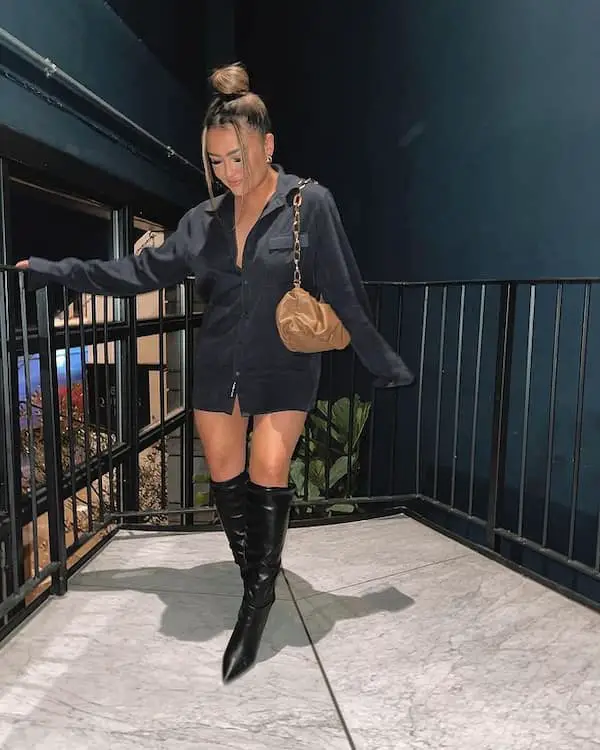 12. Tan Button-down Vest + Mini Skirt + High Heel Boots + Handbag
Having the time of your life can be pretty difficult when you're in restricting clothes. Sometimes, all you need is to take a leave from work, dress in this outfit, and go out into the world, just like she's doing.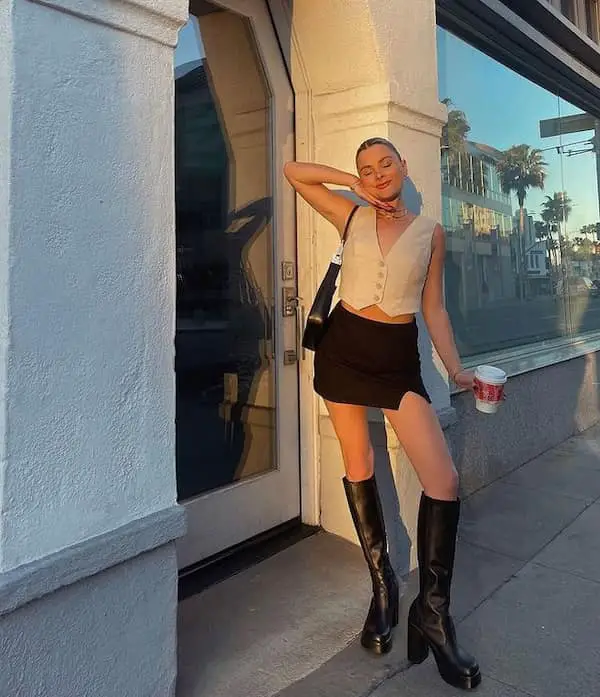 13. Turtle Neck Long Sleeve Shirt + Knee-Length Skirt + Knee-High Boots
This kind of outfit, while not excessively fashionable, is the kind of dress code that companies like. If you're looking for something to wear to work with your new knee-high boots, here's an excellent example.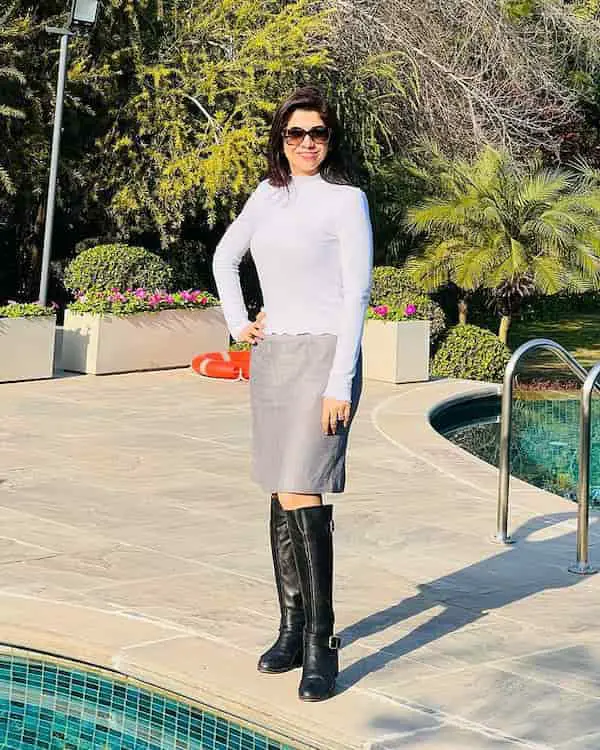 14. Patterned Top + Denim Jacket + Loose-fitted Jeans Pant + Black Boots
If you love jeans, this outfit will appeal to you. Apart from the boots and the patterned top, almost everything else on her are jeans, which creates an indescribably awesome cohesion.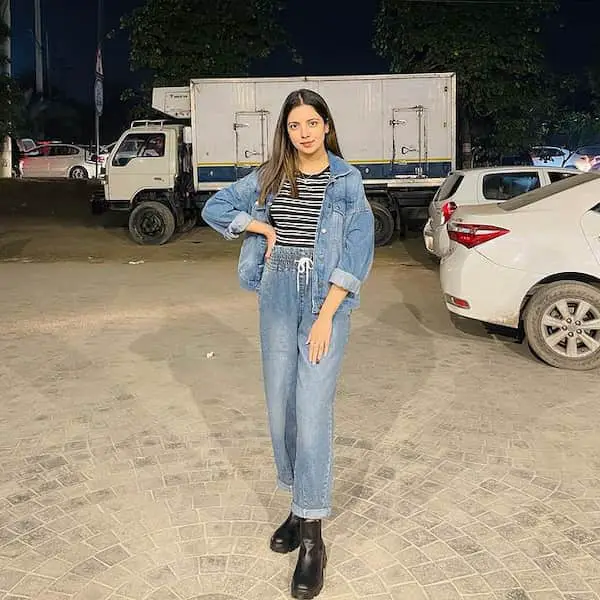 15. One-Handed Top + Trench Coat + Blue Jeans + Knee-High Boots
While this top is essentially one-handed, the trench coat does well enough to hide that fact. This looks like a great way to steal a birthday show from the celebrant, thanks to the awesomeness of the dress.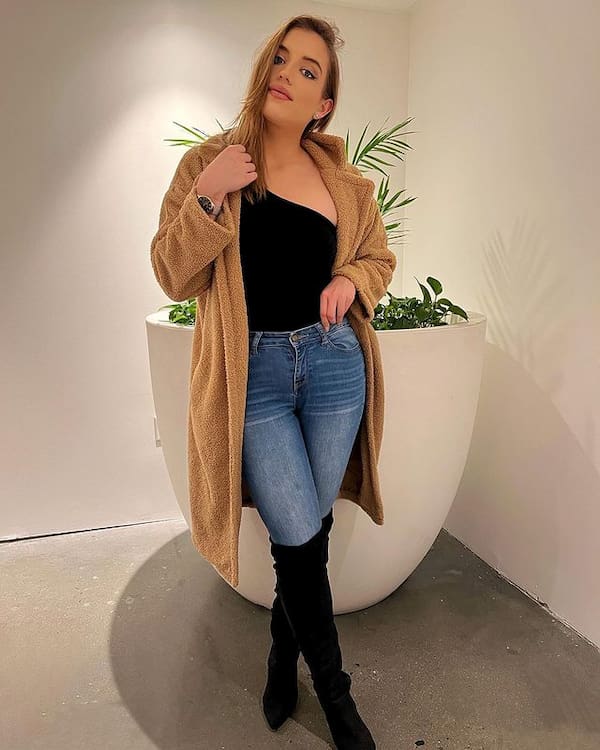 16. Buttoned Biker Jacket + Leggings + Thigh-High Boots
A leather biker jacket does enough in the winter to keep the upper part of your body warm, while thigh-high boots are sufficient for the lower part. Pairing them both together creates the best-looking combo against the winter cold.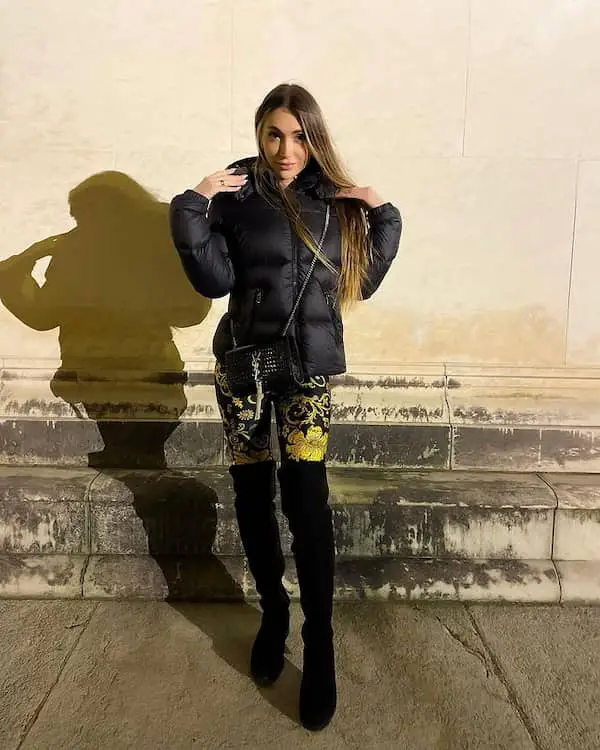 17. Floral Top + Pleated Mini Skirt + Knee-High Boots
This outfit is best for birthdays, night-outs, and similar casual events that do not require extreme formalities. It's also mostly black, laying the groundwork for your black boots.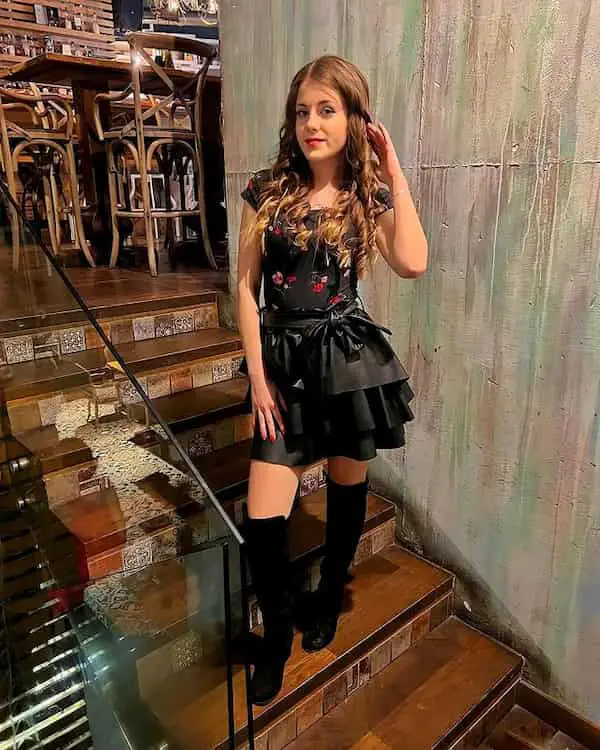 18. One-Handed Leather Gown + Thigh-High Boots + Handbag
A one-handed gown always looks chic, but it's almost always a different story when you pair it with thigh-high boots. Just see for yourself how elegant she looks in this inspiration.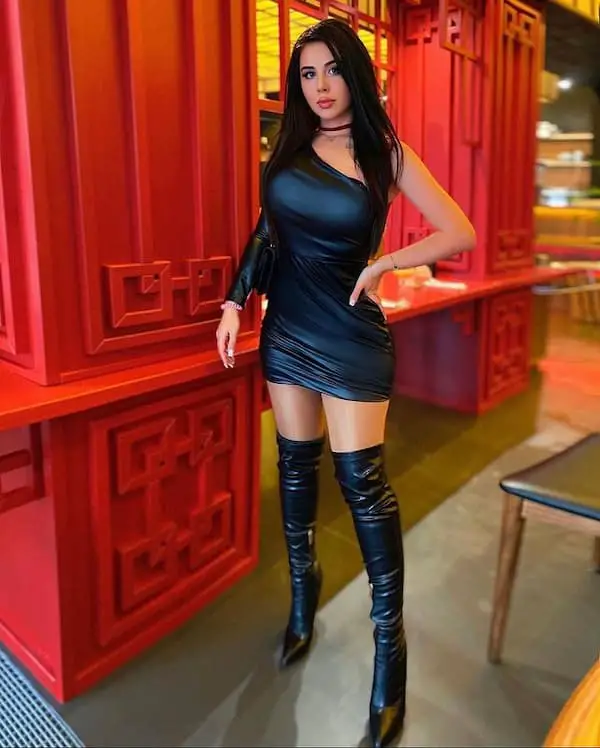 19. Lace Top + Black Jeans + Boots
All-black outfits are bound to appear here multiple times since they're a guaranteed hit. If you're going on a night out with the girls, this outfit inspiration is for you.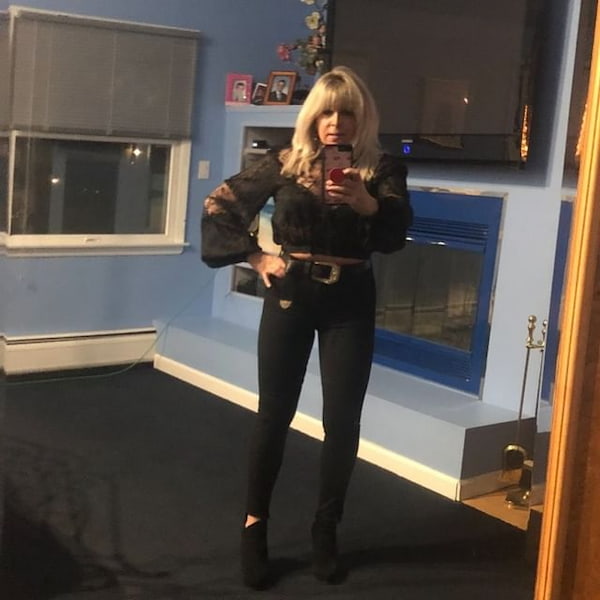 20. White Top + Biker Jacket + Boots + Sweat Cap
Biker jackets are like a match made in heaven for boots. This outfit doesn't have many bells and whistles, but it still looks great at the end. If you're shooting for something fashionable for a party. you may want to skip this.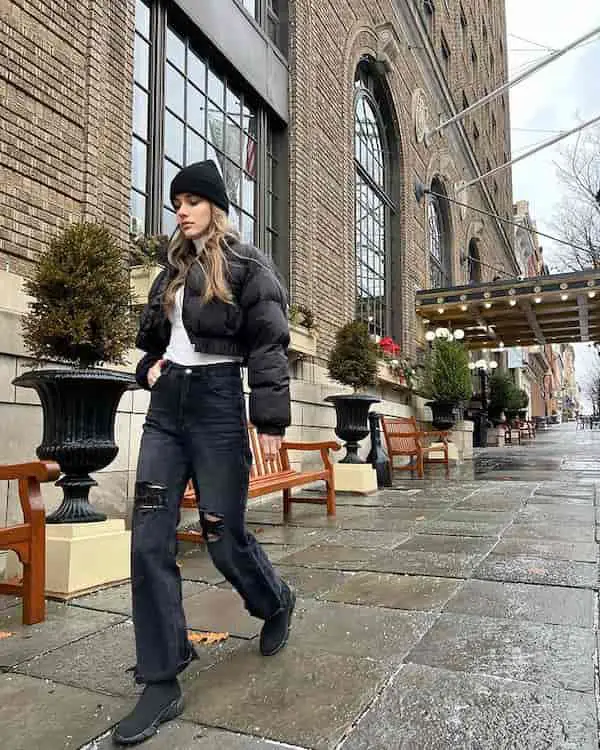 21. Plain Long Sleeve Top + Leather Skirt with Long Zipper at the back + Knee-High Boots
This outfit looks simple chic and is more appropriate for a party than the preceding idea. The small bag is more of a fashion accessory, and you should consider retaining that during your copy.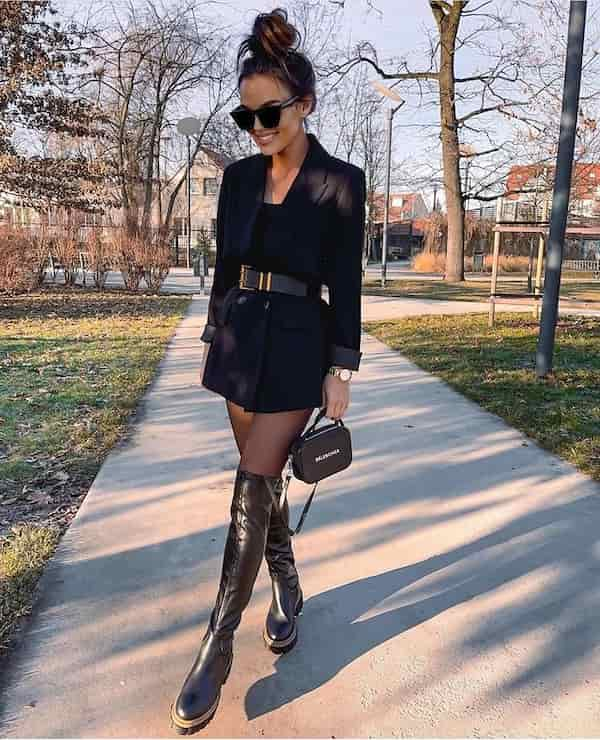 22. Vintage Short Dress + Leggings + Knee-high Boots
If you prefer conservative dresses, wearing a regular short dress with leggings should be a good match for your knee-high boots. There are no other bells and whistles to this outfit and it looks excellent nonetheless.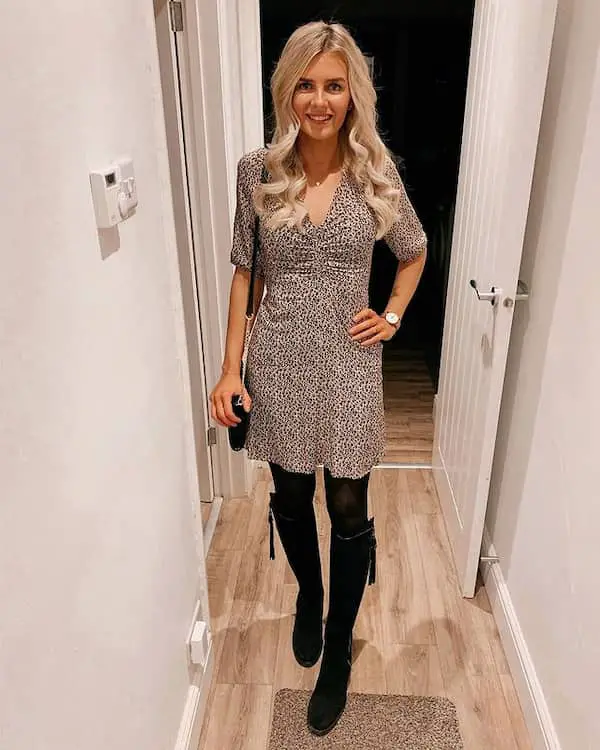 23. Green Mini Dress + Thigh Boots
I'm not sure if green works well with black, but I can say for certain that this green dress did work perfectly with that black thigh boots. Consider copying this outfit to your next party and you'll attract a sea of admirers.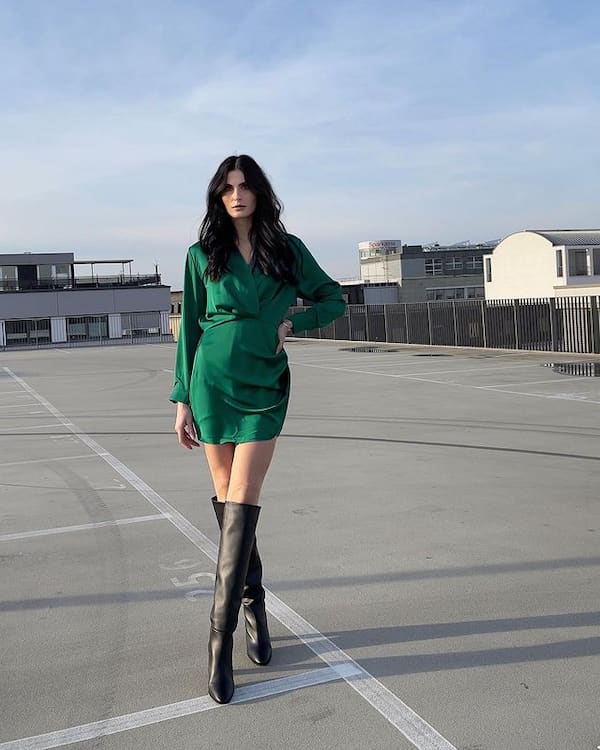 24. Graphic Crop Top + Blue Jeans + Knee-High Boots
This looks like the dress of a teenager who just graduated high school, but isn't it hot? If "hotness" is what you're going for, this dress qualifies as one of the best for you to copy.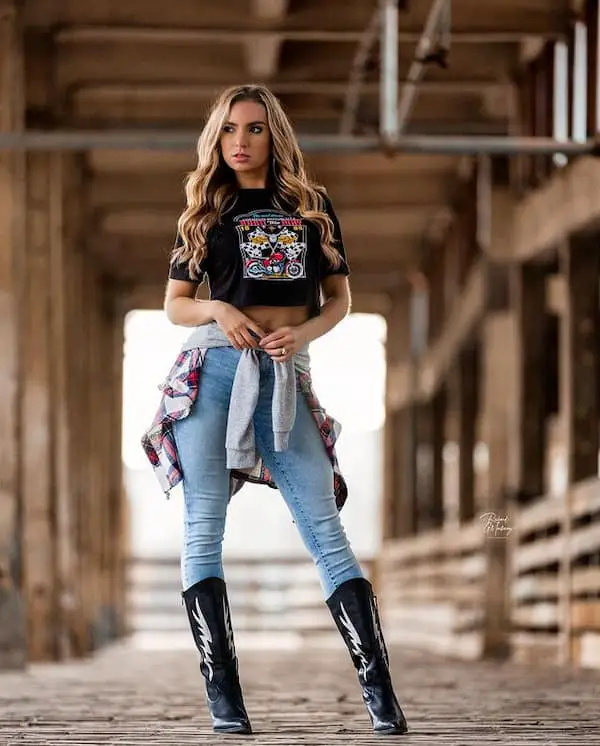 25. Pink Mini Dress + Black Combat Boots + Handbag
Who knew you could match a wholly pink person with black boots without any contradictions? If you pay attention to her entire look, you'll notice that her hair even looks kinda pink. What matters is the result and it's excellent in this case.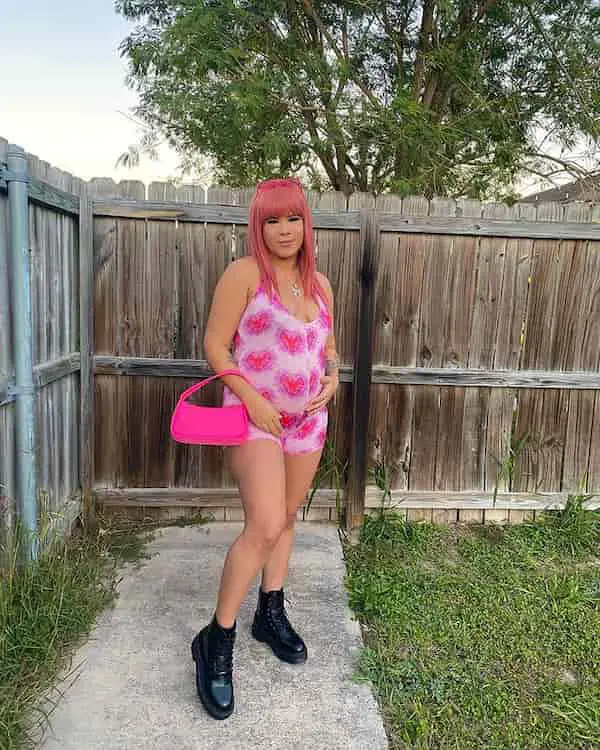 And that's all for my post on outfits with black boots. Want some more outfit ideas? Then you might want to check out these blog posts.
I hope you enjoyed this piece of content. Do well to rate this post, and don't forget to share this outfit compilation with your friends.
See you with more exciting inspirations. Trust me; you wouldn't want to miss any of our upcoming outfits compilation, so make sure to follow us on Pinterest.
Pin for Later.