If you have a collection of pink skirts, what to wear with the could be a dilemma sometimes. Here are 25 adorable outfits with pink skirts to keep you going.
Pink is mostly associated with females, and so are skirts too. It only makes sense to combine both to make pink skirts. Sure enough, pink skirts have always been popular, thanks to the appeal it gets from females.
However, the problem with wearing pink skirts isn't usually with the skirt itself; it's with the outfit you're wearing with it. If you're not particularly interested in spending hours choosing the most appropriate clothes, you may find it hard to style pink skirts.
To help you out, this article will show you 25 of the coolest outfits with pink skirts today.
Cute Outfits with Pink Skirts
1. High Waist Pencil Pink Skirt with Dotted White Shirt + White Dotted Black Blazers + Black Heels
Judging by how adorable she looks, a pencil skirt seems to be a good use for a light pink skirt. The fact that the dress is formal and great for work is enough reason to replicate it.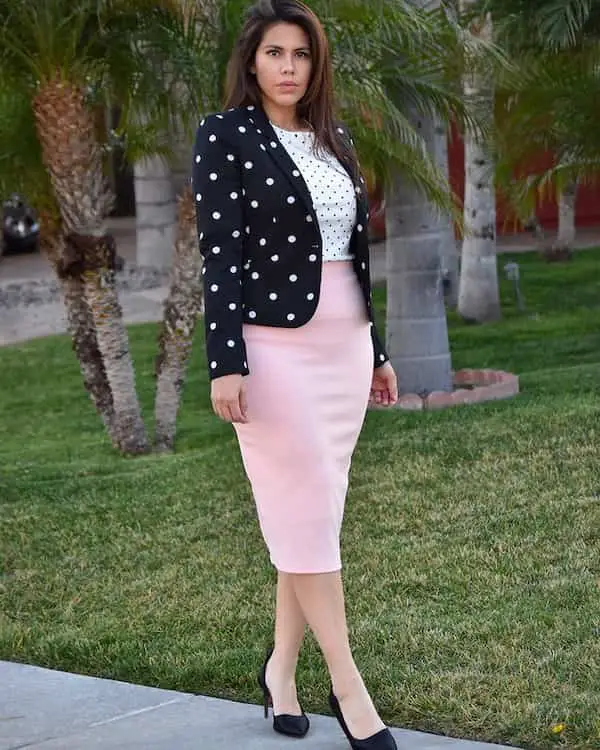 2. Pink Satin Skirt with White Graphic Shirt + White Sneakers + Black Clutch Purse + Sunglasses
This outfit looks very simple yet insanely chic. The white sneakers match too naturally with the white shirt, while the pink skirts seems like it was designed to complete this specific outfit.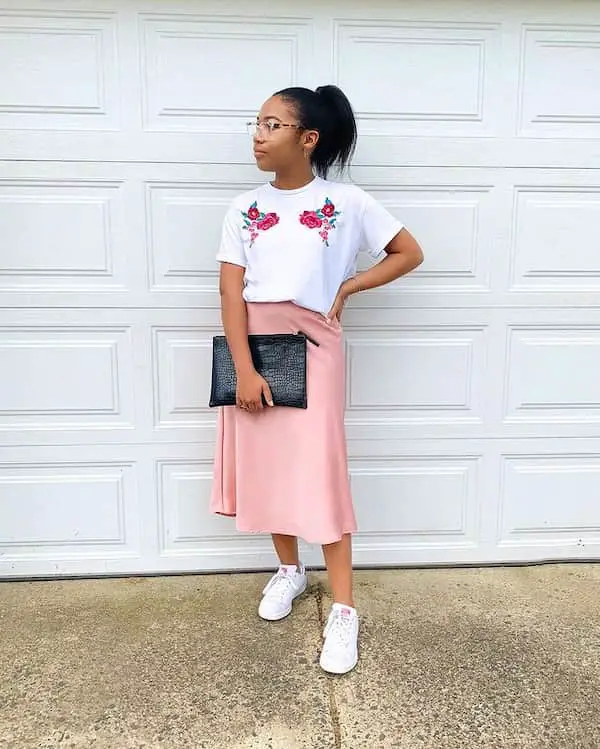 3. Pink Tiered Skirt with Red Cardigan + Red Boots + Brown Hat
Pairing a pink skirt with a red cardigan doesn't really change the colors too much, keeping everything cohesive. If you're trying to dress fashionably for a party, here's a decent idea.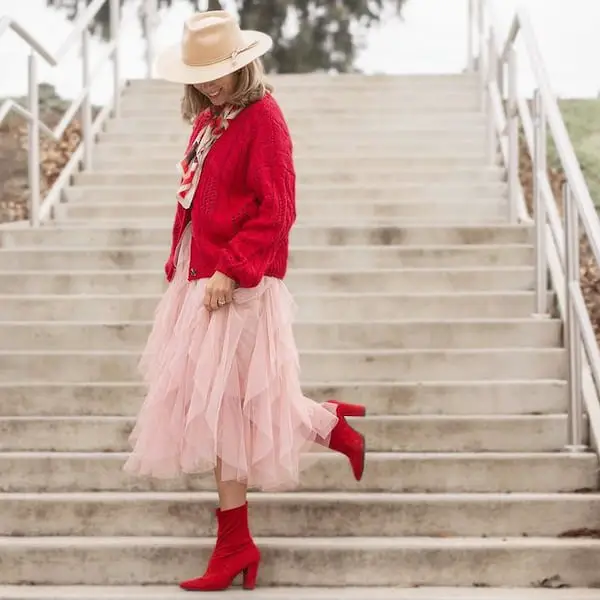 4. Thick Pink Maxi Skirt with Black Pullover + Black Boots + Black Head tie
A thick maxi skirt with a pullover is a clever way to dress for the winter while incorporating the pink color. With the black boots, it's practically impossible for your feet to complain of cold.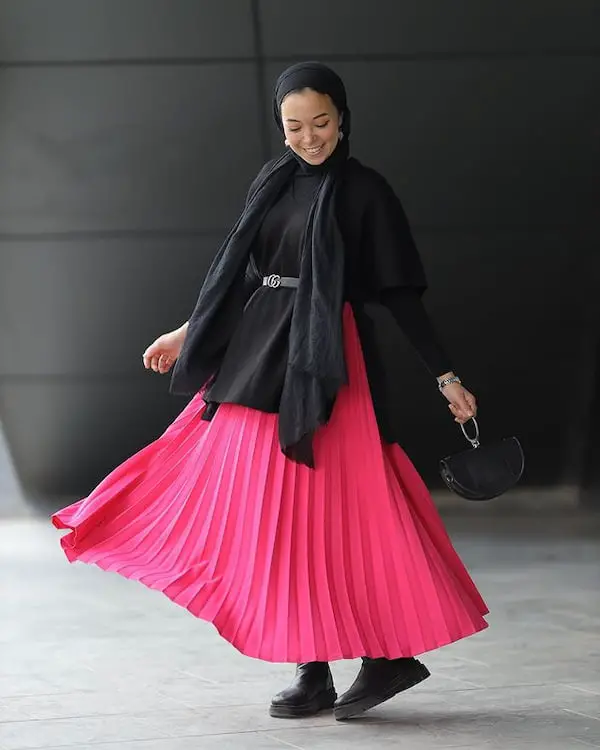 5. Pink Mini Skirt with Pink Crop Top + Heels
On the other hand, you may want to make your outfit extremely simple during the summer. Talking of simple outfits, I doubt there's anything better than pairing a mini skirt with a crop top.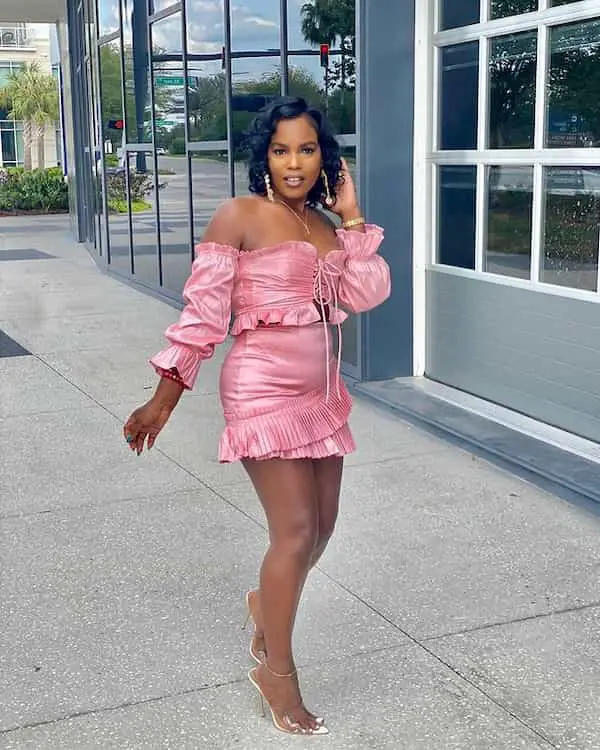 6. Pink Heart Patch Pocket Leather Skirt with White Blouse + White Heels + Pink Handbag
A leather skirt never fails to disappoint whenever you need something comfortable yet elegant. Pair it with a white blouse and you've replicated her alluring look.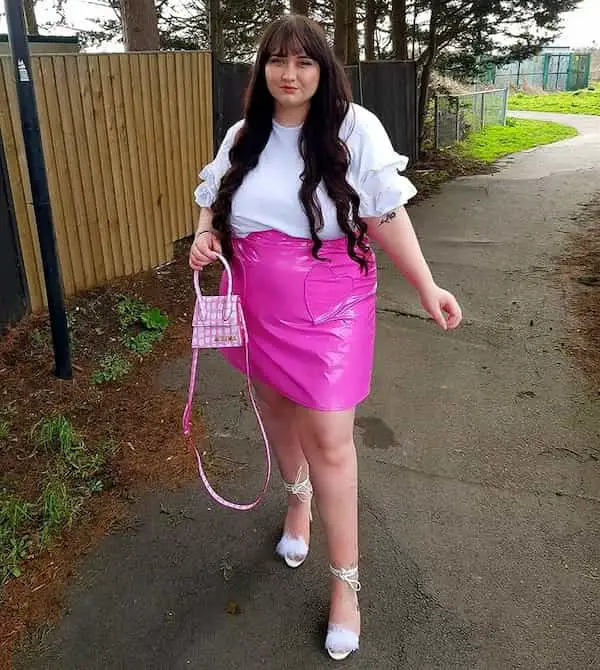 The skirt looks a lot like orange, but that's what you get when you try to concile pink and denim. Still, the entire outfit looks adorable, but a bit too simple for any formal occasions.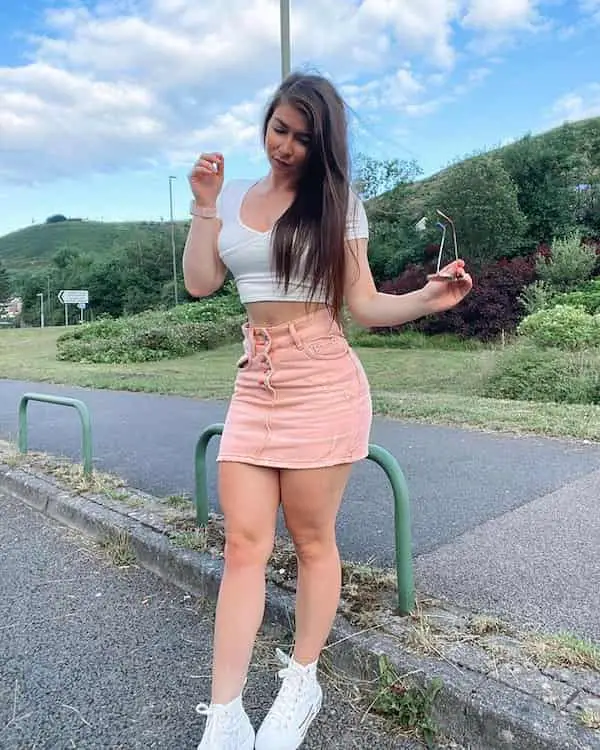 8. Pink Long Slated Skirt with Floral Top + Brown Heels
If you're all for slanted skirts, they're also available in pink. When you pair one with a classy floral top, pink-brown heels should be all you need to complete your elegant look.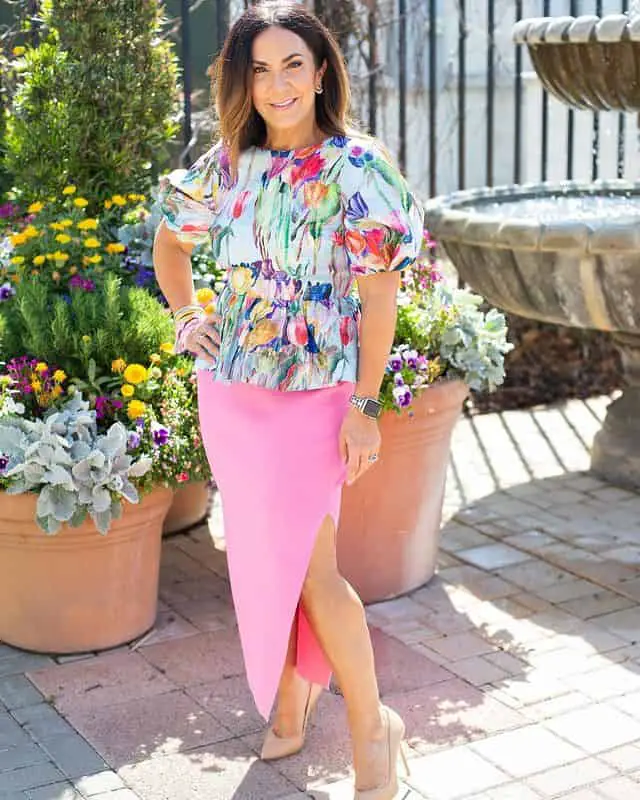 9. Thick Pink Mini Skirt with White Shirt + Pink Blazers
Wearing a pink mini skirt with a matching pink blazer makes your outfit look very cohesive. Even the white shirt looks perfectly apt, making this one of the best outfits with pink skirts.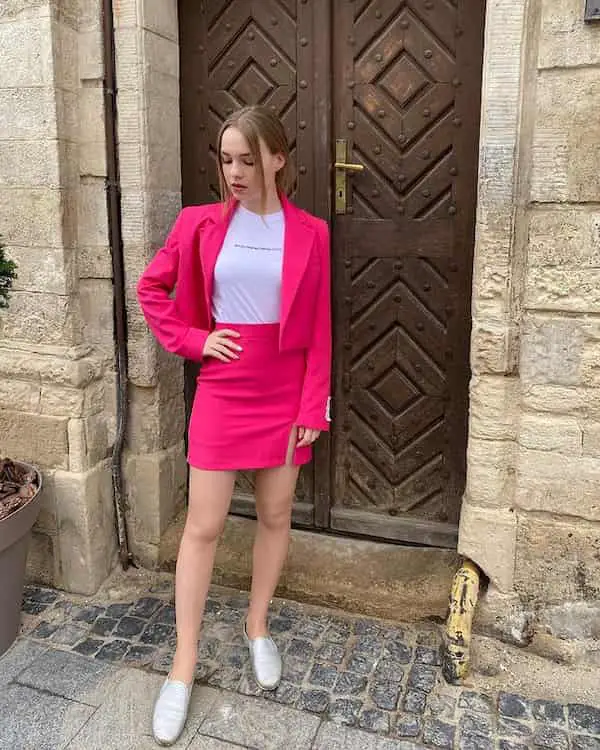 10. Pink Midi Skirt with  Black Leather Jacket + Black Heels
If pale pink appeals to you, here's an outfit idea that you should find interesting. Of course, that's if you fancy leather jackets in the first place and if the weather allows for it.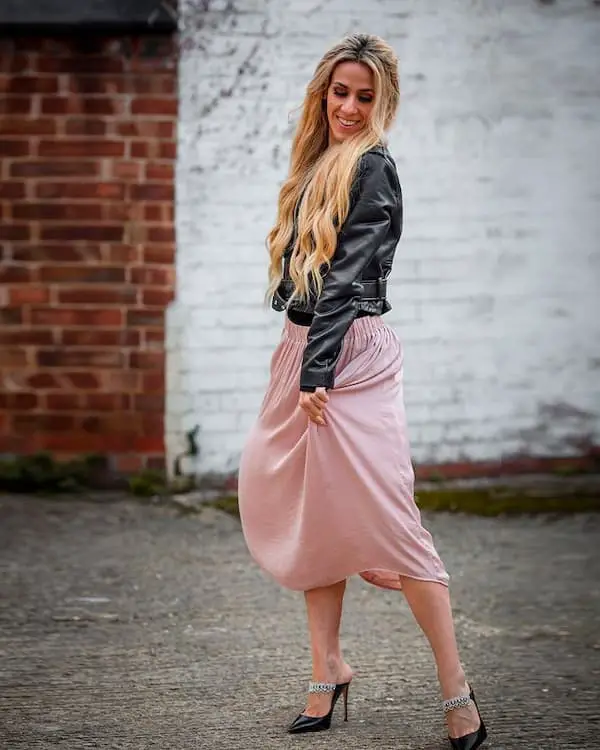 11. Pink Midi Tulle Skirt with Pink Floral Sweater + Silver Heels + Silver Handbag + Sunglasses
If you're trying to retain a mom-like look without toning down the elegance of your dressing, here's what you're after. The matching bag and heels make the entire outfit cohesive, while the glasses just look chic.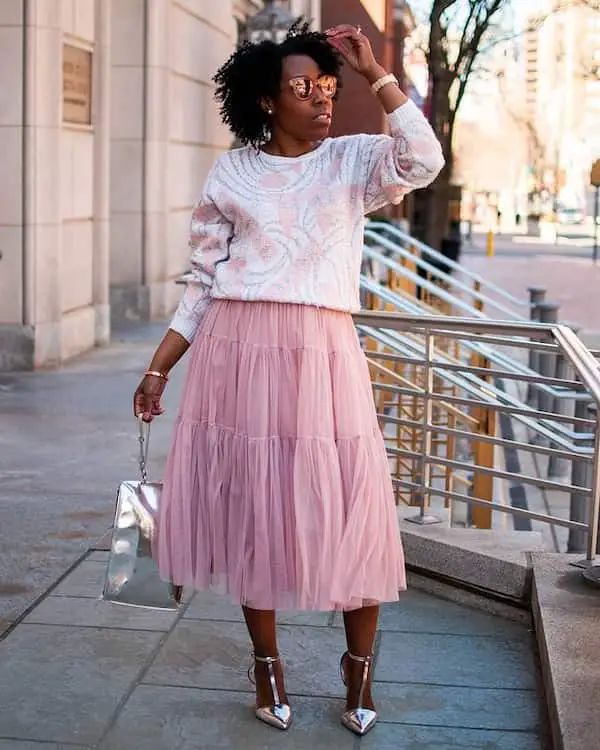 12. Baby Pink Mini Flared Skirt with Brown Vest + Ash Jacket + Peach Heels + Sunglasses
You could probably argue that the vest and the skirt are different shades of pink, but who cares. As long as it looks this chic, I don't think nitpicking is really necessary; try replicating the smile too.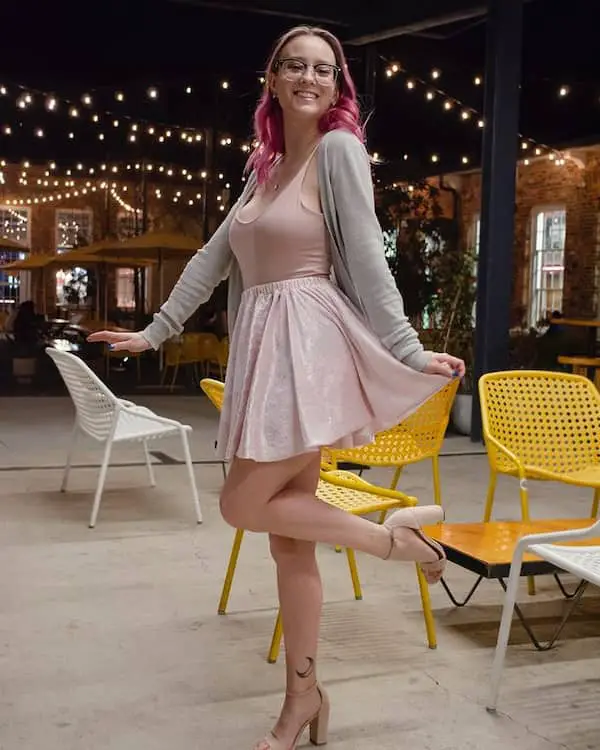 13. Baby Pink High Waist Skirt with White Lace Shirt + Pink Heels + White Clutch Purse
Dressing for a pink-themed birthday party should pose no issues with this outfit idea. Use a white lace shirt and a free high waist skirt and you've copied half her entire look.
14. Pink Floral Midi Skirt with White Tank Top Shirt + Slippers
A pink floral midi skirt still qualifies as a pink skirt, and here's how to wear it to look chic. This outfit is best for weekends and casual days at home; for events, you want something more fashionable.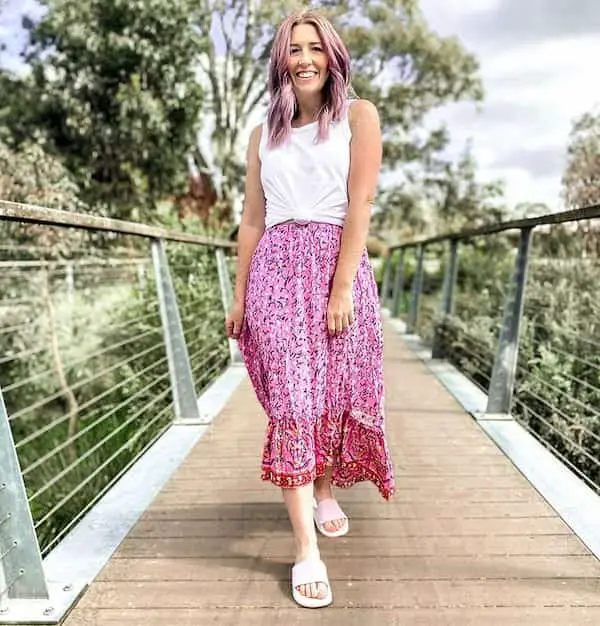 15.  Pink High Waist Maxi Skirt with Black Puffed Hands Black Skirt  + Black Boots + Black Hat
The match between purple-pink and black seems unreal, especially with this outfit. Judging by how cool it looks, I can happily wear this on every day of the week.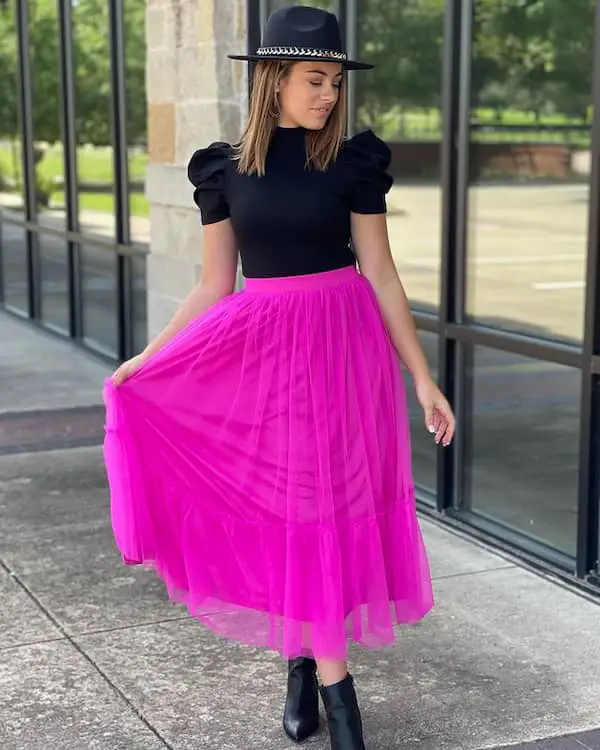 16. Baby Pink Platted Skirt with Black Crop Top with Pink
Still on the matches between black and pink, here's another outfit you should consider trying. It looks naturally chic, and it's the better solution when you're after something simple.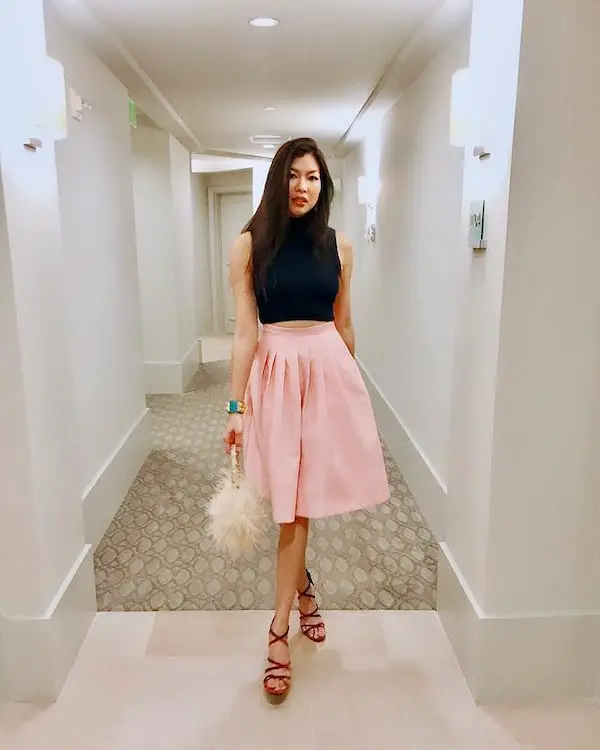 17. Pink Satin Midi Skirt with White Graphic Top + Line Stripped Blazer  + White Sneakers + Sunglasses
You don't get to attend parties and functions every day; for those days when you're primarily at home, here's a great outfit idea. It's comfortable, chic, and protects against mild cold in the winter.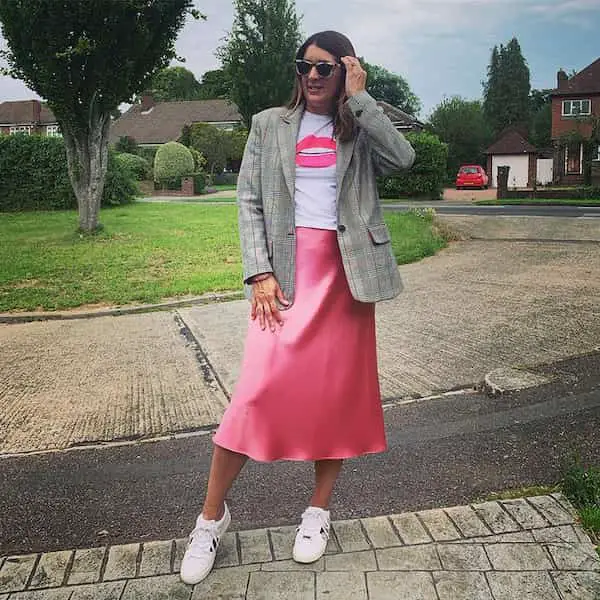 18. Light Pink Mini Skirt with Black Top + Navy Blue Jacket + Pantyhose Leggings + Knee-High Boots + Handbag + Sunglasses
On the other hand, here's a suggested outfit idea for those other days you spend partying. While the pink skirt looks more like off-white, the elegance of the outfit is enough to get it in.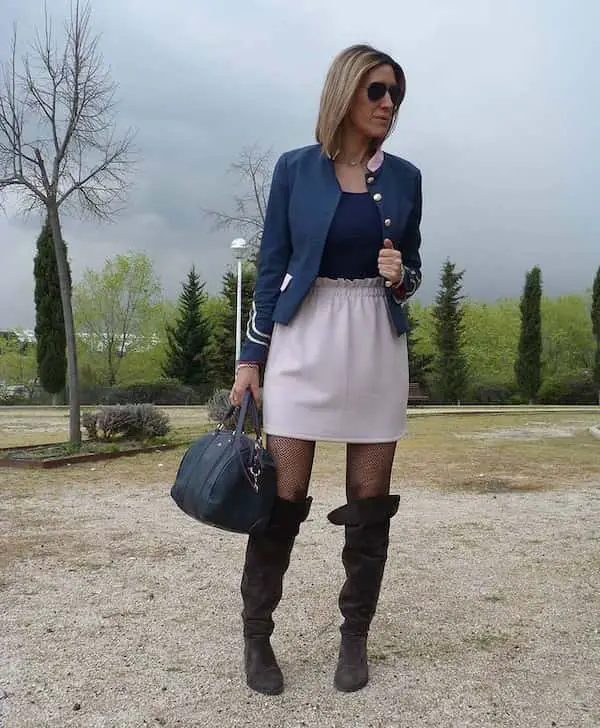 19. Baby Pink Transparent Maxi Skirt with White Graphic Shirt + Denim Jacket + Gold Heels + Handbag
If you want to wear a maxi skirt but it's the summer, here's another interesting idea to try. The transparent skirt uses very thin fabric, making it easier to keep the wearer cool. Plus it's too adorable.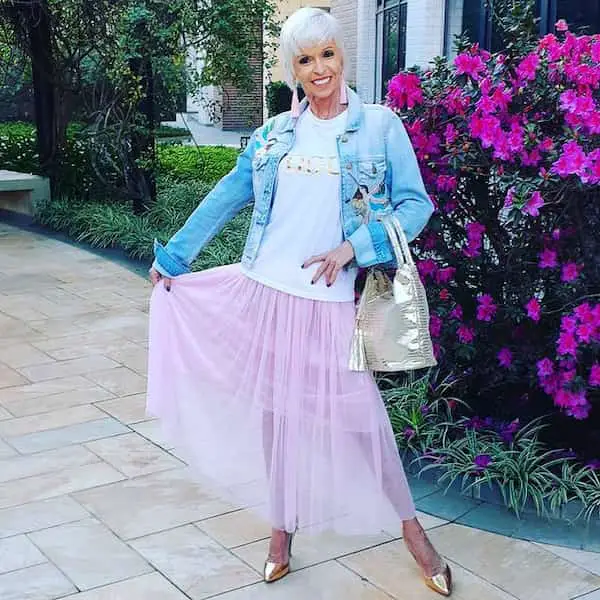 20. Baby Pink Maxi Pleated Skirt with Shiny Blouse + White Sneakers
This outfit follows the rules of a black and pink outfit; perfect match! The white sneakers don't look out of place, and the entire atmosphere is set up to make the outfit more alluring.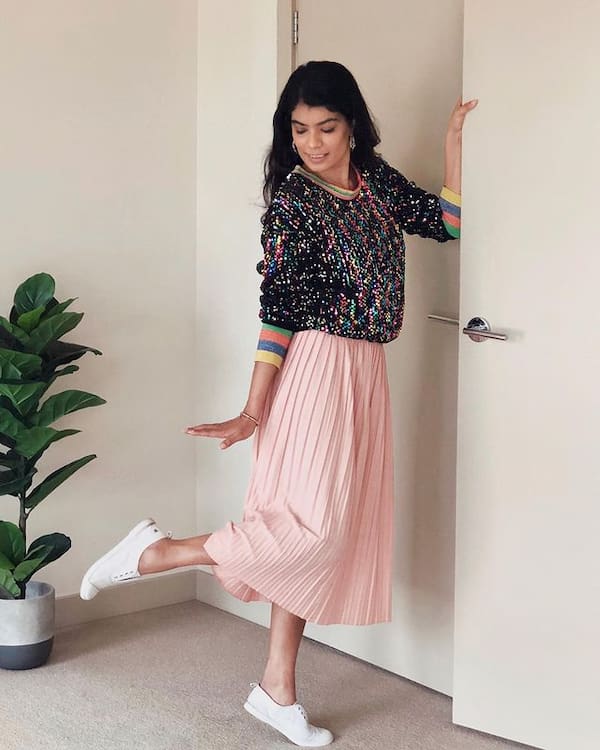 21. Thick Pink High Waist Skirt with White Floral Top + Blue Heels + Handbag + Sunglasses
One popular skirt color with white floral tops is pink because it looks elegant. Don't take my words for it, look at the model below and tell me that see doesn't look adorable. You can look better!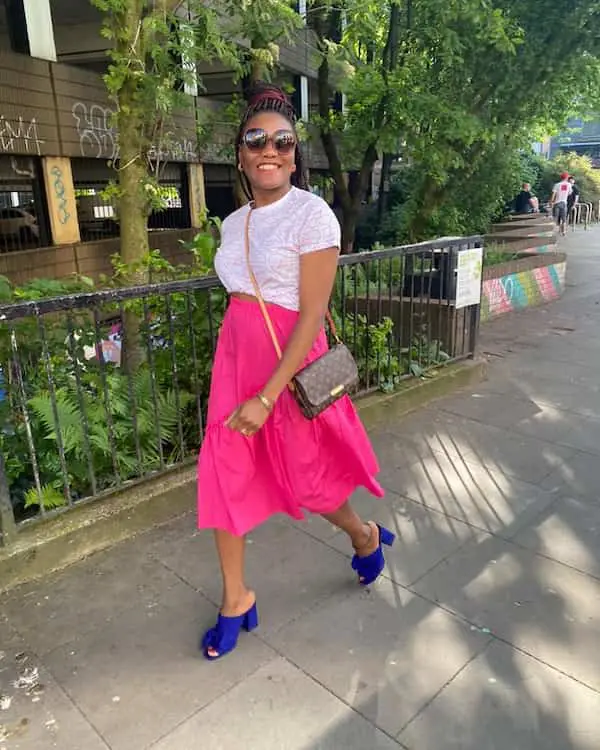 22.  Pink Faux Leather Skirt with White Graphic Top + Brown Heels + Sunglasses
A white graphic top with pink inscriptions will work excellently with a pink skirt, as the image illustrated. The brown heels and doesn't take too much of the attention, since it's muted compared to the skirt.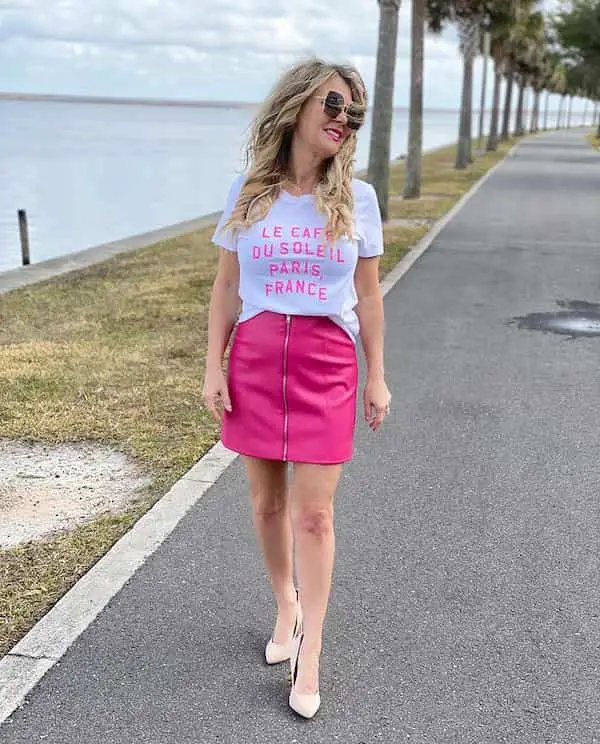 23. Pink Pleated Maxi Skirt + Ash Long Sleeve Turtle Neck Top + Brown Heels + Sunglasses
A maxi skirt will always look adorable, especially when the background is set up to make it look insanely good. While the process of replicating this outfit isn't hard, that of replicating her beauty is.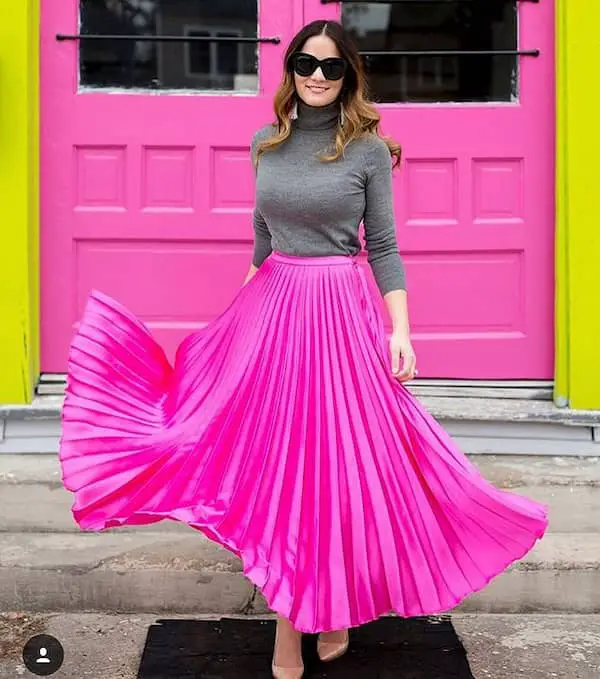 24. Pink High Low Skirt with Black Long Sleeve Blouse + Boots
A high low skirt with black long sleeve is an excellent outfit choice if you're hosting a birthday. While the outfit may look sophisticated, replicating it doesn't seem to be much of a pain.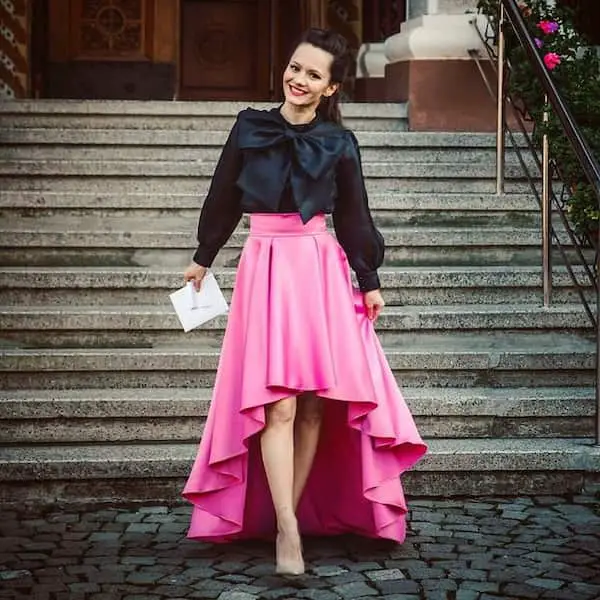 25. Pink Maxi Skirt with White Graphics T-Shirt + Denim Jacket
Your graphic tee doesn't have to have a pink inscription to work with a pink skirt. As she illustrates here, you can mix things up, adding a denim jacket to the mix while looking adorable.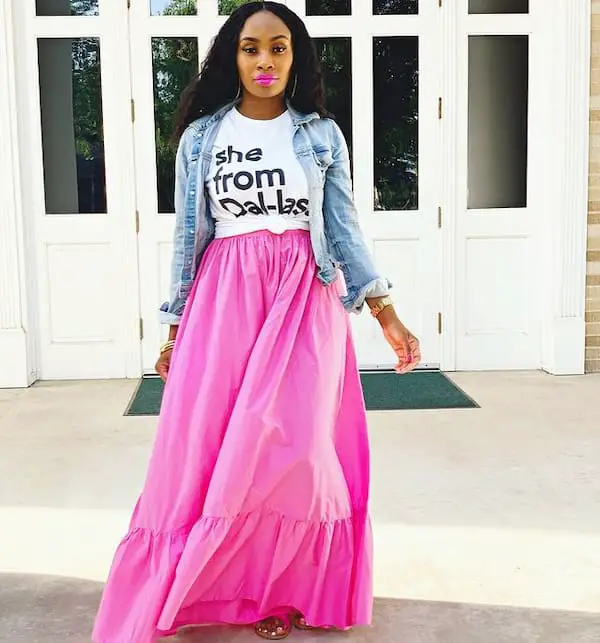 And that's all for my post on some cute outfits with pink skirts. Want some more outfit ideas? Then you might want to check out these blog posts.
I hope you enjoyed this piece of content. Do well to rate this post, and don't forget to share this outfit compilation with your friends.
See you with more exciting inspirations. Trust me; you wouldn't want to miss any of our upcoming outfit compilations, so make sure to follow us on Pinterest.
Pin for Later.