If you're trying out white skirts, you'll need to choose your top carefully. Here are some classy outfits with white skirt that should inspire you.
While white isn't the most popular color choice for skirts, white skirts generally don't look terrible. They're seen as elegant and casual, being the perfect choice when you're after a light color for the summer.
Given the nature of the white color, it's hard to find something that matches correctly with white. To help you out, I'll list 25 of my favorite outfits with white skirt to help you dress up for your next event.
Classy Outfits with White Skirt for Inspiration
1. White Midi Pleated Skirt with Black Satin V-Neck Top + Black Loafers + Silver Clutch Purse
White and black is a natural combination that always looks chic together, regardless of the circumstances. The model perfectly complements the white skirt with a black top, creating an alluring outfit.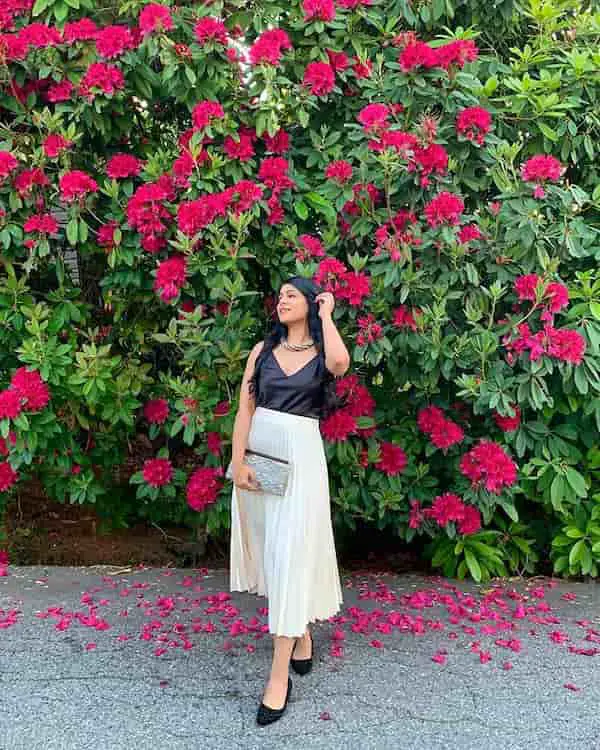 2. White Mini Flared Skirt with Yellow Crop Top + Lemon Handbag
If you're after something more on the casual side, a yellow crop top is probably a better idea. Match it with a white skirt and it looks so natural you won't even notice.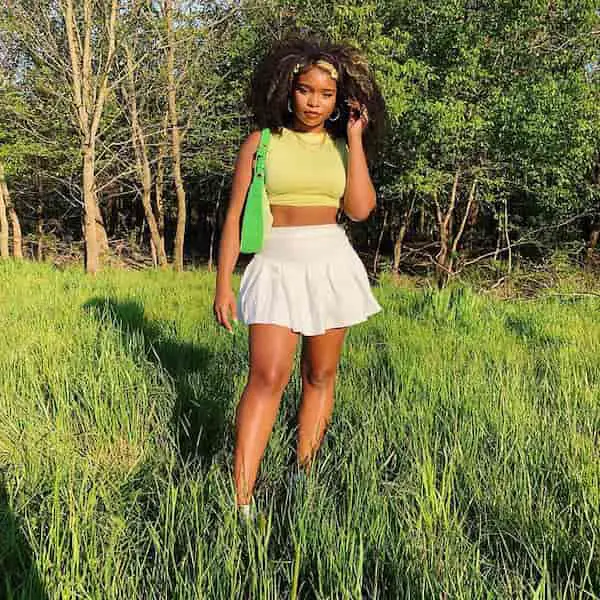 3. White Mini Tight Skirt with White Crop Top + White Sneakers
Wearing an all-white outfit correctly is difficult, as you only need a little mistake to mess things up. Thankfully, she managed not to make any mistakes here, making for a flawless outfit.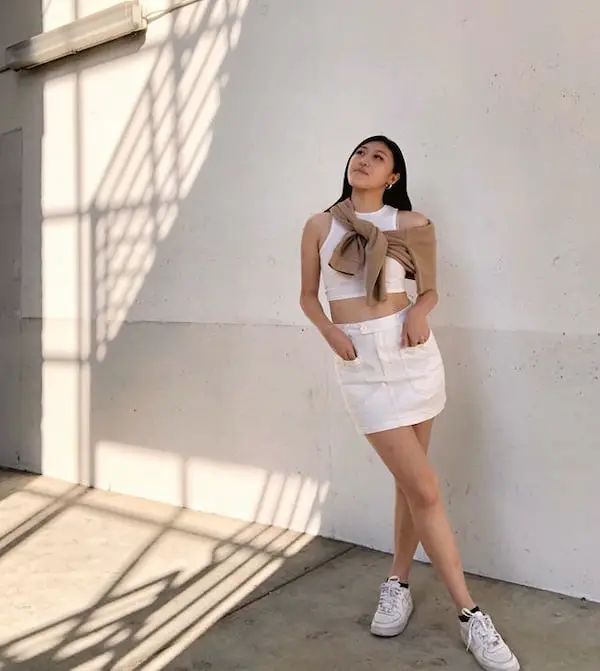 4. White Vintage Denim Skirt with Peach Long Sleeve Crop Top + Transparent Heels
For casual dinners and gatherings with a requirement for decent clothing, this works. While it doesn't look unattractive, it also doesn't look indecent, making it a perfectly chic balance.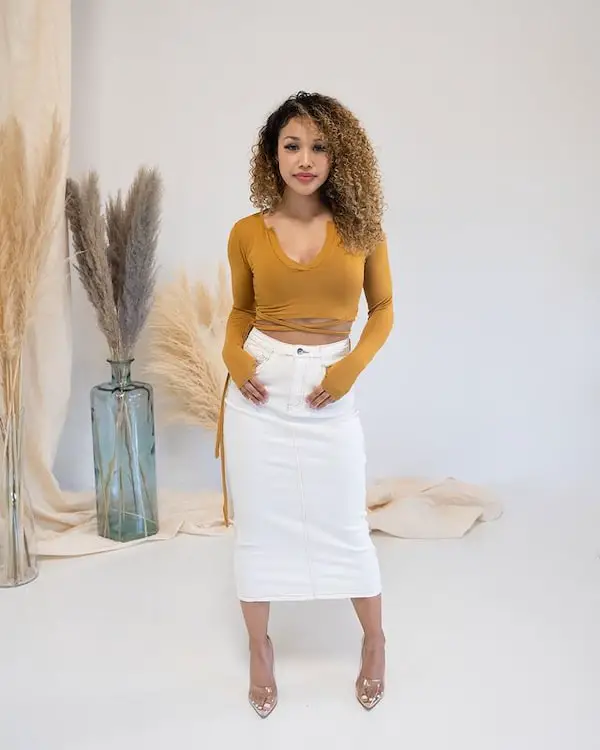 5. White Long Skirt with White Off Shoulder Top + Brown Sandals + Brown Hat + Basket Bag
The perfect match between the top and the long skirt makes it look somewhat like a dress. The hat and the bag create an antique atmosphere, while the brown sandals complete the elegance.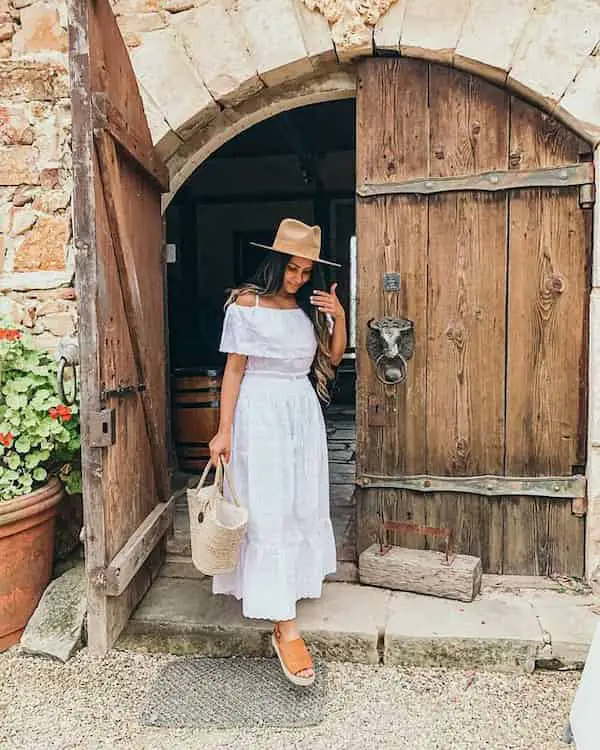 6. White Maxi Skirt + White Crop Vest + Brown Prints Hat + Brown Slippers + Basket Handbag
Here's another way to wear an all-white outfit without making it look weird. The subtle addition of brown elements to the outfit makes it look a lot less bland and a lot chicer.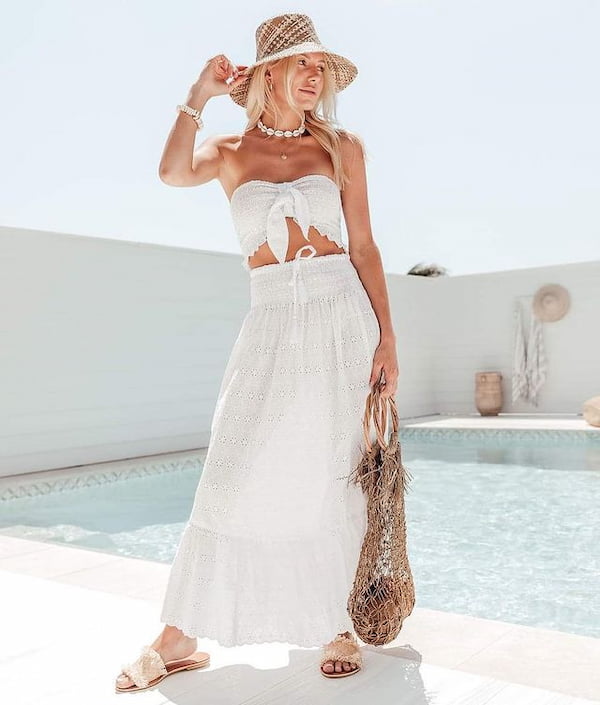 7. White Long Pencil Skirt with Polka Dot Long Sleeve Shirt + Gold Heels
If there's something that could get any close to the chicness of a black and white outfit, it's a polka dot top with a white skirt to match. With this level of elegance, I'm fine with wearing this seven times a week.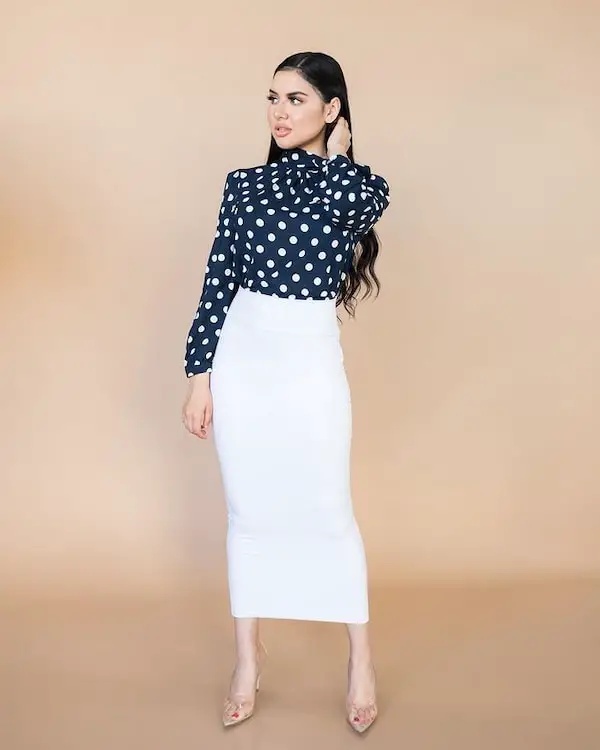 8. White Midi Skirt with Black Top + Black Trench Coat + Black Boots + Black Hat + Cross Shoulder Handbag
If you're after something excellent for work, here's an outfit idea you'll love. The black and white color scheme makes it chic, while the general style makes it good enough for work and formal events.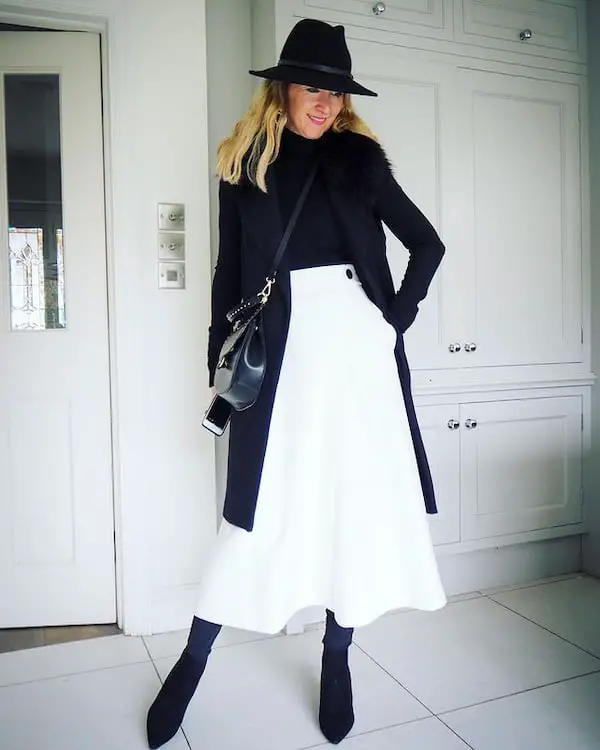 9. White Short Skirt with Peach Spaghetti Strap Top + Peach Heels + Clutch Purse
When you're not pairing your white skirt with a black top, a purple-pink top should also work. You can also add subtle traces of other colors as she did with the purse and belt to spice things up.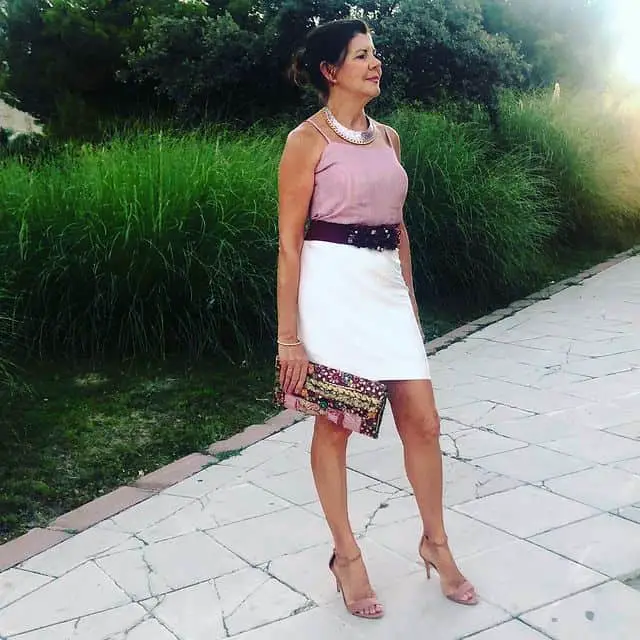 10. White Balloon Skirt with Black Tank Top + Black Boots
It doesn't matter what skirt style you're wearing, as long as it's a black top, it works. This outfit further proves that point, creating a masterpiece of a simple tank top with a balloon skirt.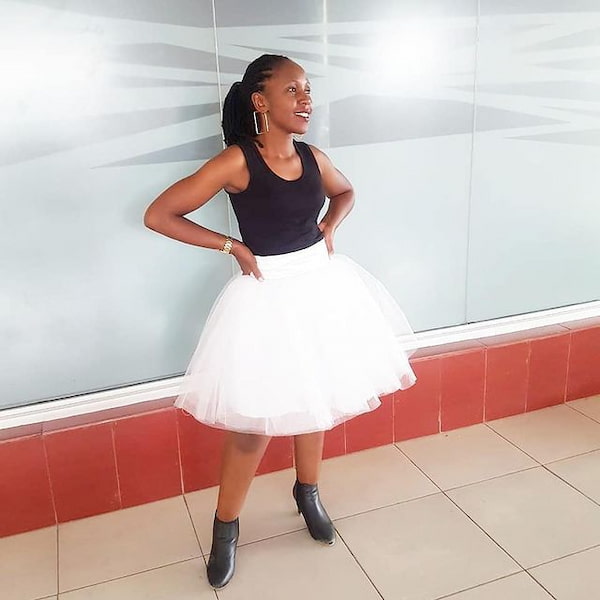 11. White Double Pocketed Skirt with Yellow Blouse + Brown Heels
If you need some pockets, you can go with a double-pocketed skirt with a yellow top. At this point, it's so evident that yellow tops match white skirts that I don't even need to talk about it anymore.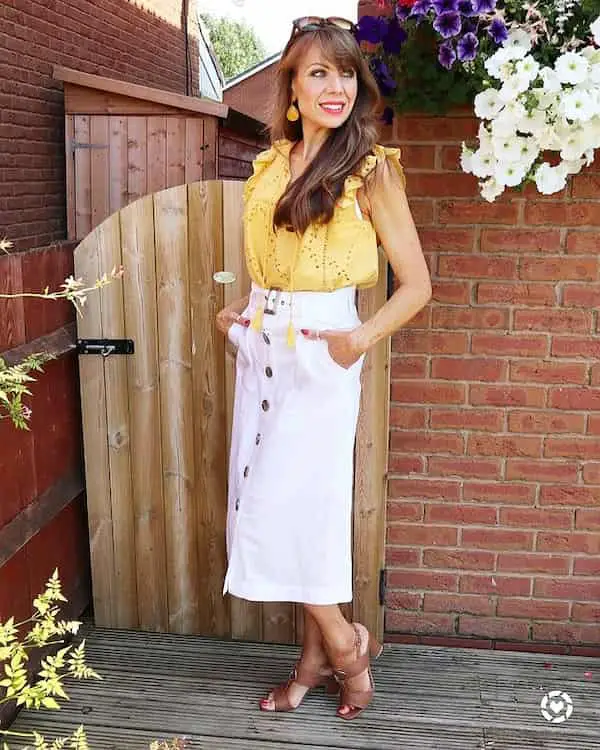 12. White Mini Denim Skirt with Pink Shirt + White Sneakers
You know what works better for a white skirt than a yellow shirt? It's a pink shirt. A simple button-down shirt with a mini denim skirt is enough to give you the unique model's look.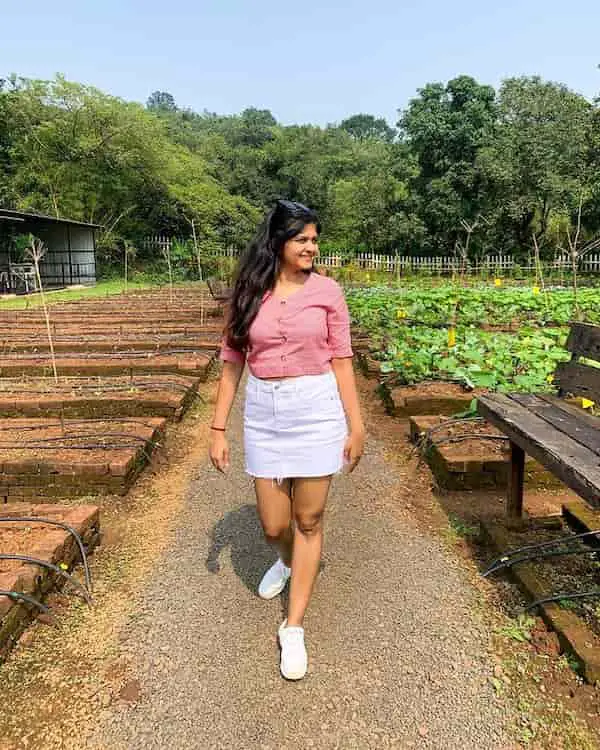 13. White High Waist Skirt with Black Shirt + Black Heels
The classic black and white combination never fails, and this outfit proves it. While we've seen many white and blacks here, this idea just looks a lot nicer and more cohesive.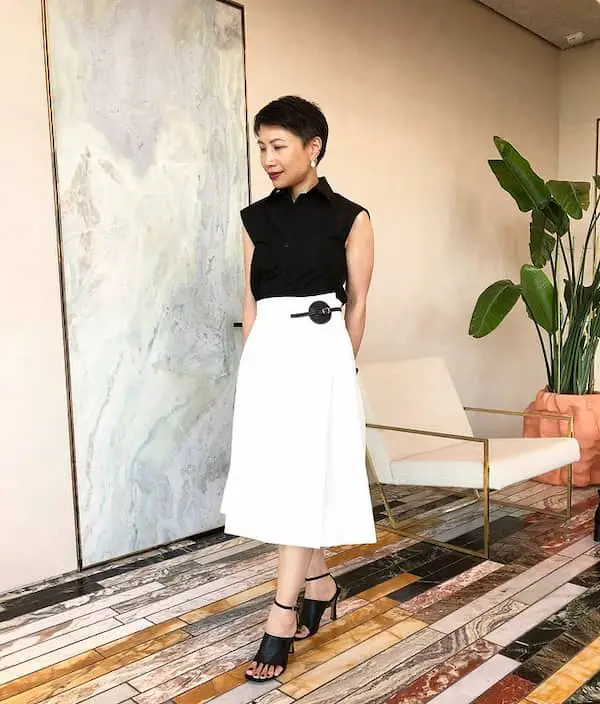 14. White Midi Winter Skirt with Black Jumper + White Sneakers +  Brown Cross Shoulder Bag
This idea relies on the age-old black-white combo, and it looks just as chic as any other. The brown bag does add a little variation that doesn't make the outfit look too samey.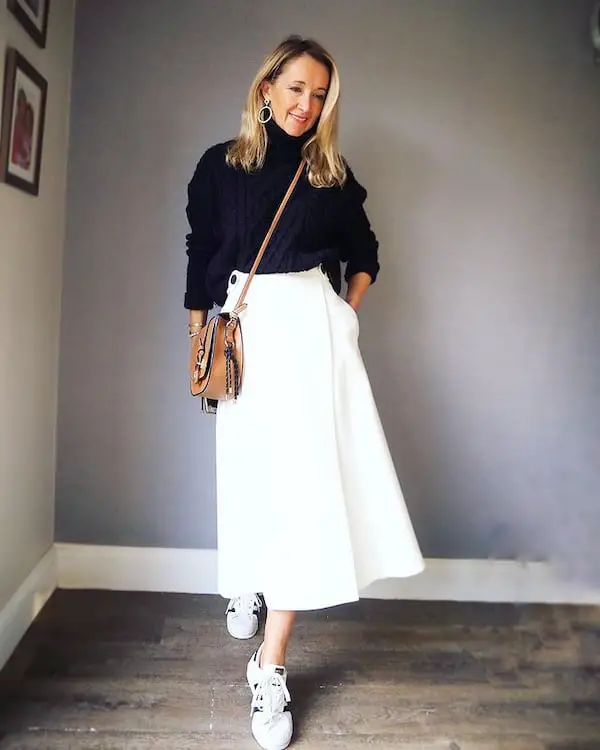 15. White Summer Skirt with Black Off Shoulder Top + Black Heels
At this point, I'm doubting if you can dress poorly with a black and white combination. With everyone following the template looking this chic, you can simply wear any black top over your white skirt and get it over with.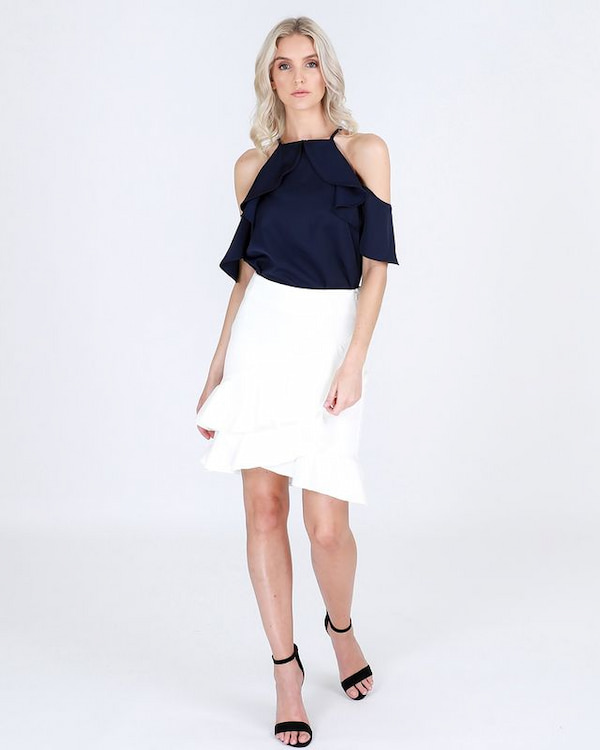 16. White Maxi Skirt with White Sweatshirt + Double Colored Heels + Handbag
An all-white outfit is a gamble when it comes to the fashion world, but it's stylable. This idea shows you how to pair a white sweatshirt with a maxi skirt without looking bland.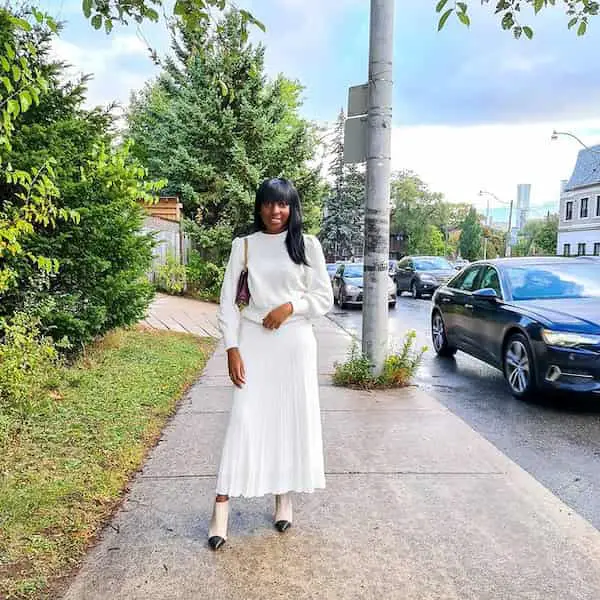 17. White Mini Skirt with Brown Sweater + Brown Thigh High Boots
Instead of making black the second dominant color, why not try an alternative like brown. That's exactly what this model did, and it would be dishonest not to acknowledge its chicness.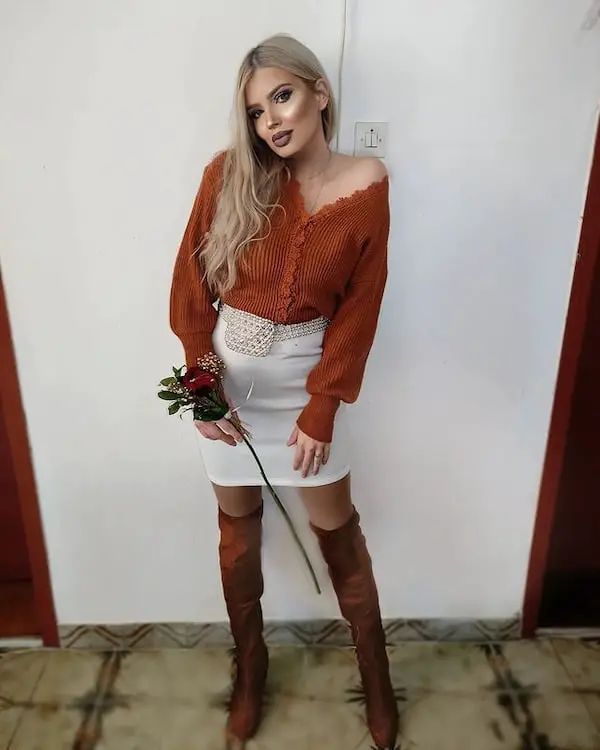 18. White Satin Mini Skirt with White Crop Top + White Sneakers
Here's another inspiring idea if you're after an all-white outfit. This idea is excellent for a casual summer outfit since it does more than enough to keep you cool during the heat.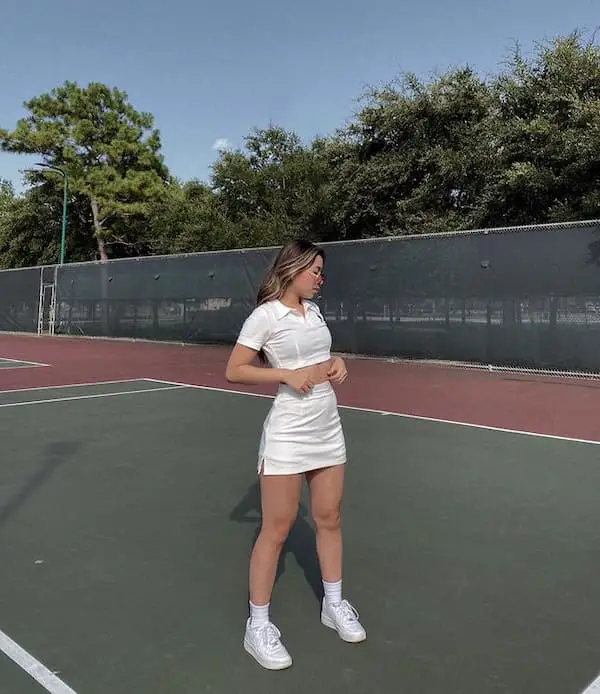 19. White Pleated Skirt with Scarf Top + White Boots
Since you're likely wearing a white skirt during the winter, it makes a lot of sense to recommend more summer outfits. What could be more summer than a scarf top with a white mini skirt?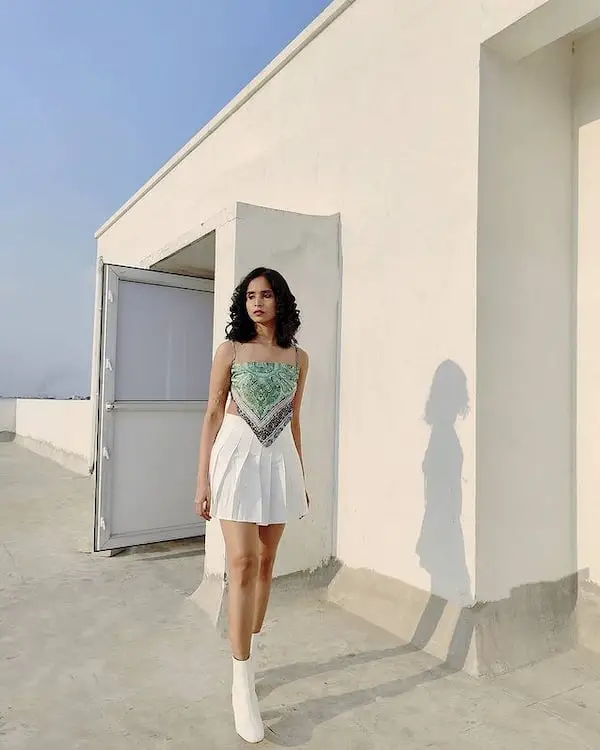 20. White Maxi Skirt with Multi-Colored Long Sleeve Shirt + White Scarf + White Sneakers + Sunglasses
If you're comfortable with mixing and matching different colors, here's an idea for you. The scarf integrates seamlessly with the already chic outfit to create something that looks incredibly chic.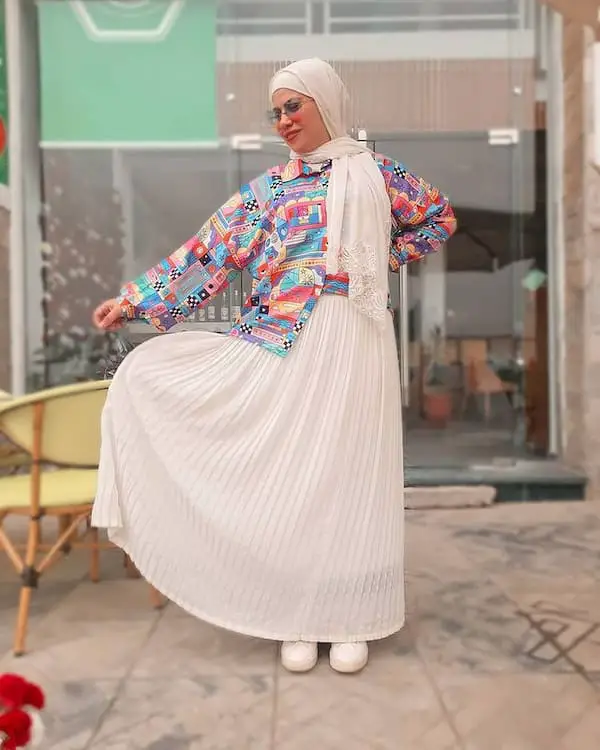 21. White Slip Skirt with Tan Knit Sweater + White Sneakers  + Sunglasses
Since white doesn't seem like a winter color, there aren't lots of outfits you can wear in the winter. If you're looking to rock a long skirt in the winter, a sweater might be the best top for it.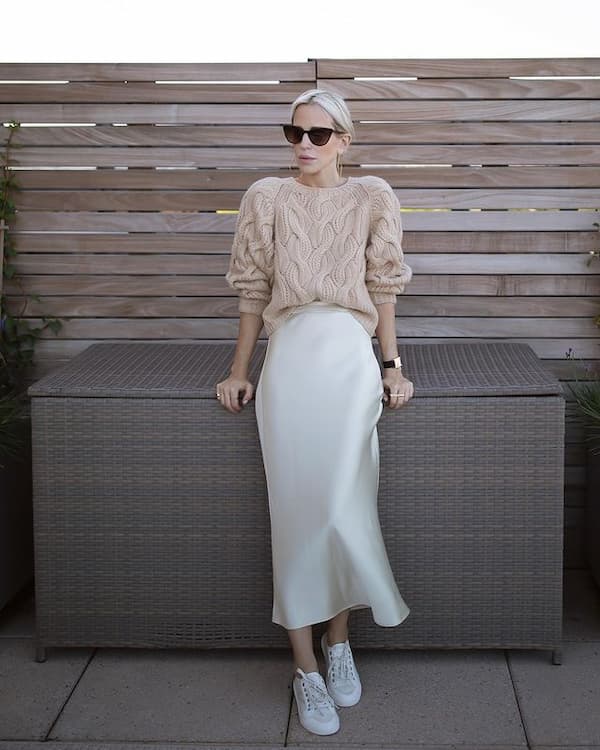 22. White Plain Skirt with White Long Sleeve Crop Top + Sunglasses
When wearing an all-white outfit, you should try to add a touch of brown for some variance. While she did this with her hair, you're free to use whatever you have to gain the same effect.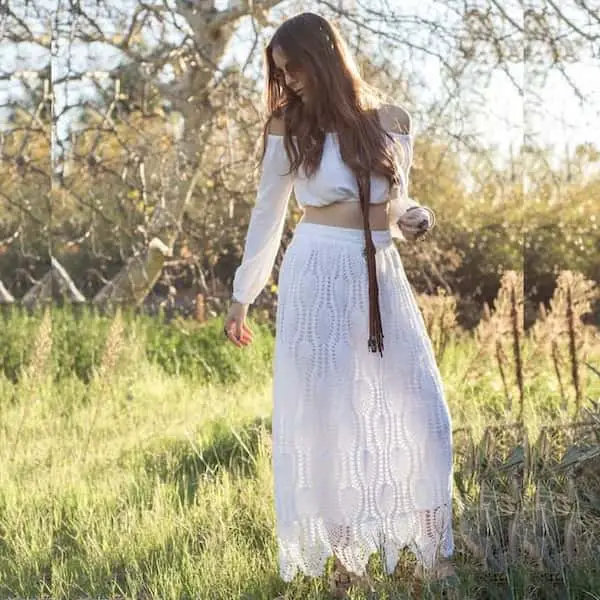 23. White Denim Skirt with Black Long Sleeve Shirt + Black Heels + Brown Back Pack + Scarf
Back to the classic black and white combo, here's another elegant outfit for consideration. Add a scarf for a slightly different perspective to the same perfect look.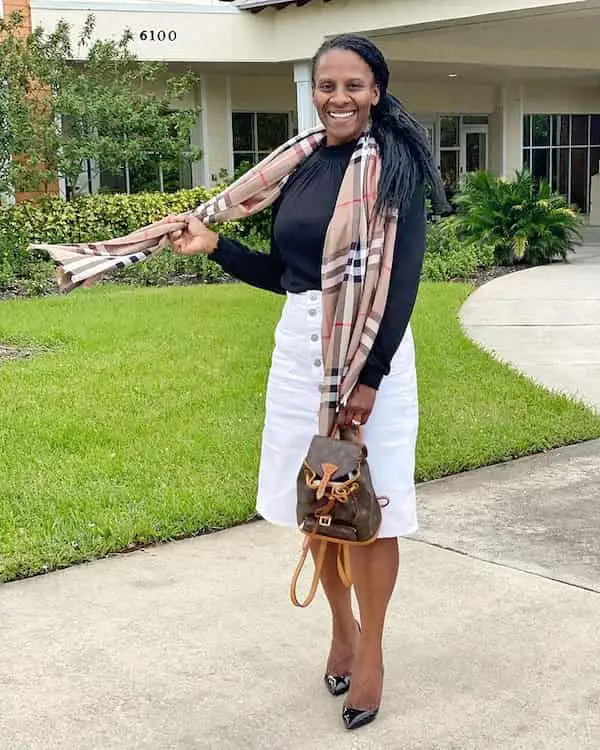 24. White Flared Denim Skirt with Black Blouse + Black Boots
For a super-casual outfit that's very comfortable to wear, you may want to check out a simple denim skirt with a black blouse. You can add the boots to complete her chic look.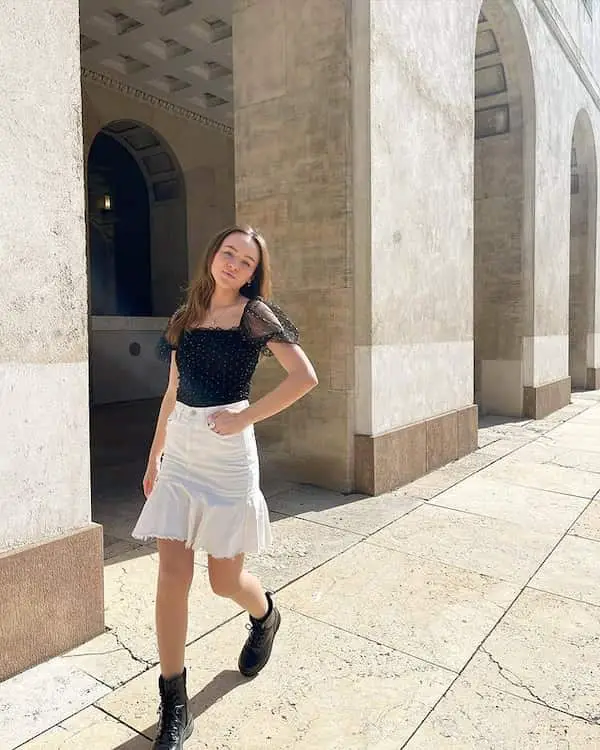 25. White Mini Flared Skirt with Lemon Crop Vest + White Sneakers
A lemon crop vest is another top that works well with white skirts. Add a white pair of boots and you have her chic look, which you can complete with those sunglasses.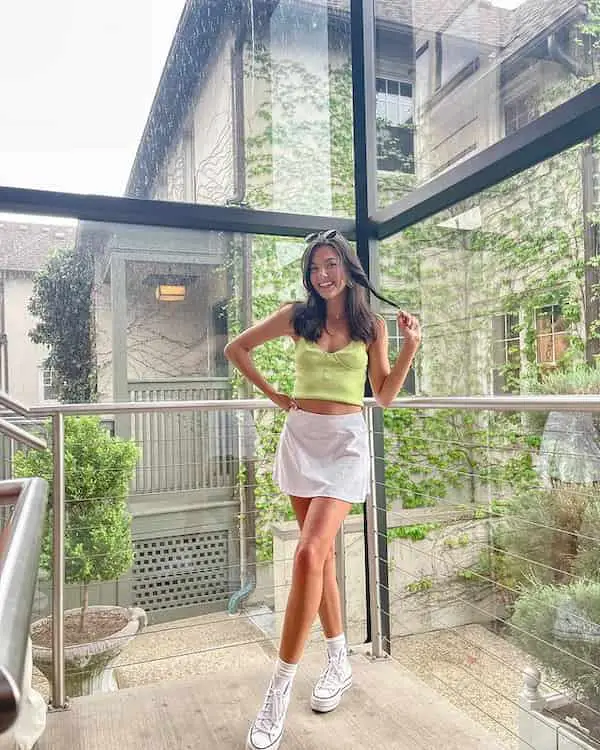 And that's all for my post on some classy outfits with white skirt. Want some more outfit ideas? Then you might want to check out these blog posts.
I hope you enjoyed this piece of content. Do well to rate this post, and don't forget to share this outfit compilation with your friends.
See you with more exciting inspirations. Trust me; you wouldn't want to miss any of our upcoming outfit compilations, so make sure to follow us on Pinterest.
Pin for Later.