Plus size casual outfits with sneakers- Sneakers are comfortable, casual, cool, and match with a wide variety of outfits.
What's more, you can wear them regardless of your age, size, or color to add distinctive awesomeness to your outfit.
If you're plus-size, you can style sneakers in a variety of ways to look elegant without sacrificing comfort. Sometimes, however, you just can't seem to get it right when trying to style a sneaker.
Not anymore henceforth, as this article will show you some of the best ways to style sneakers when you're blessed with size.
Plus Size Casual Outfits with Sneakers
1. Graphic Tee + Red Short with Sneakers + Glasses
One of the primary reasons why ladies wear graphic tees is comfort, and sneakers are comfortable too. That explains why both of these apparel always go together beautifully, as in this excellent outfit inspiration.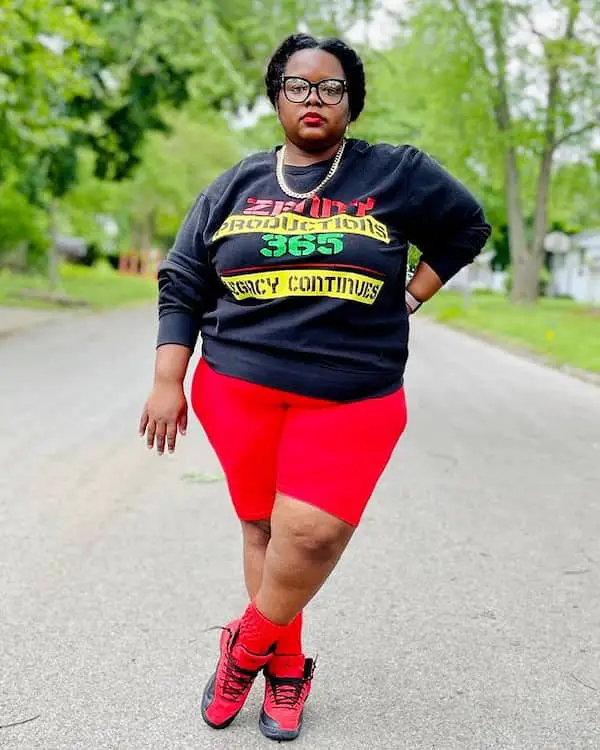 I think the idea that fat ladies can't wear crop tops has already been disproven. With that out of the way, you may want to replicate this excellent outfit idea for your next night out with friends.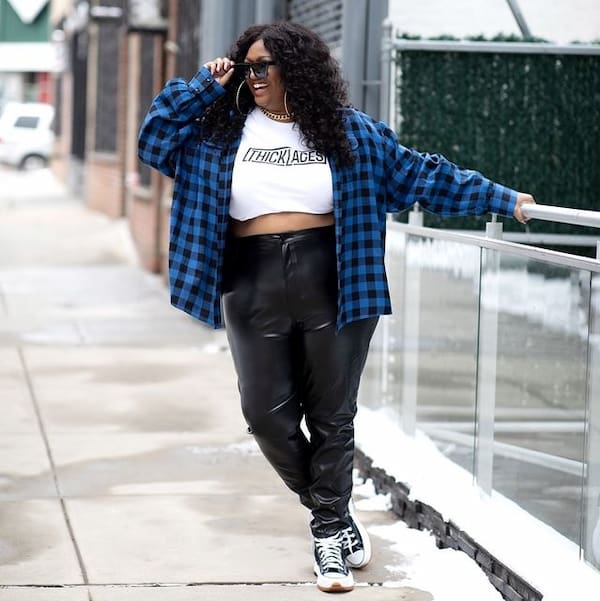 3. White Top + Leggings + Colorful Long Cardigan + White Sneakers
The most casual dresses are also the most appropriate with sneakers. You can style this outfit with a cardigan of your favorite pattern, as the white tee creates a neutral background.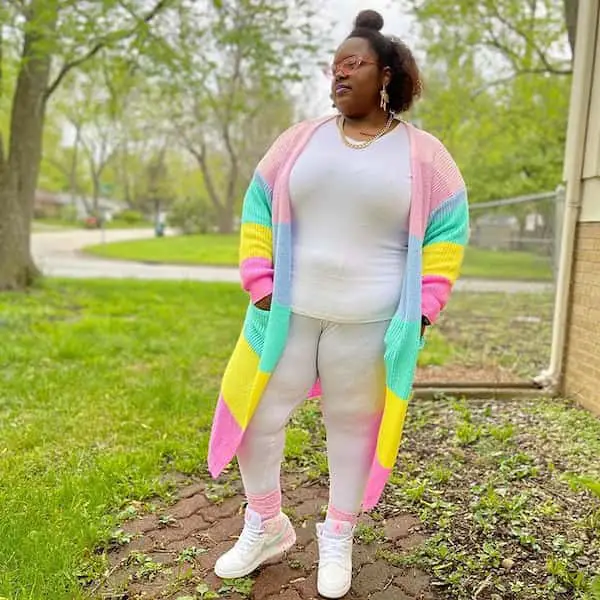 4. Red Oversized Hoodie and Joggers with Sneakers + Handbag
The only acceptable footwear option for a tracksuit set is a pair of sneakers, at least for this post. If you don't agree with me, at least you'll agree with this excellent outfit inspiration.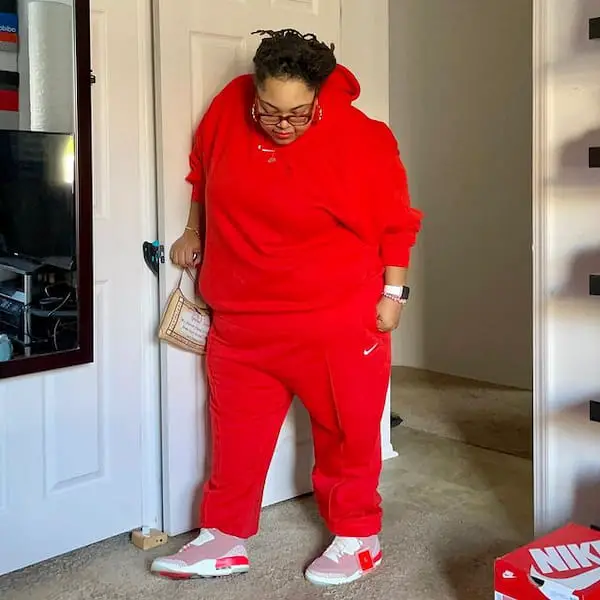 5. Crop Top + Tight Shorts with Sneakers
If you always shy away from crop tops, this should help you change your mind. This outfit is ready for a visit to the beach, a cinema, or a friend's birthday on the next street.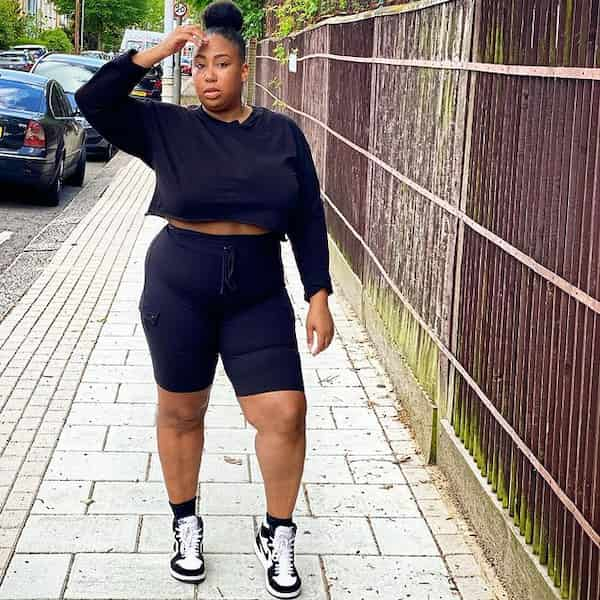 6. Grey T-shirt Dress with Sneakers + Clutch Purse
A basic long plain dress will remove all focus from your size and force onlookers to pay attention to your beauty. If you don't want to struggle with several different clothing materials, just learn from her.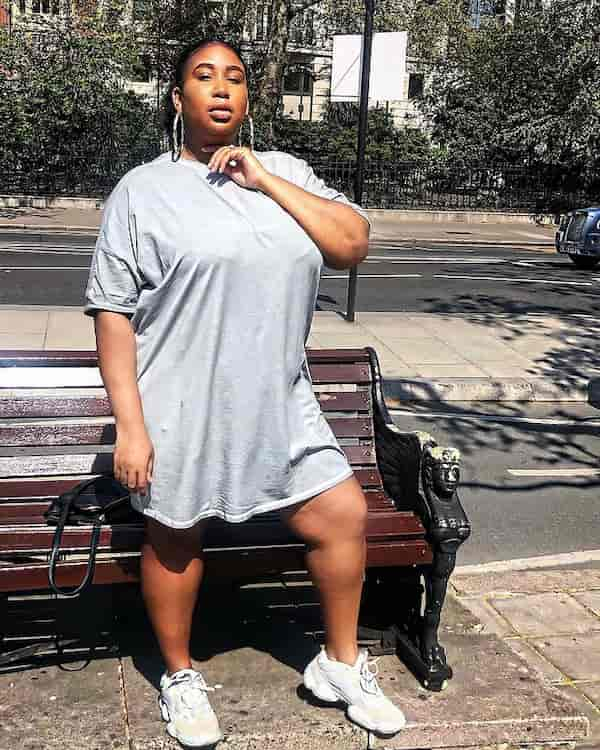 7. Graphic Tee + Maxi Skirt with Sneakers + Waist Purse
Who doesn't love a graphic top, especially one that carries an inscription you love. If you have a favorite line, you can print it over a tee and style it with a maxi skirt to create an opportunity for your sneakers to shine.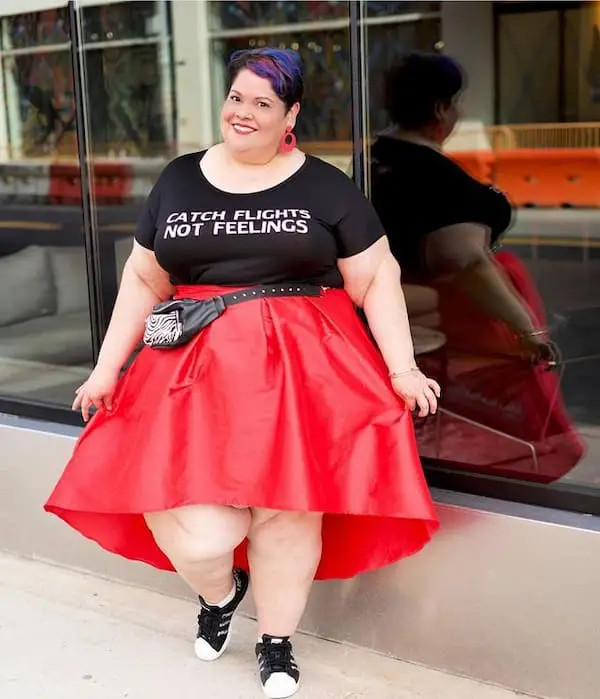 8. SweatShirt + Joggers with Sneakers
If you're going for some winter sightseeing, you might want to wear appropriate clothing, as the cold doesn't discriminate on size. This outfit idea is a great way to learn how to style sneakers in the winter as a plus-sized lady.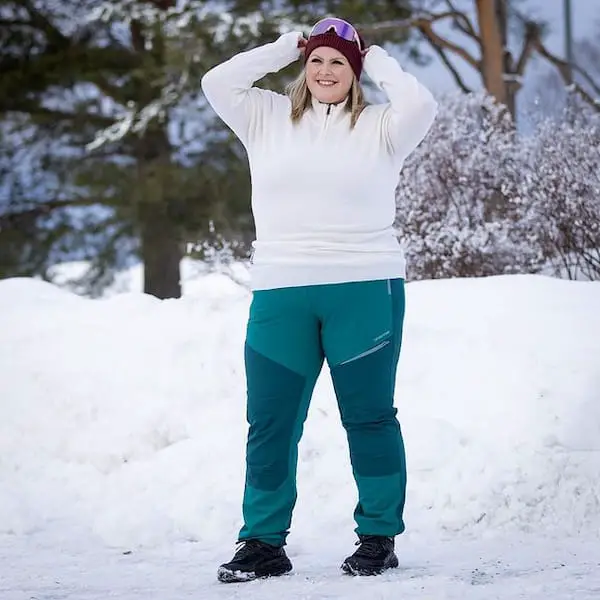 9. Two Piece Hoodie and Skirt with Sneakers + Sunglasses
Crop Top may seem beautiful, but they're also slightly uncomfortable to wear for long periods. If you prioritize comfort over looking good, here is an excellent outfit idea for you.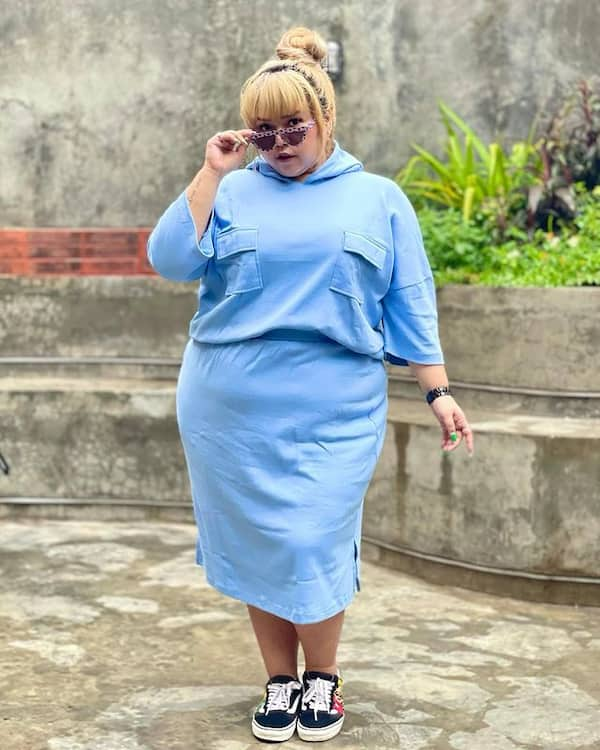 10. Long Shirt + Leggings with Sneakers
Long shirts are common among slim ladies, but who says you can't wear them if you're chubby? Learn from this excellent outfit inspiration and show up to your next party in a long shirt, leggings, and a pair of sneakers.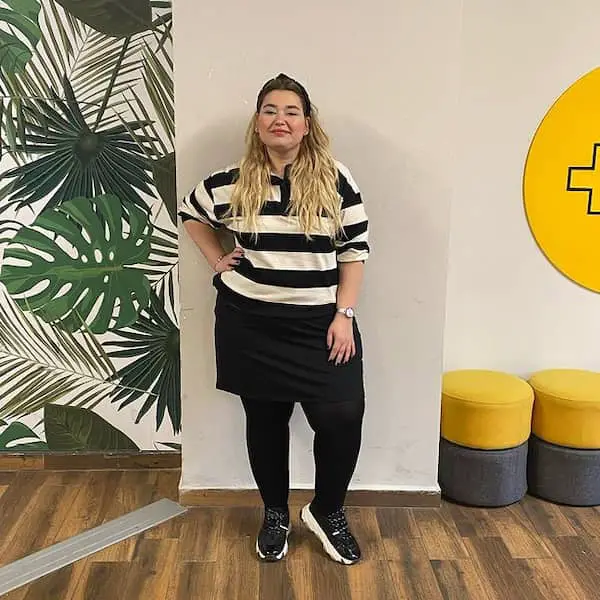 11. Floral SweatShirt + Ripped Light Blue Jeans with Sneakers + English Hat
This outfit strikes the perfect balance between stylishness and comfort, making it appropriate for almost all events. It's a nice outfit for work play, and a day out at the beach, especially with that hat.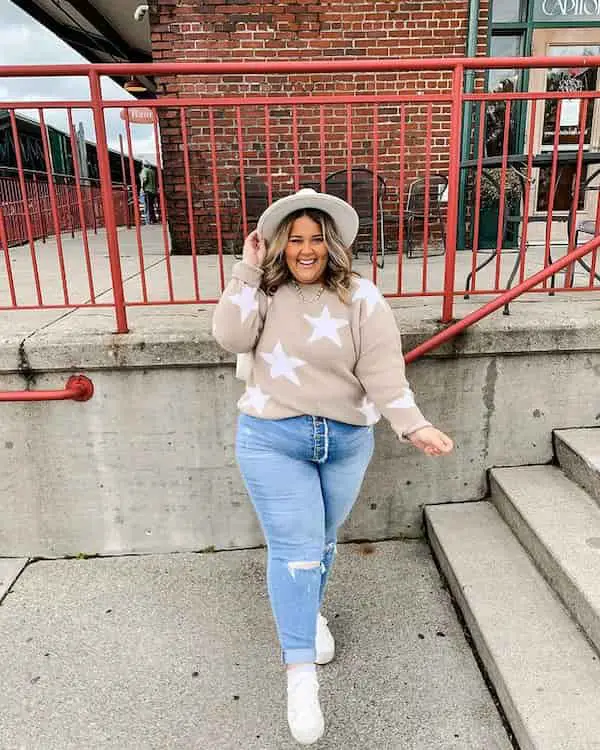 12. Graphic Tee + Ripped Jeans with White Sneakers + Sunglasses
Ripped jeans are an evolving trend in the world of plus-size fashion, and here is an excellent way to style them with sneakers. Feel free to wear the graphic tee with a different inscription as per your ideals.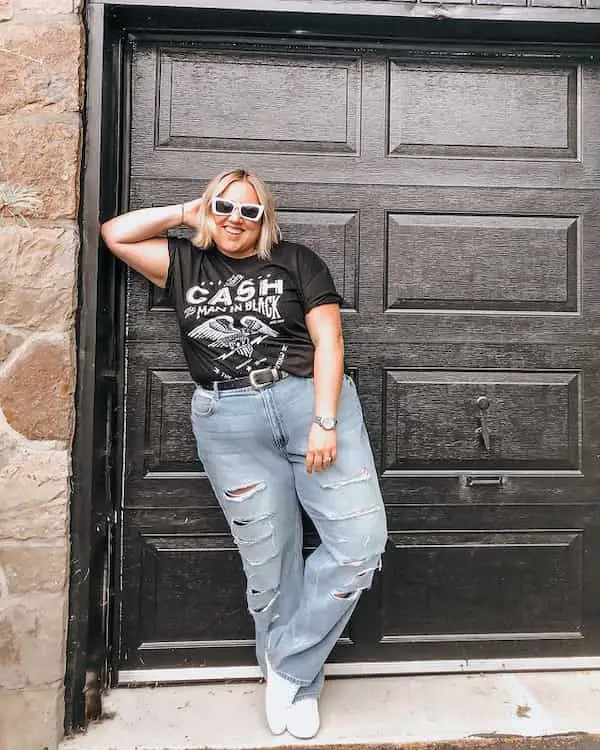 13. Inner Vest + Black Jean Jacket + High Waist Jeans with Sneakers
The charm of this outfit is unclear, as it just looks naturally great, almost for no reason. It also looks appropriate for most casual and formal events if you're willing to take the time to replicate it.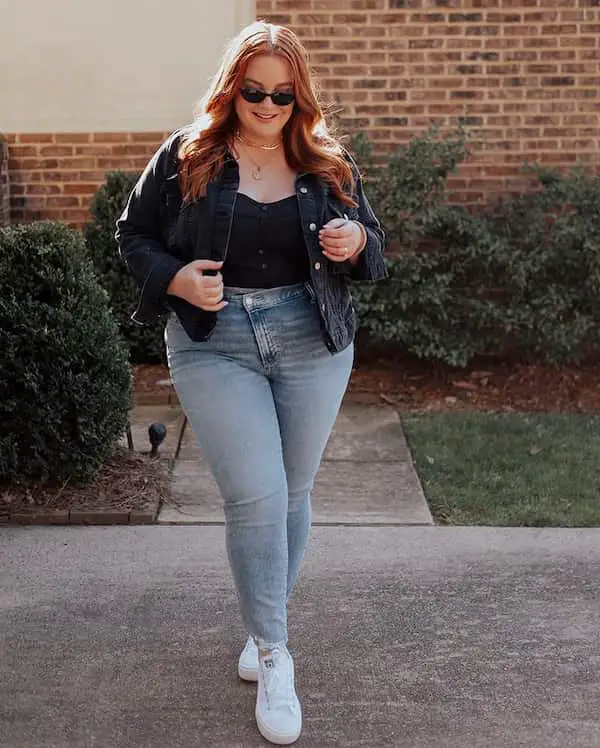 14. Mum's Blouse + Light Blue Jeans + Hat with Sneakers
Dressing for a hot summer day is quite tasking; you'll need to wear a dress that doesn't cover too much while trying to keep away the sun's heat. Looking at this outfit, it seems to match all of those specifications, making it a compelling summer outfit.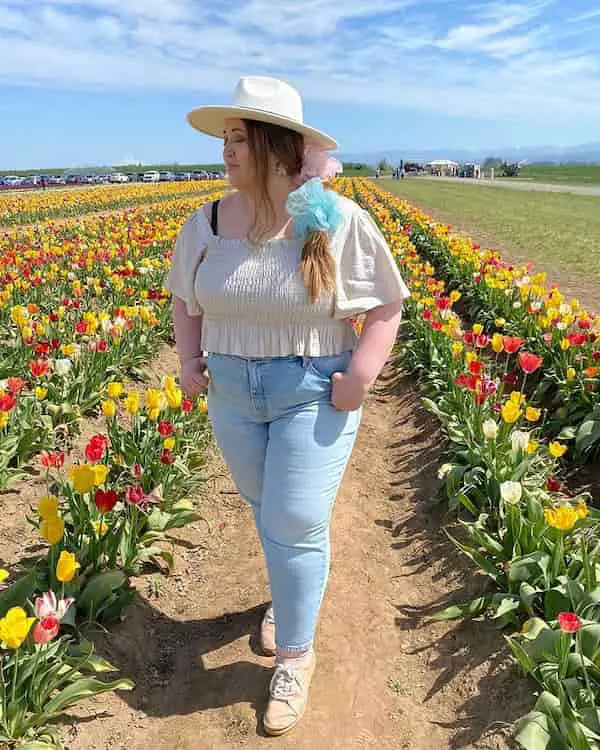 15. Tank Top + Oversized Flannel Shirt + Ripped Mom's Jeans with Sneakers + Handbag
This outfit emanates bossiness, which is a quality that most people want from their appearance. However, the ripped jeans are off-limits for a work environment, limiting this outfit idea to casual events only.
16. Two Piece Outfits with Sneakers
Asides from ripped jeans and graphic tees, another outfit that works well with sneakers is a two piece set. I don't have to explain how and why, the picture is there for you to see.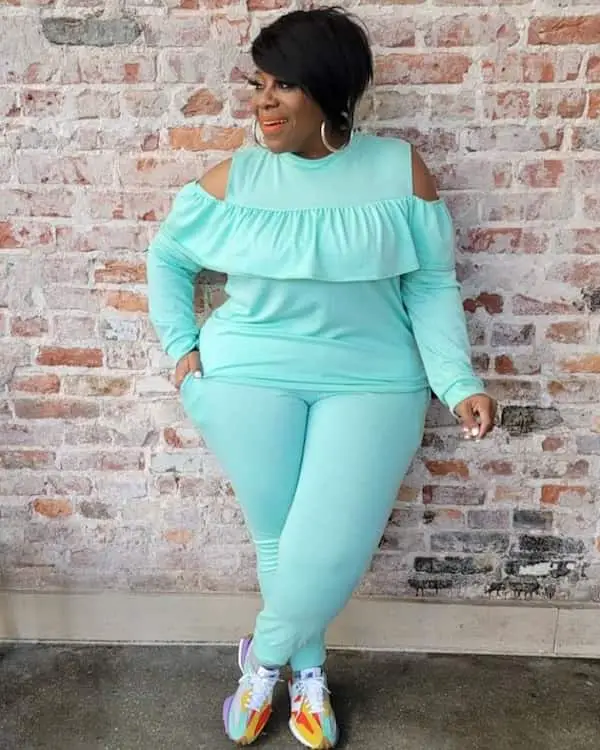 17. Botanical Print Tee + Joggers with Sneakers
Botanical print shirts match sneakers just as well as graphic tees do, and depending on how you look at it, they're a kind of graphic tees too. Just ensure you have a hand in your pocket with a slight smile if you'll be posing in front of a camera to replicate this chicness.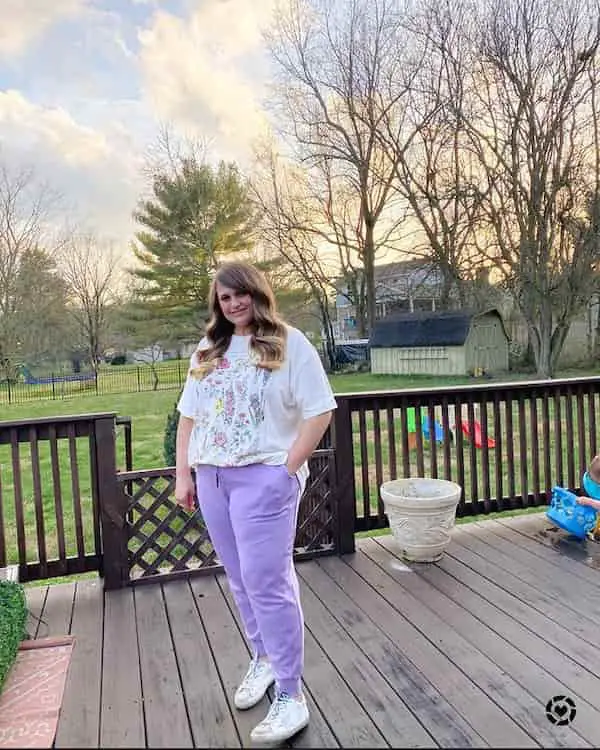 18. Sweat Shirt + Black Pants with Sneakers
Your outfit doesn't have to be complicated to make them elegant. As evidenced by the idea below, a simple sweatshirt with joggers can make a terrific partnership with sneakers, forcing people to do double-takes when you appear.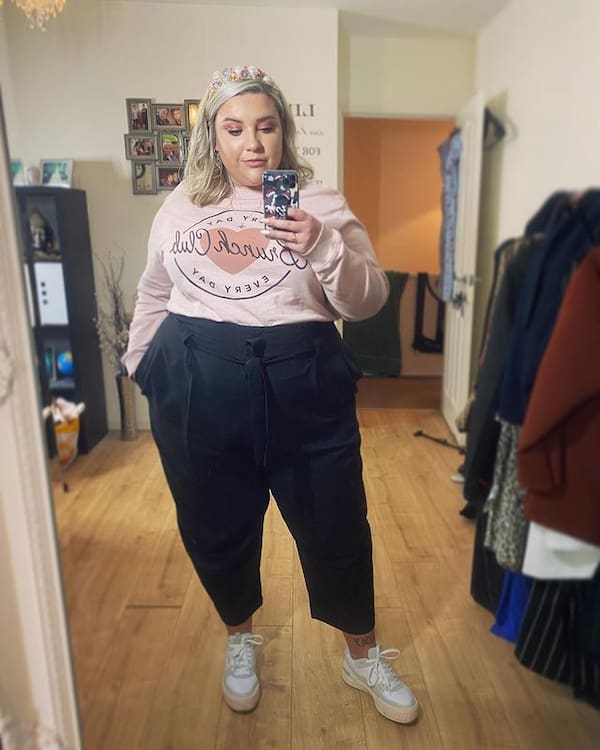 19. Vintage Sweater Shirt + Black Jeans with Sneakers
Who says winter attires can't be alluring? Wait until they see someone pairing a matching vintage sweatshirt and sneakers with black jean pants. What's more, this outfit is perfect for work or casual events due to its comfort and chicness.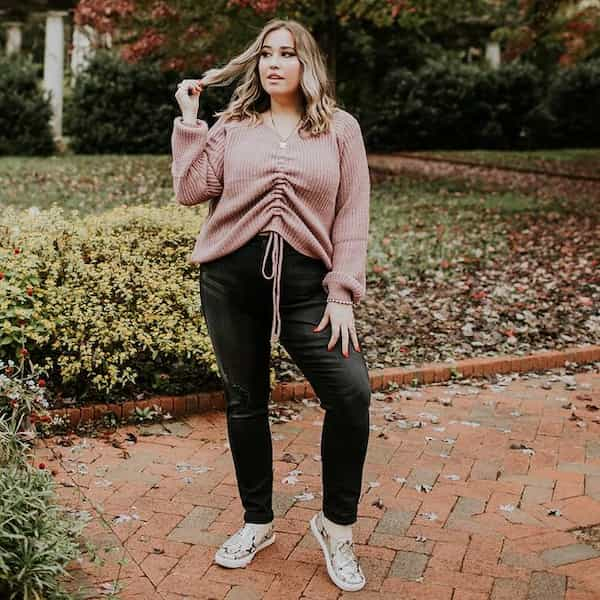 20. Sweat Shirt + Ripped Jeans + Sneakers
Family gatherings don't really require excessively fashionable dresses, but you shouldn't try to look bad either. This outfit idea creates a balance between the two, inspiring you to copy.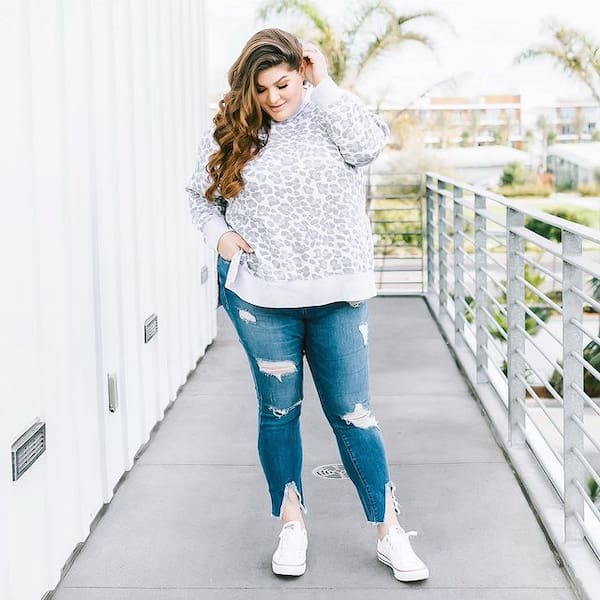 21. Tight Mini Gown with Chunky  Sneakers
How about a tight multi-colored mini gown with a pair of sneakers. This outfit inspiration qualifies for formal environments like the workplace, as well as casual ones like a road trip or a visit to the cinema.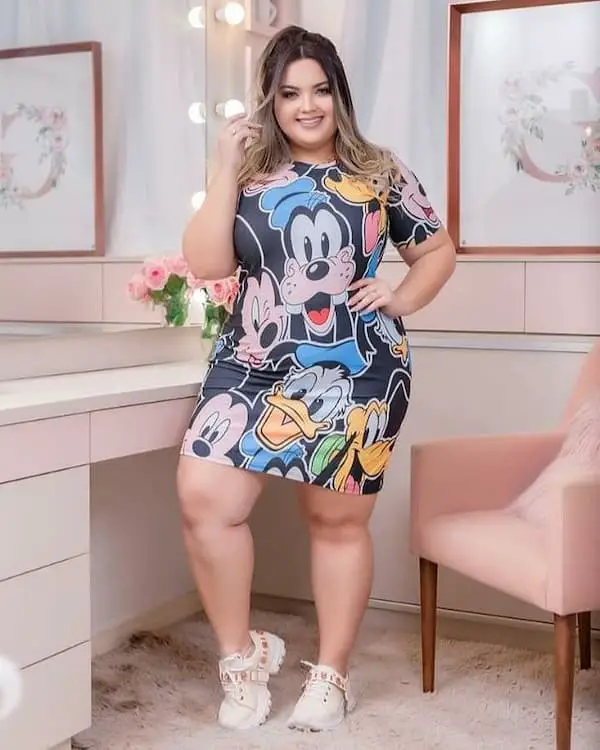 22. Top + Joggers + Winter Jacket with Sneakers
A simple tee is the best way to style sneakers, especially for older women. If it's cold, you can use a winter jacket to help fight off the cold for maximum comfort.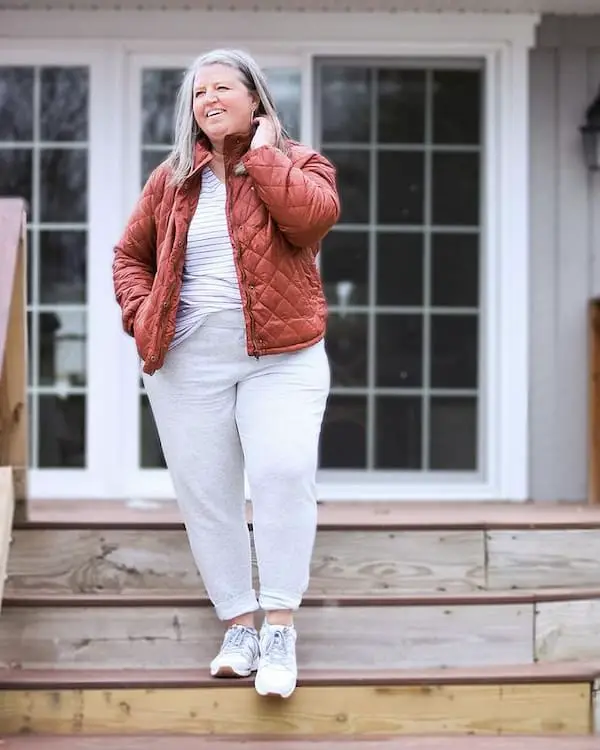 23. Super Cut Jogger Crop Set with Sneakers
A super-cut jogger crop set isn't relatively common, but it's a beautiful choice nonetheless. Without accounting for the naturally alluring face of the model, you can already tell that this outfit will inspire your clothing one of these days.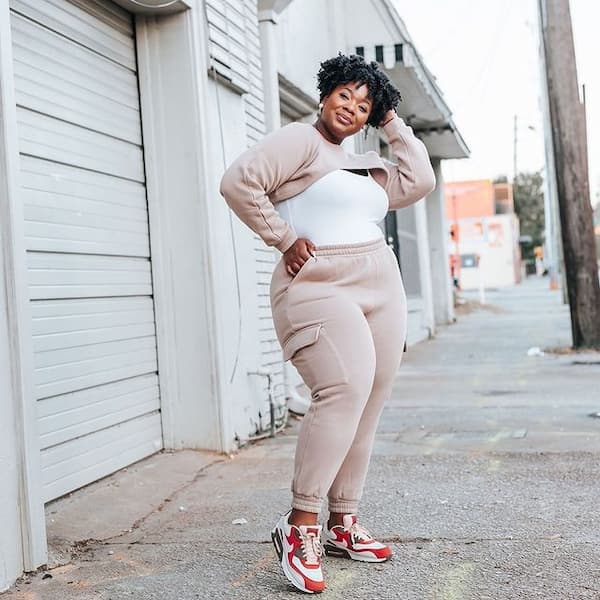 24. T-shirt Dress with Sneakers
A super-sized tee the size of a mini gown always matches excellently with a pair of sneakers. Not only does it offer maximum comfort, you also don't have to worry about mixing and matching colors!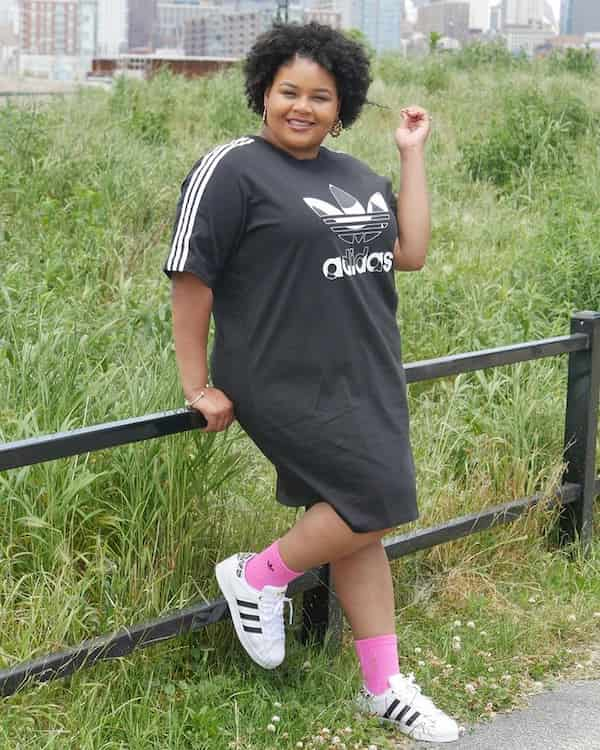 25. Plain Tee + Blue Jean Jacket + Leggings with Sneakers + Handbag
This outfit idea is the opposite of the previous one, since it has so many components. If you're willing to get them all together, however, you can create an insanely gorgeous outfit, as demonstrated below.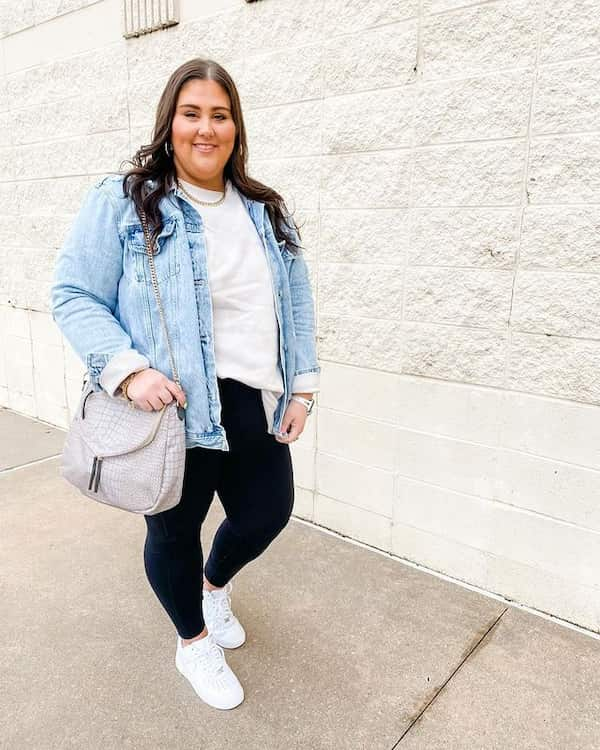 And that's all for my post on plus size casual outfits with sneakers. Want some more outfit ideas? Then you might want to check out these blog posts.
I hope you enjoyed this piece of content. Do well to rate this post, and don't forget to share this outfit compilation with your friends.
See you with more exciting inspirations. Trust me; you wouldn't want to miss any of our upcoming outfits compilation, so make sure to follow us on Pinterest.
Pin for Later.