In today's post, I'll be sharing with you some adorable plus size outfits with boots for inspiration.
The fashion industry has shown considerable growth over the years, but plus-sized ladies are still being ignored. This speaks ill of the fashion industry, especially in a time when inclusivity is highly celebrated.
While your outfit selection will be severely limited if you're plus-sized, there are still so many options to consider.
Since trying to find the best outfits can be somewhat tiring, I've done the hard part by carefully handpicking some of the best outfit inspirations on the internet for plus-sized ladies.
To up your fashion game, all you need is to sit back, read the article, and discover some exciting new combinations that make the perfect outfit for a plus-sized lady.
Stylish Plus Size Outfits with Boots
1. White Up Shirt + Black Jacket + Short Leather Skirt + Hat with Black Knee High Boots + Handbag
The easiest way to style black boots appears to be one of the most stylish, with the up shirt creating a well-deserved break from the dark outfit.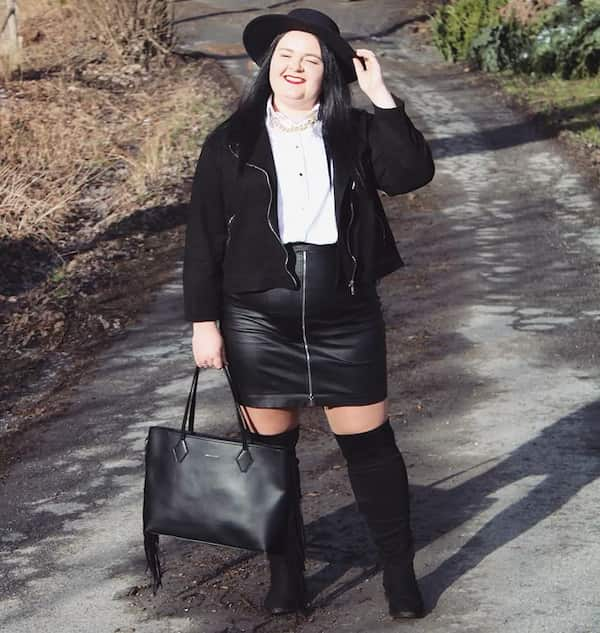 2. Floral Inner Shirt + Sweat Jacket + White Stepped Mini Skirt with Black Ankle Boots
Boots are recommended to wear in low temperatures, but so are sweat jackets. Why not pair both together in this elegant winter outfit?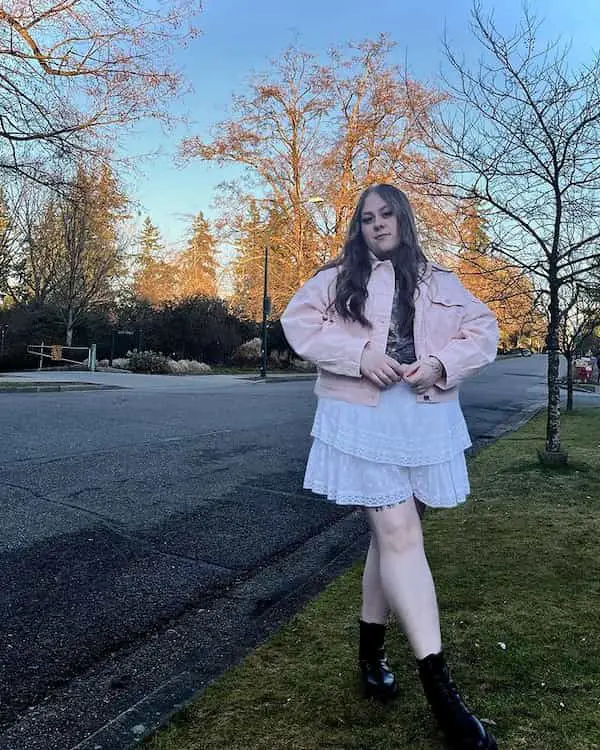 3. Solid Green Long Sleeve Top + Light Blue Jeans with Boots + Pink Handbag
Going bold with solid colors may draw less attention to your boots, but that might be what you're shooting for. With the solid blue-green of the top beautifully contrasting the handbag, your boots shouldn't look too odd.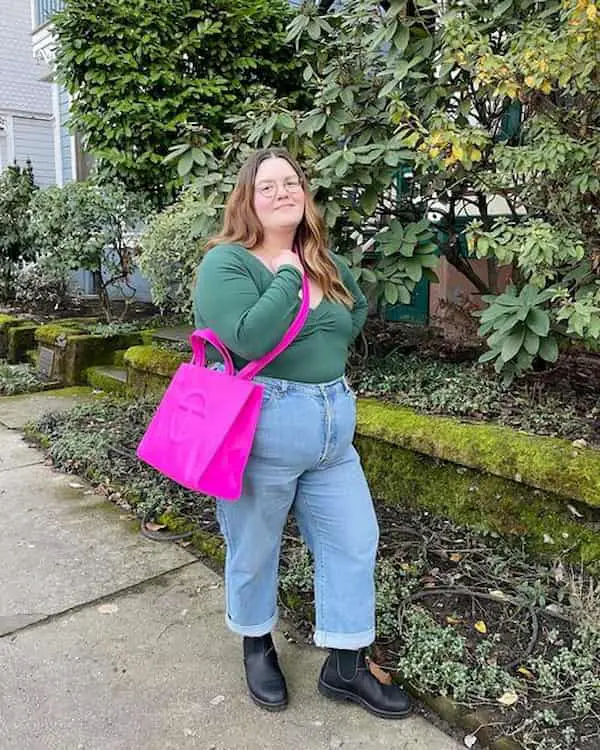 4. Knee-Length Sweatshirt + Hoodie Jacket with Biege Ankle Boots + Handbag + Sunglasses
This breathtaking outfit choice is perfect for casual events during the winter, and it won't make a terrible work outfit either.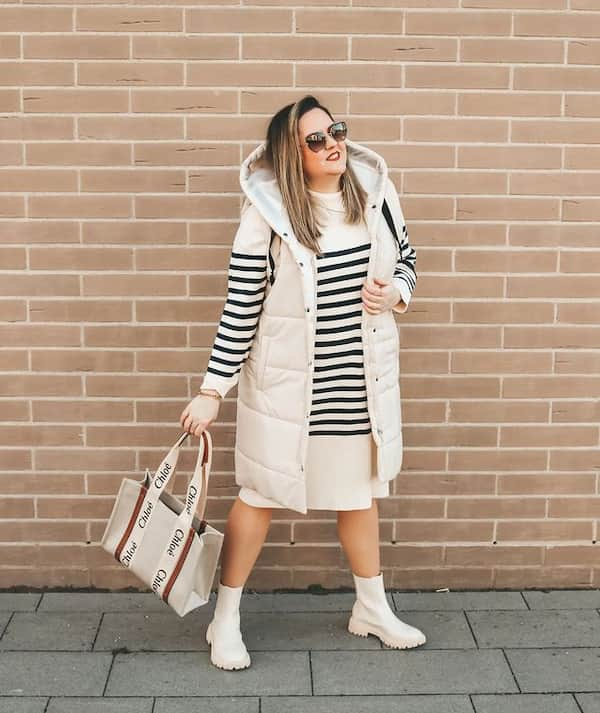 5. Tank Crop Top + Short Tight Black Skirt with Combat Boots + Handbag
Crop tops are perfect for plus-sized ladies, but only when you pair them with the right accessories to make a complete outfit. And don't forget the handbag too!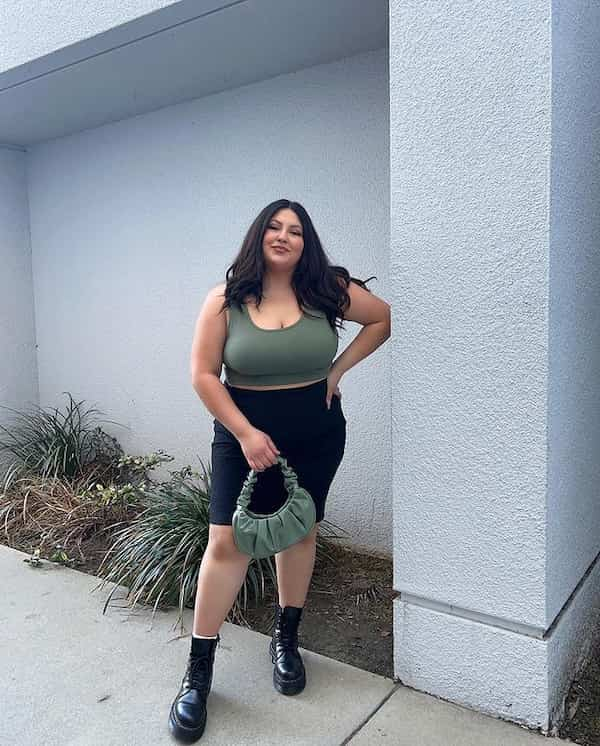 6. Pink Floral Long Sleeve Top + Mini Leather Skirt with Boots
When you match a pink floral top with a black leather skirt, the only footwear that you should consider for the perfect outfit is a pair of boots.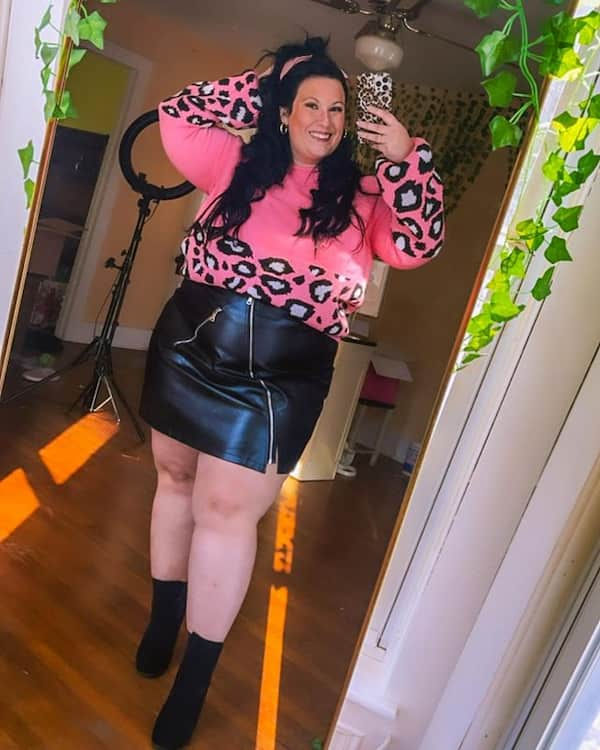 This casual outfit idea can help you decide what to wear on your next appearance in a casual event, especially if you don't enjoy carrying a bag around.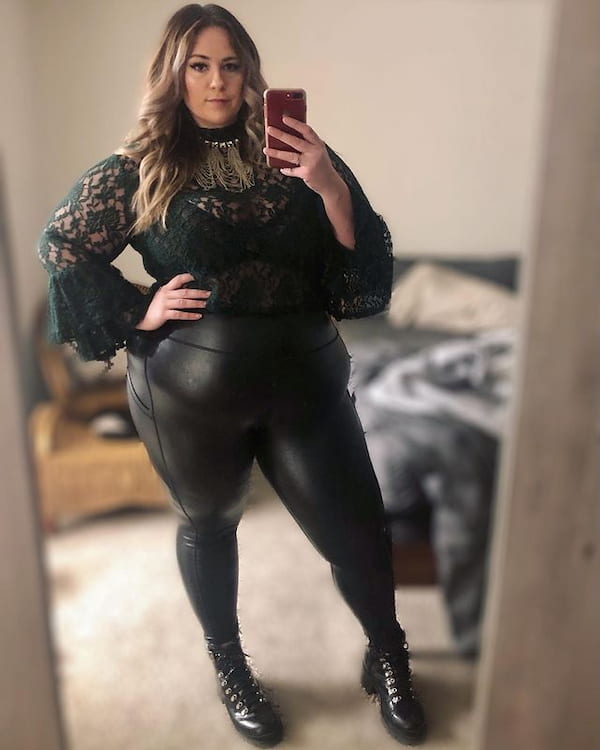 8. Maxi Floral Gown with Ankle Boots + Black Handbag
If you're a fan of gowns, this outfit idea will certainly inspire many of your dresses. You'll always maintain the chic look as long as you match the colors of the handbag and the boots.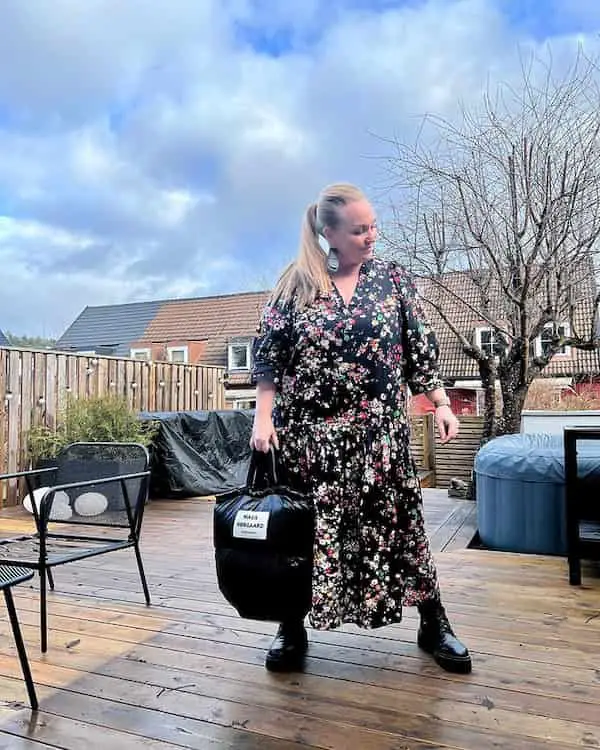 9. Vintage Midi Gown with Knee-high Boots + Sunglasses
Wearing gowns that come halfway down the legs with boots that go up to the knees is a fashionable plus-size outfit idea that you should consider trying next.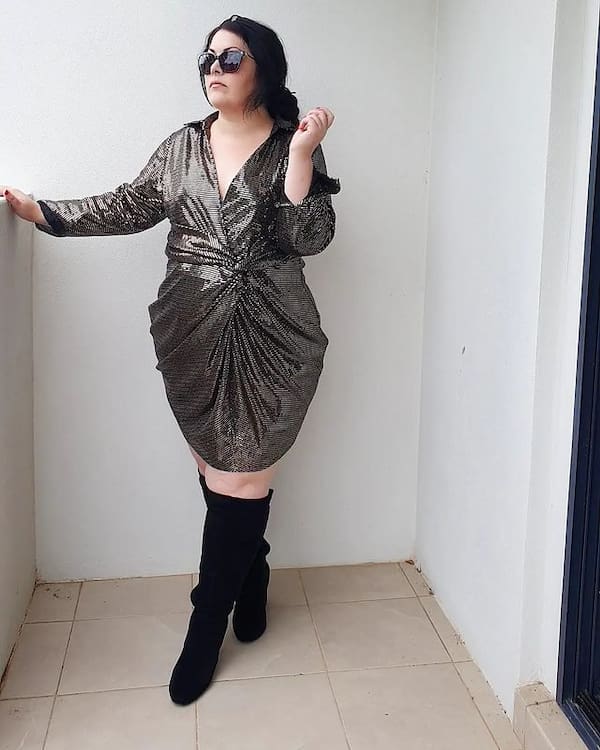 10. Dotted Print Midi Gown with Left High Slit + Black Blazer with Knee-high Boots + Sunglasses
This outfit builds upon the previous one, but more fashionably, without cutting down on the length of the gown. You may want to forgo the black blazer if you're wearing a similar outfit in the summer.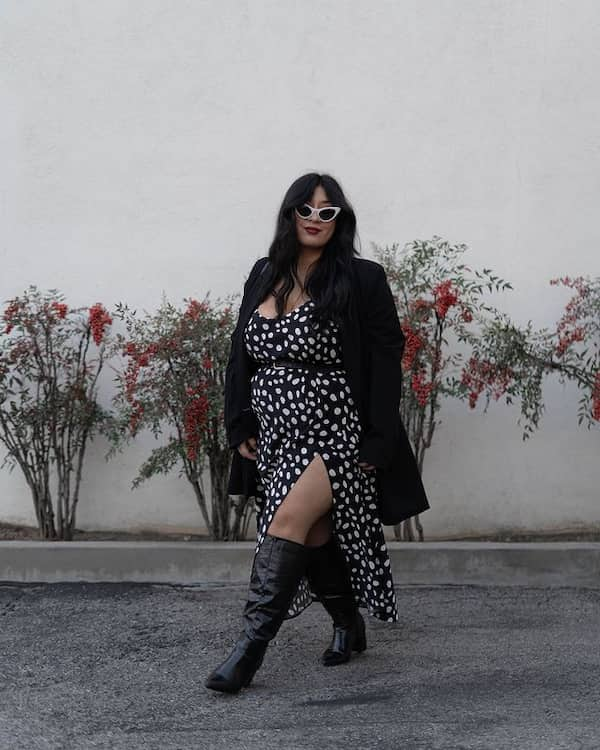 A simple white button shirt with a pink sweat top is perfect for casual everyday wear, good enough to make you stand out in the workplace, especially with boots.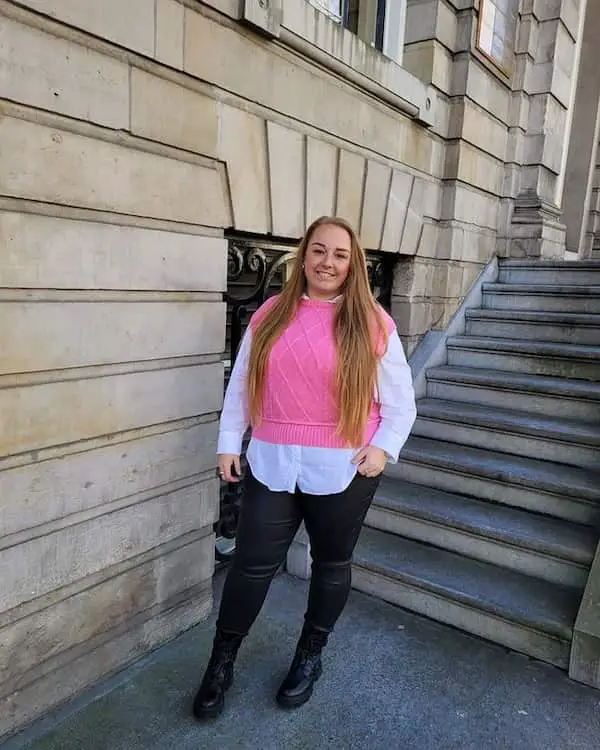 12. Purple Long Gown + Green Trench Coat with Yellow Boots + Animal Print Muffle + Handbag
If you enjoy a mix and match of colors, combining green, purple, yellow, and animal prints should make your dream outfit. This makes a perfect workplace outfit, but certainly not during the summer.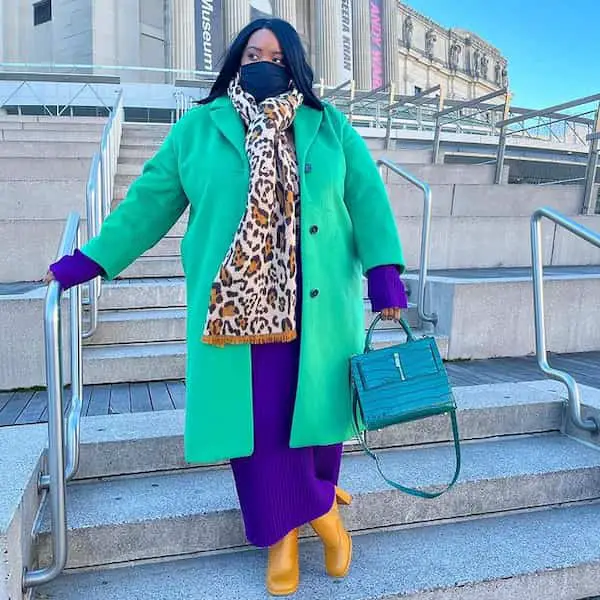 13. Maxi Button Down Top + Black Leather Jacket + Ripped Jeans with Boots
This combination makes the perfect outfit for casual events, best for going out for a movie in the cold.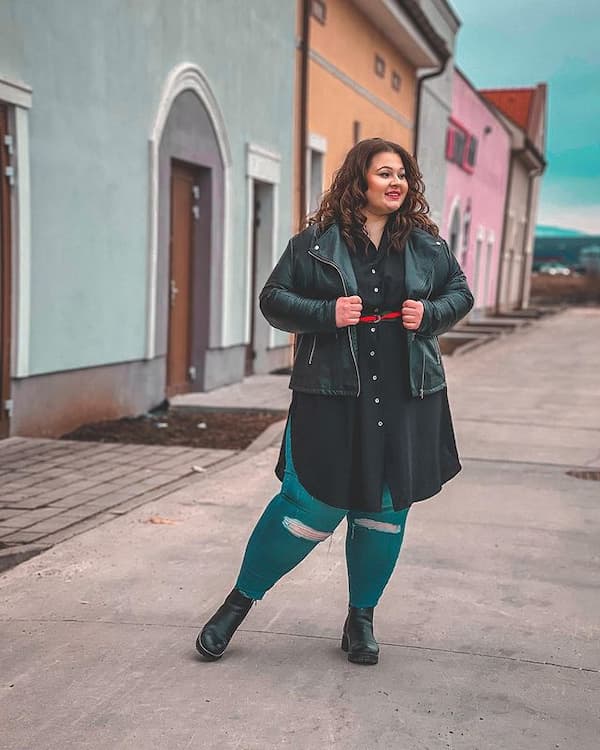 14. Turtle Neck Sweat Gown with Knee-High Boots + Handbag
This outfit idea is perfect for formal gatherings like the workplace, but also light events. Always remember to keep it simple, and black boots are disallowed.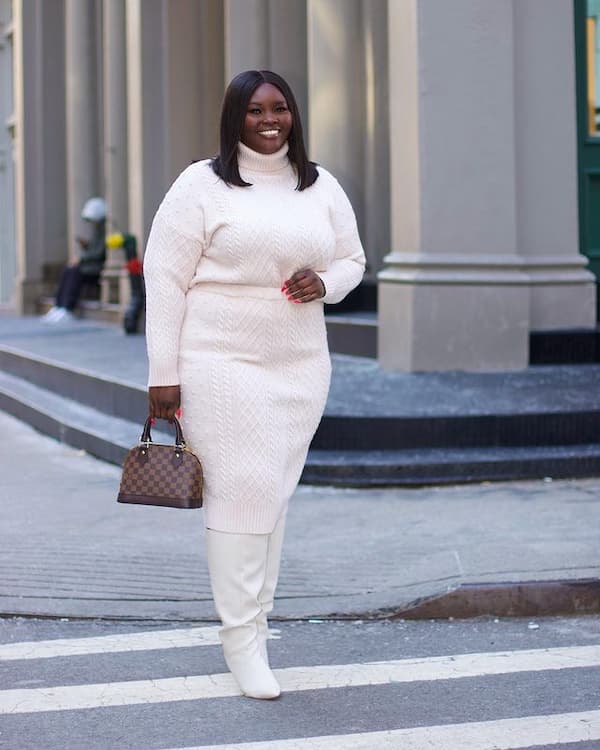 15. Blue Top with Lighter Coloured Sleeve + Ripped Mums Jeans with Boots
You should consider recreating this outfit when going for a road trip. With a balance between chicness and comfort, this outfit is just perfect for plus-sized ladies.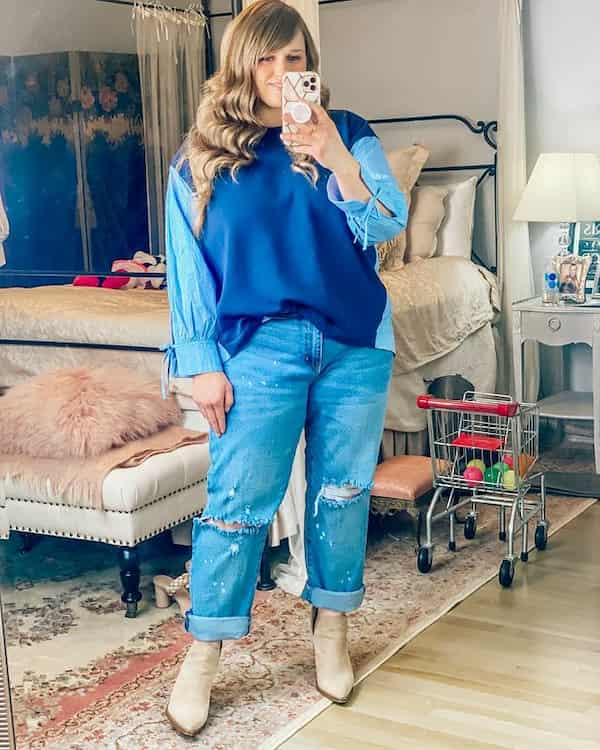 16. Black Camisole + Denim Jacket + Black Jeans with Ankle Boots + English Hat + Sunglasses
This outfit expertly cosplays a cowgirl, if that's what you're going after. Since all cowgirls should wear ankle boots, it's evident why this outfit made it into this list.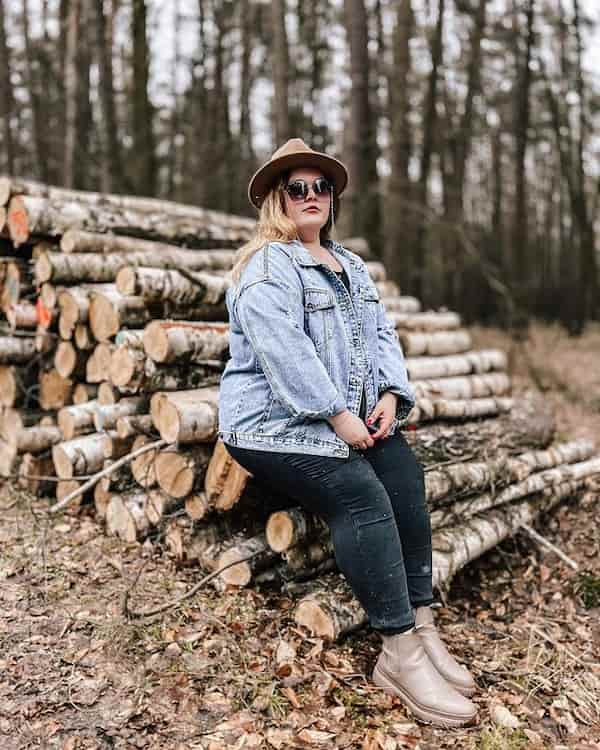 17. Lace Top + Peach Fur Jacket + Crop Jeans with Boots + Cross Shoulder Bag
If you're trying to look casual without dressing too carelessly, wearing a lace top with a peach fur jacket will always look great in the right colors, and of course, when matched with boots.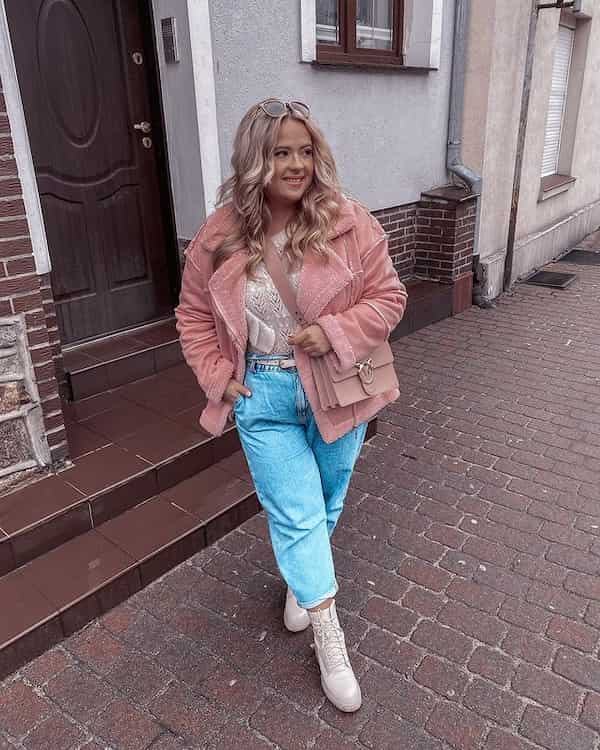 18. Black Turtle Neck Top + Green Midi Skirt + Trench Coat with Boots
Wearing a white trench coat over a black turtle neck top is a combo that can never go wrong. The black boots match the top to create a visually appealing outfit that you may want to recreate.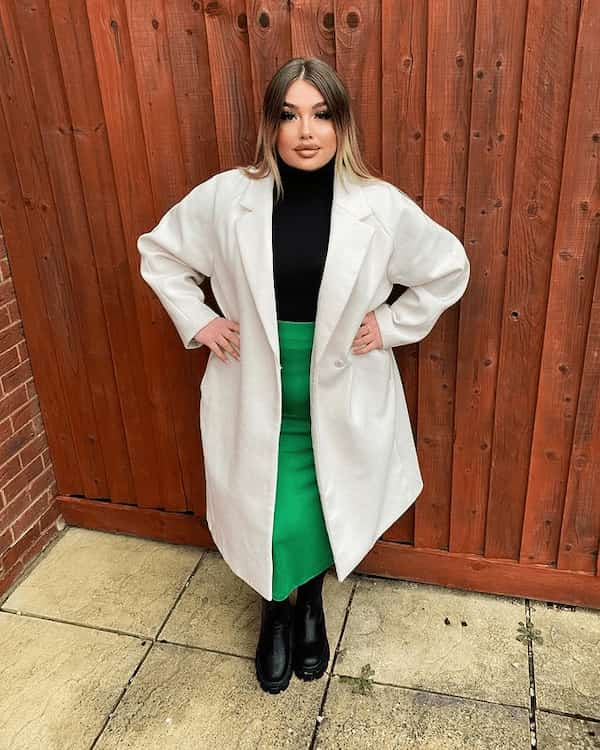 19. Pink Check Print Maxi Gown + Lilac Trench Coat with Black Boots + Handbag
This is an excellent inspiration for plus-size ladies with an affinity for pink dresses. While the boots seem unneeded, the outfit is mostly worn during the winter, making smaller shoes impractical.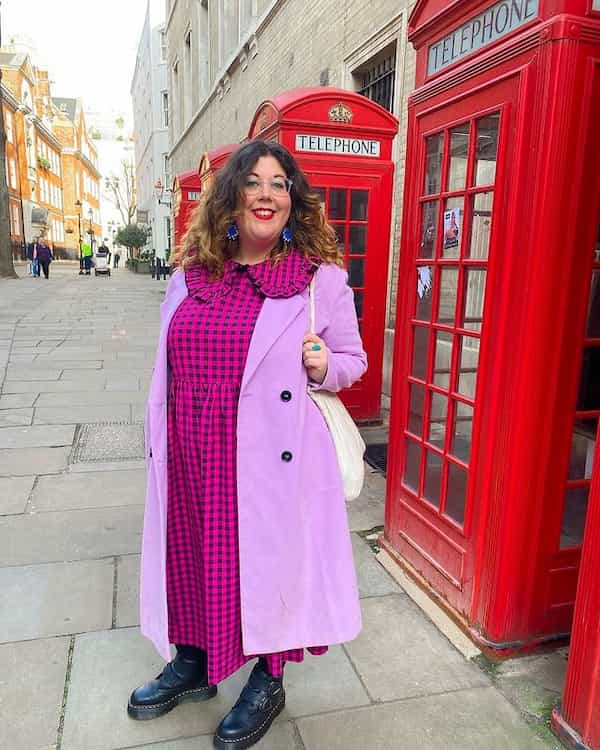 20. White Trench Coat + Black Top + Green Skirt with Boots
This casual winter outfit for plus-sized women works both as a work outfit and something to wear for fun. You can mix things up by changing the top's color, and changing your boots to match.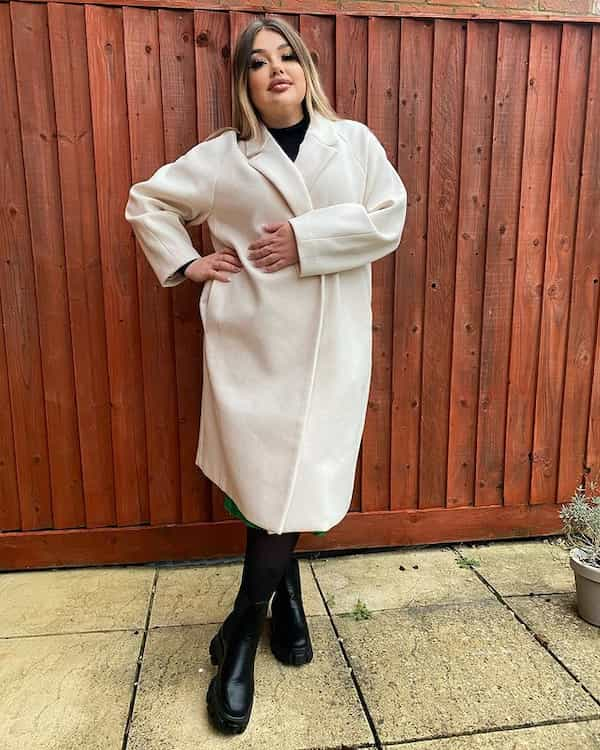 21. Long Sleeve Navy Blue Top + Blue Maxi White Dotted Skirt with Knee-High Boots
While this isn't exactly a cocktail dress, it's a perfect outfit for cocktail parties, especially during the winter.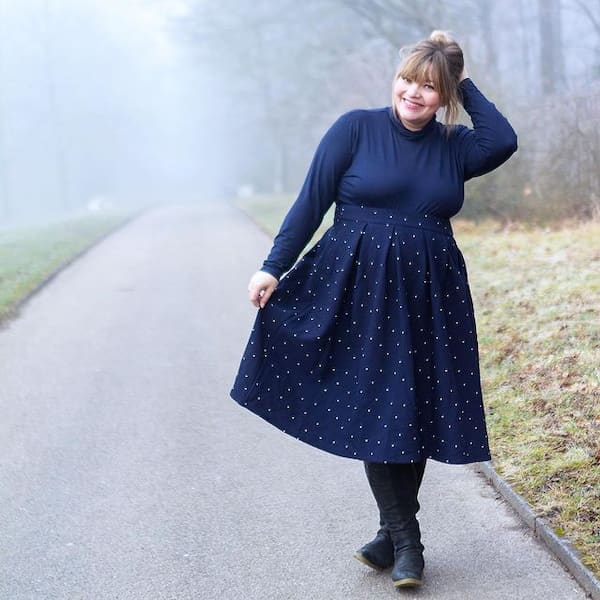 22. Barbie Pink Maxi Gown with Ankle–High Boots
You can copy this outfit inspiration when looking for something to wear for a vacation or an outing to the beach. If you're going all pink, ensure to choose light-colored boots to match.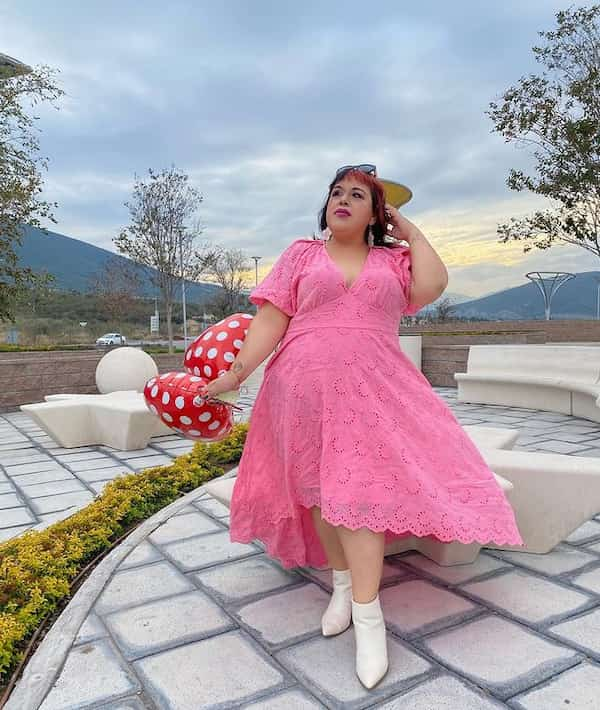 23. Winter Pink Jacket + Blue Jeans + Boots
You can never go wrong with a pink winter jacket paired with jeans and a pair of ankle boots in the winter. Dressed like this, you can show up at any event, go for a vacation, or even attend formal meetings in the workplace.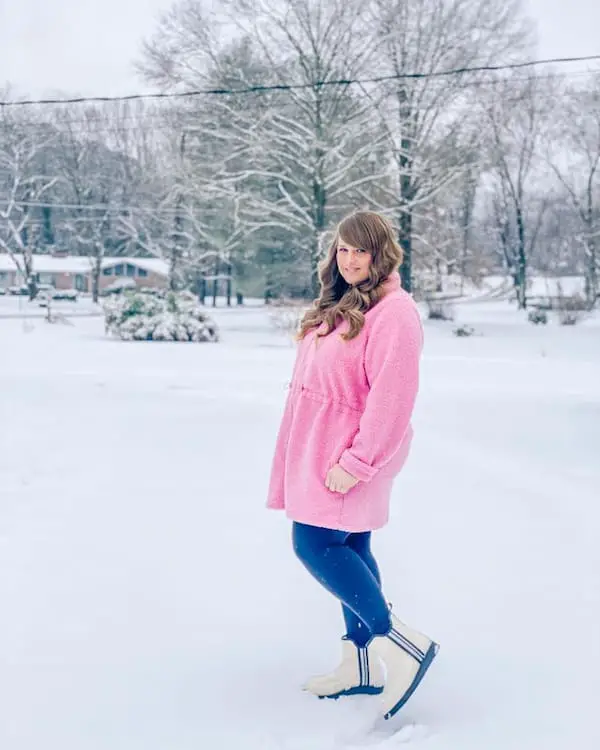 24. Black Top + Green Skirt + Green Trench Coat with Boots
When you're running out of outfit ideas during the winter, consider taking inspiration from this. It doesn't only look good, it's one of the best ways to avoid the winter cold without looking overbearing.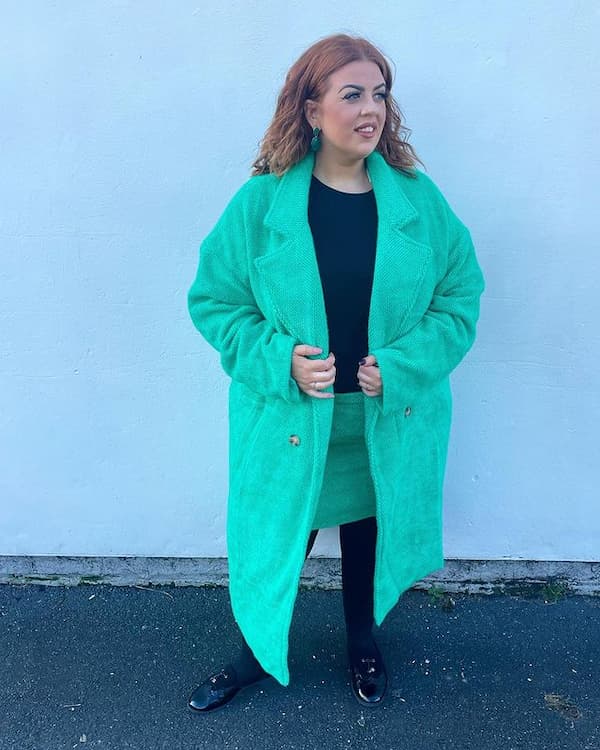 25. Pink Floral Maxi Gown + Pink Sweat  Vest + Handbag+ Hair Scarf with Boots
Saving one of the best for the last, this outfit inspiration is the perfect all-rounder. While it won't win you a beauty pageant, you'll struggle to find scenarios where it doesn't fit.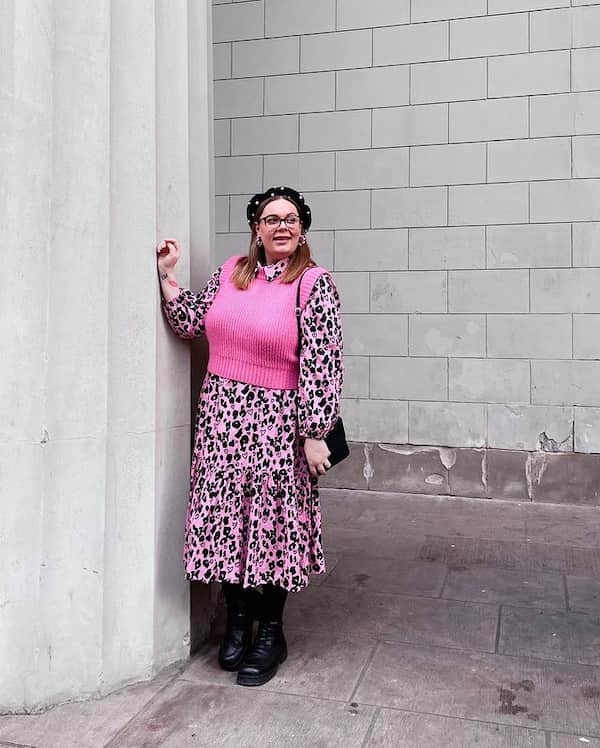 And that's all for my post on plus size outfits with boots. Want some more outfit ideas? Then you might want to check out these blog posts.
I hope you enjoyed this piece of content. Do well to rate this post, and don't forget to share this outfit compilation with your friends.
See you with more exciting inspirations. Trust me; you wouldn't want to miss any of our upcoming outfits compilation, so make sure to follow us on Pinterest.
Pin for Later.