Let's talk about different forms of comfy shoes to wear with Ankle Pants and why you need them.
Ankle pants are one of the few types of clothing that make your shoes matter. Covering almost down to the ankle at most, there's always enough space to wear any type of shoe we've discovered yet.
While ankle pants theoretically allow you to wear any kind of shoe, it's a bit more complex practically. Since a huge part of your footwear will be showing, you must choose the perfect shoes to avoid making them look out of place.
Choosing footwear can be pretty hard, but it shouldn't be. Here are some of our top suggestions for shoes to wear with ankle pants for an elegant look.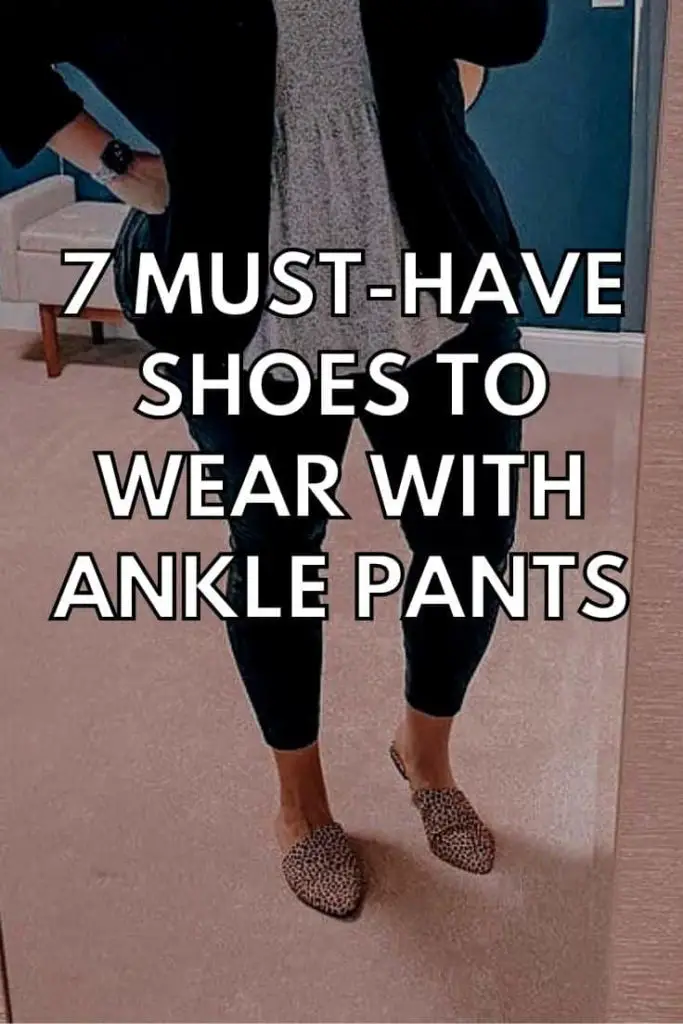 Best Shoes to Wear with Ankle Pants
As hinted above, almost any shoe that looks good will match an ankle pant. However, a good-looking shoe isn't all you need for an elegant and comfortable look. Wearing flip-flops with ankle pants in the winter will leave you with cold feet.
Here, I'll outline some of the best shoes to wear with ankle pants in different weather conditions. For an optimal experience, consider reading the additional notes below each suggestion to get ideas for wearing it.
With that said, here are some of the best shoes to wear with ankle pants for a chic look.
1. Sock Boots
While ankle pants may not sound like a very practical type of clothing in the winter, some kinds of footwear change that idea. With a shoe that covers most of your feet up to your ankle like a sock boot, you'll never have to worry about getting literal cold feet anymore.
Sock boots are usually heeled, but you have some freedom as to what kind of heels you want. If you can't stand heels, you can consider getting one with boxed heels to minimize the associated pain.
Another upside is that sock boots work for almost any kind of pants, so they won't sleep away in your rack until you need to wear ankle pants again.
2. Loafers
Loafers are one of the most popular footwear with ankle pants, and that's partly due to their stylishness. While loafers look somewhat masculine, girls can also try the footwear on for classic masculine prowess.
Loaders are best paired with ankle pants in the summer, as it reveals too much skin to make them suitable for cold environments. Making your loafers a bit revealing also reduces their manly look, giving you a beautifully feminine look.
3. Flip Flops
While ankle pants aren't necessarily banned for professional events and meetings, instances of them appearing in such gatherings are few and far between. If you're like everyone wearing ankle pants casually, you may want to pair them with a pair of flip-flops for an even more casual look.
Flip flops are some of the most comfortable footwear, and it's a good thing that it's not exclusive to men. Unless you're going for a business meeting or dressing up for the office, pairing your ankle pants with a pair of flip-flops shouldn't be a bad idea.
4. Ankle Boots
If you're wearing ankle pants in the winter, you may want something that covers your feet up to your ankles for obvious reasons. One of the few shoes that meets the description above is a pair of ankle boots, which fortunately pairs excellently with ankle pants.
You can opt for a monotone look with ankle boots and pants, but that makes it somewhat tasking to tell you're wearing ankle pants. Having a little contrast between the colors of your footwear and the ankle pants will make your outfit pop.
5. Ballerina Flats
Ballerina flats are excellent footwear choices for ankle pants, but you honestly don't want to wear them in the winter. Since they expose a significant part of the vulnerable areas of your feet, you may be inviting cold feet (literally) by wearing ballerina flats in the winter.
In the summer, however, this shoe style looks chic. A pointed-toe ballerina flat will make your legs look longer than their actual length, and you can go for one with rounded toes if you dislike that effect. The bottom line is that ballerina flats go well with ankle pants.
6. Sneakers
With the ubiquity of sneakers, you can pair your pair of sneakers with any kind of outfit, and it won't look out of place. As long as colors match, your sneakers will work well with your ankle pants, as long as you're not going for a formal occasion.
If you're trying to look your best, a sneaker mightn't help you do that. The main motivation for wearing sneakers with ankle pants is comfort; and if that isn't your main goal, you can try some of the more fashionable options on this list.
7. Heels
One of the main perks of heels is that they look perfect with almost all kinds of pants as long as the colors match. The extra height that heels offer makes your legs look longer, which is the effect that most people wearing ankle pants want.
Heels are perfect for both the summer and winter seasons. You can free some of the skin of your feet during the summer, while you may want shoes that cover up to your ankle when it's cold.
8. Oxfords
Oxfords may seem a bit like masculine footwear, but there's no rule preventing you from styling your ankle pants with a pair of oxfords as a lady. Since oxfords don't usually go up to the ankles, these shoes are only best for the summer.
If you want some protection for your feet in the shoes, you may want to try out socks. However, you want to ensure that the socks don't go above your ankles, as it would make the shoes look less like oxfords.
Conclusion
Ankle pants can look somewhat outdated when you pair them with the wrong kind of shoes. Since they leave a lot of space for your shoes, you have the liberty to style your ankle pants with most kinds of shoes.
To save you the stress of having to hunt for the best shoes yourself, I've made a list of some of the best shoes to wear with ankle pants for a uniquely dazzling look.
I hope you find this post helpful. Do well to rate this post, and don't forget to share this article with your friends.
Want some more outfit ideas/inspiration, then you might want to check out these posts;
See you soon for more exciting inspirations. Trust me; you wouldn't want to miss any of our upcoming outfits compilation, so make sure to follow us on Pinterest.