Are you in a situation, where you're not sure of what Women Shoes to Wear with Straight Leg Jeans?
Then this post will bail you out because I carefully handpicked my top favorite and coolest women's shoes to wear with straight leg jeans.
Straight-leg jeans are perfect for almost every occasion, but for some reason, not every shoe is perfect for straight-leg jeans.
It also doesn't help much to have only one "perfect" shoe with your jeans. You want to have backups during weather changes, and you also want to have something that works with every single dress.
If that's the case, you need a couple of shoes. If you're a jean person, here are some perfect shoes that will blend with your jeans in most scenarios.
My Top Favorite Women Shoes to Wear with Straight Leg Jeans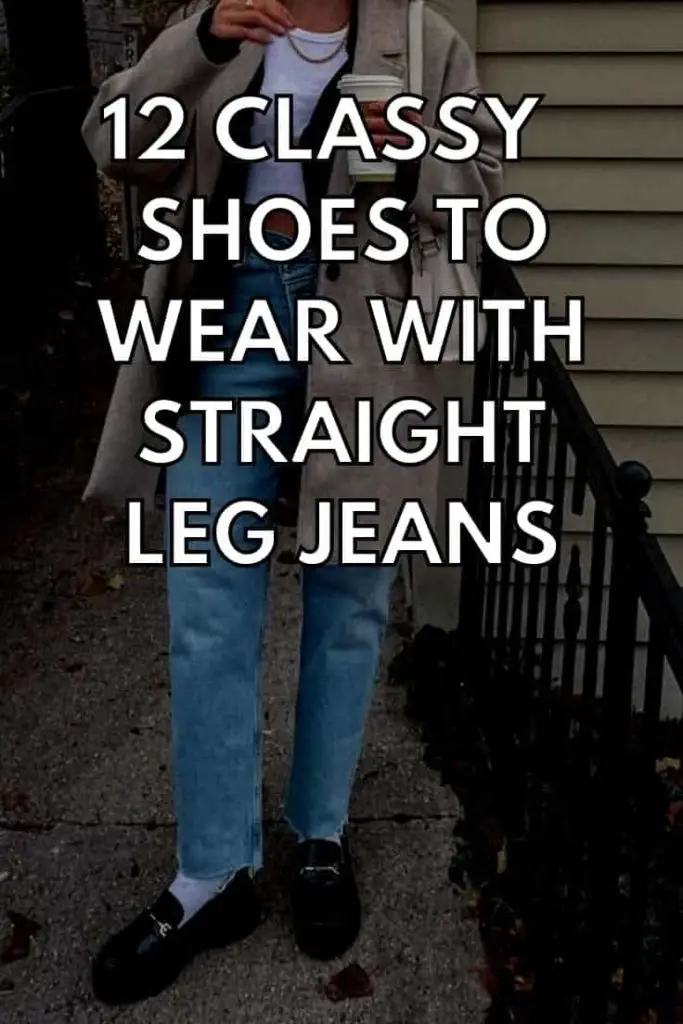 Before choosing any of the following shoes for your jeans, it's important to note that every piece of your outfit contributes to your overall appearance. Depending on the top you're wearing, some of these shoes may be more suitable than others, but they should all be remotely wearable.
Without further ado, let's get into the list of some of the most comfortable shoes to wear with straight-leg jeans.
1. Low Heels
In all honesty, most people hate the idea of high heels. However, bringing straight-leg jeans into the mix only makes it more difficult to handle the heels for extended periods.
However, low heels bring the exquisiteness of high heels without sacrificing comfort. Even if you think you hate heels, you can handle low heels to some extent, with little perseverance.
2. Sandals
If you prioritize comfort over elegance, sandals are probably your best bet. While this doesn't mean sandals aren't exquisite, they're just more comfortable than they are elaborate.
The type of sandal doesn't matter here; what matters is choosing a color that matches the rest of your outfit. You should consider the type of dress you'll be wearing to choose the most appropriate sandal for you.
3. High Tops
There are two times when a high top is the most appropriate shoe for straight-leg jeans; when you're trying to highlight your footwear, and during the winter.
High tops look very natural with straight-leg jeans, but beautifully so. For a casual outing with friends, wearing a laced-up high-top sneaker with straight-leg jeans will give you a comfortably elegant look.
4. Mules
If you're reading this, there are high chances that you already have a pair of mules; they are that popular. If you do, you might just have the perfect shoe for your straight-leg jeans already; no extra purchases are needed.
If you don't fancy high heels, you can choose a mule on the flatter side, but you have plenty of options to add a heel if you ever want to. Also, mules blend perfectly with most outfits, making them great as one of your only a few shoes.
5. Kitten Heels
If you hate the somewhat bland look of a flat shoe without necessarily wanting uncomfortably tall heeled shoes, you can get a perfect balance with kitten heels. They make better-looking shoes than flat shoes without compromising on comfort.
While kitten heels are more comfortable than high-heels, they still need some getting used to. If you need maximum comfort with some height addition, you may want to consider trying out the next one.
6. Wedges
Wedge shoes offer the height advantage of a high-heeled shoe without the apparent discomfort associated with walking in one. If you can't seem to master walking in a heeled shoe, you may want to try out a wedge.
Due to their peculiar design, ladies found them easier to walk with than most of the other alternative shoes. Since they survived changes in fashion since 1940, it's safe to say they're quite timeless.
7. Sporty Slides and Sandals
If you're doing any kind of activity on the go, you may want shoes that offer some flexibility; you don't want to be running around in sky-tall heels.
For these scenarios, sporty slides and sandals are your best bet. They're designed to be usable for sports without a need to remove your footwear. If you can run comfortably with them, just imagine how comfortable they are for walking.
8. Ankle Boots
Ankle boots are pretty popular, but they still don't go well with every dress. Fortunately, leather ankle boots blend perfectly with straight-leg jeans, and they're especially great during the winter.
When you're choosing ankle boots to go with your straight-leg jeans, it's important to note that you're choosing matching styles. It's very easy to get it wrong, and doing that will leave you with instantly noticeable footwear that blends quite poorly with your jeans.
9. Flatforms
Wedges are made to be even more comfortable than high-heeled shoes, but is there anything more comfortable than wedges? With flatforms, we think there might be.
Flatforms are a classic trend that has managed to survive to the 21st century. With a very chunky base, a Flatform can help you add height while maintaining a relatively flat, but significantly fatter sole.
10. Slip-on Sneakers
Slip-on sneakers are the go-to options for ladies seeking the most stylish footwear without necessarily wanting to stand taller or compromise their comfort for it. Since they're incredibly easy to wear, they get you going pretty quickly; simply slide in the shoe and you're good to go.
11. Boots
While ankle boots have made an individual appearance here, there are plenty of other options. With the sheer variety of boots available on the market, it's pretty difficult to tell what boot will go well with your jeans without any details of the rest of your dressing.
The abundance of options might not be a bad thing; just a way to explore your creativity limitlessly. You can go with combat boots or a sock bootie with fairly high heels. It's hard to go wrong with boots, but making the right choice will make your outfit perfect.
12. Pumps
It's pretty difficult to imagine an outfit that blends badly with pumps. If you're undecided as to what to wear with your straight-leg jeans, your answer might just be a pair of pumps.
The heels will elongate your legs, and if you choose a great color, can make your outfit more elegant. If you can't decide on what color of pumps to wear, black works; it's seldom out of place, unless you're trying,
Conclusion
Straight-leg jeans are an adorable fashion trend, and when you pair them with the right shoes, you get the perfect outfit for any event. But the problem lies in getting the perfect shoes to go with the dress.
If you don't enjoy picking shoes for your outfits, we do. This article outlines 12 of our favorite women's shoes that blend perfectly with straight-leg jeans.
I hope you enjoyed this post on the coolest women shoes to wear with straight leg Jeans. Do well to rate this post, and don't forget to share this article with your friends.
Want some more outfit ideas/inspiration, then you might want to check out these posts;
See you soon for more exciting inspirations. Trust me; you wouldn't want to miss any of our upcoming outfits compilation, so make sure to follow us on Pinterest.