In this post, I have carefully curated a list of casual and comfy shoes to wear with sweatpants without looking grumpy.
Sweatpants are generally for the most casual use cases, mostly limited to the gym or around the house. If you're a fashion fanatic, you can't afford to miss the great look of matching your jogger with the perfect footwear.
Most people wear their most comfy shoes whenever they put on sweatpants. While this may be a good idea, you can be a lot more fashionable by slightly changing up things.
If you want a healthy mix of elegance and comfort, you'll want one of these casual women's shoes to wear with sweatpants or joggers.
Casual & Comfy Shoes to Wear with Sweatpants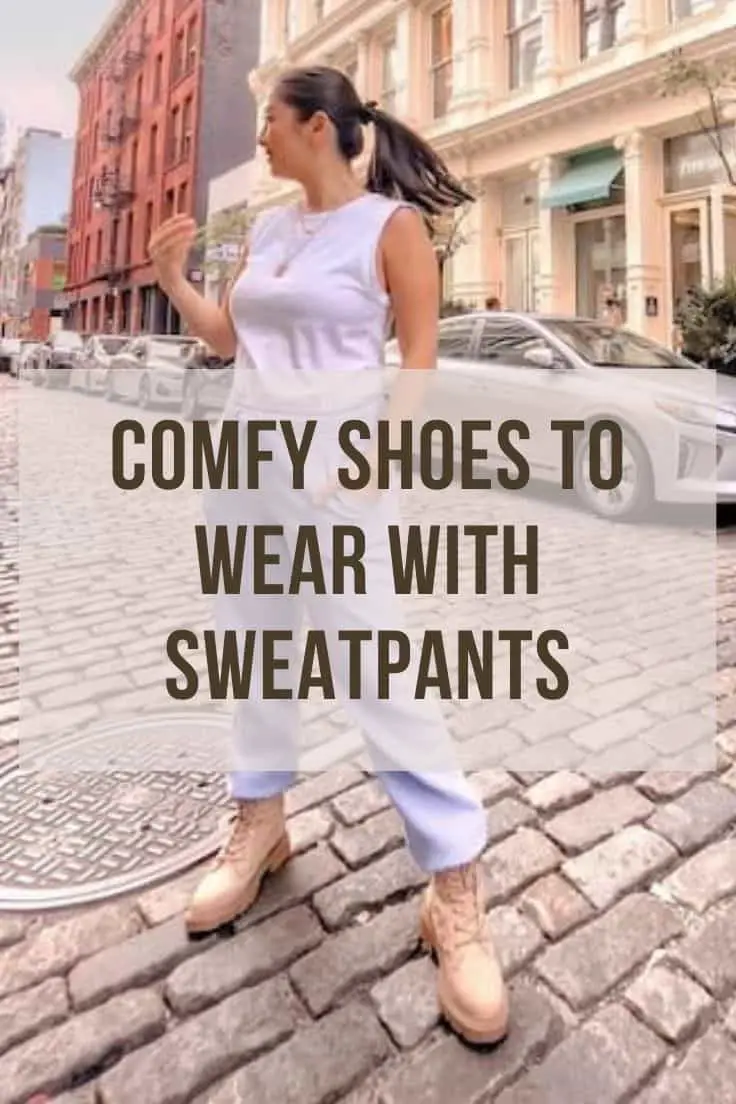 Sweatpants are mostly designed for physical activity, and so are sneakers, making them a perfect combo. But there's no rule mandating that to be the case, and you can even get a svelter look by choosing something slightly more fashionable.
Here are some shoes to try with sweatpants whenever you grow bored of the frankly boring and overused sweatpants-sneaker combo.
1. Chunky Boots
If you're not in for a more subtle look, maybe you'll like something that makes a bold statement. Tucking your sweatpants in your pair of intimidatingly chunky boots can leave you looking like a model about to work out.
This look is especially great for the winter, as the boot covers your leg totally, protecting you from cold. It does a more effective job than sneakers while leaving plenty of room for fashion.
2. Sneakers
However nice footwear may look, it's pretty evident that nothing goes better with sweatpants than sneakers. You can easily argue that they were created specifically for them, provided they don't have a huge birthday disparity.
As long as you're wearing sweatpants, sneakers tend to adapt to your specific use case. You can either choose to be a beautiful model or a hardworking sportswoman, and sneakers will never let you down.
3. Ankle Strap Sandals
Sandals in the workplace may feel somewhat out of place until you throw something with heels into the mix. With a fairly high heel, you can make your outfit look all svelte, making it more appropriate for somewhere other than the gym.
The regular way of wearing ankle strap sandals with sweatpants involves wearing the strap under the pants. You can change things up by strapping it over, as this look is getting increasingly popular by the day.
4. Flip Flops
If you love the casual look of sweatpants, you might want to pair them with something equally casual and comfortable. Only a few shoes fill the description of comfortable and casual better than a pair of flip flops.
You can check out the different varieties of flip flops and how well they'll go with your outfit. While you can never go wrong with one, you also want to add some stylishness to the mix, don't you?
5. Casual Runners
Since sweatpants are made for activities like running, it only makes sense that casual runners blend well with them. While they don't give a complicated or elaborate look, they retain the casual look that's characteristic of a jogger without compromising comfort.
Most people prefer white-colored runners, but that only works if you want more attention on your dress. There are less subtle color choices that work just as well as white shoes for your sweatpants while accentuating your legs to make them appear longer.
6. Ankle Boots
You don't need chunky black boots to pair your joggers with boots; if you can get a pair of ankle boots, you'll be just as fine. Ankle boots are especially good if you want more attention to your feet than to the rest of your outfit.
If you're also looking for something to keep your feet warm during the winter, ankle boots will work just as well as your beloved chunky boots.
7. Classic Sneakers
If you've got a pair of old-school sneakers, you can pair them with your sweatpants to give a natural and casual look. Come to think of it, both the classic sneakers and the sweatpants come from about the same generation. So, it only makes sense that they match themselves perfectly, doesn't it?
When pairing sneakers with sweatpants, you don't need to be an expert fashionista. A random sneaker will look great with your jogger; just try it on.
8. Ballet Flats
If you want an elaborate look that doesn't include the uncomfortable feel of high heels, a ballet flat is all you need. It's available in many neutral colors that won't steal the show from your sweatpants, but you can never go wrong with a black one.
Ballet flats are the break from high-heeled shoes you never knew you needed. If you're wearing sweatpants for their comfortable feel, why support it with very uncomfortable footwear?
9. Pumps
Pumps are just like the opposite of ballet flats, as they usually have steep but comfortable heels. The heels make them a more fashionable alternative to ballet flats, bringing out the elegance of your outfit.
Pumps were historically worn by men to denote upper-class status but didn't have the high heels that you'll find on a typical pump today. If you're feeling majestic, you can also show your royalty by pairing your sweatpants with a pair of pumps, as long as you can tolerate the heels.
10. Slides
Most people wear sweatpants either because they're very comfortable or because they can also double as a jogger. If you have either motive, you wouldn't want to struggle with heels or have to take off your shoes when going for a casual jog.
A slide is designed to help you achieve those goals. It's practically impossible to find a slide with heels, and they're designed for casual walks before and after a practice or game. If you want footwear to complement your sportswear, a slide will do that perfectly.
Conclusion
Sweatpants are made to be simple and comfortable, and you should also wear them with equally comfortable shoes. Striking a balance between comfort and elegance may be a demanding task for anyone.
To help you with that, we've listed 10 casual shoes you can wear with sweatpants for added beauty, simplicity, and comfort.
I hope you enjoyed this post on the coolest shoes to wear with sweatpants. Do well to rate this post, and don't forget to share this article with your friends.
Want some more outfit ideas/inspiration, then you might want to check out these posts;
See you soon for more exciting inspirations. Trust me; you wouldn't want to miss any of our upcoming outfits compilation, so make sure to follow us on Pinterest.