In this post, I'll be going over my top favorite comfy shoes to wear with wide-leg Linen Pants. So if you're of wearing wide-leg linen pants, but not sure what shoes will pair perfectly with the outfit, then this post got you covered.
Many people pay special attention to their clothes, but not so many people worry about the shoes they wear with them. The act of finding the perfect shoe might be the difference between a bland outfit and an exquisite one.
Wide-leg linen pants started becoming a trend from the late 1990s to the early 2000s. Today, you can't keep a complete wardrobe without those beautiful baggy pants.
If you're looking for the perfect shoes to match your wide-leg pants, here are some of our best suggestions to help further accentuate your style.
Comfy Shoes to Wear with Wide-leg Linen Pants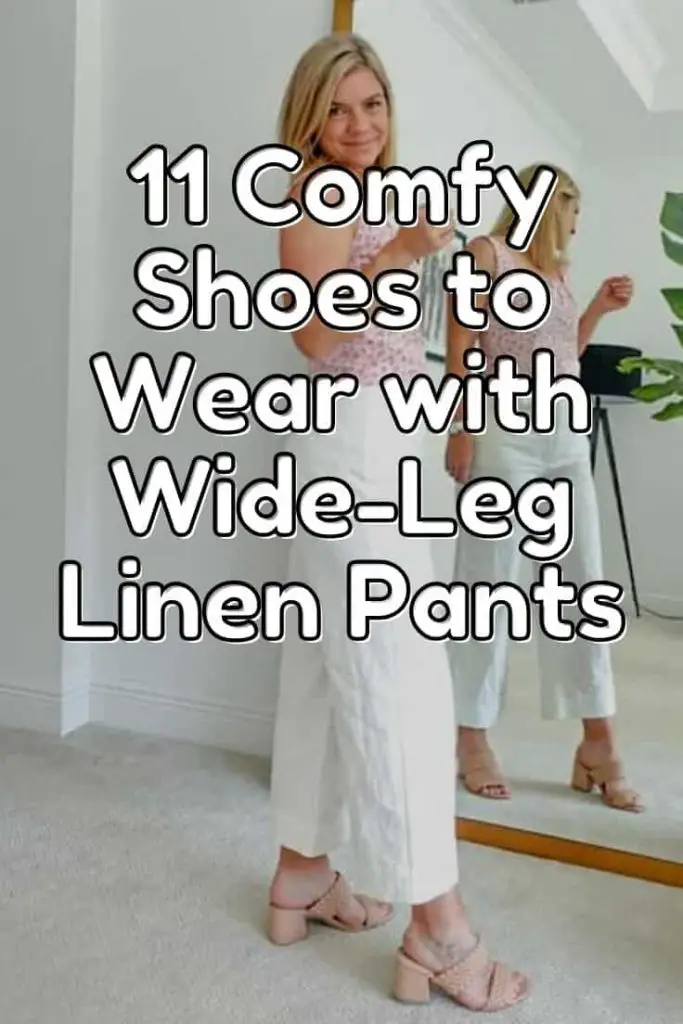 When choosing shoes for wide-leg linen pants, you want something just as comfortable as the pants. There aren't many that fit into that description, but we've managed to compile 10 that we found the most elegant.
Here are some of the best shoes that blend perfectly with your wide-leg pants.
1. Chunky Sneakers
Chunky sneakers, otherwise known as dad sneakers, make one of the best suggestions for shoes to wear with your wide-leg linen pants for a mix between comfort and beauty.
If you want an alternative to full-blown high heels, you can choose a sneaker with considerably thick soles to add some height. While you won't have to deal with the disadvantages of high-heeled shoes, you'll have the advantage of height, to some extent at least.
2. Sneakers
Sneakers are like ubiquitous footwear; they go with just about anything as long as you're willing to try. But while sneakers blend well with baggy linen pants, they don't look as good as most of the options on this list.
3. Ankle Boots
If ankle boots and wide-leg linen pants don't sound like a good match, wait until you try them. While some ankle boot styles may look out of place with your wide-leg pants, it's also ridiculously easy to get everything right.
If you're not willing to try different combinations, go for an ankle boot with pointed toes. The pointed toes give an elongated look you never knew you wanted which blends quite well with wide pants that make you look shorter.
To sum it all up, if you're deliberating on what shoes to wear with wide-leg linen pants in Winter, then Ankle Boots will be your best bet.
4. Sandals
Sandals may not be your footwear of choice for all weather conditions, but they're pretty flexible and they work with almost all dresses, including wide-leg linen pants. As long as you'll not be out all day, casual sandals or slightly heeled sandals should blend perfectly.
However, it's usually a different story during the winter. It needs no telling to know that it has no provisions to keep your legs warm. In that case, an ankle boot will work just perfectly. In the summer, however, you'll be hard-pressed to find a shoe that blends better with your wide-leg linen pants.
5. Flatforms
High-heeled shoes may be exquisite and all, but they introduce a plethora of problems you generally want to avoid. Flatform shoes give you the height of high-heeled shoes without the numerous disadvantages like crooked feet and back pain.
Instead of raising a specific part of the shoe, flatform shoes raise the height of the entirety of the shoe's surface, striking a balance between comfort and style. While they may not be the best option for a corporate environment, they're a compelling option for casual day-to-day shoes.
6. Platforms
Platform and flatform shoes try to do the same thing but in different ways. While flatforms prioritize comfort over style by flattening the entire surface of the shoe, platforms try to balance things out by raising the heels of the shoe, as well as the sole.
Platforms are relatively more popular than flatform shoes, as they are stylish and work well, even in business settings. However, they don't provide the level of comfort you get with flatforms, which still retains the crown as the most comfortable shoe for your wide-leg linen pants for casual environments.
7. Pointed-Toe Heels
Pointed-toe heels make one of the best shoes for wide-leg linen pants, and they're a compelling option if you're going for a more business-focused event. If you can choose a color that matches that of your wide-leg pants, you'll never want any other shoe anymore.
All sorts of wide-leg pants make your legs look shorter than they are, but thanks to the heels and the pointed design of the tip, this shoe reverses that effect to create the illusion of longer legs.
As long as you can tolerate the disadvantages of wearing heels for prolonged periods, you'll love pointed-toe heels with your wide-leg linen pants.
8. Mules
Mules are like a trustworthy last resort when looking for a shoe that blends well with your wide-leg linen pants. Mules were historically created as footwear for indoor use, and the first wearer often wore them with loose and comfortable clothing.
Fast forward to the 21st century, their best use hasn't changed much, only that more people are wearing them outside the home now. If you can't seem to find anything that fits with your baggy linen pants, just grab a pair of mules, because it's a perfect pair of flat shoes to wear with wide-leg pants.
9. Ballet Pumps
You can easily classify ballet pumps as antique as these shoes have existed since the 16th century. The fact that they've persevered until the 21st century shows how excellent these shoes are.
Ballet pumps are great for casual wear, but they're also passable for some events that require an exquisite look. It gets even more interesting when you discover that your footwear has existed for centuries.
10. Chunky Loafers
If you fancy a pair of sneakers, they may not be the best footwear for your baggy linen pants. However, a compelling alternative is loafers, which are a more compelling alternative to sneakers and are also very comfortable.
If you have a grudge with heels, loafers can make comfortable and stylish footwear for you, and they can be worn in any weather.
That's to say that if you're still deliberating on what shoes to wear with wide-leg pants in fall, Loafers should be on your list.
Conclusion
Baggy linen pants are a recent trend in the fashion world. If you're planning to jump into the trend, you may want to match your wide-leg pants with some of the most fashionable shoes.
Unfortunately, choosing the perfect shoe isn't an easy feat. To make this way easier for you, we've compiled ten of the best women's shoes that match almost perfectly with your baggy linen pants.
I hope you enjoyed this post on the coolest shoes to wear with wide-leg linen pants. Do well to rate this post, and don't forget to share this article with your friends.
Want some more outfit ideas/inspiration, then you might want to check out these posts;
See you soon for more exciting inspirations. Trust me; you wouldn't want to miss any of our upcoming outfits compilation, so make sure to follow us on Pinterest.