Looking for cute Spring outfits for work? Don't worry, this post got you covered with the newest and trending ideas you can use as inspiration.
Dressing up for work can be a chore, especially when you're somewhat obsessed with looking great. Most of your favorite outfits would be unacceptable in a work environment, and most of the acceptable frankly don't look good.
It becomes even more difficult to keep to a retain a fashionable look when dressing for a specific season. However, these statements aren't implying that it's impossible to dress chicly in the spring without going against your organization's dress code.
Cute Spring Outfits For Work
In this article, I'll show you the best spring outfits for work to help you learn how you should dress for an elegant look.
1. Turtle Neck Plain Shirt with Knee-Length Neutral Colored Skirt + Black Belt + Trench Coat + Beige Combat Boots + Handbag + Sunglasses
The spring makes it possible to try any dress combination since it's neither as cold as winter nor as hot as the summer. This outfit is great for the winter but also acceptable during the spring. You may want to take it easy on the trench coat since it's not exactly cold.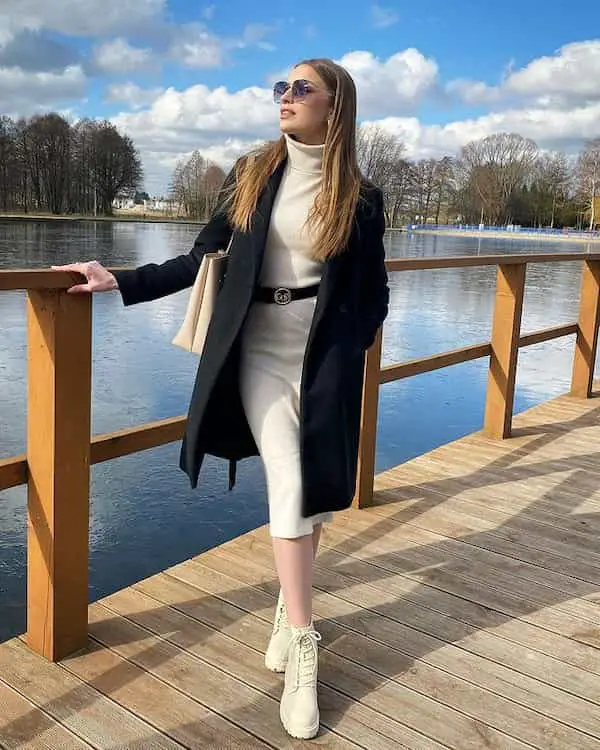 2. Denim Jumpsuit with Mule Shoes + Handbag
The denim jumpsuit is all you need for the average spring workday, with the handbag making you look like more of a hardworking fashionista. Since the mule shoes are virtually covered, anything works, but maybe not heels.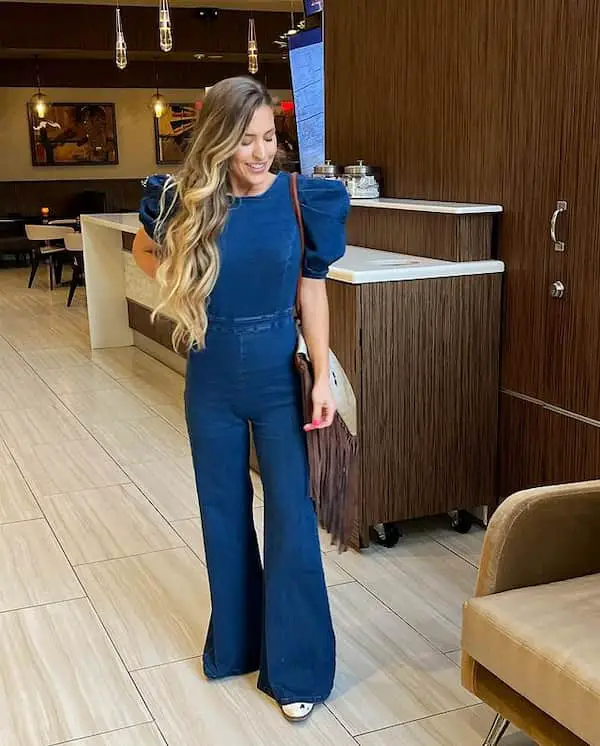 3. Inner Shirt + Oversized Pink Blazer + White Pants + Suede Boots + Handbag + Sunglasses
You shouldn't have to sacrifice your looks just to dress conservatively enough for an office setting. Here is a totally chic outfit that shows that you can look great in a formal outfit. It's the glasses for me.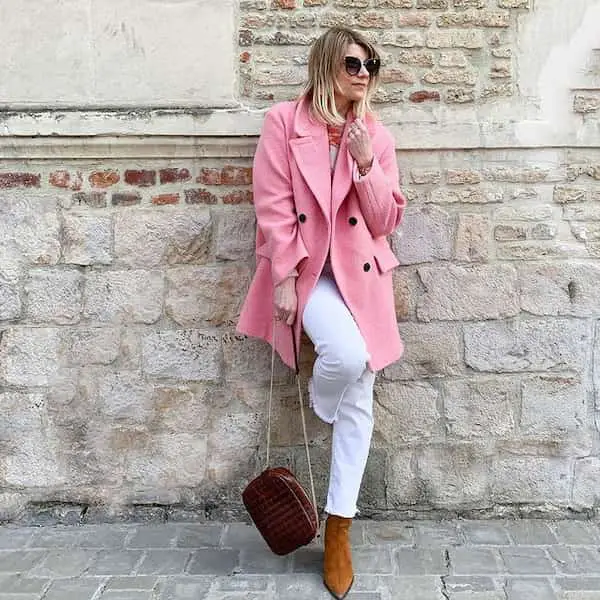 4. Ash Colored Inner Shirt + Black Blazer + Black Pants + Sneakers + Handbag
Grey and black go hand in hand in most dressings, as this model demonstrated beautifully. The synergy between the ash-colored shirt and socks is simply excellent, making the entire outfit cohesive.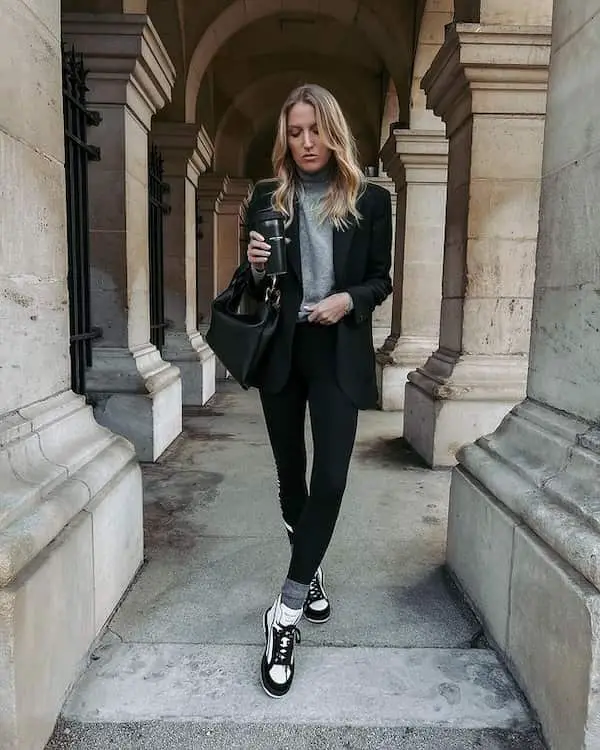 5. Yellow Sweat Shirt with Yellow Pants + Blue Trench Coat + Mule Heels + Handbag
If you're going for a chic look, there's no better way to do that than wearing a blue trench coat over a yellow sweatshirt. To finalize the look, get a handbag with yellowy prints and stand like a boss for a shot.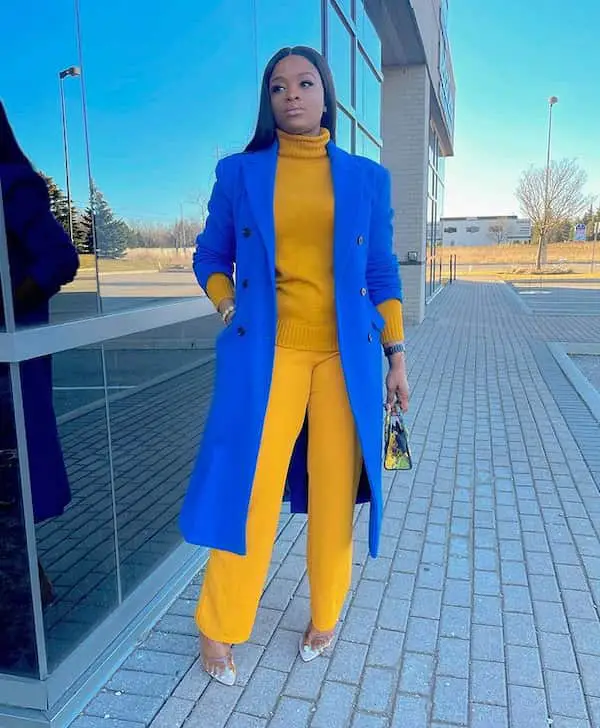 6. Sky Blue Shirt with White Pleated Skirt + Heels
During the warmer part of the spring, dressing in a simple sky blue shirt with short sleeves would be a great idea. The short sleeves will help ensure that you get enough hair to stay cool throughout the day.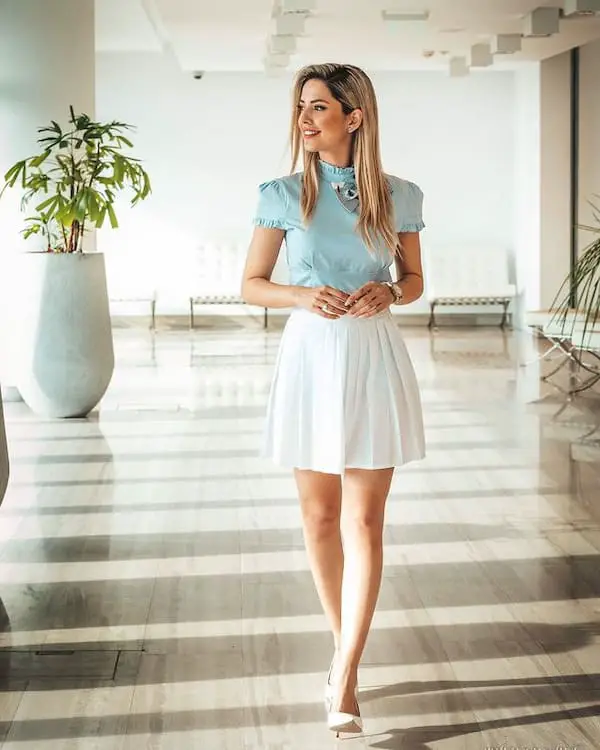 7. Button Down White Shirt with Crop Jeans + Brown Belt + Heels + Handbag + Sunglasses
Frankly, this idea is the best way to show up at work on any day of the week. If you're feeling too warm, you can take off the trench coat for some hair. However, the match between the bag and the footwear must stand.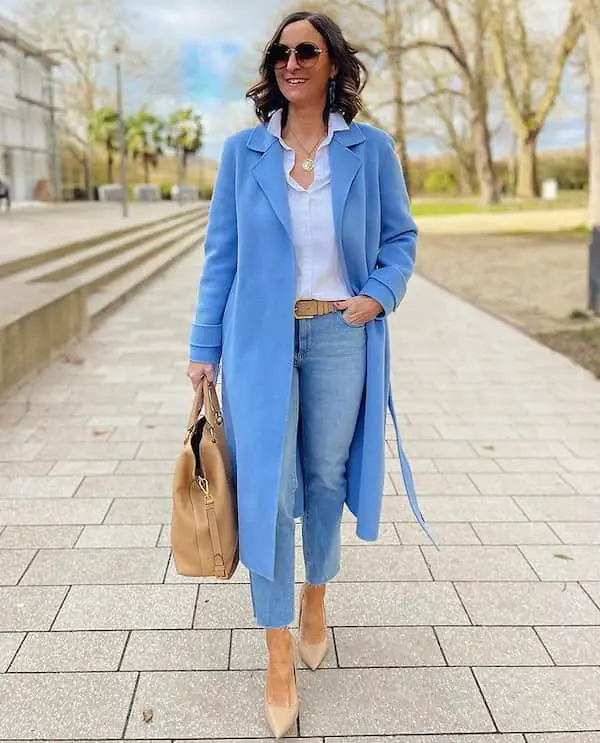 8. White Shirt with Green Tweed Jacket + High Waist Pants + Black Shoes + Handbag + Sunglasses
A tweed jacket mightn't be the best addition to your outfit during the warmer parts of the spring. However, spring isn't always warm. If you're susceptible to catching a cold during the spring, here's an excellent outfit idea to try.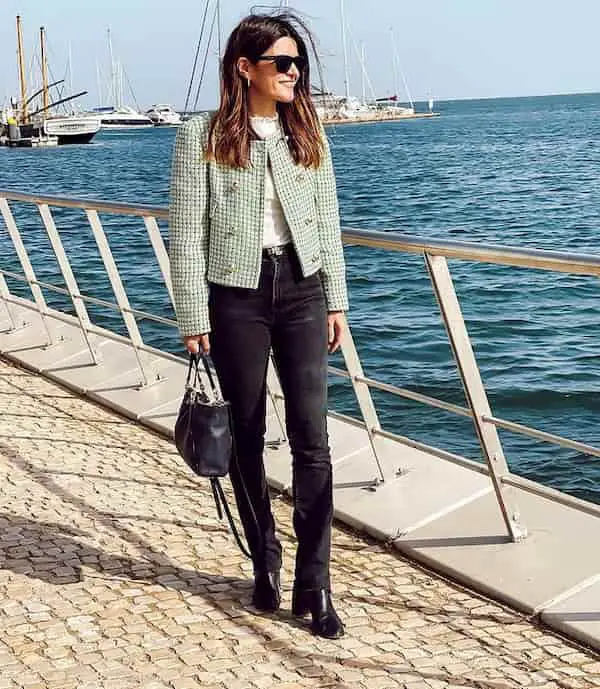 9. Back Inner Shirt with Tan Blazer + Black Pants + Knee-High Boots + Clutch Purse + Sunglasses
While this gives you a classy and bossy look, it's not something you want to try on a very warm day. The boots provide far too much coverage, while the blazer is styled to keep you warmer. On the colder days, however, here's an excellent outfit idea.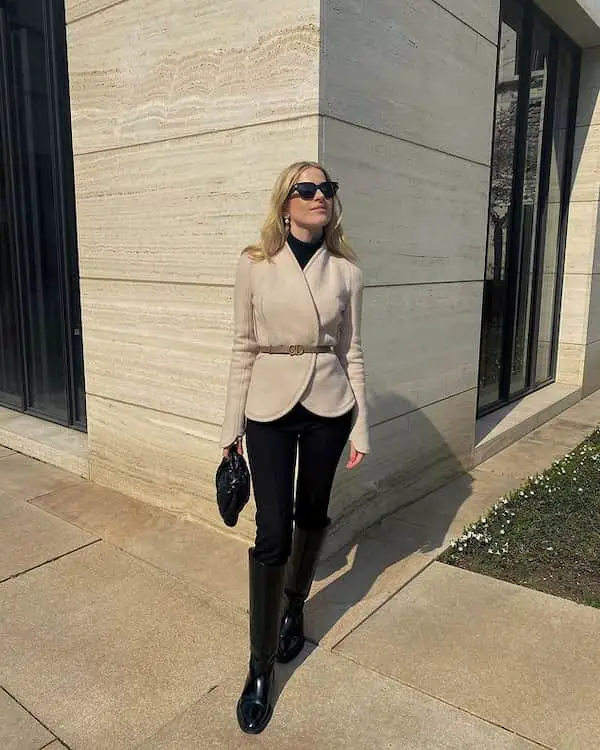 10. Tropical Print Dress with Wedge Shoes
A colorful dress isn't very formal, but it also doesn't disqualify you from attending formal events. Like the one below, you can always show up in your tropical print dress as long as the dress itself breaks no rules.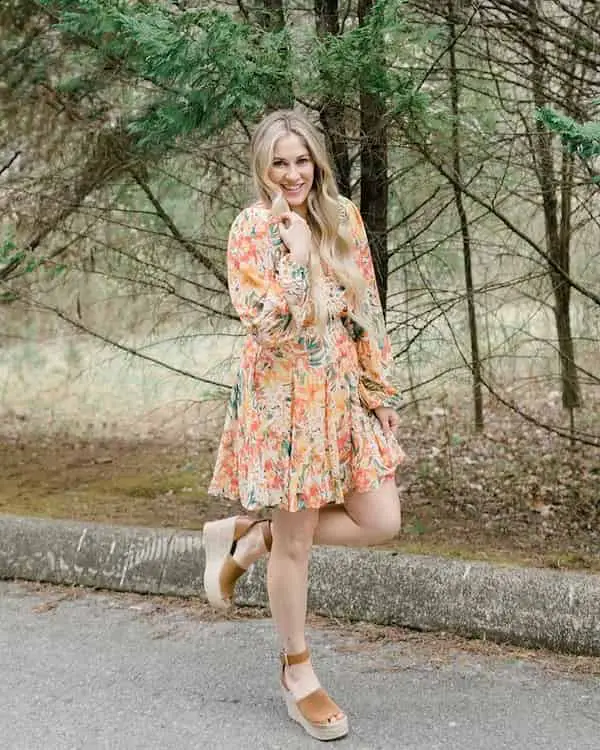 11. Deep Ash Two-Piece Suit with White Shirt + Sneakers + Sunglasses
The outfit below is more suited to the winter, but recall that spring can be cold in some cases too. Downsizing the suit might help if you're feeling too warm, but you must retain the match between the shirt and the sneakers.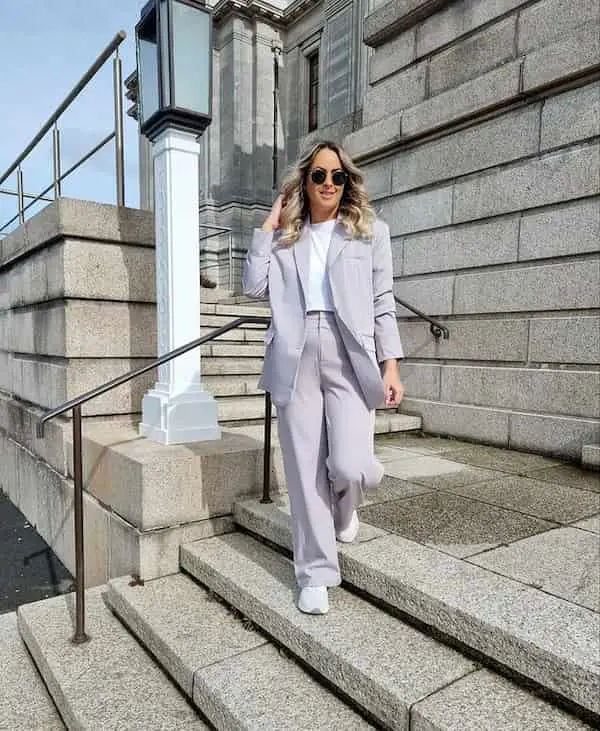 12. White Crop Top with Red Trench Coat + Pants + Black Boots + Handbag
A crop top may not be the best way to show up at work, but who can complain when you're seemingly covering it with a trench coat. The loose pants also add to the conservative look, all distracting from the fact that you're wearing crop tops in the first place.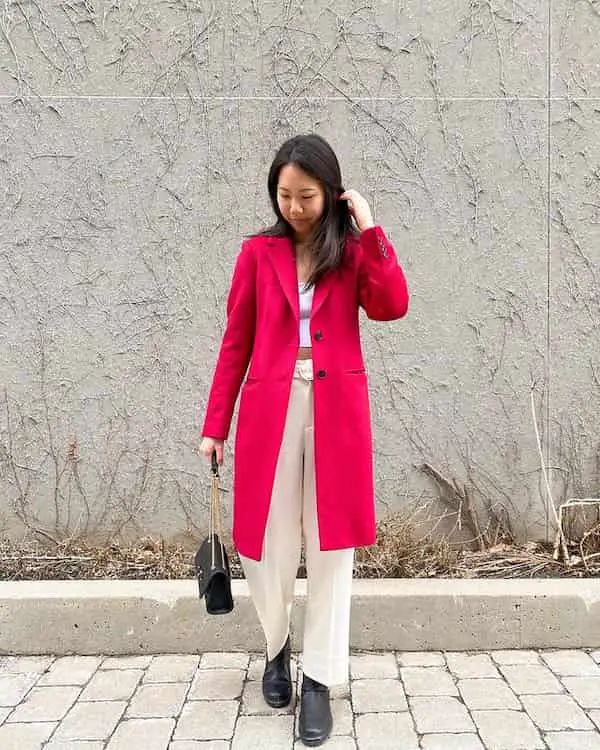 13. Black Shirt with Tummy Belt + Floral Midi Skirt + Combat Boots + Handbag + Sunglasses
If you're a fan of black outfits, here's a work outfit idea that's almost all-black. It manages to keep a bossy look without breaking any crucial rules in regard to formal dressing.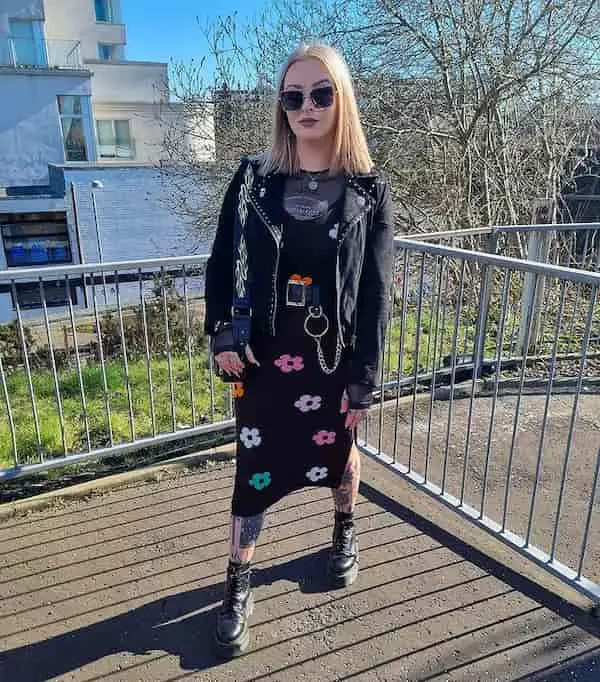 14. Green Handless Dress with Baby Pink Long Sleeve + Heels + Handbag
Light green and pink are contrasting colors, making them the perfect combination for a fashionable look. Ordinarily, the handless dress doesn't qualify to be a work outfit, but the baby pink jacket is to the rescue!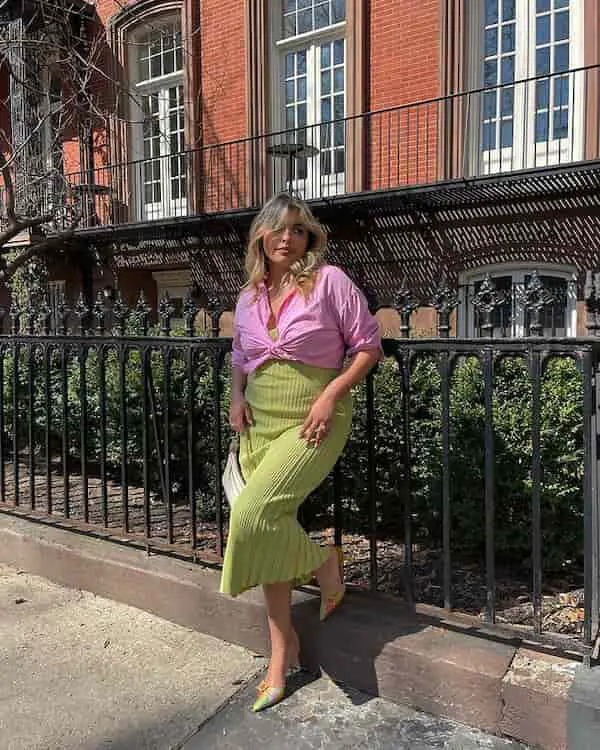 15. Long Sleeve Floral Blouse with High Waist Free Pants + Boots + Clutch Purse + Sunglasses
Here's another outfit idea for when you're choosing comfort over chicness. Surprisingly, this outfit is chicer than you'd expect a long sleeve blouse and free waist pants combination to look.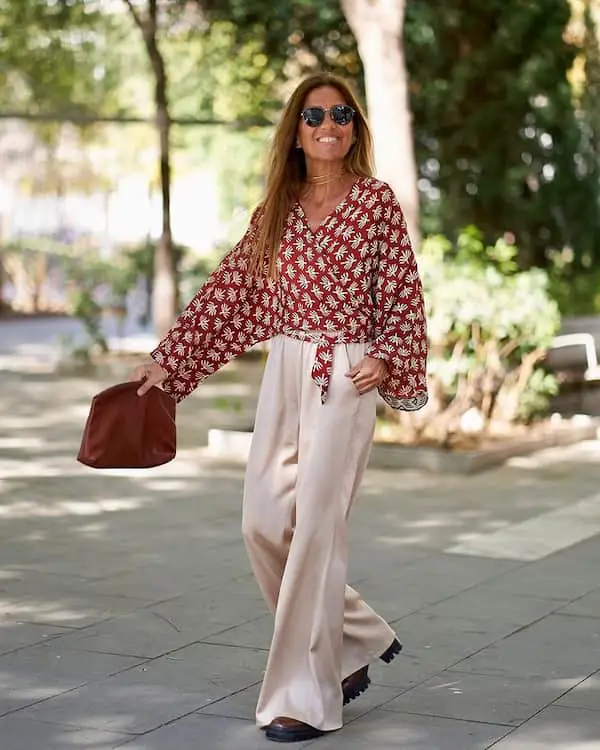 16. Knitted Top with High Waist Ugg Pants + Heels + Clutch Purse + Sunglasses
If you love looking good at work, here's an outfit idea that shows you exactly what to wear. It's one of the few combinations that's neither terrible for work nor unfashionable.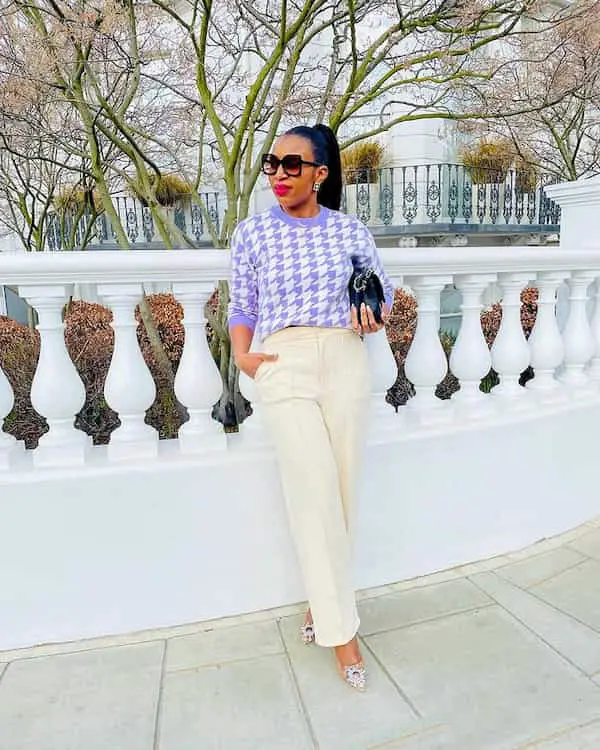 17. Blue Inner Shirt with Blue Free Pants + White Puffed Hands Jacket + Heels
Here's one of the most casual outfits that you can wear during the spring. While it isn't the most fashionable combination on this list, it won't go against any dress codes either.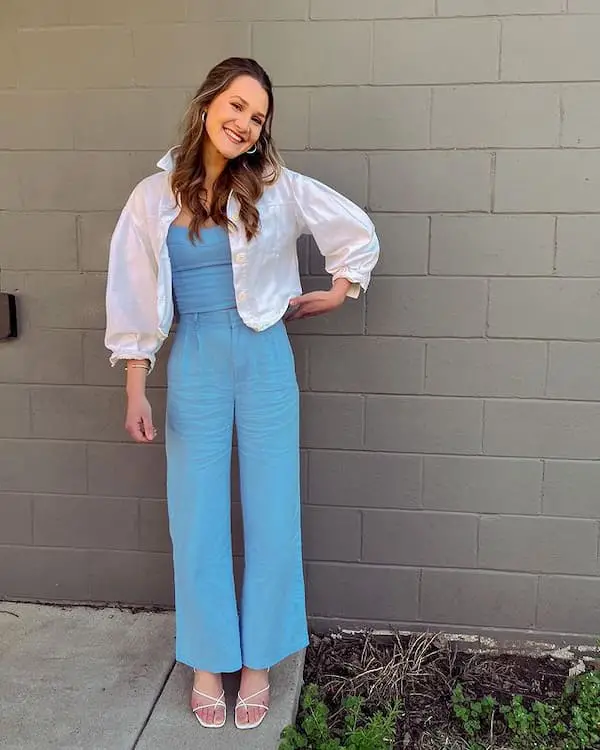 18. White Embroided Balloon Dress with Boots + Hat
A balloon dress might seem more appropriate for a night-out, but there's no reason why you shouldn't try it on a workday. You may want to remove the hat, however, if it seems like it goes against the dress code.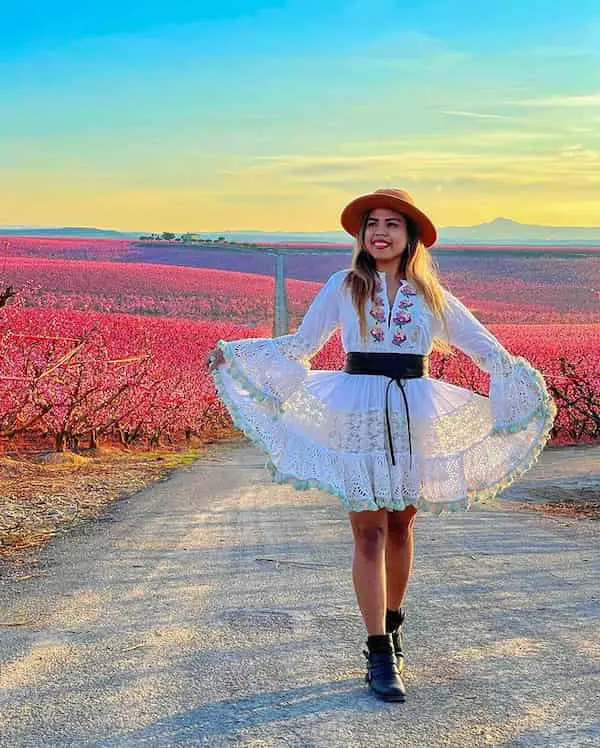 19. Ash Cami with Pleated High Waist Skirt + Trench Coat + Beret + Mule Shoes + Handbag
An almost white camisole with a pleated white skirt won't make a great work outfit, but add a trench coat and see how you'll instantly change. Don't forget to match the bag with the beret and coat; it's part of the outfit.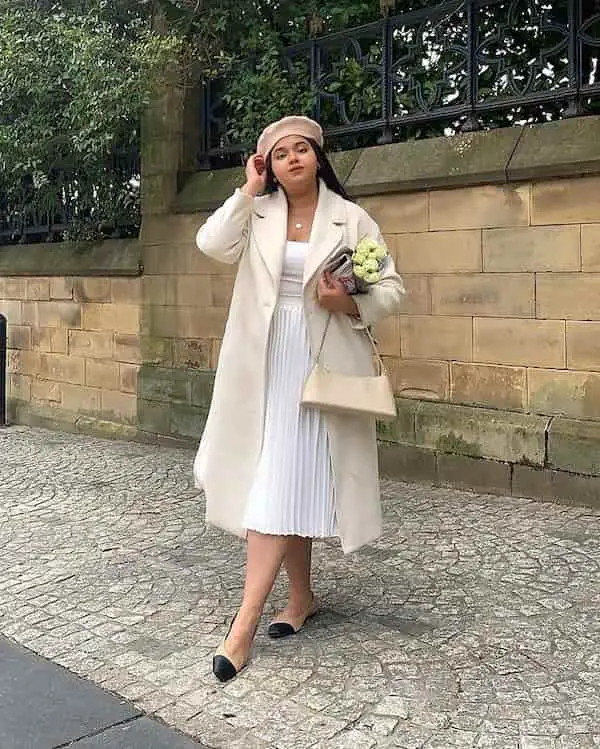 20. Simple Vintage Midi Button Down Dress with Heel Shoes
A simple button-down dress might be all you need for work during the spring. With this, you don't need to learn any complicated color sciences or dressing psychology; simply copy the dress and the smile and you're good to go.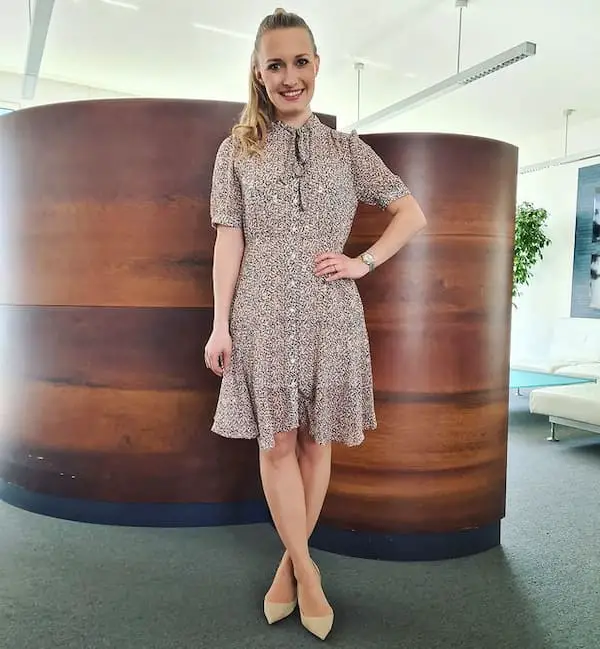 21. Yellow Suit with Purple Long Sleeve Shirt + Loafers + Beret + Clutch Purse
If you pay special attention to colors, you should already know that yellow and purple makes a perfect match. This model takes that match to a whole new level with this outfit. Note the matching shoe and beret and consider replicating that too.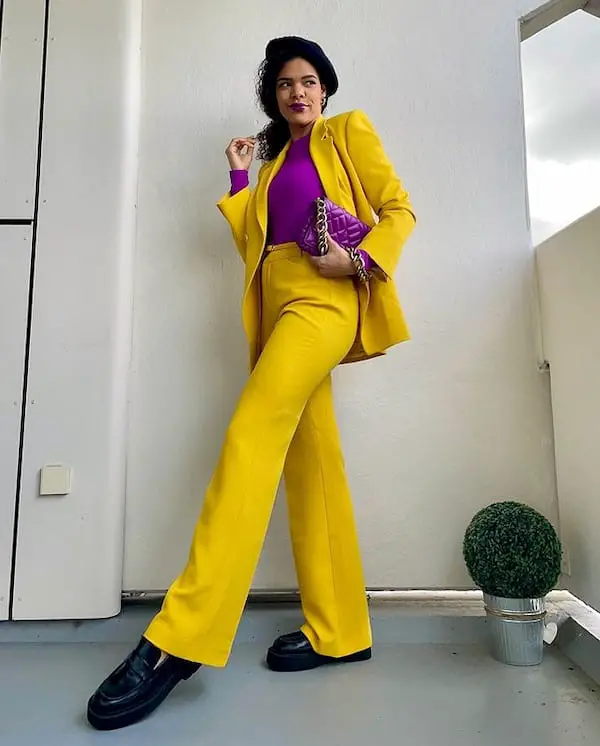 22. Floral Long Sleeve Blouse with Jeans + Pump Heels + Sunglasses
Dresses with a floral pattern seem to be a popular option in the winter, and there is no better way to style one. If you want a casual outfit, consider replicating this to the letter, including the smile.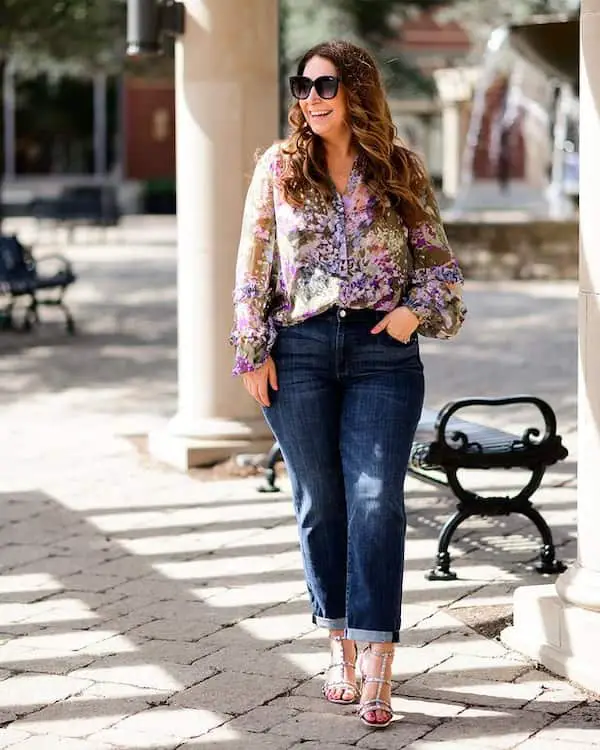 23. Tan Shirt with Floral Maxi Skirt + Blazer + Boots + Handbag
If your workplace favors conservative outfits, wearing a gigantic skirt with a floral pattern would be a great way to show up at work. Add that to the chic-looking blazer and you'll see why you should add this to your collection of work outfits.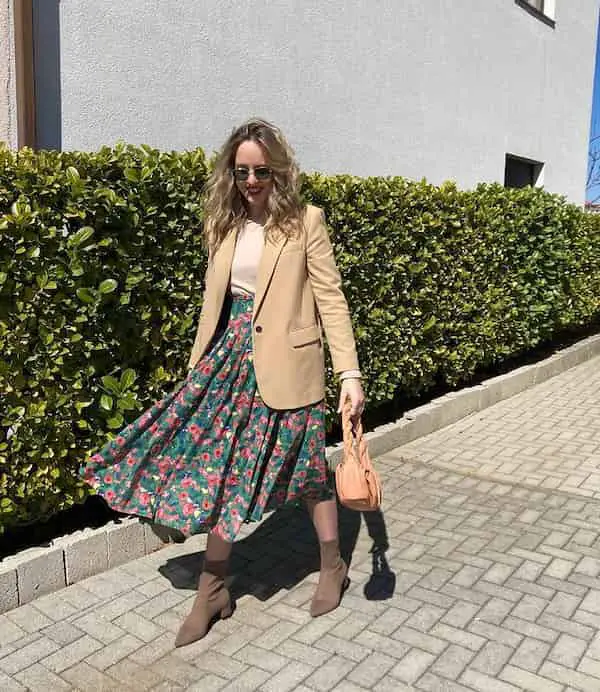 24. Waffle Knit Sweatshirt with White Pants + Heels + Handbag + Sunglasses
If the spring seems a bit on the cold side, you can use a knit balloon sleeve top with white pants for a chic work outfit. Carrying a white handbag to complement the white pants will only make them look chicer together, just as the model in the picture.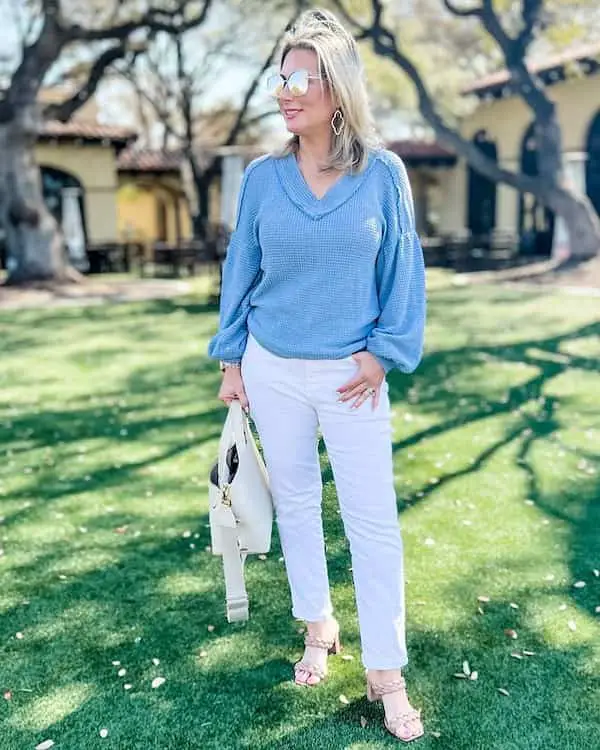 25. Satin Top with Brown Blazer + Check-Print Pants + Heels + Handbag
This outfit seriously looks like saving the best for the last, with everything coming together to depict a terrific work outfit. The trench coat could be less pronounced; making it that large could make you too warm.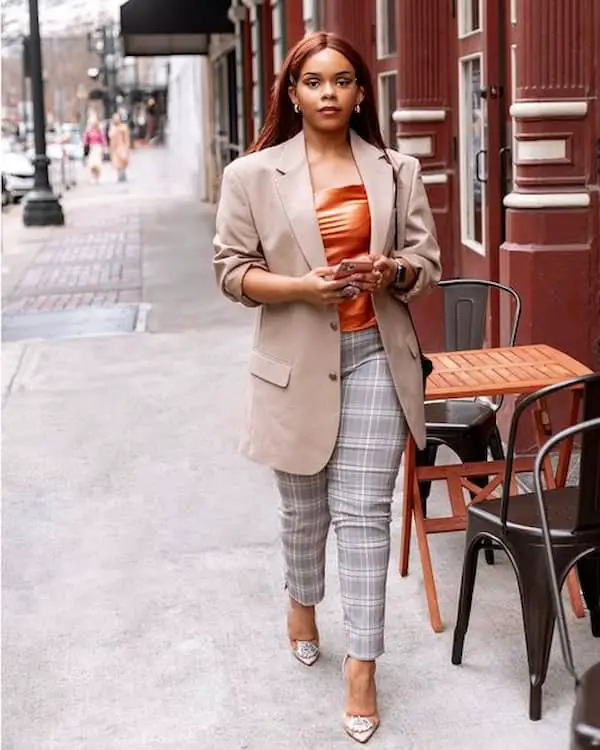 And that's all for my post on Spring outfits for work. Want some more outfit ideas? Then you might want to check out these blog posts.
I hope you enjoyed this piece of content. Do well to rate this post, and don't forget to share this outfit compilation with your friends.
See you with more exciting inspirations. Trust me; you wouldn't want to miss any of our upcoming outfits compilation, so make sure to follow us on Pinterest.
Pin for Later.