Jeans are an excellent spring outfit idea, but pairing them is difficult. Here are 25 cute spring outfits with jeans to look great without any difficulty.
One of the easiest ways to dress during the spring is wearing a simple t-shirt with jeans. The dressing won't look overwhelmingly fashionable, but it will look decent enough for casual and formal gatherings.
If you're looking to make a fashion statement, however, you shouldn't take the easy way out. There are better ways to style a pair of jeans in the spring than with a simple t-shirt.
If you're not a fashion expert, I'm here for you. Here, you'll see 25 outfit ideas with jeans to help you look and feel your best during the spring.
Cute Spring Outfits with Jeans
1. Pleated Hands Pink Blouse with Ripped Skinny Jeans + Loafers + Handbag
As long as you're not showing up at work with the outfit, a pink blouse with pleated hands and ripped skinny jeans are all you need to look chic in the spring. Replace the ripped jeans with regular jeans and this becomes an excellent work outfit.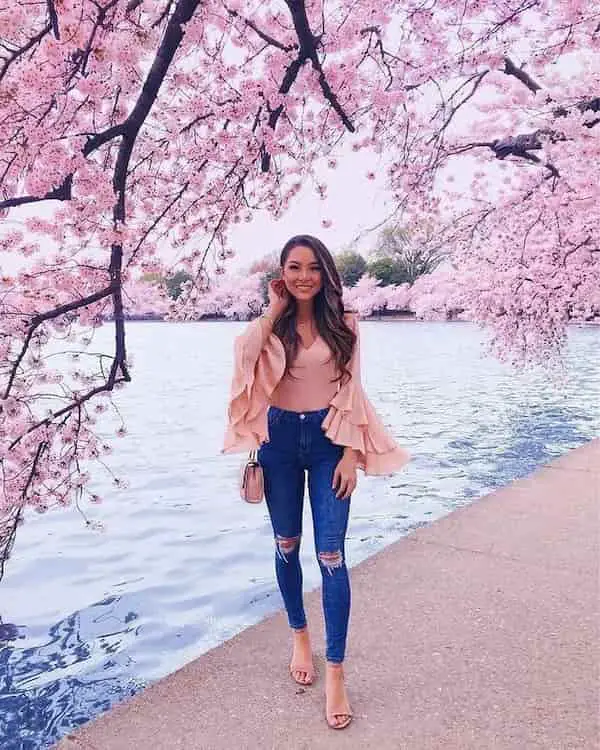 Who needs skinny jeans when you can make do with slightly loose straight leg jeans. The ripped pattern adds extra chicness that would be unnecessary if you're going for a formal look, as opposed to a chic one.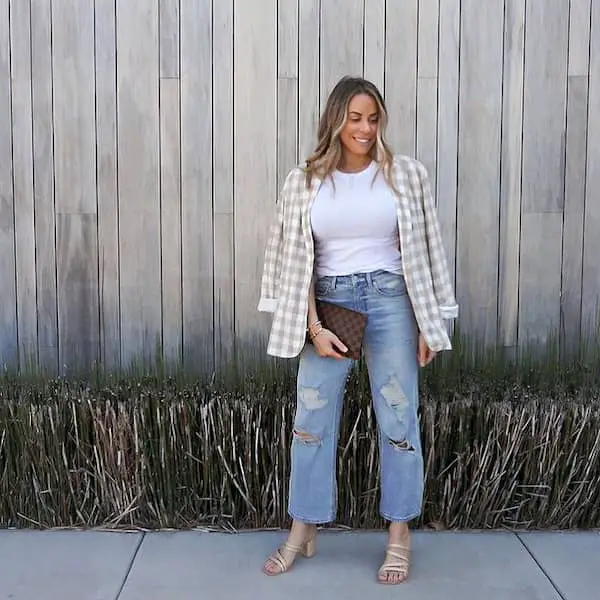 3. Off-shoulder Crop Top with Ripped Distressed Jeans + Heels
Showing up at parties with jeans mightn't be the best dress choice, but if you would, pairing it with a handless crop top is a great choice. A striking contrast between the top and your shoes will look just as good as it does here.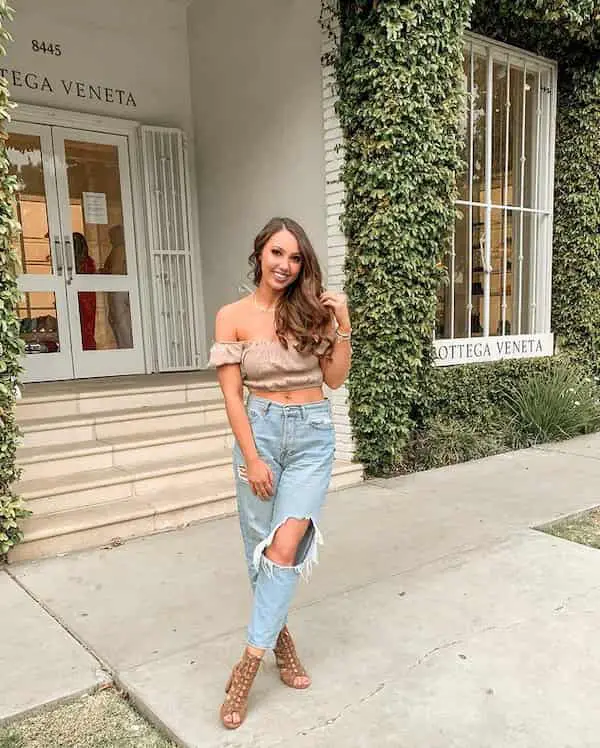 4. Cropped Blazers with High Waist Jeans + Heels
Who knew blazers could pass for the perfect top for a pair of jeans in some instances? While a cropped blazer isn't the world's most famous dress, it seems to pair well with jeans without an extra top.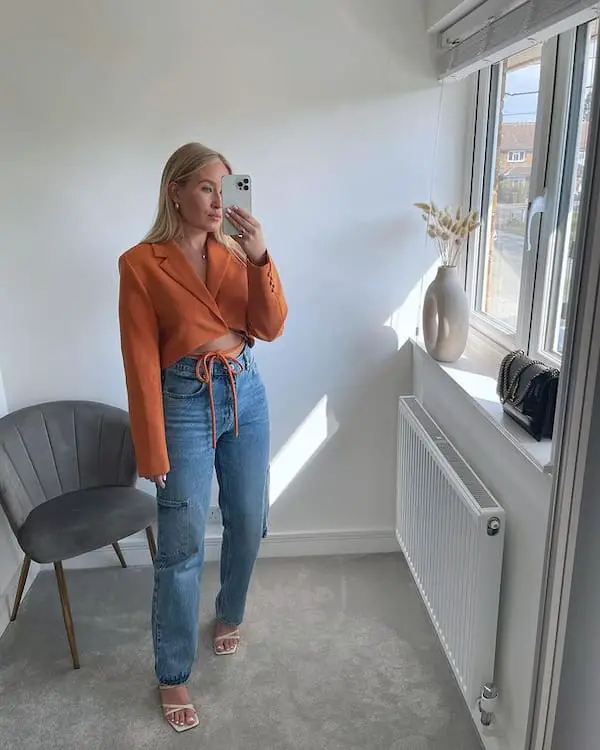 5. Floral Vest with High Waist Flared Jeans + Blazer + Heels + Handbag
A floral vest might be your best bet for Christmas parties, thanks to how lively they look. Take the model in the picture for instance, doesn't she look like an excellent candidate for a birthday celebrant?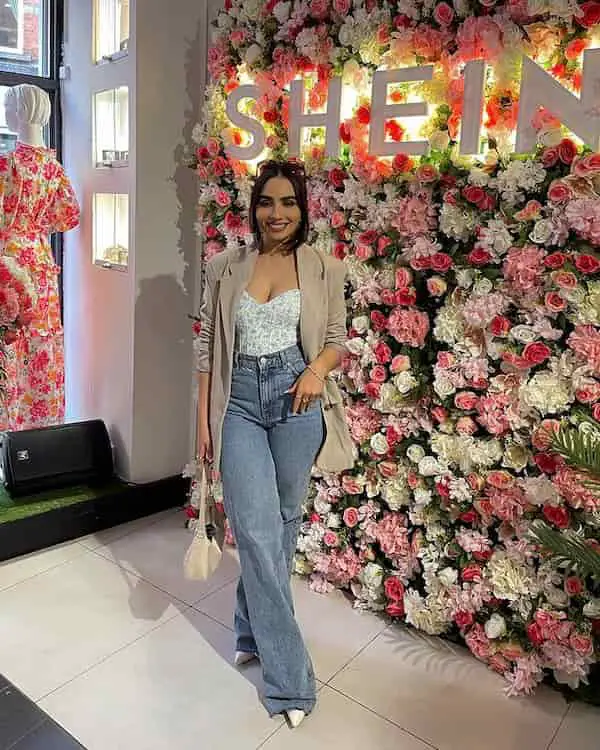 6. White Long Sleeve Shirt with Ripped Blue Jeans + Heels + Handbag + Sunglasses
Trying to meet up with the business casual dressing requirements of some restaurants can be a real pain. Why try to come up with something unique when this model has successfully depicted the idea of business casual?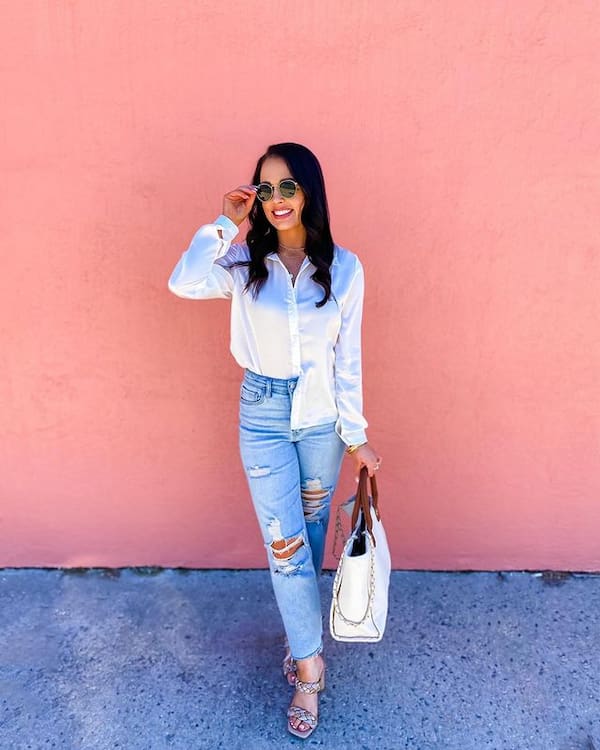 7. Beige Cardigan with Light Blue Crop Jeans + Loafers + Handbag + Sunglasses
Most of the outfits on this list feature ripped jeans, which are a no-no for most workplaces. If you're looking for an option that's both fancy and doesn't look boring, here's an idea. However, I doubt if you can match the synergy between her hair and the rest of the outfit.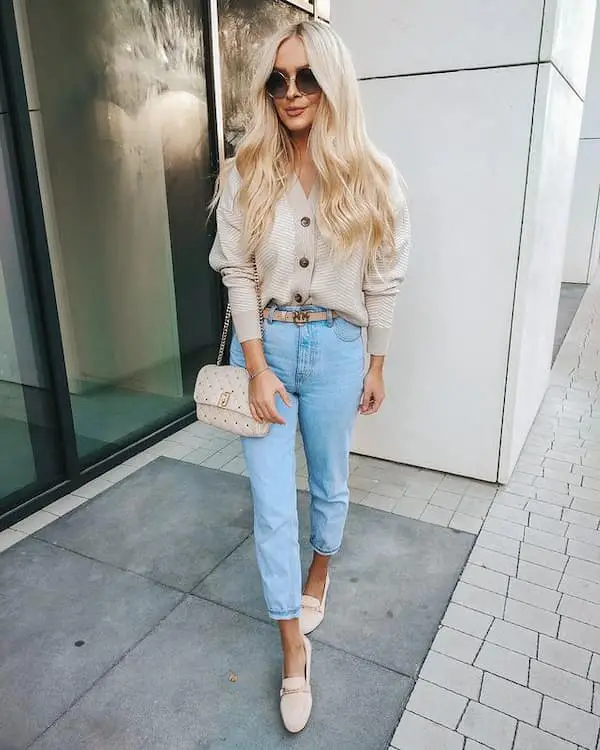 8. White Tank Top with Denim Jacket + Blue Jean Pants + Sneakers + Handbag + Sneakers
Going out to see the movies shouldn't have you worrying too much about what to wear. With this idea here, all you have to worry about is how interesting the movie will be; and it qualifies for work!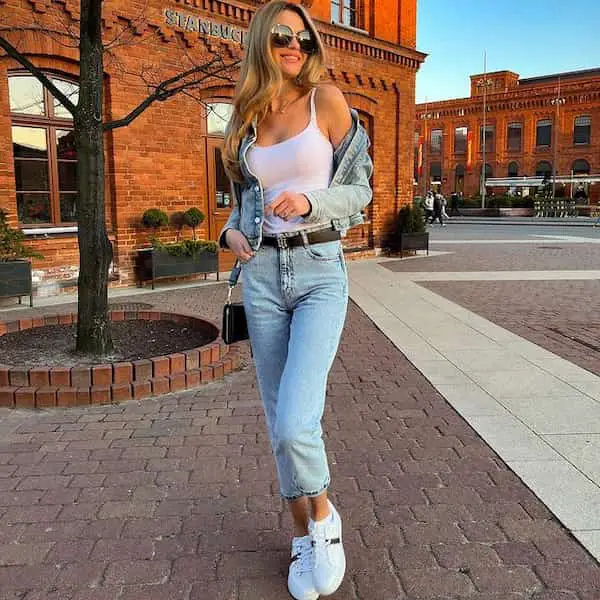 9. Neutral Colored Long Sleeve Blouse with High Waist Jeans + Heels + Handbag
There are only a few outfits that can pass for casual, fancy, and formal at the same time, and this is one of them. It becomes even more magical when you try to replicate it with black hair, as it matches your bag better.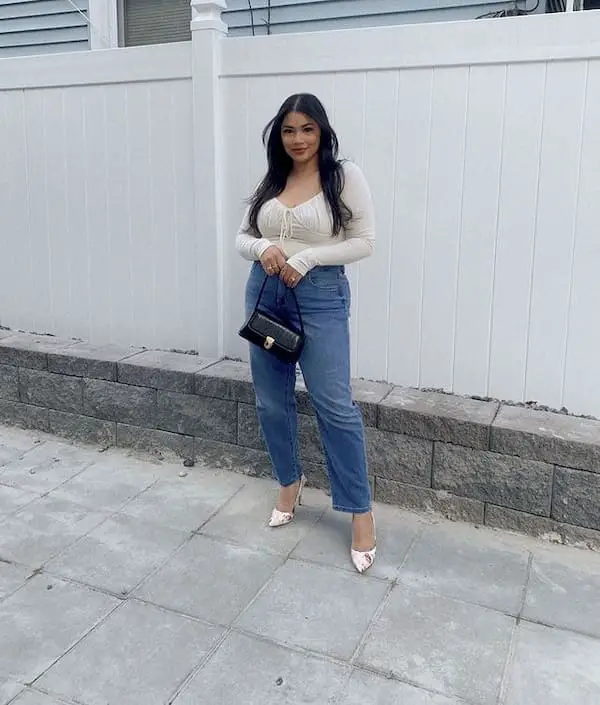 10. White Balloon Top with High Waist Blue Jeans + Mule Shoes + Handbag
Balloon Top dresses have recently been surging in popularity for being chic. It turns out that one of the best pants to wear with them is jeans, and the picture below proves that beyond doubt.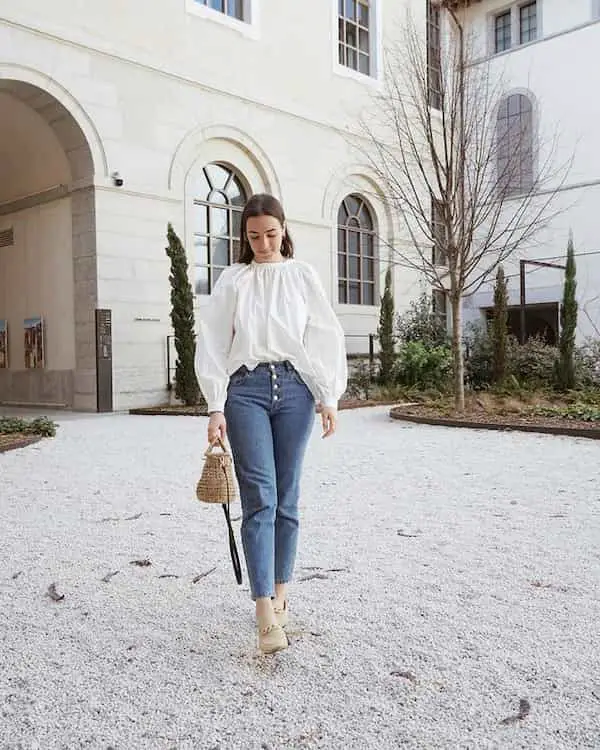 11. Black Top with High Waist Blue Jeans + Black Trench Coat + Converse Shoes
"Black is beautiful" becomes even more believable when you see this outfit. Who needs a floral dress when you can pair black and blue to make this calibre of dressing? Perfect for bosses and independent ladies.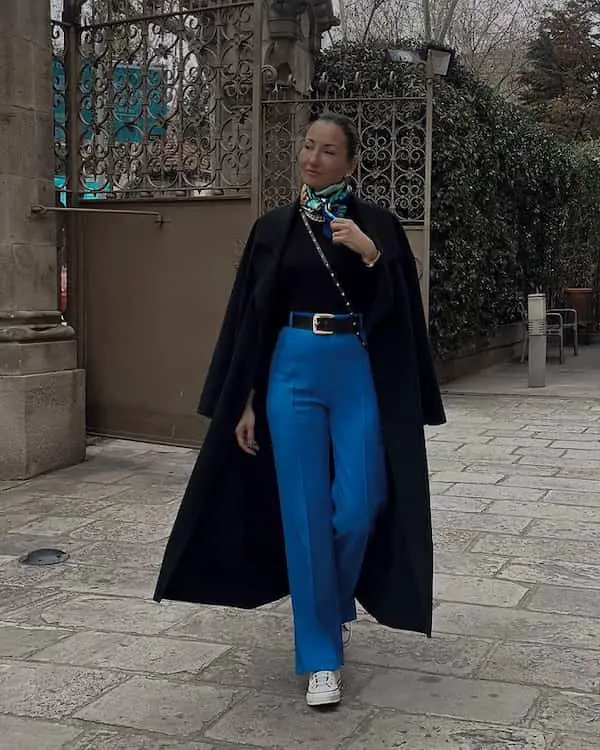 12. Tan Floral Top with Indigo Jeans with Brown Oversized Blazer + Muffle + Black Boots
A tank floral top and oversized blazer over a pair of regular indigo jeans is the perfect multipurpose outfit. It works in all instances, without exposing you to excessive cold or heat, all while looking great.
13. White Long Sleeve Shirt with Ripped Jeans + Heels + Cowboy Hat
This semi-cowgirl look is excellent for an outing, especially if you're going for a conservative outfit. It's not the perfect way to garner attention at a party, but it won't make you look ridiculous either.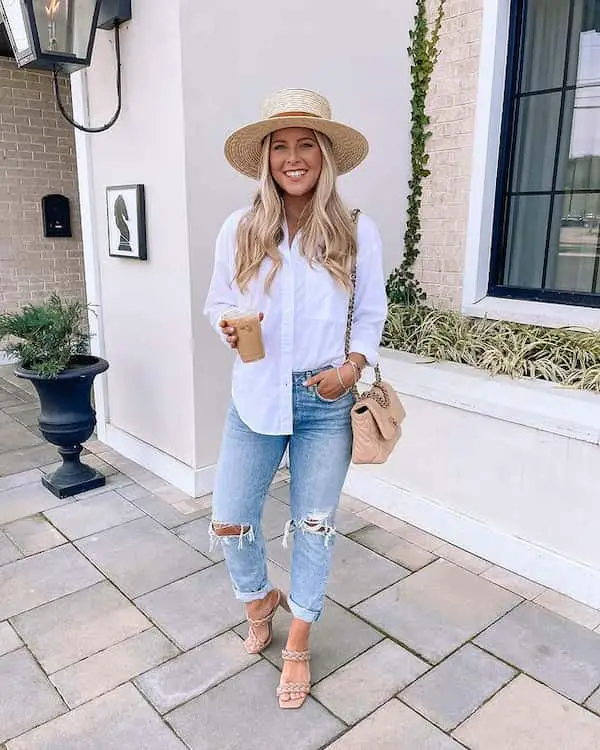 14. Tank Top with Deep Pink Blazer + Crop Ripped Jeans + Sneakers + Handbag + Sunglasses
Wearing a blazer over a tank top takes your dressing from overbearingly casual to the formal territory. Add a pair of cropped jeans and you'll be undecided as to whether this is an acceptable outfit for business gatherings.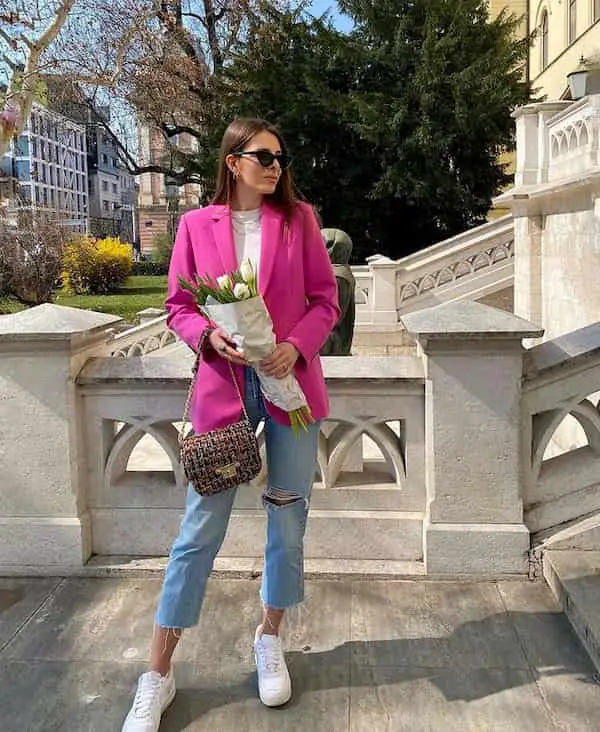 15. Crop Sweatshirt with High Waist Boyfriend Jeans + Boots + Handbag
Going to see a movie over the weekend? Here's an outfit you should try to replicate before then. It's simply the perfect way to dress casually without becoming overbearing.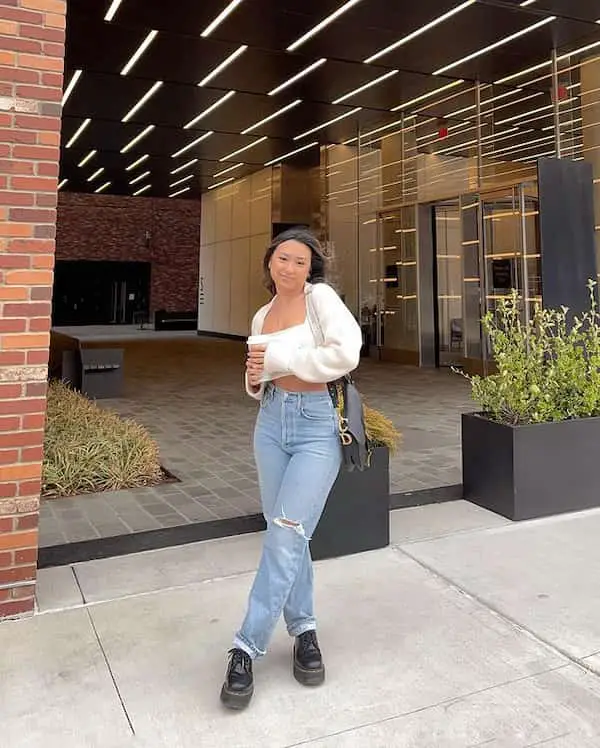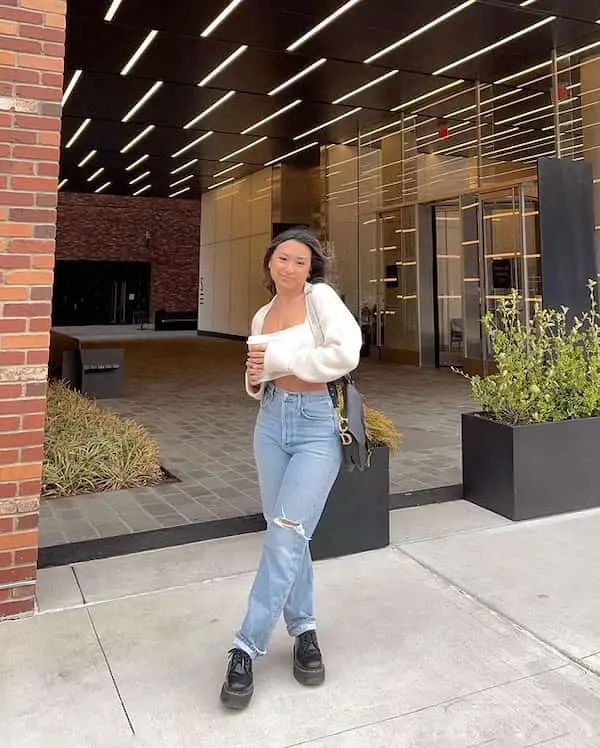 16. Crop Vest with High Waist Blue Jeans + Yellow Blazer + Heels + Handbag
The yellow and blue combination is a certain hit as many outfits have demonstrated in the past. Since jeans are usually blue, it doesn't seem far-fetched to pair them with a blue crop vest with a yellow blazer.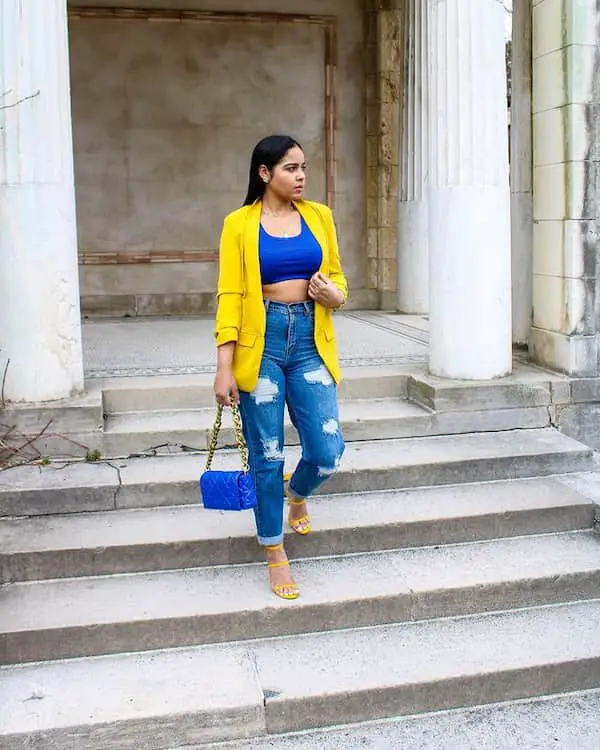 17. Line-Striped Top with Leather Jacket + Converse Shoes + Handbag + Sunglasses
For the most fashionable look, it's crucial to layer clothes intentionally. Here's a perfect way to later a striped top to ensure that it goes perfectly with your jeans. Also, there's nothing wrong if you show up to work this way.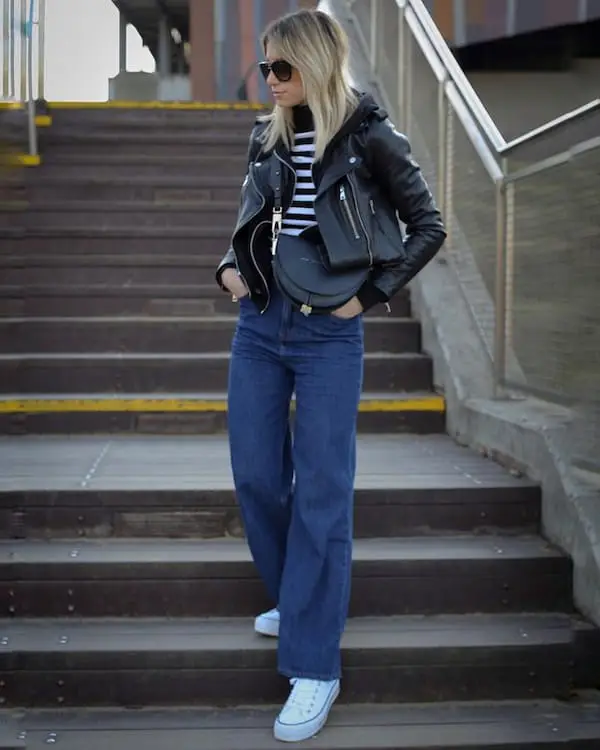 18. White Long Sleeve Button-Down Shirt with Blue Jeans + Boots
Being super casual doesn't usually go hand in hand with looking great, except in this scenario. With a white button-down shirt with blue jeans, you can have the perfect spring look.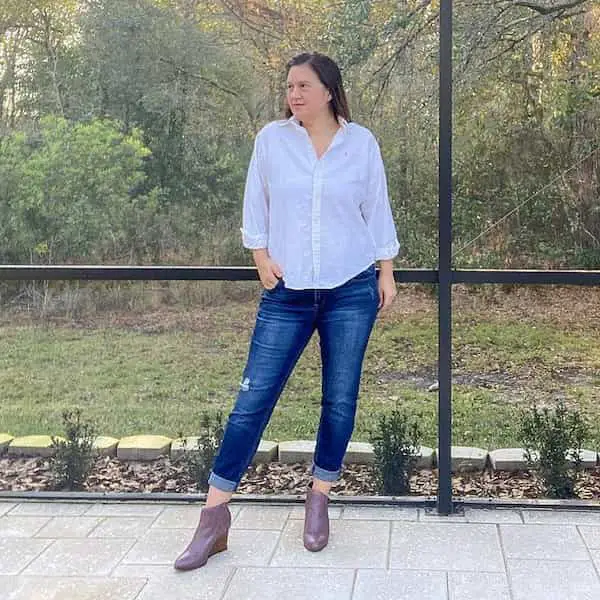 19. Light Green Top with High Waist Ripped Flared Jeans + Yellow Blazer + Heels + Handbag + Sunglasses
If a formal look isn't really a goal for your outfit, here is an excellent way to style jeans in the spring. Perfect for casual gatherings and outings to not-so-fancy places.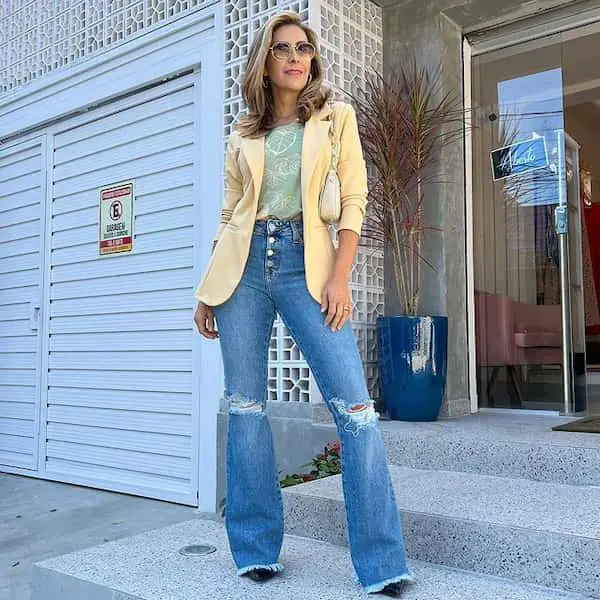 20. Leather Jacket with Distressed Jeans + Knee-High Boots
If you love all-black outfits, here's the best way to wear one in the spring without sacrificing your classy jeans. With black jeans, black knee-length boots, and a beautiful smile, you'll look just as chic as she does.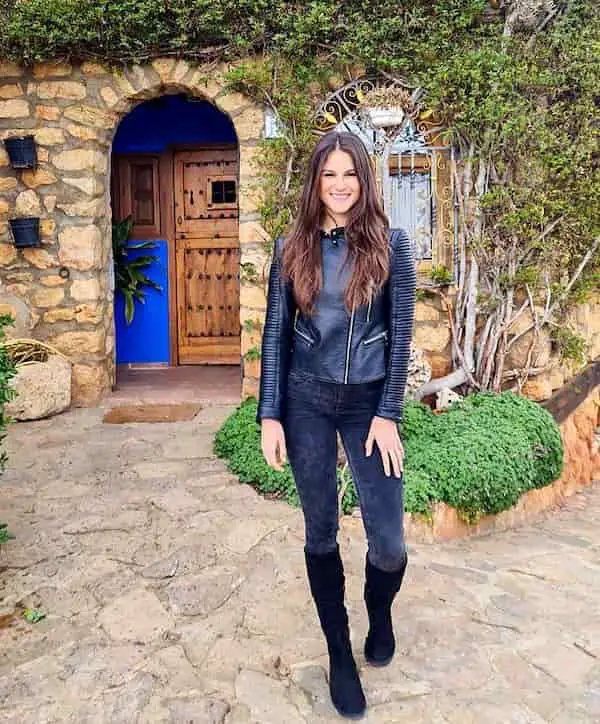 21. Vintage Button-Front Shirt with Sweat Jacket + Blue Jeans + Sandals + Bucket Hat + Handbag
If there was one thing that has been clear throughout the history of jeans, it was that they were meant to be worn as shirts. This model's excellent look should convince you if history fails to do so.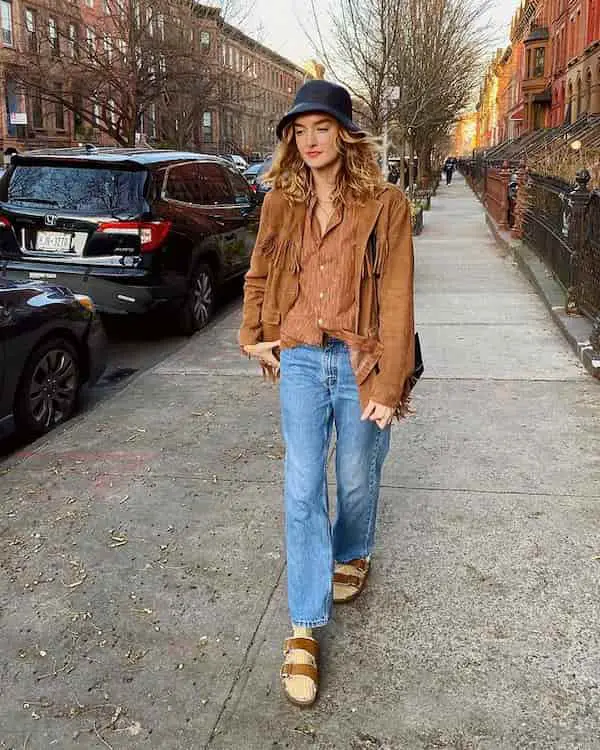 22. Distressed Jean Jacket with Distressed High Waist Jean Pant + Sneakers + Cowboy Hat + Handbag
What's more cohesive than pairing jean pants with a jean jacket? To look just like her, consider matching the color of the hat and the handbag, just as demonstrated in the picture.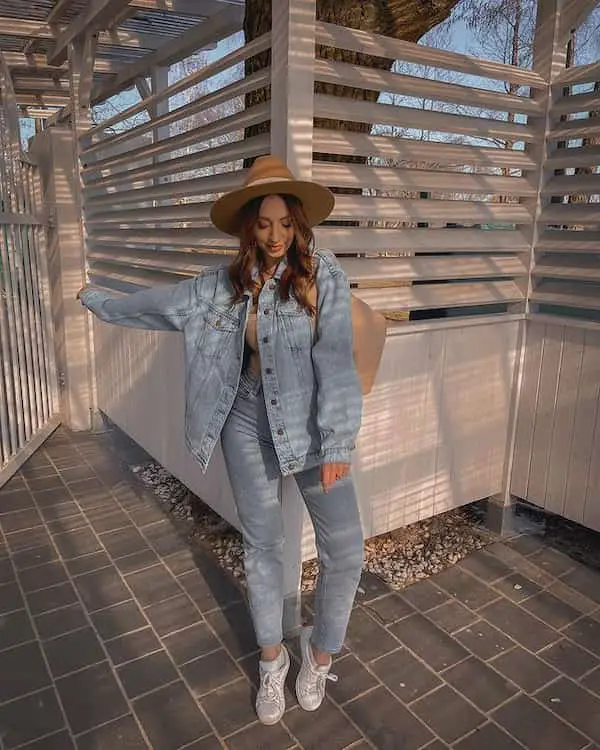 23. White Long Sleeve Shirt with High Waist Black Jeans + Sneakers + Handbag
On cooler days, you may want a knit sweatshirt over a long sleeve shirt to keep out the cold. Add waist jeans without any distress patterns and you'll have an outfit that's ready for work or play.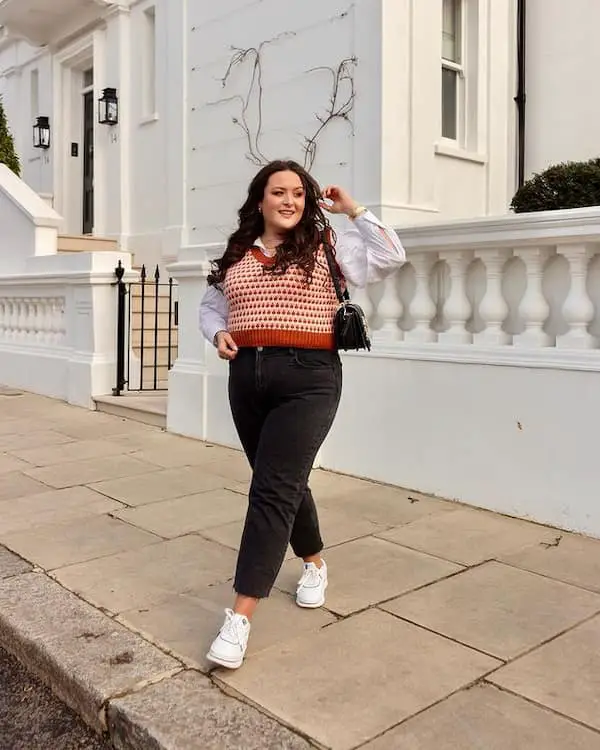 24. Vintage Sweat Shirt with Moms Black Jeans + White Sneakers + Sunglasses
Jeans don't have to be blue to be beautiful; this outfit idea drives that point home. The colors, although many, come together to form a cohesive unit of a business casual outfit for the average fashionista.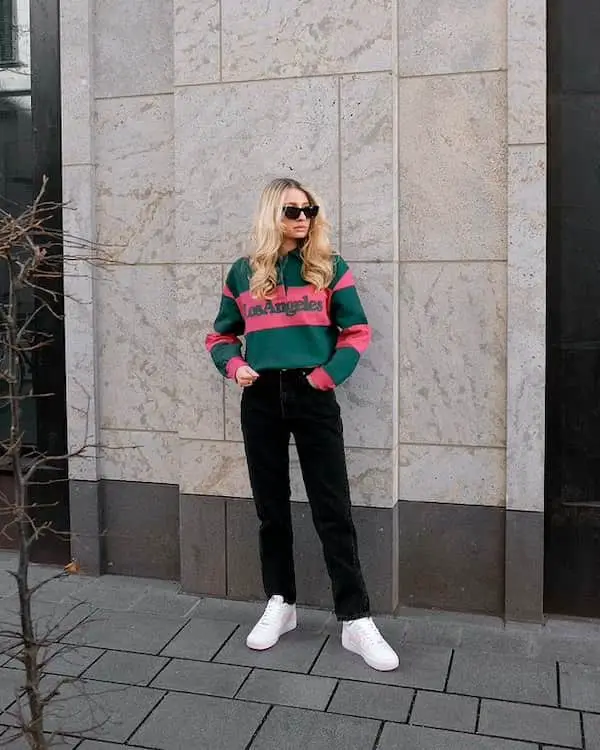 25. Black Top with Black Jeans + Oversized Flannel + Boots + Handbag + Sunglasses
And finally, something to help you look bossy at work. The black top, black jeans, and black patterned flannel come together to give a professional outlook without compromising on the chicness of the outfit; simply the best formal attire on this list.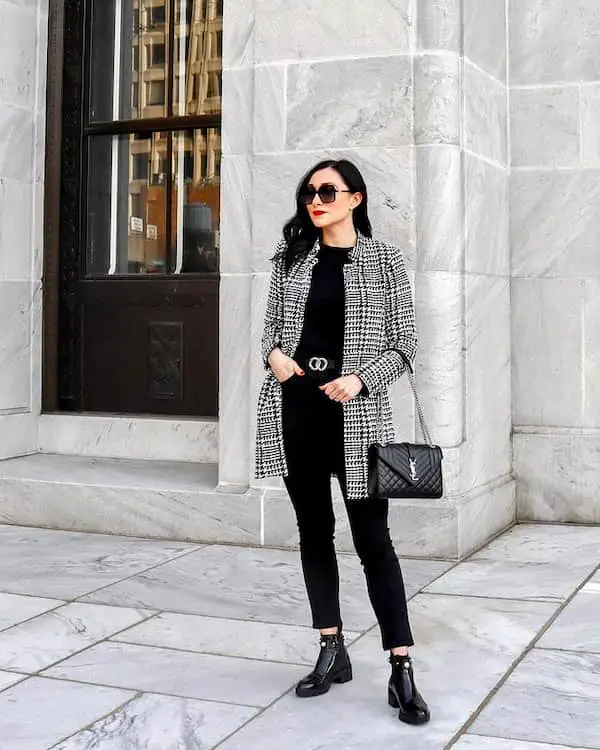 And that's all for my post on the best spring outfits with jeans. Want some more outfit ideas? Then you might want to check out these blog posts.
I hope you enjoyed this piece of content. Do well to rate this post, and don't forget to share this outfit compilation with your friends.
See you with more exciting inspirations. Trust me; you wouldn't want to miss any of our upcoming outfits compilation, so make sure to follow us on Pinterest.
Pin for Later.