Are you in search of inspiration on what to wear with a sleeveless jumpsuit? Then you're in the right place.
Jumpsuits are one kind of fashion clothing that is comfortable and beautiful no matter how you decide to style it.
It is usually sewed in different styles, colors, and patterns, and designs. You can never get enough of it. But in this post, we'll go through with the sleeveless jumpsuit.
For my lovers of jumpsuits, If you're still beat around thinking of what accessories, clothes, or shoes to wear with any color sleeveless jumpsuit.
Then make sure to scroll through all the 25 ideas. Trust me; you're going to love this compilation.
Sleeveless Jumpsuit Outfit Ideas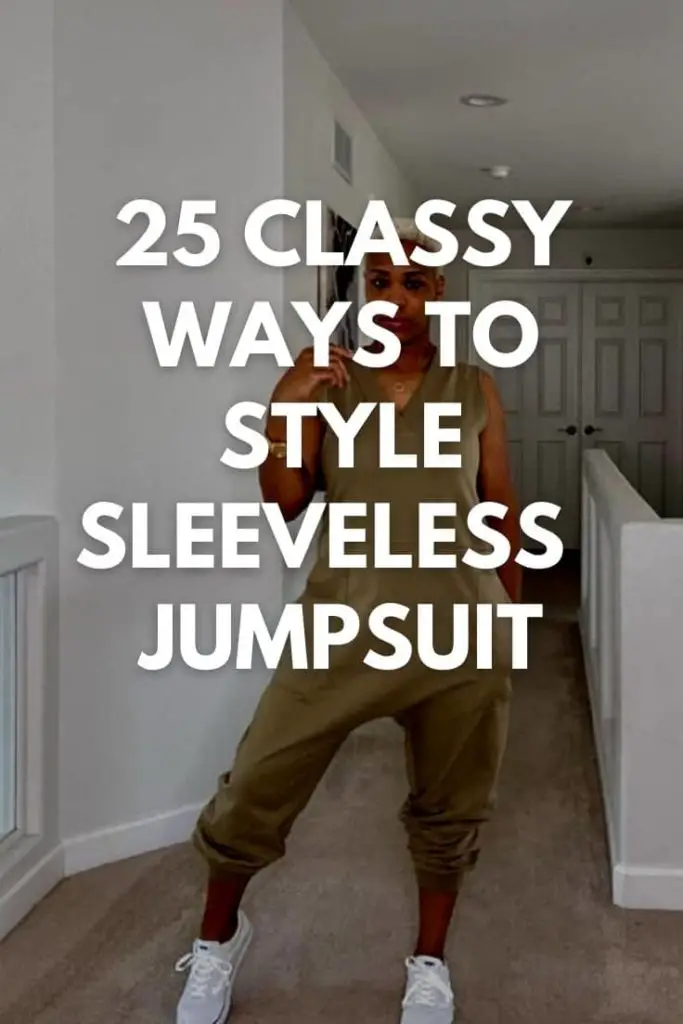 Before we continue, if you ever find yourself wanting to get a new set of jumpsuits; then I have a few recommendations for you; they are my favorite, top picks and they are also the best selling and most durable jumpsuits you can ever find;
Casual Loose Sleeveless Beam Foot Elastic Waist Jumpsuit Romper with Pockets (Check Price)
PRETTY GARDEN Women's Causal Tank Jumpsuits Sleeveless Drawstring Elastic Waist (Check Price)
Spaghetti Strap Sleeveless Jumpsuit (Get Quality Fabrics and Save 10%)
Now,
Here's my gallery of the best outfit ideas on what to wear with a sleeveless jumpsuit;
1. Black Sleeveless Jumpsuit with Sandals and Hat
There is no better way to look great and all beautiful on a summer weekend than this. This black jumpsuit is a very good choice for fair complexion ladies.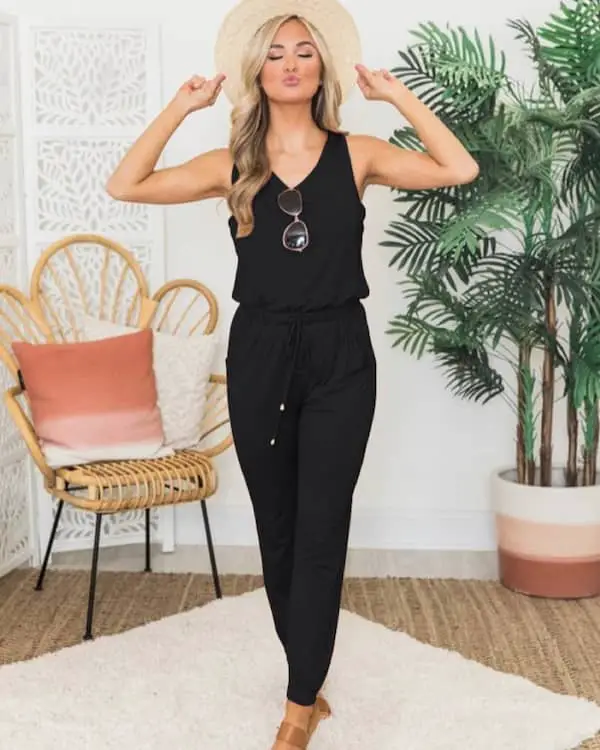 2. Sleeveless Jumpsuit with White Turtle-Neck Long Sleeve Shirt and Loafers
Even though I am not a fan of white dresses, I have always liked turtle neck shirts with long or short sleeves. So why will I not add this idea to my list?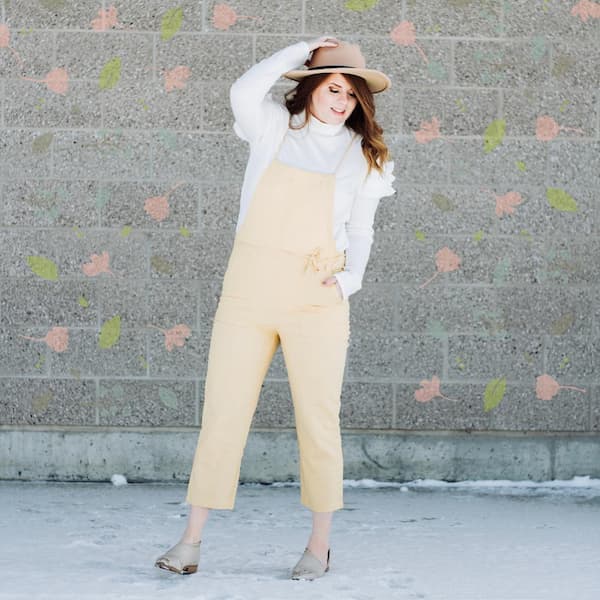 3. Joey Blue Sleeveless Jumpsuit with Trainers
The Pinstripe Jumpsuit is so comfortable with a gorgeous shape. You can wear it with the belt for a body-shaped look and without it for an oversized look.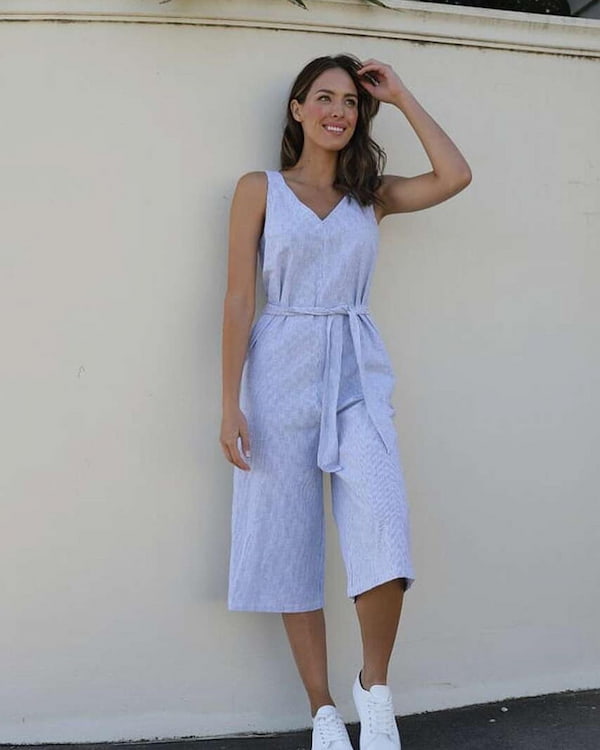 4. Red Sleeveless Jumpsuit with Heel Shoes
You can wear this outfit while going for an exclusive dinner night in a 5-star restaurant. It gives you that elegant outlook you desire.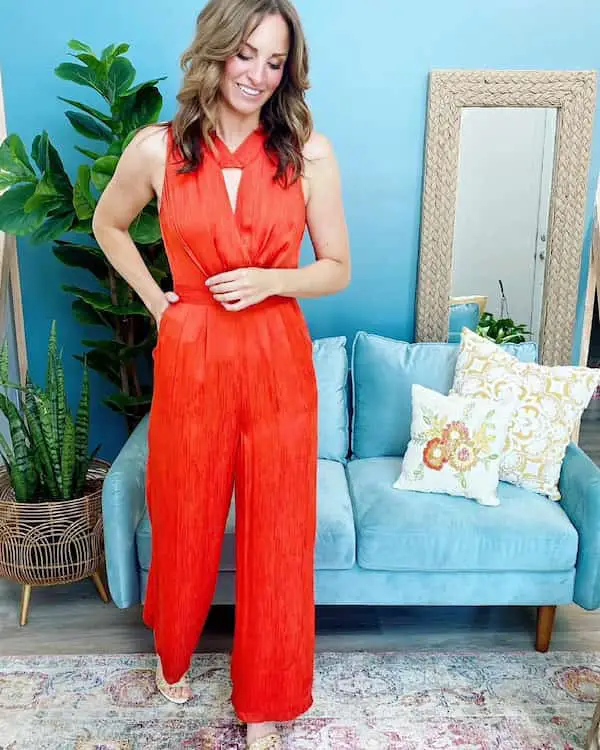 5. Wrap Belted Sleeveless Jumpsuit with Heels and Purse
For style, beauty and elegance, this wrap belted sleeveless Jumpsuit got you covered. You can wear it to city parties and music shows.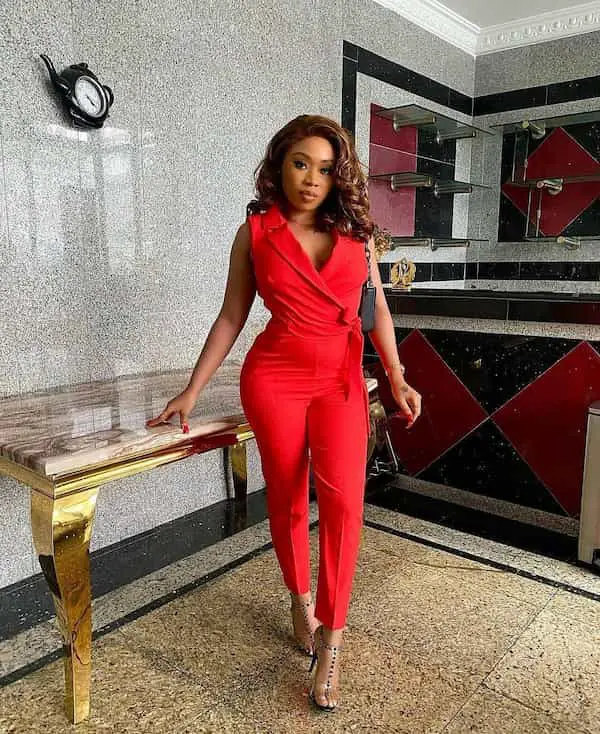 6.  Baggy Floral Sleeveless Jumpsuit with Pumps
This Jumpsuit outfit is a good inspiration for my ladies who love having some free space when they dress. It is free within and beautiful.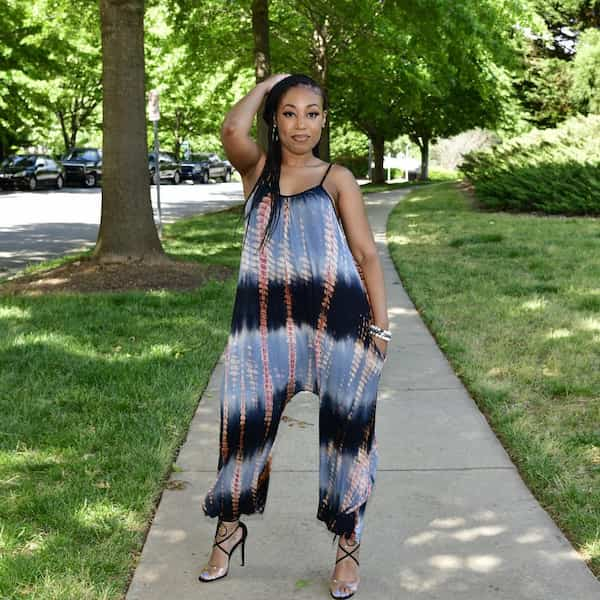 7. Silky Floral Blue Sleeveless Jumpsuit with Mid Heels
Silky Jumpsuits like this are made for summer date nights. If you want your man to see you and fall in love all over again, try out this outfit.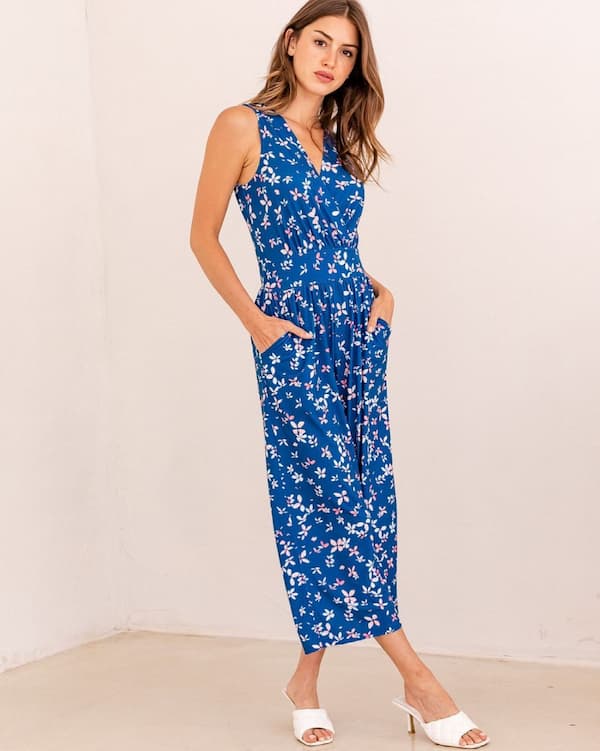 8. Crema Sleeveless Jumpsuit with Trainers
A Perfect jumpsuit for an exciting sporting day!! Looking for a jumpsuit to wear to the gym? This is a perfect choice, and I will suggest you try it out.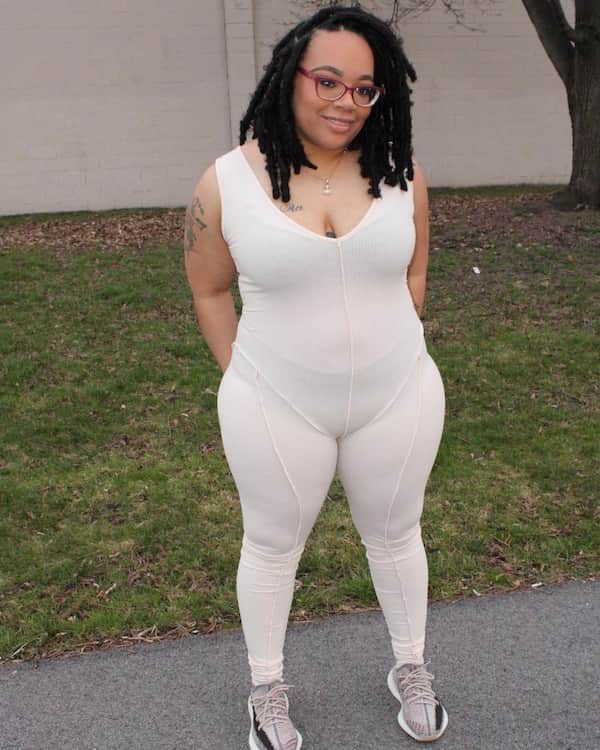 9. Atlanta Jumpsuit with Pocket and White Trainers + Bag
To keep it simple and calm, you need an outfit like this to resonate with your desire. Plus, wearing it makes you look younger.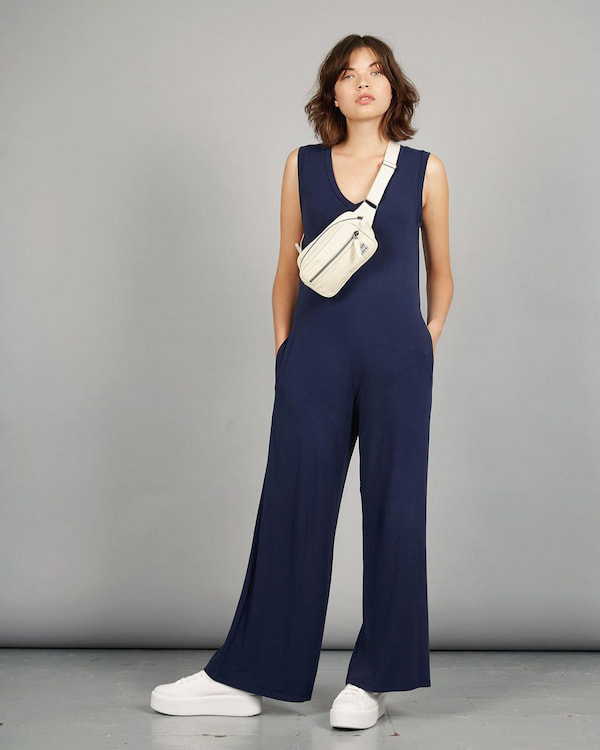 10. Polka Dot Sleeveless Jumpsuit with Heels
I think you can go with this Polka dot jumpsuit for those who love their jumpsuit to have dot touches.
11. Harem Sleeveless Jumpsuit with Heels, Hat and Belt + Sunglasses
This jumpsuit outfit is a good choice for traveling because of its super comfy nature. You can pair it with a denim vest for a different look. You can also rock it with our without a belt.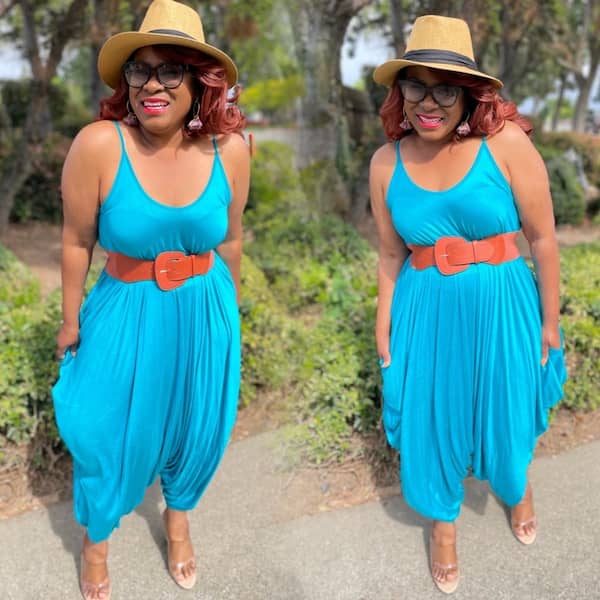 12. White Sleeveless Turtle Neck Jumpsuit with Heels and Bag
For a more angelic and relaxed outlook, this jumpsuit is a perfect choice. You can wear it to special occasions that warrant you to appear looking all pure and without blemishes.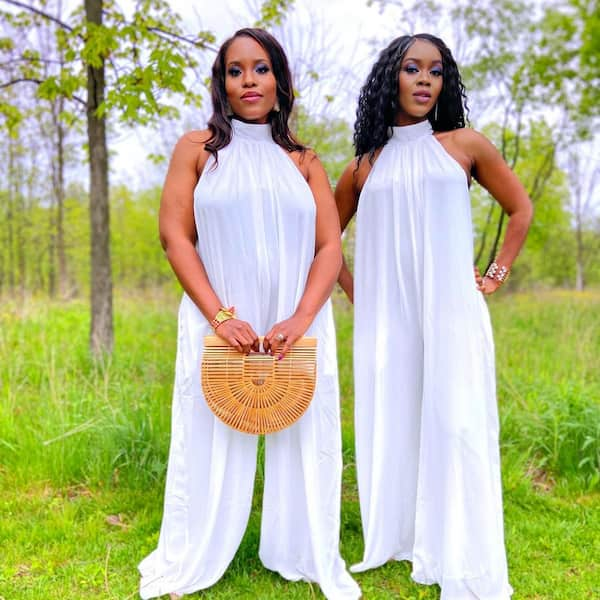 13. Halter Neck Sleeveless Jumpsuit with Sandals
For ladies that love skinny jumpsuits, this is a good choice. You can rock it during the summer times with a nice hat and sneakers.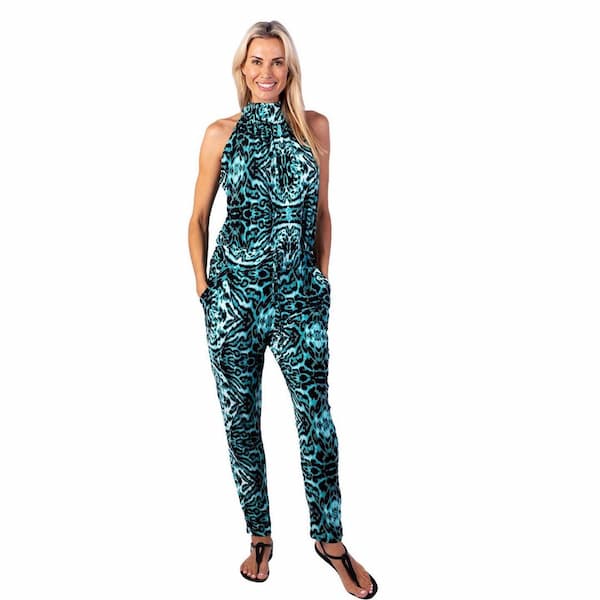 14. Striped Sleeveless Jumpsuit with Pumps
This Jumpsuit features a boat neck waist tie for a more flattering fit. These features make it a really good choice.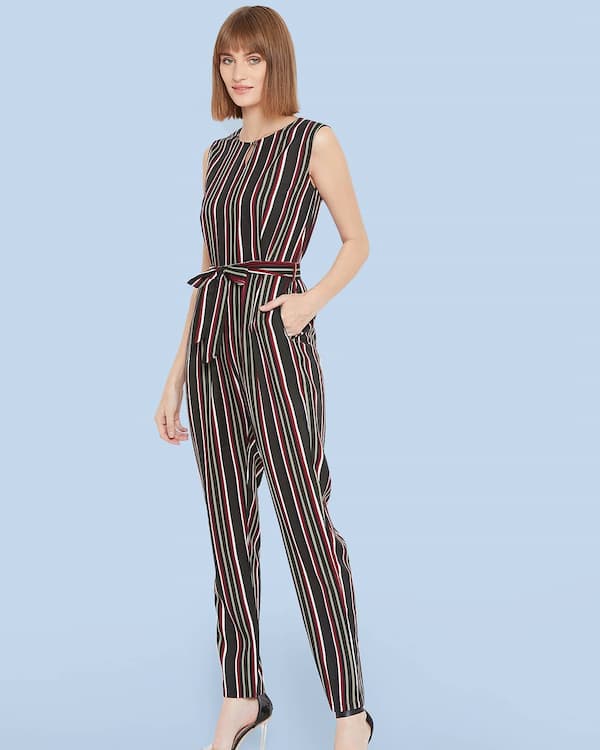 15. Black Sleeveless Jumpsuit with Denim Jacket and Slide Sandals
For a more calm, simple, and unique look, this Jumpsuit is a "bae." Most times you might find yourself deliberating on what to wear over a sleeveless Jumpsuit, I have an idea that you can effortlessly slay in any season of the year. Do you know one problem with Jumpsuit? It's when you want to pee.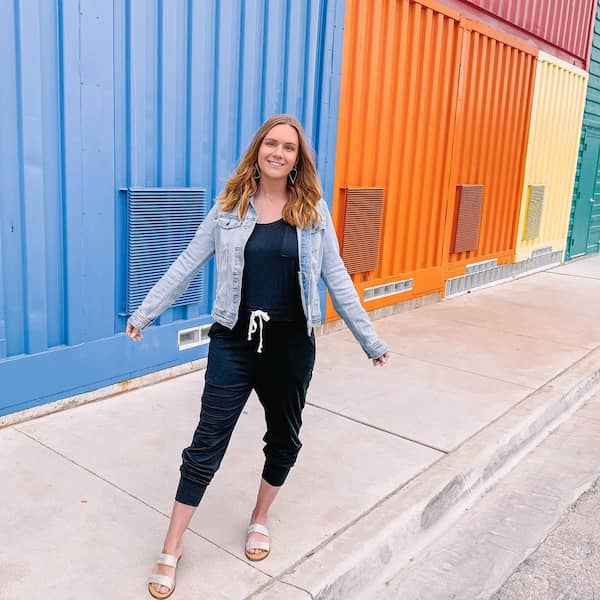 16. Khaki Sleeveless Jumpsuit with Sneakers
One good choice to make when picking a Jumpsuit for strolling. The comfy nature of this Jumpsuit makes you more relaxed as you walk around the neighborhood.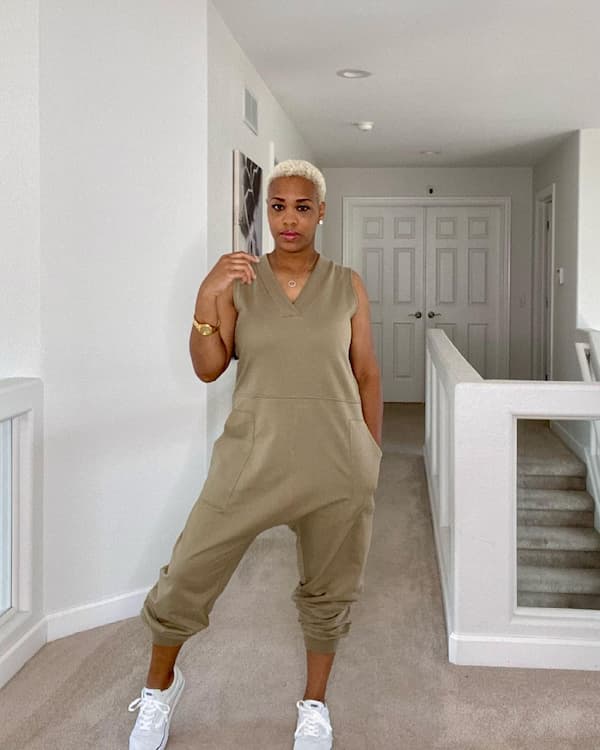 17. Creamy Colored Jumpsuit with Heel Shoes and Bag
This Jumpsuit outfit best fits my ladies who love to look serious and beautiful. You can pair it with a nice vest for a total corporate look.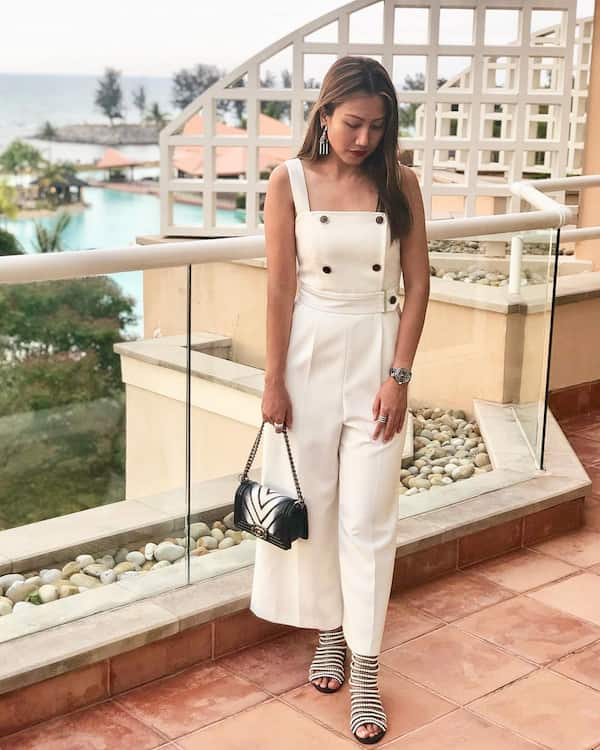 18. Jumpsuit with Cardigan and Heels
You can wear the jumpsuit without the cardigan to appear more sexy and hot and with the cardigan to look lively and more relaxed.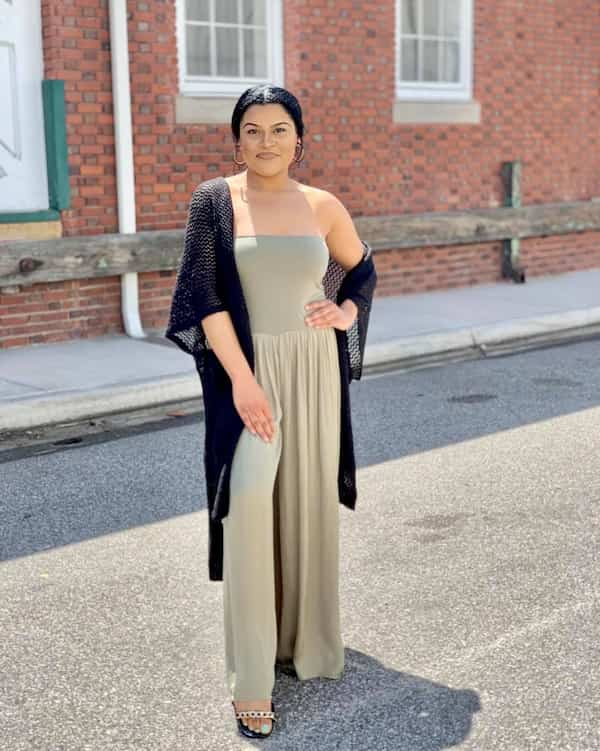 19. Sleeveless Jumpsuit with Blazer and Ankle High Boots
Looking for a Jumpsuit outfit idea for work? Then this inspiration will be your best bet. If you don't have boots, you can substitute the boots with a pair of heels.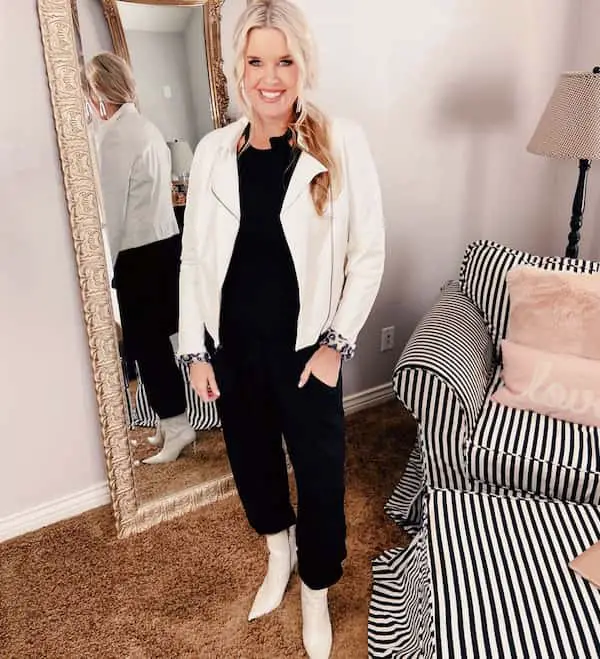 20. Sleeveless Jumpsuit Outfit for Women Over 40
As an older lady, you can comfortably rock your sleeveless Jumpsuit to any casual and classic city event.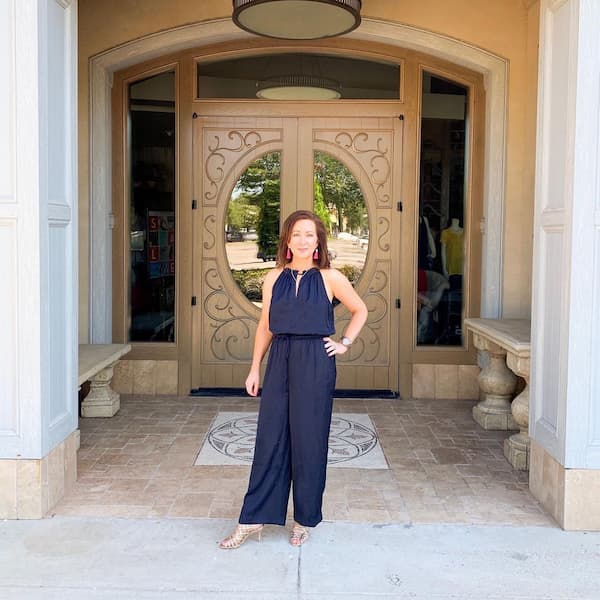 21. Jumpsuit with Pockets and Heels
This is what I call the official sleek and sophisticated Jumpsuit outfit for the boss ladies. For work and executive meetings, you can pair it up with leather vests.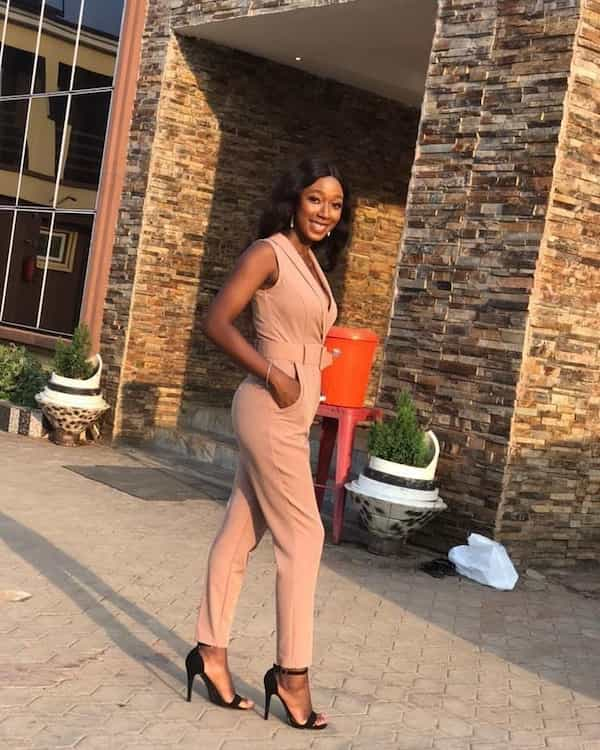 22. Red Sleeveless Jumpsuit with Chic Bag and Heels
You can get this lovely red jumpsuit ready for your valentine's night date with your partner. It will be so beautiful.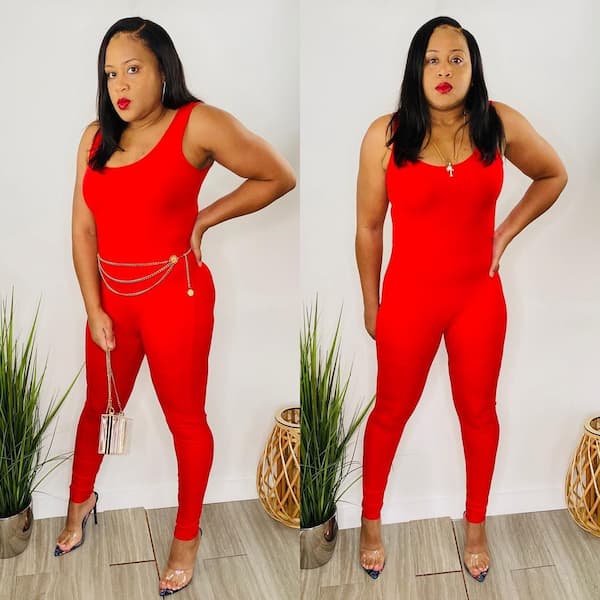 23. Jumpsuit with Heels and Bag + Sunglasses
This beautiful comfy jumpsuit with its pockets makes it a good choice for vacations and sightseeing.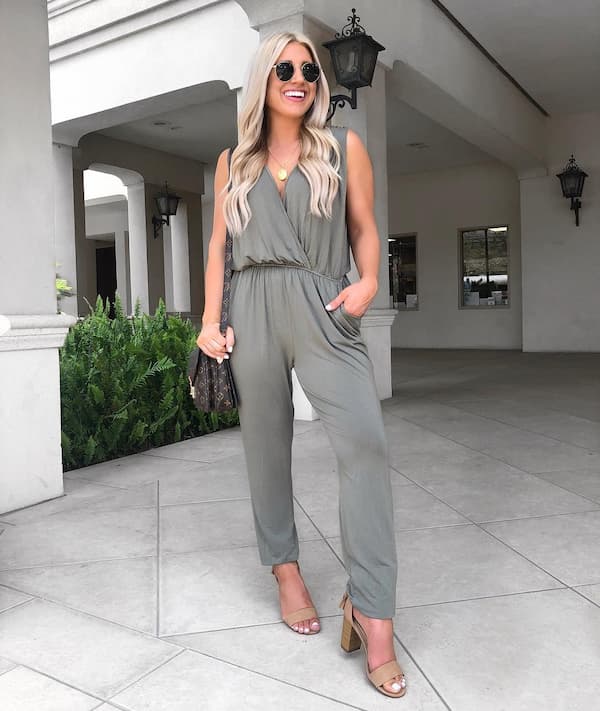 As a plus-size lady, you can slay with your sleeveless jumpsuit effortlessly. Pairing with sunglasses will go a long way to spice up your look.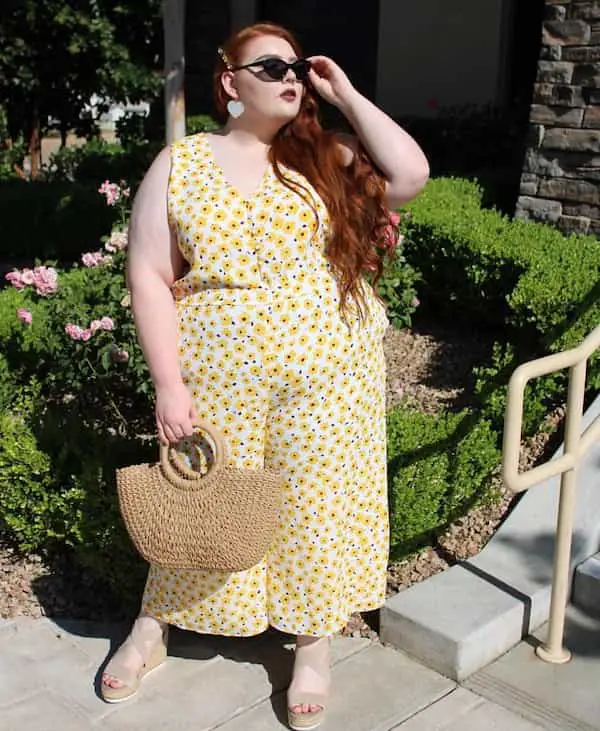 25. Black Sleeveless Jumpsuit with Heels
For a lady that loves keeping it down and simple, you can try out this outfit. With a leather vest on, you can wear it to work.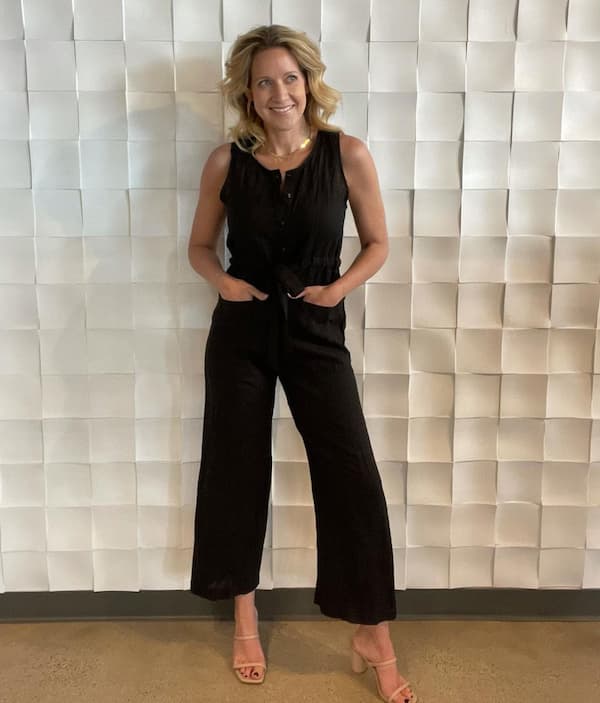 And this is all I got for sleeveless jumpsuit outfit ideas. Want some more outfit ideas? Check out these blog posts.
I hope you enjoyed this piece. Do well to rate this post, and don't forget to share this article with your friends.
See you with more exciting inspirations. Trust me; you wouldn't want to miss any of our upcoming outfit compilations, so make sure to follow us on Pinterest.