As a classy lady, it's crucial to look classy when doing anything, including riding a bike. Here are some adorable styles for female motorcycle riders to help you achieve that.
Let's talk about styles for female motorcycle riders today- There is no doubt that the future is female! It is also apparent by the way females are quickly switching to motorcycles rather than contemporary cars.
With this shift, feminine riders are also focusing greatly on how to style themselves in order to achieve that street-athletic style. Riding a bike is a fun hobby for most women these days, specifically those who like to remain active and on the go.
Whenever we talk about female riders, the first key clothing item that comes to mind is women's leather motorcycle jacket. You cannot be a true biker if you do not own this significant piece of garment! However, this is not it; every biker needs a proper guide that details the timeless style of female motorcycle riders. This blog is just about that, giving you thorough info on how to style your biker self and show your personality in a unique manner!    
Let's Talk About Jackets First 
Many different kinds and varieties of styles are available for women's motorcycle jackets. Which kind of jacket you choose greatly depends on your taste and preference. Some of the most popular ones are highlighted below:  
1. Distressed Leather Jacket
Distressed leather jackets come in so many different colors and designs to choose from, such as dark brown, black, and olive. These jackets give off the rough-tough vibe that female riders aim to portray, and also look pretty classy! 
2. Leather Jacket With Side Zipper
Besides the front zipper, you have plenty of jackets available with side zippers, giving a bit of an exclusive look to your jacket. These are mostly quilted jackets made of different types of hides, particularly goatskin. Feminine riders who wish to wear loud colors should choose this style of jacket, as you can easily find it in colors like dark red, light blue, yellow, and even neon tones.    
3. Embellished Leather Jacket
Women's leather jackets are being highly customized and decorated due to their rising demand. Most women prefer to carry a gleaming and flashy look while riding a motorcycle, where embellished leather jackets fit the need. You have the option to choose from studded jackets, embroidered jackets, lower removable belts, fringes, vinyl decals, or printed and dyed ones. 
4. Suede Bomber Leather Jacket
Besides pure leather, suede bomber leather jackets are also pretty decent and attractive for a biker outfit. The good thing is, you can find plenty of colors with suede options, such as brown, green, navy, mocha, and beige. Suede bomber jackets are also very comfy and soft, providing you additional comfort while you go on a crazy motorcycle adventure.  
5. Mandarin Collar Leather Jacket
The lapel collar style continues to be a characteristic feature of biker jackets. However, due to constant changes in fashion trends, women riders are also preferring leather jackets with mandarin collars. It is a simpler version of a motorcycle jacket that minimalist females love to wear.  
Now Let's Discuss the Remaining Outfit 
One thing you must keep in mind while deciding on your biker outfit is that it should never be loose or baggy. You need optimum ease and fitting while riding a motorcycle due to the highs and lows of wind. While your motorcycle jacket meets 50% perfect of the styling criteria, let's discuss what to choose for the rest of the outfit.    
Protective Helmet, Of course
First things first, wear a sturdy, protective, and reliable helmet to avoid any collisions you may face. You can even think differently and choose a helmet with unique designs. You may find ones with decorative stickers, prints, stones, or the ones having customized ears.   
What to Wear Inside?
White t-shirt can never go wrong inside a biker leather jacket as being the definitive staple of style, you may even opt for a stylish cropped-top that comes in many attractive colors. Also, a ribbed vest in black, navy, or gray color also amps the punk aura most female riders crave for.  
Apart from these short-sleeved options, you can effortlessly wear a black turtleneck or fitted sweater that provides added fit and layering to your body. Tucked-in flannel shirts could also be a modern choice to be worn under a leather jacket. The bright colors of a flannel shirt highlight your stylized outlook and make it catchier! 
Two Options for Pants
While riding a motorcycle, you only have two options for pants. You can either opt for solid-colored denim jeans like black or navy, or you may choose shiny skin-fit leather pants to complement your jacket perfectly. 
Either way, you need to make sure your pants are not loose, especially from the hips and thighs. Loose pants with poor fit can downgrade your look instantly, regardless of how cool your remaining outfit is.  
Sturdy Chic Boots
You cannot ignore the fact that any other shoes besides boots cannot go well with a female motorcycle rider look. So, the only option you have is to wear firm boots with low heels. Although, you can play with colors and choose either a knee-length or long boots, totally depending on your level of comfort.   
Don't Forget Your Gloves!
Lastly, you definitely need armored riding gloves for maximum protection instead of basic leather gloves. Knuckle protection is crucial while riding a bike, which is provided by motorcycle gloves made of hard knuckles. They protect your hands from possible impact during accidents, so make sure you prioritize safety over style here. 
Outfit Styles for Female Motorcycle Riders
Here are some outfit ideas you might find inspiring.
1. Biker Jacket with Light Blue Jeans and Black Boots + Helmet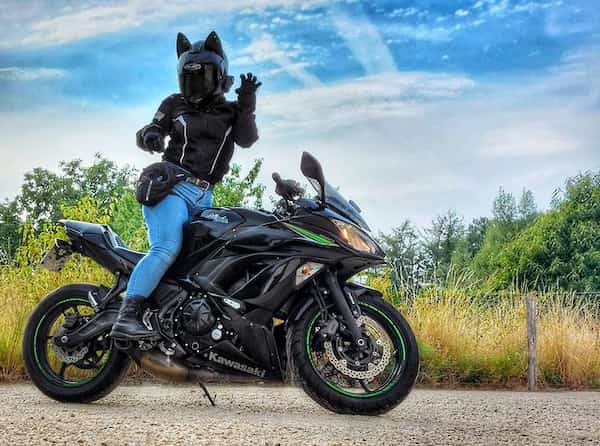 2. Black Jacket with Wheel Jumpsuit and Black Boots + Black Racer Helmet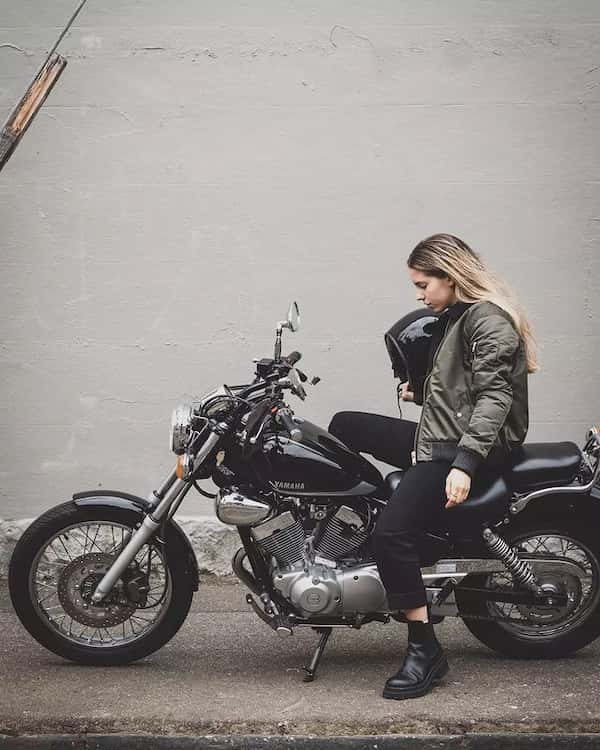 3. Biker Leather Jacket with Leather Pants and Boots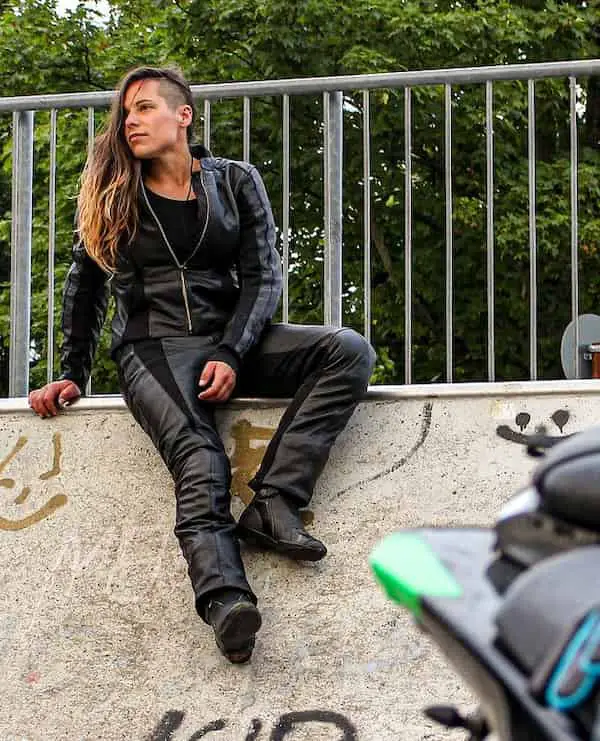 Conclusion
This was the easiest and most hip guide you can find about timeless style for female motorcycle riders. Biker outfit is not only about a motorcycle jacket, but you also need to equally focus on other clothing pieces to smartly carry the biker look. The whole persona of a feminine rider shouts a bewitching and dope individual willing to take on rocky quests. 
Besides the trendy clothes, you also need to focus on your safety and wear a suitable helmet and gloves. So, keep the above points in mind if you want to keep on rocking your sporty biker vibe, and thank us later! 
That's all for the best outfits for female riders. For similar ideas, here are some blog posts for you.
I hope you enjoyed this piece of content. Do well to rate this post, and don't forget to share this compilation with your friends.
See you with more exciting inspirations. Trust me; you wouldn't want to miss any of our upcoming outfit compilations, so make sure to follow us on Pinterest.
Pin for Later.