Dinners are hosted frequently during the summer because of the pleasant weather. Here are some summer dinner outfits to keep you ready for any invitations.
I love showing up for dinners during the summer for one reason: they're great opportunities to showcase your favorite outfits. A big dinner is looming, and you're afraid you don't know the correct wear for the occasion.
To help you make a decision, I compiled some of the best dinner outfits that I've seen. From there, you can choose what to wear to that summer dinner without looking ridiculous or borderline indecent.
Classy Summer Dinner Outfits You'll Love
1. Sleeveless Pink Dress with Heels + Handbag
A pink off-shoulder dress is an interesting dinner outfit that makes you look and feel cool. Add neutral heels and a cute handbag and you have one of the classiest summer dinner outfits ever.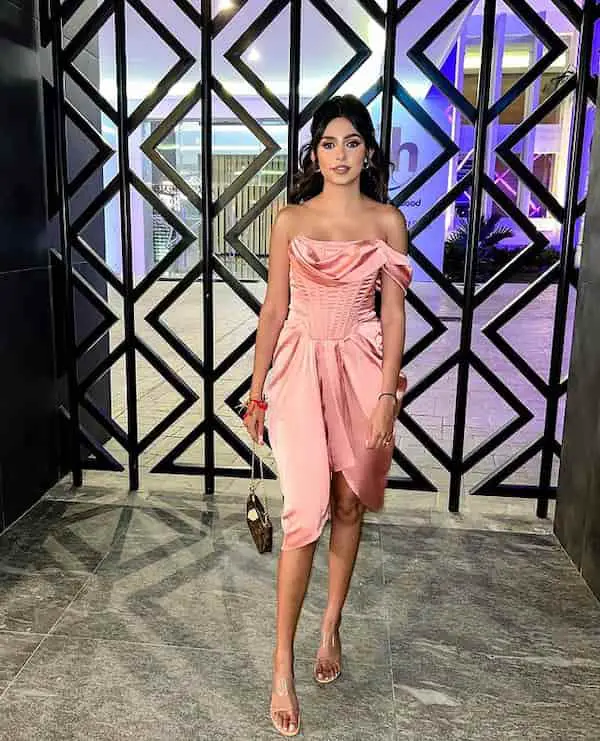 2. Green Long Sleeveless Striped Dress with Heels + Clutch
Sleeveless dresses always seem to be appropriate for dinner gatherings. Here's another outfit idea that you may want to consider if pink isn't one of your favorite colors.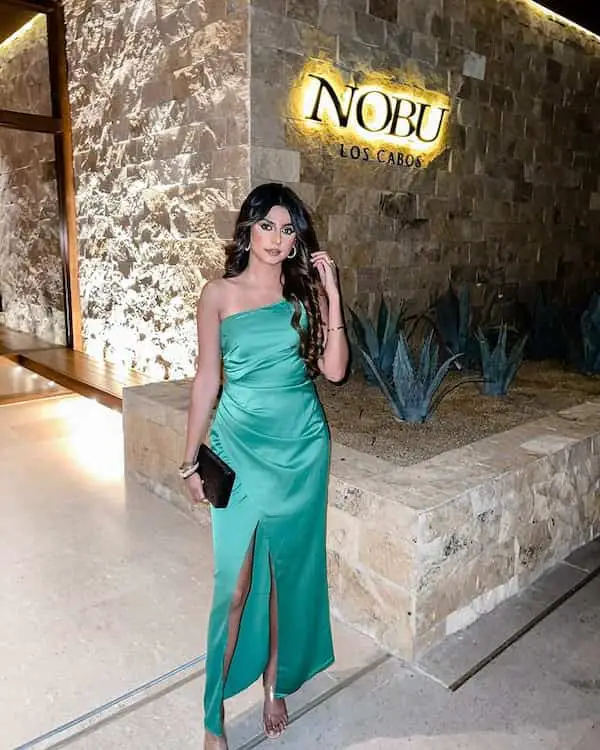 3. Red Floral Short Dress with Heels + Clutch bag
A red dress sounds like a smart idea for a dinner and it also makes you the center of attention. Replicating this outfit is a must unless you hate getting pleasant comments on your outfit.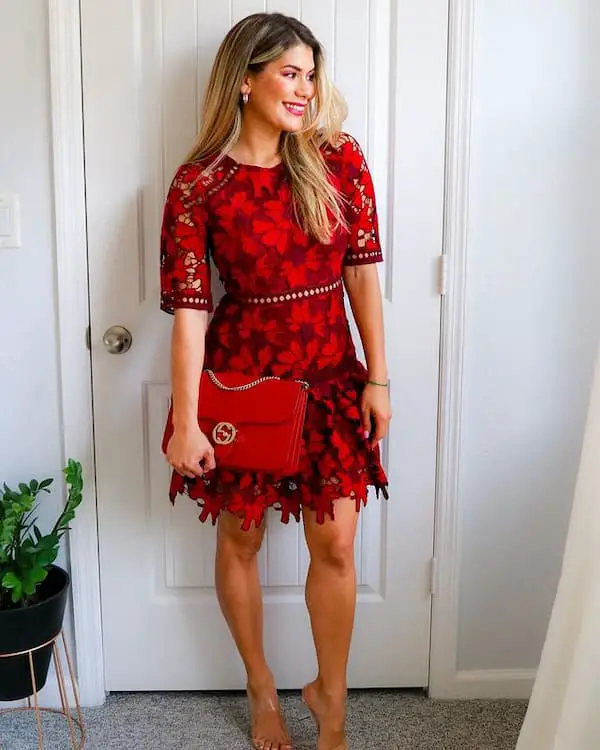 4. Black Top with High Waist Pants + Heels + Handbag + Sunglasses
You should try to be as comfortable as possible during dinner. In the summer, being comfortable is the same as wearing an outfit that keeps you cool, and that's what this is for.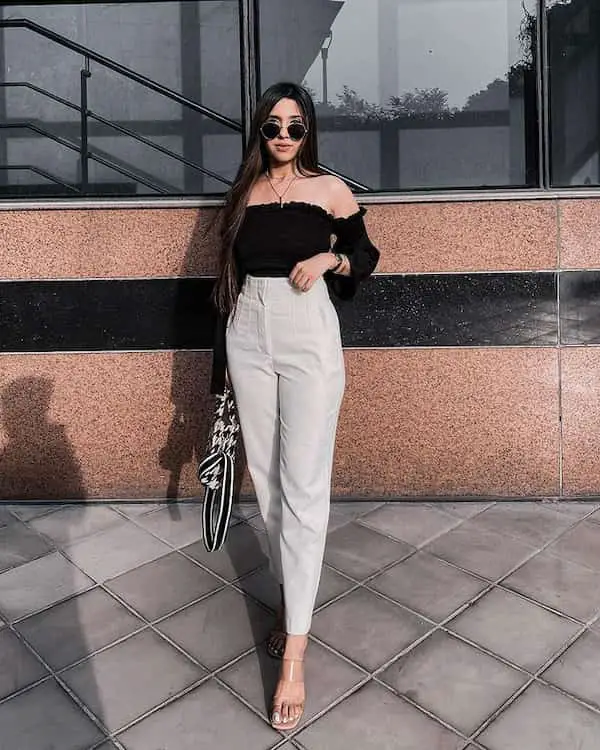 5. Black Tank Top with Yellow High Waist Skirt + Boots + Handbag
If a black and white outfit won't work for you, black and yellow is another chic option. You don't have to struggle with colors and everything looks cohesive and chic. The boots don't seem very comfortable tho, especially for a hot summer evening.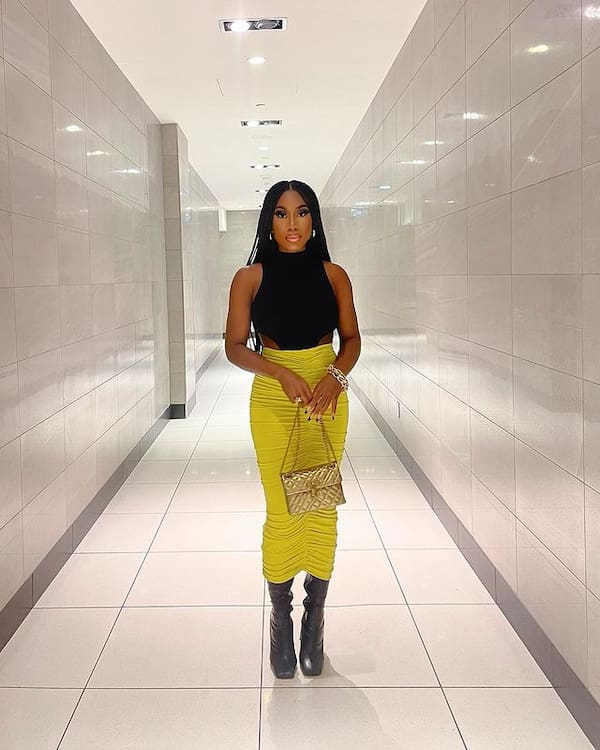 6. White Striped Dress with Heels
This outfit is enough proof that you don't need colorful combinations of skirts and tops to look elegant. Just a simple white dress with a pair of heels is enough to give you the chic dinner look.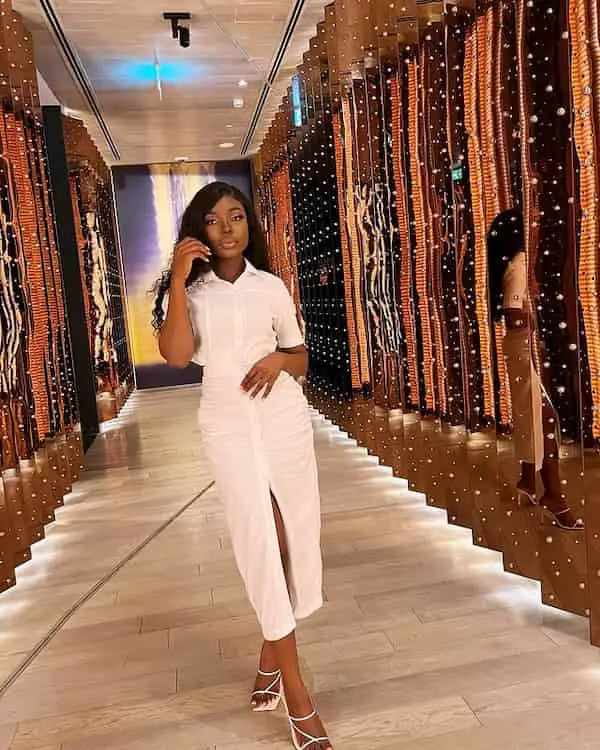 7. Black Long Dress with Heels + Clutch Bag
If you also believe a white dress doesn't fit for a dark dinner night, here's an alternative for you. Despite being in the opposite color, it's just as elegant as the white outfit above.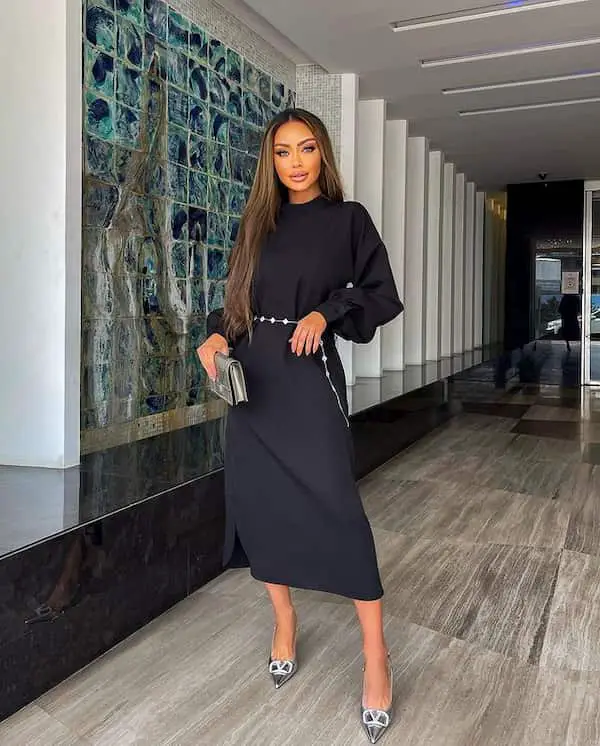 8. Floral Mini Dress with Heels + Handbag
Floral dresses can work for anything if it's not related to sports or athletics. Since nobody runs at dinner, this outfit idea is actually one of the most elegant summer dinner outfits to try.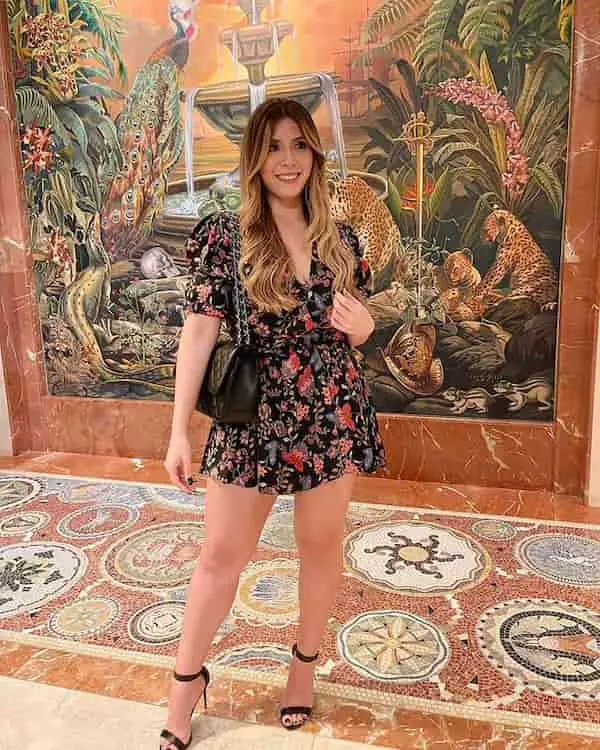 9. Red Long Dress with Heels
If you're hosting the dinner, you want to look incredibly chic while drawing some attention to yourself. Thanks to the natural qualities of the color red, there's no better way to do that than a red dress.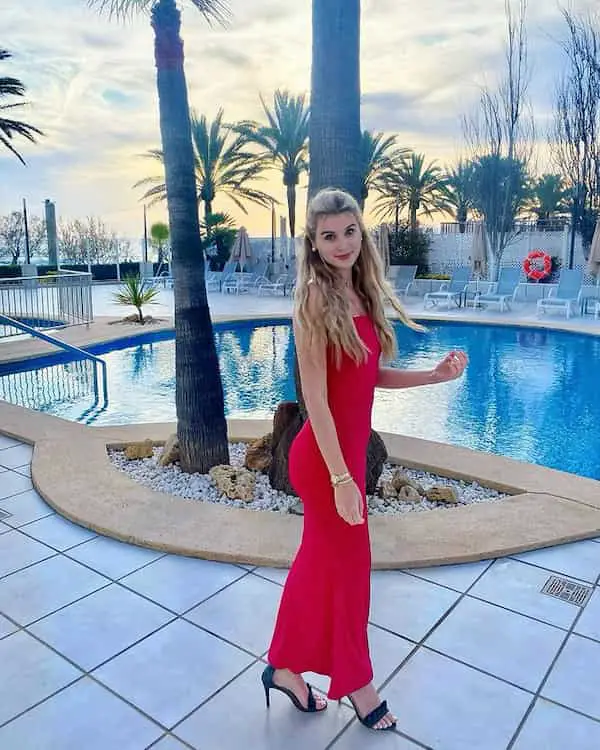 10. Spaghetti Hands Silver Dress with Heels + Handbag
One of the primary goals when dressing for dinner in the summer is to keep yourself cool. There's nothing that keeps you cooler than a short spaghetti hands dress, and this specific pattern also makes you look awesome.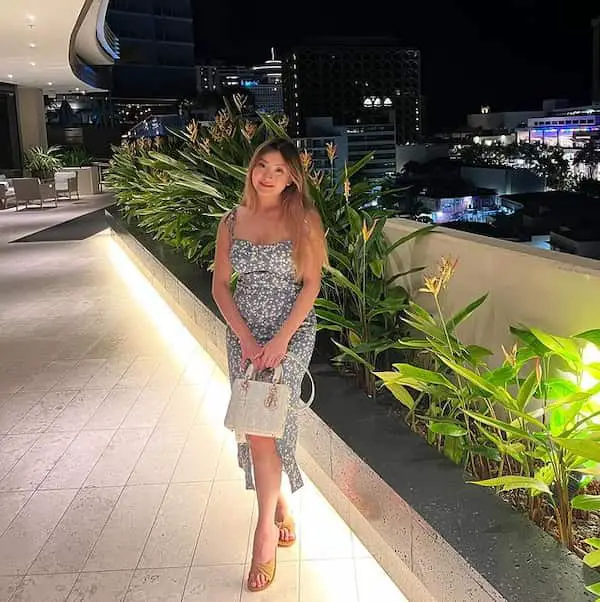 11. Pink Short Dress with Heels + Handbag
If you're not very comfortable with a spaghetti hands dress, you can choose a random short sleeve dress. While it won't keep you as cool, it won't cook you either, plus the pink color is just classy.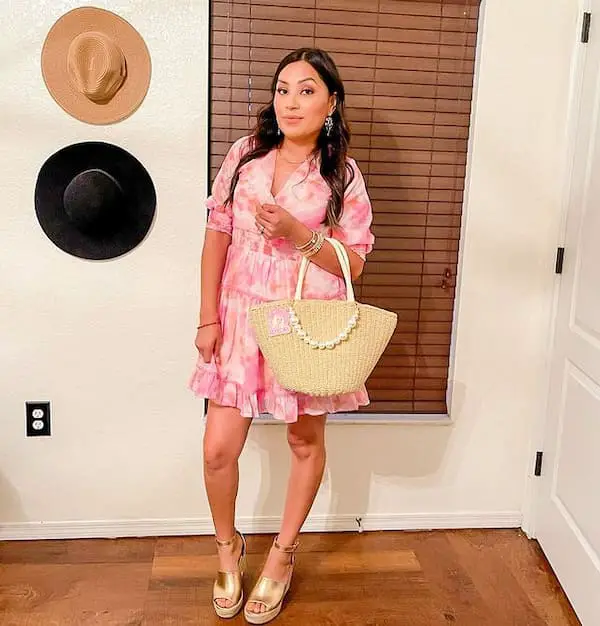 12. Spaghetti Hands Black Dress with Heels + Clutch Bag
If spaghetti-hands dresses are your thing, but not floral patterns, here's an idea. The all-black outfit seems like a good idea for a dinner or a night out due to its alluring look.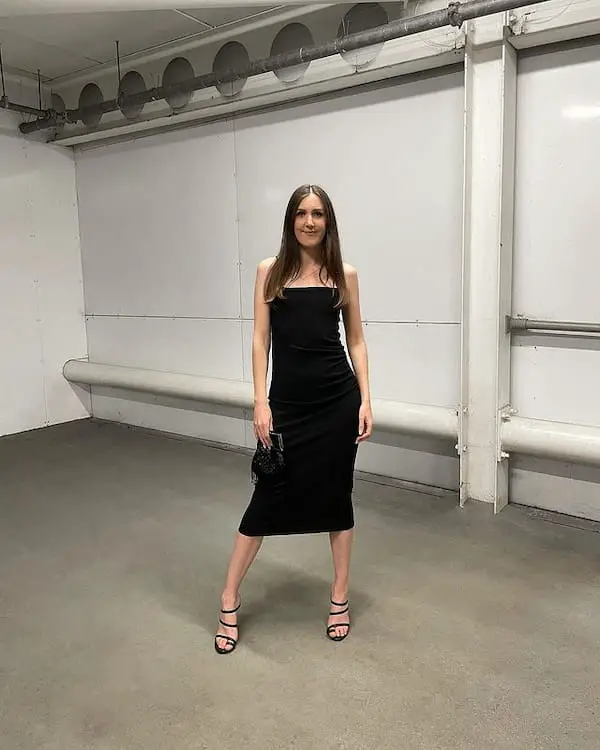 13. Green Crop Top with White High Waist Pants + Heels + Handbag
Another popular summer clothing item is a crop top since it keeps you cool. You may want to wear one with high waist pants like the model in this outfit idea since it feels more decent that way.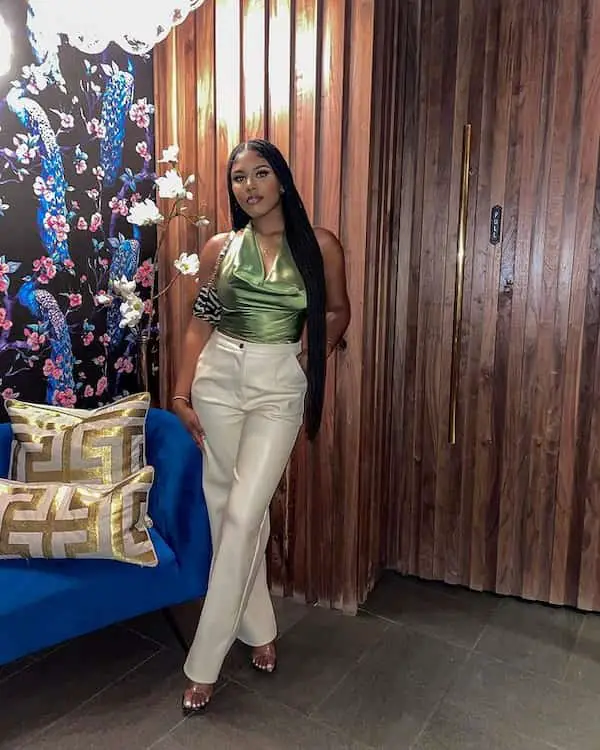 14. Black Dotted Mini Dress with Heels + Clutch Bag
Back to short dresses, there's hardly one that promotes comfort in the summer better than this. Show up this way to any dinner gathering and you'll make yourself the cynosure of all eyes.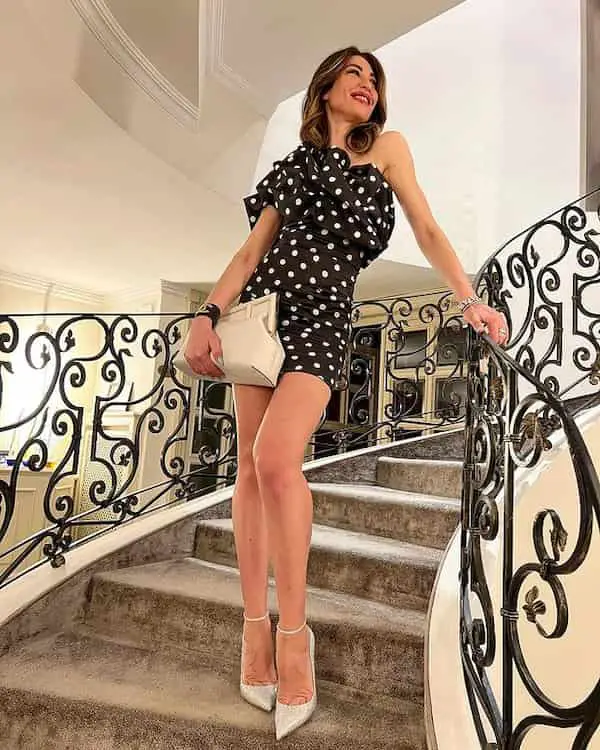 15. Orange Dress with Heels + Clutch Purse
The dress looks like a mix between a polo t-shirt and a dress, and it has an unconventional color. For some reason, it looks cool to me, and the heels and purse are an effortless match.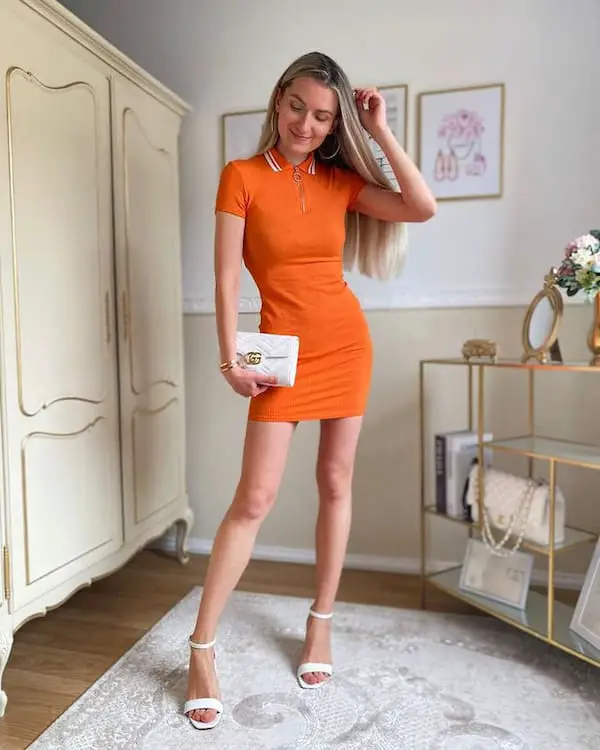 16. Black Silver Crop Top with Black Striped Skirt + Heels + Handbag
Sleeveless crop tops are a great option for the summer because they keep you cool. Add a striped skirt, heels, and a handbag, and you're already balancing comfort with elegance.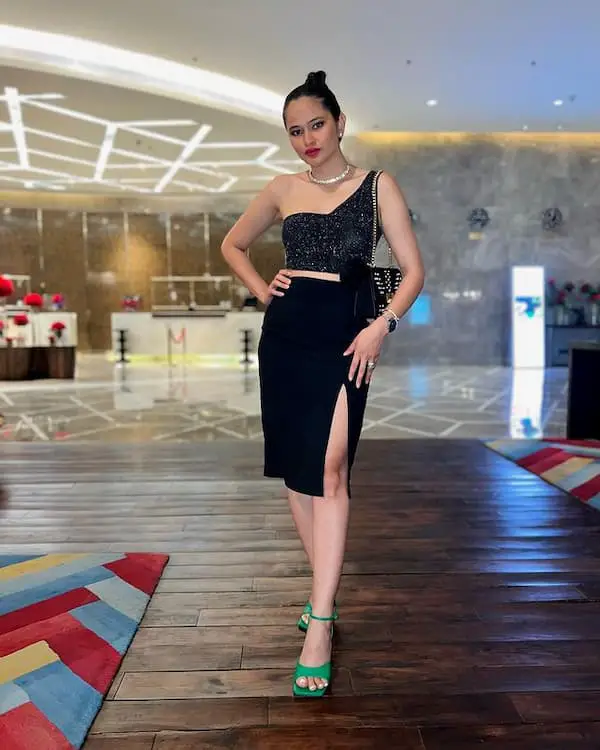 17. Puffed Hands White Top with Gathered Mini Pleated Skirt + Heels + Handbag
A puffed hands top creates the illusion of a bigger outfit which is perfect for drawing attention to yourself in a gathering. If you're dressed like this, prepare to get plenty of stares and compliments on your outfit.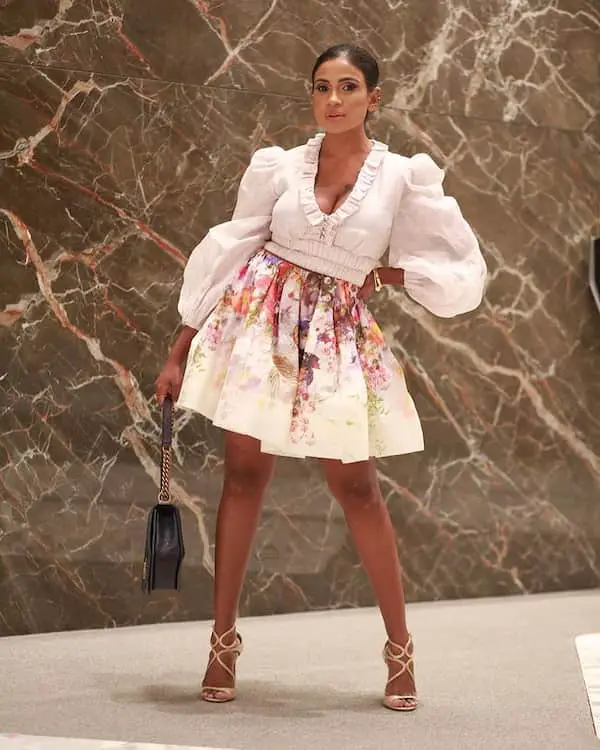 18. Spaghetti Hands Top Vest with White Pants + Boots + Handbag
On the other hand, you may want to show up in a simple spaghetti hands vest for a muted look. While it does look awesome, it also doesn't scream for attention as much as a puffed hands top.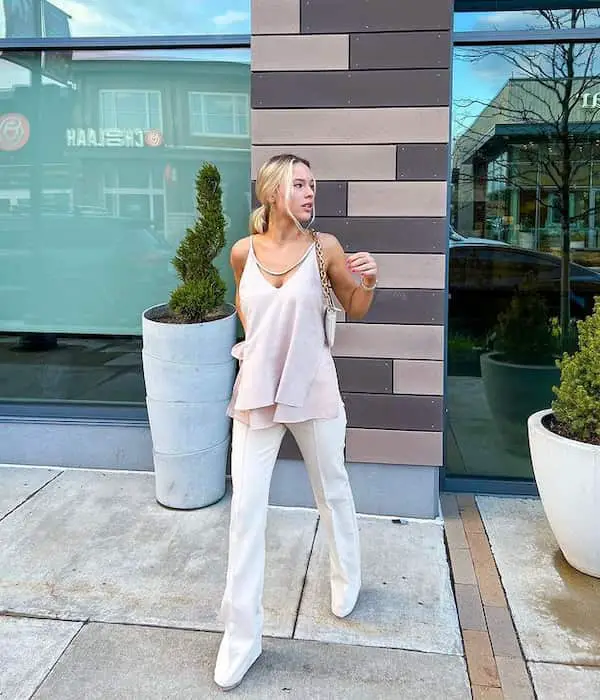 19. Brown Sleeveless Dress with Heels + Clutch Purse
On normal occasions, wearing this should be illegal for how elegant it looks. When you add the matching purse and heels, it creates a synergy that makes one of the best summer dinner outfits you'll ever see.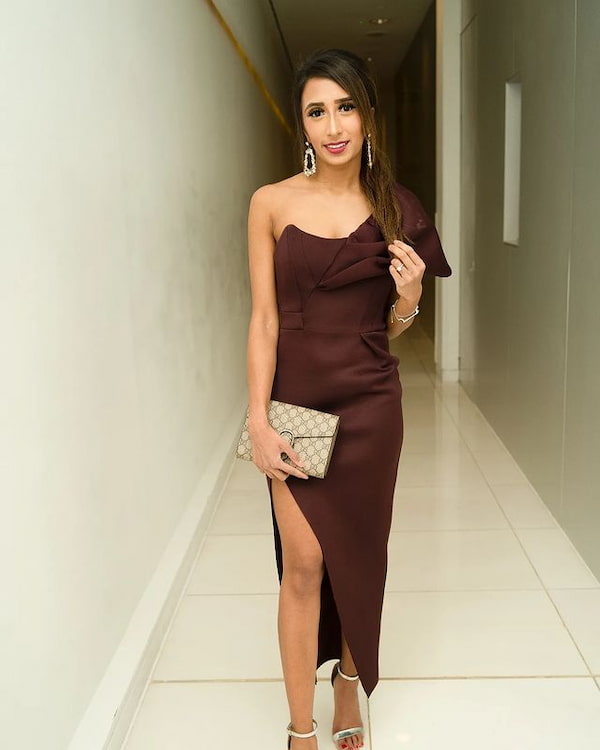 20. Silver Sleeveless Dress with Heels
If you're interested in something without sleeves or straps without an affinity for the color brown, here's another idea. The simplicity of this outfit means no sunglasses or purses are necessary for it to look chic.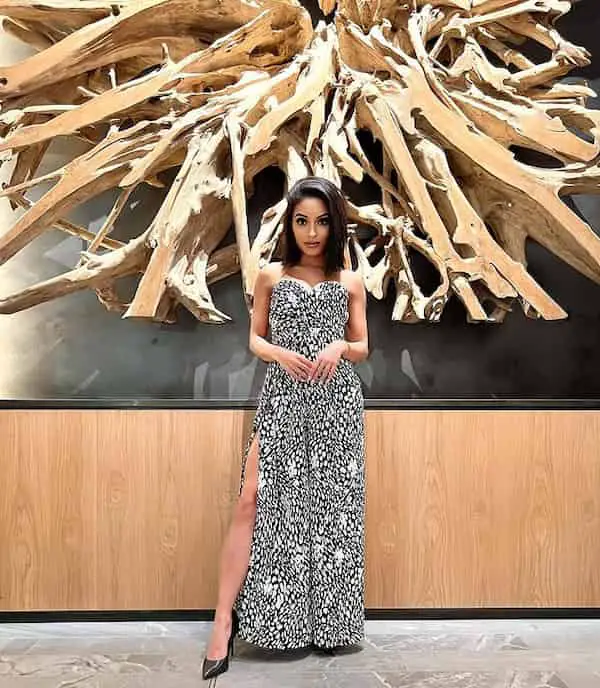 21. White V-Necked Mini Dress with Heels + Handbag
Puffed hand dresses to attract attention in most gatherings, partly because they're so classy. For real, take a look at the outfit below and say it to my face that you don't feel like copying it.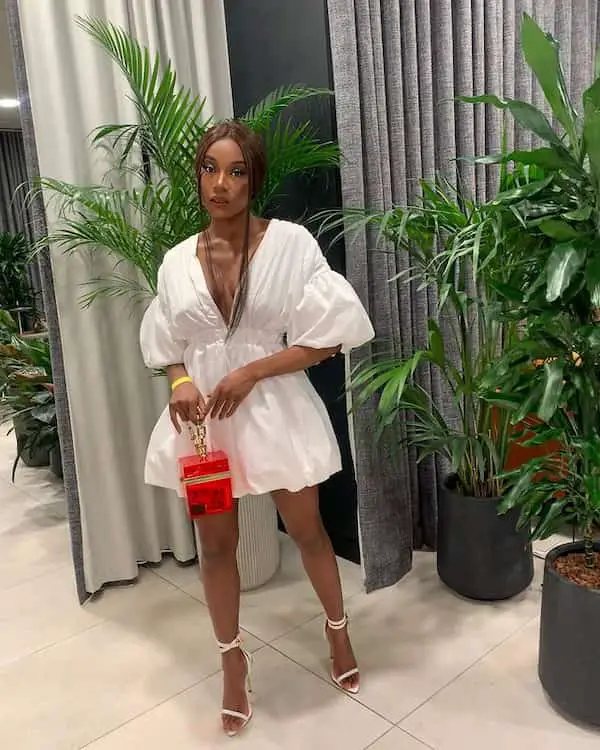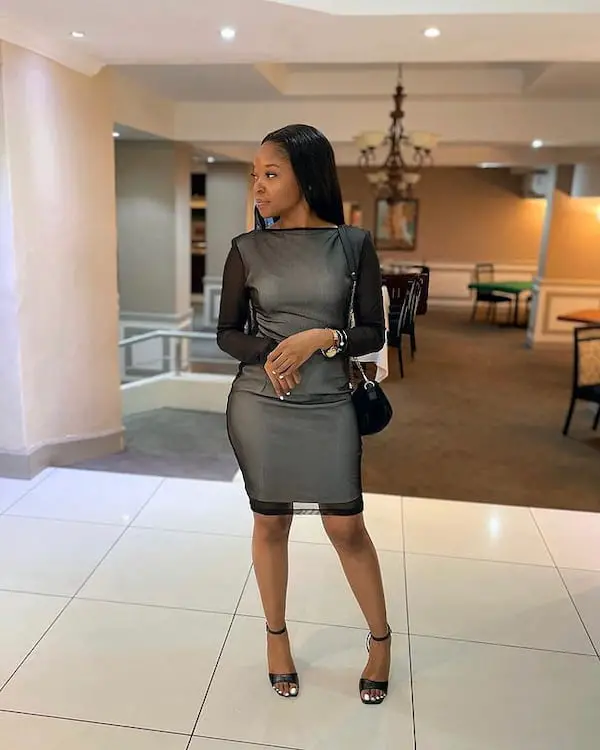 23. Purple Jumpsuit with Heels
Jumpsuits are very comfortable in the summer, especially when they're sleeveless and keep you cool. The purple color mightn't be very popular, but it's undoubtedly chic.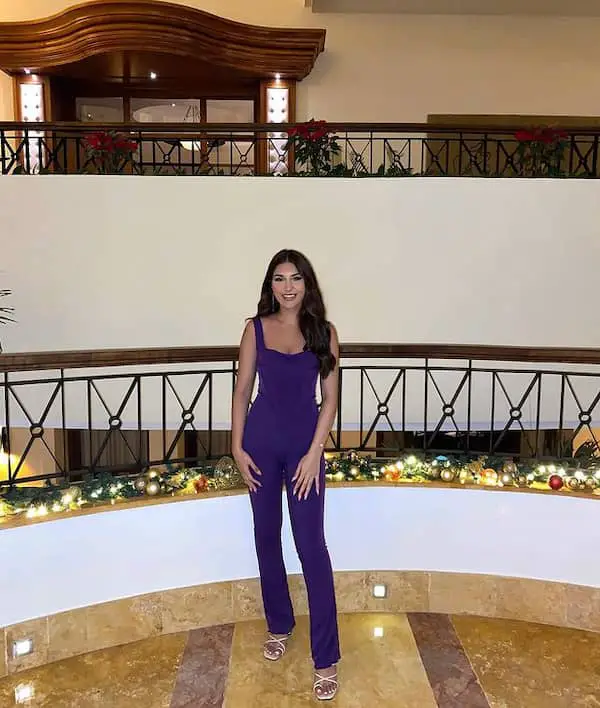 24. Black Silver Dress with Heels + Handbag
Like numerous other outfits in this collection have proven, black is a great color for a summer dinner. Add subtle traces of silver and you'll successfully replicate one of the best summer dinner outfits out there.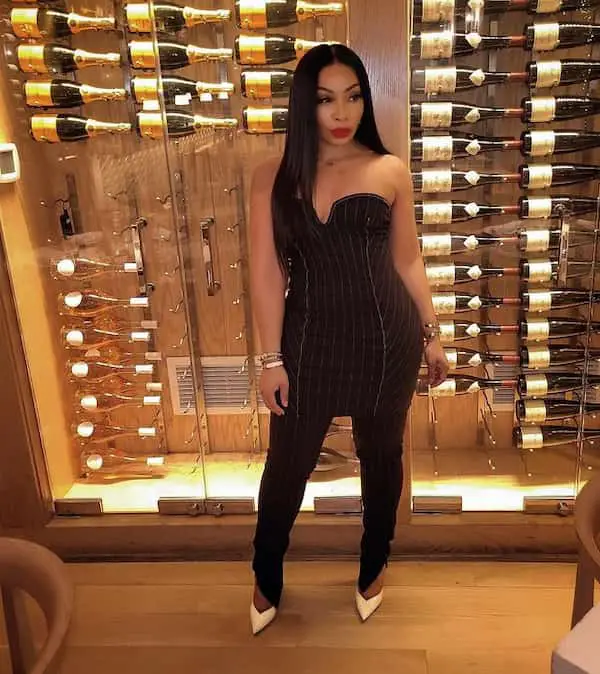 25. V-Neck Black Dress with Heels + Handbag
This black dress feels like something that was pulled directly off a movie, thanks to its chicness. Add the heels and the handbag and you'll have an excellent dinner outfit that works across all seasons.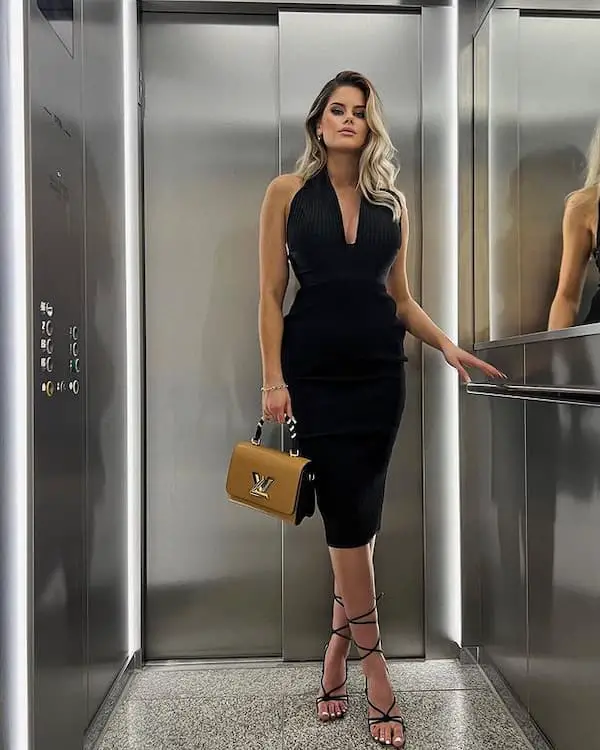 And that's all for my post on some adorable summer dinner outfits ideas to try. Want some more outfit ideas? Then you might want to check out these blog posts.
I hope you enjoyed this piece of content. Do well to rate this post, and don't forget to share this outfit compilation with your friends.
See you with more exciting inspirations. Trust me; you wouldn't want to miss any of our upcoming outfit compilations, so make sure to follow us on Pinterest.
Pin for Later.