The beach is an interesting place to be during the summer for its coolness. Here are 25 comfortable summer outfits for the beach to try out this season.
The summer is a pretty nice time to hang out at the beach; the cool atmosphere is a perfect counter to the winter heat. Even if you're not planning to take a quick dip in the water, you'll always enjoy a visit to the beach.
However, beachgoers tend to always face the dilemma of what to wear when going out to the beach in the summer. Depending on your intentions, your dressing can vary, but there's always a way to look good, regardless of what you intend.
In this article, I'll show you some of the best summer outfits for the beach on a hot day.
Comfy Summer Outfits for the Beach
1. Two Piece Floral Crop Top and Skirt with Sunglasses
If you're not planning any dips in the water, you can go with a regular floral crop top with a matching skirt. That strikes a balance between looking great and enjoying the fresh air around the beach.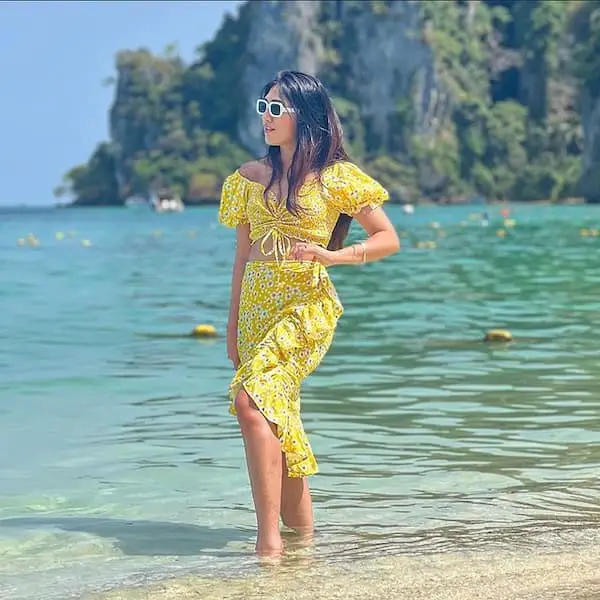 2. Crop Vest with Black Striped Skirt + Heels
Combining a cropped vest with a skirt is another smart way to dress for the beach. That way, you can enjoy the cool air and be ready for dinner after the experience without any change of clothes.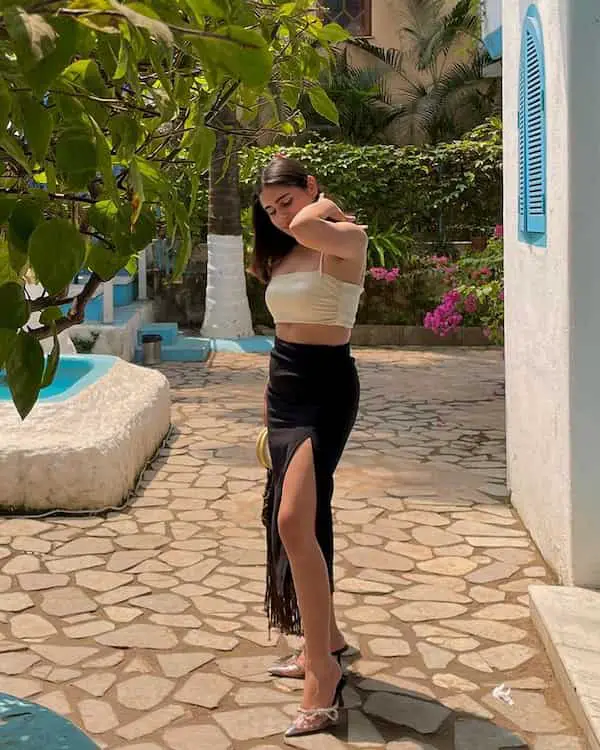 3. Orange Top with Ripped Jeans + Slippers + Handbag
If the beach is one of your numerous destinations for the day, you may want to go for this look. While doesn't look very beachy, it's an interesting concept for most casual outings.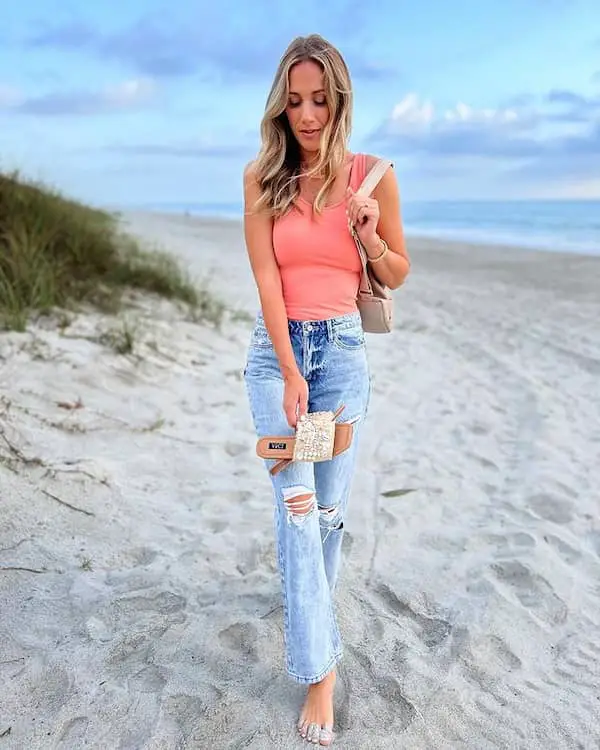 4. Black Tank Top with Jean Shorts + Slippers + Shoulder Pack
For a simple yet beachy look, a tank top with denim shorts seems like the way to go. Add a pair of slippers for comfort and a shoulder park to get ready for the ultimate experience.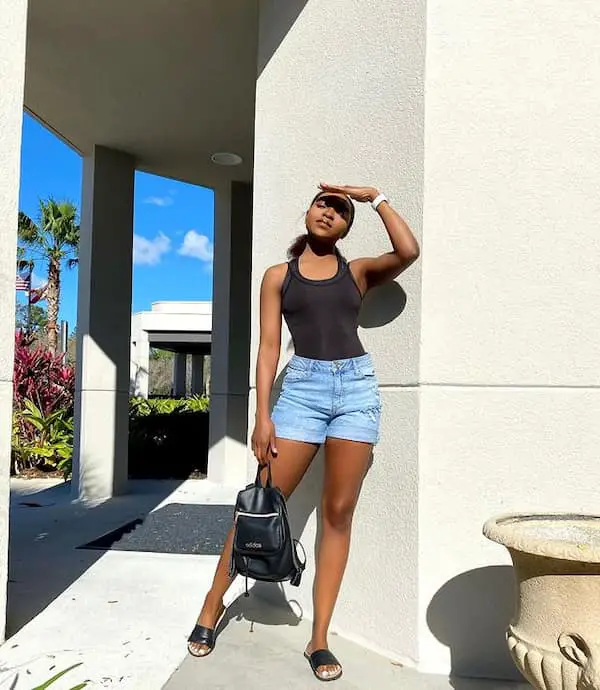 5. Pink Top with White Shorts + Slippers + Sunglasses
Black and denim seem very nice to me, but you don't have to choose those dull colors. Here's something brighter if you prefer wearing outfits that stand out.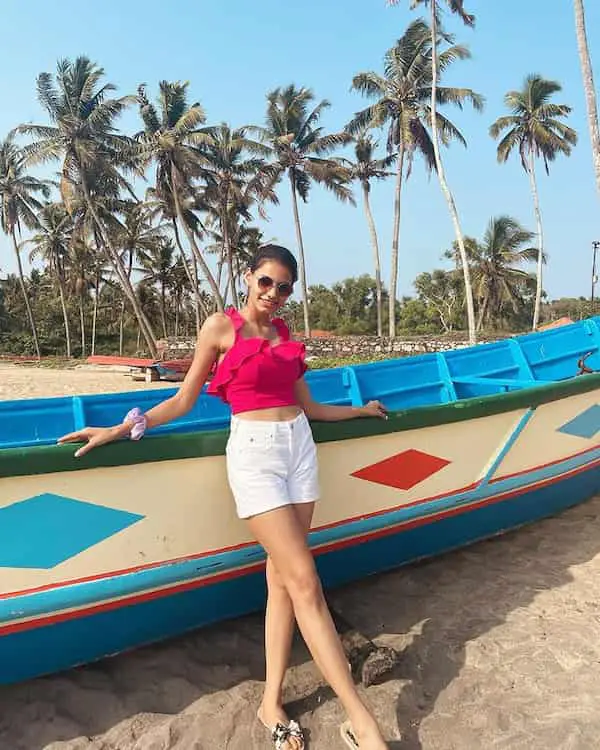 6. White Crop Top with High Waist Crop Jeans + Slippers + Handbag
Frankly, this seems like an odd choice for a beach outing, but it's understandable. When you don't want to change for that after-beach dinner, here's how you eventually appear.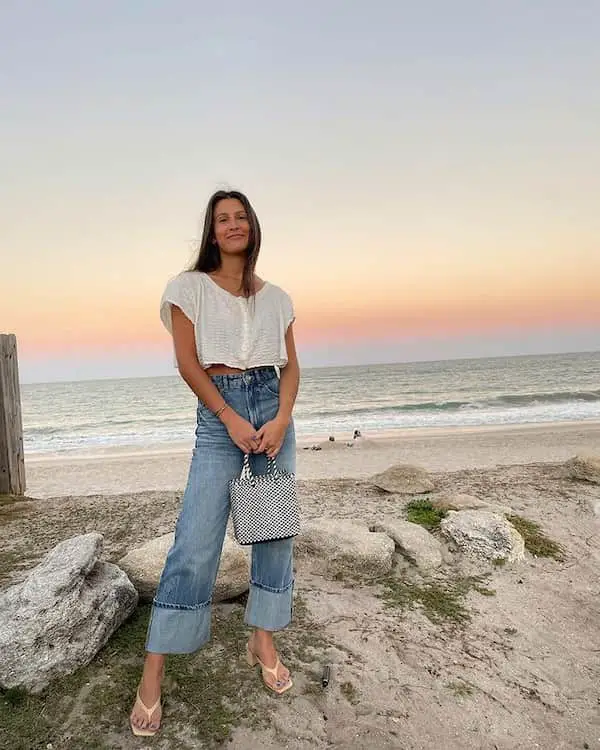 7. Green Mini Dress with Wedge Shoes + Basket Handbag
You don't have to be a swimmer at the beach; you can simply observe from a distance as you enjoy the cool air, and a mini dress seems like a perfect way to do that.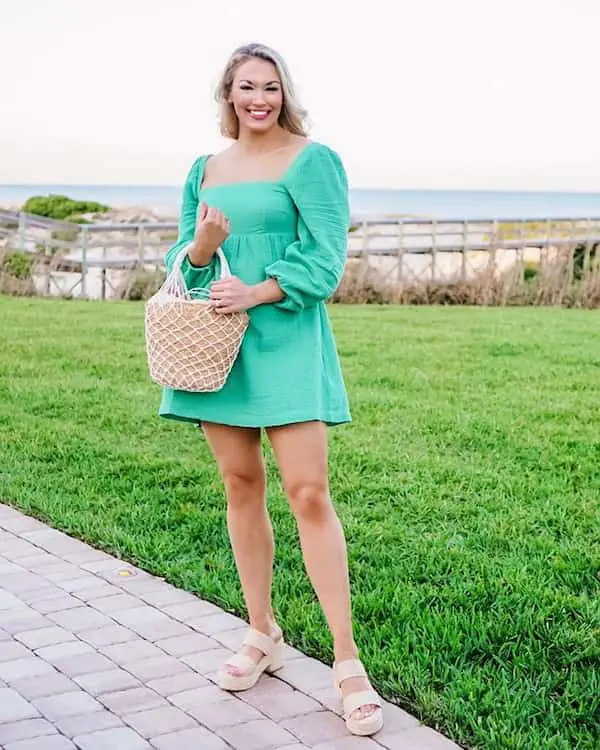 8. Orange Top with Floral Cotton Skirt + Slippers
If you're throwing a beach party, there's no reason not to appear gorgeous. Here's an outfit idea you might want to steal if you're not one of the swimmers.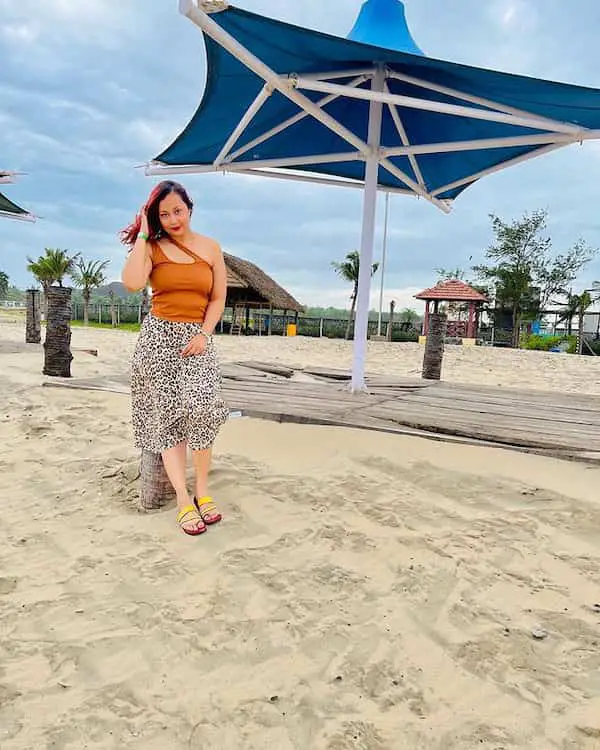 9. Floral Maxi Dress with Slippers + Hat
A maxi dress doesn't seem like the best beach outfit, but it works. If you're a mum who isn't particularly interested in most beach-related activities, you can enjoy the atmosphere in a flowing maxi dress with a hat.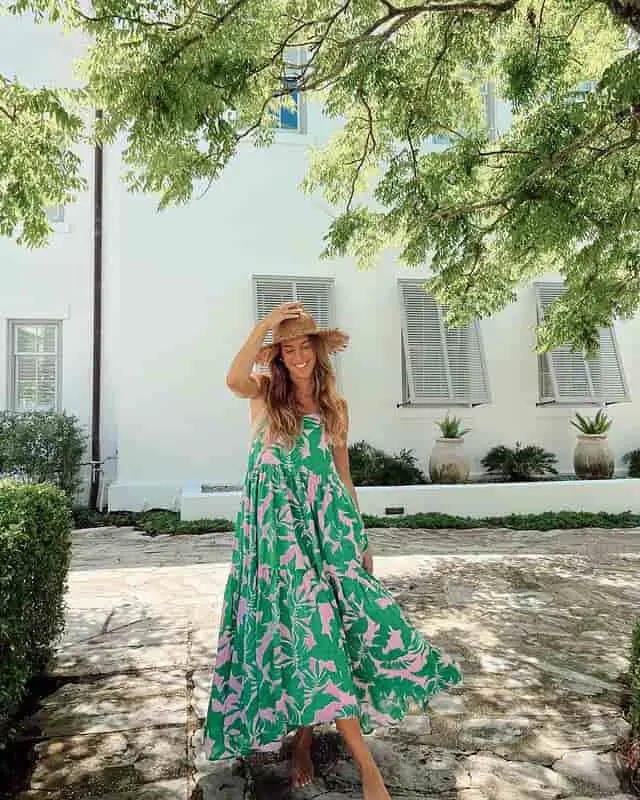 10. Two Piece Crop Top with Free Pants + Sandals + Hat + Sunglasses
If I was invited to a beach party this summer, I'd probably show up like this. Simple, casual, and ready to go for any event after partying out at the beach for the day.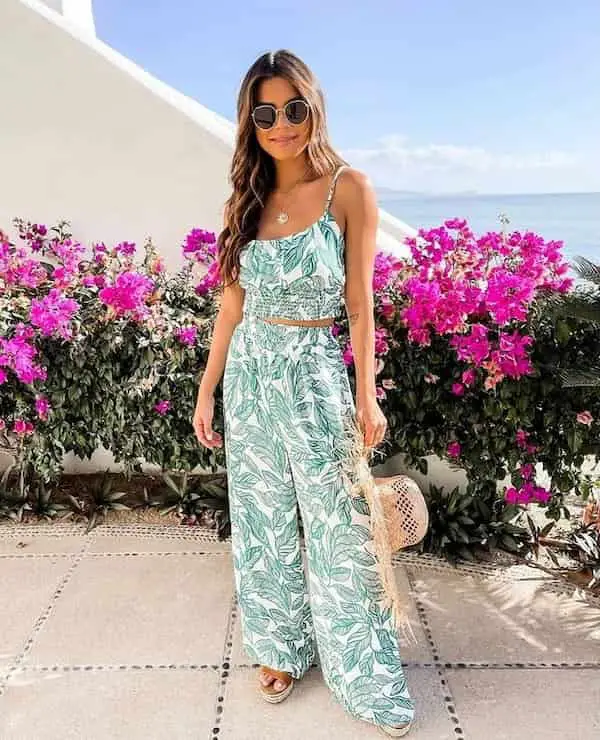 11. White Crop Top with White High Waist Pant + Slippers + Handbag + Sunglasses
Sometimes, you only need a casual yet beautiful way to show up at the beach without missing out on the cool air. In that case, here's an excellent white outfit idea to consider.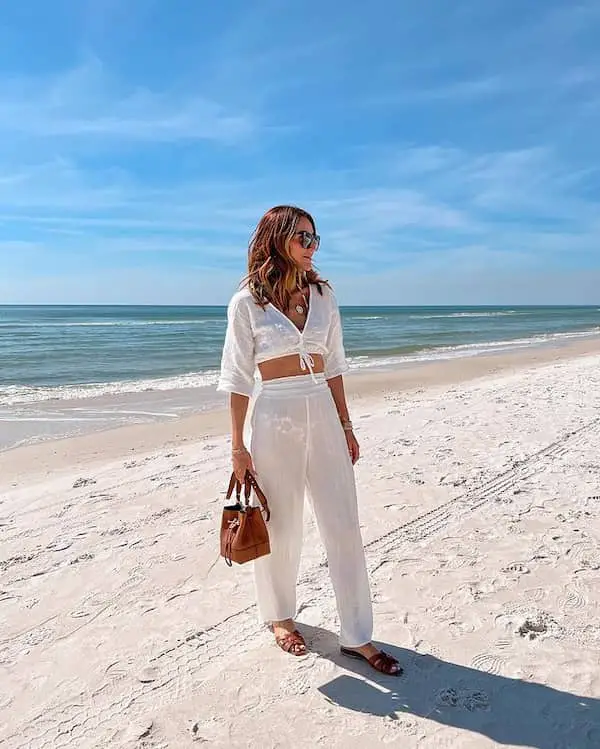 12. Black Maxi Dress with Sandals + Hat + Sunglasses
A lightweight dress is an interesting way to show up at a beach party or picnic. The black color is perfect for any time of the day, and you can even show up at work like this.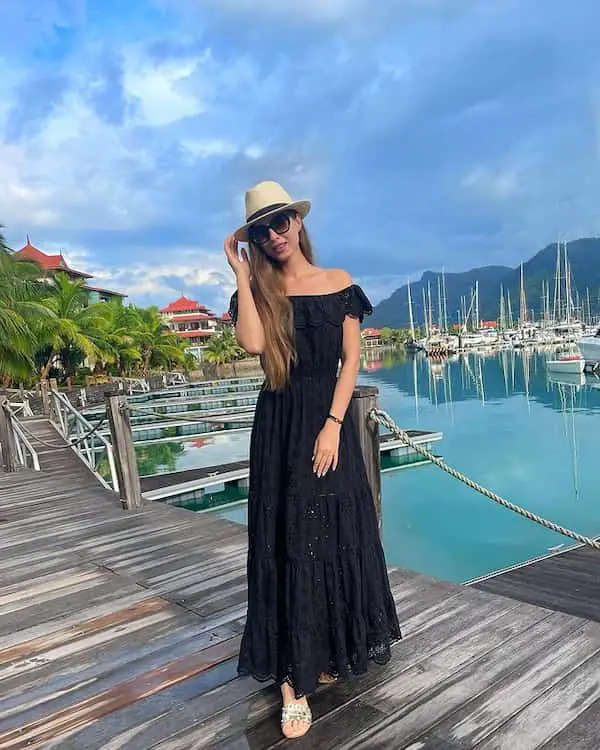 13. Floral Midi Gown with Cowgirl Boots
If you think a gown is a good idea for a beach visit, but not a black gown, here's a floral gown for you to try. A pair of cowgirl boots add some extra flair, making it look even more interesting.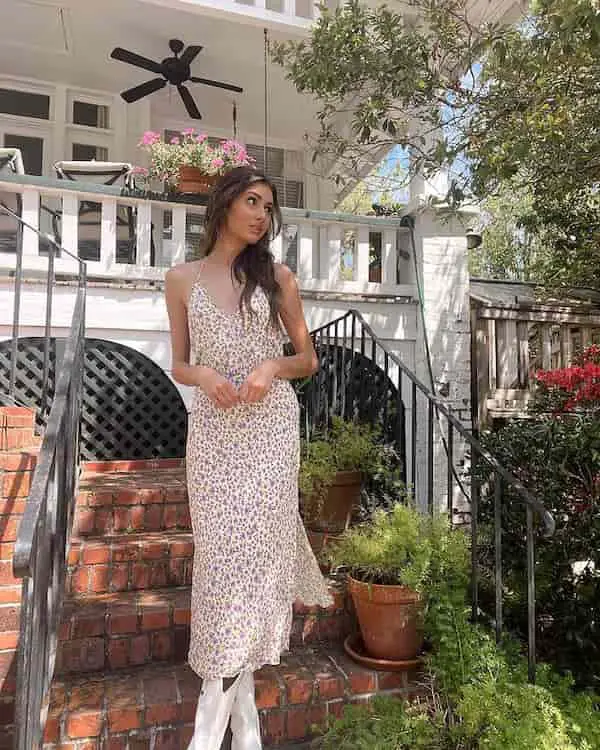 14. Camel Striped Open Knit Sweater with White Shorts + Sandals + Hat + Handbag
A sweater isn't something you want to wear in the summer, but hey, we're off to the beach. Since the beach is expected to be cool, why not get some warm clothes like a sweater?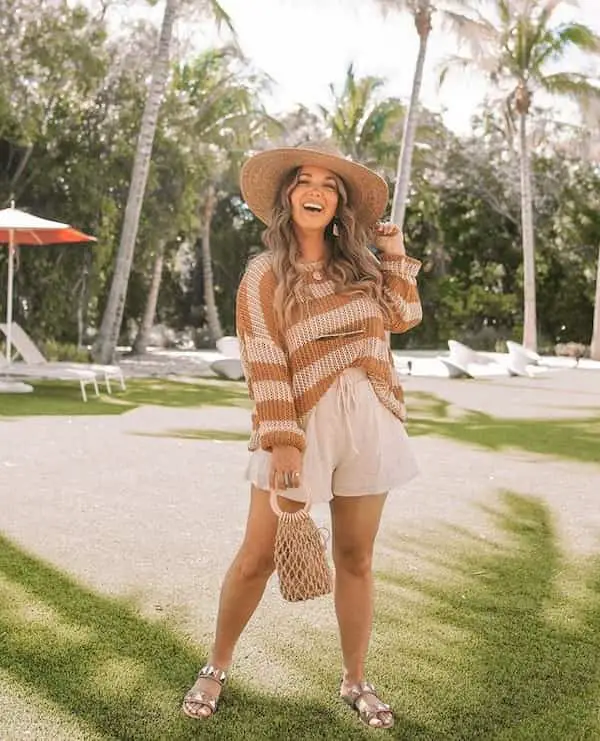 15. Brown Knit Crop Sweater with White Mini Wrap Skirt + Heels
If the sweater idea above looks too warm for the summer, here's an alternative. This outfit gives you the knit sweater look without making you feel like you've been tossed into an oven the whole time.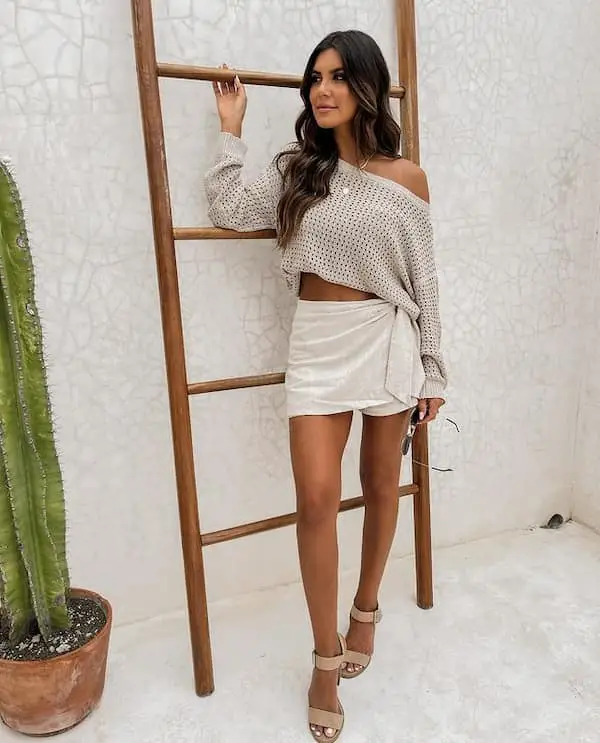 16. Tan Crop Tank Top with White Free Pants + Slippers + Sunglasses
A crop tank top sounds like something to wear to a super casual event, and a beach party sure sounds like one. Add free pants and slippers and you'll have your most comfortable outfit of the year.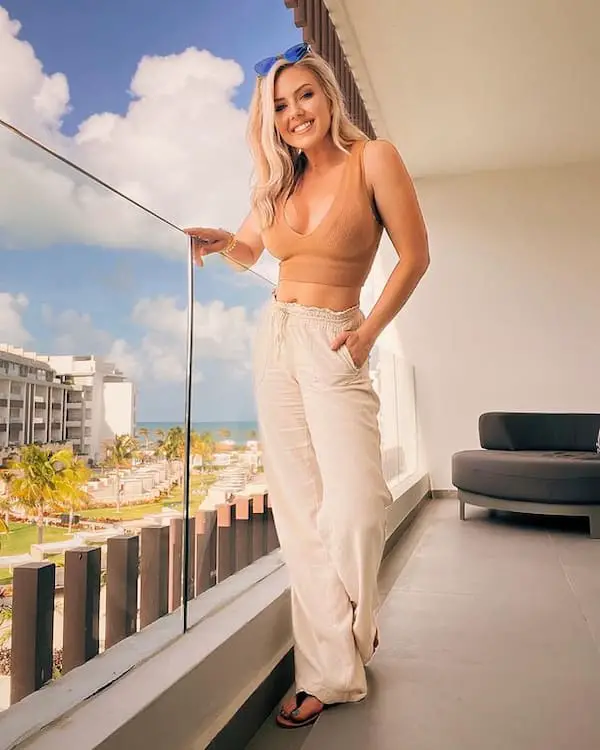 A crop top with a matching long skirt looks cute for most casual events. While this won't be my choice for a beach outing, it's not a terrible idea either.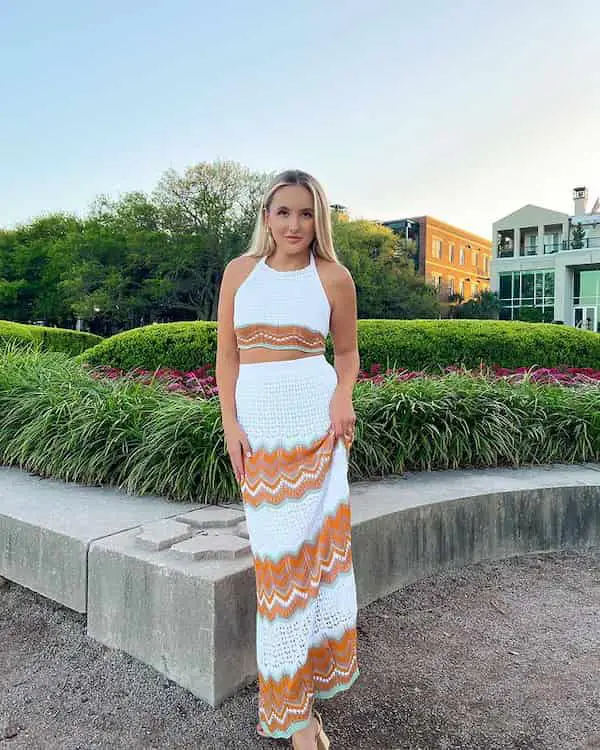 18. White Top with White Long Sleeve Shirt + Ripped Jeans + Sandals + Face Cap + Handbag
This outfit isn't beachy by any means, but you don't have to be beachy. If you have somewhere else to be, you can dress to reflect that, without missing out on the coolness of the beach.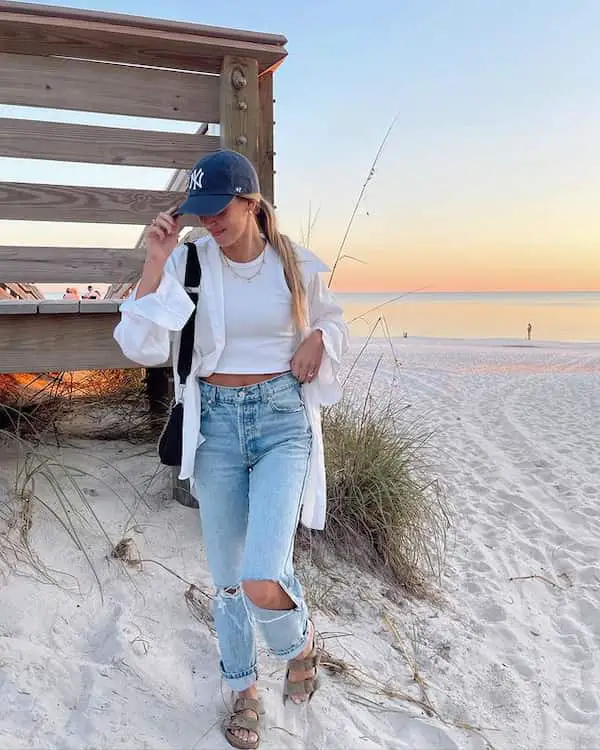 19. White Crop Top with Loose Pants + Heel Shoes + Handbag
Instead of sweating over the best outfit for a beach visit, a white crop top with free pants should make you look chic enough for an enjoyable experience.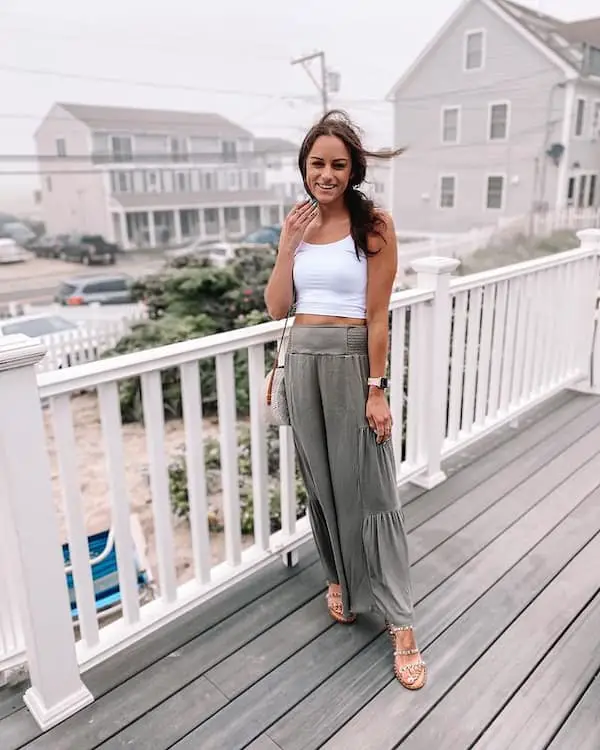 20. White Crop Top with Brown Shorts + White Oversized Long Sleeve Shirt + Slippers + Sunglasses
If full-sized pants look extreme, here's a similar outfit, but with shorts. The oversized long sleeve also help to make the outfit look awesome.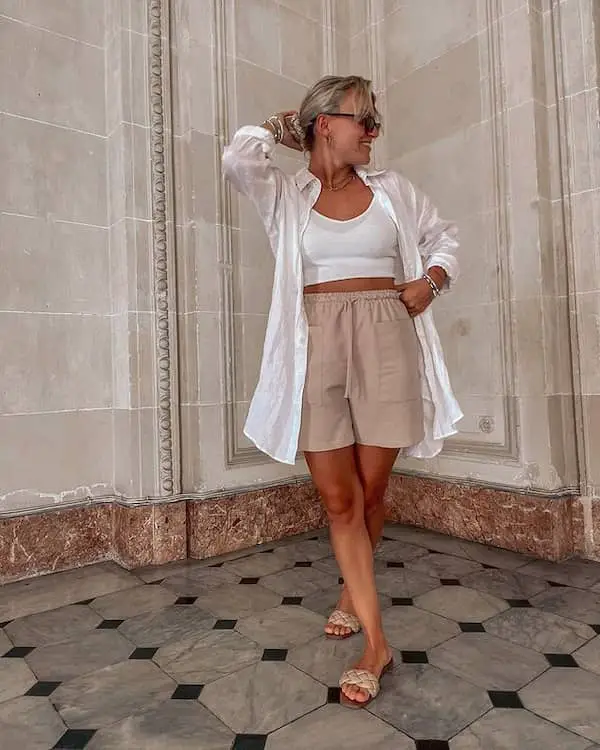 21. Sky Blue Crop Tank Top with Floral Mini Skirt + Slippers + Handbag
If you're there for the photos and the atmosphere, there's no better way to dress. The sky blue matches the sky, while the outfit leaves enough room for the signature cool beach air.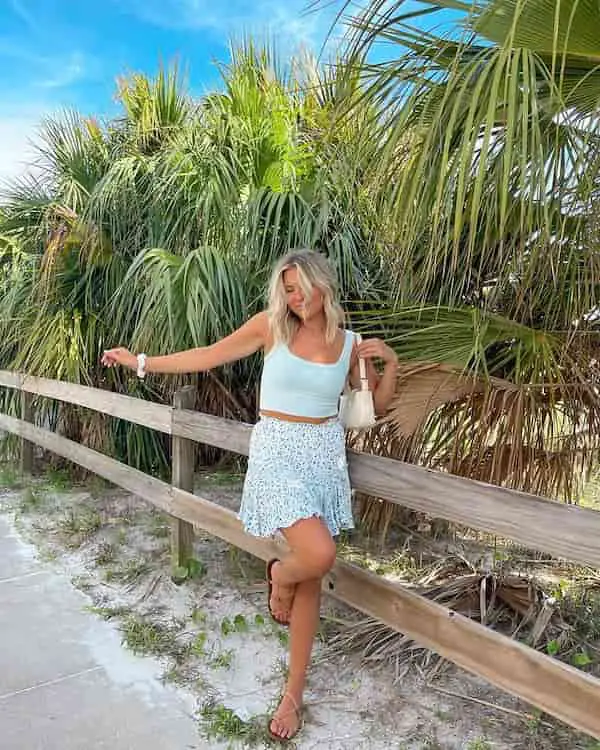 When attending a party without special interest to the beach venue, here's an outfit idea. You'll successfully avoid looking out of place without losing a pinch of chicness.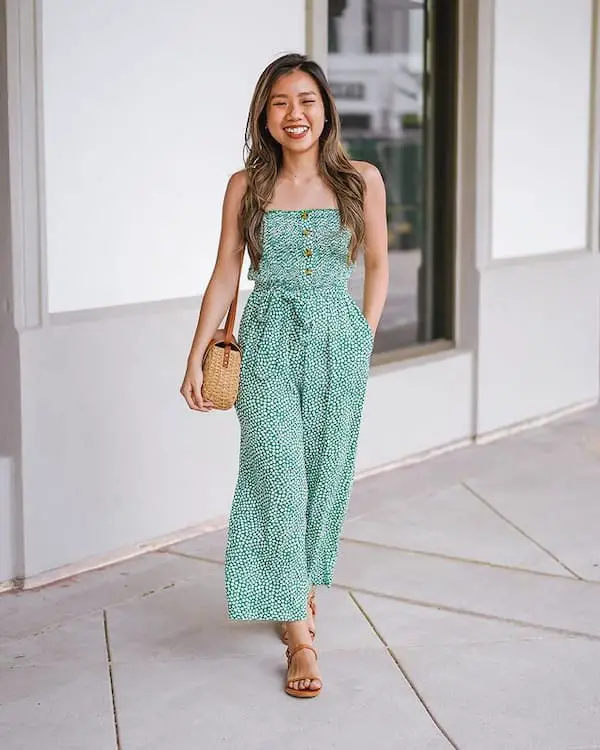 23. Floral Blouse with White Shorts + Sandals + Sunglasses
If you're all for the beachy look, here's an adorable outfit idea for you. This works well on an extraordinary sunny day, since it leaves enough skin to enjoy the cool beach atmosphere.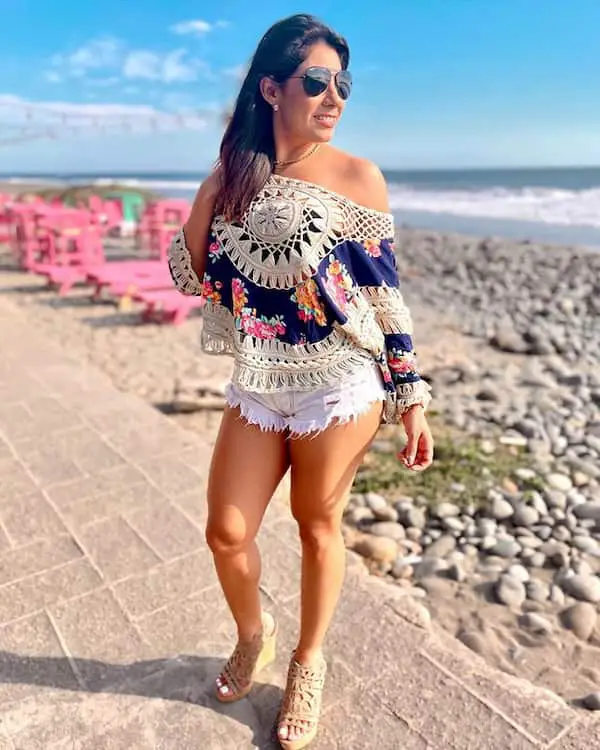 24. Two Piece set of Crop Top with Shorts + Kimono +  Slippers + Hat
Given the windy nature of the beach, you'll surely struggle with the kimono. However, you can't overlook the advantages when it comes to pictures since kimonos are simply adorable.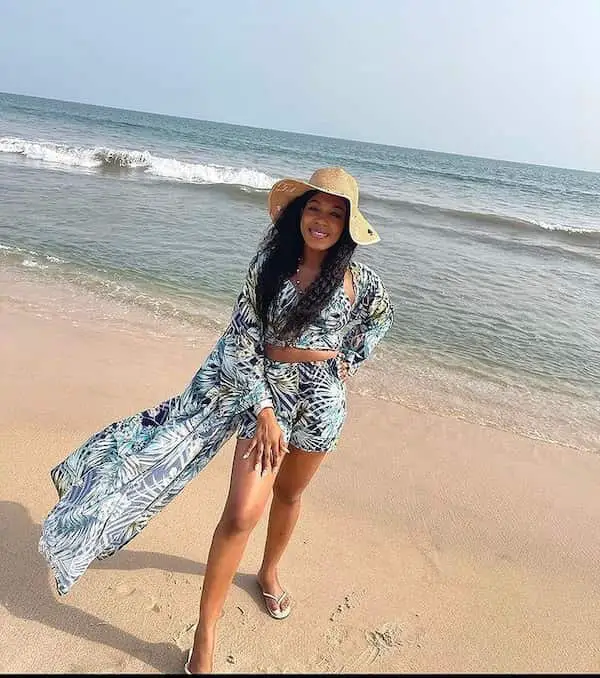 25. Tri Colored Wrap Swimsuit with Linen Pants + Slippers + Hat + Sunglasses
There's nothing that screams beachy more tha a swimsuit and a hat. The linen pants make the outfit appropriate for beach parties, while adding an extra touch of chicness and elegance.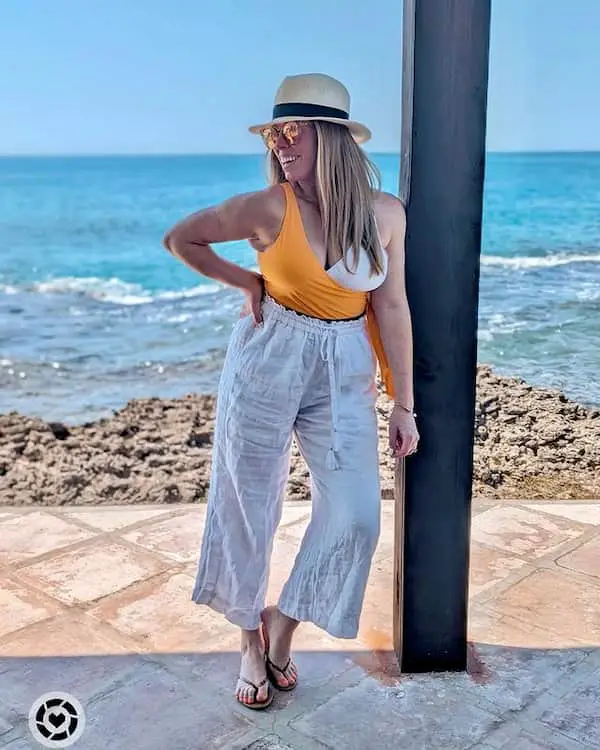 And that's all for my post on some of the coolest summer outfits for the beach. Want some more outfit ideas? Then you might want to check out these blog posts.
I hope you enjoyed this piece of content. Do well to rate this post, and don't forget to share this outfit compilation with your friends.
See you with more exciting inspirations. Trust me; you wouldn't want to miss any of our upcoming outfit compilations, so make sure to follow us on Pinterest.
Pin for Later.