Contrary to what you may think, boots aren't a no-go area in the summer. Here are the cutest summer outfits with boots to look more adorable.
Boots are always seen as a weird footwear choice during the summer, but are they really as odd as people make them seem? With the abundance of chic summer outfits with boots, it's not difficult to see why anyone would want to wear boots in the summer.
Wearing boots in the summer is usually not a problem; the problem is getting the right clothing items to go with them. To that end, here's a compilation of the cutest summer outfits with boots for some inspiration.
25 Cute Summer Outfits with Boots
1. Black Shirt with a Mini Line Striped Skirt + Ankle-High Boots + Hat + Midi Handbag
With black boots, it's always a good idea to have other black items in your outfit. This outfit makes the best of that with the top and hat, making it a chic idea for a compilation of summer outfits with boots.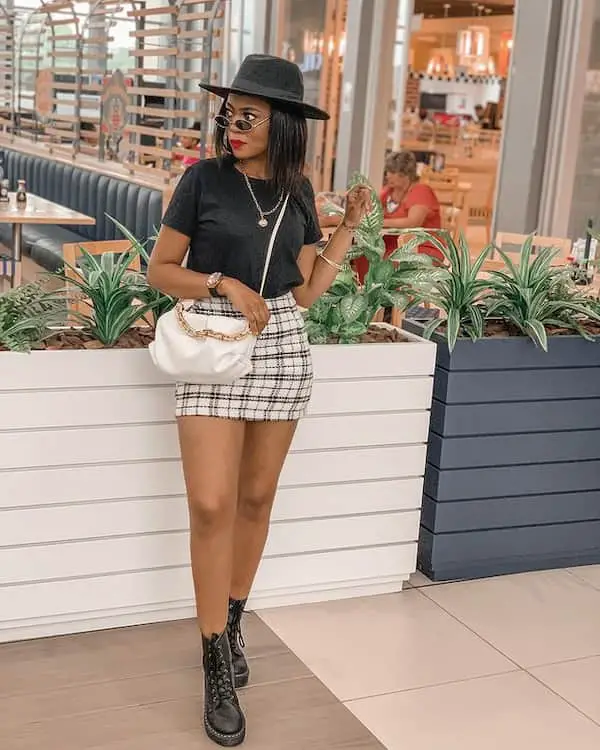 2. Black Balloon Mini Dress with Tan Jacket + Knee-High Boots + Midi Handbag
Building on the preceding idea, here's a smart way to wear black knee-high boots. While the outfit looks heavy for the summer, it's actually quite light and keeps you cool.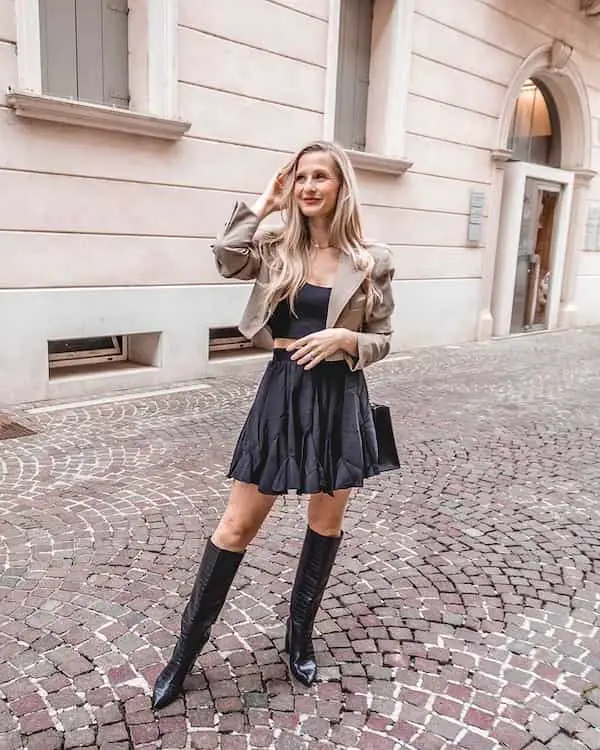 3. Orange Shirt with Leather Shorts + Knee-High Boots + Cross Shoulder Handbag
Boots aren't always black; sometimes, they come in an off-white color. If you're looking to style an off-white boot, here's an excellent outfit idea to copy. Excellent choice for a trip to the cinema or to support your favorite club.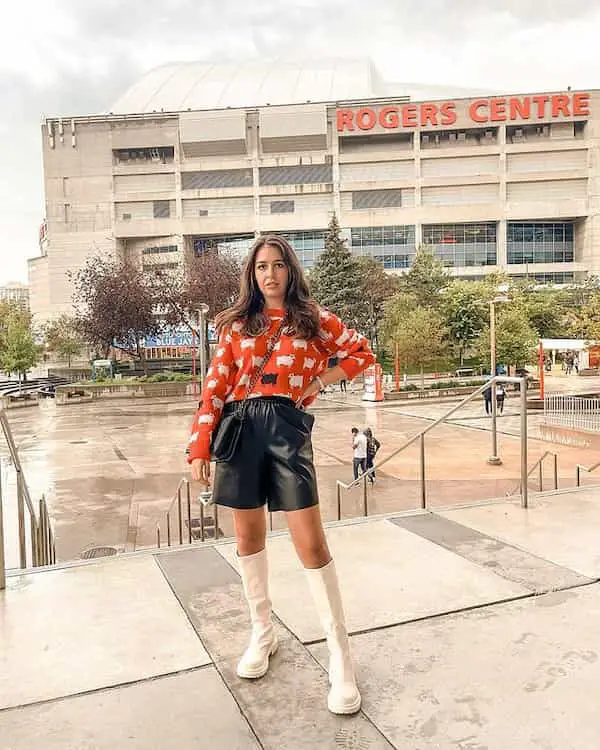 4. Pink Mini Jumpsuit with Knee-High Boots
Continuing the "not-black" boots trend, the best outfit for a pair of white knee-high boots might be a pink jumpsuit. Given how much ladies love pink, you shouldn't have any issues falling in love with this outfit.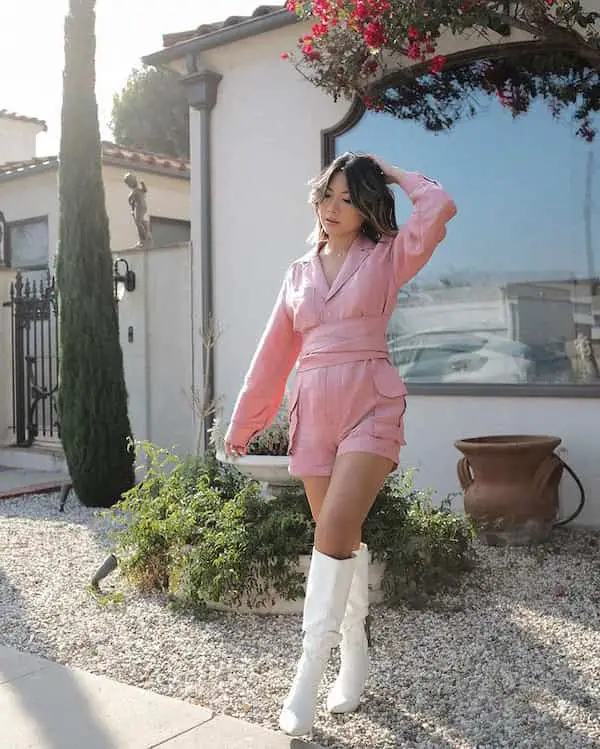 5. Black Long Sleeve Shirt with Burgundy High Waist Skirt + Knee-High Boots
If you're looking to wear multiple colors without looking too flashy, here's an idea. The synergy among the colors is awesome, making for a chic and cohesive outfit.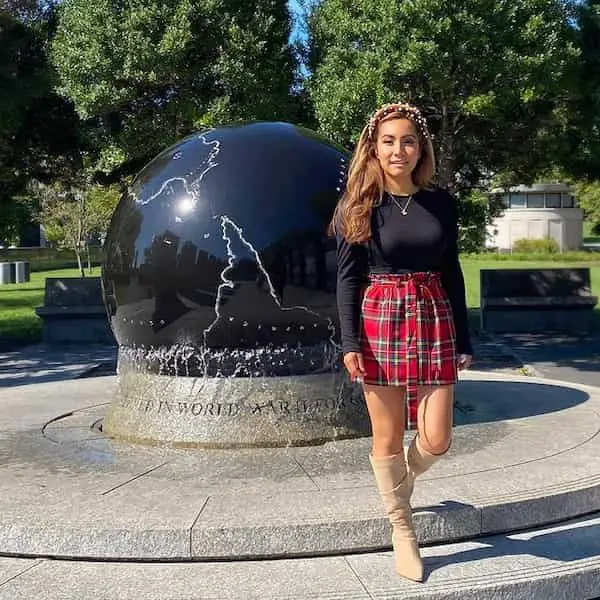 6. Long Tight Dress with Square-Toe Boots + Mini Bag
Dresses work well with boots, and since it's the winter, you want the dress to be a mini dress. This idea shows how you pair a dress with a nice pair of boots while creating a beautiful contrast between the green and black colors.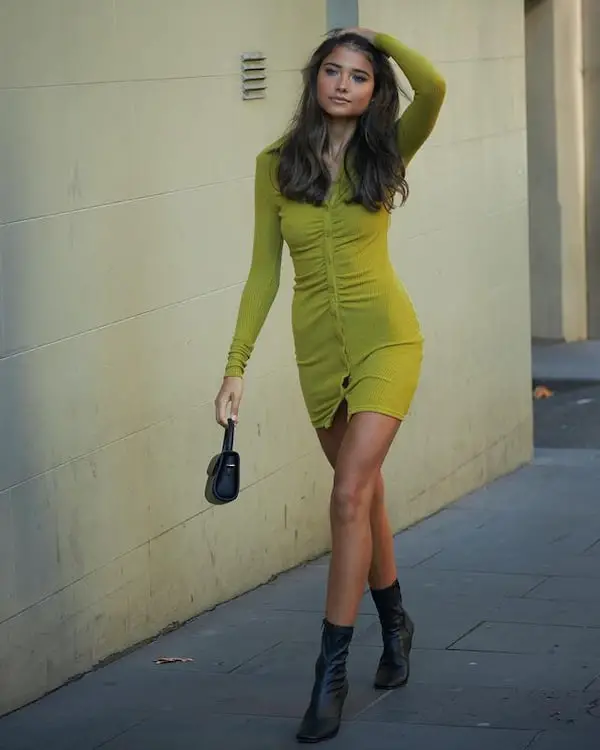 7. Dotted Midi Dress with Boots + Midi Handbag
If you're looking to show up at work in your outfit, a mini dress won't cut it. Here's an excellent and conservative alternative that looks just as chic, qualifying it for one of the best summer outfits with boots.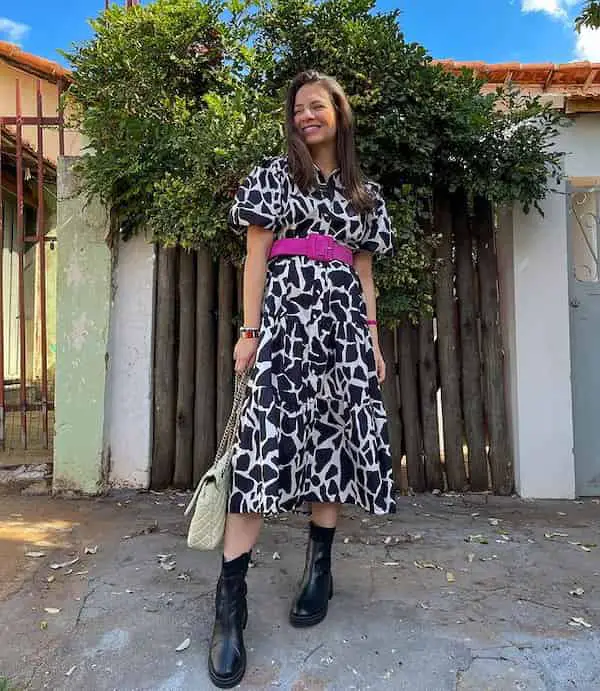 8. Red Crop Top with Ripped Denim Shorts + Square-Heel Boots
A graphic crop top with denim shorts is already a chic combo. The boots and the handbag only try create a match that makes the outfit even more alluring, and it works.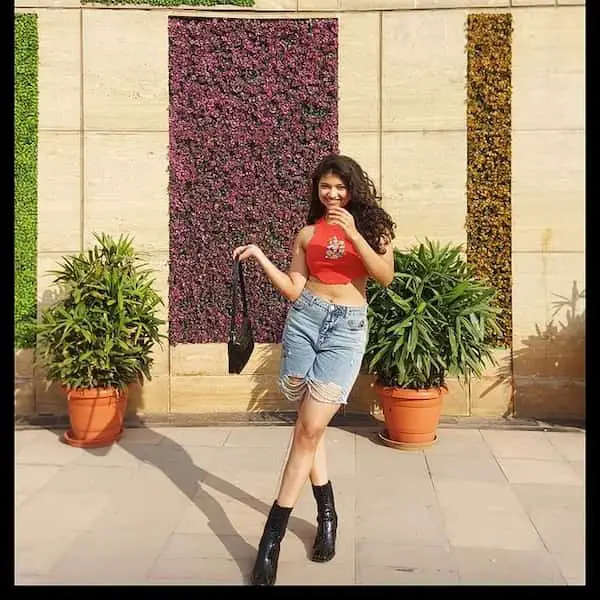 9. Floral Mini Dress with Cowboy Boots + Hat + Sunglasses
If you've been following this compilation, you should already notice that a mini dress is the best thing to pair with boots. Wearing a brightly-colored one might be the best fit for white boots.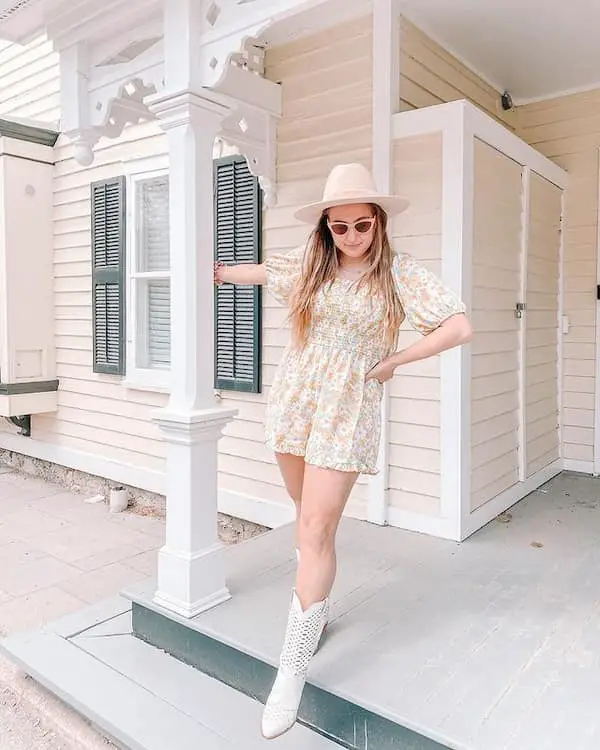 10. White Floral Dress with Ankle Boots
To further drive home the point, here's another mini dress and boots outfit combination. Looking at this, it's genuinely difficult to not want to try copying it.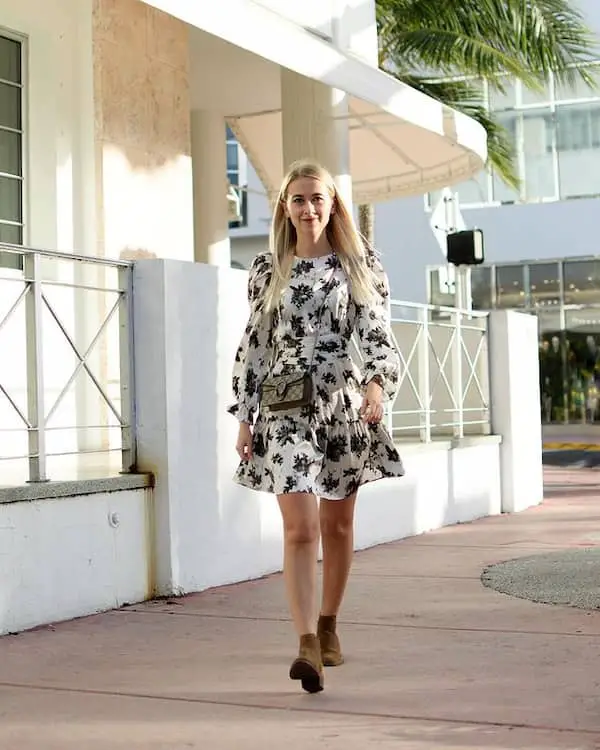 11. Black Mini Dress with Blazers + Thigh-High Boots + Midi Handbag + Sunglasses
I won't want to wear this on a hot summer day, but it undoubtedly looks chic. If you're willing to sacrifice some air, you can look just as elegant, if not more.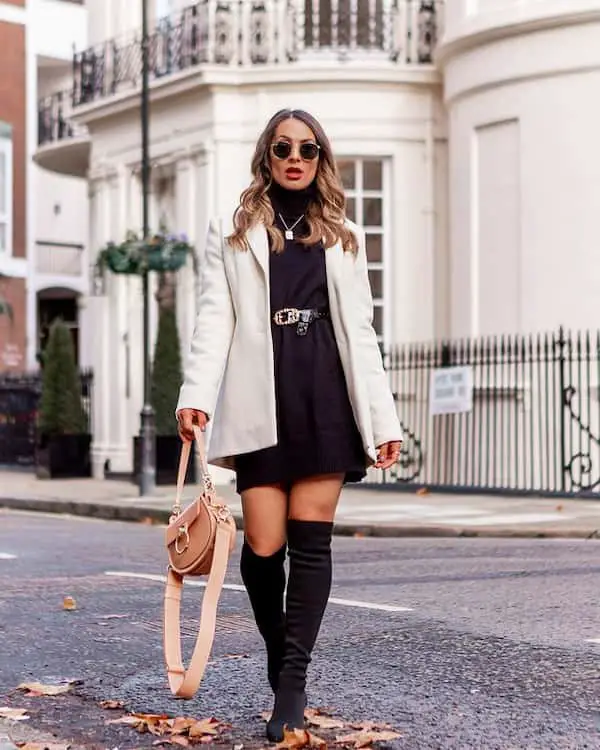 12. Green Knit Shirt with Ripped Jeans + Square-Heel Boots + Midi Handbag
Like the preceding outfit, I'll also stay away from this for the most part of the winter. If this kind of look is what you're gunning for, it doesn't hurt to wear something like this once in a while, or does it?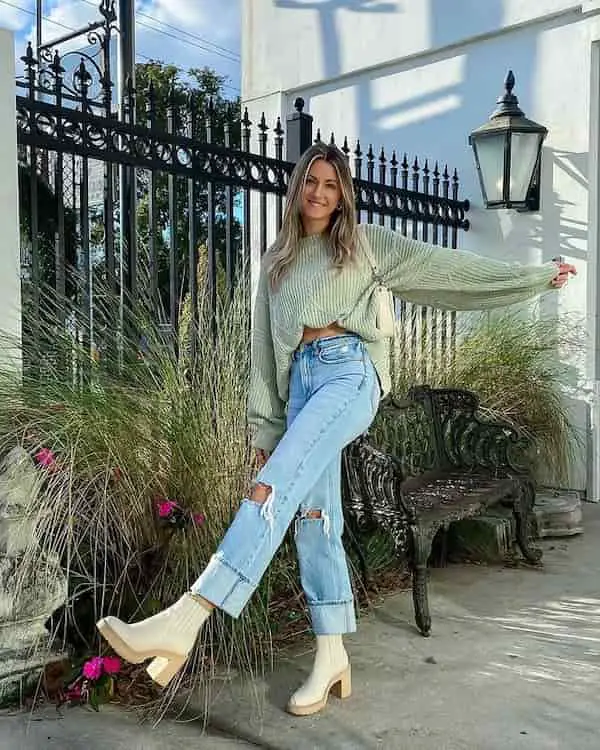 13. Blue Floral Midi Dress with Calf Length Boots
While we've seen many elegant dresses earlier, this inspiration is especially simple. The sleeveless design allows for air, which is a very crucial part of any summer outfit.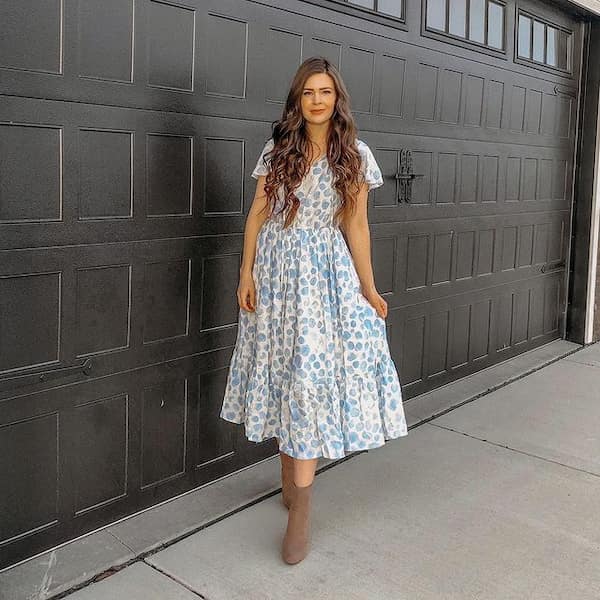 14. White Shirt with Centred Buttoned Silhouette + Ankle-High Boots
Layering clothes is a risky technique in the winter, but she just seems to get it perfect. Wear matching outfits and flash her smile to copy this exact elegant and fashionable look.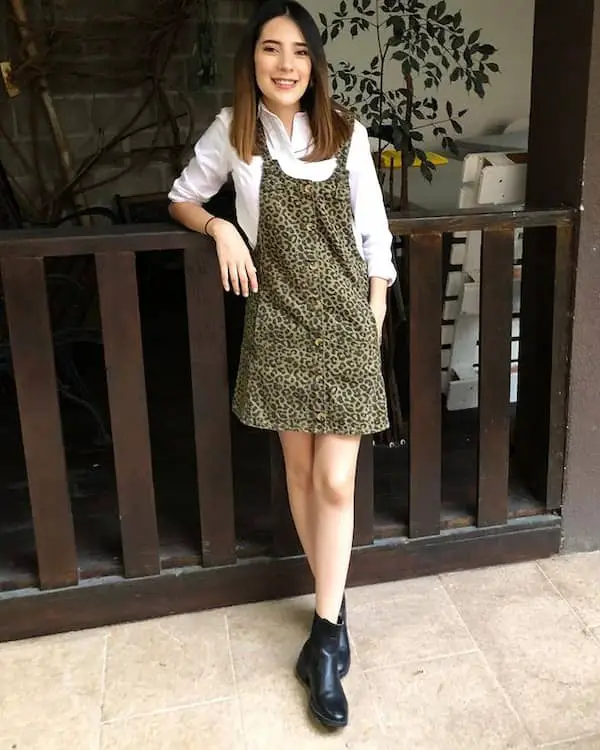 15. Black Long Sleeve Crop Top with Chain Belt + Ripped Jeans + Calf-Length Boots + Midi Handbag
Black crop tops with skinny jeans make a hot combination, but it even becomes hotter with boots. Since it doesn't qualify as a formal outfit anyway, why not make the jeans ripped?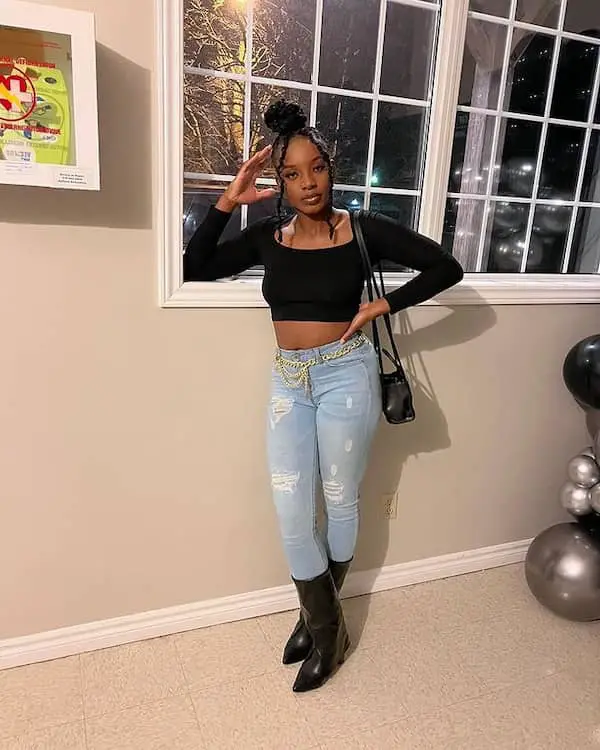 16. Black Lined Sleeveless Dress with Flannel + Knee-High Boots + Spherical Handbag
When wearing knee-high boots, you want to ensure that your dress allows you to keep cool. Here's an idea if you want any on how to wear knee-high boots, layer your outfit, and still not get excessively warm.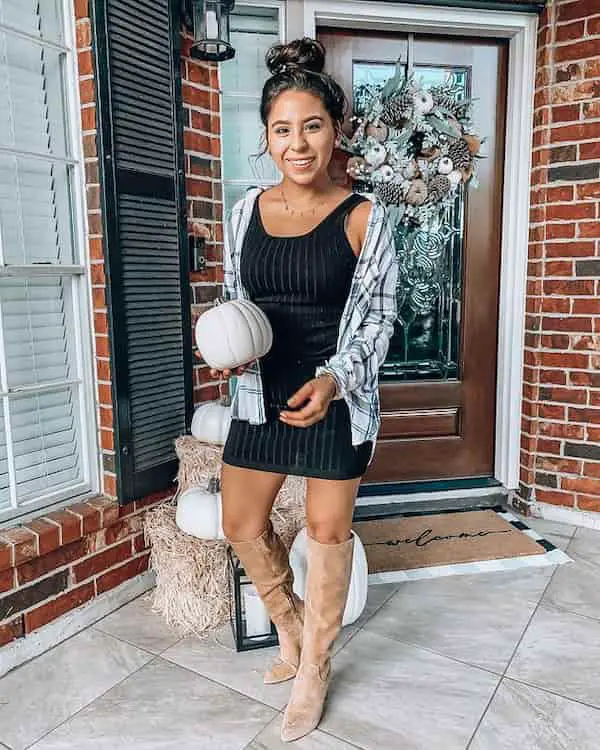 17. White Up-shoulder Shirt with Black Belt + Mini Skirt with Thigh-High Boots
If you're trying to look good without breaking the dress code of the average workplace, here's an idea. To make this qualify for work, however, you may have to make the skirt a bit lengthier.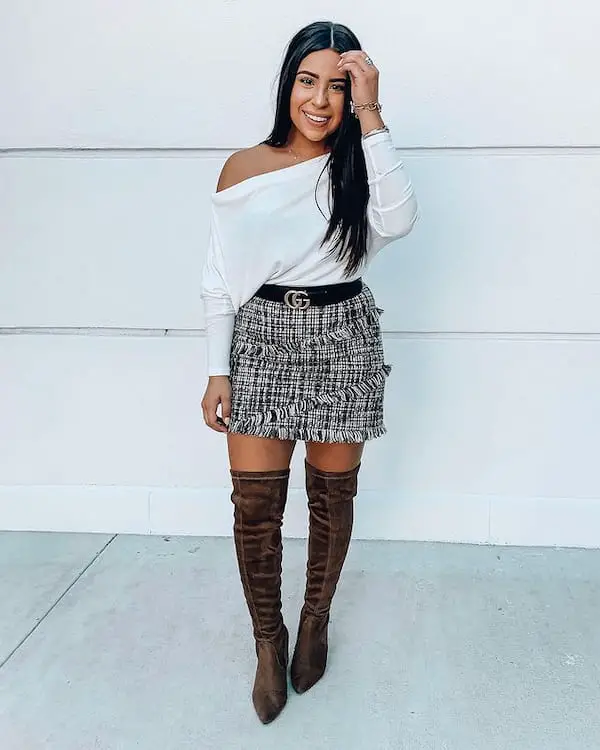 18. White Long Sleeve Shirt with Blue Mini Silhouette + Knee-High Boots + Midi Handbag
This outfit is the closest thing to a short dress that's not actually one. If you don't find layering clothes stressful, I kind of prefer this outfit to a simple short dress for its chicness.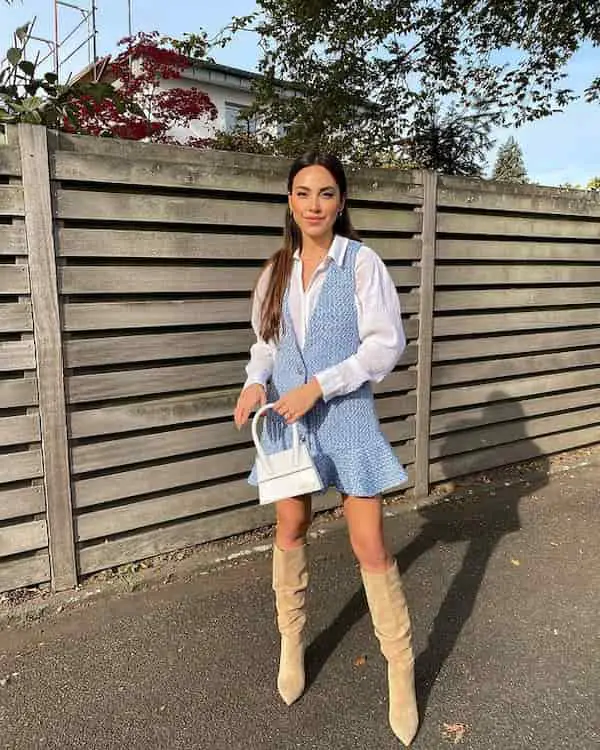 19. Black Leather Boots with Black Long Sleeve Dress with Black Midi Handbag
All-black outfits always seem to work well with boots, and this further drives home the point. The boots match the rest of the outfit perfectly to make it one of the most adorable summer outfits with boots.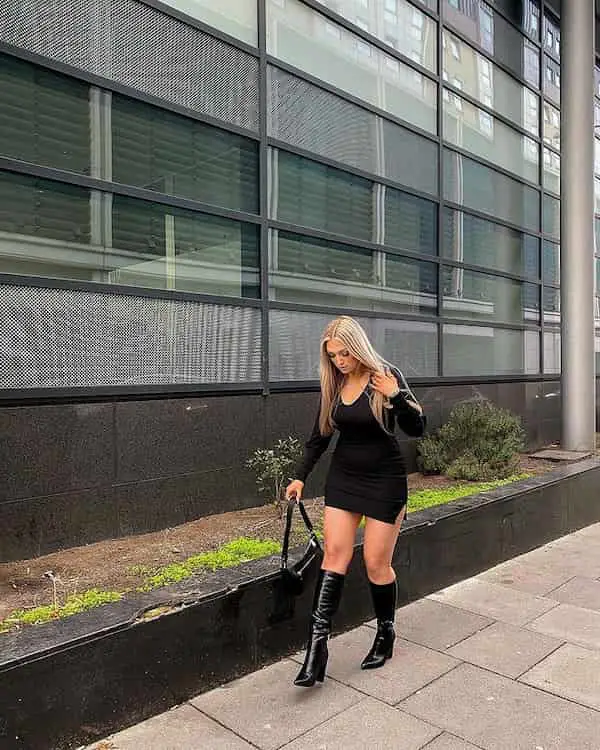 20. White Long Sleeve Shirt with Chain Belt + Crop Palazzo + Square–Heel Boot
When showing up at a party, the last thing you want to be is that unfashionable lady. To avoid that, you should consider copying this outfit; it's probably the most beautiful in this collection.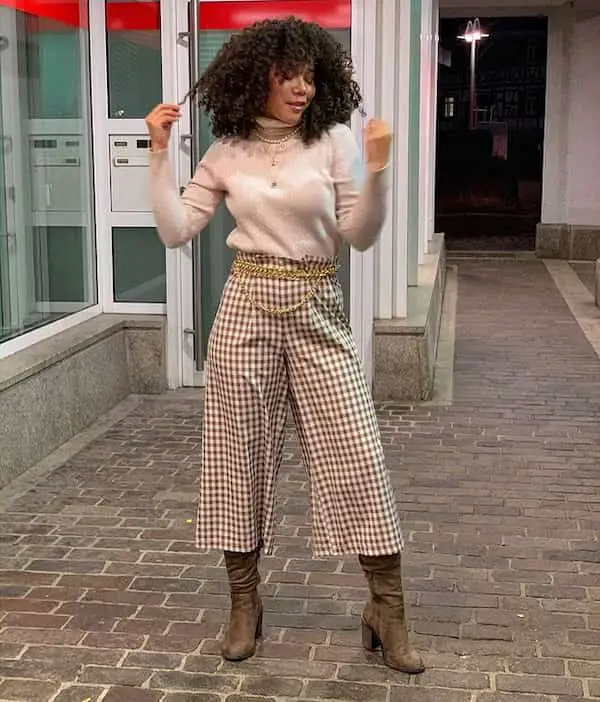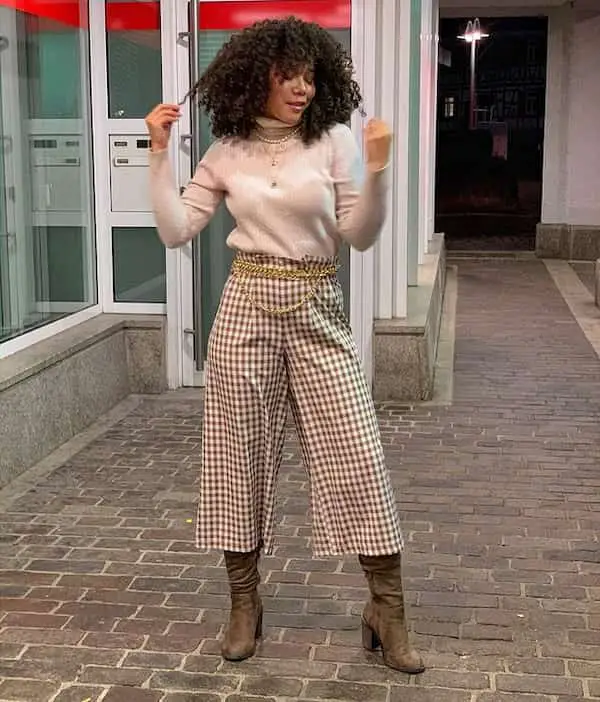 21. Black Long Sleeve Crop Top with Denim Shorts + Calf-Length Boots
We've seen several crop top outfits with denim shorts and they all look chic. However, this takes a slight twist to that formula since the crop top also has long sleeves. Most importantly, it is an absolute joy to wear in the summer.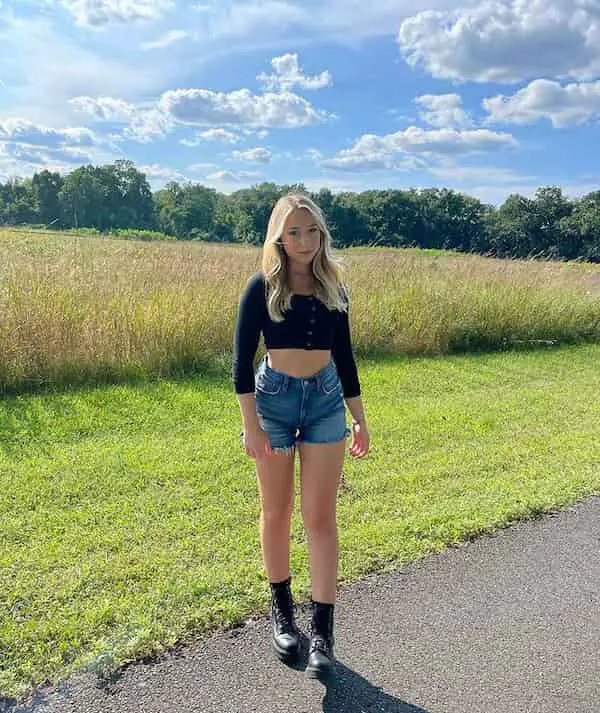 22. White Blouse with Black Mini Skirt + Knee-High Boots + Midi Handbag + Sunglasses
Black and white are two colors that always match, and this outfit idea is enough proof of that. You can consider throwing a handbag and sunglasses into the mix for extra flair.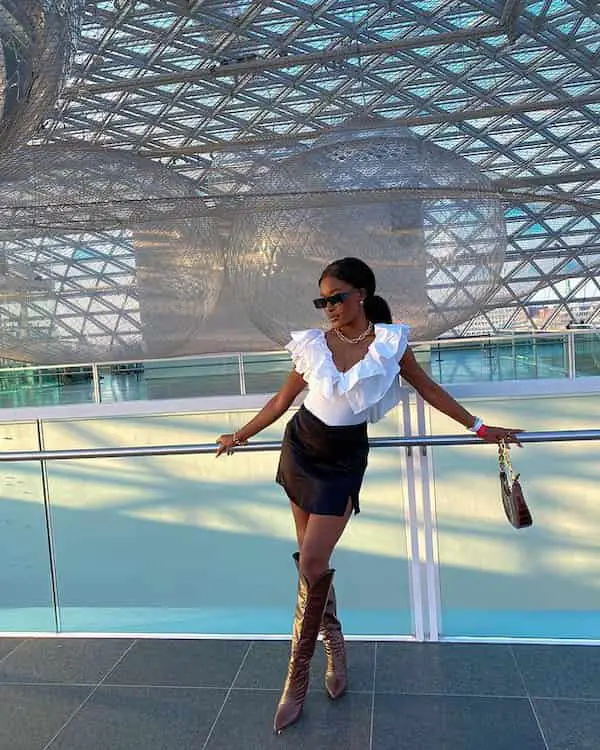 23. Tan Shirt Dress with Chelsea Boots
Shirt dresses are a recent trend that have slowly started taking over the fashion industry for its sheer beauty. If you want something simple that doesn't require you to mix and layer different clothing items, here's the way to go.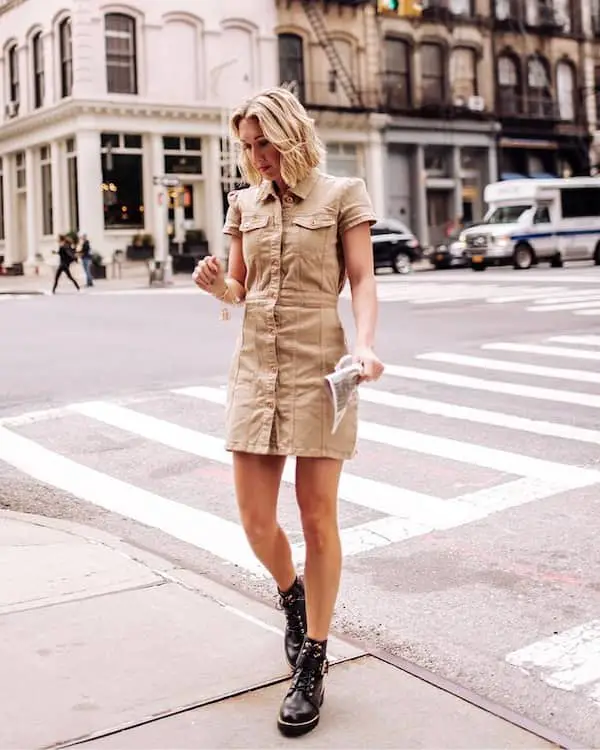 24. White Balloon Dress with Black Jacket + Calf-Length Boots + Midi Handbag
Here's another black and white outfit idea that you should consider trying if you're on the lookout for a party outfit. It's one of the few dresses that keep you cool without looking terrible.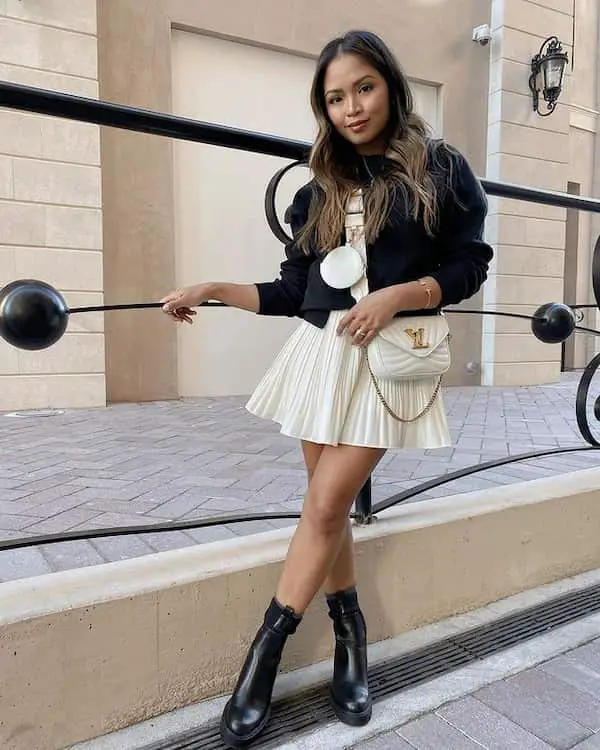 25. Black Tank Top with Red Pleated Skirt + Thigh-High Boots
Wearing a red and black outfit has numerous rules that keep people away from it in most cases. However, it seems like this model followed all the rules, creating the ultimate red and black outfit for the summer.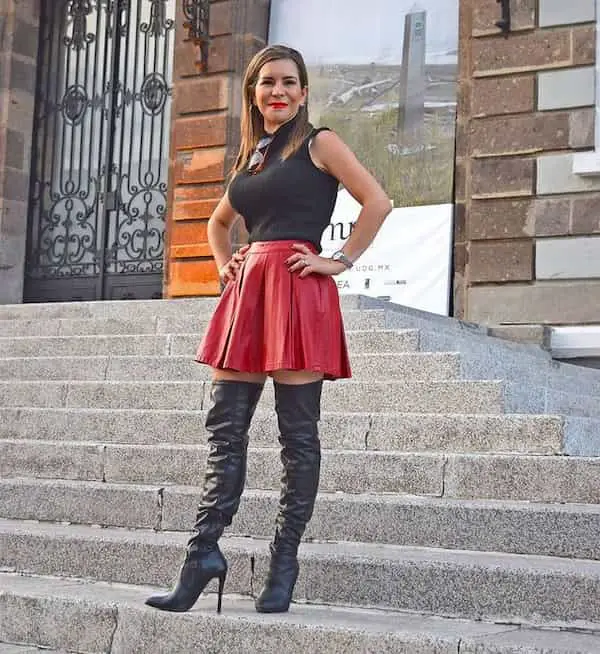 And that's all for my post on cute summer outfits with boots. Want some more outfit ideas? Then you might want to check out these blog posts.
I hope you enjoyed this piece of content. Do well to rate this post, and don't forget to share this outfit compilation with your friends.
See you with more exciting inspirations. Trust me; you wouldn't want to miss any of our upcoming outfit compilations, so make sure to follow us on Pinterest.
Pin for Later.