Jeans are an irresistible clothing item, regardless of the time of the year. Here is a collection of 25 alluring summer outfits with jeans to try this season.
With billions of jeans sold every year, it's undoubtedly one of the most popular clothing items ever. They come in different forms and colors; jean skirts, jeans pants, blue jeans, white jeans; there's just a plethora of options.
Wearing jeans in the summer can be pretty complicated since it's difficult to get them right without adding extra warmth. To simplify the process of choosing a summer outfit with jeans, here are 25 chic options to choose from.
Cool Sumer Outfits with Jeans
Jeans are a timeless and elegant clothing item that works especially well in the summer. Here are some excellent summer outfits with jeans for a chic look.
1. Blue Top with Jean Pants + Sneakers + Face Cap
Pairing a blue top with blue jeans is a lazy way to style blue jeans without looking unfashionable. A face cap and a pair of sneakers complete her unique and elegant look.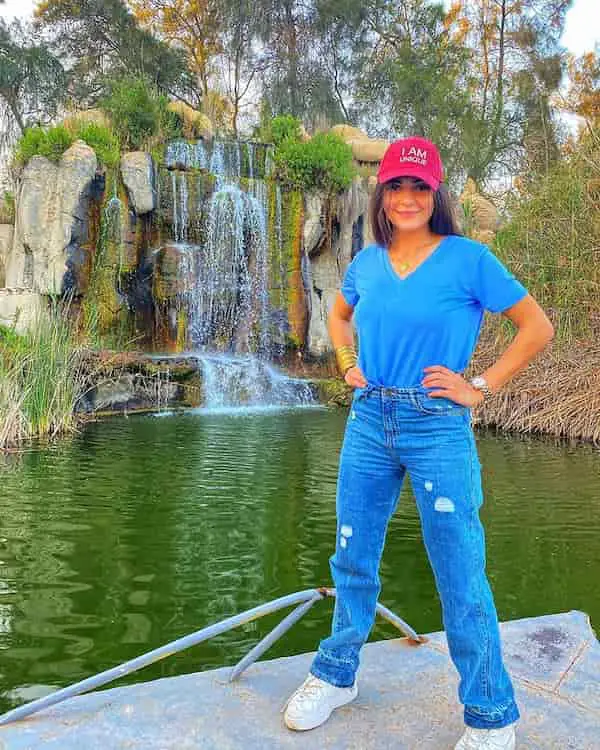 2. Tan Crop Vest with Stripped Jean Pants + Heels
For casual events, a crop vest with stripped jeans might be thebest option. Matching the tan color of the vest with that of your heels makes the outfit look more cohesive.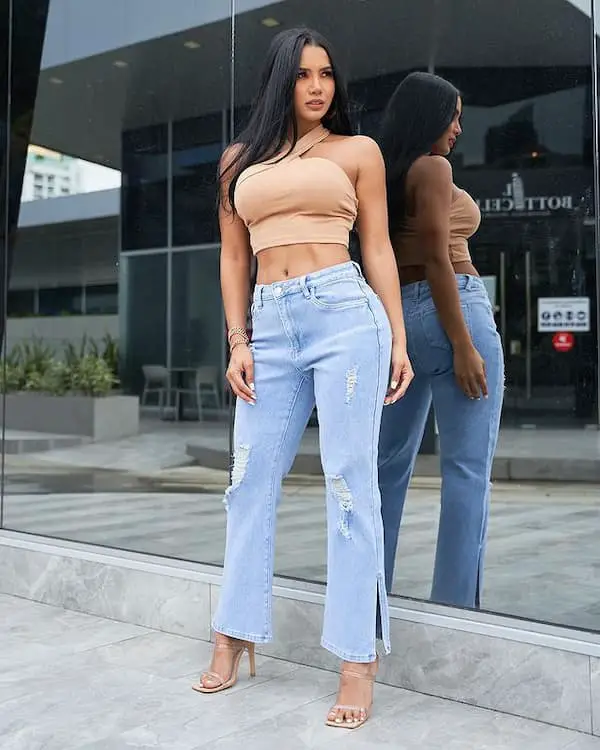 3. White Top with Red Belt + Baggy Jeans + Heels + Midi Handbag + Sunglasses
If you're willing to play around with a bit of red, consider copying her outfit. I love the match between the belt and the bag, and the overall outfit simply looks chic.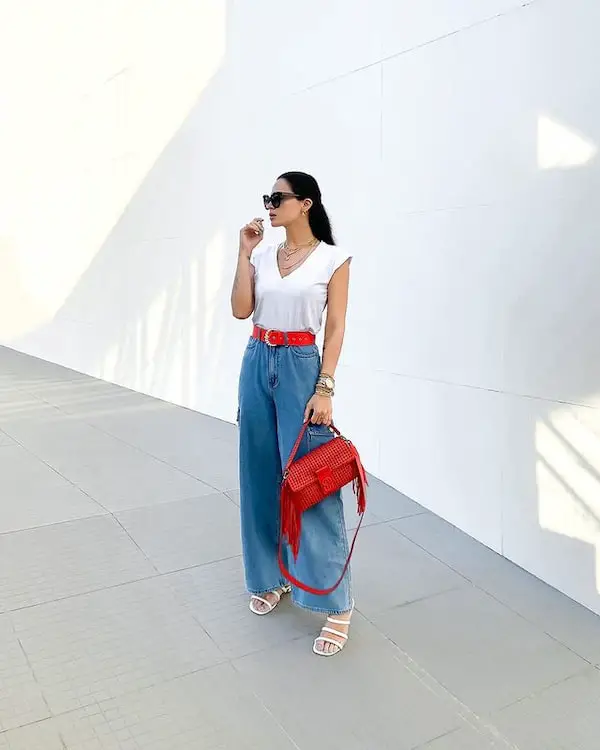 4. Black Crop Top with High Waist Jean Pants + Heels
If you're going for a fashionable look, a black crop top with high waist jeans is a perfect match. Wearing black heels will also create a match between the top and your footwear, making for a cohesive package.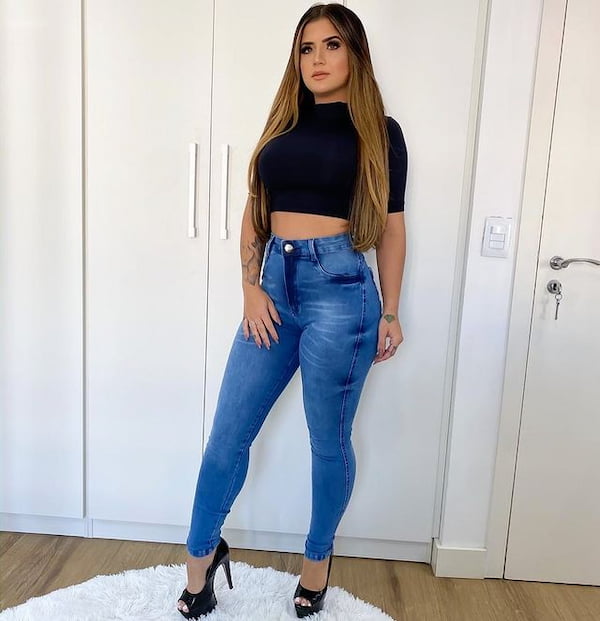 5. Brown Long Sleeve Blouse with Jeans + Loafers
A long sleeve sweatshirt is not the best option when trying to keep cool in the summer, but it's not off-limits either. If you like this elegant look, you'll have to make some sacrifices.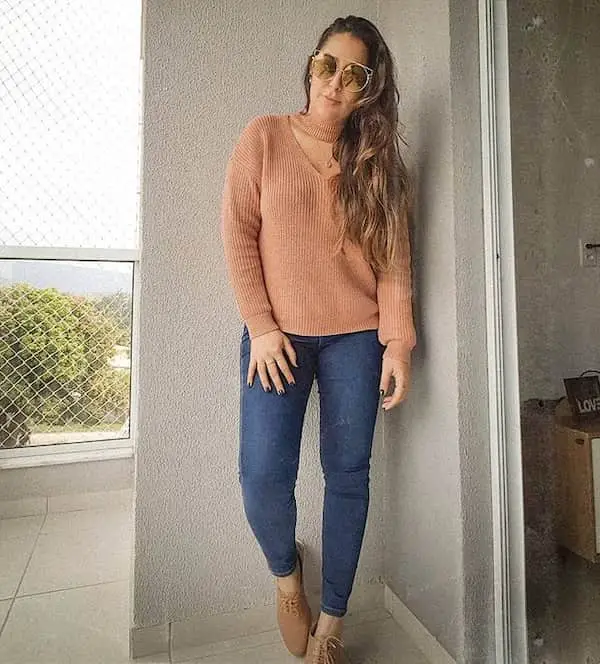 6. Sleeveless Top with Jean pants + Loafers
When looking to keep cool in the summer, here's an excellent way to do that. It perfectly balances leaving your body bare for enough air and making you look good.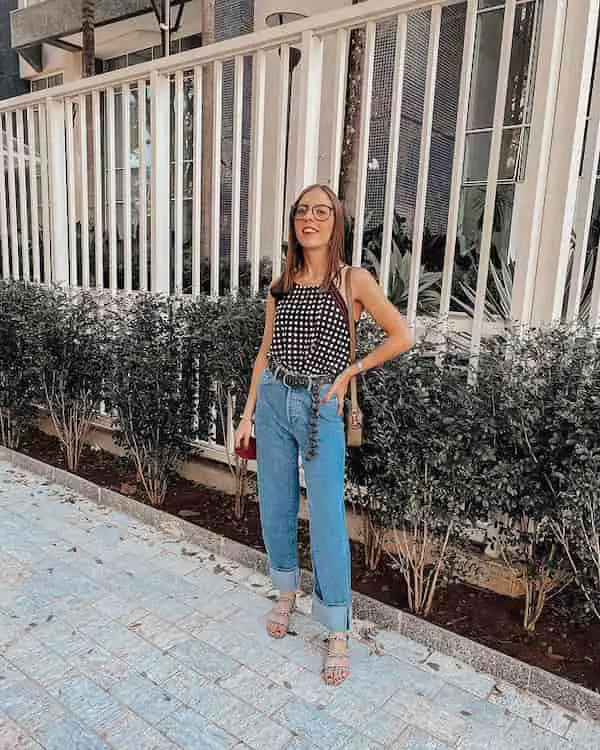 7. White Graphic Top with Belt + High Waist Jean Pants
How about a simple graphic tee with high waist pants? Pairing graphic t-shirts with jeans is an age-long tradition and here's an incredibly fashionable way to do it.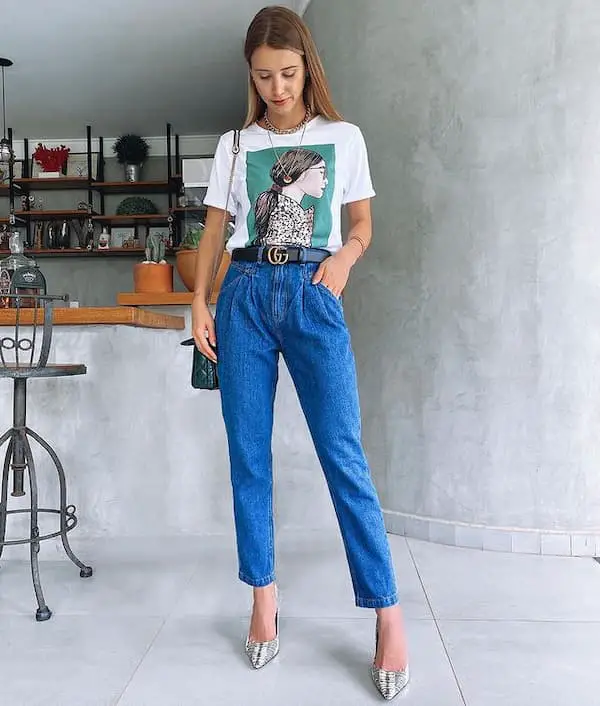 8. Black Long Sleeve Shirt with High Waist Baggy Jeans + Heels + Scarf
If you fancy baggy jeans, here's a cute way to style them while keeping cool. My favorite part of the outfit is the scarf, which combines seamlessly with the rest of the outfit.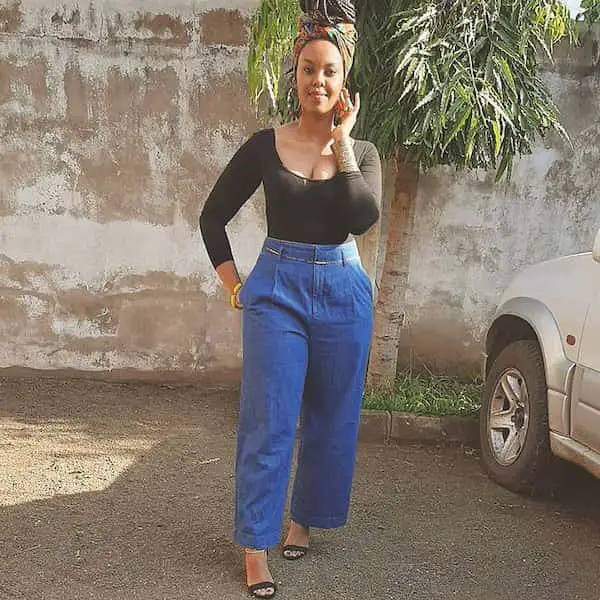 If you're all for a black and white outfit, you should consider replicating this outfit. Instead of the conventional blue jeans that we've been seeing so far, this uses white jeans, with only the shoes making the exception in the color.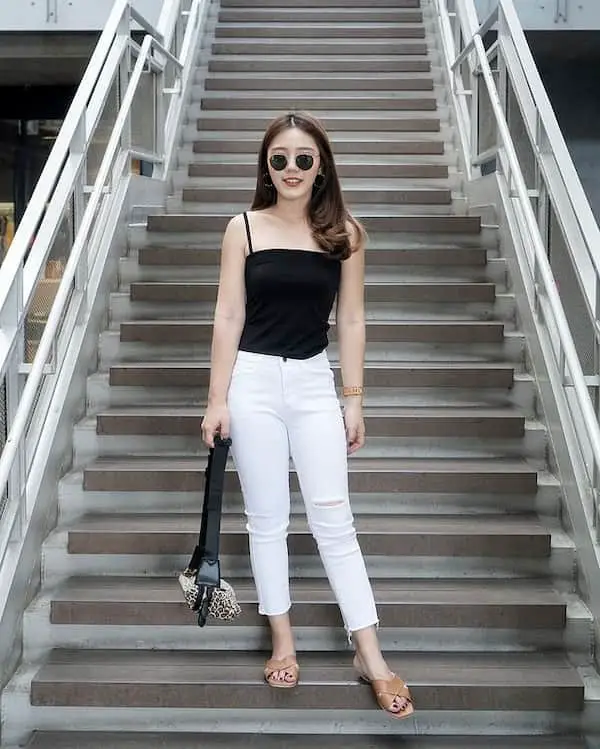 10. Black Deep V-Top with Jean Pants + Boots
A deep v-top is an excellent way to keep yourself cool on a warm summer day. When you pair it with jeans, it works well for all kinds of casual events and gatherings.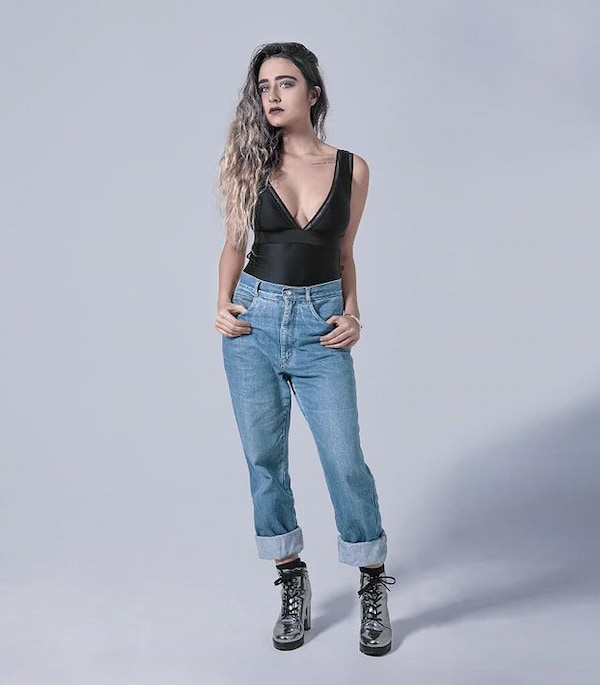 11. White Vest with Floral Kimono + High Waist Flare Jeans
It's hard to understand how elegant a white vest looks with jeans until you try it. In this chic outfit idea, the simplicity of a white vest with jeans is only broken with the kimono. Still simply elegant.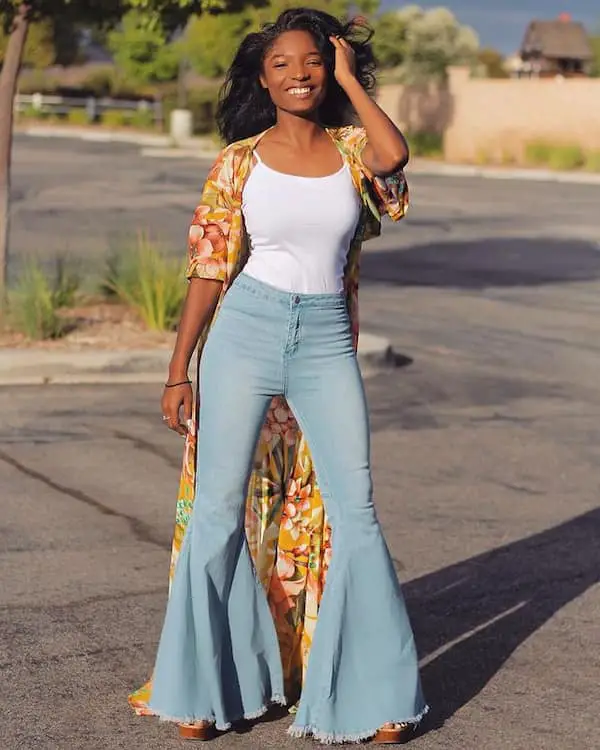 12. White Vest with Floral Kimono + Ripped Jean Pants + Heels
Still on the kimono-based outfits trend, here's a white outfit with ripped jeans. Comparing it with the preceding ideas side by side, it's genuinely hard to choose a favorite.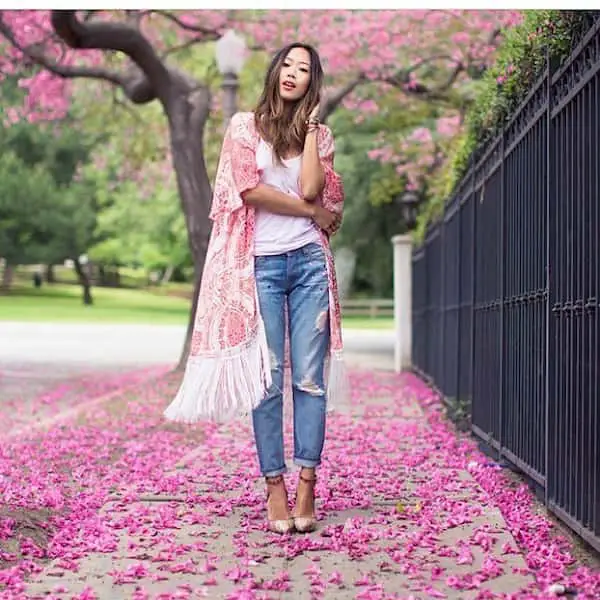 13. Black Crop Top with High Waist Jean pants + Heels
A black top is always a good fit for jeans, but you have to be a bit more careful in the summer. Talking about being more careful, a black crop top is what's meant by that to keep you cool.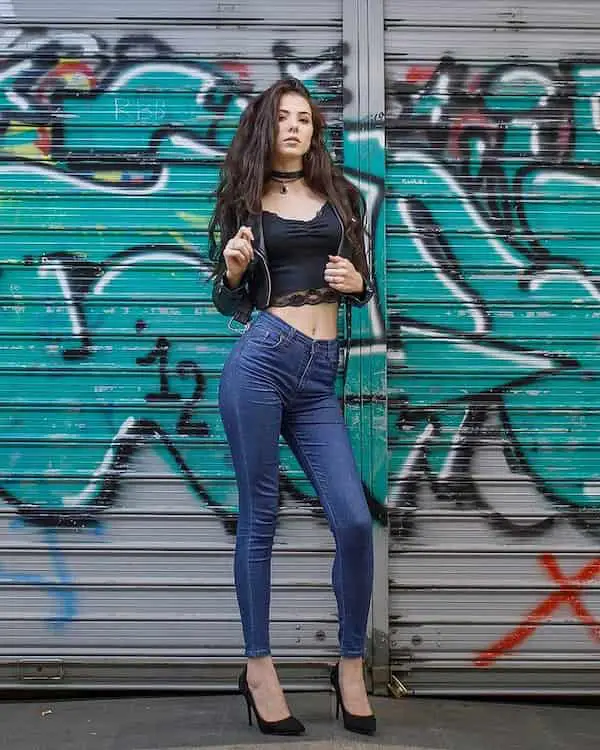 14. Up-Shoulder Yellow Top with Belt + Ripped Blue Jeans + Heels
Yellow tops and blue jeans may not be the most common combination out there but it works. When you look at her implementation, you'll find it hard not to copy the outfit.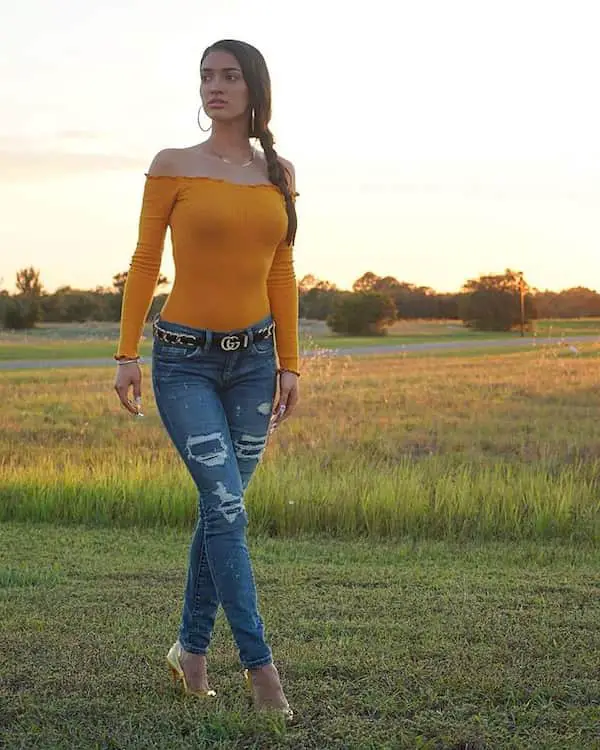 15. Yellow Crop Top with Ripped Jeans + Sneakers
If you loved the preceding yellow outfit, here's another similar idea to try. Not only does this looks pretty chic, but it also keeps you cooler than any long sleeve can, so it's a decent outfit for the summer.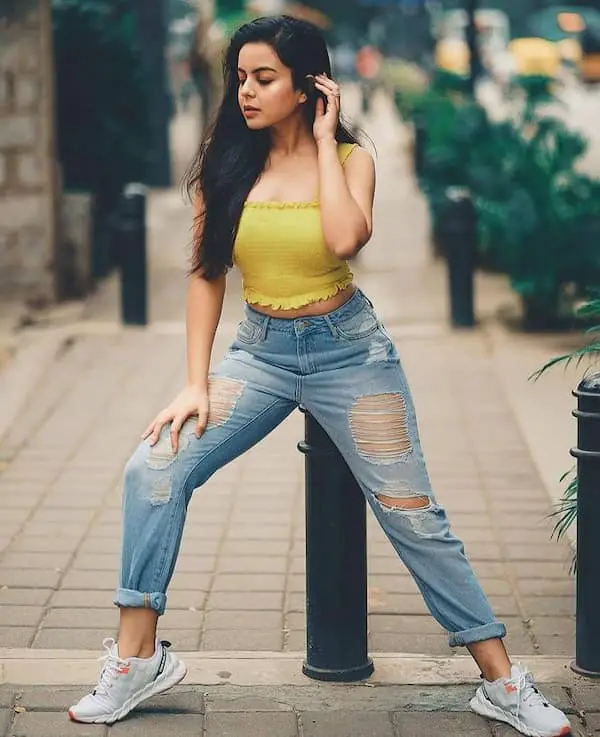 16. Black Vest with High Waist Jeans + Heels
We've seen many black outfits with blue jeans and not a single one looked unfashionable. This outfit surely won't be the outlier since you can confirm that it's indeed cool. Great outfit idea for parties and weekends.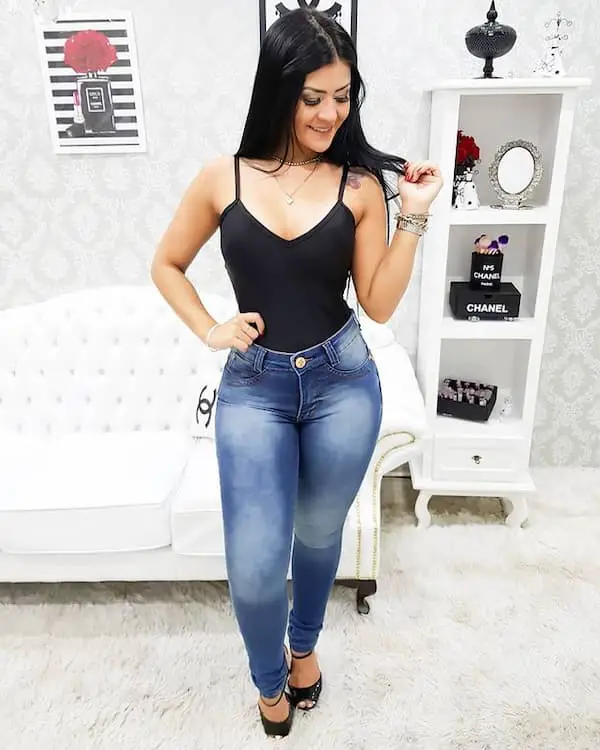 17. Orange Crop Top with High Waist Flare Jeans + Loafers
The primary reason why this outfit looks cool is because of the flag beside her. The jeans and top match with the blue and orange on the map respectively. However, that doesn't mean it wouldn't look chic without a flag beside you.
18. Floral Blouse with High Waist Jeans + Slippers
A floral blouse is an interesting outfit idea, especially when pairing it with high waist jeans. For utmost simplicity, a pair of slippers is the preferred footwear, aptly capturing her elegance.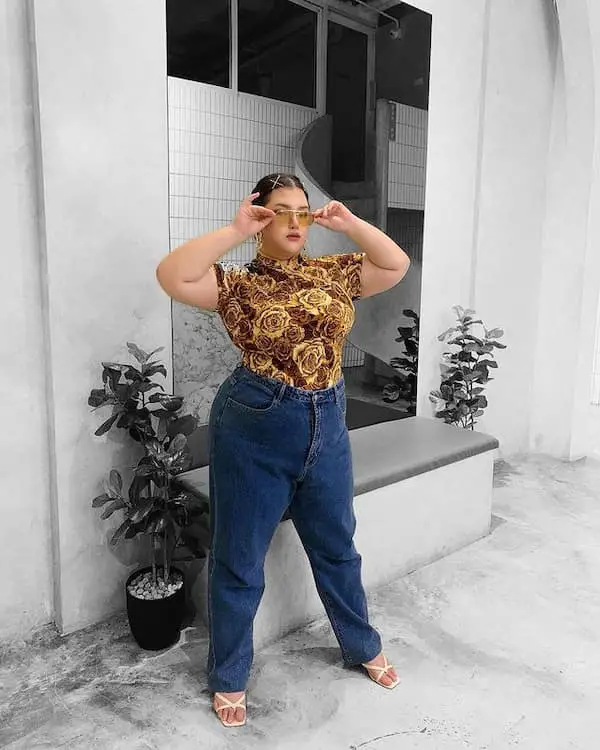 19. Sleeveless White Top with Jeans + Sneakers + School Bag
If you're a fan of white tops with blue jeans, here's the best option to keep you cool. The lack of sleeves is a blessing in the winter and the entire outfit looks cohesive and fashionable as a whole.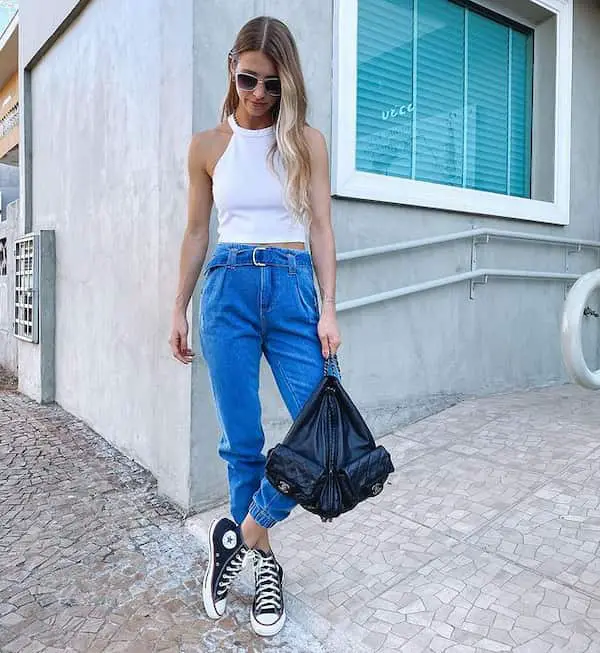 20. Black Top with Jean Pants + Sneakers + Cross Shoulder Bag + Facecap
On the other hand, you can go with a black top instead of a white top for blue jeans. With her looks here as proof, it's apparent that the combination is just as good, if not better than that of a white top.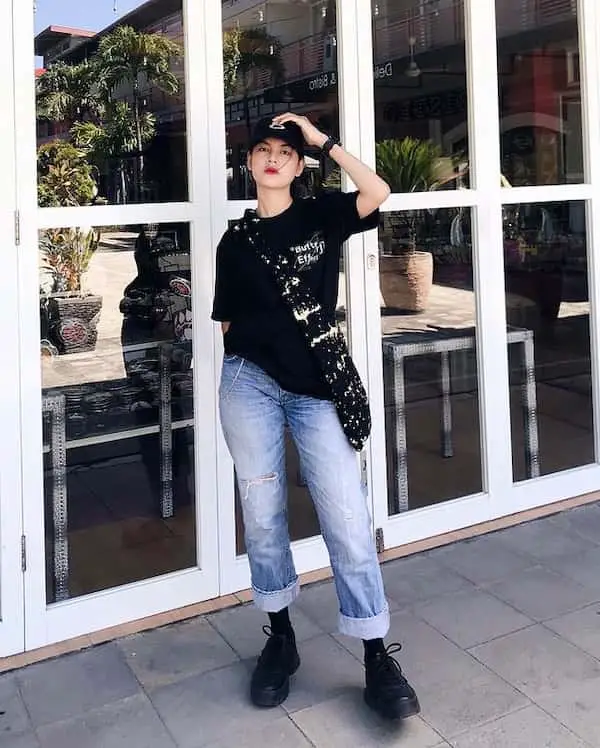 21. Tan Plain T-Shirt with Jeans + Slippers + Midi Handbag
If you want something that's pretty close but not quite white, here's an idea. In addition to looking incredibly chic, it's also good for any kind of event, be it casual or formal, even work!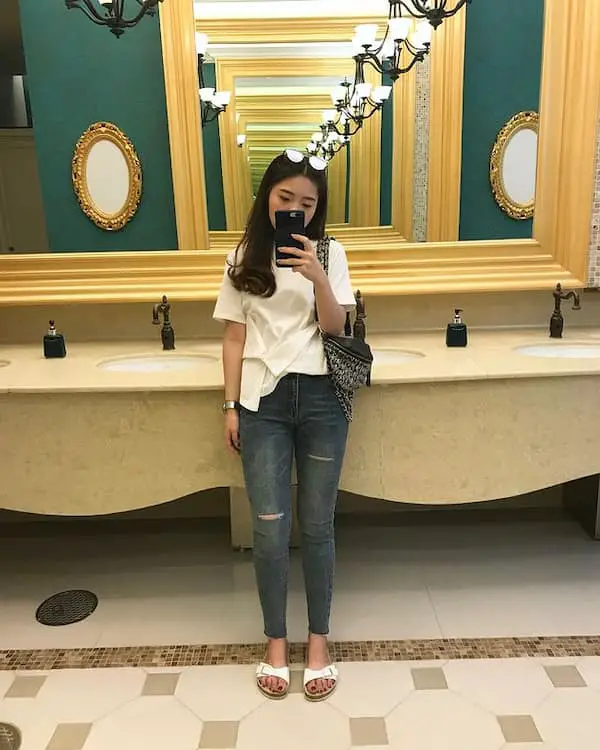 22. Line Parted Top with Ripped Jeans + Sandals
If you have nowhere to go for the weekend, dressing in a simple top with ripped jeans is a comfortable way to stay at home. Sandals are also the footwear of choice since you don't want to wear heels at home.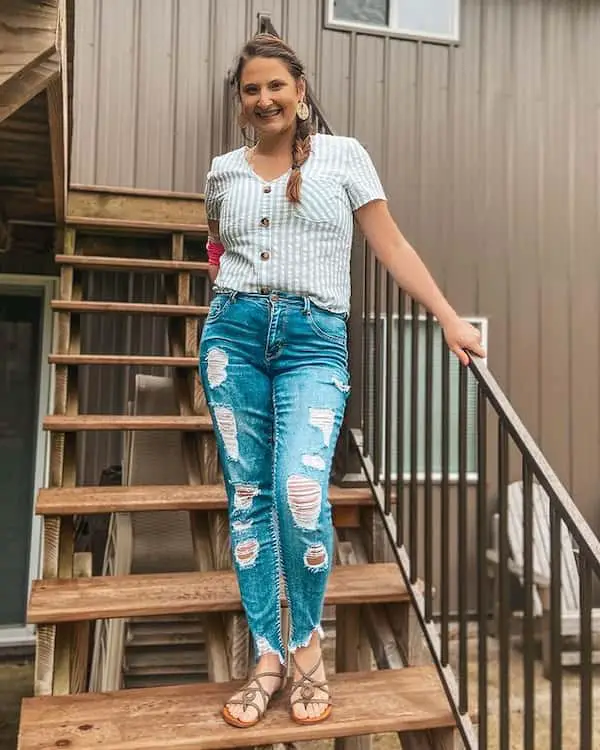 23. Black Tied Top with High Waist Jeans + Heels
For unobvious reasons, this is my favorite outfit from this entire collection. It's incredibly simple but fashionable, and it's a great fit for work, play, and everything in between.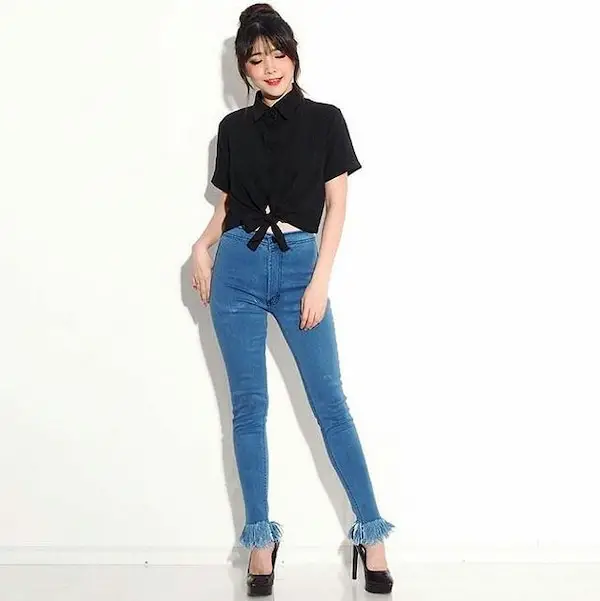 24. Up-Shoulder Line Parted Shirt with High Waist Jean Pants + Heels
Here's an alternative way to style high waist jeans while keeping yourself cool in the summer. This outfit is better than the preceding one for casual events, thanks to its simplicity and chicness.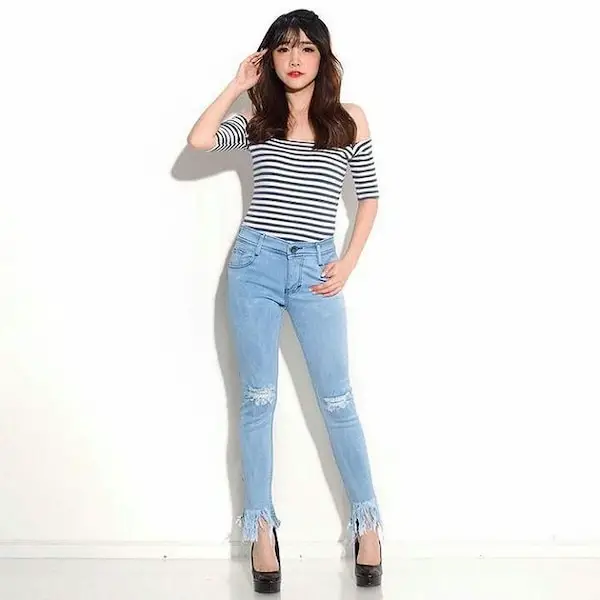 25. Floral Blouse with White Jean Pants + Slippers
If you're not dressing for anything extraordinary, this is actually a very fashionable outfit. While it's not bad by any standards, there are better outfits in this collection for parties and the likes.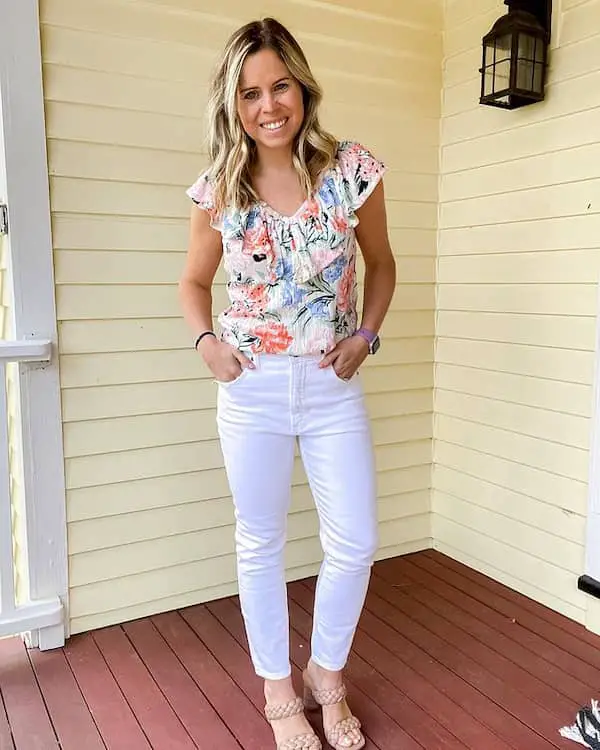 And that's all for my post on the most adorable summer outfits with jeans. Want some more outfit ideas? Then you might want to check out these blog posts.
I hope you enjoyed this piece of content. Do well to rate this post, and don't forget to share this outfit compilation with your friends.
See you with more exciting inspirations. Trust me; you wouldn't want to miss any of our upcoming outfit compilations, so make sure to follow us on Pinterest.
Pin for Later.