You can wear leggings in all seasons, but wearing them alone is almost exclusive to the summer. Here are some cute summer outfits with leggings to try.
In addition to being comfortable, leggings are thin enough to keep you cool during the summer. It's no surprise, therefore, that leggings are a very essential part of summer outfits for the vast majority of people.
If there was a universal truth about leggings, it would be that they're hard to style. To help you with styling them, I'll outline some of the most adorable summer outfits with leggings that keep you cool.
Cute Summer Outfits with Leggings
1. Versace Black Shirt with Black Leggings + Heels + Handbag + Sunglasses
Wearing a black top with black leggings really does make an outfit look cohesive. The match between the sunglasses and the heels is also genius, making this an irresistible outfit.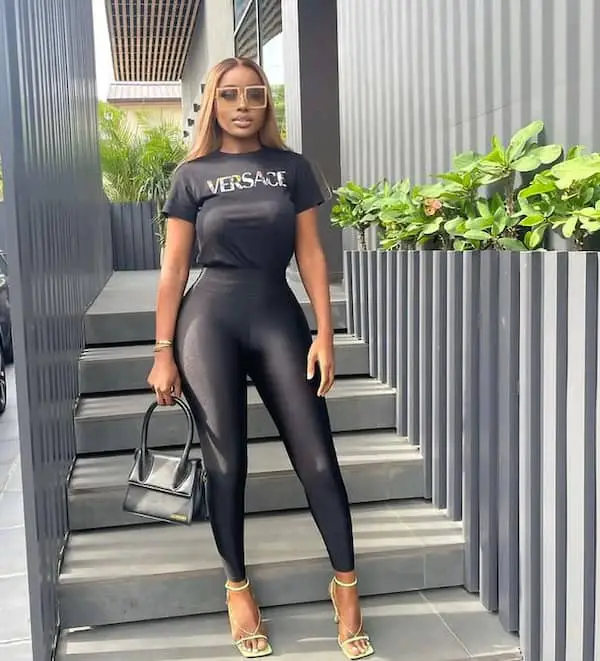 2. Long Sleeve Flannel Shirt with Black Leggings + Slippers
A long sleeve flannel shirt is also a good companion for a pair of black leggings if you're not gunning for an overly fashionable outfit. While it doesn't look particularly bad, you don't want to show up at a party like this either.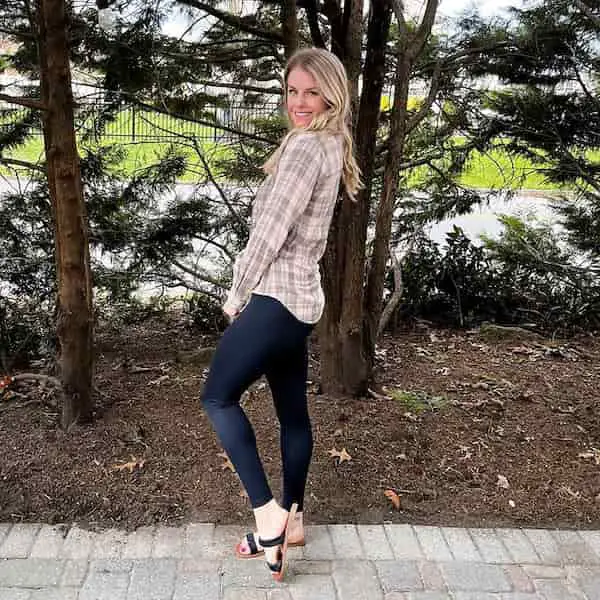 3. White Long Sleeve Crop Top with White Leggings + Trainers
An all-white outfit with leggings doesn't sound good in theory, but just look how gorgeous she looks. While it gives a sportsy look, I'll advice against sporting in white outfits.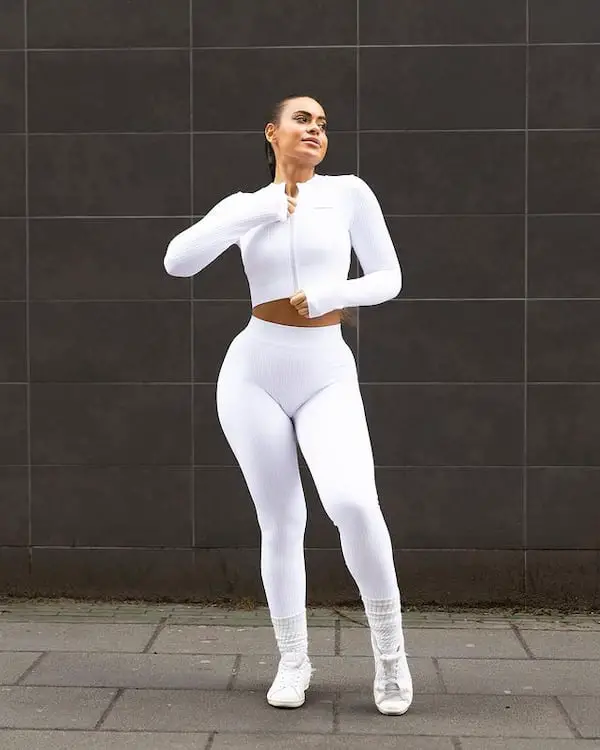 4. Black and White Shirt with Leggings + Thigh High Boots
You don't have to wear an exclusively black or white outfit to look great in leggings. This outfit may be majorly black, but the subtle white touch is excellent. It doesn't matter what kind of boots you wear; just match it with the leggings!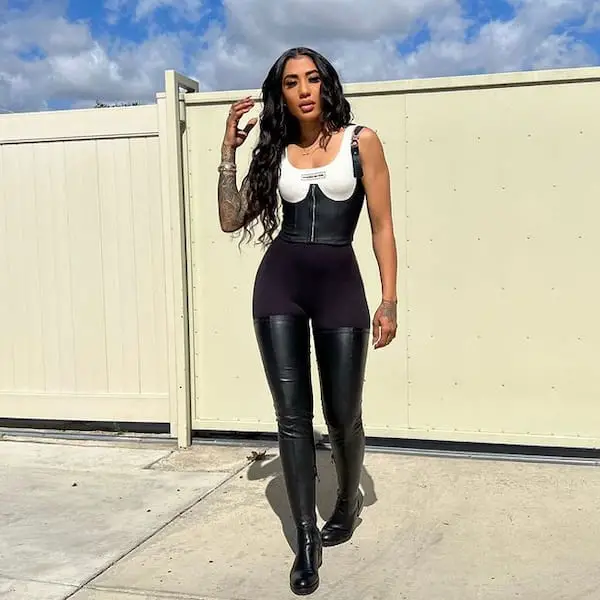 5. White Crop Top with Baby Jacket + High Waist Hourglass Crop Leggings + Clog Slides + Sunglasses
A white crop top with a baby jacket lets you layer your outfit without suffering from excessive heat. I love the careful color choices here; it really does make the outfit come together nicely.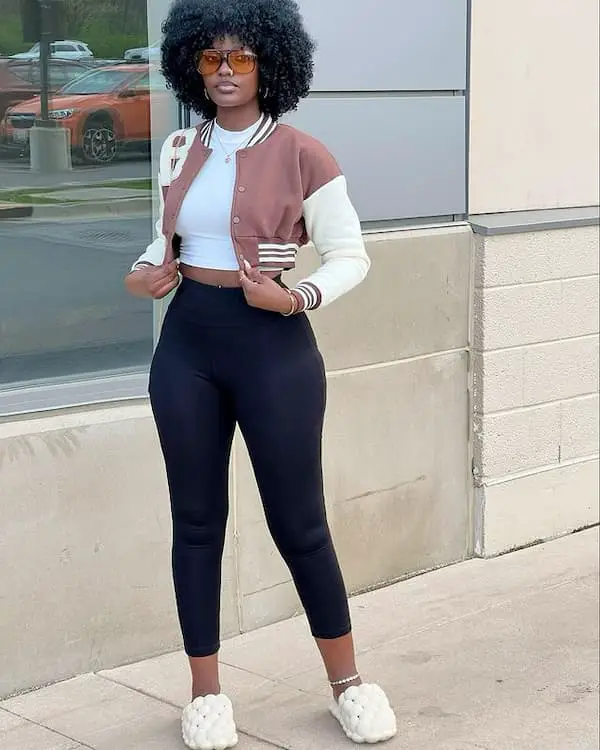 6. White Vest with Blazer + Black High Waist Leggings + Heels + Clutch Purse
Getting a professional look with leggings in the summer seemed hard, until I saw this outfit. It perfectly balances professionalism, chicness, and simplicity to make one of the best summer outfits with leggings.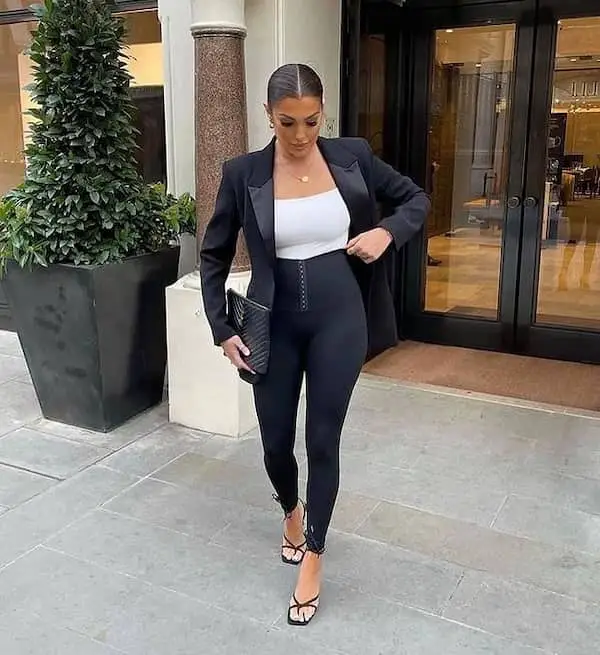 7. Floral Mini Dress with Net Leggings + Heels
A dress doesn't sound like the kind of outfit that matches leggings. However, matching it with net leggings doesn't seem bad, especially if it's a floral dresses with touches of black.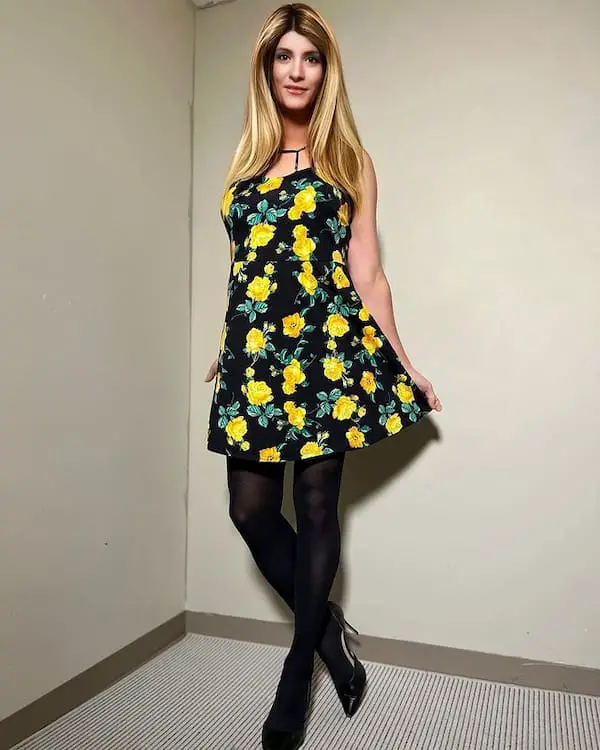 8. Black Crop Top with White Jacket + Leggings + Sneakers
Crop tops are a crucial part of summer outfits with leggings, and here's another idea for styling them. If you've always wanted a healthy mix between black and white, there's no better way to achieve that.
9. White Long Sleeve Top with High Waist Orange Leggings + Heels
Black doesn't have to be the supporting color to white in an outfit with leggings. This model proves that orange leggings look just as good as black ones, especially with white long sleeves.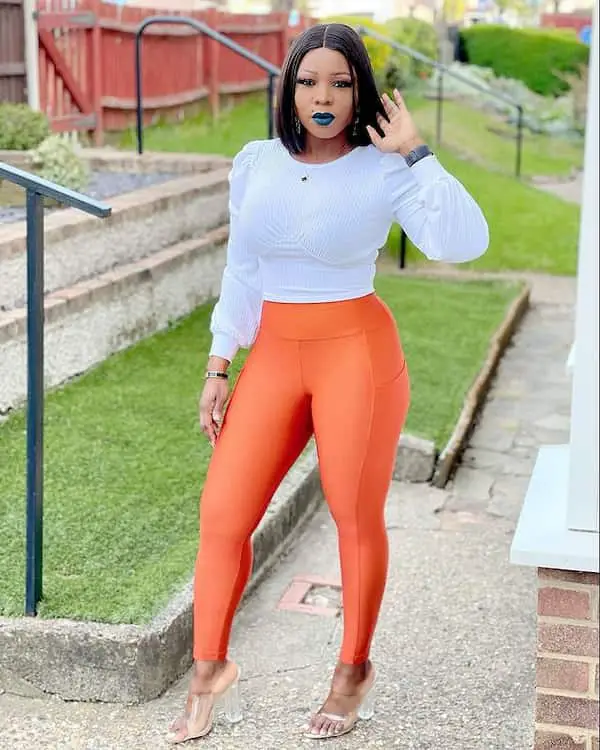 10. Black Handless Top with High Waist Leggings + Heels
Wearing an all-black outfit is one of the laziest ways to get a chic outfit without mixing colors. She seems to do that perfectly here, but her heels seem to be colored differently.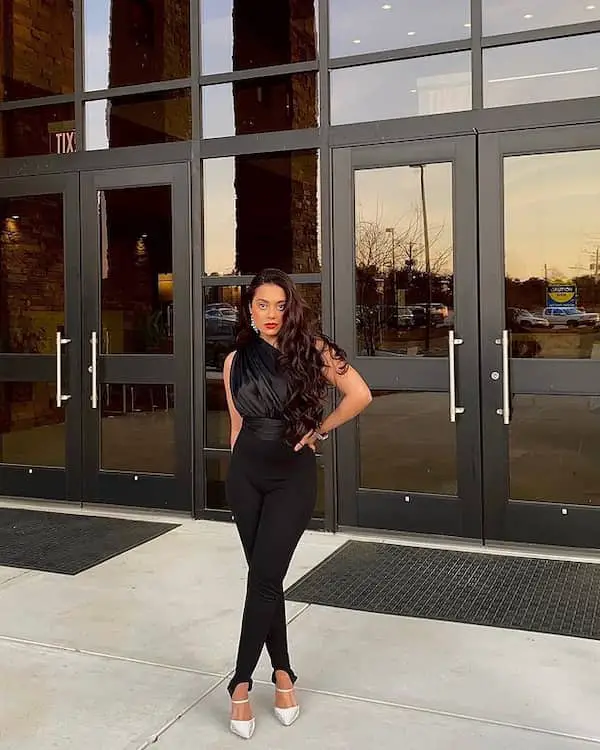 11. Black Graphic T-shirt with Black Leggings + Tummy Belt + Heels + Sunglasses
Here's another almost all-black idea you should continue trying for a simple way to style leggings. I won't ignore the sunglasses here, mainly because they look extremely gorgeous.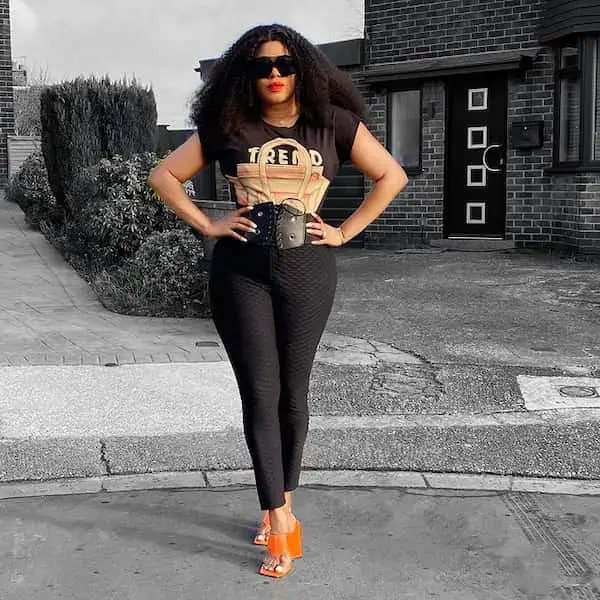 12. Line Striped Long Sleeve Shirt with Leather Leggings + Black Boots + Sunglasses
While you can get away with all-blacks and all-whites, mixing both still remains the preferred option. Here's a great black and white outfit idea with leather leggings that radiates chicness.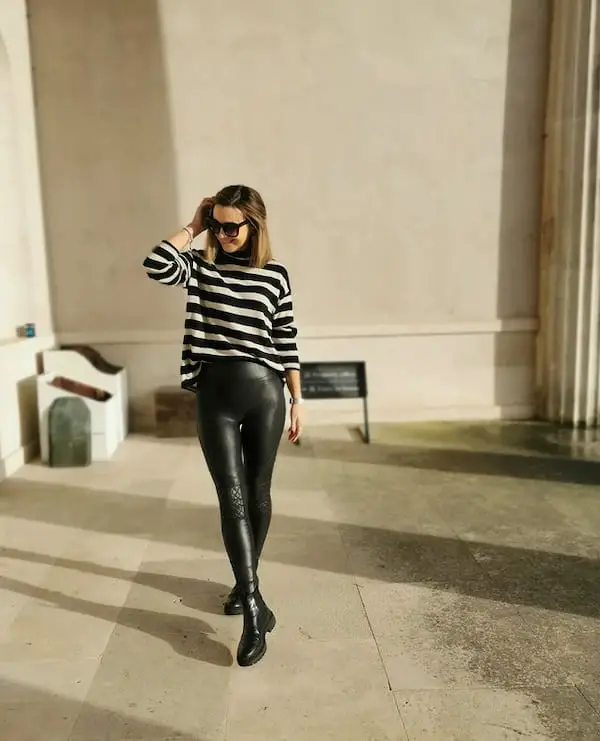 13. White Crop Top with Black High Waist Leggings + Black Shoes
Still on white and black outfits, this is one of my favorites. It's a simple white top with black leggings, and there's no oddly colored shoe this time. Looks unarguably elegant.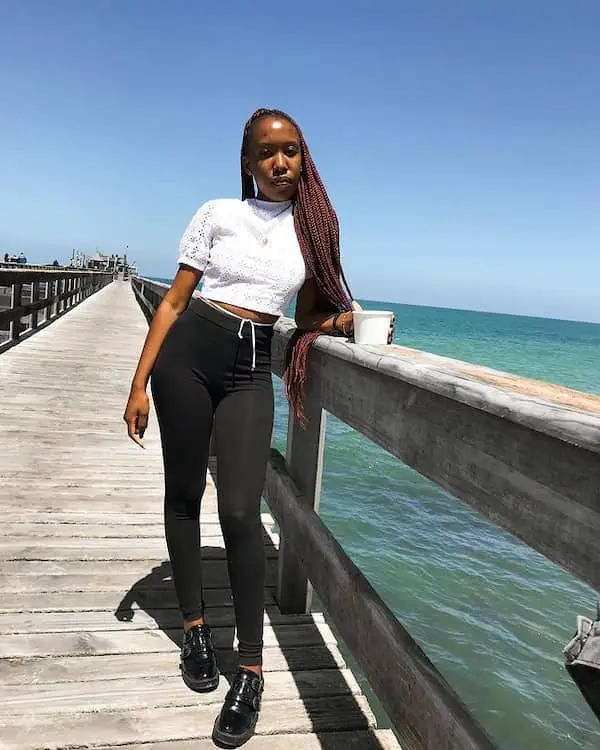 14. Graphic Black Top with Black Leggings + White Sneakers
Graphic tops always have a way of matching with every clothing item, thanks to their variety. Here's an excellent way to wear a black graphic tee with leggings without warming up in the summer.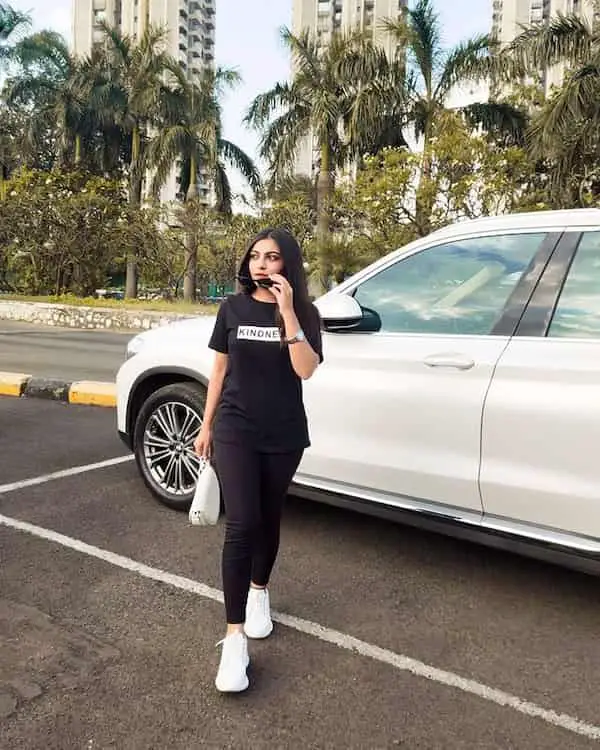 15. Pink Top with Black Leggings + Cross Body Bag + Sneakers
An outfit compilation for ladies will always be incomplete without the color pink. If you tend to have tons of pink tops, here's a way to style one with your leggings to look alluring.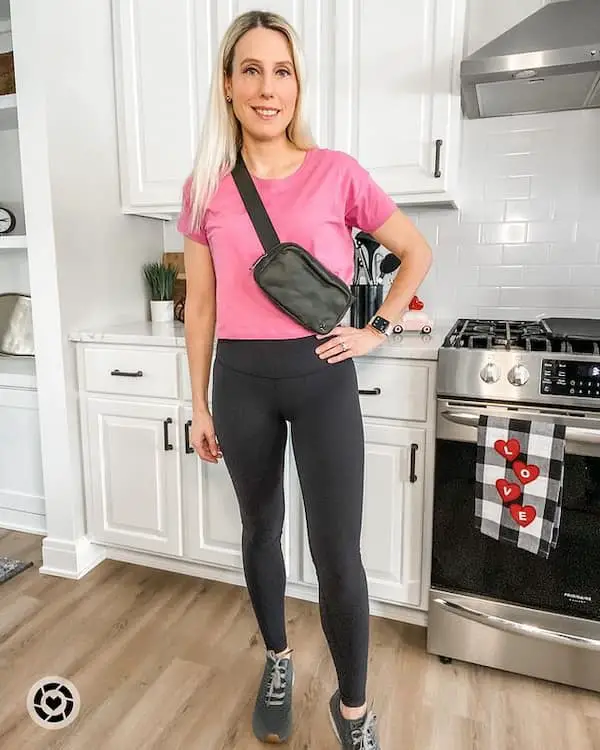 16. Black Crop Top with Denim Jacket + Black Leggings + Van Shoes
Denim jackets are chic, but they become next level when you put them over a black crop top. Add black leggings and Vans shoes and you'll have an outfit that's this beautiful.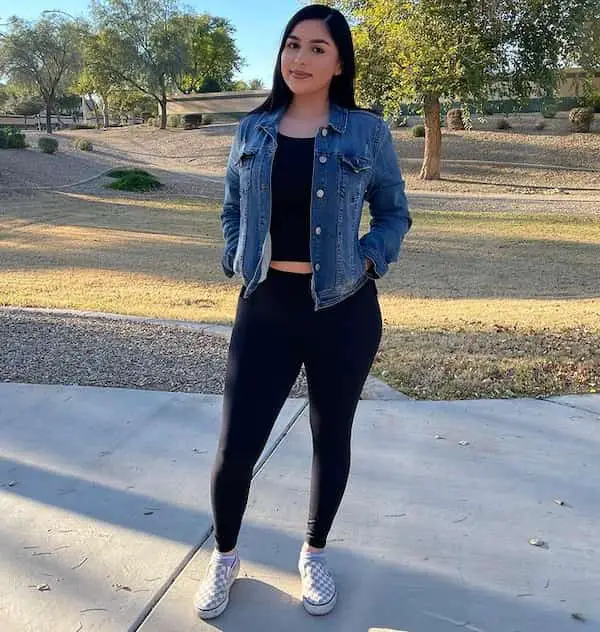 17. Black Long Sleeve Crop Top with High Waist Leggings +  Sneakers
When you delete the denim jacket from the preceding outfit, all you have left is this. While it doesn't look as chic, it's better in the summer as the denim jacket only adds extra warmth.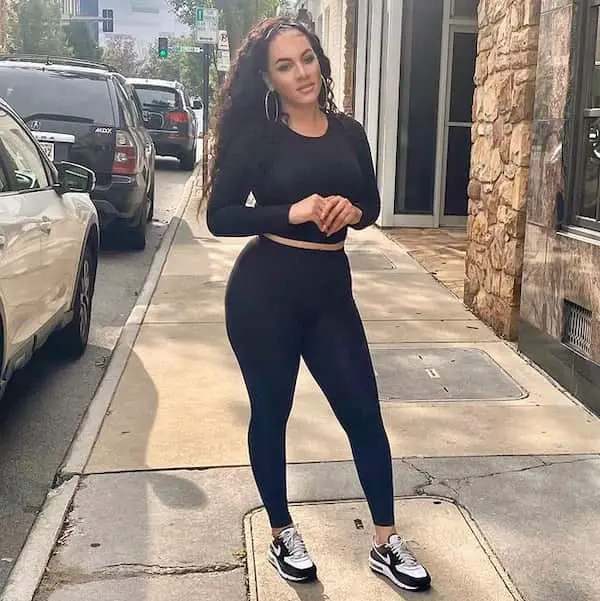 18. White Crop Top with Leather Jacket + Leather Leggings + Ankle High Boots
If you want a jacket without denim in the name, here's an alternate way to style your leggings. While I'm not exactly a fan of leather jackets, I'll gladly take this outfit simply for its cuteness.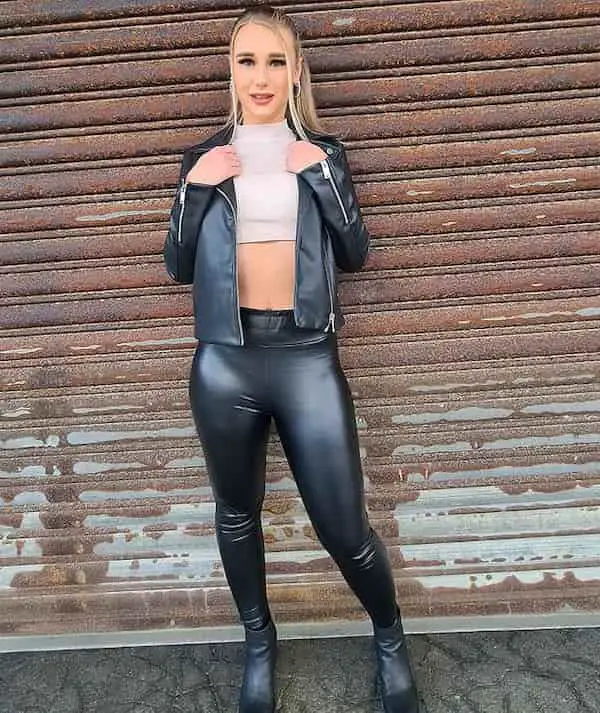 19. Red Tank Top with Leather Leggings + Heels
Red and black make a powerful color match that's always adorable, regardless of what you wear. Independent of the colors, the tank top seems to match the leggings, and the smiles adds extra beauty to the outfit.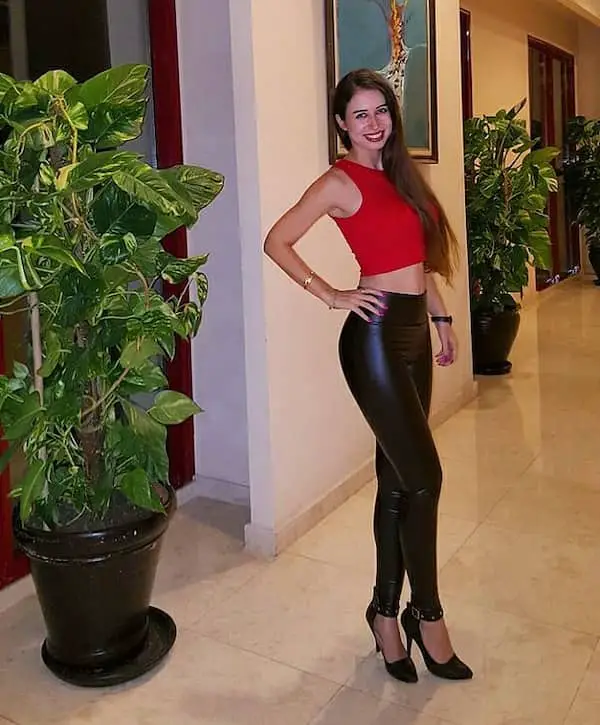 20. Light Blue Demin Jacket with Green Leggings + Yellow Heel Shoes
Denim jackets are a cute combination with leggings and this outfit is further proof of that. While the colors don't appeal a lot to me, I'll appreciate the general look: exquisite.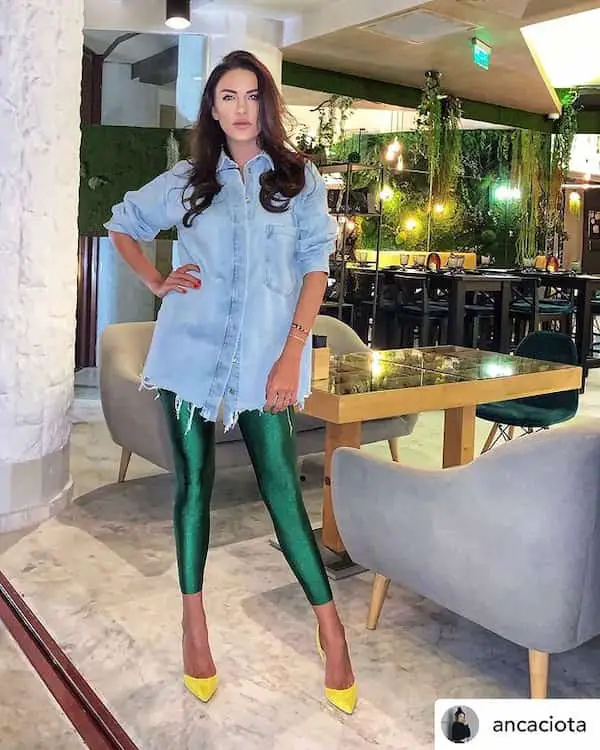 21. White Tee with Pink Leggings + Sneakers + Sunglasses
I've shown a pink top earlier, but why not flip that over and make it a white top with pink leggings. It happens to be a chic combination, but the environment makes it look even more elegant.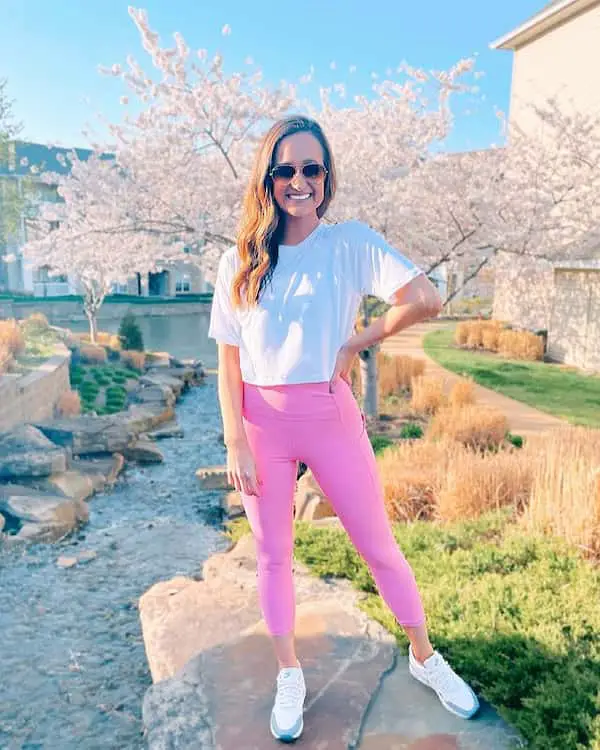 22. Off-white Crop Top with Blue Leggings + Sneakers
Crop tops with leggings are excellent for keeping cool in the winter, but this outfit goes an extra length. In addition to keeping you cool, it also keeps you hot in the ways that matter, making it one of the best summer outfits with leggings.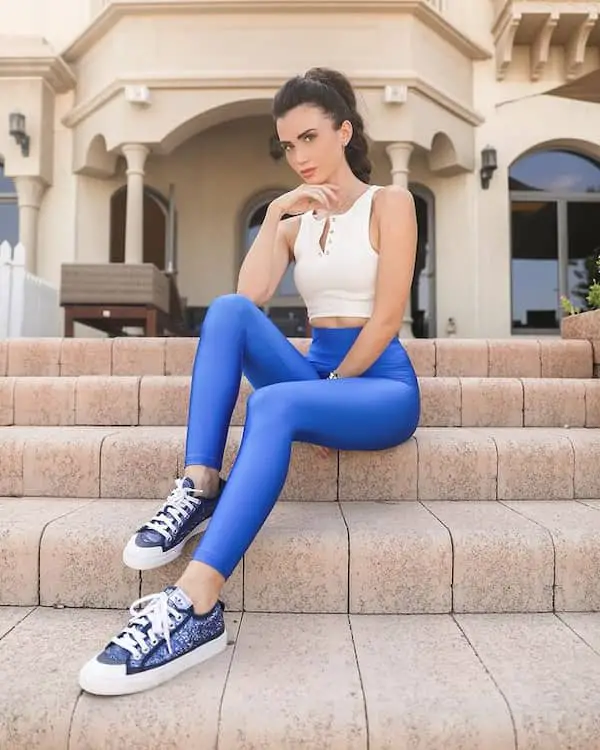 23. Black Blouse with Deep Blue Leggings + Slippers + Sunglasses
A simple black blouse may the easiest item to wear with leggings, but it doesn't look bad. This outfit is the best proof that simplicity is almost always beautiful, and I'll keep the sunglasses too.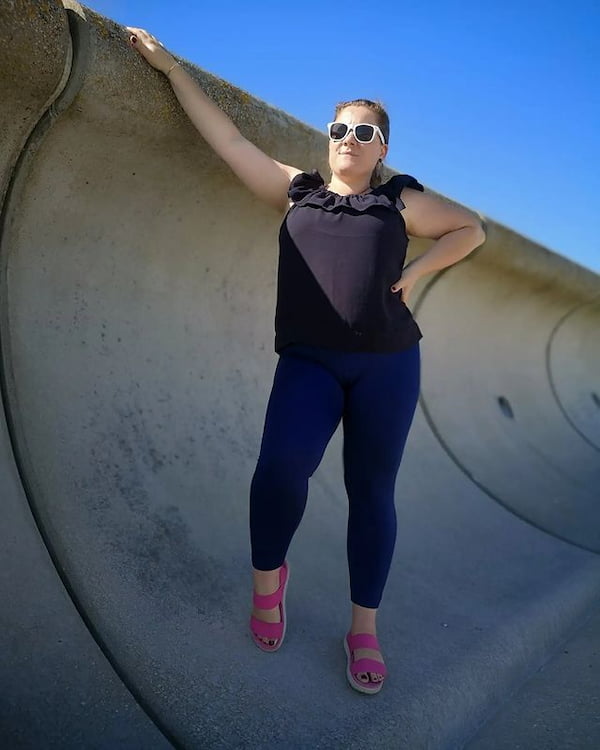 24. Red Leather Top with Red Leggings + Heels + Hat + Midi Handbag
We've seen all-black and all-white, but why not go all-red to make a difference. Except for the similarly-colored hat, bag, and heels, this would've been a completely red outfit, but it's elegant nonetheless.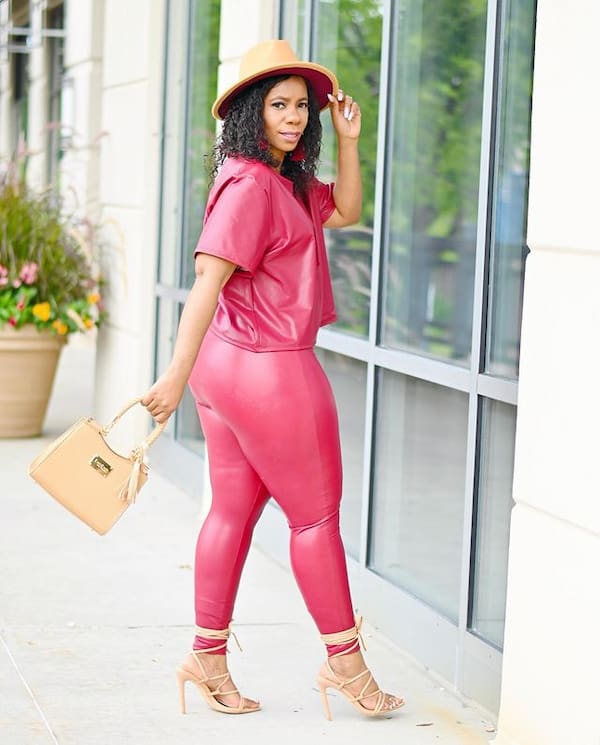 25. Purple Up–Shoulder Shirt with Red Leggings + Sandals + Clutch Purse
If you think the red from the preceding outfit is way over the top, you may want to dial it down a bit. An excellent way to dial it down is to wear a differently-colored shirt, while keeping the red leggings.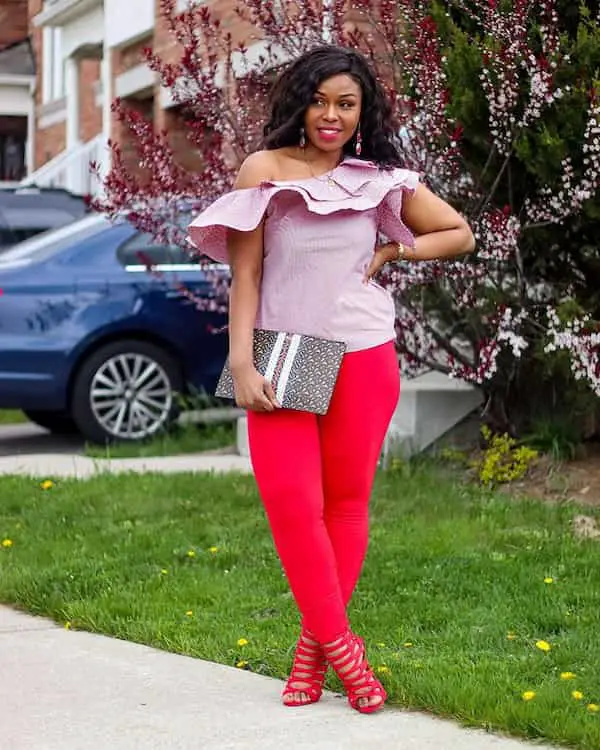 And that's all for my post on the most adorable summer outfits with leggings. Want some more outfit ideas? Then you might want to check out these blog posts.
I hope you enjoyed this piece of content. Do well to rate this post, and don't forget to share this outfit compilation with your friends.
See you with more exciting inspirations. Trust me; you wouldn't want to miss any of our upcoming outfit compilations, so make sure to follow us on Pinterest.
Pin for Later.