Shorts are a popular outfit choice for keeping cool in the summer. Here are 25 excellent summer outfits with shorts you'll love.
We're speeding through the spring and it's only a matter of time before the hot summer season comes around. Dressing for summer can be a chore, as it's difficult to dress elegantly while ensuring that you don't cook yourself in the heat.
Fortunately, you don't have to come up with unique outfits in the summer. If you find an outfit that works for someone else, you can also copy it for an elegant look.
In this post, I'll compile 25 top summer outfit ideas you can wear with a pair of shorts to look chic.
25 Cute Summer Outfits with Shorts
1. Black Blazer with Crop Top + Denim Shorts + Sneakers + Sunglasses
As long as the blazers aren't covering the crop top completely, this outfit should leave enough breathing space to feel comfortable in the summer. Add a pair of sneakers to the mix and there's no better way to style denim shorts.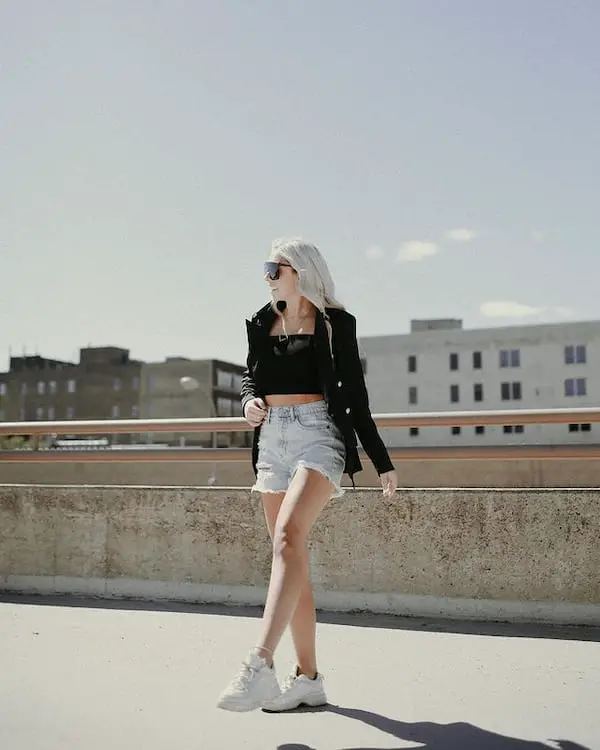 2. Line Striped Top with Denim Jean Shorts + Sandals + Sunglasses
A simple top with jean shorts is a popular summer clothing combination because it works every time. Sunglasses and a pair of sandals will completely steal her look.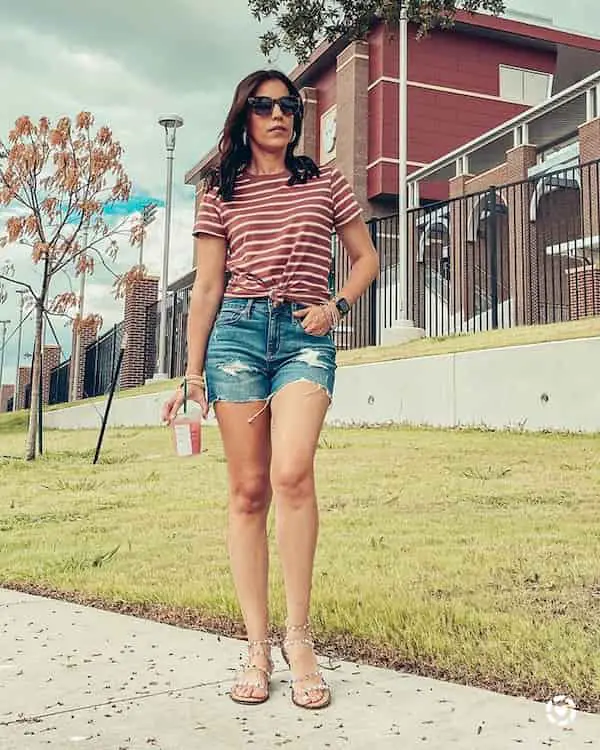 3. Long Sleeve Sweatshirt with Lace Shorts + Sneakers
Long sleeves aren't naturally a favored outfit in the summer, but when it's a cropped white sweatshirt, it works well. The white bag, sneakers, and shorts, all combine to make this outfit very cohesive.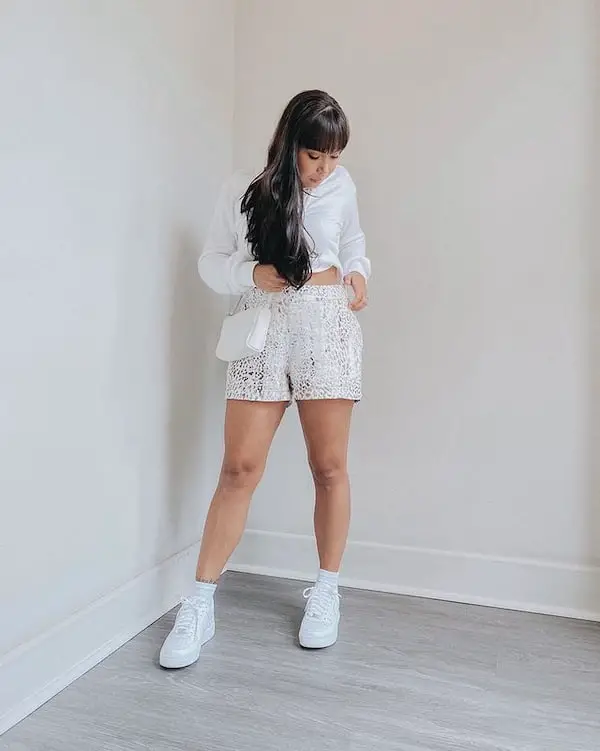 4. Sleeveless Crop Top with Black Shorts + Heels + Handbag
Who needs sleeves during the summer when all it does is add extra warmth? Pair a sleeveless crop top with a pair of shorts to see why the model below looks exceedingly gorgeous without even trying.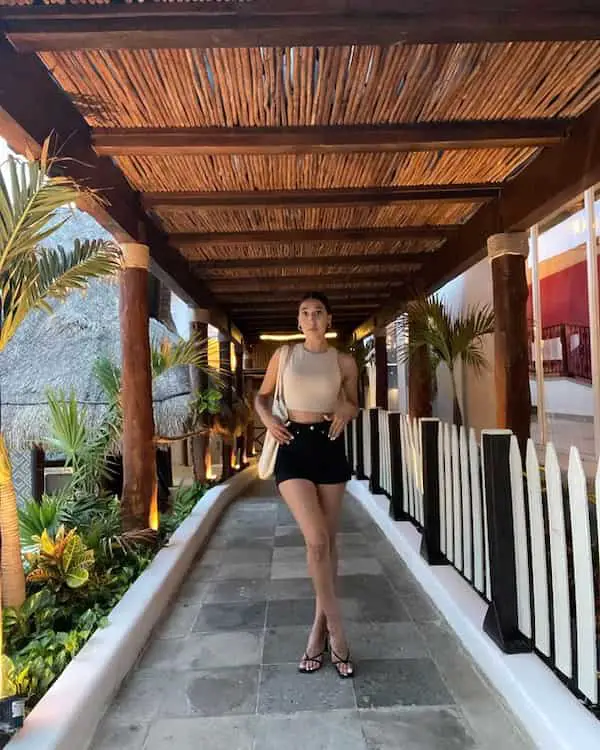 5. Plain Loose Fitted Vest with White Shorts + Sandals + Sunglasses
You can get freer than a sleeveless crop top, and this plain loose-fitted vest with shorts is exactly proof of that. Add a pair of sunglasses to the mix and you're ready for any casual outing.
6. Off-Shoulder Crop Top with Denim Shorts + Slippers
It even gets better when your crop top doesn't go over the shoulders. This way, you'll leave enough skin to keep comfortable, while looking chic in the denim shorts.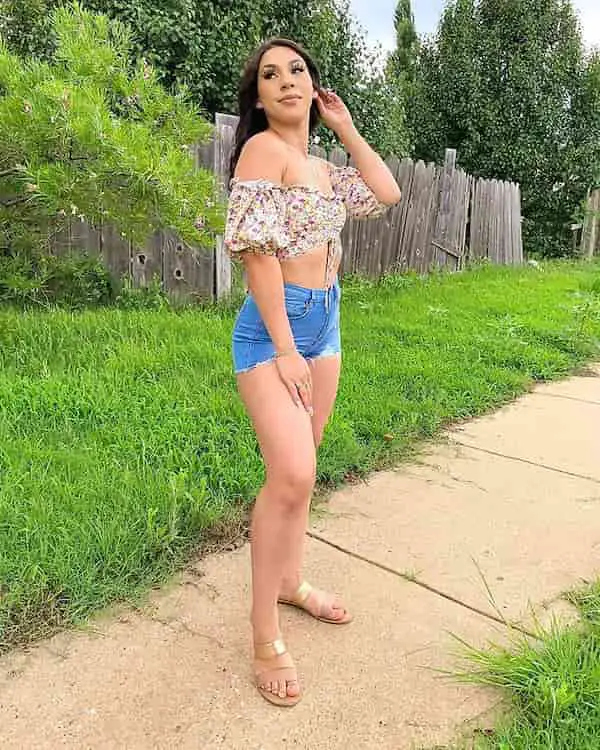 7. Oversized Sweater with Black Shorts + Sneakers
An oversized sweater isn't usually what you want to wear on a hot summer day, but there are exceptions. Especially when you're pairing it with shorts, there are only a few outfits that look better than what she depicts below.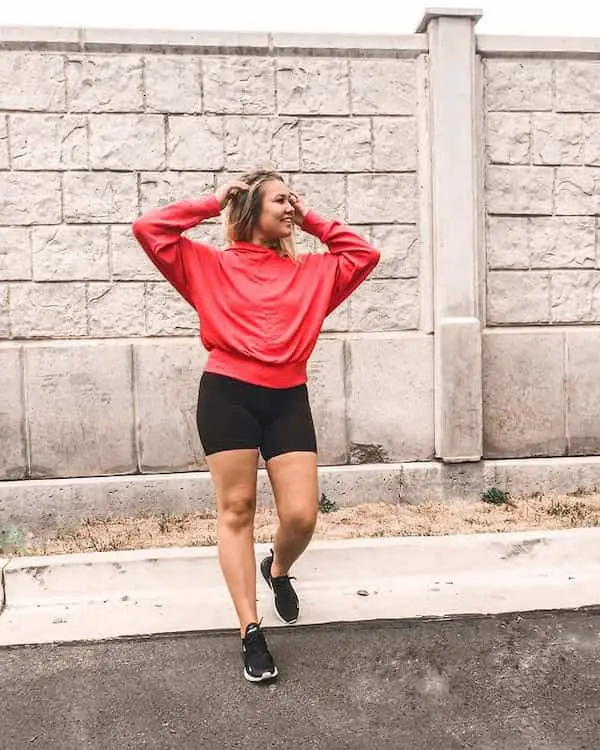 8. Floral Blouse with White Loose Fitted Shorts + Sandals + Maxi Handbag + Sunglasses
For a visit to the grocery store or any other casual outing, a floral blouse and loose-fitted shorts are a great option. The sunglasses and her cute smile illuminate the outfit, making it more difficult to replicate.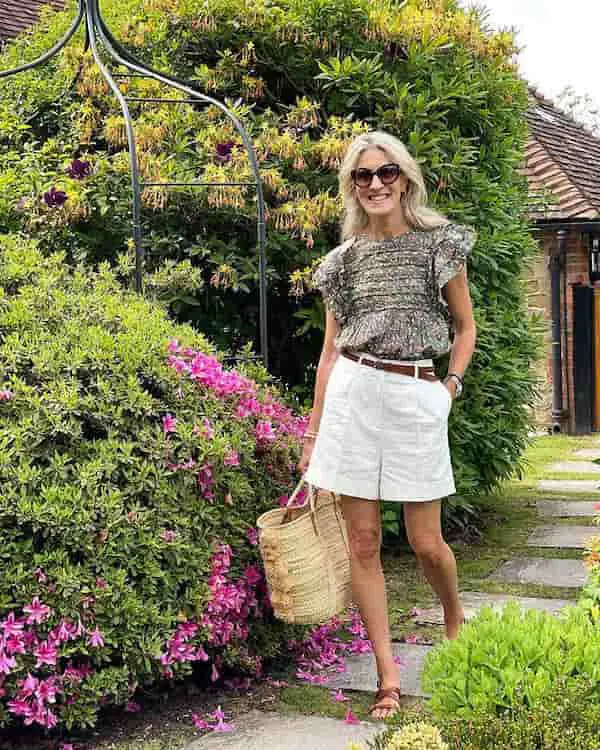 9. Crop Top with Black Shorts + Black Trench Coat + Heels + Midi Handbag + Hat
Light-colored dresses are generally favored in the summer, but chic black outfits aren't totally out of the question. Especially when the black is as elegant as her all-black outfit, you can certainly make an exception to the rule.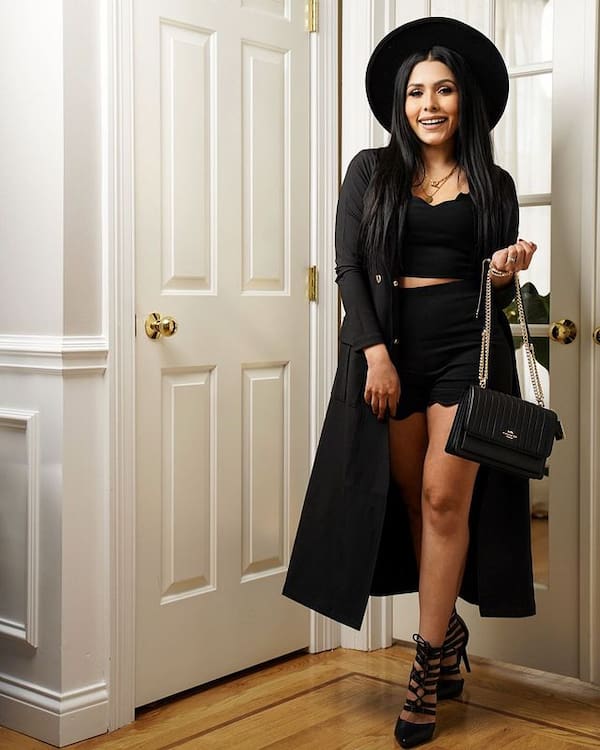 10. White Vest with White Long Sleeve Shirt + Denim Shorts + Sneakers + Handbag + Sunglasses
White is one of the smartest colors to wear in the summer, and this model has demonstrated how to wear it excellently. When you pair a vest with denim shorts, the only possible outcome is a chic look.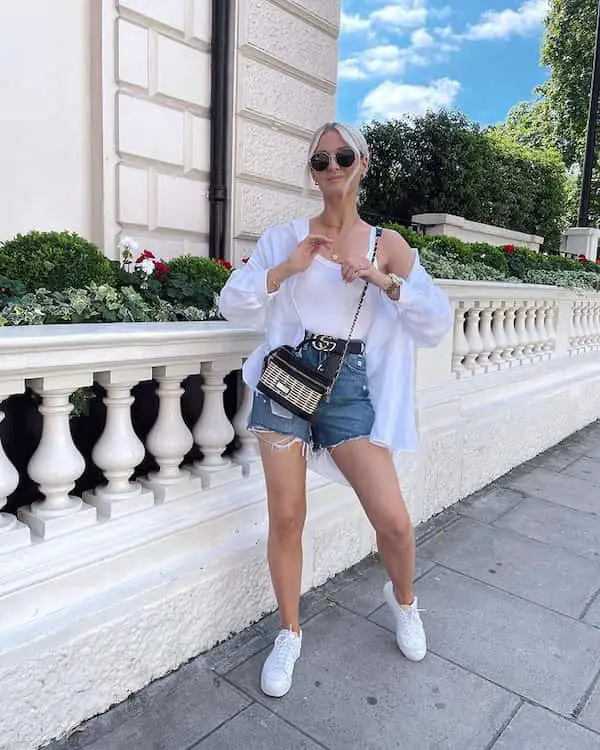 11. Striped Shirt with Yellow Shorts + Heels + Handbag
If shorts were to be accepted as workwear, this would be the perfect work outfit. The colors don't seem very special individually, but they magically come together to create a visually alluring outfit.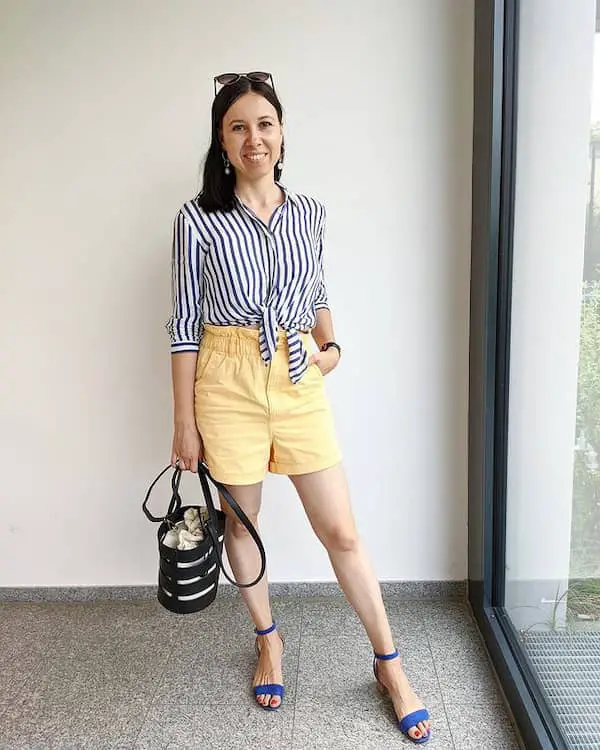 12. Flannel Shirt with Red Vest + Denim Shorts + Slippers
A flannel shirt is a good summer outfit idea if you're looking to be a bit conservative with your dressing. While it covers a bit too much for the summer, the denim shorts make up for that, leaving enough skin to make you comfortable.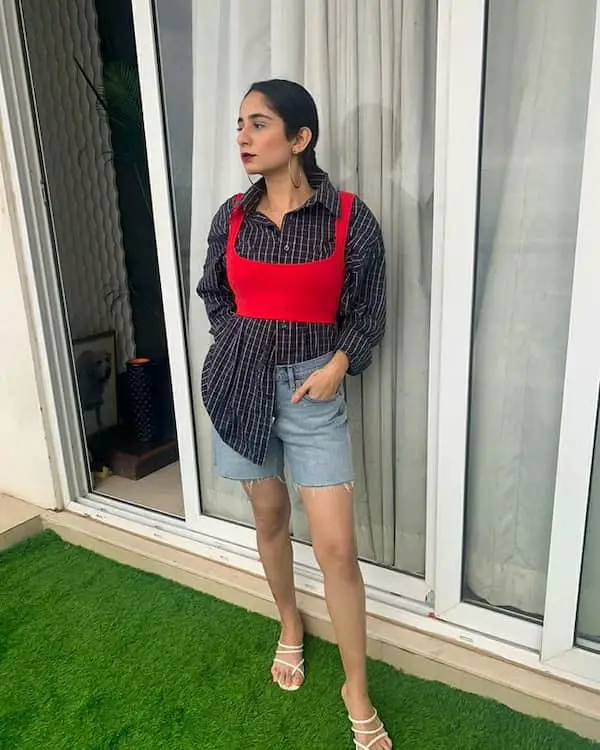 13. White Shirt with Denim Jeans + Blazers + Slippers + Sunglasses
As evidenced by multiple outfits in this collection, a white shirt with denim shorts is a killer combination, and this outfit inspiration only drives the point home. The sunglasses and the blazer are chic extras that make the outfit even more interesting.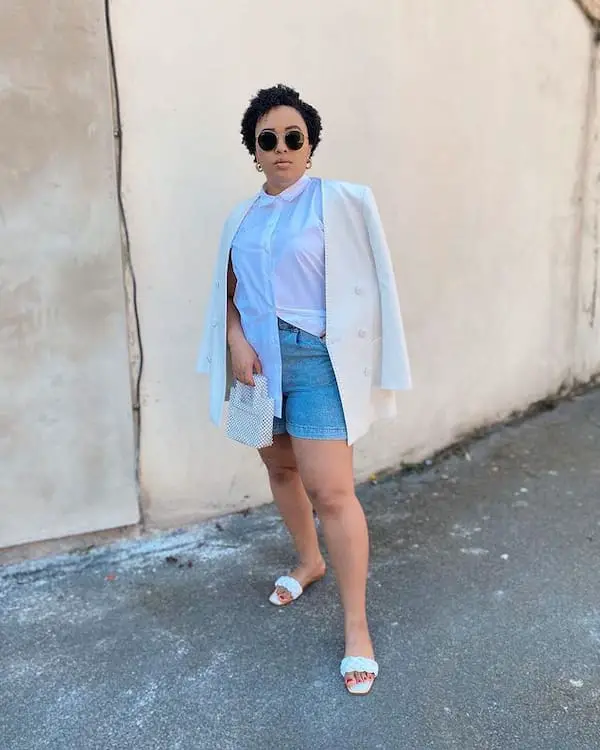 14. Strapless Vest with Leather Jacket + Denim Shorts + Heels
Here's a classy idea you should try before the turn of the summer. Admittedly, the denim shorts aren't the star of the show here, since the leather accessories seem to create a more beautiful look.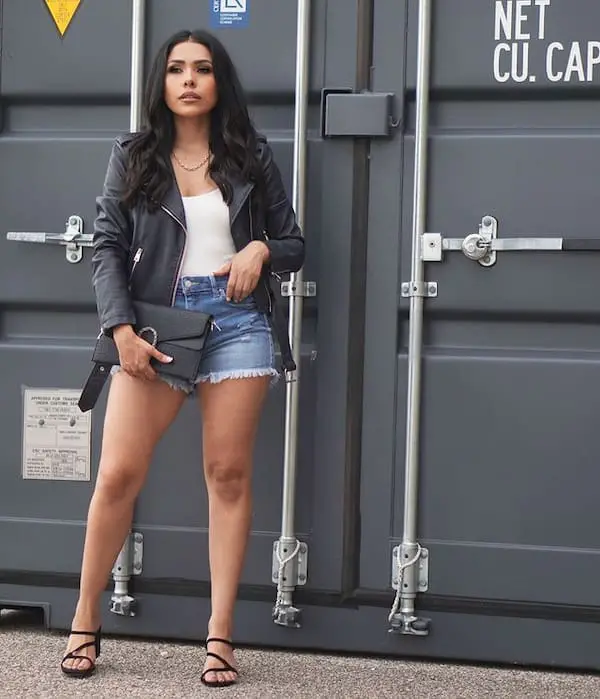 15. White Shirt with Shorts + Heels + Maxi Handbag
Due to the extreme temperatures of the summer, there's probably nothing better than a white dress. While I've shown multiple pairings of white with denim jeans, why not try something different in this?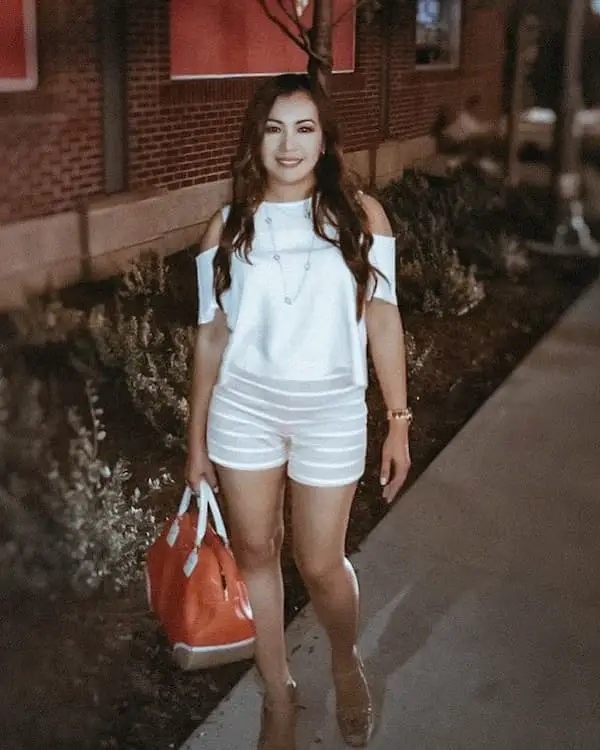 16. White High Low Shirt with Jacket + Black Shorts + Black Boots + Midi Handbag + Sunglasses
If you're gunning for a fashionable look in any event, here's an excellent way to show up. While it's only a dual-tone outfit, there's no doubt that it's the most cohesive in this collection.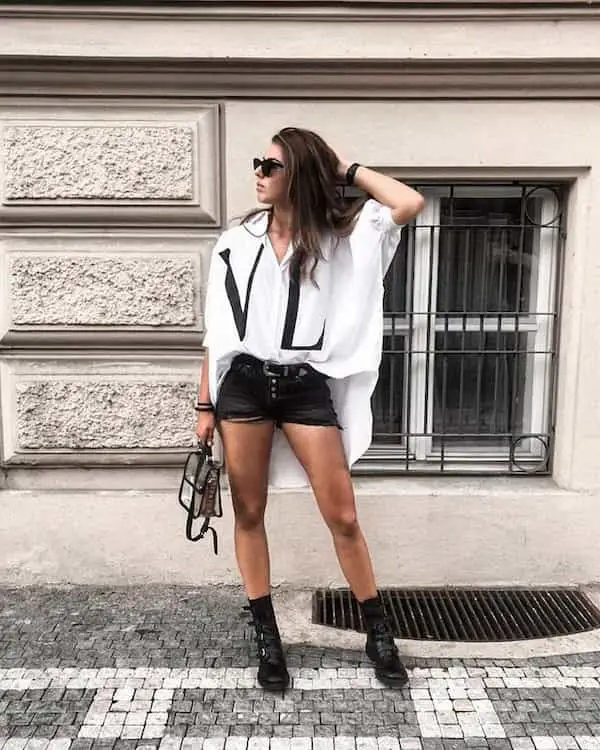 17. Lace Vest with High Waist Shorts + Heels + Clutch Purse + Sunglasses
Compared to the other ideas here, the lace vest is totally novel. While it matches the color of the shorts perfectly, it takes nothing away from the fact that the shorts aren't of a popular color either.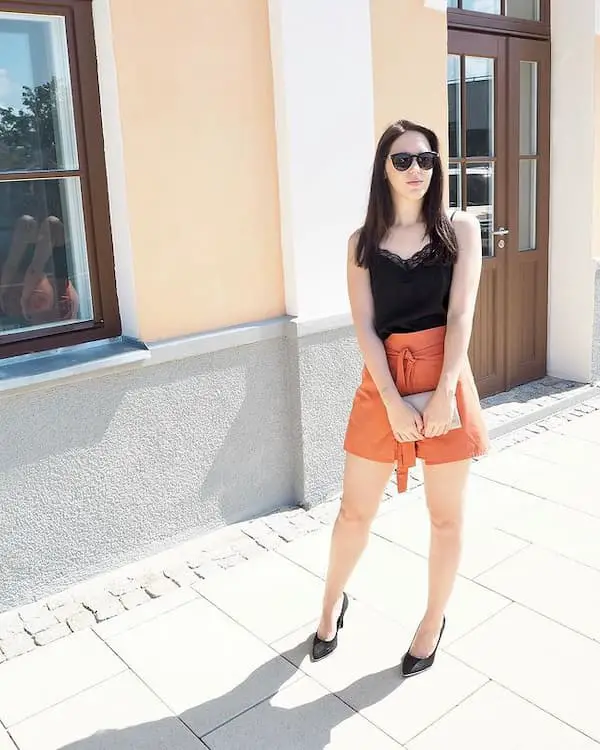 18. White Vest with Blazers + Matching Color Shorts + Heels + Midi Handbag
We've seen blazers and we've seen shorts, but what about a blazer with matching color shorts. Frankly, it looks excellent and I'd choose this over denim shorts any time of the day.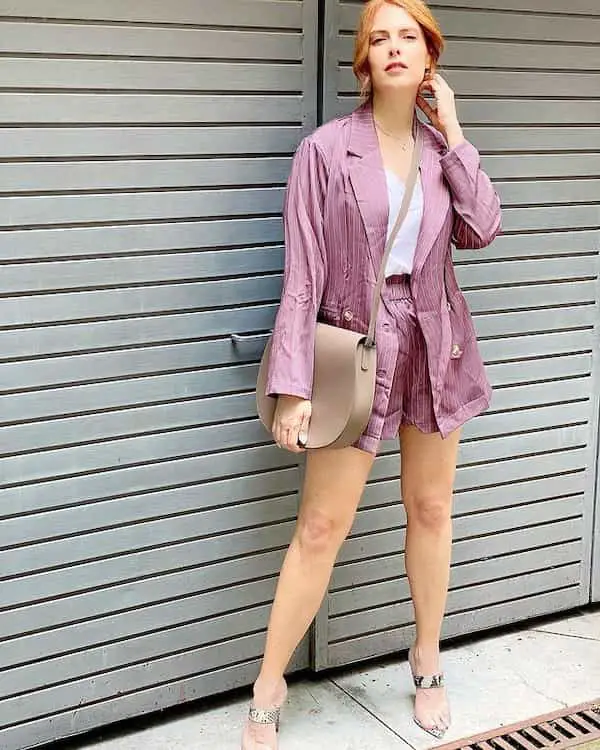 19. Body Tight Long Sleeve Top with Denim Shorts + Sneakers + Midi Handbag + Sunglasses
When going on a night out with the girls, there's an unspoken requirement to look elegant. A tight-fitting long sleeve top with denim shorts and a pair of sunglasses is the perfect way to nail the elegant look.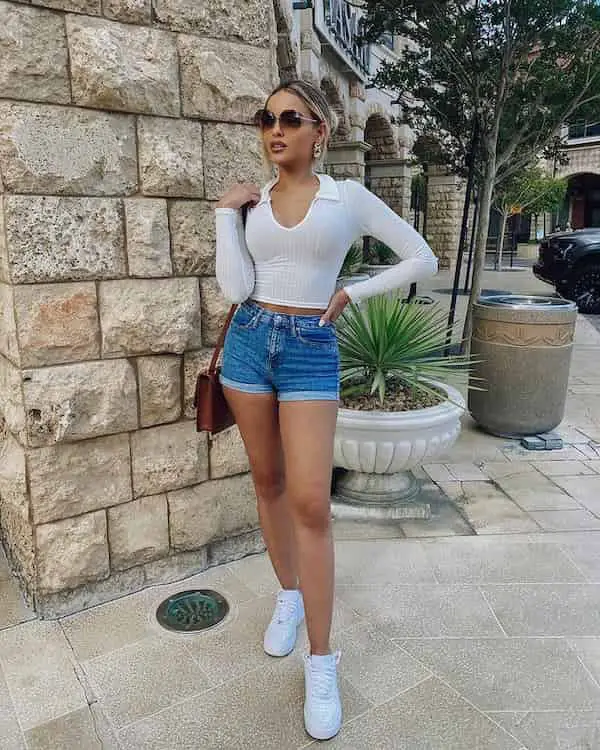 20. Crop Top with Shorts + White Sneakers
There's no doubt that a crop top is the best way to style shorts in the summer. However, the question only comes down to how. This model answers that question in this excellent outfit idea.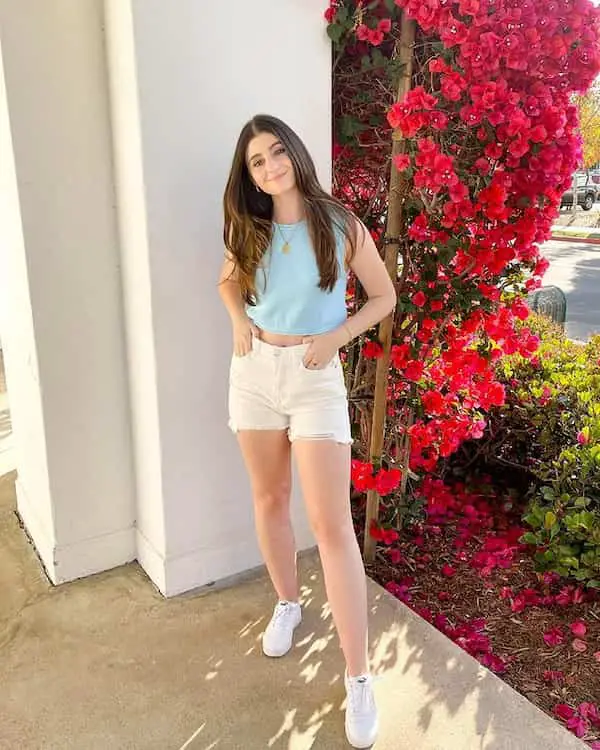 21. Black Turtle Neck Long Sleeve Shirt with Leather Shorts + Combat Boots + Midi Handbag
A turtle neck might sound a bit too limiting in the summer, but who cares, as long as you're comfortable. With how she looks here, it's just impossible to not be comfortable in such a fashionable outfit.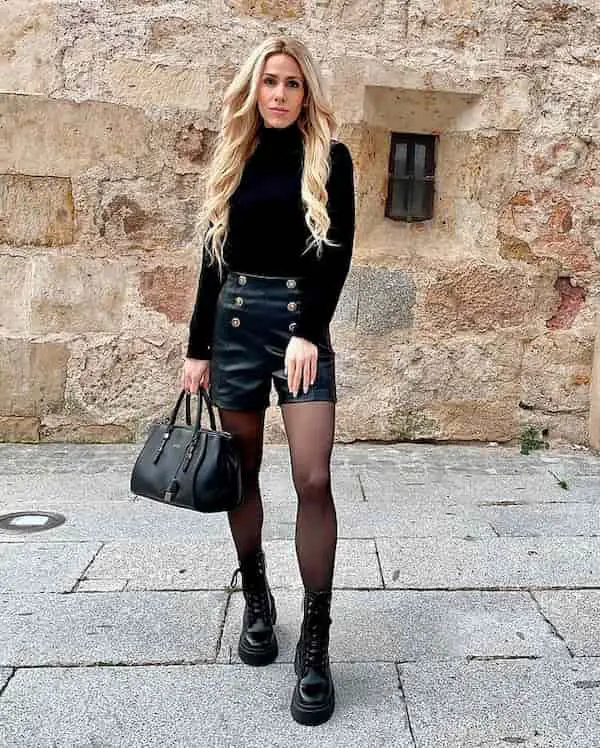 22. Puffed Hands Blouse with Pink Shorts + Heels
If crop tops are out of the question, why not try a puffed hands blouse with shorts. It gets even chicer when the colors are exactly what she's illustrating below, which is simply endearing.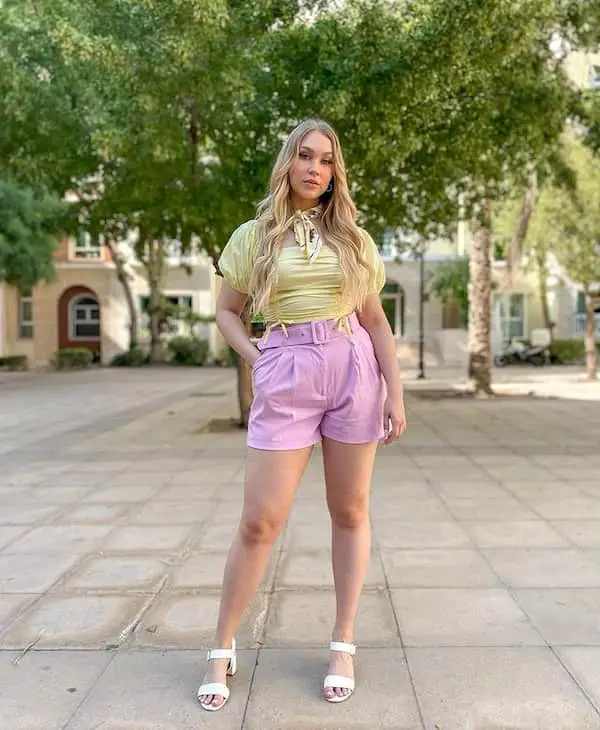 23. Sleeveless Top with Yellow Shorts + Slides + Small Handbag + Sunglasses
When partying around with friends in the summer, a sleeveless top with simple shorts is all you need. Utilize the proven black and yellow combo and you should've replicated her elegance.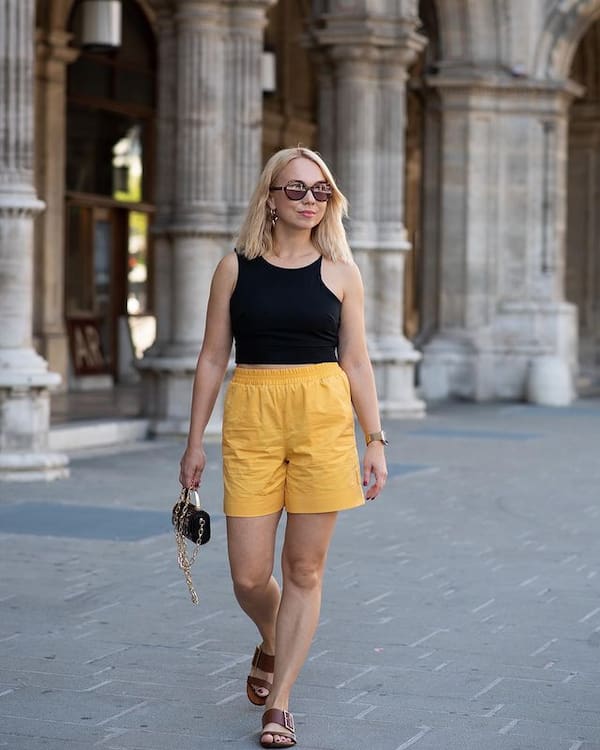 24. White Top with Oversized Blazer + Denim Shorts + Trainers + Body-cross bag + Sunglasses
Wearing an oversized blazer over a white top can never go wrong, especially when you pair the combo with denim shorts. Add a cross bag and a pair of sunglasses and you have a chic look that everyone envies.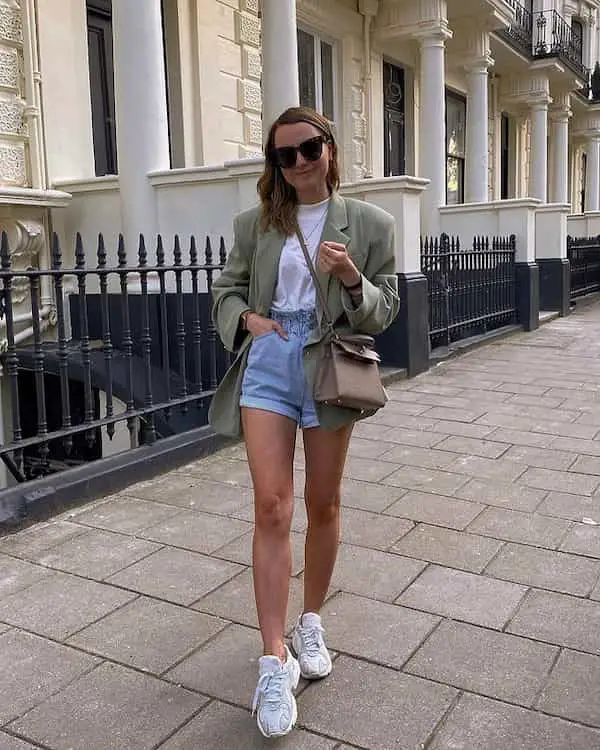 Finally, a spaghetti top with shorts and thigh-high boots. Depending on the temperature, you may want to keep those boots lower; remember, it's the hot summer!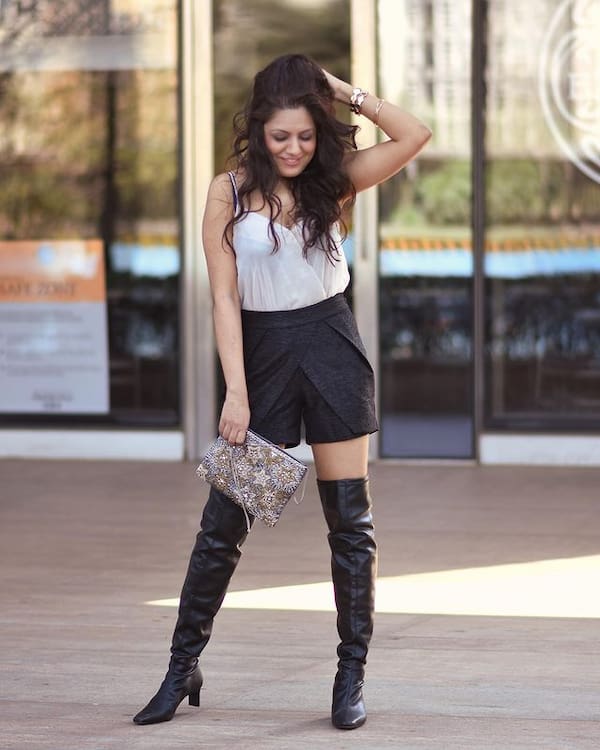 And that's all for my post on the most adorable summer outfits with shorts. Want some more outfit ideas? Then you might want to check out these blog posts.
I hope you enjoyed this piece of content. Do well to rate this post, and don't forget to share this outfit compilation with your friends.
See you with more exciting inspirations. Trust me; you wouldn't want to miss any of our upcoming outfits compilation, so make sure to follow us on Pinterest.
Pin for Later.