You can dress femininely and you can cross androgynously. Here is a collection of classy summer tomboy outfits to bring out your masculinity.
Conventional female outfits are so commonplace that there's almost no fun in wearing them anymore. To that end, androgynous outfits are slowly gaining popularity with more girls adopting a masculine "tomboy" look.
If you haven't tried wearing tomboy outfits, you'll find it difficult to choose one for yourself. As someone who fancies androgynous outfits and actively researches them, I've collected 25 of the best summer tomboy outfits to step up your game.
Summer Tomboy Outfits that are So Cool
Dressing in masculine outfits doesn't excuse you from looking cool. Here are a couple of summer tomboy outfits that balance androgyny with coolness.
1. White Shirt with a Line Striped Blazer + Neutral Colored Pants + Loafers
If you interact a lot with guys that dress formally, you'll see why this makes it to the list. The outfit gives off the necessary masculine looks while retaining a bit of alluring feminity.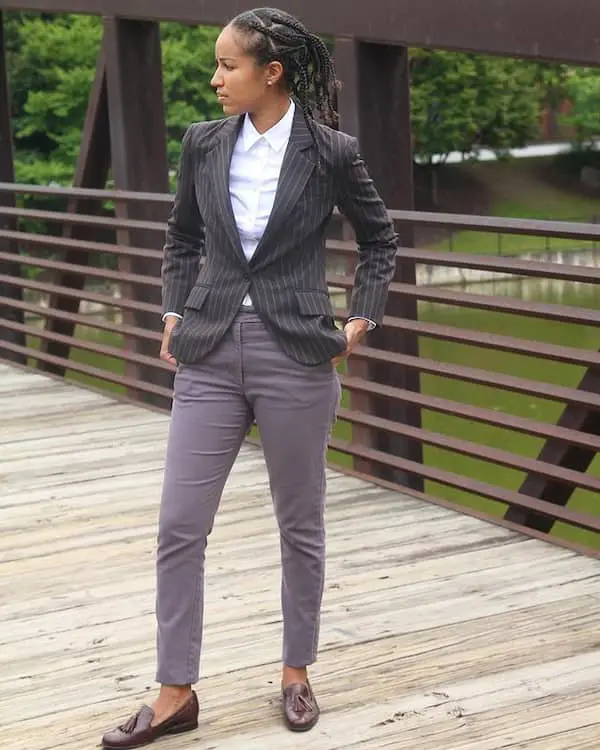 2. Ash Hoodie with Leather Jacket + Ripped Jeans + Sneakers
Guys love hoodies, and if you're going tomboy, you should too. While I don't think the summer is the best time for hoodies, who dare complain when it looks this chic?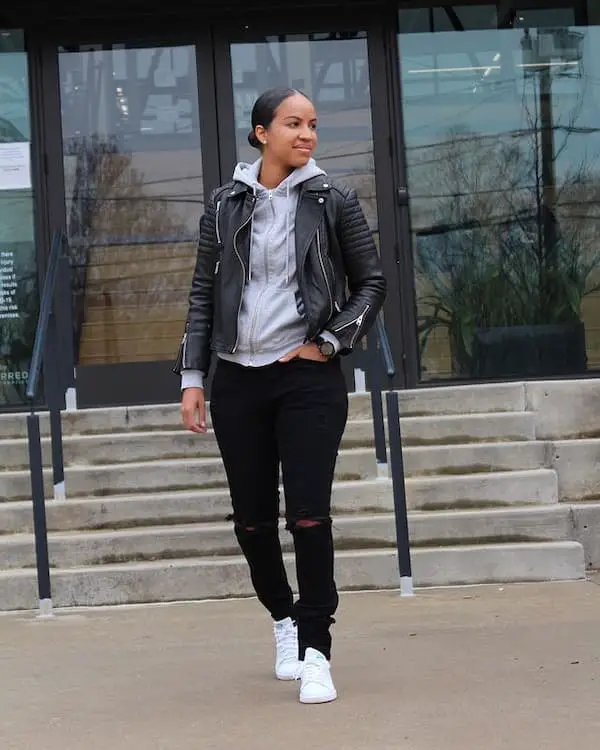 If you're looking for a balance between masculinity and feminity, here's what you're missing. This makes an excellent work outfit and could pass in most formal events, but without the ripped jeans.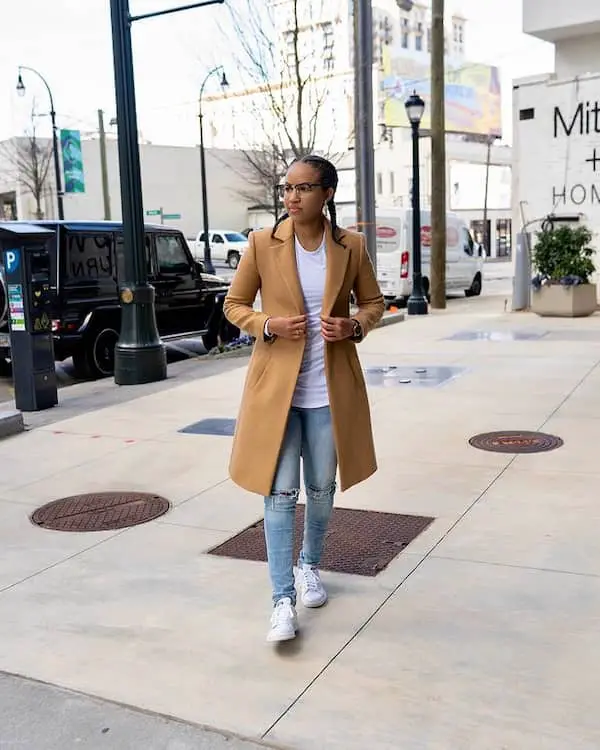 4. White Shirt with Leather Jacket + Black Tie + Black Plants + Boots + Sunglasses
I'd rather not wear a jacket in the summer, but I'd say the tie looks spot on. The entire outfit looks a bit too masculine, which is exactly what you're shooting for when trying tomboy outfits.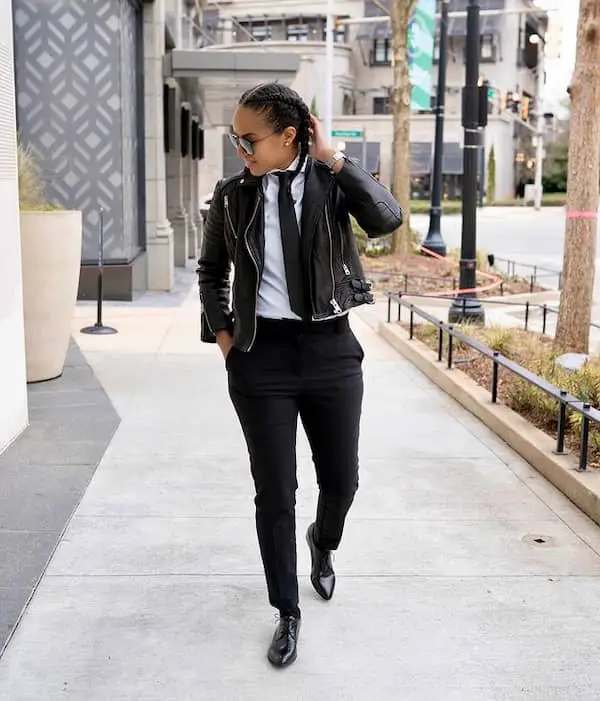 5. Line Striped Shirt with Camo Shorts + Sneakers
What would guys wear on a casual summer day at home? Definitely a simple long sleeve shirt with shorts. Getting it right shows it's even better on ladies that it does on them!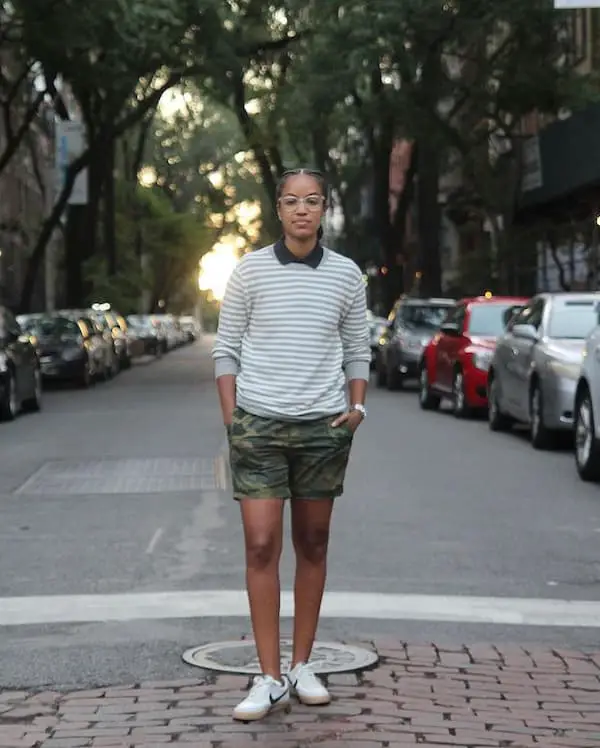 6. Black Long Sleeve Shirt with Ash Shorts + Sneakers + Sunglasses
If the colors from the preceding outfit don't sit well with you, here's an alternative. Notice how it's still the simple long sleeve shirt with shorts that you can wear on a casual weekend.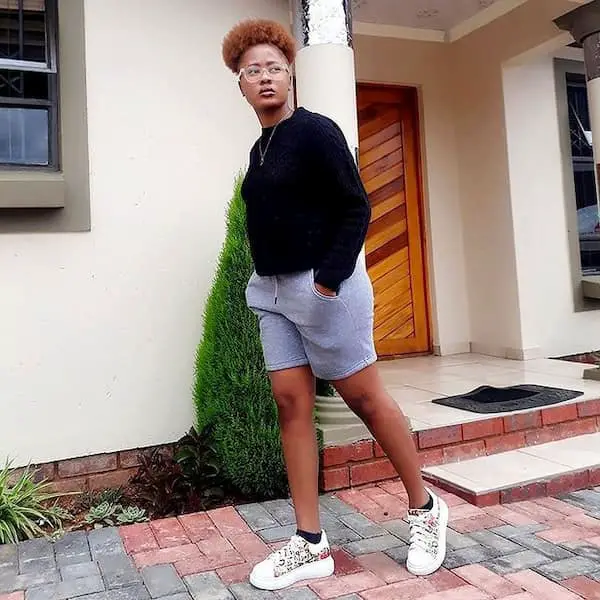 7. White Button-front Shirt with Navy Blue Shorts + Boots + Grocery Bag + Sunglasses
If you're after something that keeps you even cooler than a simple long sleeve, why not try a button-front short sleeve shirt. This outfit offers extra comfort and chicness without subtracting from the chicness.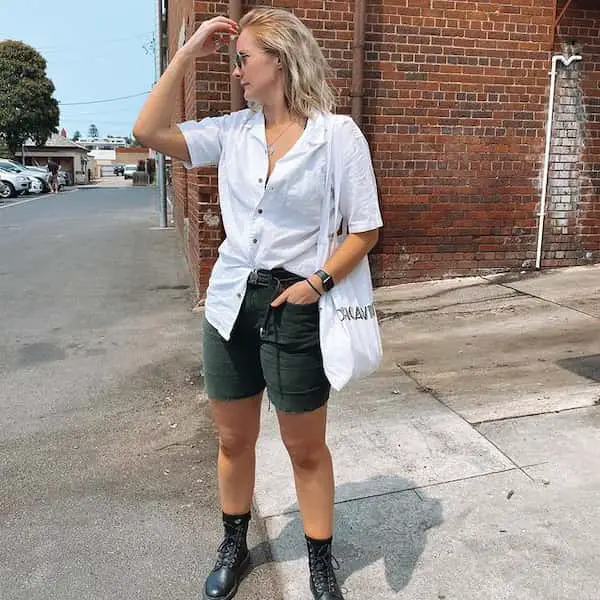 8. Peach Shirt with Drawstring Shorts + Loafers + Sunglasses
There's no difference of opinion; a shirt and a pair of shorts make the perfect tomboy outfit in the summer. Here's another idea, this time with a short sleeve tee instead of the regular long sleeve.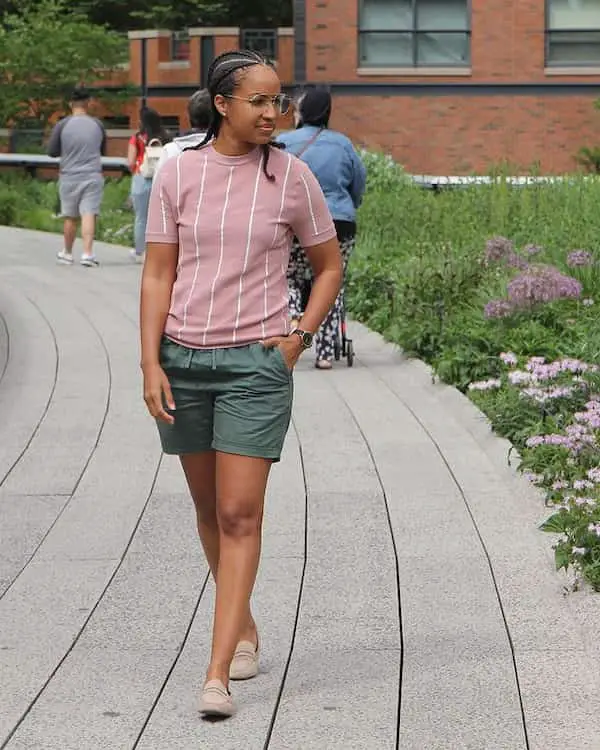 If there was a default formal outfit for men, this would be it. Since it doesn't have the word "male" written over it, there's no harm in wearing it as a lady interested in tomboy outfits.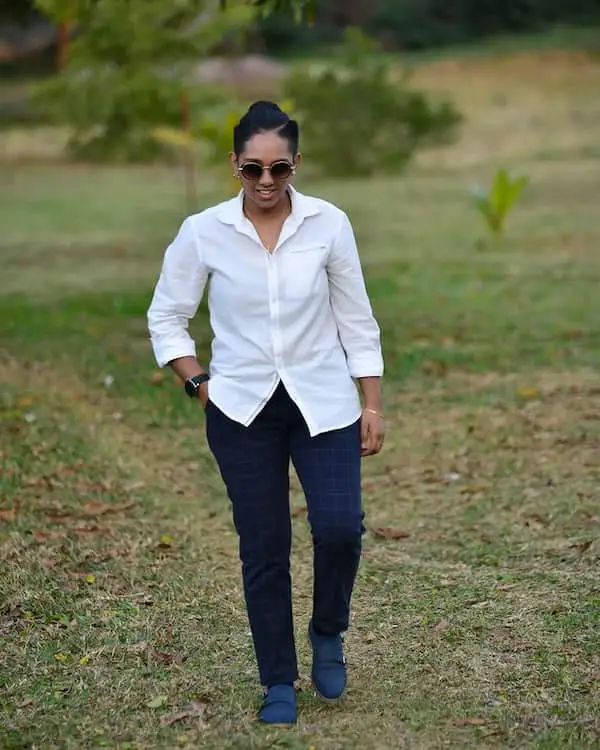 10. Black Top with Black Jacket + Floral Pants + Boots
If you'd rather go dark-themed, you can pair a dark top with a dark jacket for an androgynous look. Add floral pants and you've successfully replicated her alluring outfit.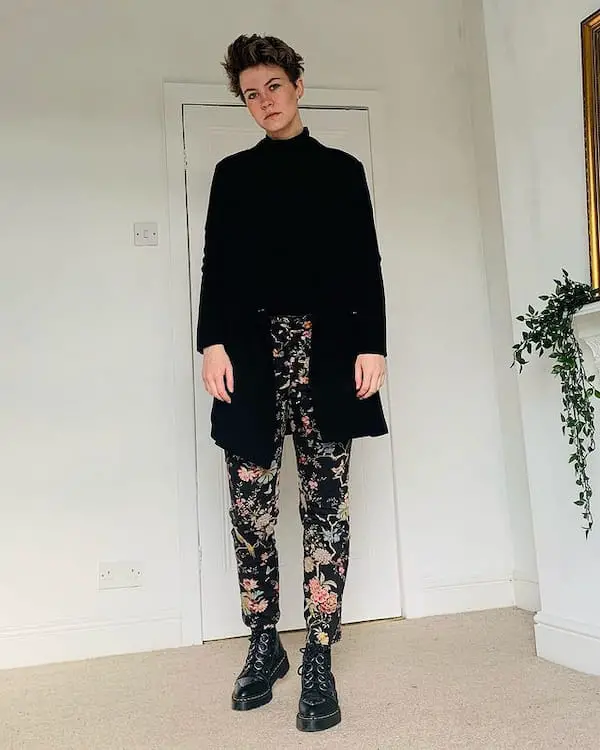 11. Peach Graphic T-Shirt with Ripped Jeans + Sneakers
Guys wear graphic tees too, but you have to make it pretty loose. Find something close to what she's wearing; to maintain androgyny, you can pair the loose tee with skinny jeans.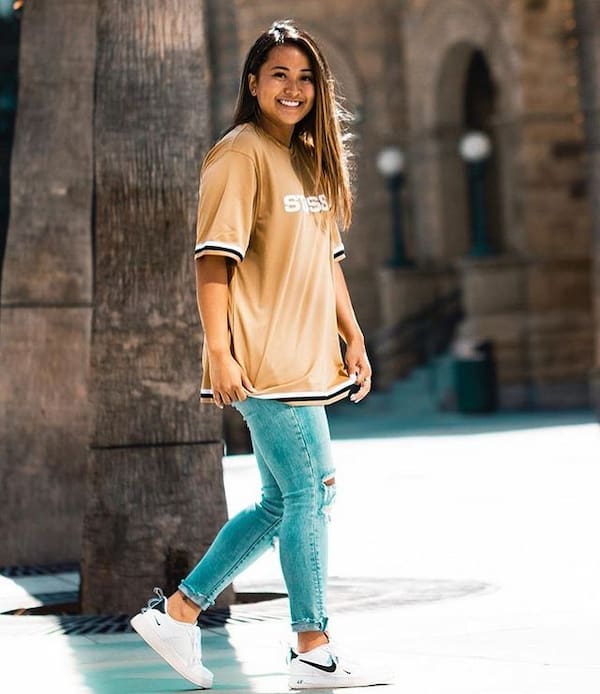 12. Black Shirt with Black Ripped Jeans + Sneakers + Sunglasses
All-black outfits can make cool tomboy outfits too, as she illustrates in this picture. A simple long sleeve shirt with ripped jeans is enough to ace the look, with the sunglasses being an extra.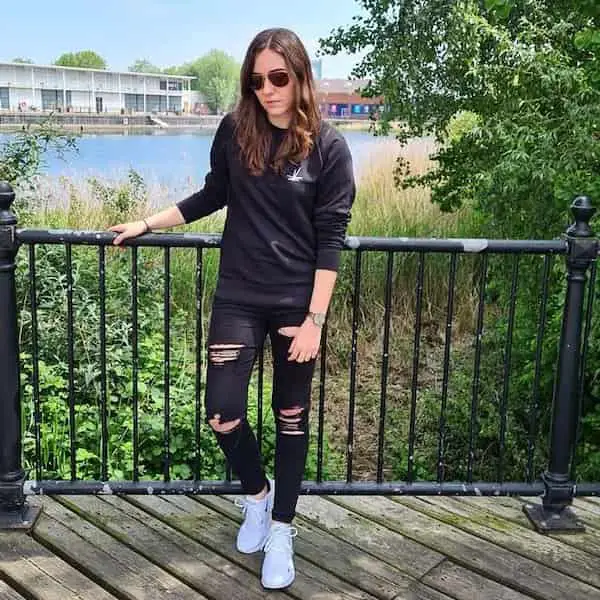 13. Burgundy Shirt with Black Ripped Jeans + Sneakers
While you may be thinking this compilation is full of shirts, you should also know that guys don't have the option to wear dresses or crop tops. So, here's another attractive shirt-jeans combination.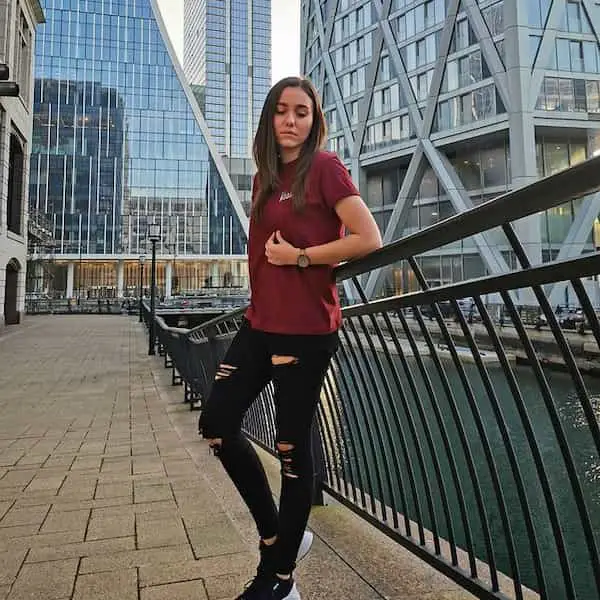 14. White T-Shirt with Belt + Oversized Khakis + Vans
A white shirt over an oversized khaki is an excellent way to flaunt your tomboy tendency. Plus, it also looks classy and is a good fit for most casual and semi-formal events.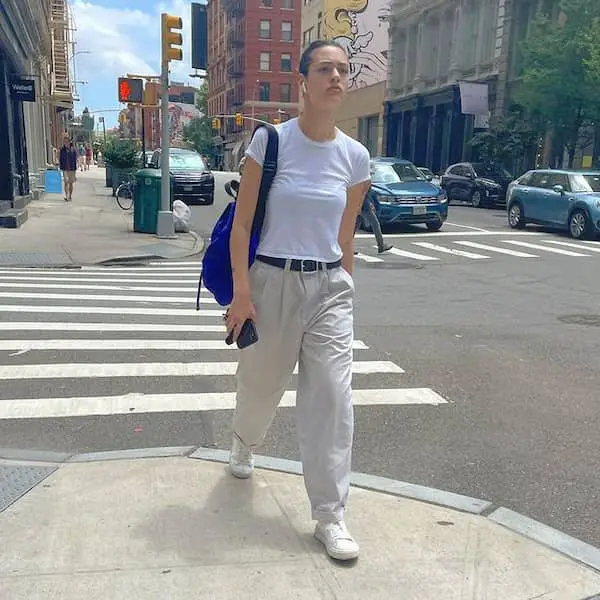 15. Line Striped Shirt with Neutral Colored Shorts + Sneakers + Sunglasses
We've seen more than a dozen outfits and I'm not sure we've seen any this masculine. If you want something attractive, but in a masculine way, here's an excellent idea. Just don't wear this on a search for a boyfriend.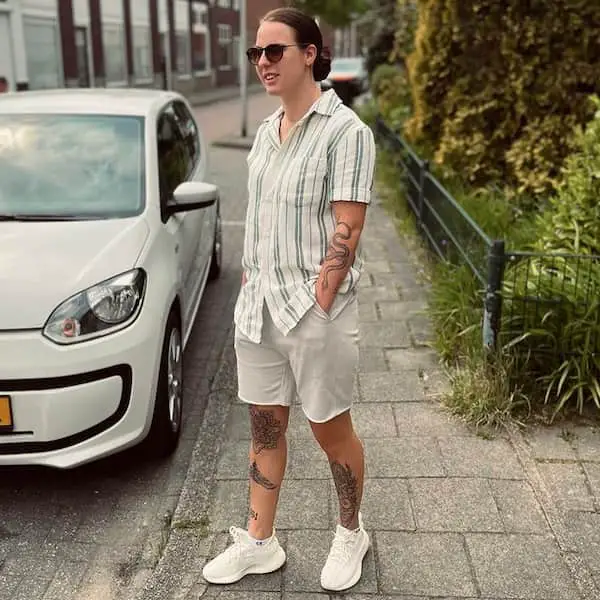 16. Blue Shirt with Navy Blue Pants + Suede Shoes
When you pair different shades of blue, you can only get a chic outfit. While guys may have seemed to monopolize this combination, this picture is enough proof that it can also look great on ladies.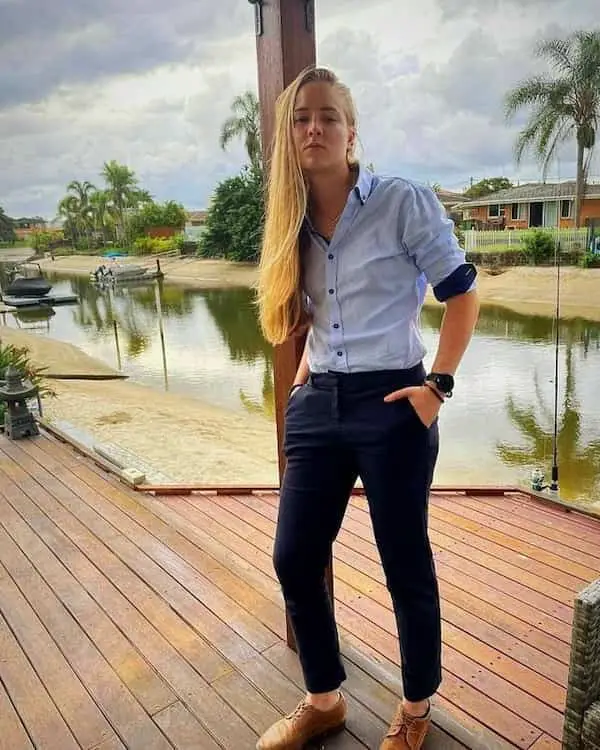 17. Blue Hoodie with Black Jacket + White Oversized Pants + Sneakers + Sunglasses
Back to the good old hoodies, here's another way to style them for a tomboy look. I personally won't wear a jacket over a hoodie, but it looks chic and the white beautifully contrasts the black.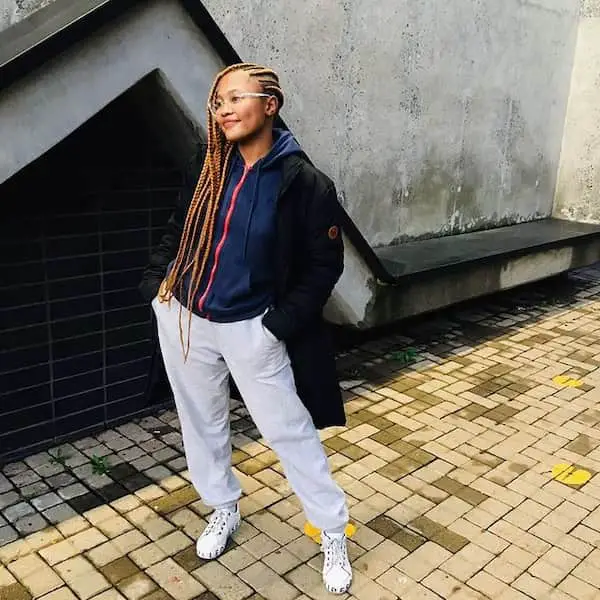 18.  Blue Graphic Shirt with Blue Jeans + Sneakers + cross Shoulder Bag
Guys don't usually don skinny jeans, and that's an important thing to consider when dressing like a tomboy. Here is an excellent outfit idea that follows that rule without looking excessively masculine or feminine.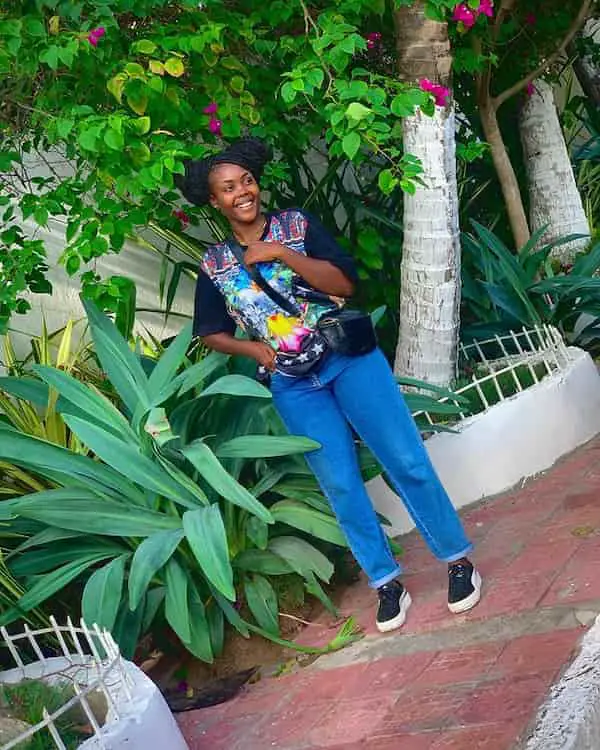 19. Multi-colored Graphic Shirt with Denim Jacket + Black Pants + Sneakers
Denim jackets are undoubtedly cool, which is why they're popular for both guys and girls. However, when you wear them a certain way, it looks more masculine than feminine, and that's what she got right.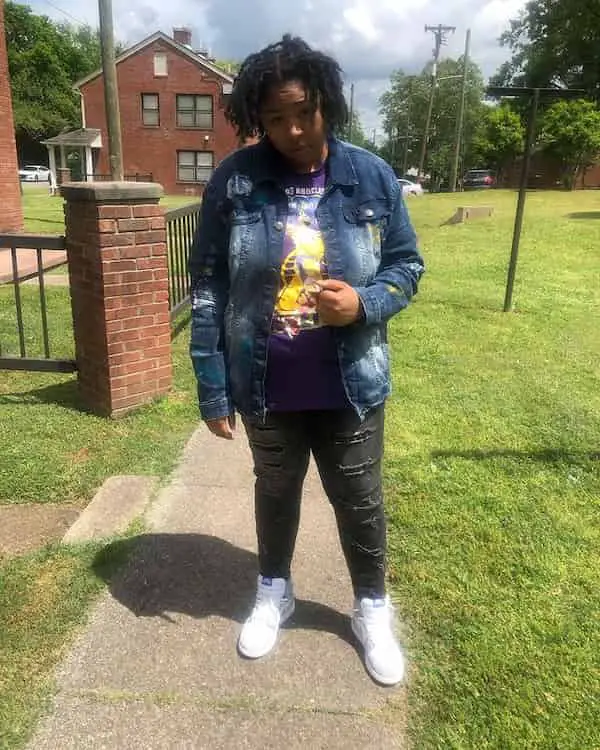 20. White Shirt with Sweater Vest + Oversized  Pants + Sneakers + Grocery Bang + Hair Cap
If you're looking for something that makes you feel extremely comfortable, here's an idea. However, I'd drop the bag since it gives a feminine touch to the entire outfit; guys don't carry bags!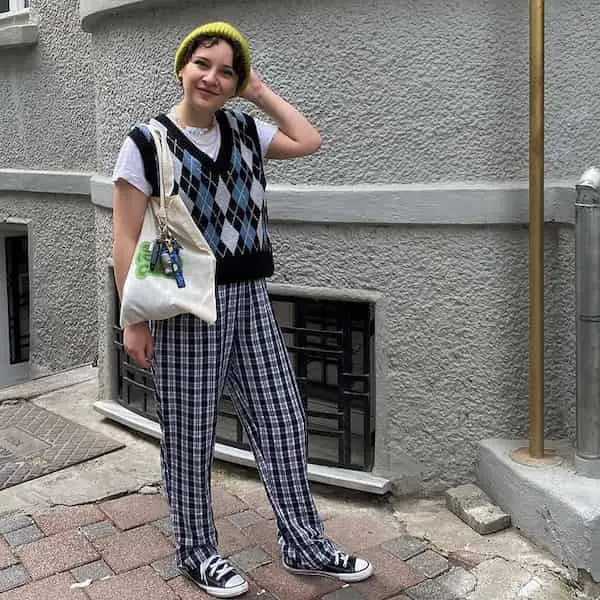 21. Black Shirt with Flannel Shirt + Black Pants + Boots + Sunglasses
While flannels are not the most masculine clothing items out there, you can incorporate them into a tomboy outfit. Waring a short flannel shirt with black shirt and pants give you a masculine yet chic look.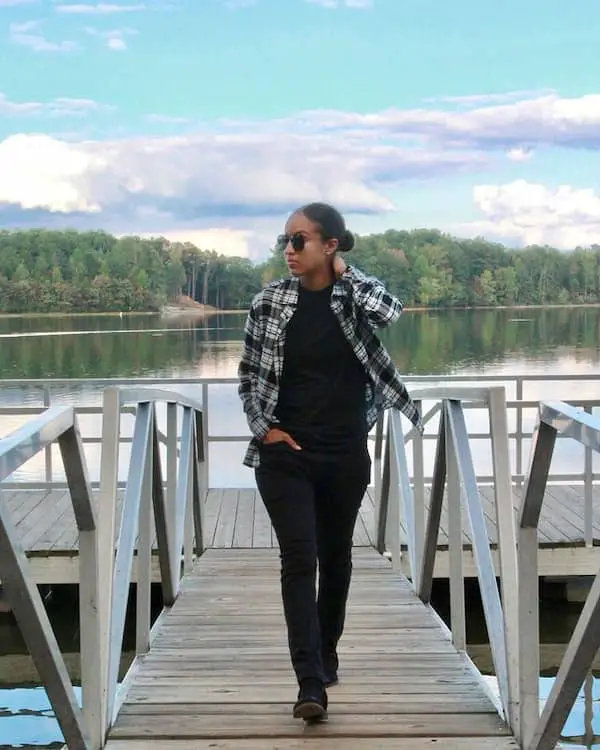 22. Plaid Suit with Ask Turtle Neck Shirt + Boots + Sunglasses
A plaid suit sounds like an outfit that guys would wear, and as this picture proves, it's not terrible on ladies either. You may also want to incorporate the wristwatch and sunglasses for extra flair.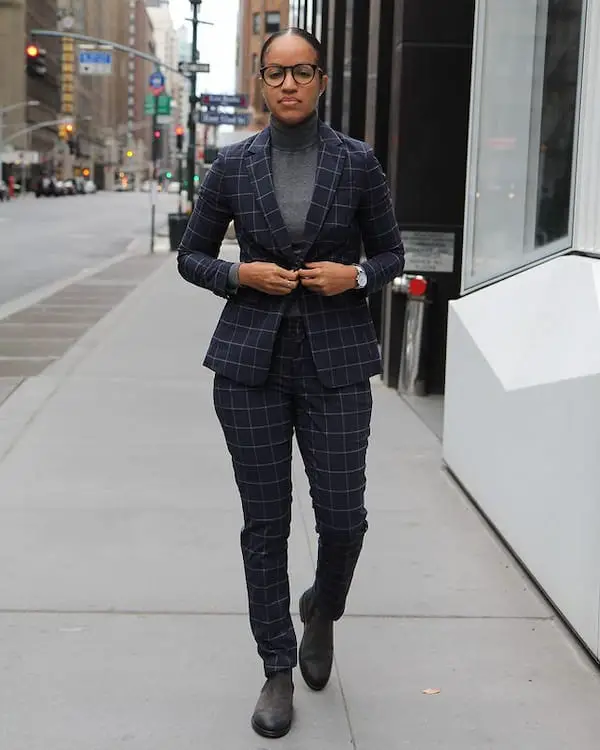 23. Orange Flannel with Ripped Blue Jeans + Boots
Plaid-patterned shirts are pretty popular among guys, but you can also make it look great on you. Pairing this flannel pattern with skinny jeans will create an outfit that's attractive and comfortable during the summer.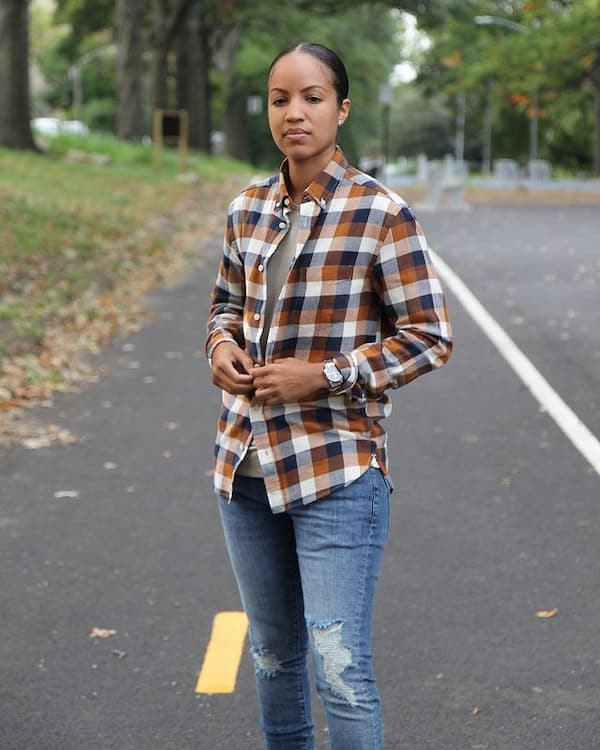 24. Line Striped Shirt with White Ripped Pants + Loafers + Sunglasses
When going out for a casual summer events, mixing colors and layering clothing items is pretty unnecessary. Instead, why not wear a striped shirt over ripped pants and get it over with.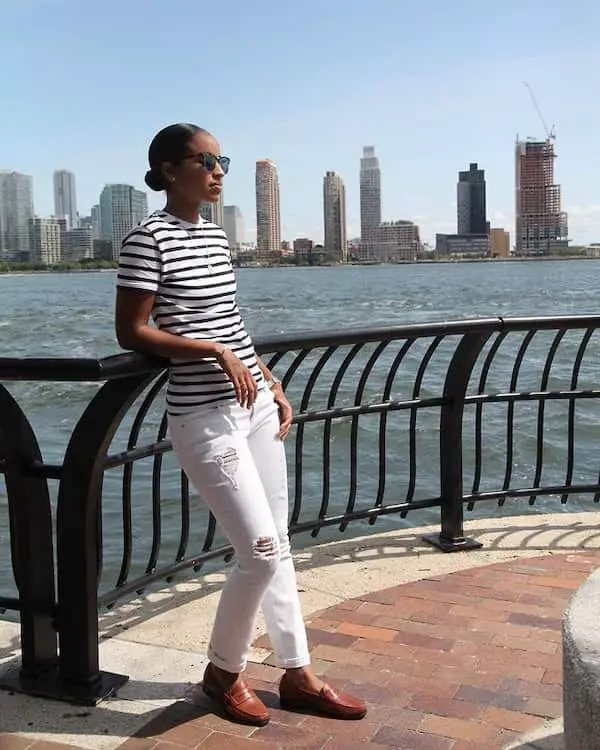 25. White Long Sleeve Shirt with Tan Pants + Boots + Sunglasses
Most of the summer tomboy outfits in this compilation will look weird when worn to work. If you want something that qualifies as a formal outfit, here's an idea that doesn't look terrible.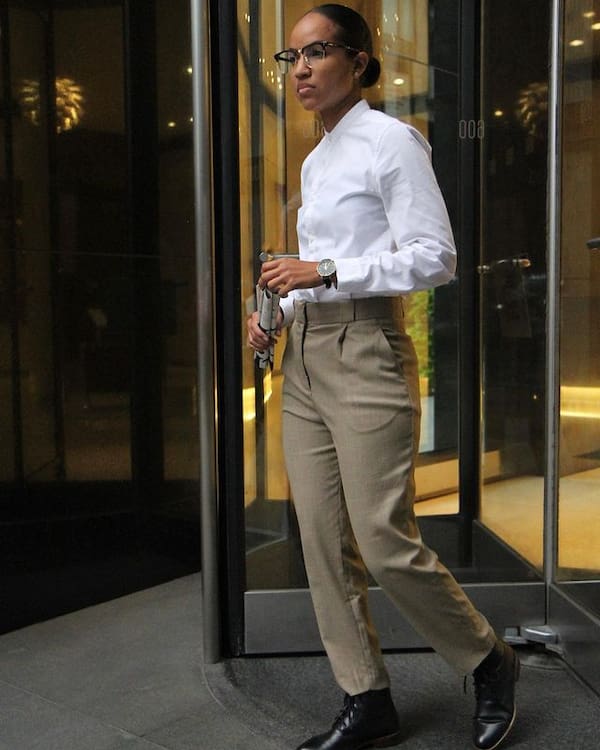 And that's all for my post on the coolest summer tomboy outfits to try. Want some more outfit ideas? Then you might want to check out these blog posts.
I hope you enjoyed this piece of content. Do well to rate this post, and don't forget to share this outfit compilation with your friends.
See you with more exciting inspirations. Trust me; you wouldn't want to miss any of our upcoming outfit compilations, so make sure to follow us on Pinterest.
Pin for Later.