Dressing up for a wedding isn't hard, but you must play by the rules of the hot summer. Here are 25 chic summer wedding guest outfits for inspiration.
You've been invited to a wedding during the summer and you're wondering what to wear as a guest. After asking for ideas, almost every single person you asked recommended searching Google, and here you are.
When dressing for a wedding, you want to take care not to look a lot better than the couple, while ensuring that you do not look terrible yourself. It's usually a pain to get the perfect outfit for a summer wedding.
If that's what you're after, you're at the right place. Here, I'll show you 25 chic summer wedding guest outfits for inspiration.
Cute Summer Wedding Outfits
1. Right Sleeved Pink Dress with Heels + Bag + Sunglasses
Showing up at a wedding in pink is a smart indication that you're not part of the couple without looking terrible. Add the handbag and the heels and this makes one of my favorites.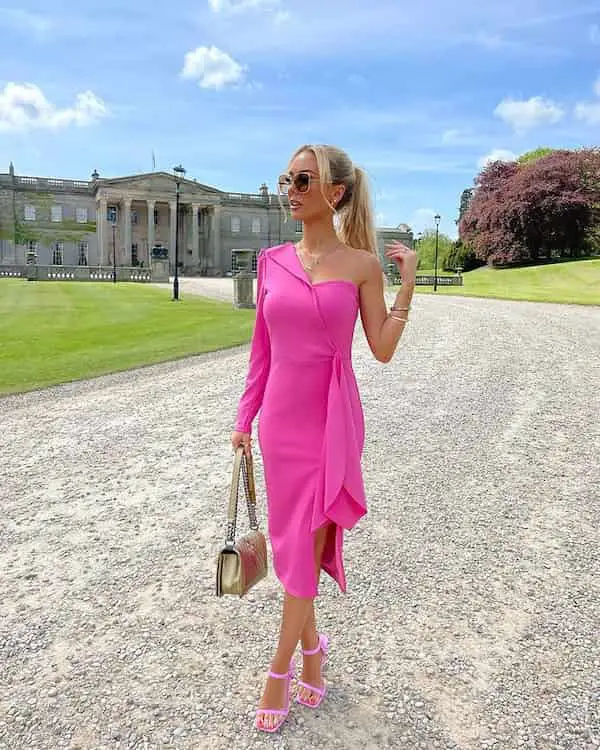 2. Sleeveless Purple Dress with Heels
Do you know what's better than a pink dress? According to this outfit idea, it's a purple dress. Truth be told, the idea changed my perception of purple dresses and now I'm showing up at a wedding like this certainly.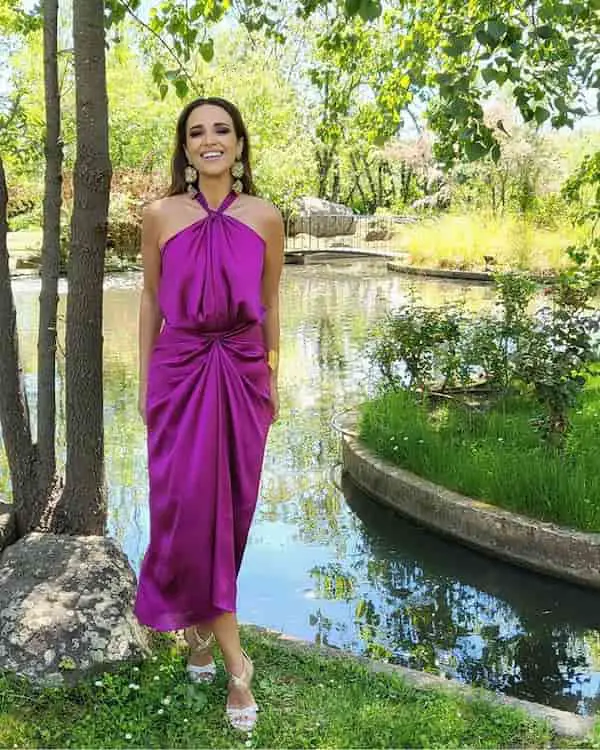 3. Red Lace Dress with Neutral Colored Blazers + Heels + Cross Shoulder Bag
If you're somewhat older, you may want to appear a bit conservative to avoid looking odd. Here's an outfit idea for when you're trying not to look indecent as a summer wedding guest.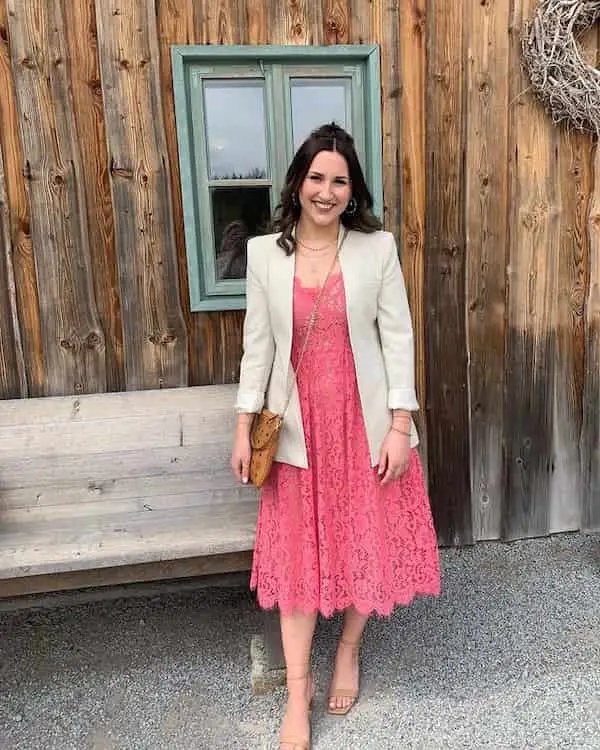 4. Mustard Yellow Dress with Heels
Before showing up in a yellow dress as a wedding guest, you should know yellow draws attention. Prepare for looks and stares since the dress isn't only inviting, it's also chic.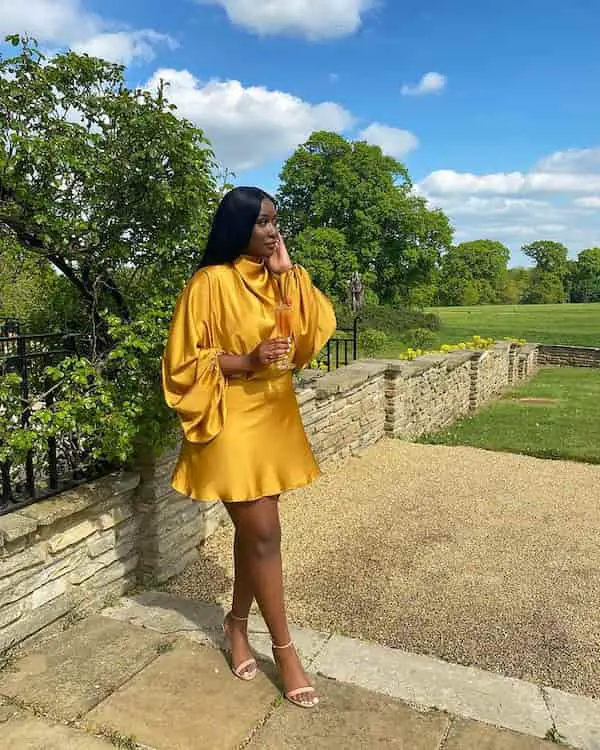 5. Spaghetti Hands Satin Dress with Heels + Handbag
A one-handed satin dress is elegant enough to be an alluring summer wedding outfit, without being exceedingly flashy. This would definitely make my top three summer wedding guest outfits shortlist for its beauty.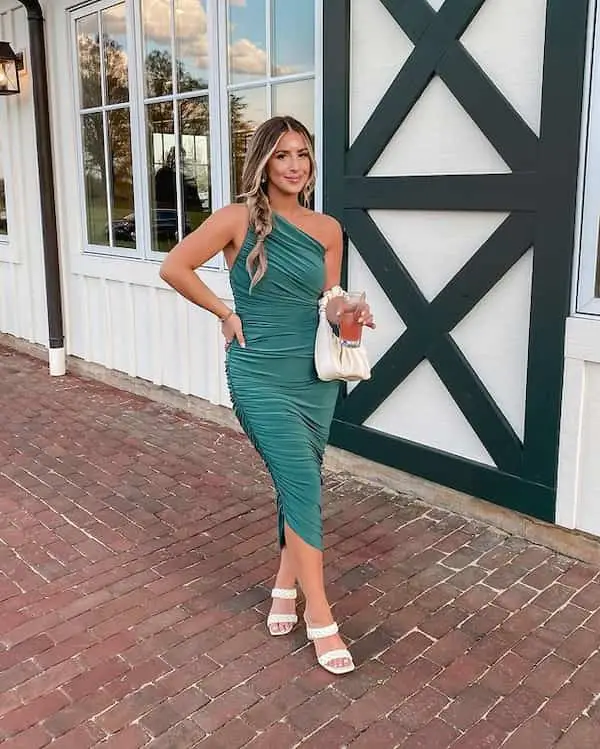 6. Light Yellow Midi Dress with Heels
If you can confirm that none of the bridesmaids are wearing this shade of yellow, it's a decent fit for any wedding. However, mistakenly matching the bridesmaids' outfits can be embarrassing.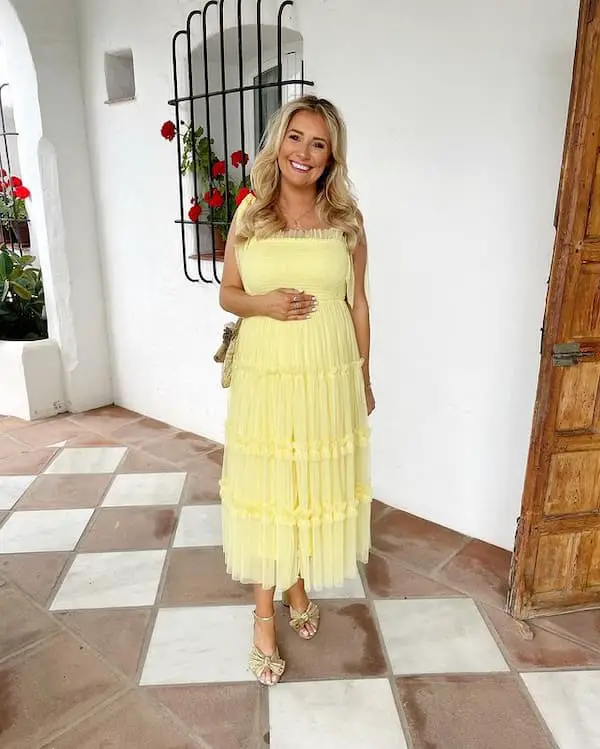 7. Spaghetti Hands Black Dress with Heels + Handbag
If you're looking for the simplest way to show up at a wedding while keeping yourself cool, here's a good option. No big moving parts, just a dress, a handbag, heels, and nothing else.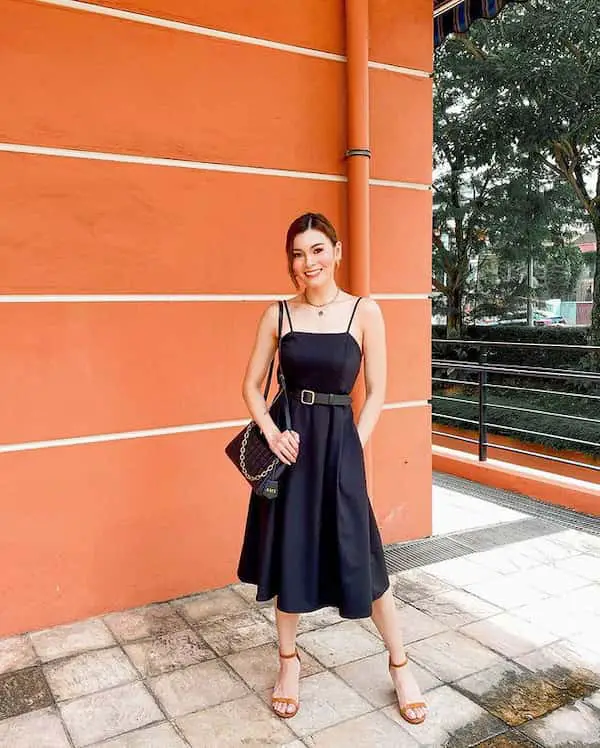 8. Sky Blue Up-shoulder Dress with Heels
Another color that may work for a wedding in the summer is sky blue if you wear it correctly. When it comes to wearing it correctly, here's the only guide you'll ever need.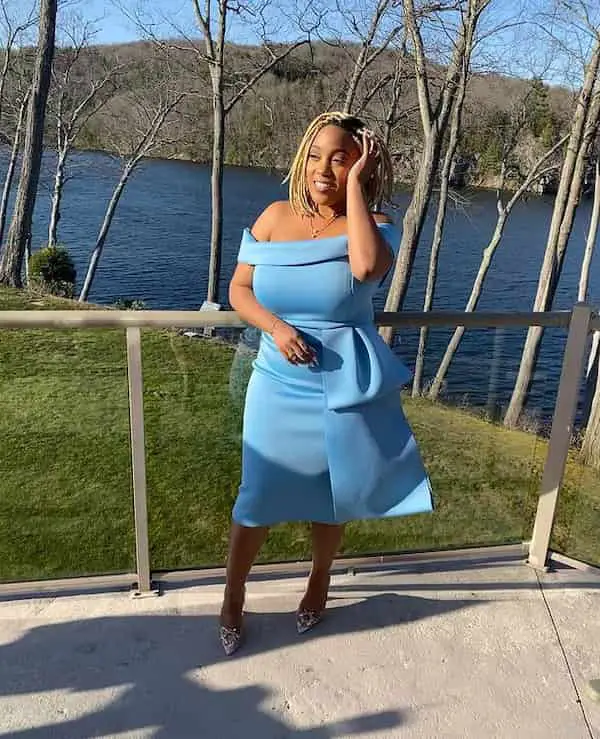 9. Floral Dress with Heels + Handbag
Floral dresses are a cultural part of weddings and you can show up this way to demonstrate conservative values. Add the purse and the heels and the outfit starts to look better than you think.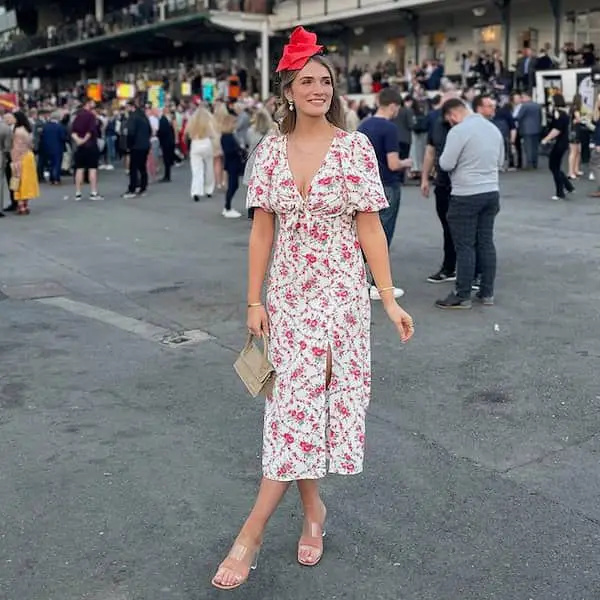 10. Floral Midi Dress with Heels + Handbag
Still on floral dresses, here's another that focuses more on fashion than conservative values. With how elegant she looks, I can make this my default wedding guest outfit for all summer invitations.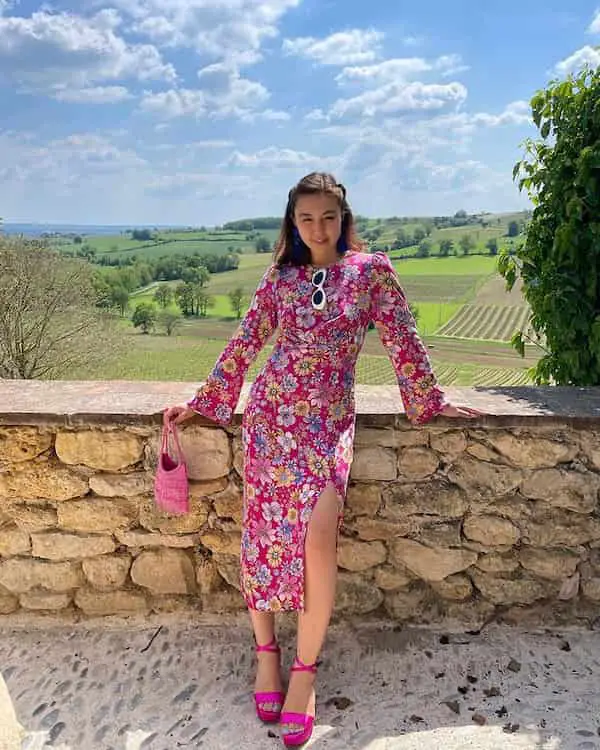 11. Red Floral Long Dress with Heels
To become a minor center of attraction during the party, you can consider getting a red dress. Red is naturally inviting, but the style of the dress probably looks better than the colors anyway.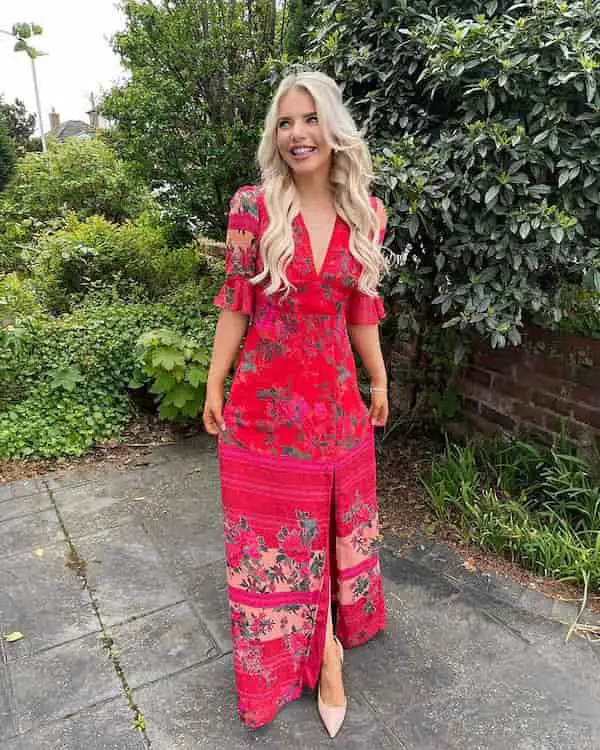 12. Blue Midi Dress with Heels
If you're not a fan of floral patterns but still need a dress for the wedding, here's an idea. Even with the seemingly unpopular color, the style looked good enough to warrant a place in this collection.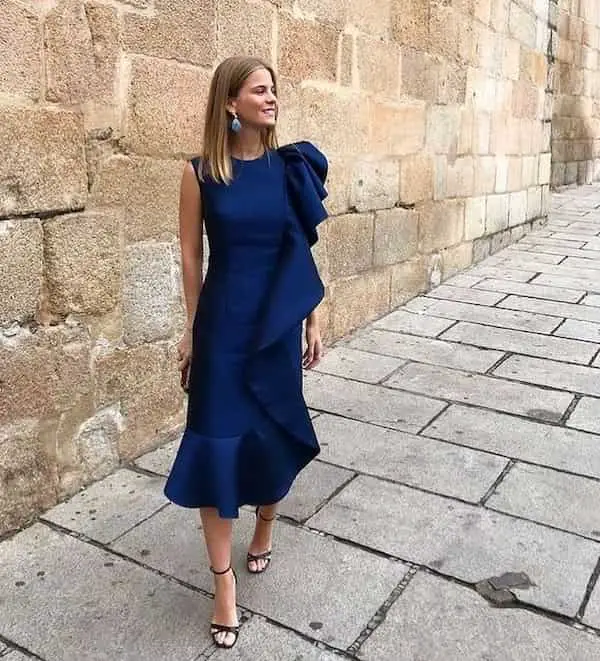 13. White Shirt with Peach Pleated Skirt + Heels
Going for a wedding with a super-casual theme makes dresses unnecessary. Instead, you can go with a simple top and skirt like in this picture without losing any elegance or comfort.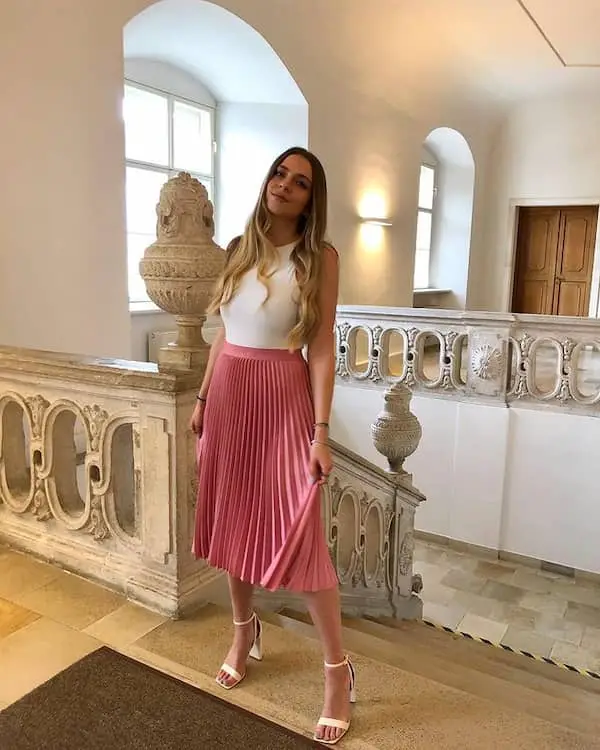 14. Deep Green Sleeveless Dress with Heels + Handbag
Sleeveless dresses leave a lot of space around your arms, making it easy to keep cool in the summer. In addition to that disadvantage, the dress naturally looks chic, making it an easy pick for any wedding invitation.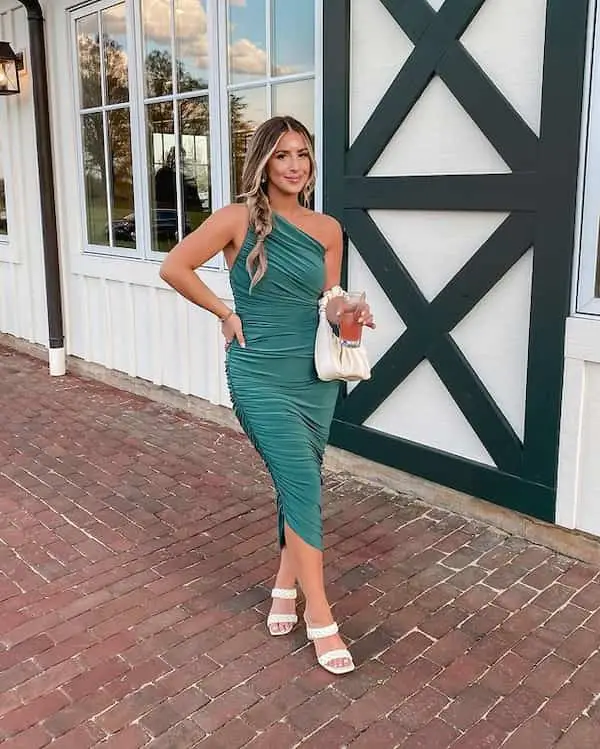 15. Yellow Stretch Dress with Heels + Handbag
I never thought I'd want to wear a yellow dress anywhere until I saw this outfit. As long as the yellow doesn't match that of the bridesmaids, you can look great and not like a wannabe bridesmaid during the wedding.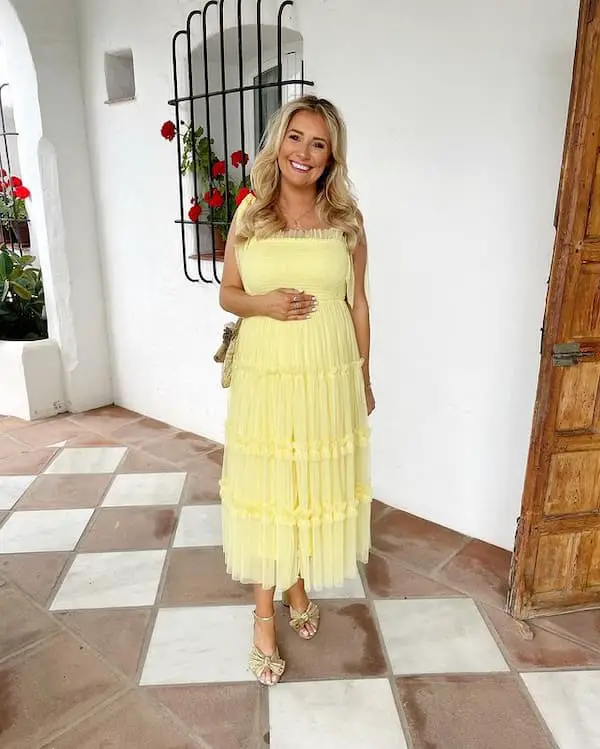 16. Pink Mini Dress with Heels + Handbag
Back to floral dresses, a pink mini dress sounds like something that works for a summer wedding. Pairing it with a cute little bag and pink heels just adds a whole new level of cohesion to the outfit.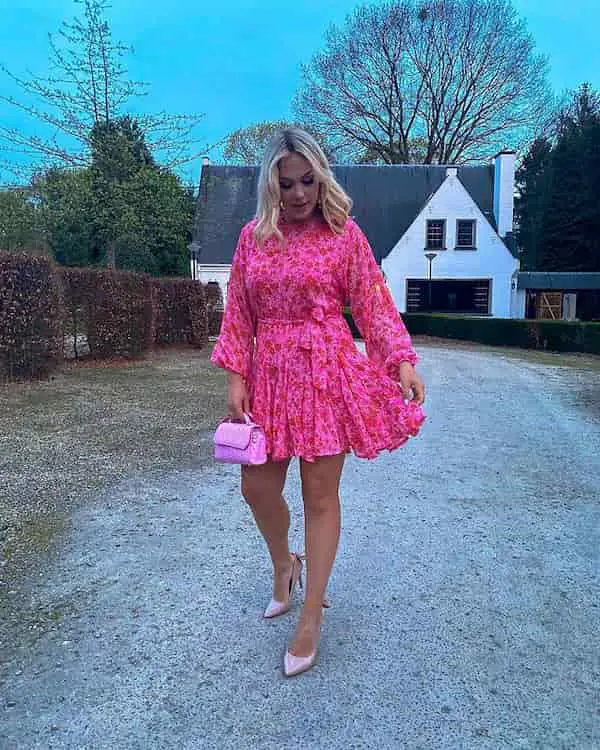 17. Ash Pleated Dress with Boots
If the wedding is taking place outdoors in some place like a beach, this outfit will work perfectly. It's cool enough for any summer surprises while retaining the chicness of the dress.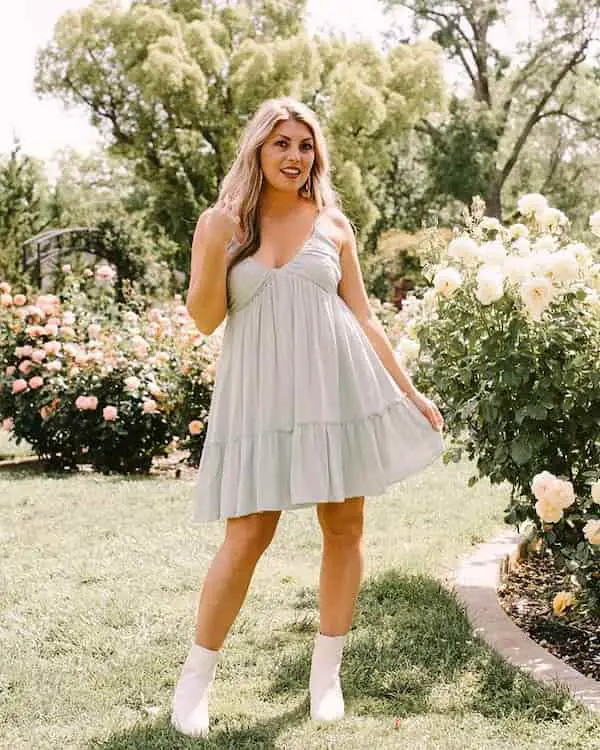 18. Yellow Striped Dress with Heels + Clutch Purse
Here's another yellow dress idea for when you need to be the cynosure of all eyes. The attractive nature of yellow aside, this outfit is actually pretty adorable, especially when paired with the purse and heels.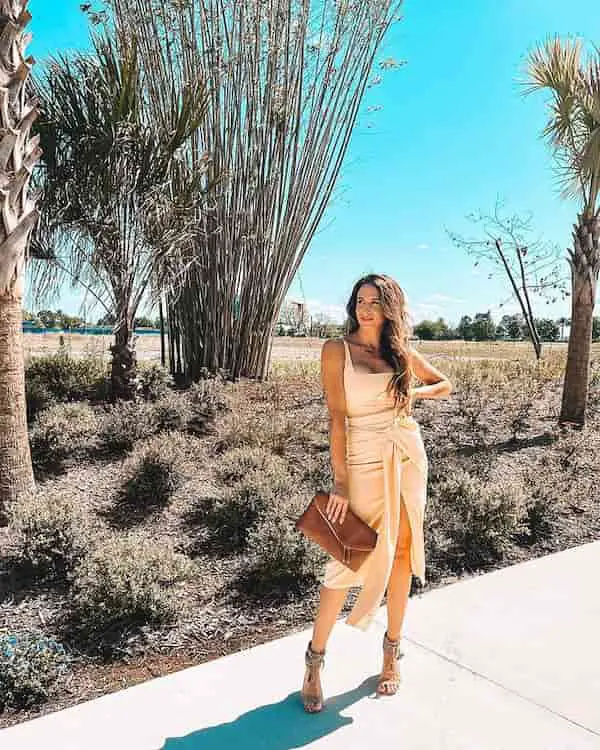 19. Purple Long Sleeveless Crop Top with Purple High Waist Skirt + Heels + Handbag
We've seen a purple dress earlier in this compilation, but I'm not sure why people choose purple for summer weddings. One thing I'm sure of, however, is that those purple outfits sure look cool.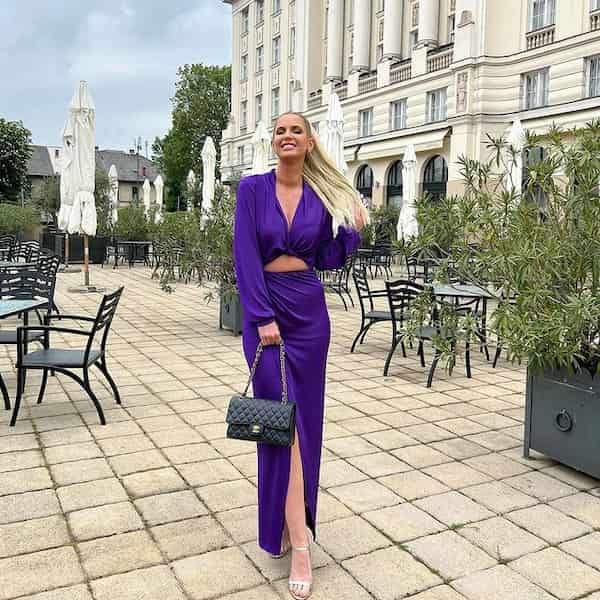 20. Spaghetti Hands Green Dress with Heels + Clutch Purse
If your friend next door is holding a wedding party, you don't need to dress in your most complicated piece of clothing. A simple spaghetti dress will do enough to depict how close you are.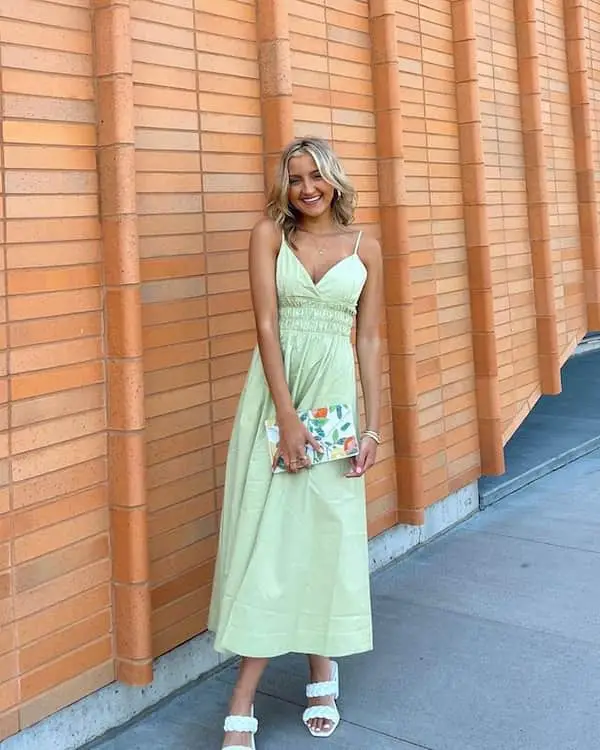 21. Floral Midi Dress with Heels + Handbag
Floral dresses and yellow dresses are wedding classics that never get old. Combine the two, and you'll have this elegant outfit for summer weddings. One observation is that it will likely suck at keeping you cool.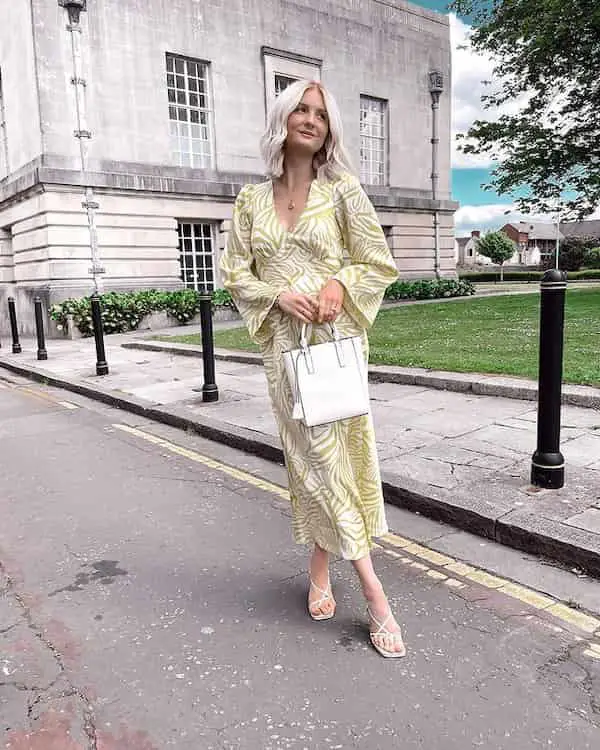 22. Pink Satin Long Dress with Heels + Clutch Purse
Pink isn't a strange color during a wedding, especially among ladies. If you fancy pink, here's a way to incorporate it into your dressing without sacrificing any of your chicness or beauty.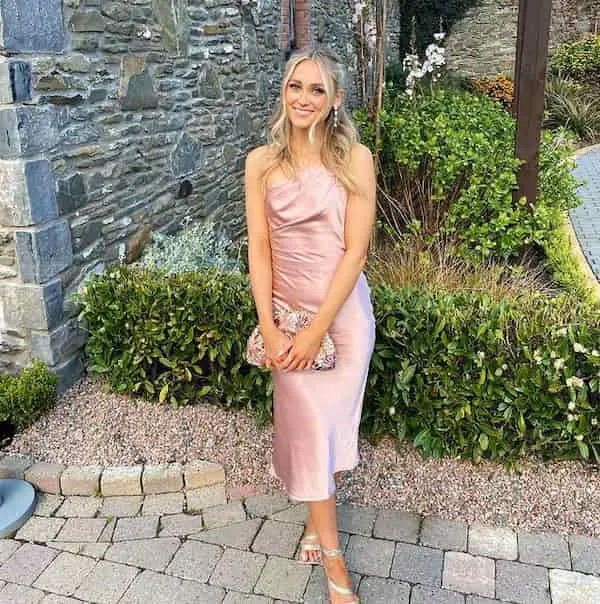 23. Yellow Knee-Length Dress with Heels
Another simple summer wedding outfit that befits a guest like you is a yellow knee-length dress. Not only does it look incredibly chic, but it also allows the wearer to keep cool during the summer.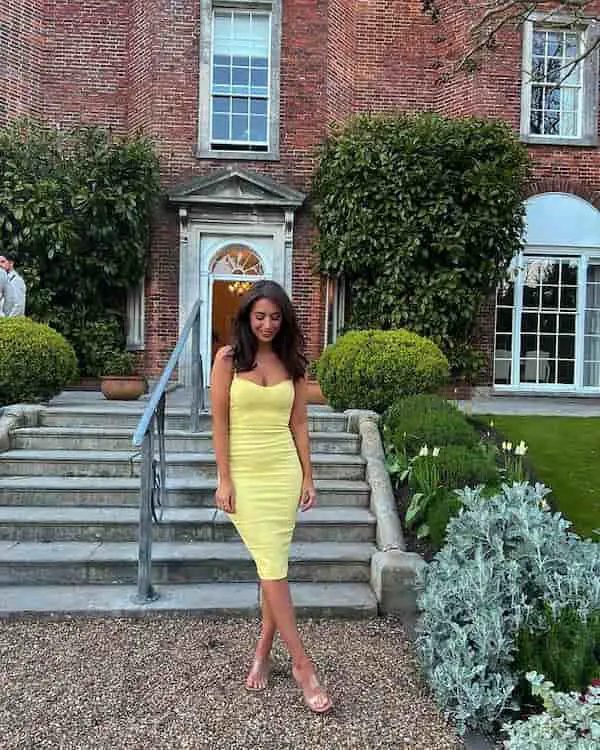 24. Floral Bump Dress with Heels + Handbag
Floral dresses can't seem to look terrible for a wedding, especially when paired with heels. Try replicating that smile and you may be the one to meet a significant other after all.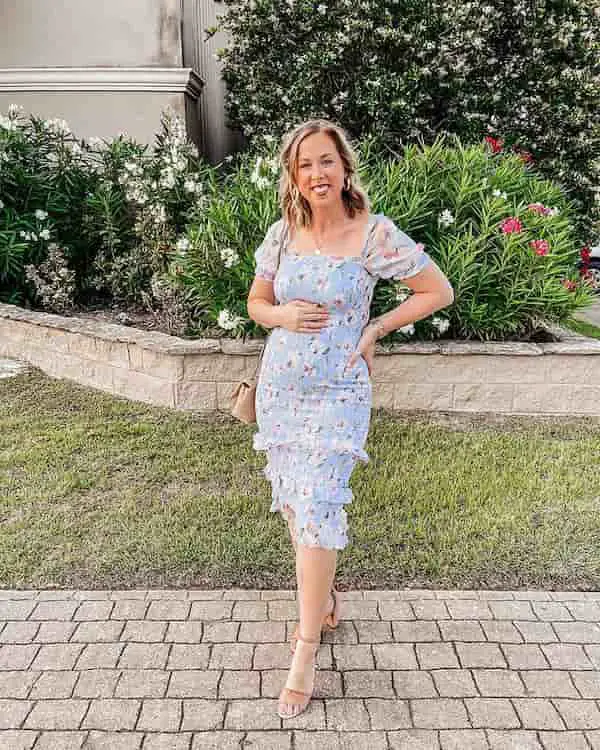 25. Double Colored Long Sleeve Midi Dress with Heels + Clutch Purse + Hair Facilitator
Going for an entirely red outfit is a pretty bold decision, but it does look chic sometimes. While I'm not particularly a fan of reds, I'm still looking for what to fault in the photo, and it just seems flawless.
And that's all for my post on the some cool summer wedding guest outfits to try. Want some more outfit ideas? Then you might want to check out these blog posts.
I hope you enjoyed this piece of content. Do well to rate this post, and don't forget to share this outfit compilation with your friends.
See you with more exciting inspirations. Trust me; you wouldn't want to miss any of our upcoming outfit compilations, so make sure to follow us on Pinterest.
Pin for Later.