There is an always abundance of chic outfits to choose from during weekends. Here are 25 cool summer weekend outfit ideas to consider trying this season.
The weekend is a time for casual outfits and an excellent opportunity for you to try out new and exciting clothing combinations. When dresing in the summer, it's important to ensure you're dressing to reflect the harsh temperatures.
Balancing outfits that keep you cool with those that look chic can be too much work, especially if you're not particularly good in combining clothing items. No worries, this article will show you some cool summer weekend outfit ideas.
Adorable Weekend Summer Outfit Ideas
With temperatures rising steadily, it's becoming increasingly difficult to keep cool in the summer. Here is a collection of summer weekend outfit ideas to help you combat that.
1. Green Long Sleeve Crop Top with Black Wrap Skirt + Heels + Midi Handbag
Complicated dresses are unnecessary during weekends, especially when it's the summer. This alluring outfit takes simplicity to the next level, subtly mixing green and black colors beautifully.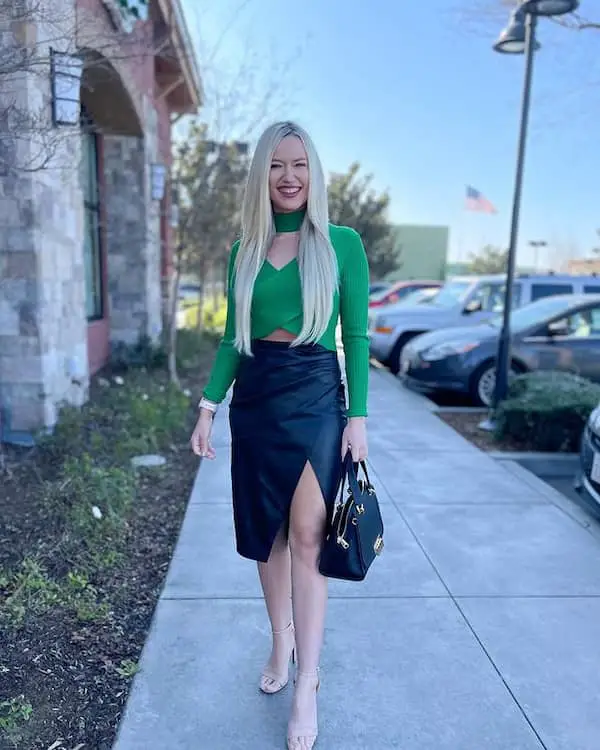 2. Black Blouse with Black Joggers + Sneakers + School Bag + Sunglasses
Wearing an all-black outfit doesn't seem too good in the summer, but I'll take an exception for this. Add a pair of sneakers and sunglasses to capture her unmistakably chic look.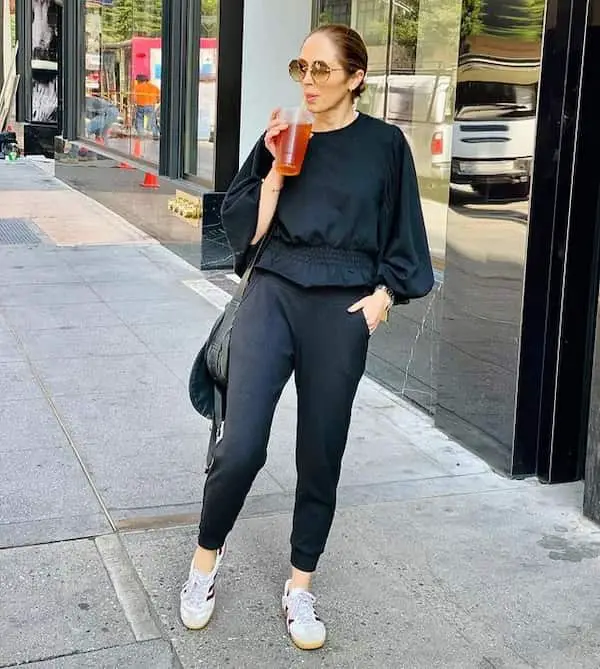 3. Sky Blue Crop Top with White Wrap Mini Skirt + Heels + Mini Handbag
A sky blue crop top and a mini skirt is the perfect outfit combination on a stay-at-home weekend. If you're going out to somewhere casual, you can add a mini handbag to look ready-to-go.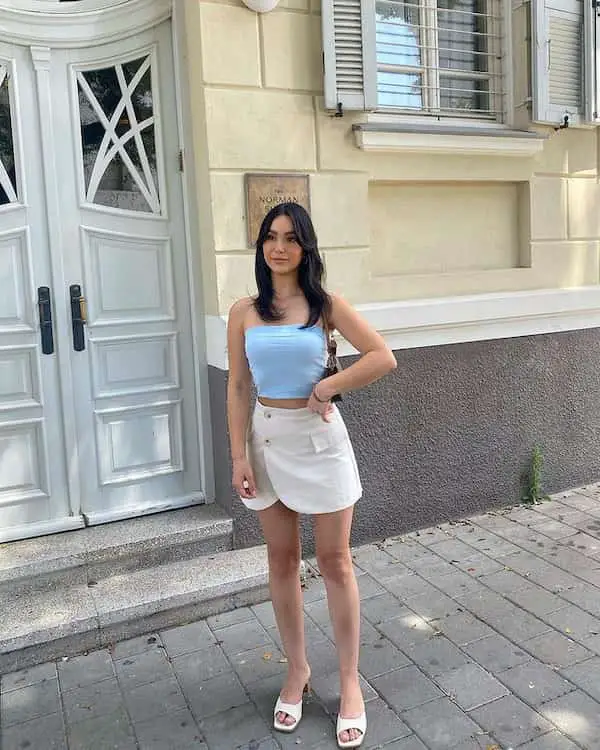 4. Orange Tied Kimono with White Flared Pant + Heels + Midi Handbag
For some Japanese vibes, you can try an orange kimono with flared pants. Looking at the model in the picture, she looks more like a beauty queen than a Japanese, and that's okay.
5. Black Graphic T-Shirt with Floral Striped Skirt + Boots
Wearing a tied graphic tee with a simple skirt might be all you need in a summer outfit. This outfit sounds like a good idea if you're not planning a weekend outing and it looks chic nonetheless.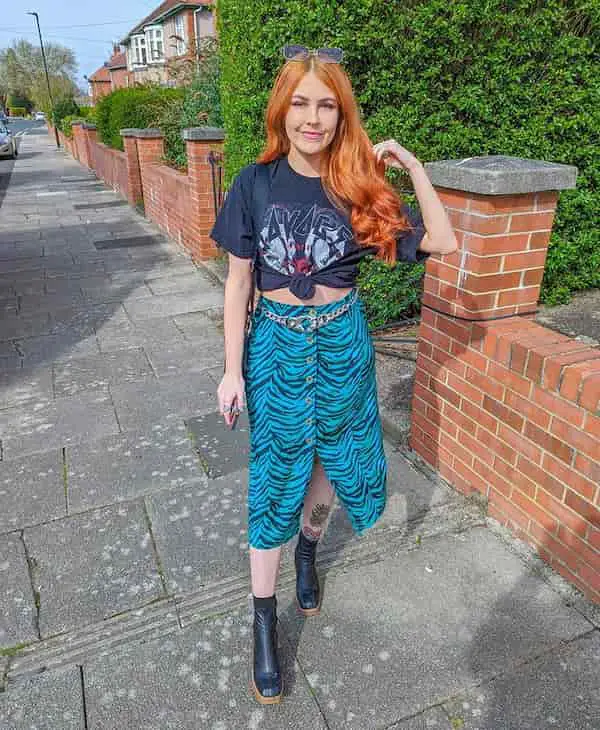 6. Spaghetti Hands Line Striped Dress with Slippers
If you're not willing to deal with different clothing items in an outfit, you can simply go with a dress. A black and white striped dress looks cool, and you only need a single glance at her to know that.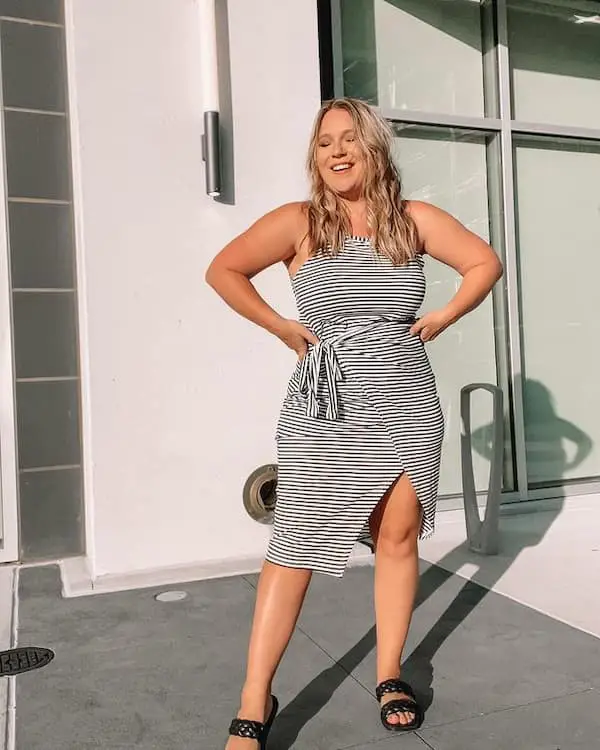 7. Satin Crop Top with Light Yellow Shorts + Heels
You need no fashionista to see that this outfit is probably the best thing to wear on a summer weekend. While I'm not wearing this outside my front gate, it's comfortable enough to keep you cool, yet chic.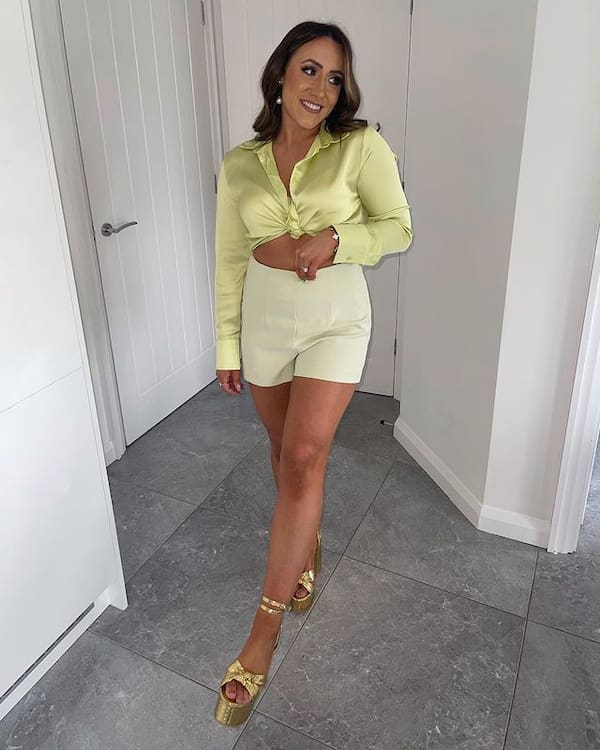 8. One-Hand Floral Dress with Sandals + Mini Handbag + Sunglasses
How about a maxi floral dress with sandals? If you think that sounds like a bad idea for the summer, you should also know that it's one-handed and keeps you cool.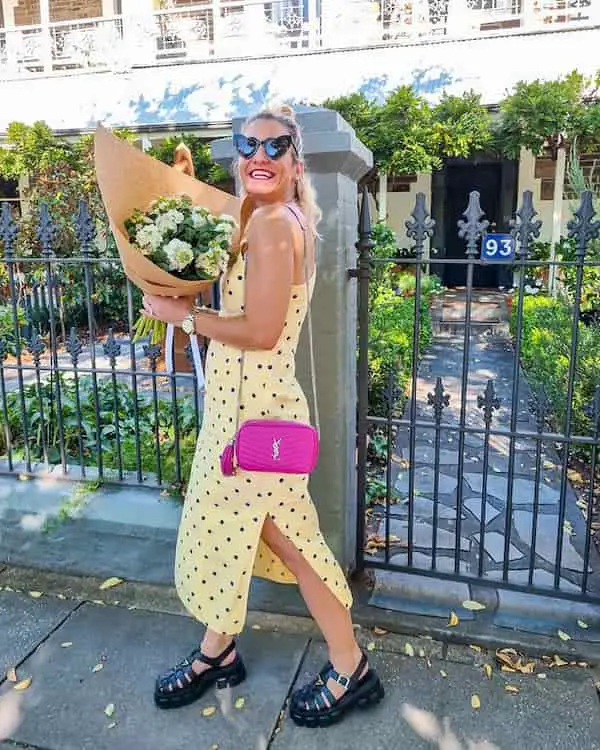 9. Floral Short Dress with Heels
If you're still not convinced of the viability of a maxi dress in the summer, here's a short dress idea. It's a simple wear and you need not worry about layering clothing items before looking good.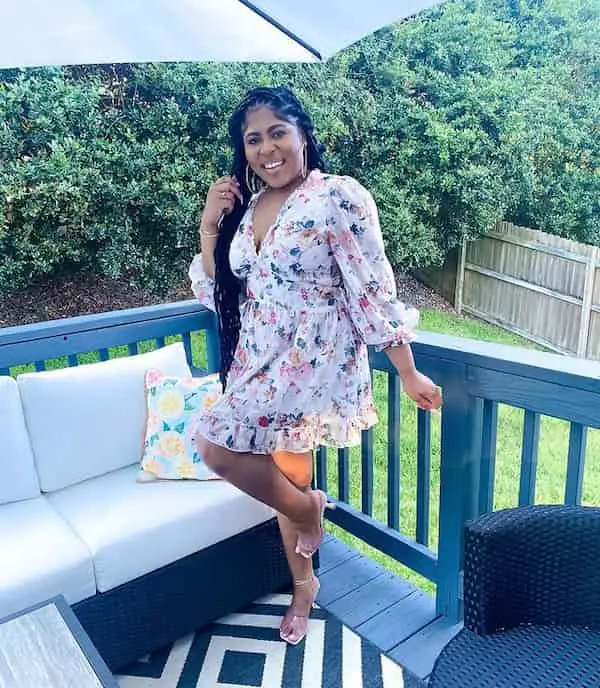 10. Green Tight Dress with Chunky Sneakers + Sunglasses
While the preceding dress sounds like a good fit, the idea of a skin tight dress also sounds appealing to me. Add a pair of sunglasses and you have one of the coolest summer weekend outfit ideas.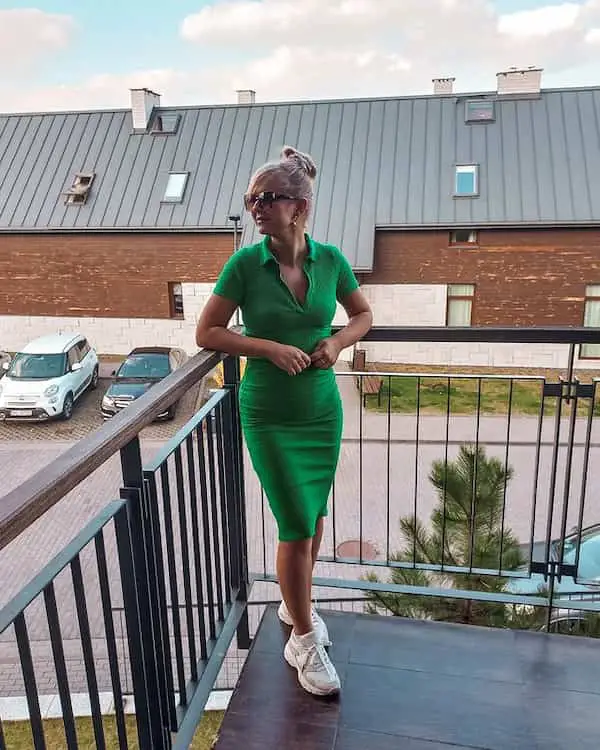 11. Spaghetti Hands Long Dress with White Shirt + Slippers
A spaghetti dress is popular during the summer for how much it keeps the upper part of your body cool. While I'd want the dress to be a bit shorter, the length doesn't hurt either.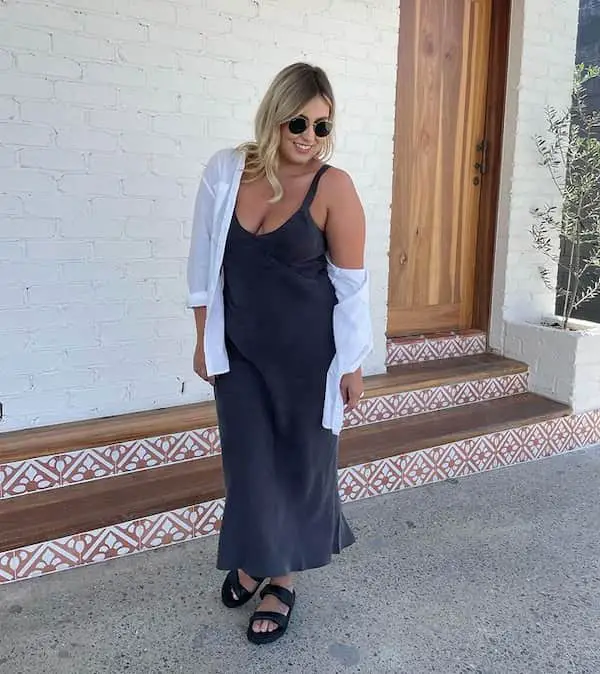 12. Black Graphic Top with Ripped Jean Pants + Sandals + Cross Shoulder Bag
Any summer outfit compilation would be incomplete without a graphic tee + jeans combination. A cross-shoulder bag adds to the casual carefree look that gives this outfit its deserved elegance.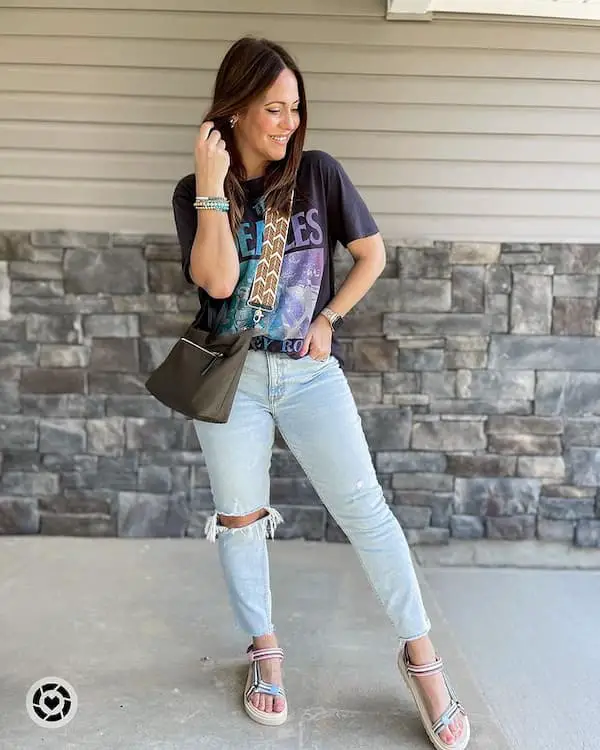 13. Mini Floral Dress with Tummy Belt + Sandals
This easily makes one of my favorite summer weekend outfit ideas, primarily for the looks. Looks aside, it also looks short enough to keep you cool during the harsh heat of the summer.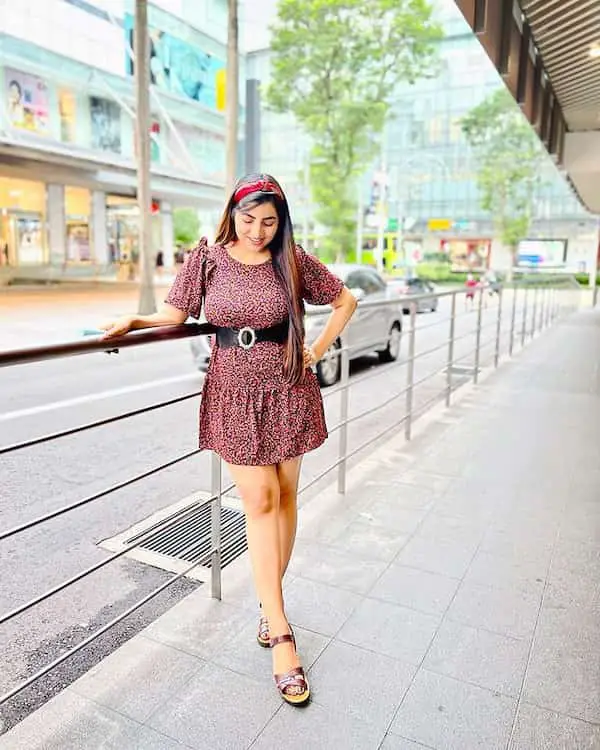 14. Floral Long Sleeve Crop Top with High Waist Ripped Jeans + Heels + Midi Handbag
Summer weekends are usually party times, and here's an excellent outfit you can wear to a party with friends. Not only is it incredibly gorgeous, but the limited footprint makes it comfortable for high temperatures.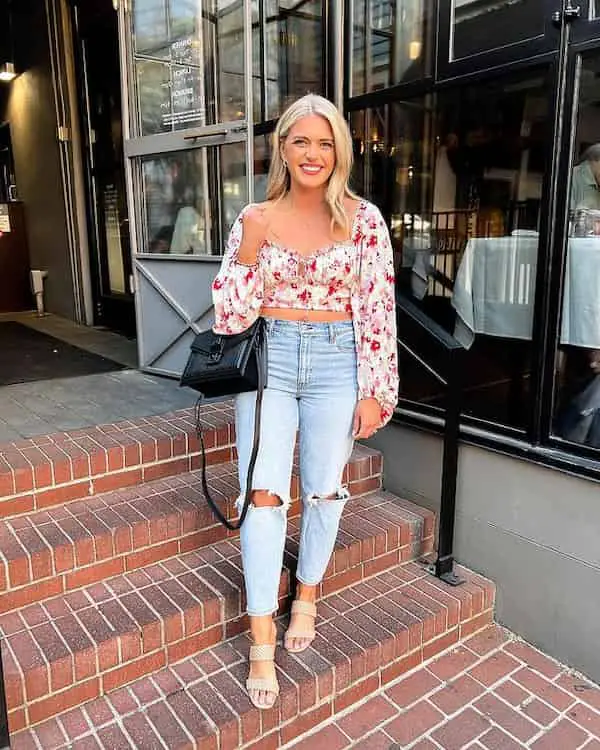 15. Spaghetti Hands Floral Blouse with Jean Pants Loafers
The blouse looks like the divide between a dark purple and light pink. Since it's spaghetti hands, the last thing you'll have to worry about is the temperature, and it looks chic.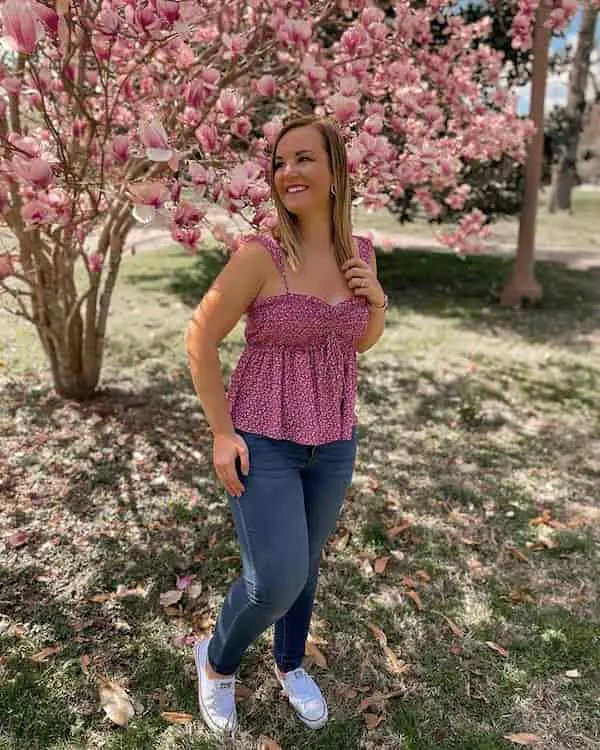 16. Orange Top with White Long Sleeve Shirt + Ripped Jean Pants + Sandals + Sunglasses
Bright clothing items are always a good idea in the summer and here's a perfect example of someone rocking one. The white long sleeve and sunglasses are genius, and the ripped jeans is second to none.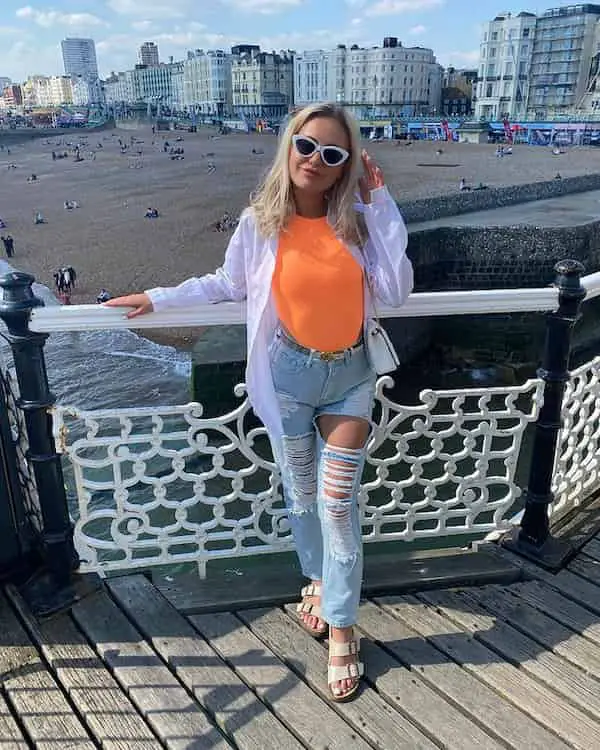 17. Denim Jacket with a Brown Mini Skirt + Sneakers
Who says denim jackets can't stand on their own? Certainly not her, since she just demonstrated the perfect way to style them in the summer without worrying about heat.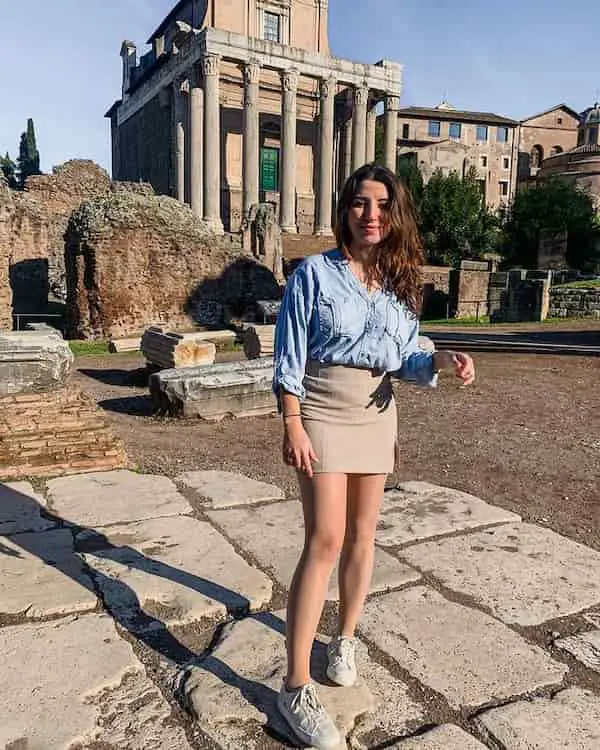 18. Spaghetti Hands Floral Top with High Waist Leather pants + Boots + Sunglasses
Leather pants aren't a no-no during the winter and styling them isn't too complicated. A simple spaghetti top is enough to make you look like a model, and you can add boots for flair.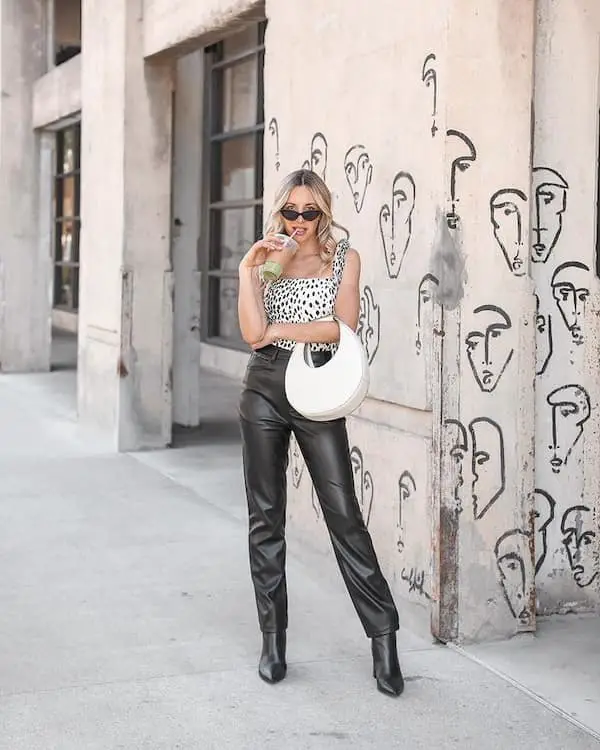 19. Straight Neutral Colored Lace Dress with Heels + Midi Handbag + Sunglasses
If you're hoping to try out a simple outfit, here's your best shot. No jackets, no pants; wear a simple lace dress and get everything over with.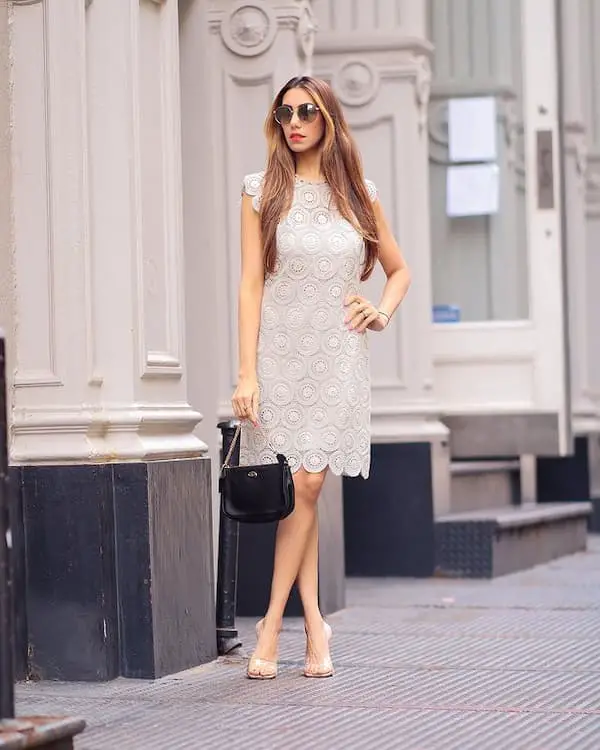 20. Lemon Mini Dress with Purple Blazer + Heels + Sunglasses
If a blazer doesn't seem like an excessive addition to your outfit, here's another way to wear a short dress. Consider replicating the colors also to avoid creating a rather weird combination.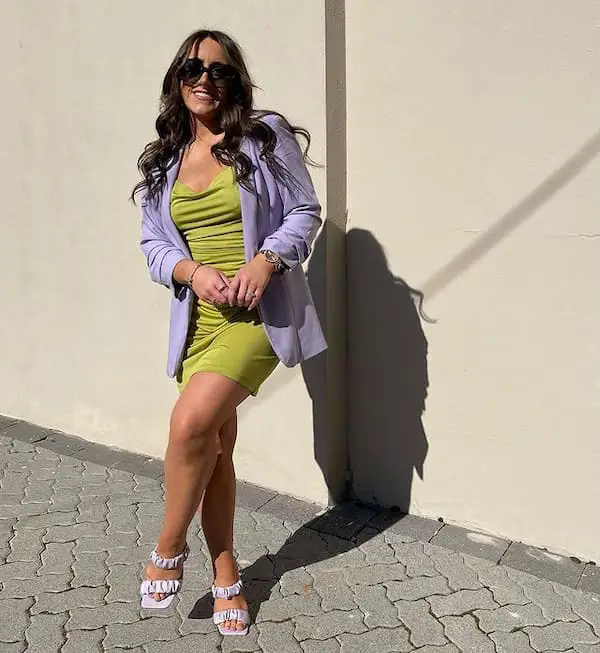 21. Graphic T-Shirt with Belt + High Waist Black Jeans + Heels + Midi Handbag
Graphic tees are summer masterpieces; you only need a glance at her to confirm that. When you pair them with skinny black jeans, you create a look that looks as elegant as she does.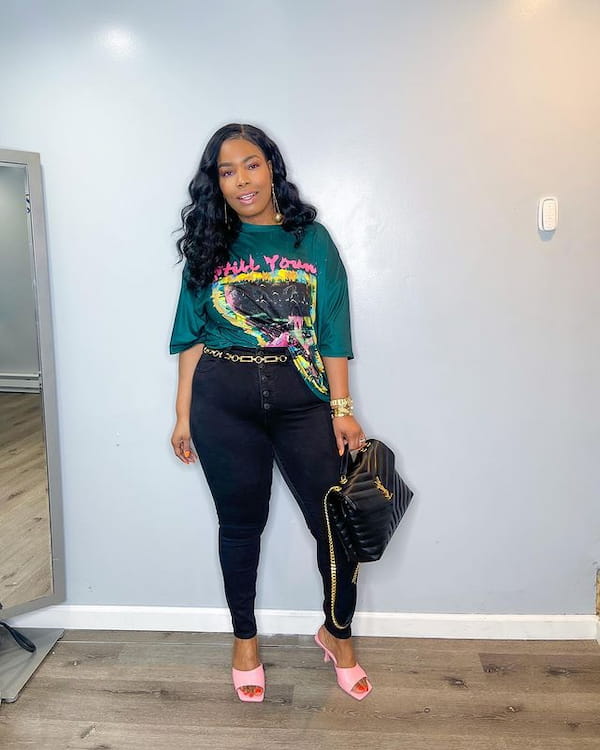 22. White Dress with Denim Jacket + Sneakers
If you're all for a white dress on a summer weekend, here's an idea for you. Instead of going entirely white, you can mix things up with a cool-looking denim jacket without losing any chicness.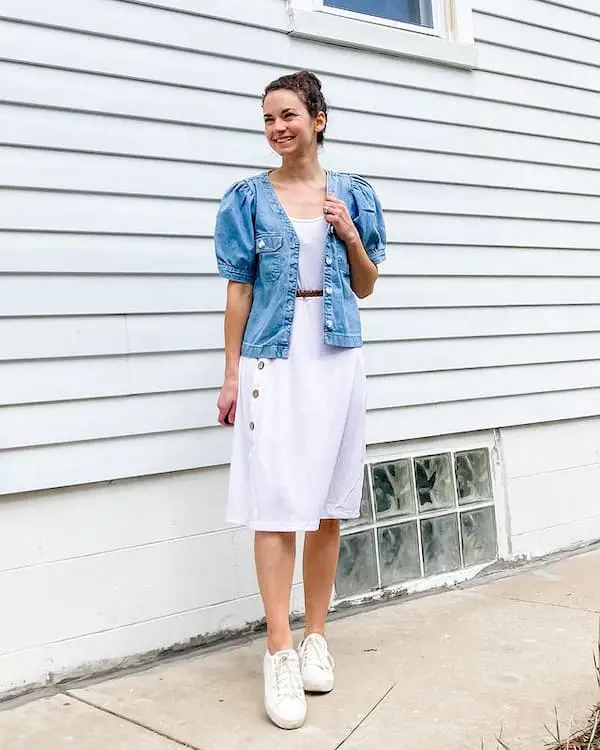 23. Sky Blue Straight Spaghetti Hands Dress with Sneakers
Sky blue dresses are beautiful enough for weekend outfits and light enough for the summer. No wonder it comes as part of the coolest summer weekend outfit ideas.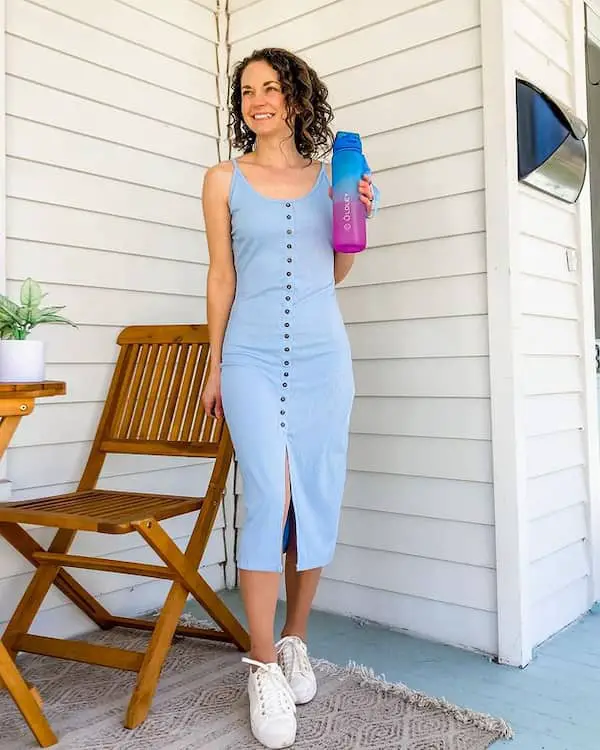 24. White Tank Top with High Waist Joggers + Sneakers + Face Cap + Mini Handbag
Tank tops appear very convenient in the summer, but you don't always get a chance to wear them during the weekdays. If you're out of work during weekends, it's your chance to get comfy and cute!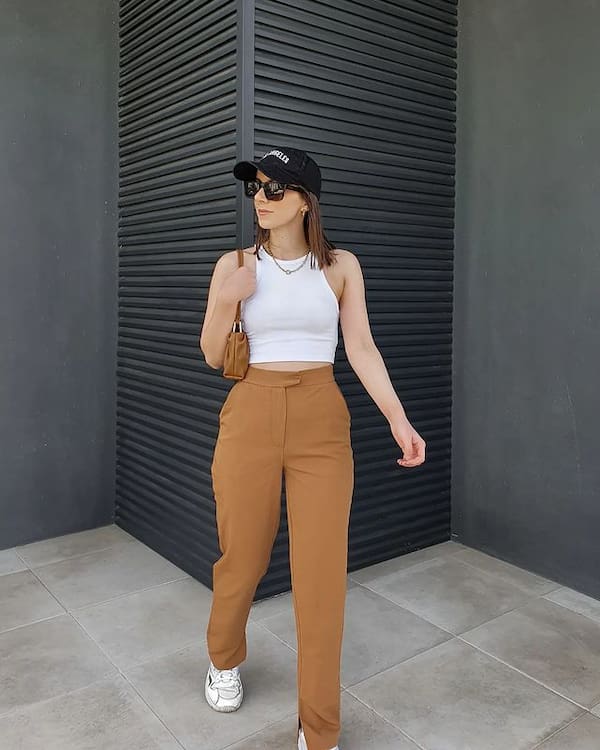 25. Black Blouse with Ripped Jeans + Sneakers + Cross Shoulder Handbag
If you're going for a more conservative weekend look, here's a combination you should consider trying. It's neither complicated nor unfashionable, and it doesn't seem to pose a problem in the summer.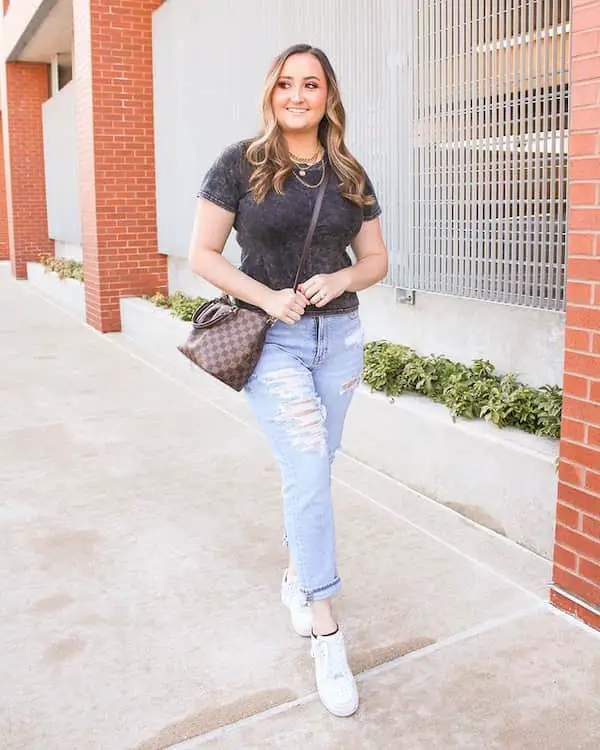 And that's all for my post on the cool summer weekend outfit ideas to try. Want some more outfit ideas? Then you might want to check out these blog posts.
I hope you enjoyed this piece of content. Do well to rate this post, and don't forget to share this outfit compilation with your friends.
See you with more exciting inspirations. Trust me; you wouldn't want to miss any of our upcoming outfit compilations, so make sure to follow us on Pinterest.
Pin for Later.