Looking for T-shirt dress outfit ideas? Give me a chance to burst your brain with these insanely fashionable outfit inspirations.
T-shirt dresses are effortless to wear and comfortable clothes and this is why a majority of ladies love them so much.
So if you're still contemplating on what to wear with a T-shirt dress, then consider your problem solved.
Because
In this article, I will show you 25 unique and simple ways to rock your t-shirt dress fashionably.
Simple T-Shirt Dress Outfit Ideas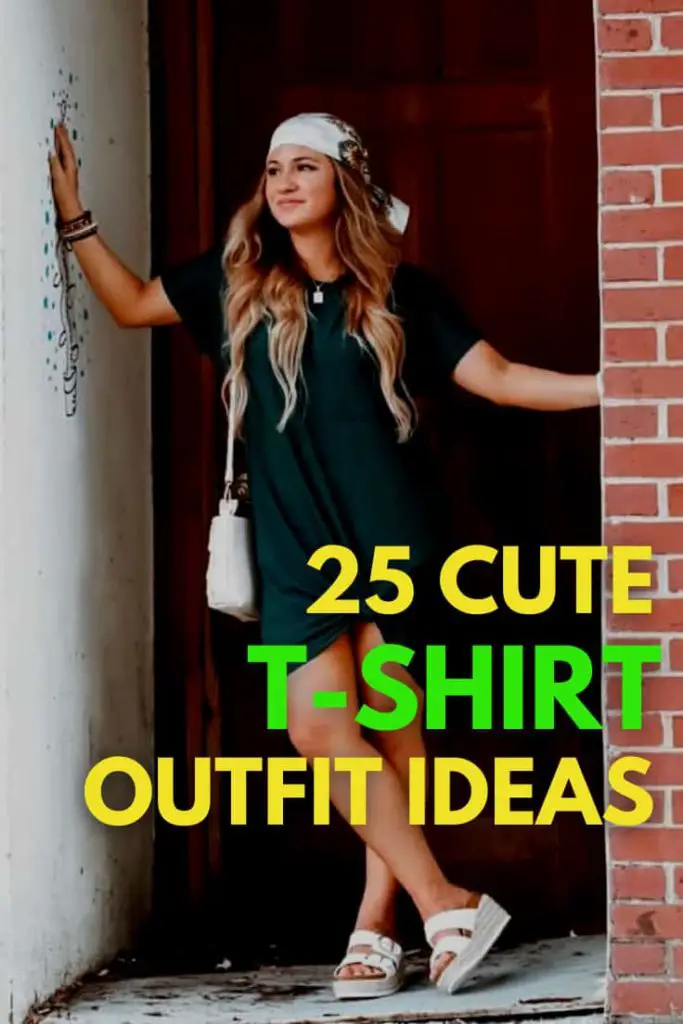 1. Pink T shirt Dress + White Face Cap + White Sneakers + Handbag
This is likely the most comfortable style for summer. Anybody can wear this dress regardless of your size and complexion. You can dress it up with jewelry and a denim jacket for a classy look.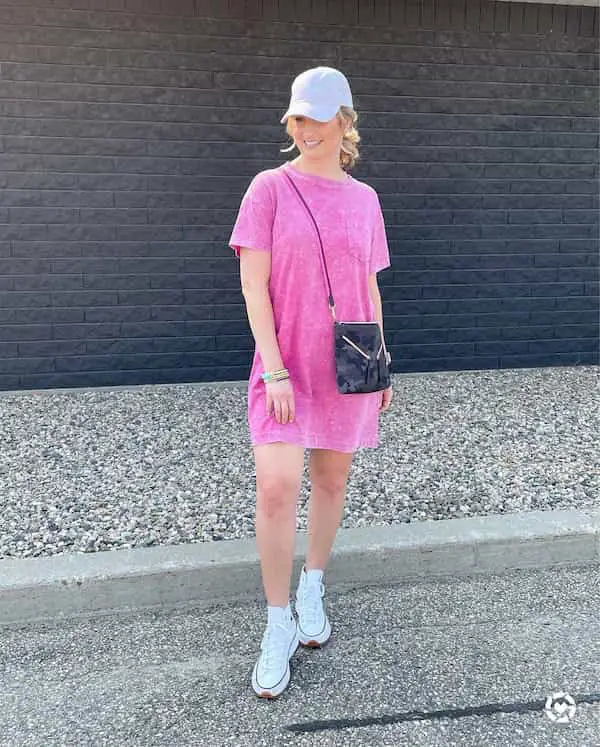 2. White T-Shirt Dress + Slippers + Basket Handbag + Sunglasses
This stylish t-shirt dress outfit is perfect for holiday strolls and city walks. The best thing about most t-shirt dresses is that they're made 100% from cotton, so your skin can breathe well underneath.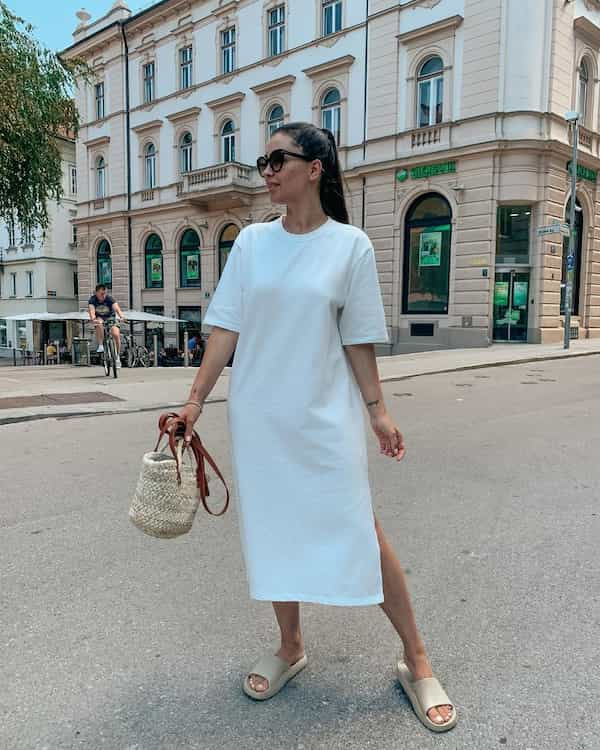 3. Brown T-shirt Dress + White Shoe + White Bag
You can wear this super comfy dress while going for a vacation or visiting amusing places like museums and exhibition centers.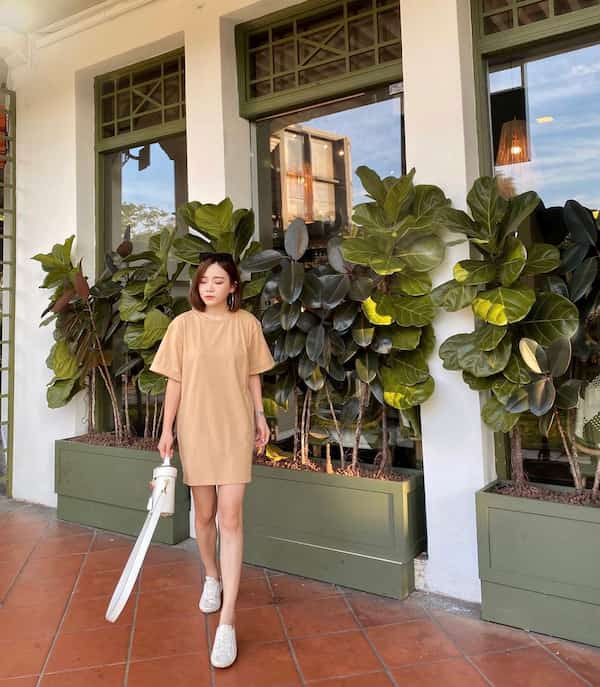 4. Belted Navy Blue T-shirt Gown + Purse + Heels
You can effortlessly look beautiful and corporate on a t-shirt dress. Complementing it with nice heels and a chic bag makes you look more elegant.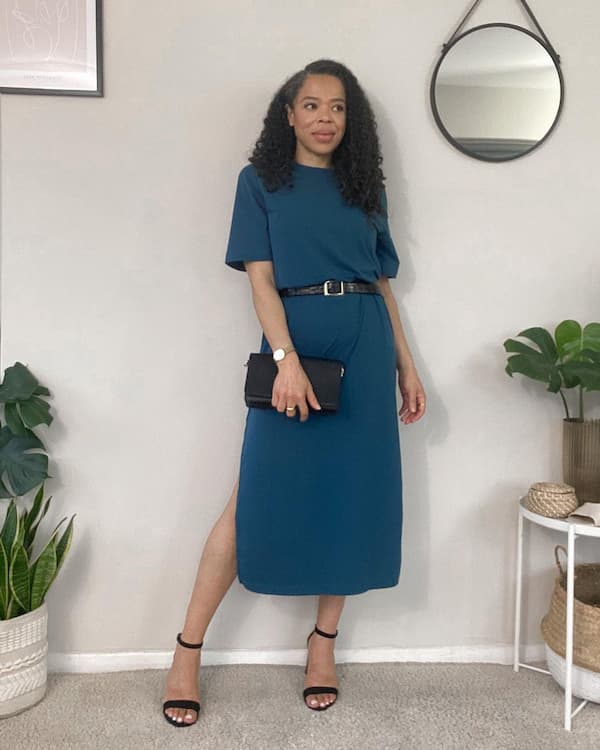 5. Long White T-shirt Dress + Knitted Bag + Slippers + Sunglasses
For a more relaxed and free composure, I recommend you go with this. All you really need for summer is a T-shirt dress.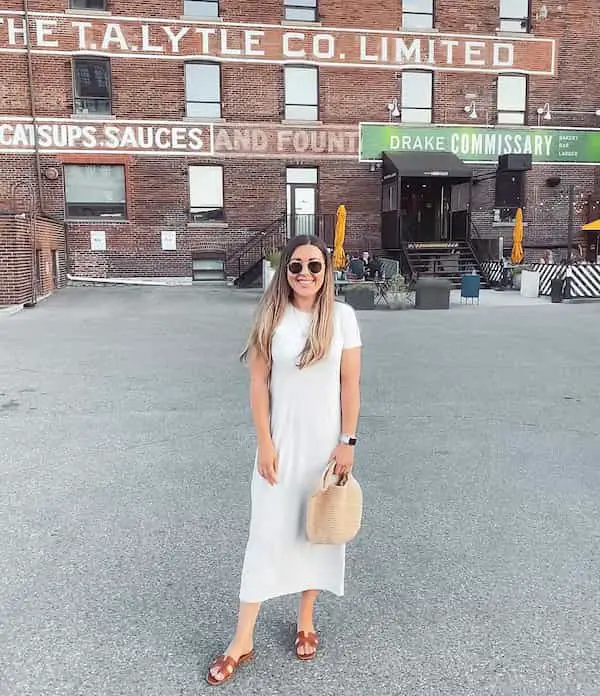 6. T shirt Dress + White Sneakers + Hat
You can wear this dress casual meeting in the countryside. Complemented with a hat and sneakers for a livelier look.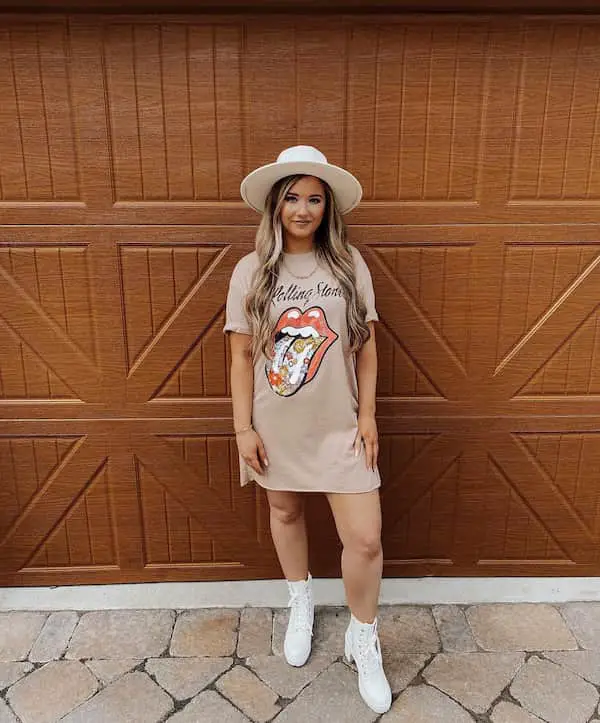 7. Black and White Stripped T shirt Dress + Jean Jacket + Converse Shoe
You can decide to wear the jacket fully or tie it around your shoulders like the featured image. Either way makes it perfect for an outing.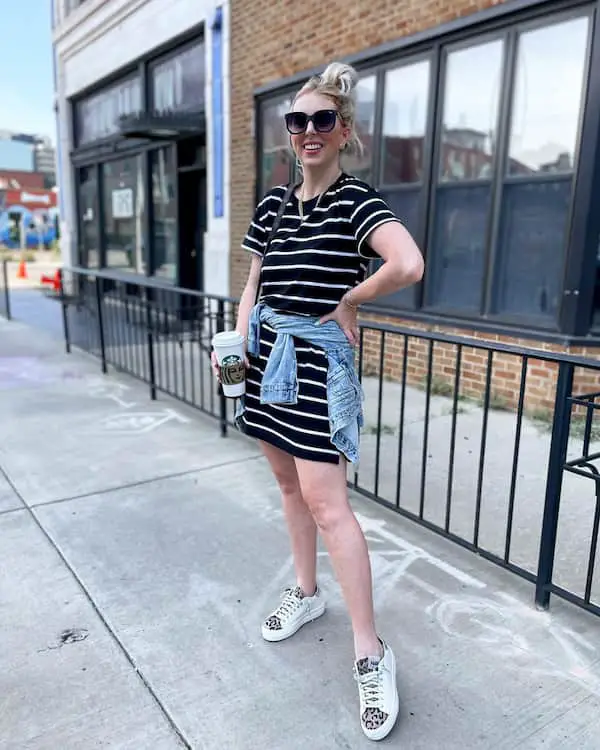 8. Animal Skin T-shirt Dress + Head Warmer + Heels + Handbag
For a more elegant and boss lady look, you can try out this outfit. You can also spicy it up with leggings- either way, it is perfect.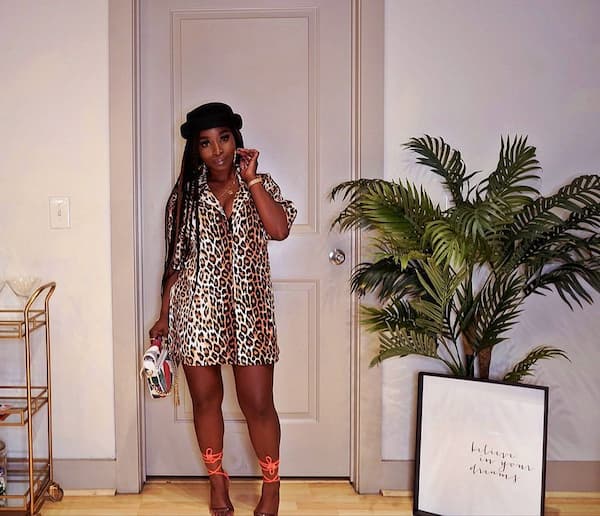 9. Creamy T-shirt Dress + Heel Boot + Handbag
You can wear this dress to work on Thursdays. And it wouldn't be bad if you add up a nice blazer for a more fire look.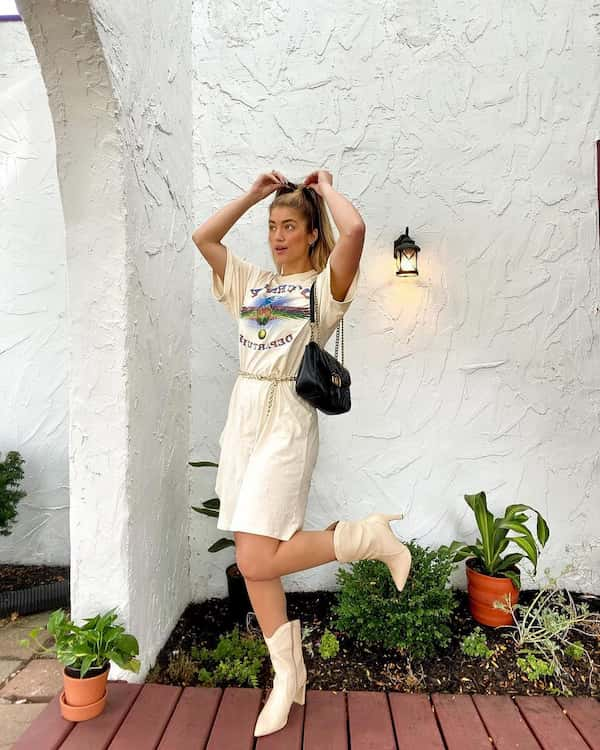 10. Mini T-shirt + Heels
Are you a 2pac fan, and do you want to honor your legend with your dress outlook? You can a Tee with 2pac image. This outfit would be good for night party.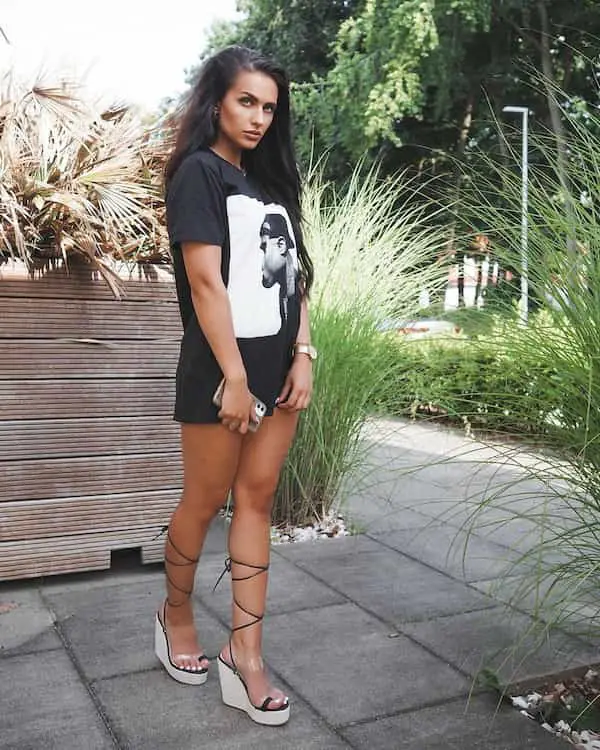 11. T-shirt Dress + Slippers + Handpurse + Sunglasses
For ladies in between plus size and slim, I bring the best mini dress you can wear to anywhere during the weekend.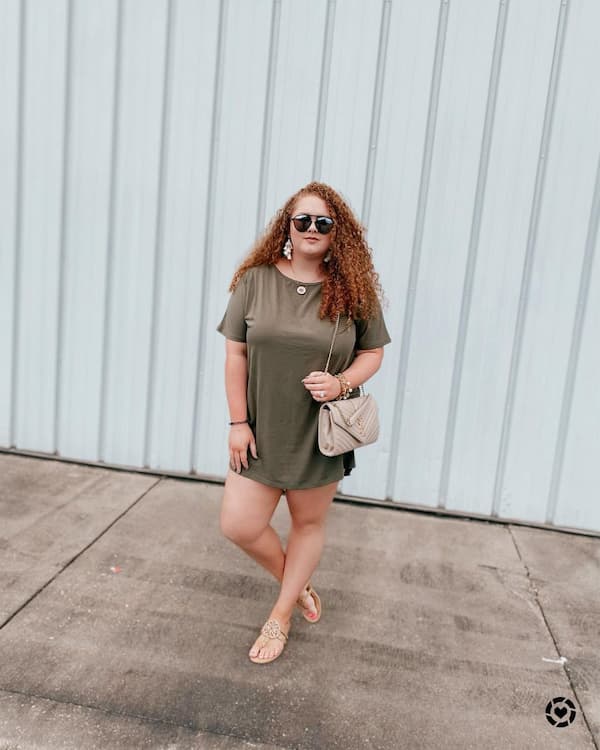 12. Pocket T-shirt Dress + Sandals + Sunglasses
You can wear this outfit for a more conservative meeting or an enclosed place like a religious center.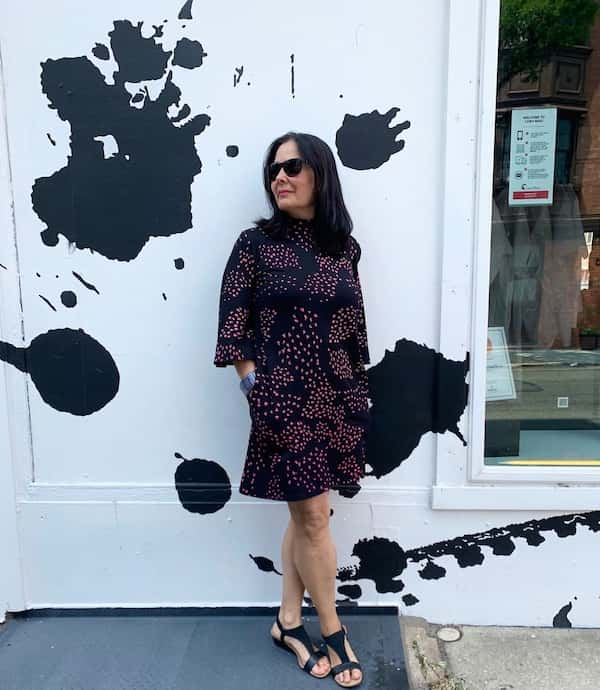 13. Shirt Dress + Boots + Hat
Are you the party host and you are looking for a mini dress to bring your full body shape out in the dancing hall?  I recommend you try this outfit together with a black hat.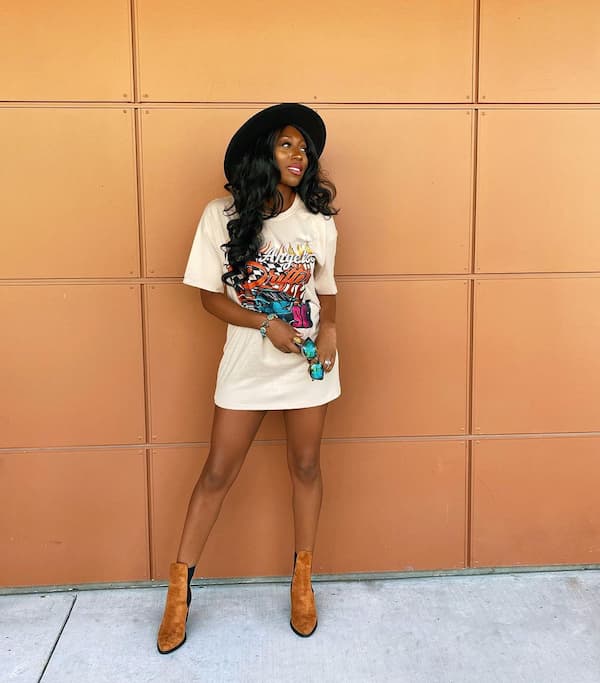 14.  Black T-shirt Dress + Jean Denim Jacket + Flat Shoes
You can wear this outfit when you want to hang out with your friends or watch a movie at the City Cinema.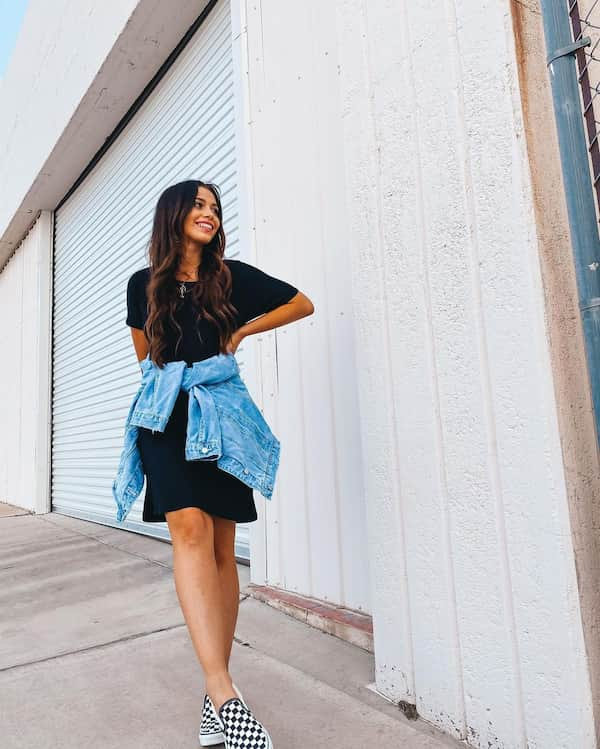 15. Designer White Tee + Red Purse + Heels
It's the t-shirt design for me and the pump heels. The vibe alone is worth 10 times the cost of the complete outfit.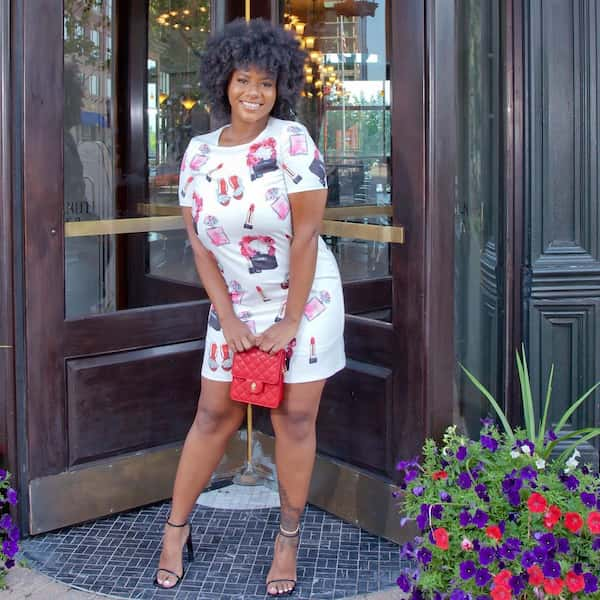 16. 90s Fall Inspired T shirt Dress Outfit
With your t-shirt dress, thick jacket, and pair of sneakers, you are ready for the fall season. You can spice it up with a bucket cap if you wish.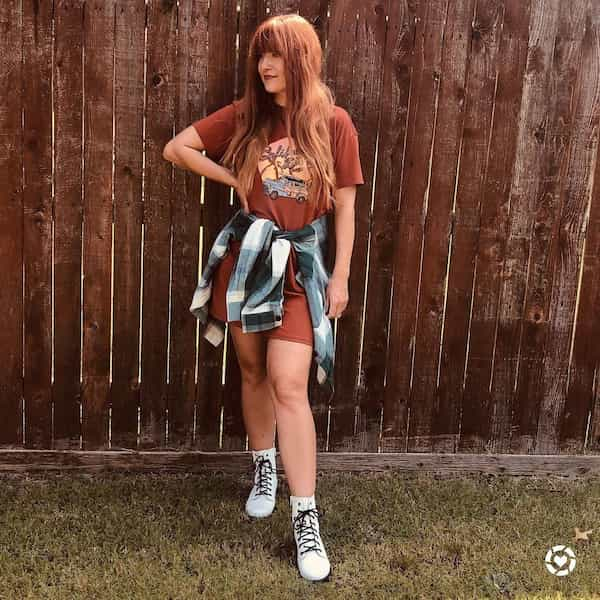 17. Puff Sleeve Brown T shirt Dress + Shoe + Handbag + Sunglasses
As an entrepreneur, you can wear this while going out for business meetings or jobs. You can wear it with sneakers to look more relaxed.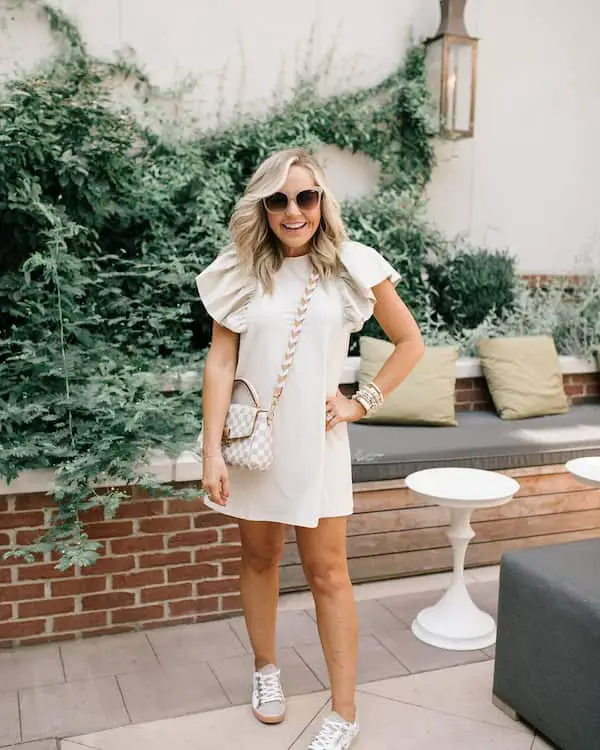 18. Stretchy T-shirt Dress + White Shoe + Bag + Head Scarf
For ladies that love stretchy clothes,  I recommend this t-shirt dress for you. You will surely love it.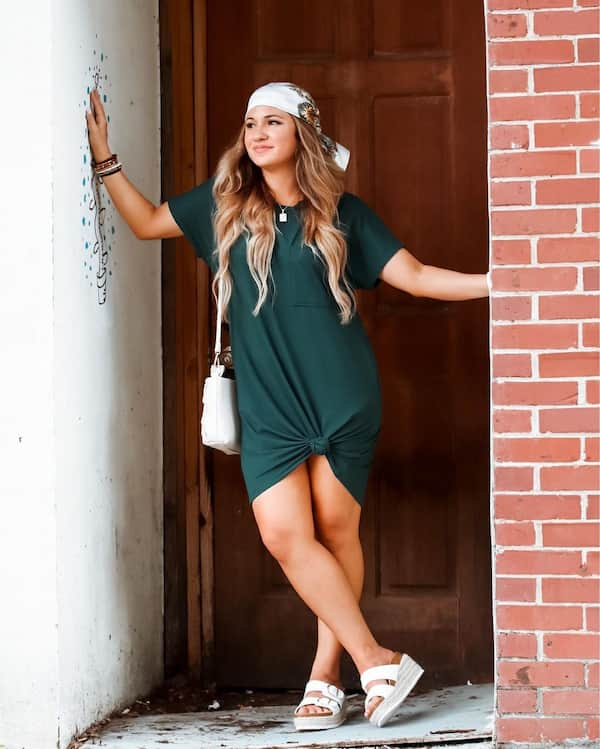 19. Dark Purple Tee Dress + White Shoes
As an older lady, you can find a very decent t-shirt gown and rock it with a pair of sneakers. You can start by adding this dress and sneakers to your clothing collection.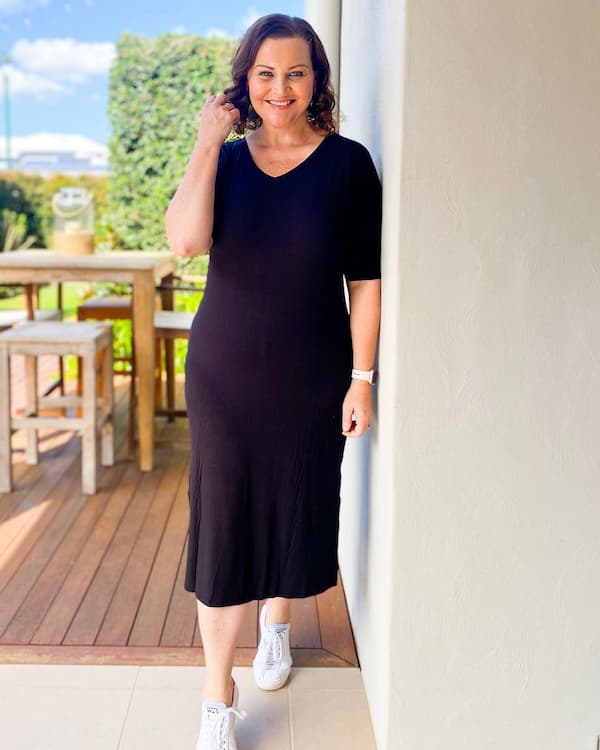 20. Tee Kangaroo Pocket Dress + White Sneakers
If you need something simple and corporate to run your daily business, T-shirt dresses can be the best bet for you.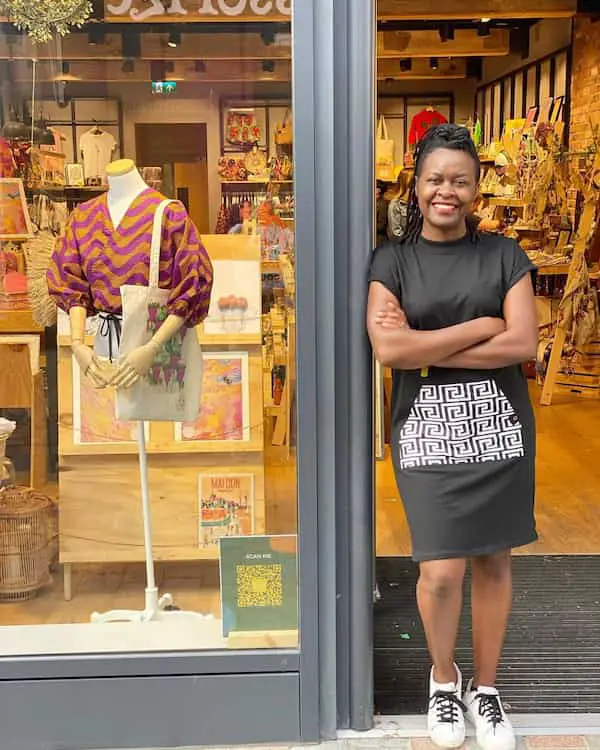 21.  Cowgirl T-shirt Dress Outfit
As a countryside lady, you can still slay in your t-shirt while preserving your culture. You have to get a nice t-shirt gown and complement it with a cowgirl hat and ankle boots.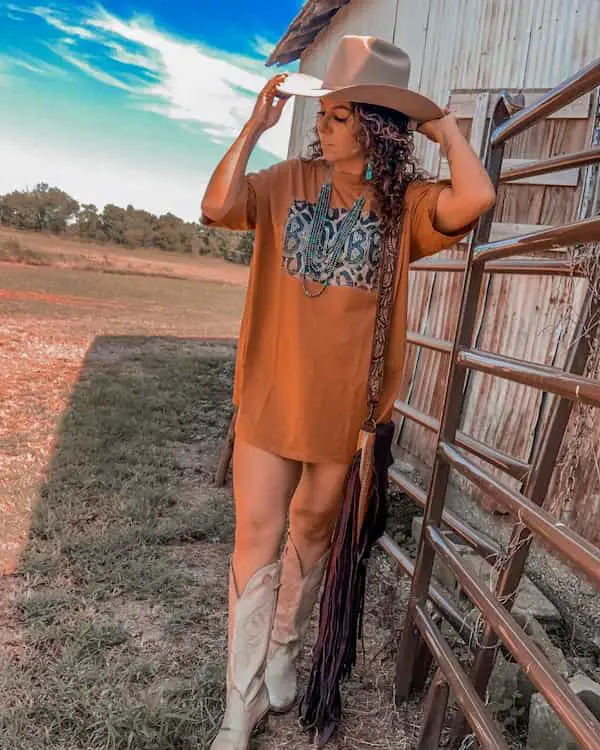 22. Purple Mini Tee + Sneakers + Facecap + Sunglasses
To all my cuties, that need something simple yet classy, I present to you one of the hottest classy outfit that'll inspire your next look.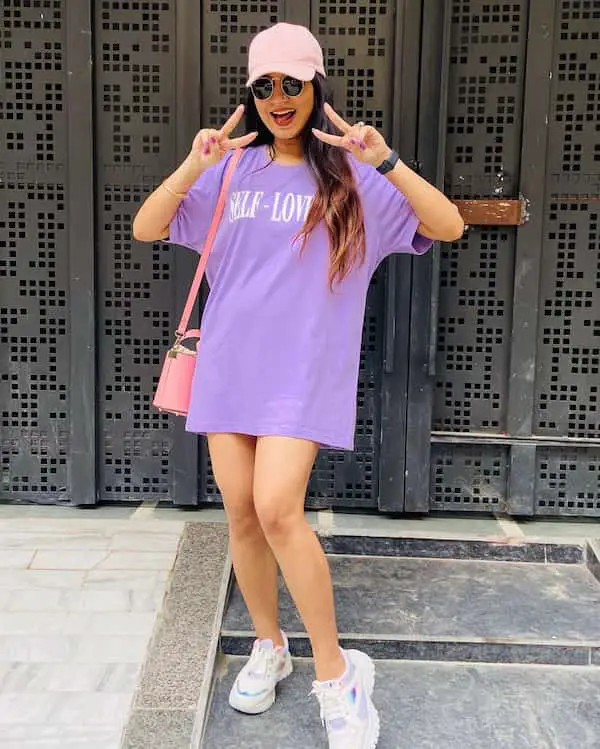 23. Mini Tee-shirt + Jean Jacket + Sneakers + Handbag
You can decide to wear this super only a comfy long T-shirt dress with long leggings or pair it with biker shorts underneath for a cute look.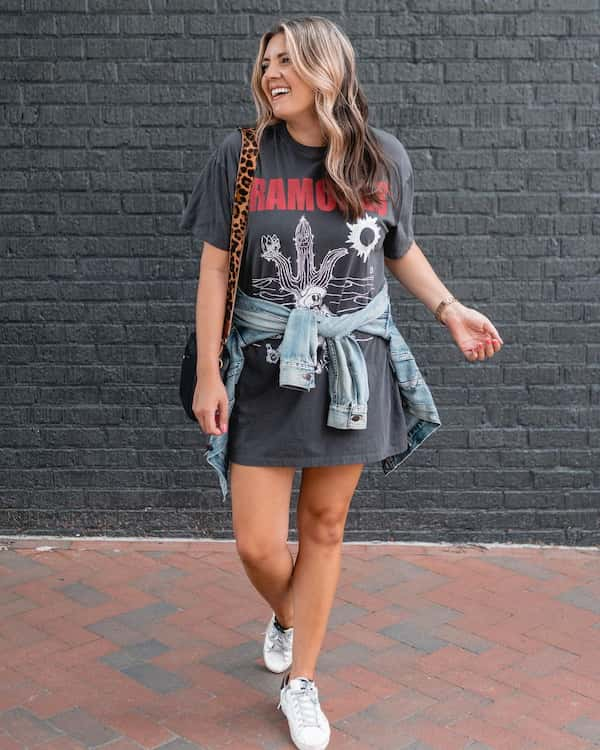 24. T-shirt Dress + Sandal + Handbag
If you're looking for t-shirt outfit ideas for plus size, this wouldn't be a bad choice. You can slay comfortably in a stretchy or body hug mini tee like the one on the featured image.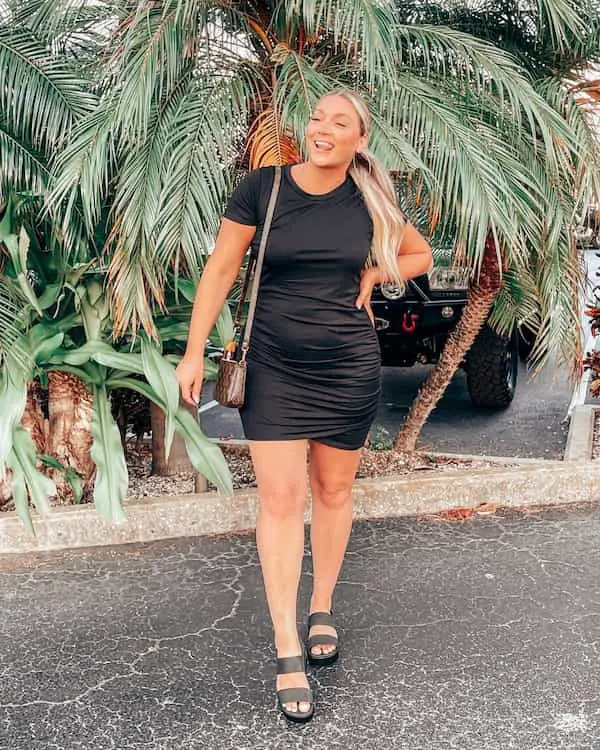 25. White Tee + Handbag + Sunglasses + Slippers
As a mom, you can wear a free and simple long tee gown for a city stroll or for grocery shopping.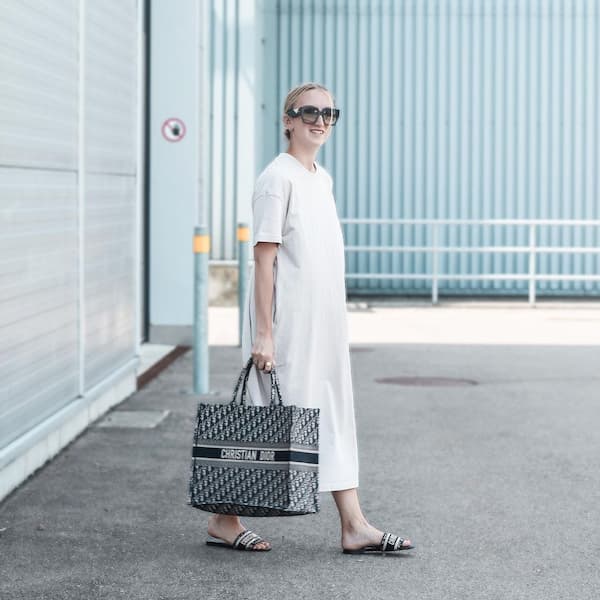 And this is all I got for T-shirt dress outfit ideas. Want some more outfit ideas? Check out these blog posts.
I hope you enjoyed this piece. Do well to rate this post, and don't forget to share this article with your friends.
See you with more exciting inspirations. Trust me; you wouldn't want to miss any of our upcoming outfits compilation, so make sure to follow us on Pinterest.