Are you short of ideas of what tops to wear with skinny jeans and heels? In this post, we've got you covered with some of the best options.
Skinny jeans and heels are a match made from heaven. Over the past few years, this combination has become so popular that it has almost been the face of ladies on most casual occasions. One problem with this combination, however, is finding a matching top for it.
If you're more of a perfectionist, you'll never seem to find the befitting top to wear with your skinny jeans and heels. When you consider other factors that contribute to your dressing, it starts to seem impossible to choose a dress that works.
In this article, I'll help you find the perfect top for your skinny jeans and heels combination. Read on to discover some of the most endearing outfits to wear with skinny jeans, especially if you're pairing them with heels.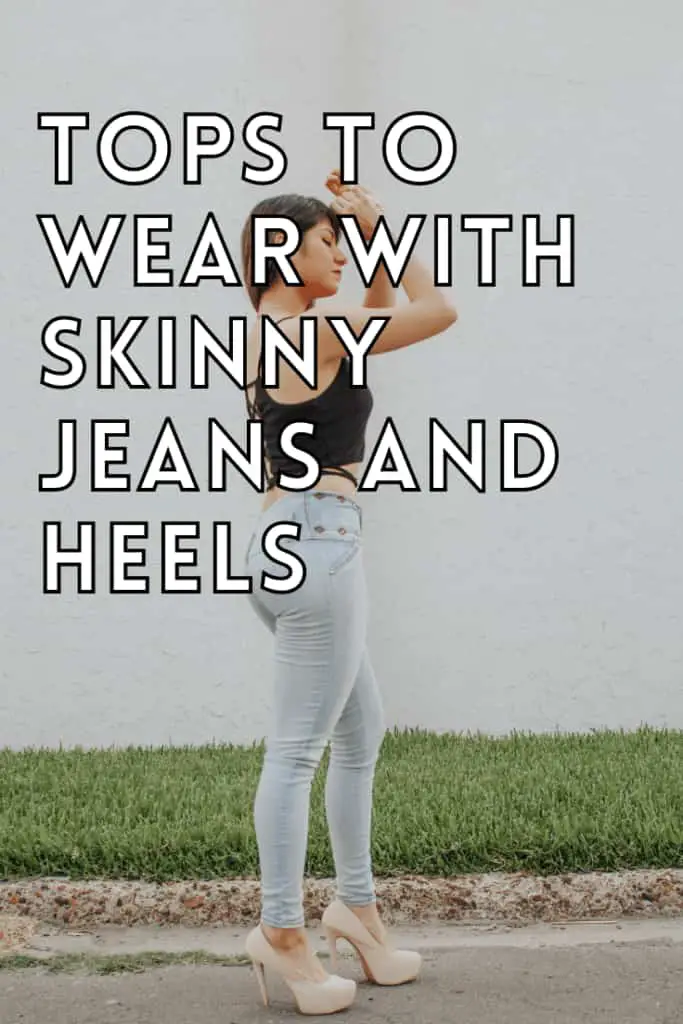 Tops to Wear With Skinny Jeans and Heels
Skinny jeans and heels seem to go with anything you throw at them, but that's not always the case. There are some shirts that match perfectly with skinny jeans and won't look out of place, even with sky-high heels.
Here are some of the best tops to wear with skinny jeans and heels in 2022.
1. Ruffle top with skinny jeans and heels
Most people reading this article are looking for the most simplistic outfit to match with their skinny jeans without looking overbearingly casual. By pairing your jeans with a ruffle top, you'll be achieving this objective specifically.
Ruffle tops are an excellent way to add some width to your waists if you think they're too narrow to sport skinny jeans beautifully. You'll also not get those weird looks with a ruffle top, as they're still very much in style in 2022, competing with the best in the fashion world.
2. Puff-sleeved top with skinny jeans and heels
If you love some drama at the sleeves of your outfit, why not try a top with puff sleeves with your skinny jeans and heeled shoes. Puff sleeves can be worn in different ways, either with the puffs over your shoulder or totally off your shoulder, which is a more unusual style.
Pairing skinny jeans with a puff-sleeved top and a pair of heels will make you look like a fashion model ready for a show. Thus, it's great for any casual or slightly professional event and might make a great workplace outfit if you're brave enough to wear it to work.
3. Graphic tee with skinny jeans and heels
Ask any fashion-centric individual to make an honest recommendation of what to wear with a graphic t-shirt. As long as you're a lady, skinny jeans should be one of the top recommendations, as they're just perfect for those t-shirts with inscriptions and graphics.
Graphic tees are usually simple, and they make a thoughtful statement that you want people to see. In almost all cases where you'll be wearing one, you want to keep your outfit as simple as possible. Skinny jeans and a pair of heeled shoes will help you achieve your objective without making you look mediocre as a result.
4. Solid blazer with skinny jeans and heels
If you're on the lookout for a winter jacket that pairs nicely with your skinny jeans and high-heeled shoes, a solid blazer is a no-brainer. It's a dress trend among guys, but ladies are wearing it more beautifully, as usual.
This outfit is a compelling option if you find all the alternatives mentioned above too casual for your liking. A solid blazer over a simple tee should suffice for any formal occasion, as long as you're pairing it with jeans and heels. With that suggestion, you don't even need to sweat over your work outfit tomorrow.
5. Off-the-shoulder top with skinny jeans and heels
If you're donning skinny jeans during the summer, you may want something that leaves a significant portion of your skin bare. At the moment, few outfits perform this function better than an off-the-shoulder top, which is slowly gaining popularity amongst fashionistas.
An off-the-shoulder top is just like a sleeveless crop top, but with a sleeve. Since the sleeves hang away from the shoulder, your entire body width becomes tasked with the responsibility of holding down the cloth. If you're wondering how formal it is, you can always wear it on a video conference and sometimes to the workplace.
6. Denim top with skinny jeans and heels
When you're on the lookout for all you can pair a denim top with, almost all of the recommendations will be different colors of skinny jeans. That alone tells a lot about the perfect match between jeans and denim tops, regardless of the color or style.
While denim shirts may seem like a guy's outfit, wearing them tucked into the waist of your skinny jeans is the picture-perfect way to sport skinny jeans. To make the outfit perfect for any occasion, add heeled shoes to the mix, and your outfit is officially complete.
7. Loose baggy sweater with skinny jeans and heels
Nobody wants winter clothing, but it's not about what you want when the cold hits. Wearing baggy outfits will only come naturally to you when winter begins to take its toll. To keep yourself ready for winter, you can always pair your jeans with a loose baggy sweater.
A loose baggy sweater strikes the perfect balance between elegance and comfort, especially when paired with heels and skinny jeans. The combo looks stylish as a whole, while the sweater gives a cozy feel that shields you from the cold, making this my favorite outfit of all.
8. Sleeveless crop top with skinny jeans and heels
The sleeveless crop top is perfect when you only need to wear something that screams casual. While it's not the best fit for a workplace, it's excellent for a hangout with friends or your next trip to the beach.
Since a sleeveless crop top is specifically designed to show the awesomeness of your midriff area, skinny jeans and heels are the missing pieces from the outfit. You should avoid this kind of outfit during the winter, however, unless you're okay with freezing casually.
Conclusion
Choosing a top to wear with skinny jeans and heels might seem like a big deal, but it isn't. With this article as proof, it's pretty evident that your outfit would look just great with almost any top in your closet.
To be extra sure, however, you may want to go with the suggestions in this article. Here, we've listed different tops to wear with skinny jeans and heels for every condition you can imagine, making this a comprehensive guide.
And those are the 8 stylish tops to wear with skinny jeans and heels. Want more stylish outfit ideas? Do well to check out the following posts.
I hope you enjoyed this piece of content. Do well to rate this post, and don't forget to share this outfit compilation with your friends.
See ya soon with more exciting and cute articles on outfit ideas. Also, make sure you follow me on Pinterest so you see all my latest updates.