Suppose deliberating on what to wear with Denim Jacket; then this post got you covered with the best outfits inspiration you can find on the internet.
The denim Jacket is one fashion-designed jacket that has recently been making waves on Pinterest and Instagram.
Different styles and shades of Denim jackets are being produced every day in the fashion world. Be it cropped, ripped, or oversized; you'll always find the jacket.
However, in today's post, I will be showing you 25 unique and insanely fashionable ways to style Denim Jacket. So make sure to scroll until the last idea.
Without further ado, let's get started.
Denim Jacket Outfit Ideas for Ladies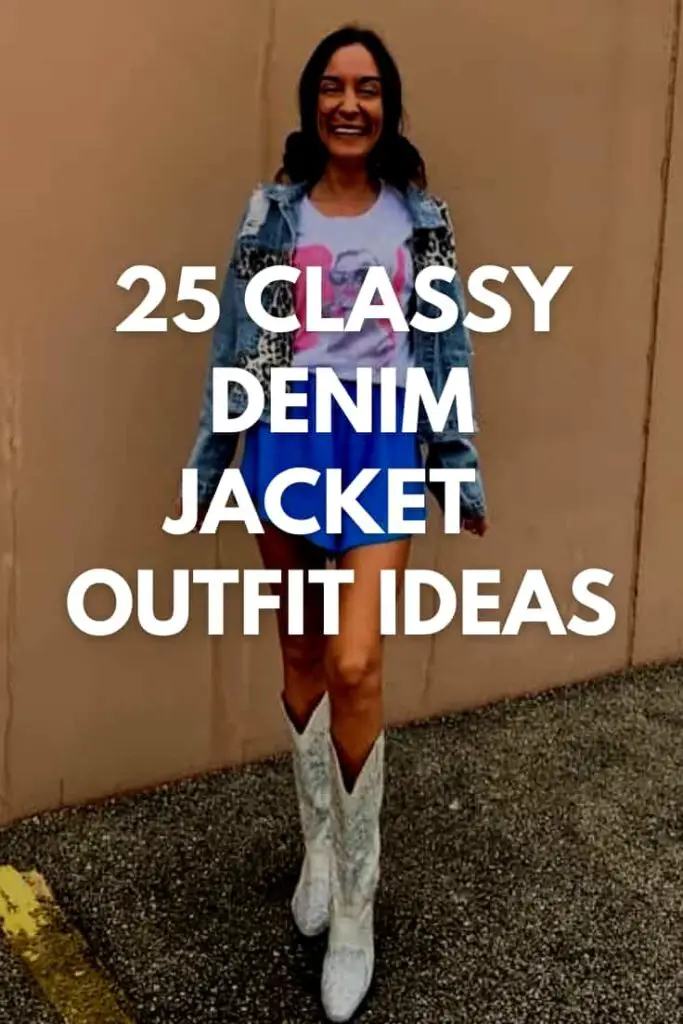 Here's my gallery of the best outfit ideas on what to wear with a Denim Jacket;
1. Denim Jacket with Linen Shirt Dress and Trainers + Belt + Hand Bag
This is one perfect denim jacket dress style for older women. You can recreate this style in any weather condition. As an older lady, it makes you look chic and beautiful.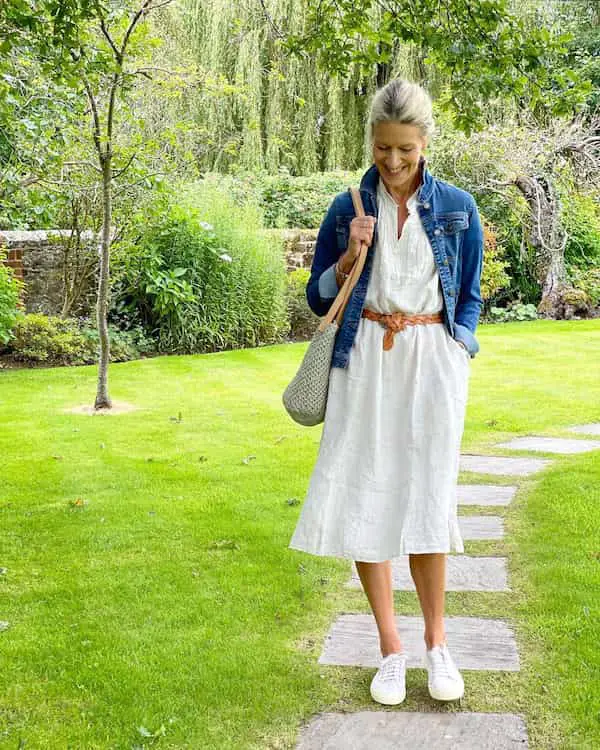 2. Black Vest with Denim Jacket + Short Leggings + Jean Face cap and Sneakers
As a classic sporty lady that loves hitting the gym, you can wear this while going to the city gym. However, I am tagging this as a "Gym outfit." You can dress like this anywhere you want except at work.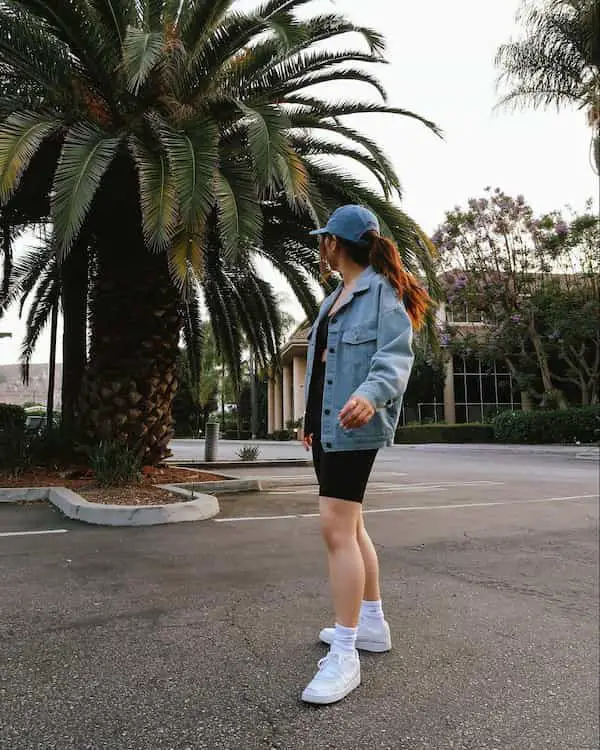 3. Jacket with White Pants + Converse Shoes and Sunglasses
Next, we have a perfect outfit for a lovely birthday shoot. As a lady that loves to keep it simple and classic, this is an ideal choice.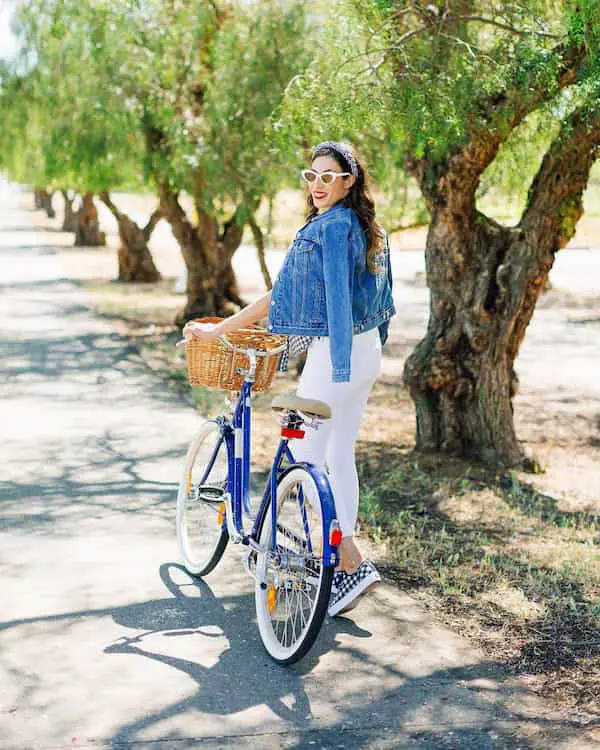 4. Floral Mini Gown with Denim Jacket and Ankle Length Boots + Handbag
Where are my ladies who love the cowgirl styles? I present to you a nice outfit to rock the fall season. You can give it a try.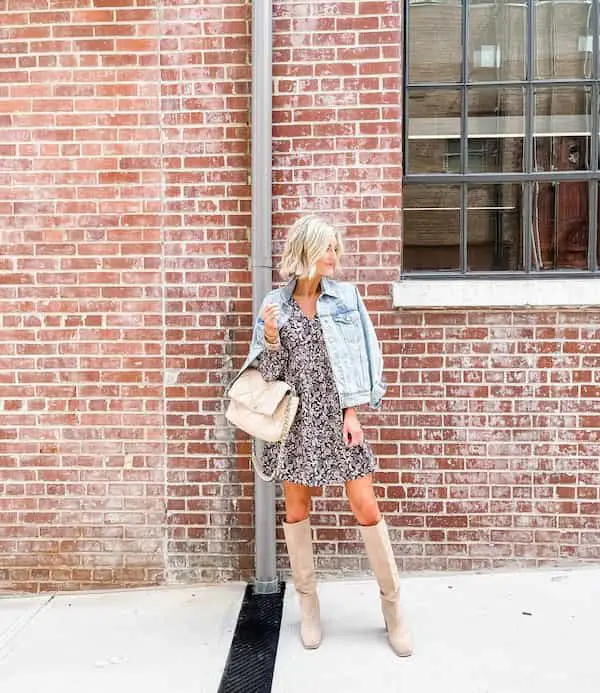 5.  Tee with White Shorts and Denim Jacket + Sandals
If you want to hit the lake on a Saturday and look for something short and simple, kindly check out this outfit? You can also dress like this to a pool party.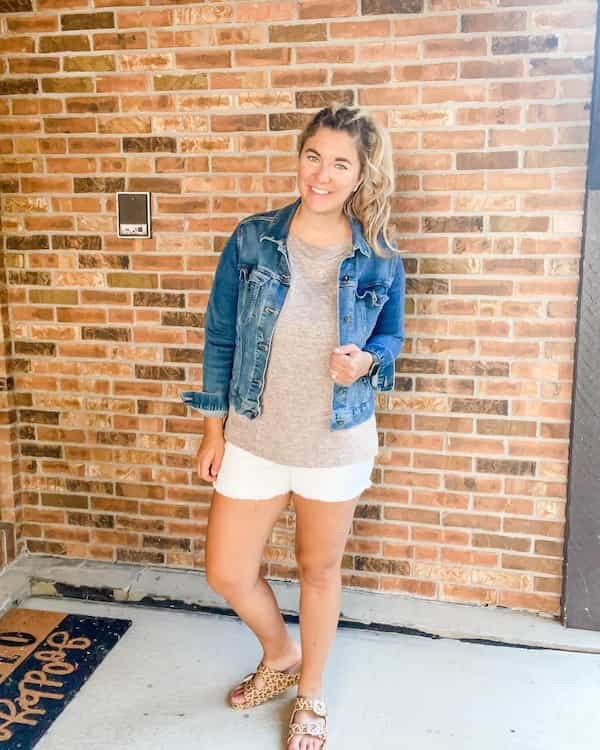 6. Black Gown with Jeans Jacket and Handbag
For a classic corporate dinner in the city, you can recreate this style or something similar. For a more exclusive look, you can complement your dress with a set of heels.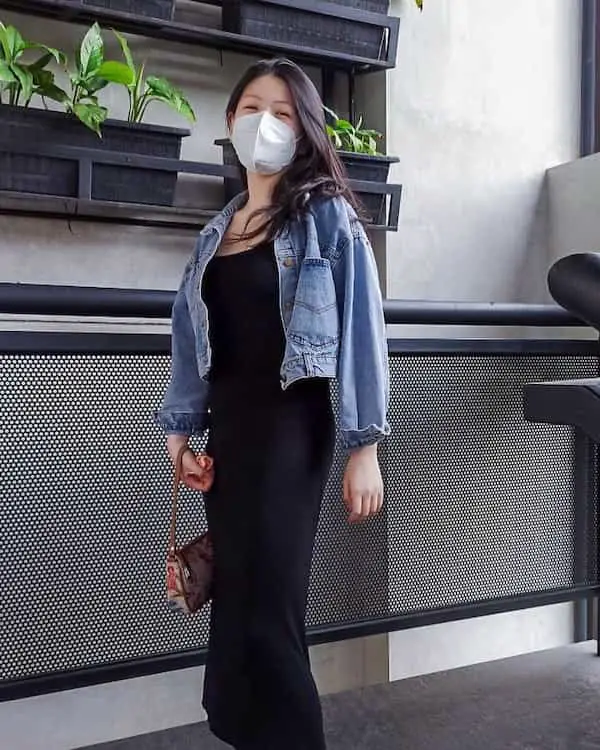 7. Oversize Denim Jacket with White Pants + Black Shoes and Sunglasses
You can get a baggy denim jacket and rock it with nice white pants and black shoes- that's if you love wearing oversized shirts. A pair of sunglasses would also be nice.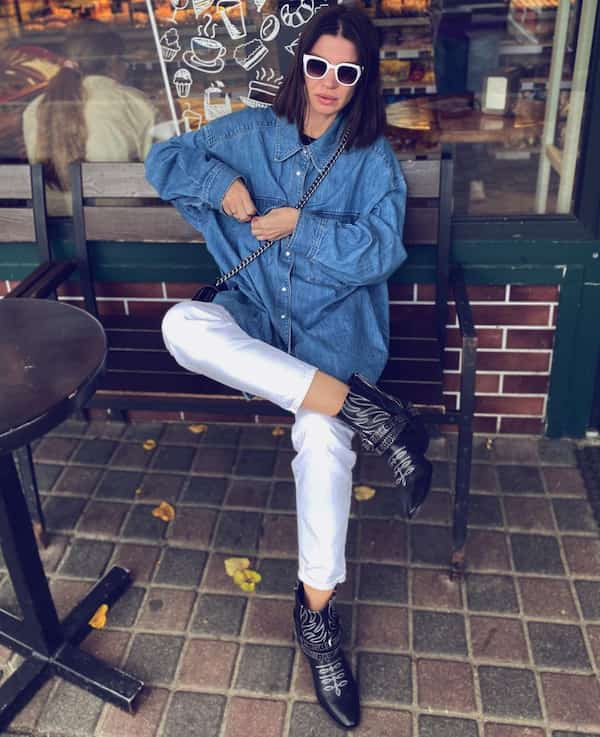 8. Red Mini Gown Dress with Denim Jacket and Sneakers
You can wear this outfit while going for vacations or sightseeing as it gives you that simple and serious-minded lady appearance.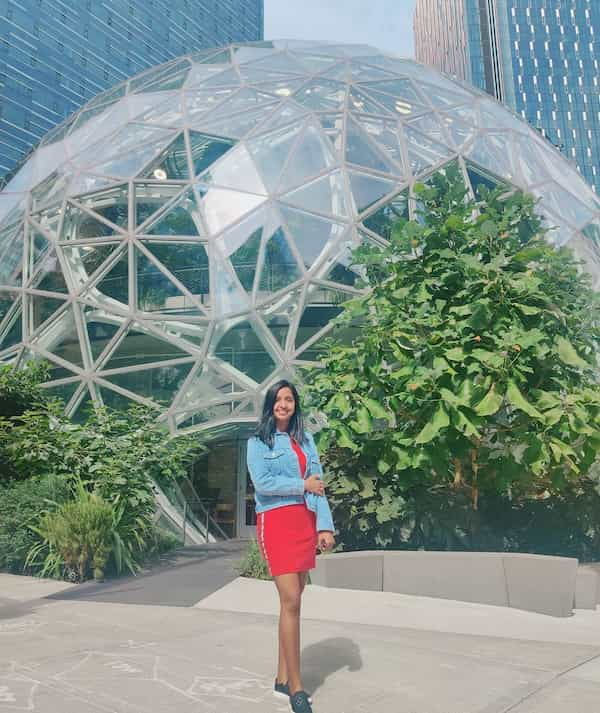 9. Strip Vest with Blue Jeans Jacket and Pants + Sneakers
This outfit got you all covered up for the ladies who love exploring nature, whether the mountains or water bodies.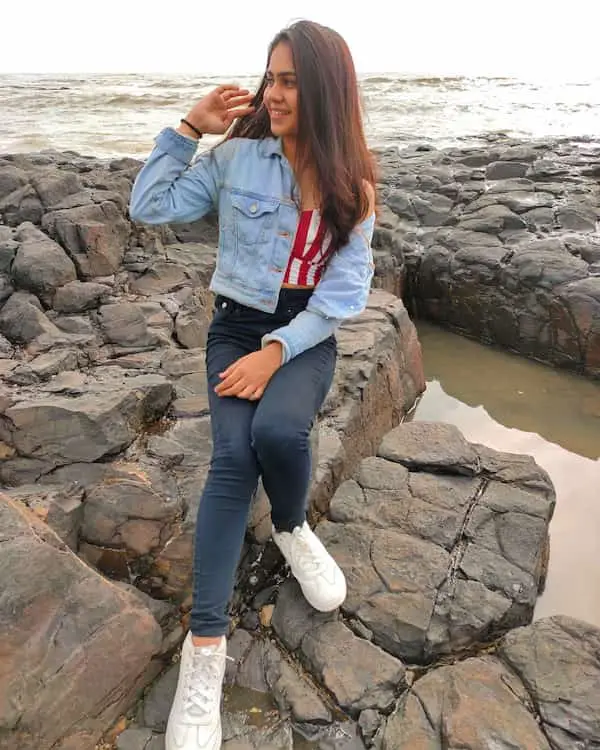 10. Strapless Crop Top + Black Short Leggings with Denim Jacket and Sneakers + Face Cap + Sunglasses
Recreating this outfit while going out under the morning sun wouldn't be a bad idea. I recommend this outfit as it allows your body to absorb the vitamin E in full dosage.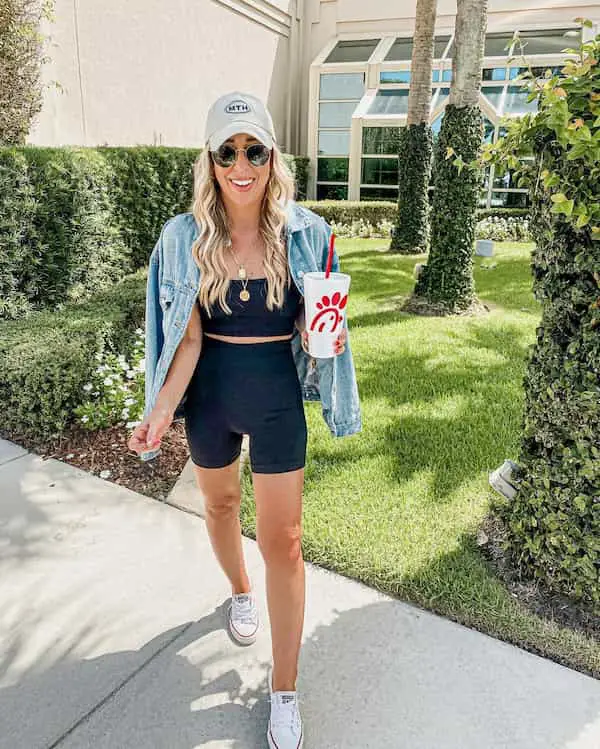 11. Spaghetti Strap Gown with Denim Jacket and Sneakers + Chic Bag
This outfit is ideal for a short and simple evening dinner date. I am tempted to say that this is one outfit that'll make your partner fall all over again for you.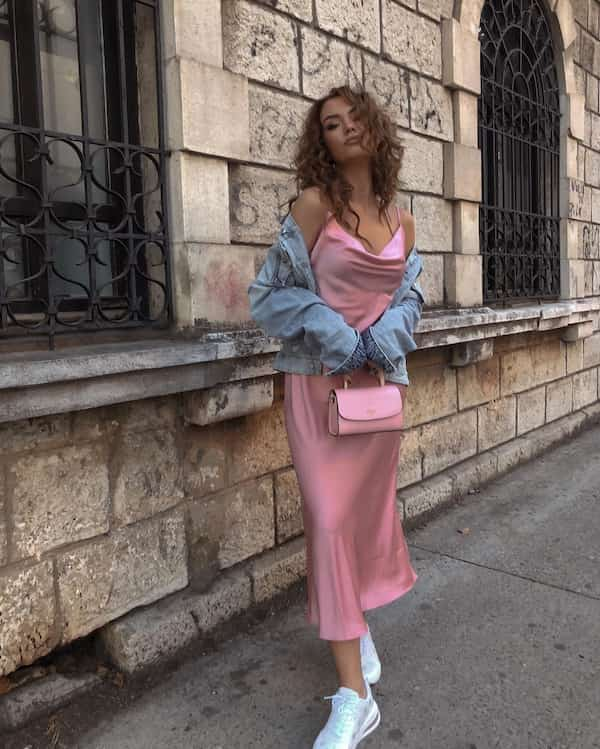 12. Black Shirt + Black Ripped Jeans with Jean Jacket
The young mums are not left out on this one. You can do a matching outfit with your baby. If you like this, you can start by hitting the clothing stores.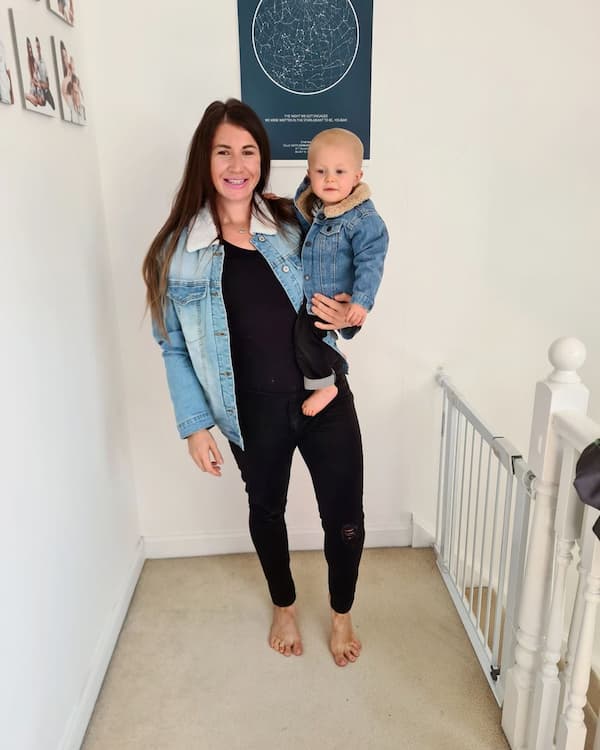 13. Denim Jacket with White Top and Floral Skirt + Trainers + Body-Cross Bag
This is a good outfit choice for outdoor activities, and it's ideal for older ladies. You can easily wear it in every season of the year.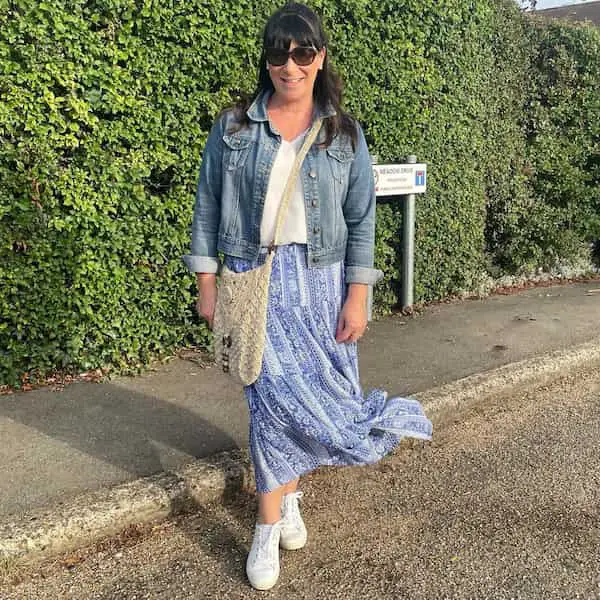 14. Tee with Loose Blue Shorts and Denim Jacket + Boots
As a street outfit lover, you need to wear something that illuminates the street vibe. You can start by adding these dresses to your clothing collections.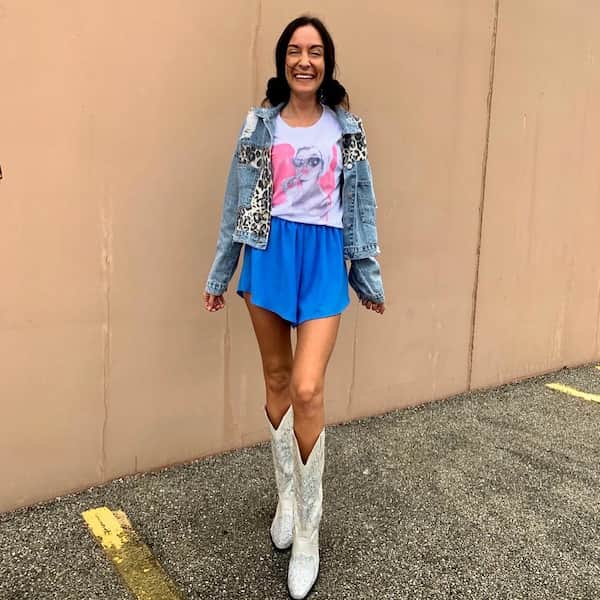 15.  Grey Gown with Denim Jacket and Face Cap + Flat Shoes
This outfit is called the "apostolic fashion."  This is one perfect way to rock your denim jacket to the church. This outfit stands for modesty and beauty.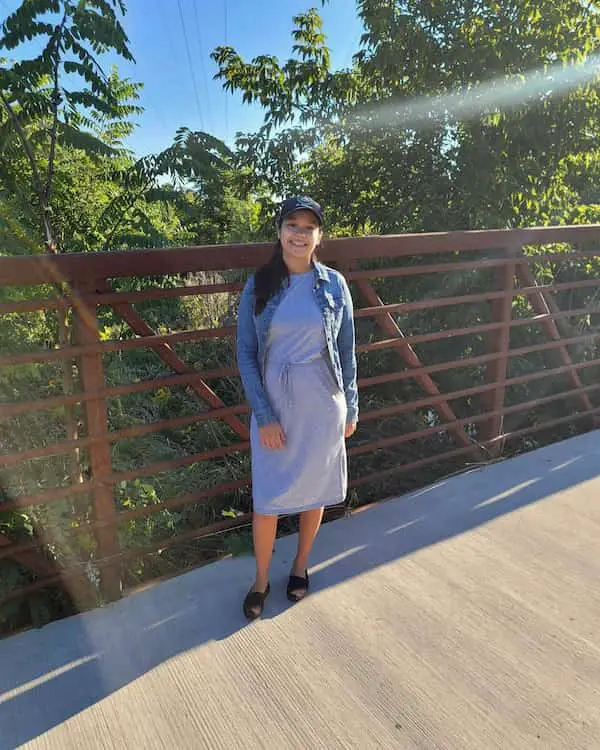 16. Black Vest + Ripped Denim Shorts with Denim Jacket and Heels + Chic Bag + Sunglasses
I can't hold myself from screaming. My God!! "This outfit is fire." I remember this song, "this girl is on fire." If you are the one, you need to get it immediately.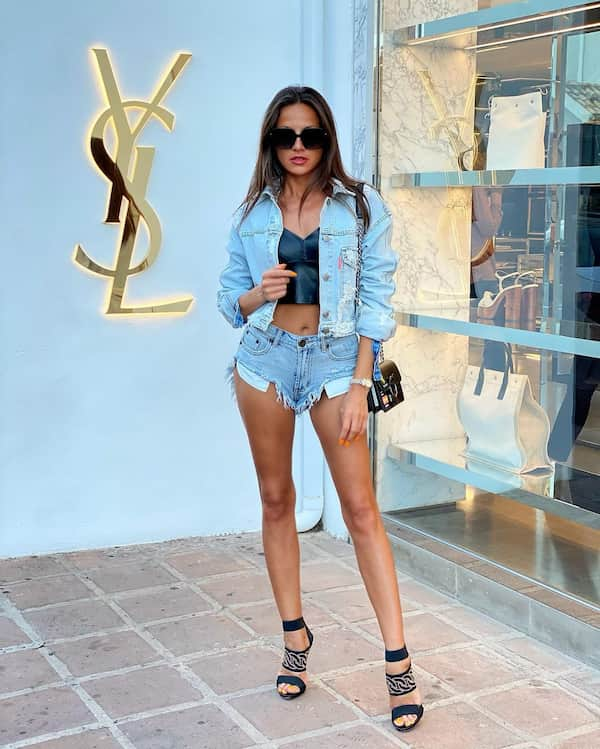 17. Oversized Denim Jacket with Baggy Trousers and Sneakers
With your long sleeve shirt, Baggy Jeans Pants, coupled with your denim jacket and complemented with your bucket hat and sneakers, you are perfectly set for the winter.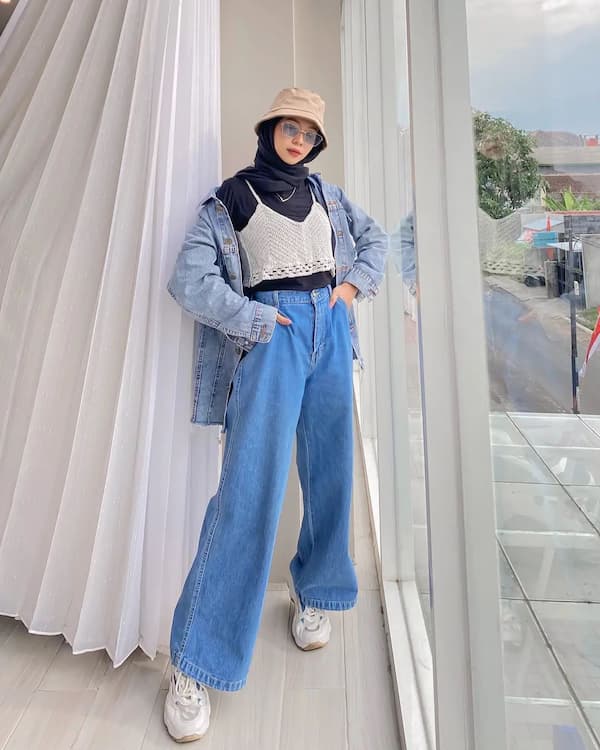 18. Black Top + Black Leggings with Jean Jacket and Trainers + Handbag
Tell me, who doesn't like to look good? Here's one simple way to rock your jean jacket in combo with your leggings. You can as well wear a face cap to complement the outfit.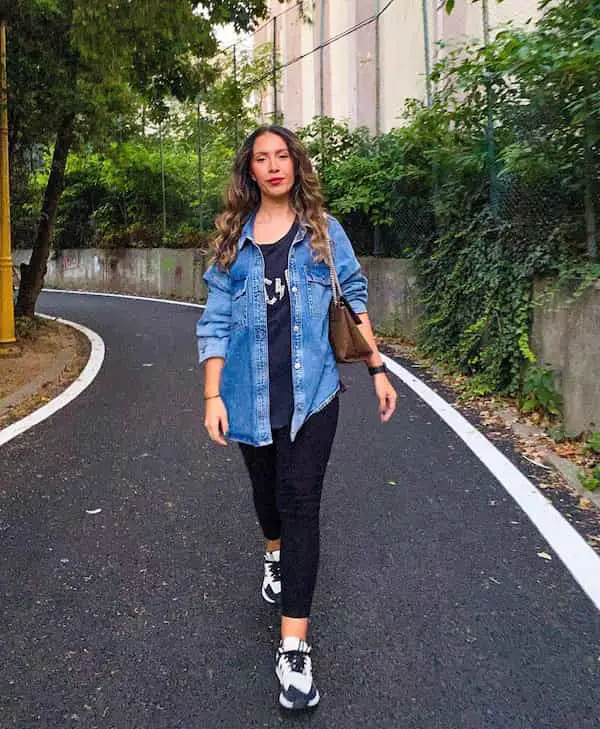 19.  Tee + Midi Floral Gown with Denim Jacket and Trainers + Chic Bag + Sunglasses
A denim jacket and a midi skirt is a nice mix and match outfit. You can wear it while going out for visits or meet-outs or even work.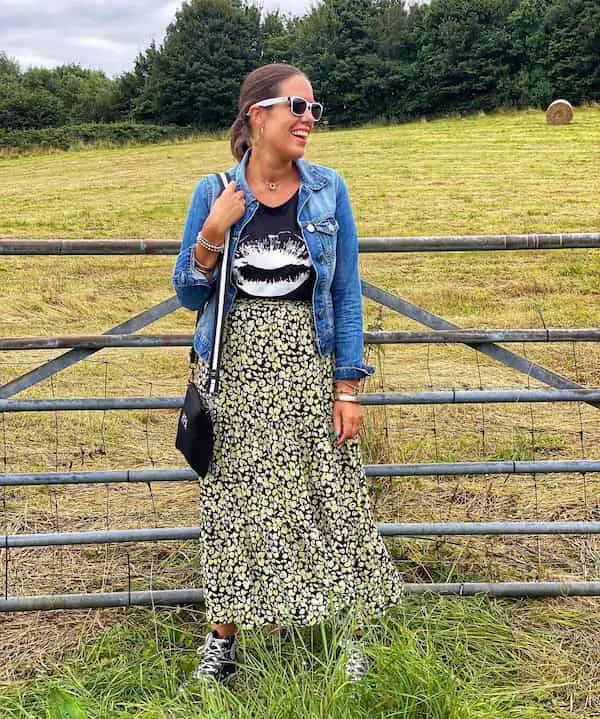 20. Tank Top with Denim Jacket on Denim Pants and Trainers + Handbag
For an exciting and livelier day, you can rock up and down denim wear. I'm sure you will love the confidence that comes with it.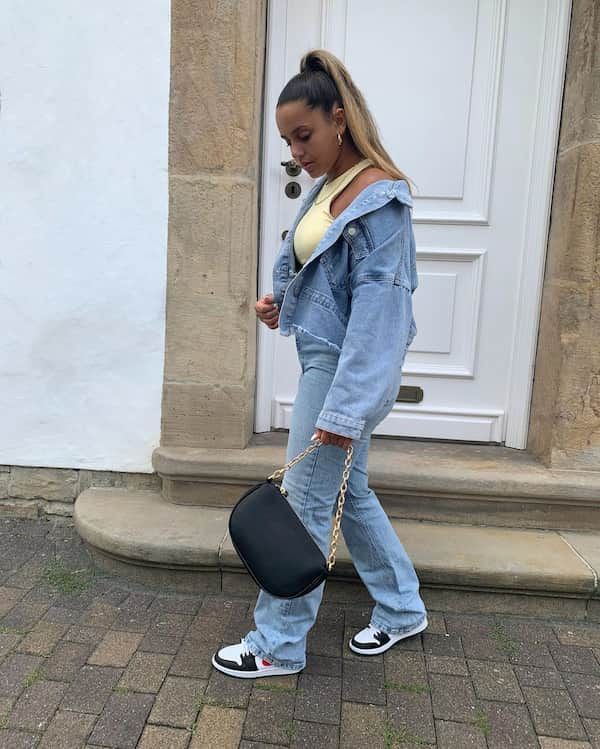 21. White Crop Top with Denim Jacket and Pants + Sneakers + Sunglasses
This is what I call "the flaming outfit." As a hot lady that would love to create a scene wherever she sets in, you need to get this.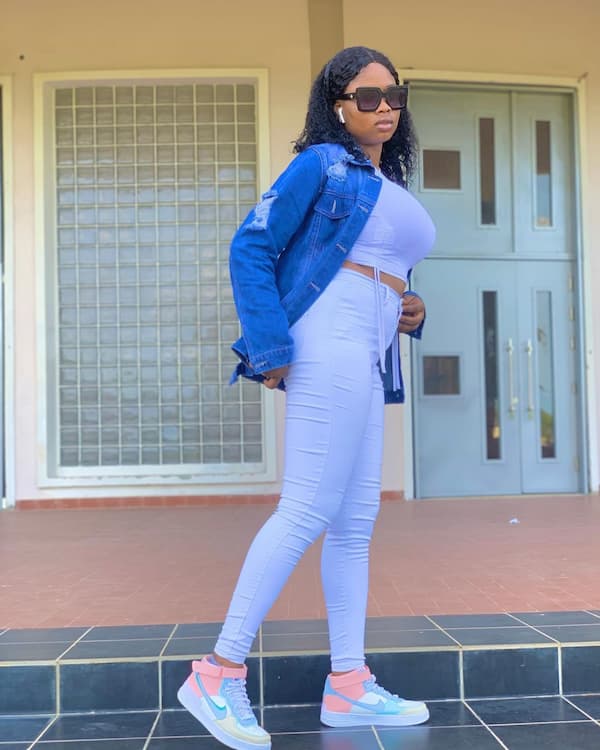 22.  White Inner Top + Denim Jacket and Shorts + Sneakers + Hand Bag
Where are my college ladies? This is the perfect outlook look while attending your regular classes on Fridays.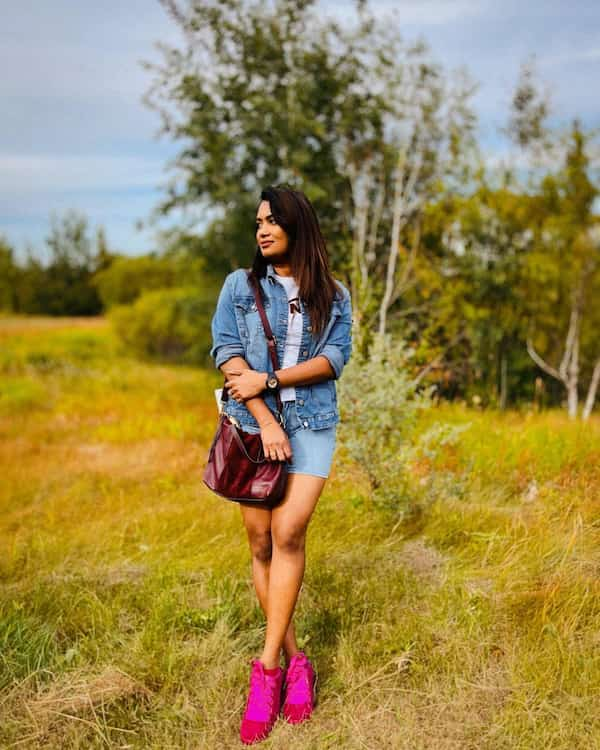 23. Inner Shirt + Leggings with Jean Jacket + Trainers + Hand Bag
As an entrepreneur who owns a shop in the city, you can wear this outfit for work on Fridays.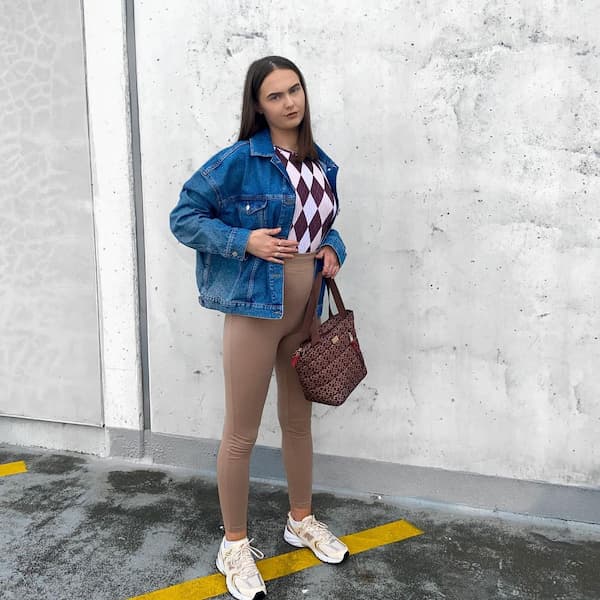 24. Denim Jacket with Pleated Gown Dress and Sandals + Sunglasses
You can try out this dress with a Denim Jacket for an effortless look at casual events or religious centers.
25. Denim Jacket with Leather Leggings and Sneakers
Legging and white sneakers can do great wonders, and what you're about to see can attest to that. This outfit is ideal for any lady under 40.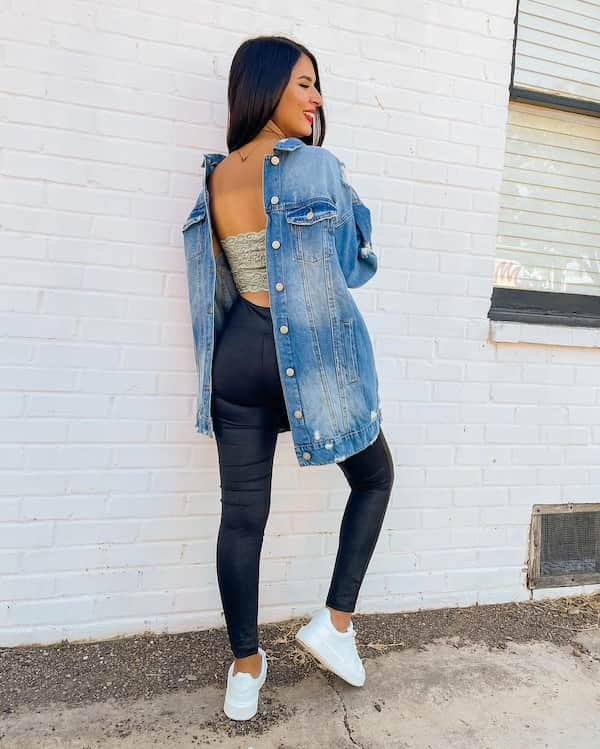 And this is all I got for denim jacket outfit ideas. Want some more outfit ideas? Check out these blog posts.
I hope you enjoyed this piece. Do well to rate this post, and don't forget to share this article with your friends.
See you with more exciting inspirations. Trust me; you wouldn't want to miss any of our upcoming outfits compilation, so make sure to follow us on Pinterest.