The cold winter doesn't give room for summer dresses unless you're wearing something over them. Here are some ideas for what to wear over a dress in winter.
Dressing in the winter without freezing is already too much work. Trying to look great in addition to that requires expertise. If you managed to get a top that doesn't look bad in the winter, it will certainly have little to no protection against the cold.
There are many ways to combat this issue. Firstly, you can consider layering your clothes to prevent the cold from penetrating. Alternatively, you can find a thicker jacket to wear over your dress to protect you from the cold.
In this article, you'll get recommendations of some of the best ways to layer your dress this winter. With most sweaters today giving you the look of Jodi in Tall Girl, this article will list some of the best ways to layer your outfit to look more like a model.
Is It Weird To Wear a Dress in Winter?
Most people prefer wearing dresses all year long, and there's nothing weird about it. You can keep wearing your summer dresses throughout the winter if you're willing to make some pretty minor adjustments to your dressing.
Firstly, you should always wear something over your dress during the winter unless your body possesses some kind of anti-freeze mechanism. It may be a jacket or sweater; basically, anything that keeps out the cold should go over your dresses all winter long.
Additionally, forgoing tights or thick socks is one of the biggest winter dressing mistakes that most people make. Tights are the most preferred option, as they generally don't impact your dressing too much. You can always use thick socks in the place of a tight as they work almost equally well.
An optional dressing tip for wearing dresses during the winter is to always go for darker-toned dresses. Black absorbs heat from your body, keeping you warm enough that you won't need super-thick clothes to survive in the winter.
If you follow all the above tips religiously, you should be able to wear dresses in the winter without freezing. But the question remains: what can you wear over a dress in the winter to keep warm without looking weird?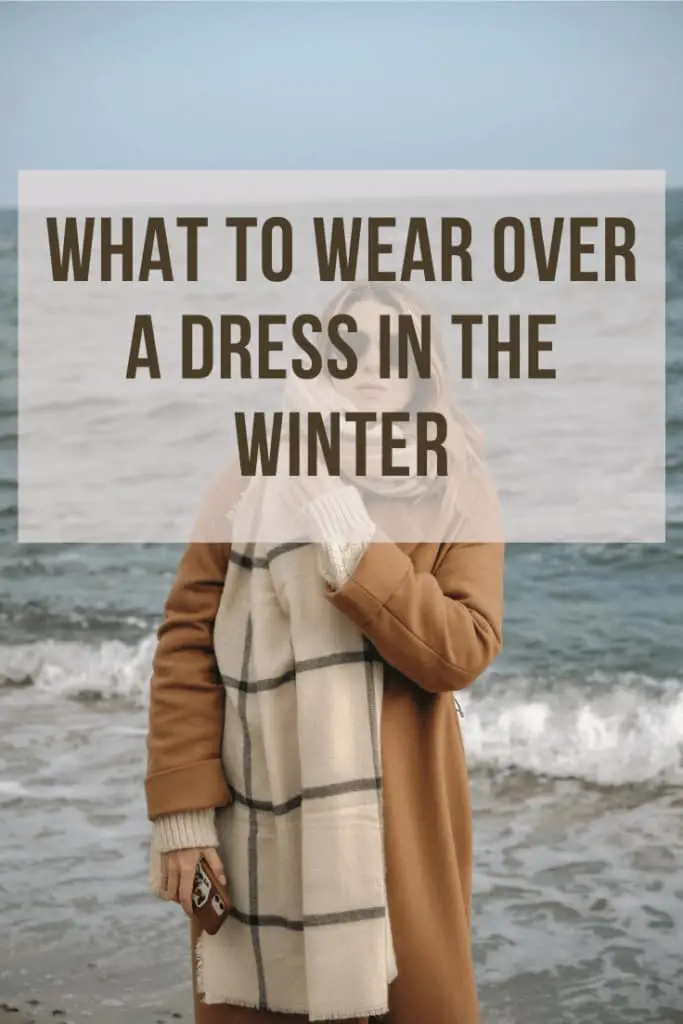 What to Wear Over a Dress in the Winter
Wearing a dress in the winter is not weird, as long as you're wearing something that won't make you freeze over it. Fortunately, there are many additions you can make to your winter outfit to keep you pleasantly warm without losing your stylish look.
Here are some top suggestions for what to wear over a dress in the winter to look great.
1. A sweatshirt
Everyone should have many sweatshirts in their closet, at least. If you're looking for what to wear over your dress to keep warm during the winter, look no further; your favorite sweatshirt will serve the purpose dutifully, as long as the colors match.
A pullover turns your dress into a pullover and a skirt which rarely looks bad. If you think the sweatshirt is a bit too long, you can wear a belt and tuck it in to control the length. Unless you're going for the chicest look for a formal occasion, a sweatshirt should be all you need.
2. Long coat
While a sweatshirt works for most occasions and scenarios, a long coat is a more formal alternative that doesn't lack in style. Best for wearing over a dress when you're dressing up for office, it's one of the best ways to make up for the flaws of a dress in the winter.
With a long coat, it doesn't matter if you're wearing a pair of socks or tights because the coat reaches ankle-length normally. However, you should always try to wear dresses and long coats with high heels, as they match perfectly, giving you a distinctly stylish look.
3. Puffy vests
Puffy vests match with almost every kind of clothing, and they're portable enough to follow you anywhere you go. If you're wearing dresses with pretty long sleeves, puffy vests should do enough to keep the upper part of your body warm.
The major advantage of wearing puffy vests is that they don't alter the look of your dress as much as a long coat or a sweatshirt. While they're not the outfit for the most elegant look, they're almost perfect for almost every occasion, neither overbearingly great nor embarrassingly bad.
4. Thick scarf
When talking about what to wear over a dress in the winter, most people think of what you can wear to cover your outfit. However, some cold-weather accessories are usable with some of the vests and sweatshirts mentioned above to keep you warm.
A tightly knit thick scarf is an example of a cold-weather accessory that you should consider wearing over your dress in the winter. Since a dress offers almost no protection for your neck and face during the cold of the winter, a thick scarf should do that just perfectly.
5. Denim jackets
If you want protection from the winter cold without completely altering your dress with a long coat, you may want to try out a denim jacket. They pair perfectly with dresses and offer better protection against the winter cold than most other outfits on this list.
The exact style you should go for will depend on what you're trying to achieve with your outfit. If you want to show more of your dress, you may go for a cropped denim jacket, which is the most stylish option. A loose oversized denim jacket is better for casual events where you prioritize keeping warm over looking good.
Conclusion
Wearing a dress during the winter is a practice that most people frown upon, but it's not necessarily bad. As long as you're willing to wear something that keeps you warm over the dress, it's just as good as wearing winter-specific clothes.
In this article, I've listed some ideas for what to wear over a dress in the winter to keep warm. From long coats to denim jackets, using one of the recommendations in this article is sure to help you wear summer dresses in the winter without freezing.
And that concludes my post on what to wear over a dress during winter. Want more outfit ideas? Check the blog posts below:
I hope you enjoyed this piece of content. Do well to rate this post, and don't forget to share this outfit compilation with your friends
See ya soon with more exciting and cute articles on outfit ideas. Also, make sure you follow me on Pinterest so you see all my latest updates.