Looking for adorable women's casual spring outfits? Don't worry, this post got you covered with the newest and trending ideas you can use as inspiration.
Spring is one of the friendliest seasons since it doesn't require a very specific dress code. Temperatures may flip between hot and cold, giving you a large collection of possible outfits that you can wear.
When on a visit to the beach, cinema, or even a party, you don't need to dress as seriously as someone off to work. A casual outfit can usually do the work if you know how to wear them fashionably.
Cute Women's Casual Spring Outfits
Here, I've collected 25 of the most adorable casual outfit ideas for the spring. Feel free to copy any of this on your next outing in the spring.
1. White Shirt with Tan Blazer + Distressed Jeans + Sneakers
The line between conservative casual clothing and professional outfits is very thin. The outfit idea here is perfect for casual outings but is also not terrible for work and other professional engagements.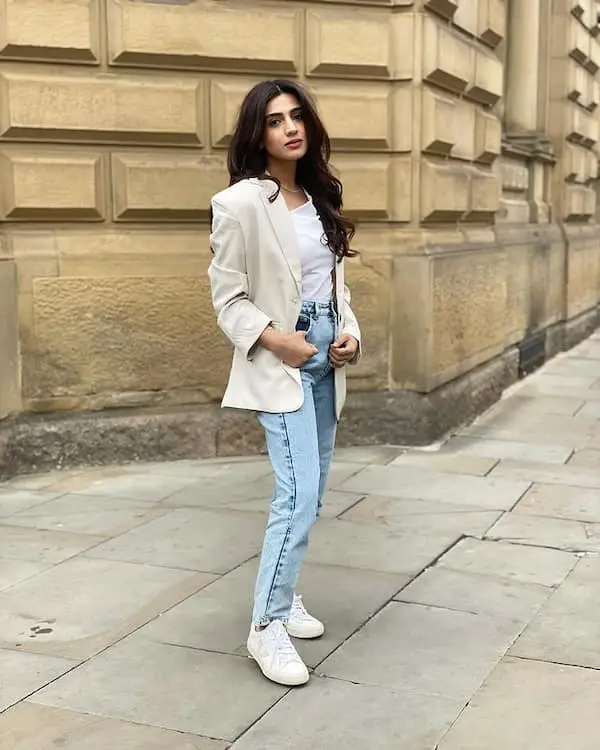 2. Graphic Tee with Jeans + Trench Coat + Sneakers + Handbag
Graphic tees have recently surged in popularity and there's no reason why you shouldn't jump on the trend. Pair one with jeans and a huge trench coat to steal her adorable look.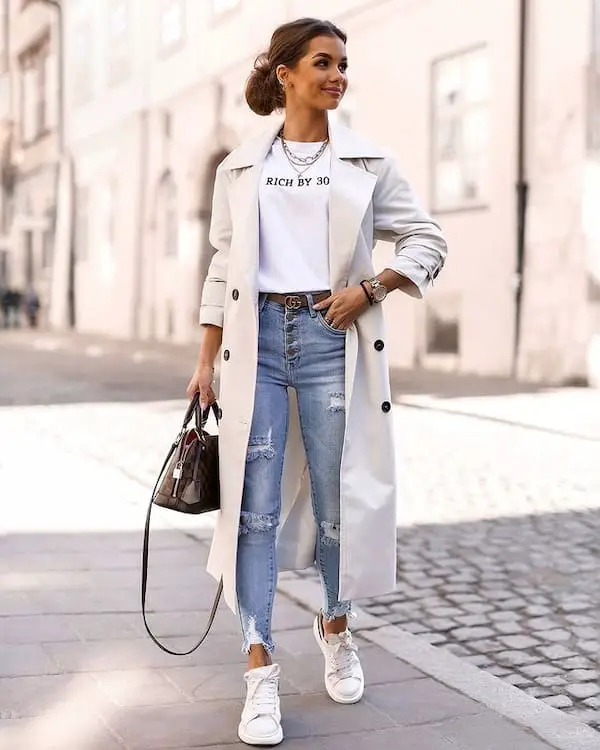 3. White Shirt with Baby Pink Mini Patterned Skirt + Sneakers + Handbag
Layering multiple clothes is usually a bad idea during the warmer parts of the spring. If you need some air, here's a relaxed outfit idea that works for most events that accept casual outfits.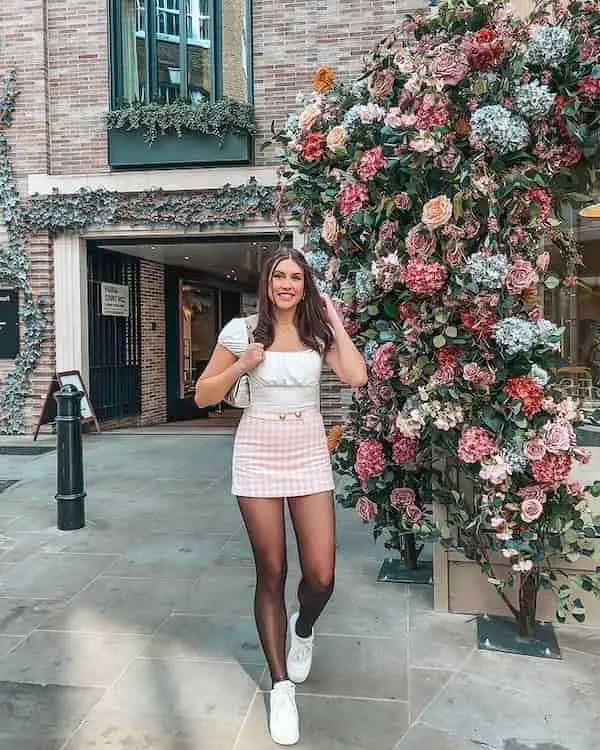 4. Neutral Colored Long Sleeve Shirt with Beige Leggings + Sneakers
This long shirt looks like a natural pairing for the beige legging, both of which work together to pair excellently with the sneakers. Copying this shouldn't be a pain, and it's perfect for a visit to the beach.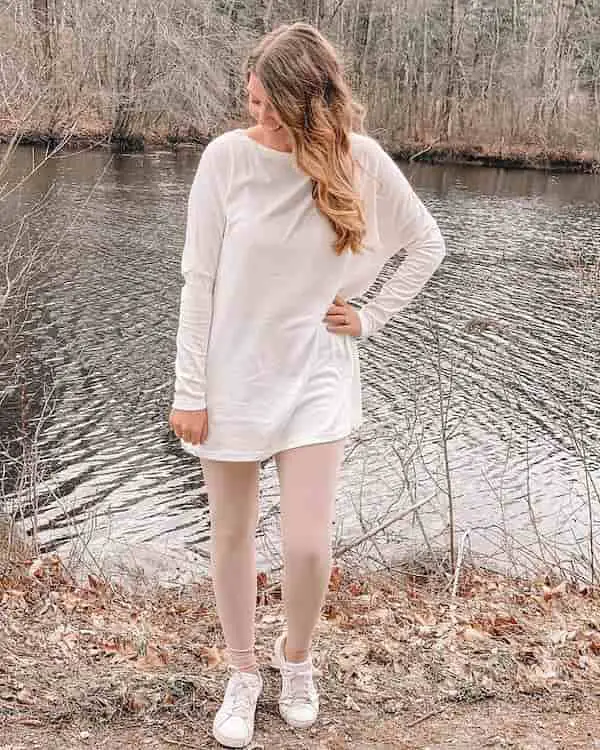 5. One-handed White Top with Stripped Mums Jeans + Sneakers
One-handed tops aren't exactly sensations at the moment, but you don't need a trending top to create an excellent casual outfit. As long as you aren't attending anything formal, this outfit idea should work for you.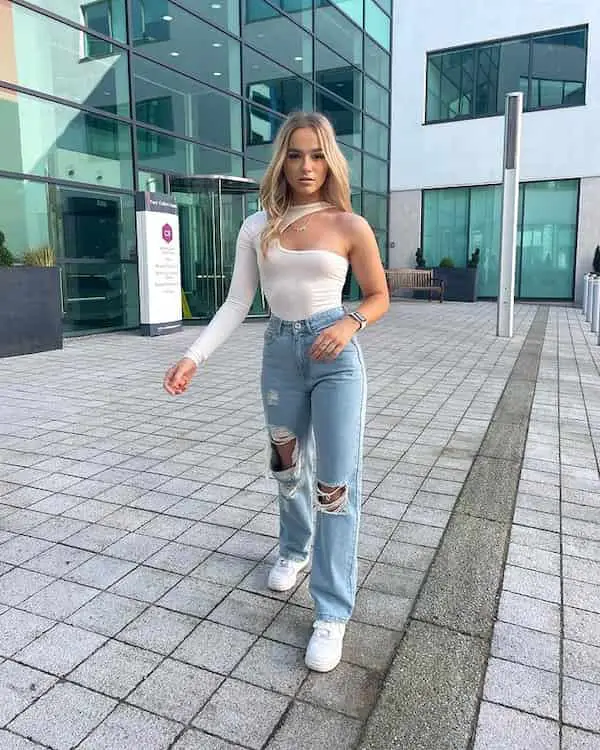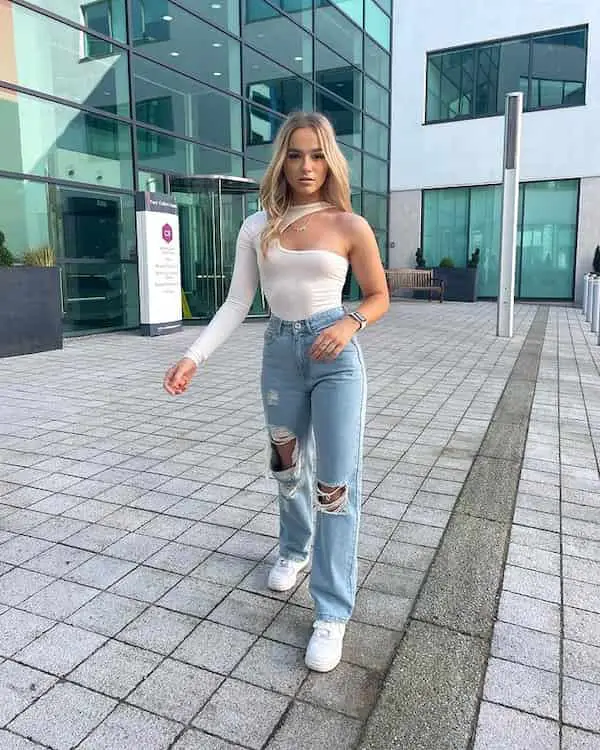 6. Green Leather Track Suit with White Crop Top + Sneakers
Dual-tone outfits tend to look elegant, especially when you're pairing two contrasting colors. A green tracksuit over a white crop top with white sneakers is the height of color excellence; it doesn't get any better.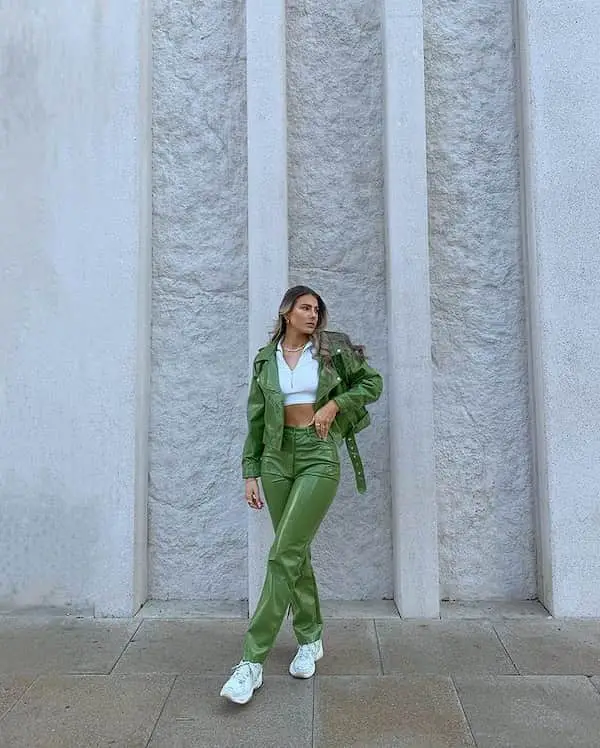 7. White Button Up Shirt with Body Tight Mini Dress + Sneakers + Handbag
Here's another excellent way to pair white and green, but the green takes a bit more precedence over the white in this case. Regardless, the outfit looks chic and motivates you to try copying too.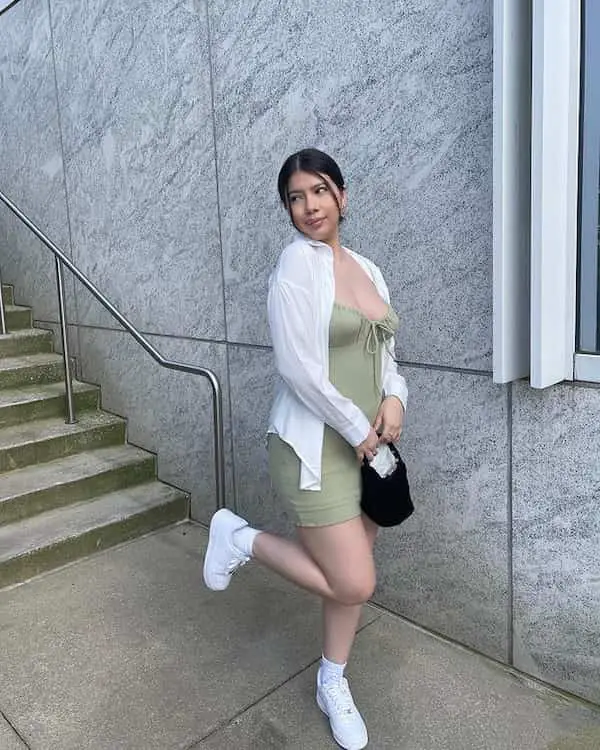 8. Army Green Shirt with Navy Blue Blazer + Floral Pant + Boots + Crossbag
This outfit has more than enough layers for warmer temperatures but should work in most parts of the winter. The floral pants make for a slight contrast and the boots complete the excellent outfit.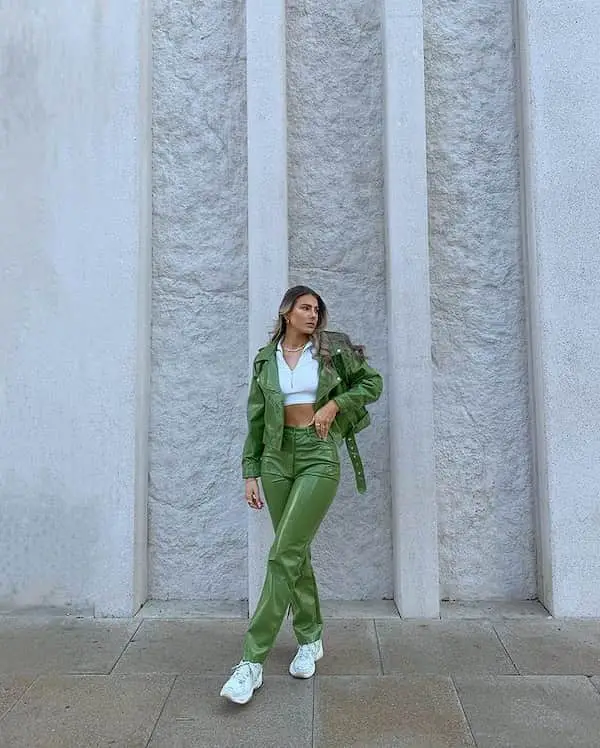 9. White Sweat Shirt with Ugg Pant + Leather Vest + Face Cap + Trainers + Handbag
This outfit isn't what you want to wear on most days during the spring, as it looks more like a winter outfit. However, it gets you warm enough on cold spring days without making you hot (literally), making it a compelling option.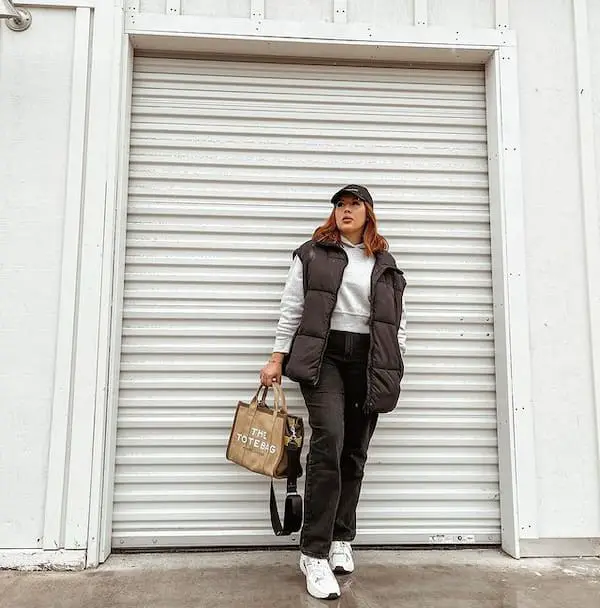 10. Tan Button Up Shirt with White Mini Skirt + Sandals Heels + Handbag
If you're going to see a movie at the cinema and you want some air, a button-up shirt with a white mini skirt is all you need. The subtle match between the colors of the sandals and the handbag also looks ingenious to me.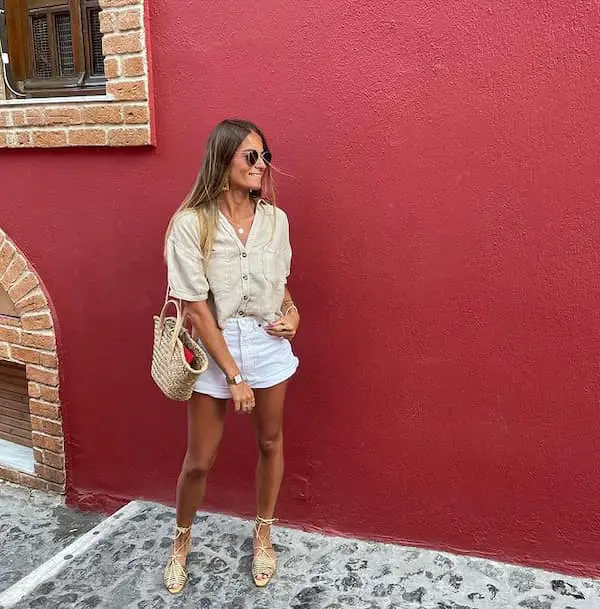 11. Pink Vest with Pink Tight Shorts + Floral Jacket + Boots + Handbag + Sunglasses
Who needs a blazer when you can simply layer your vest with a floral jacket. Not only is it a better option for the weather, but the blacks on the floral pattern are also a perfect match for the boots and sunglasses, making it a complete outfit.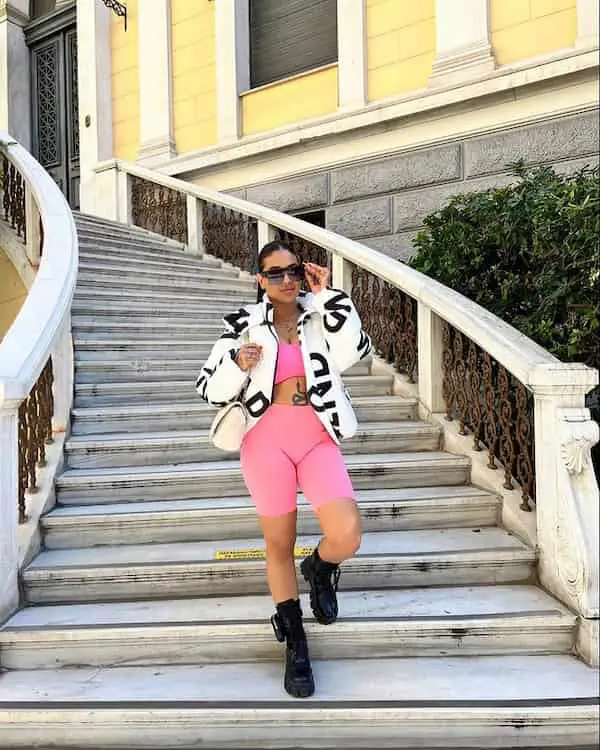 12. Handless Mini Dress with Sneakers
If the temperature appears warm, you shouldn't warm yourself up by wearing anything with sleeves. A simple mini dress with sneakers is enough to ensure that you get enough air while staying comfortable.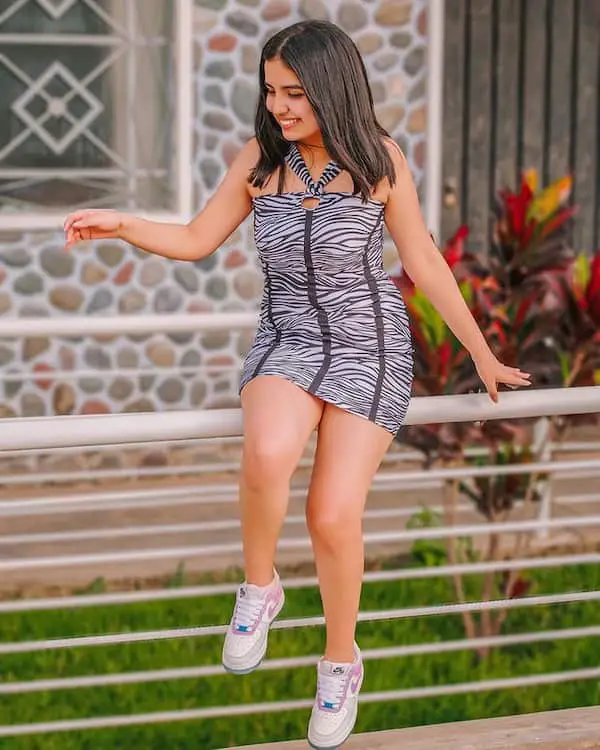 13. Red Vest with Red High Waist Leggings + Spring Jacket + Sneakers + Sunglasses
A cropped vest with high waist leggings leaves just enough space for air to make its way around. However, you may want to throw a spring jacket over the combination to look more presentable.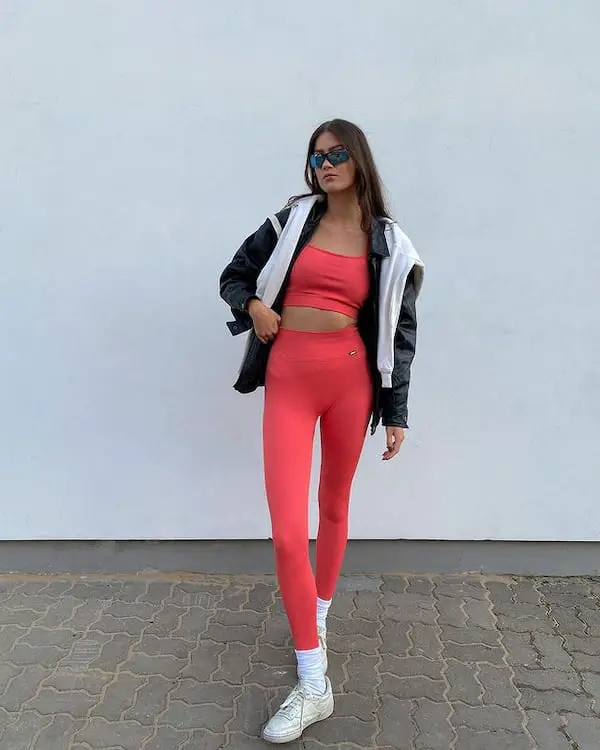 14. Green One-Handed Gown with White Jacket + Sneakers
Why get a gown with two hands when you can make do with only one? While that's just a joke, the fact that this outfit is excellent isn't, and the match between the jacket and sneakers is partly responsible for that.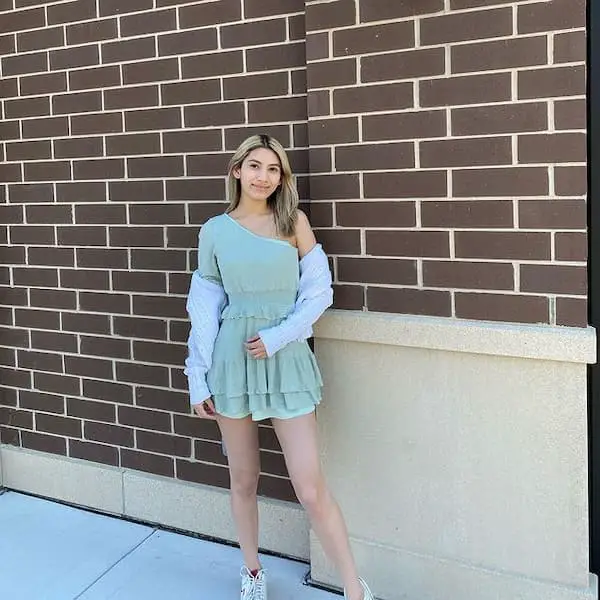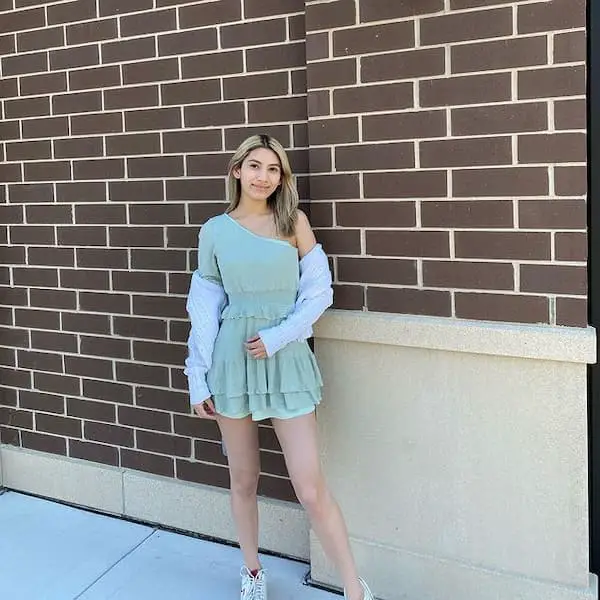 15. Pink Long Sleeve Midi Dress with Heels + Handbag + Sunglasses
When dressing casually, you shouldn't have to browse through your wardrobe to find different apparel. A single midi-dress should do the job, with heels being the required footwear. The sunglasses don't look terrible either.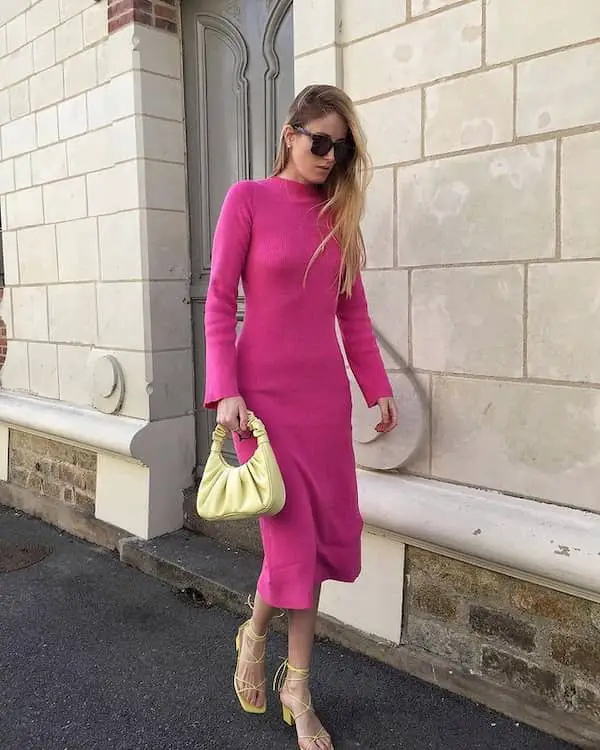 16. Graphic Long Sleeve Shirt with High Waist Joggers + Sneakers + Sunglasses
Graphic tees are usually white with a black print, but this adorable idea proves that the other way round is equally excellent. There isn't much synergy among the colors, but everything seems to work in the end.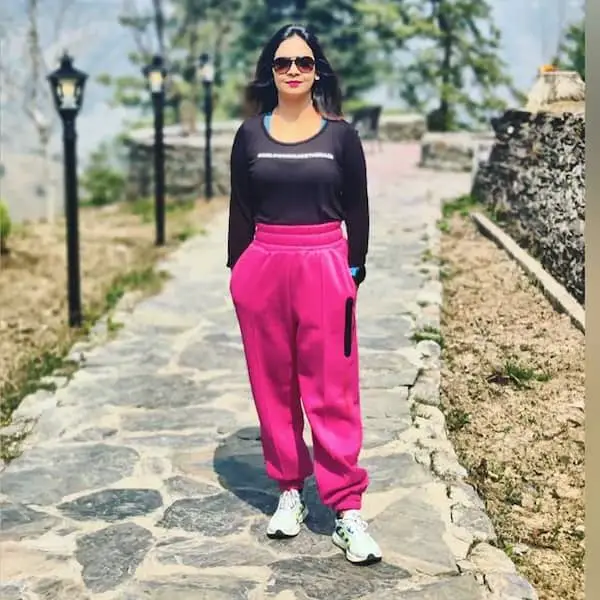 17. Long Sleeve Sweat Shirt with Flared Jeans + Sneakers
Here's another inspiration that works for parties and casual visits to beaches and cinemas. The sweatshirt, although cropped, is also long sleeve. The flared jeans complete the outfit, making her look simply perfect.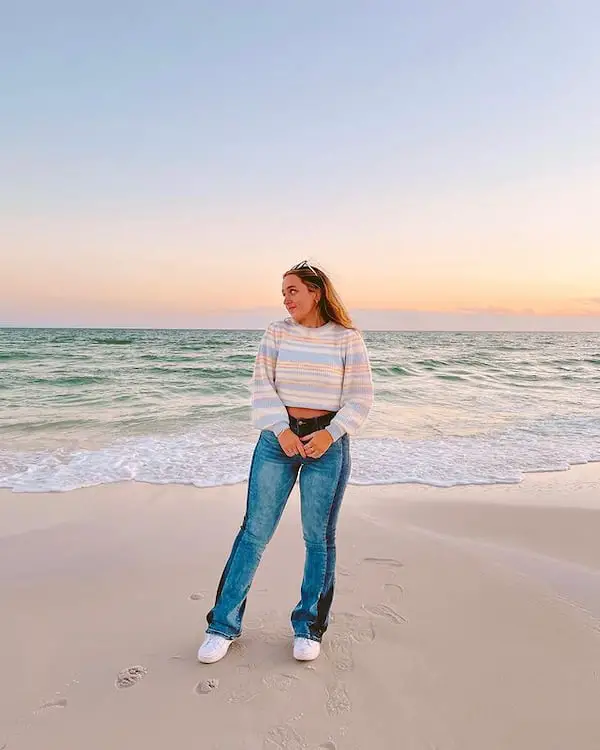 18. Spaghetti Top with Fanny Pack + High Waist Pant + Boots + Waist Band + Sunglasses
This unique spaghetti top is an alluring combination with waist pants. The fanny pack makes the outfit even more memorable, proving that it's indeed casual and not professional.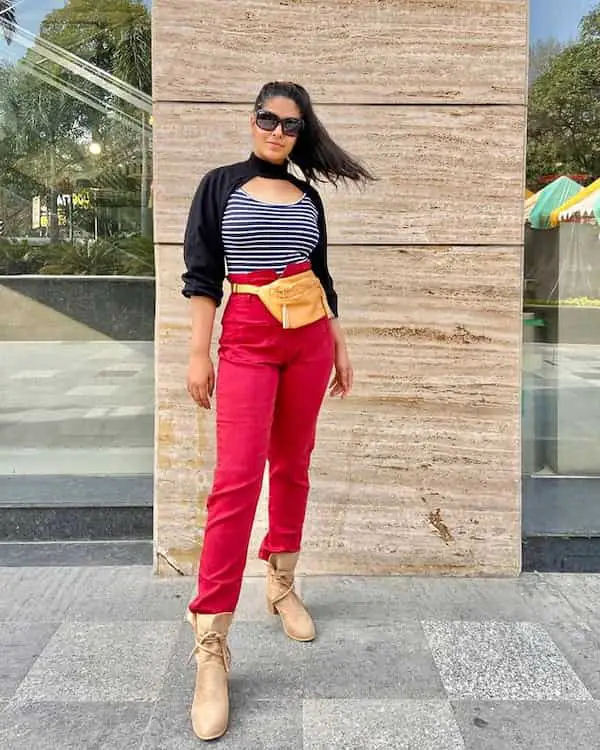 19. Body Tight Top with High Waist Joggers + Sneakers
Body tight tops are almost exclusive for the winter season and this model is showing us how to wear them properly. Match the colors when copying; they're a crucial part of why she looks so elegant.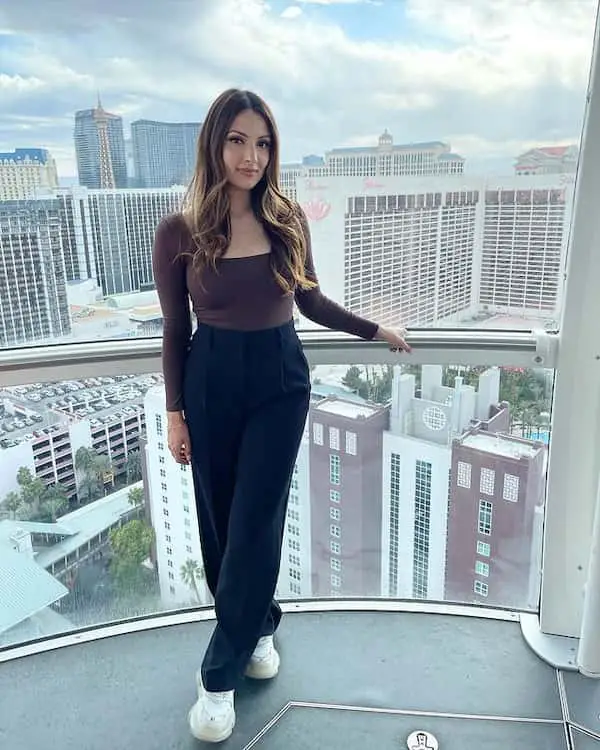 20. Black Butterfly Hands Top with Green Short + Heels
Going for a night out during the spring isn't very complicated, since the weather is usually not extreme. Something as simple as a butterfly hands top with shorts should work, making you the party's focal point.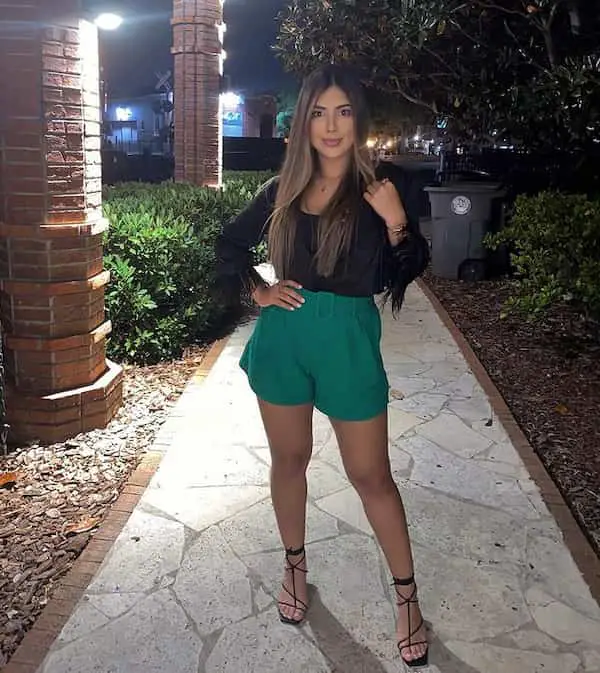 21. Sky Blue Midi Dress with Denim Jacket + Mini Cross Bag + Loafers
Sky blue is undoubtedly a smart color choice for outfits. The advantage here is how it matches with the denim jacket, giving an excellent monotone look. While it's hard to replicate the match between her phone and her shoes, it's also rewarding.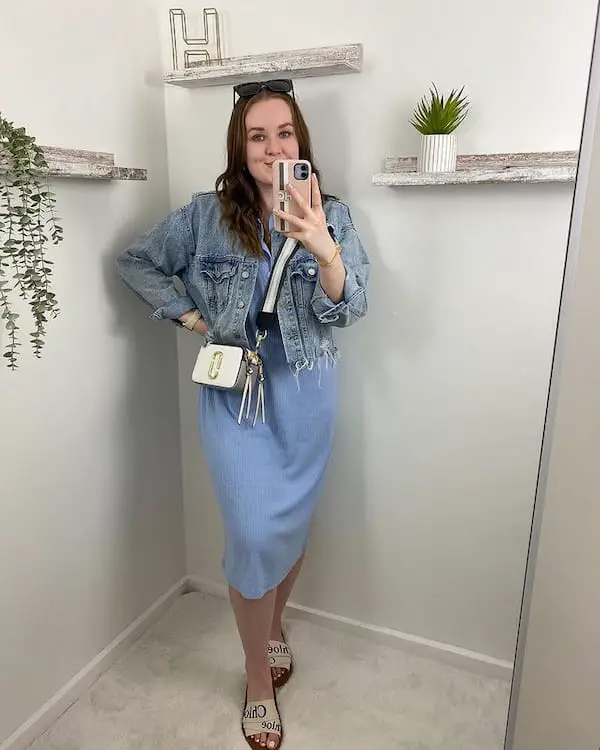 22. Green Maxi Dress with Mule Shoe
A simple maxi dress and mule shoes might be the simplest way to dress during the spring. This doesn't put unnecessary pressure on you on the accessories front, and it makes you feel comfortable in your skin.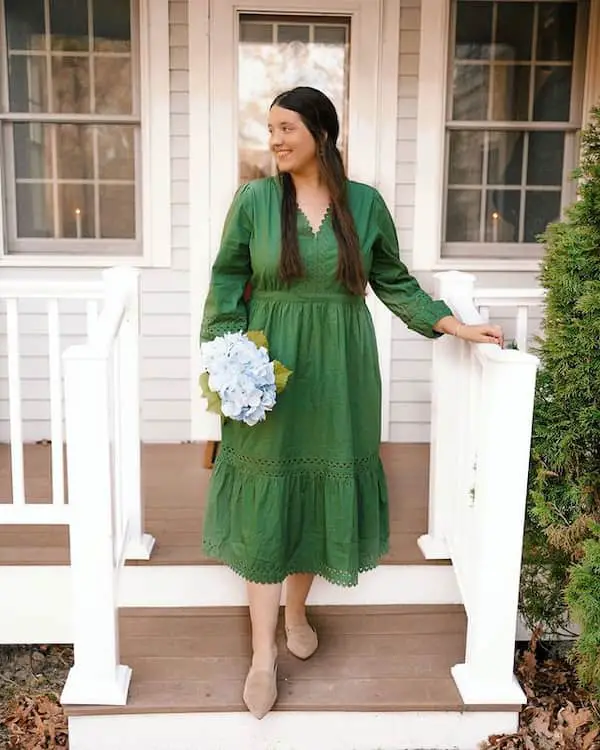 23. Cotton Button Front Dress with Loafers + Sunglasses
Here's another outfit without so many moving parts (if any). Perfect for night parties and the likes, I'd personally ensure I get the sunglasses if I were copying this outfit idea.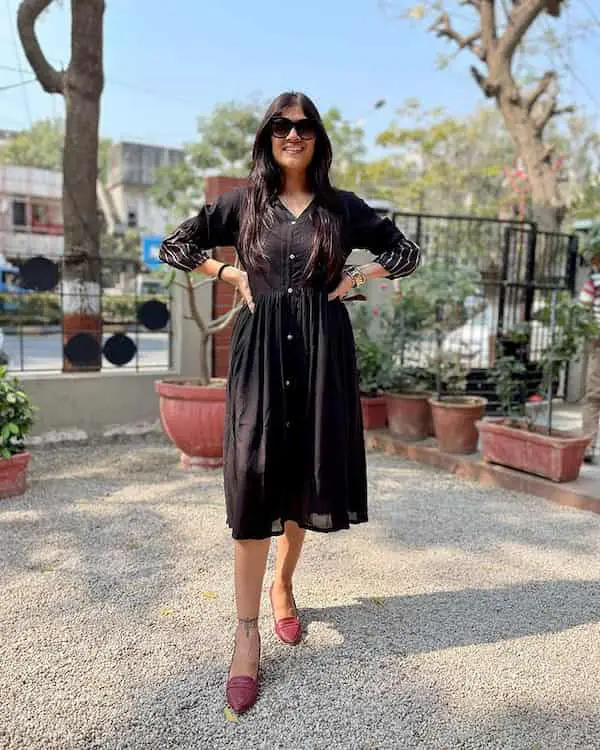 24. Black Midi Dress with Sneakers + Midi Cross Bag
Here's another very simple way to dress casually in the spring using a dress without many moving parts. The sneakers and sunglasses are exceptionally chic for me; they give a more memorable look to this outfit!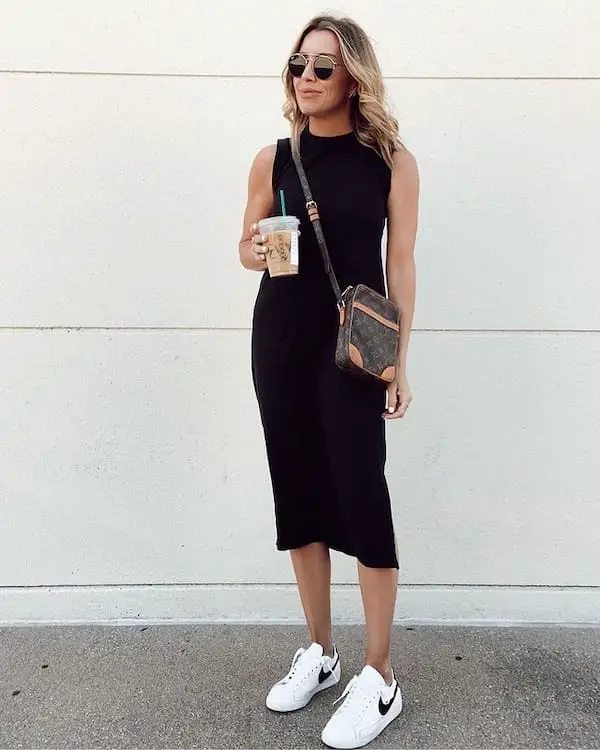 25. Pink Floral Pleated Dress with Loafers + Sunglasses
Saving the most casual for the last, what's more, comfortable than a floral pleated dress that's in the girl's color? It's excellent everyday wear, but it also works for light events and probably a workday.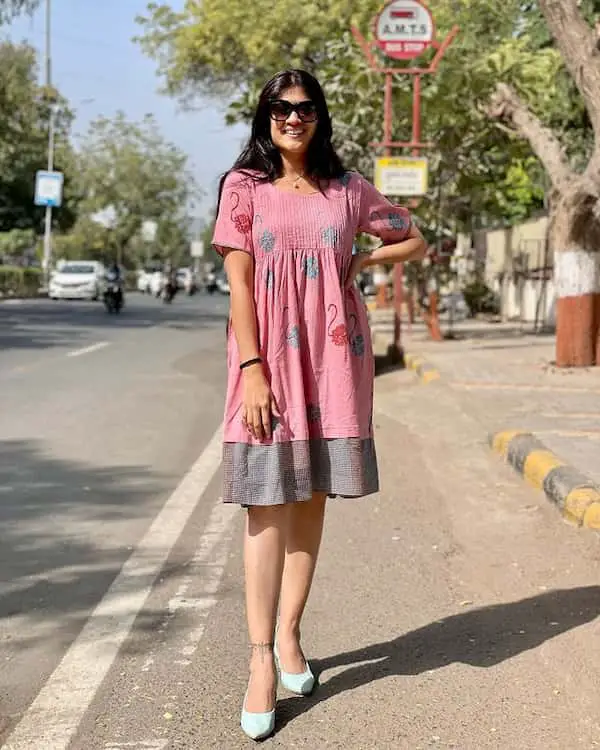 And that sums up my post on the most exciting women's casual spring outfits to try. Want some more outfit ideas? Then you might want to check out these blog posts.
I hope you enjoyed this piece of content. Do well to rate this post, and don't forget to share this outfit compilation with your friends.
See you with more exciting inspirations. Trust me; you wouldn't want to miss any of our upcoming outfits compilation, so make sure to follow us on Pinterest.
Pin for Later.