Leggings are gaining popularity recently for their comfort and chicness. Here are some classy work outfits with leggings to wear to work.
Depending on the kind of leggings you're wearing, the clothing item might actually be a very interesting option for a work outfit. Not only is it chic when paired with the correct outfit, but it's also very comfortable.
When trying to style your leggings for work, you may want the rest of the outfit to reflect the motive of your attire. What's goes for the winter may not be very appropriate in the summer, and vice versa; plus, you may also want to avoid any connotations of indecency.
If you're looking to create some work outfits inspired by leggings, you're at the right place. Here, I'll show you 25 classy work outfits with leggings you'll love.
Classy Work Outfits with Leggings
1. Black Leggings with Purple Satin Shirt + Purple Blazer + Heels + Sunglasses
The purple color works well with black, especially when that black is a pair of leggings. Add another purple pair of heels and black sunglasses and you'll have an adorable work outfit.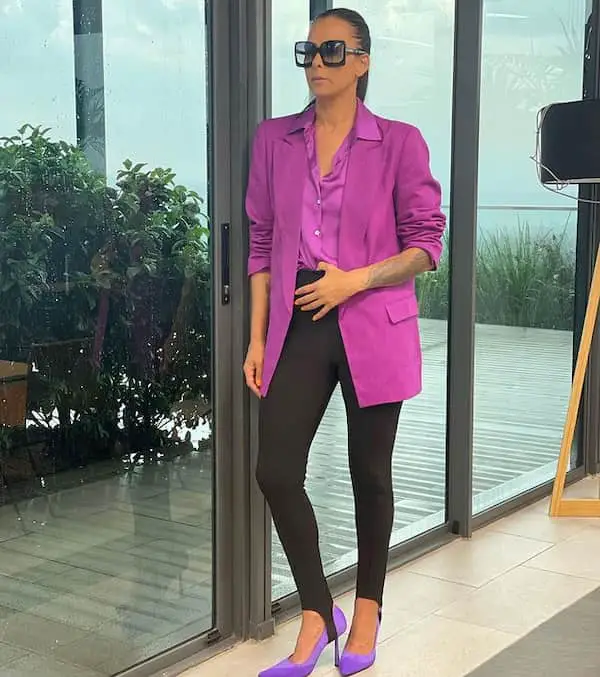 2. Leather Leggings with Brown Sweater Shirt + Brown Trench Coat + Heels + Handbag + Sunglasses
While it seems like the purple color made the preceding outfit look great, this photo disproves that. Using another color (brown), the model recreates a similar outfit and she looks just as good.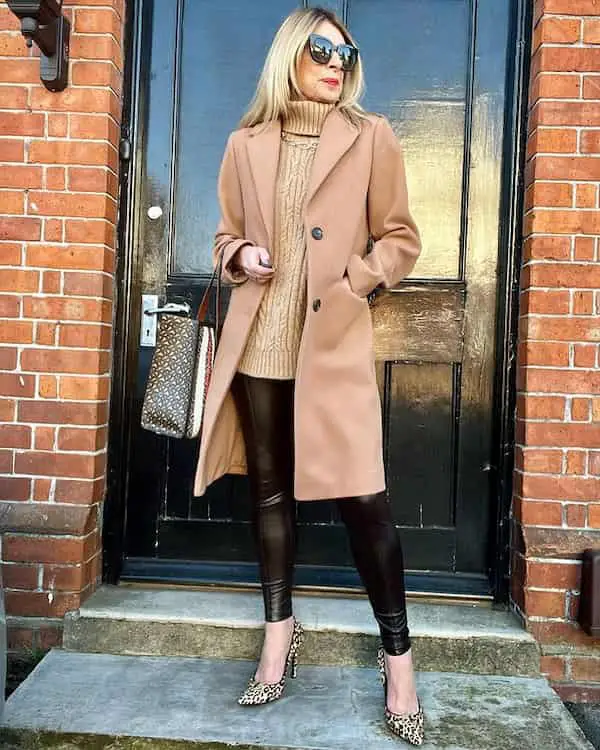 3. Black Leggings with Oversized Blazer + Clutch Purse + Black Heels + Sunglasses
An oversized blazer is an amazing work outfit, especially when you're dressing up for a winter workday. I won't bet on wearing this in the summer to avoid cooking up. Unarguably one of the best work outfits with leggings.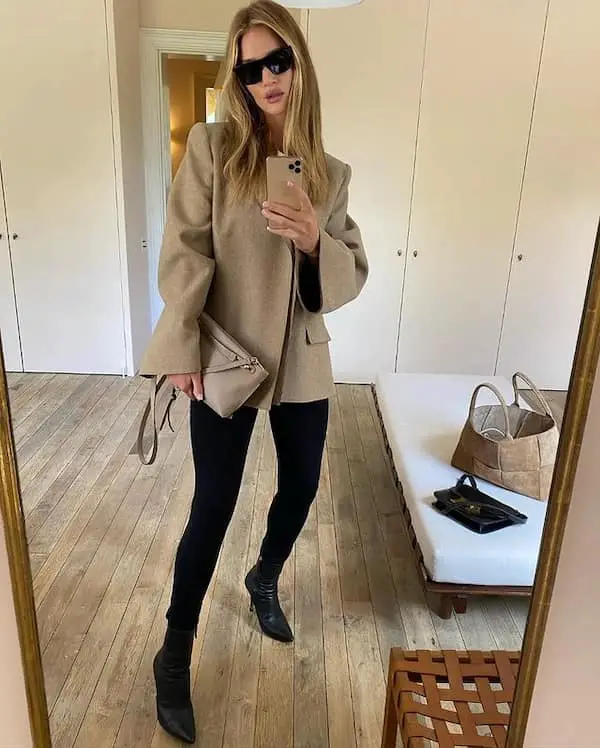 4. Black Leggings with White Shirt + White and Black Blazer + Handbag + Sunglasses + Slides
Black and white have always been a great combination when it comes to work outfits. Add a black and white blazer over that and you'll create one of the best work outfits with leggings.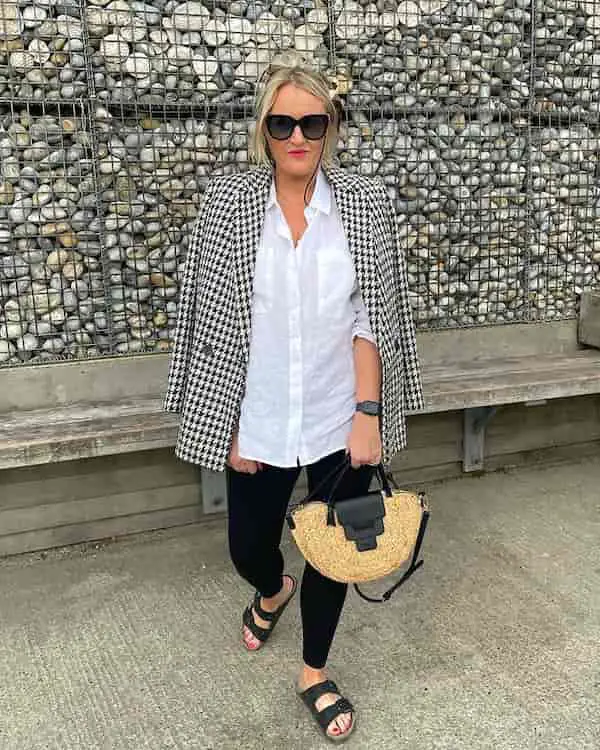 5. Black Leggings with White Sweater Shirt + Ash Jacket + Flat Shoes
An ash blazer over a white sweater shirt is another clever winter work outfit, and a black blazer complements both excellently. Add a handbag and a smile to the mix and you'll look as chic as she does.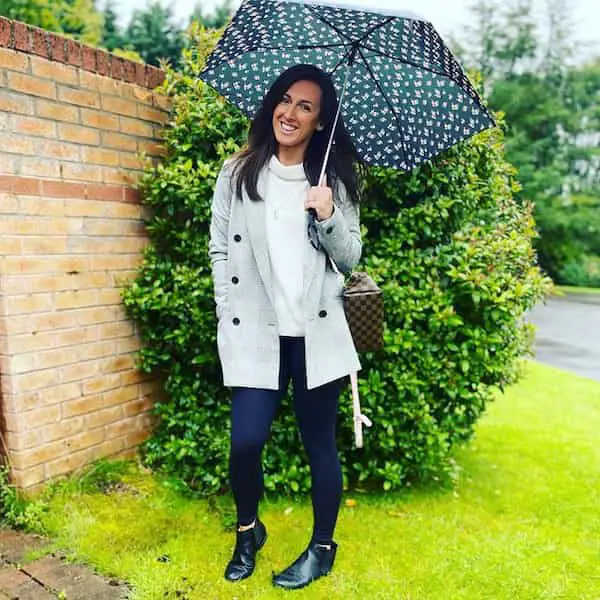 6. Black Leggings with Ash Shirt + Cream Blazer + Suede Boots
The ash boots has already made a decent combination with the ash shirt, and the cream blazer with leggings combination are the only necessary components to complete the outfit.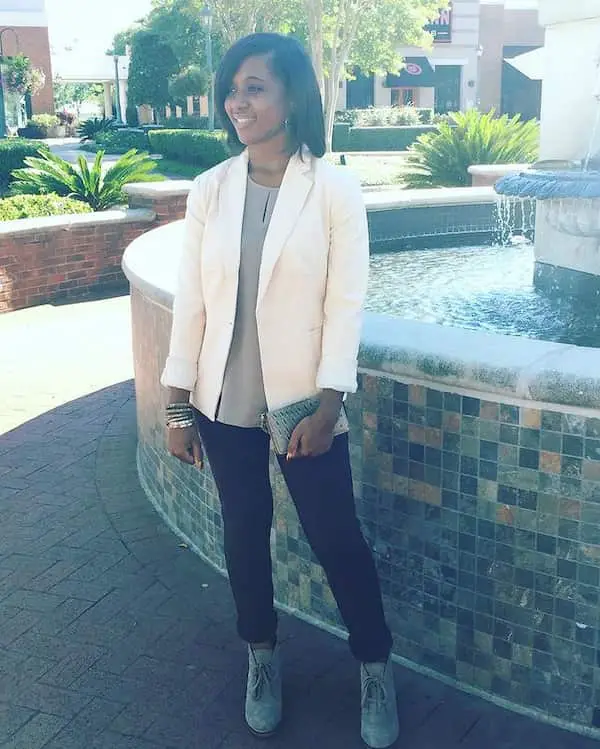 7. Leather Leggings with Brown Long Sleeve Shirt + White Vest + Sneakers
While the white vest may look unnecessary here, it creates a much-needed match with the sneakers. As long as it's present, you can wear whatever you want and it'll look great.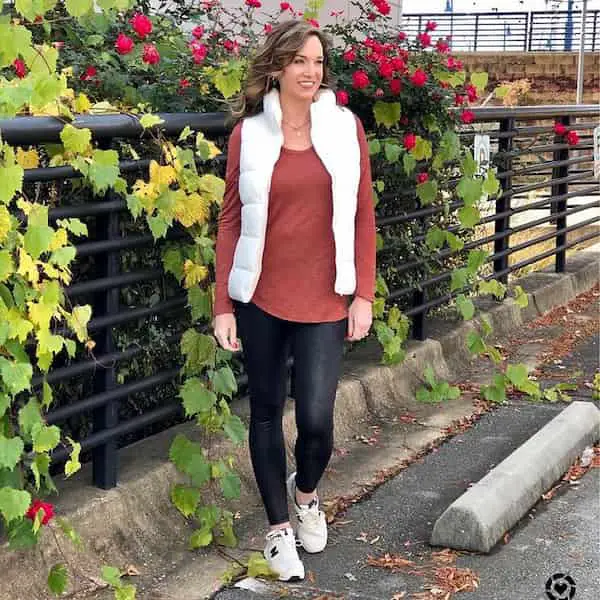 8. Black Leggings with Black Shirt + Cardigan + Sneakers
This outfit has a unique kind of elegance to it that makes me want to wear it right now. Every part is properly thought out to create an unmatchable cohesion for the best look.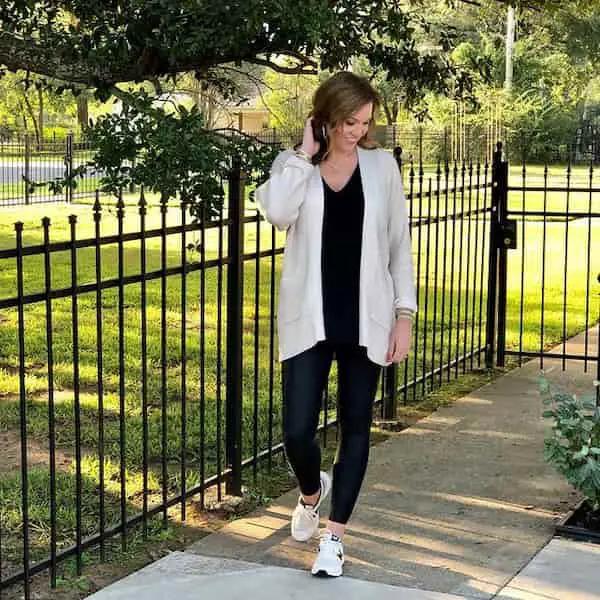 9. Leather Leggings with Animal Print Long Sleeve Blouse + Cross Shoulder Bag + Sneakers
How about wearing a long sleeve animal skin blouse with black leather leggings. With her picture below, do I still need to explain how elegant she looks? The bag is also an awesome addition.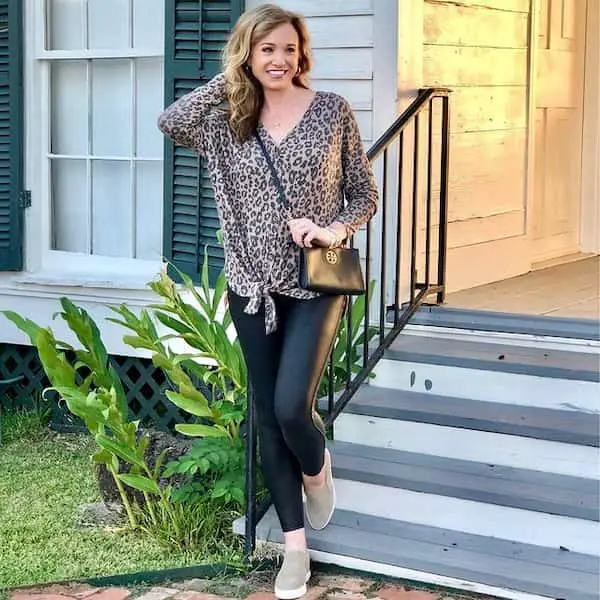 10. Black Leggings with White Inner Shirt + White Blazer + Ankle Boots + Handbag
This outfit follows the traditional white and black scheme but there's something even better. Notice how the handbag matches the boots? You must replicate that to look anything close to her.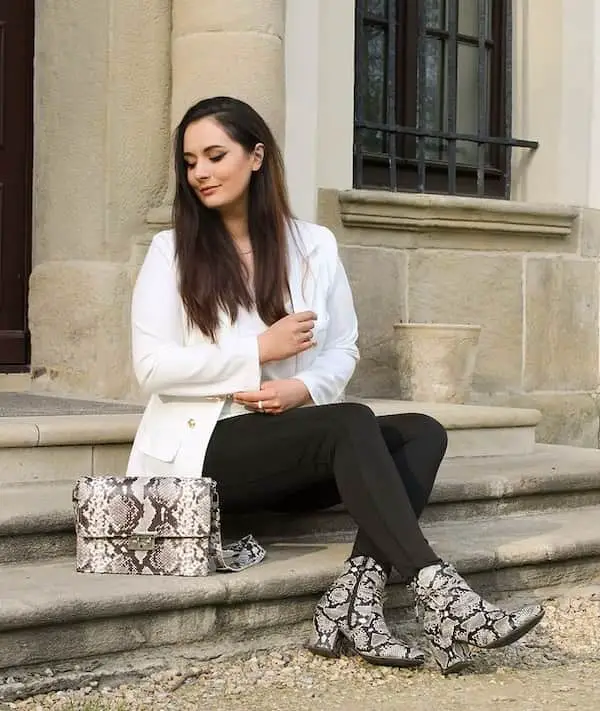 11. Black Leggings with White Oversized Shirt + Slides + Backpack
If you'd love the outfit to be freer and less bulky, here's another option. While it follows the same black and white color scheme as the preceding option, it's different, and elegantly so.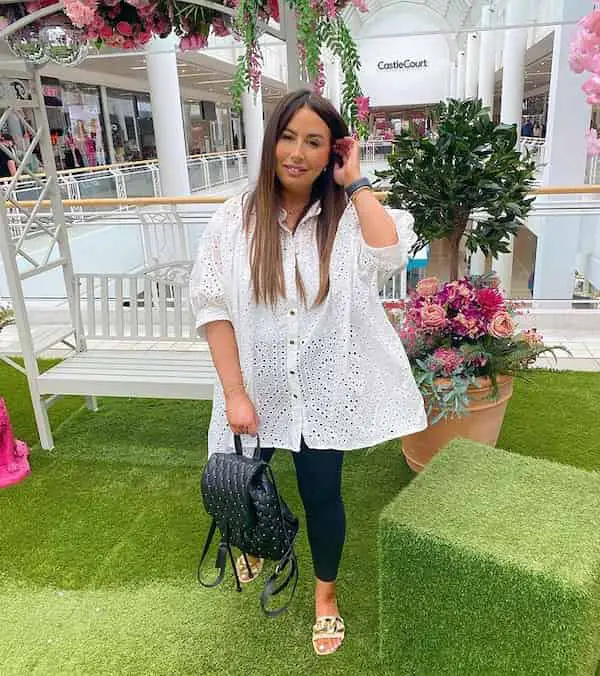 12. Black Leggings with Black Vest + White Long Sleeve Shirt + Sneakers + Hat + Handbag + Sunglasses
This may look like the two previous outfits, but there's a major difference. No, it's not the hat, neither is it the classy white sneakers. Instead, it's the black vest; the preceding ones had white tops!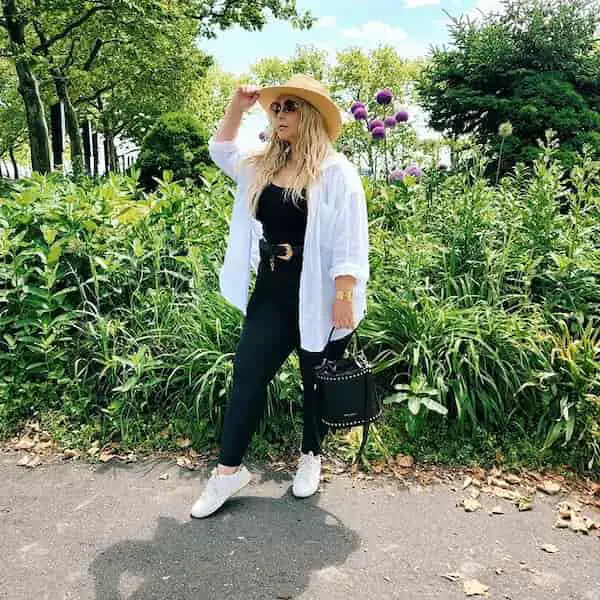 13. Ash Leather Leggings with Black Inner Shirt + Ash Floral Blazer + Scarf + Heels
This ash themed outfit is one of the most chicest outfits with leggings for work I've seen today. If you love scarves in your outfit, this is definitely a no-brainer. You shouldn't ignore the sunglasses if you decide to copy this outfit.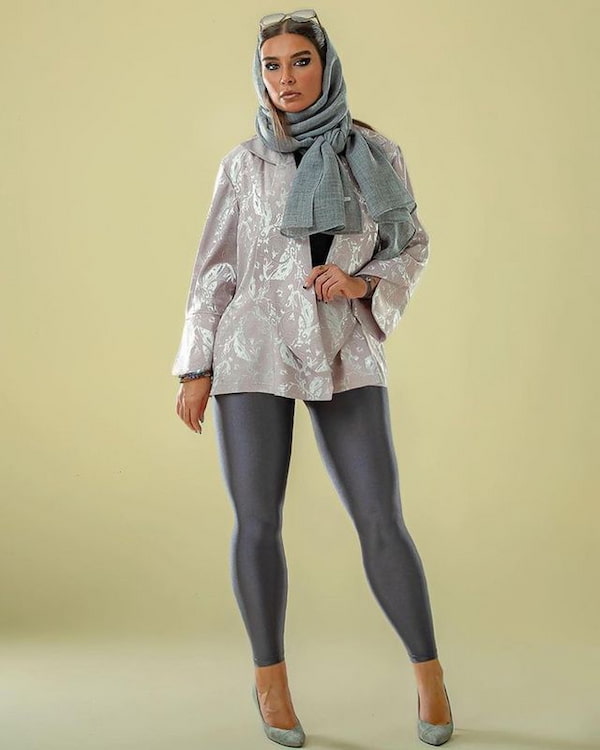 14. Black Leggings with Black Inner Shirt + Peach Oversized Blazer + Black Boots
Wearing an all-black color within, while layering it with a light-colored blazer is a popular option for styling leggings. The boots are the favorite part of this for me; they're excellent!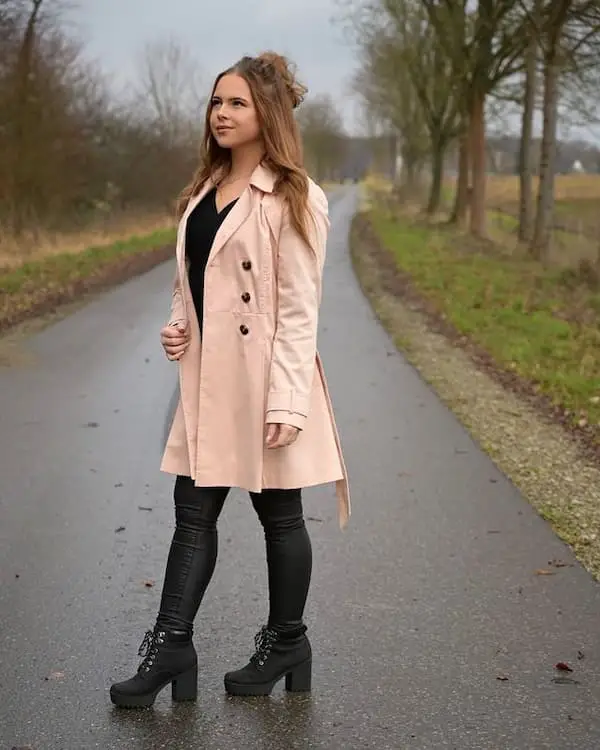 15. Yellow Leggings with Red Satin Long Sleeve Top + Heels + Handbag + Sunglasses
A yellow and red combination may look too bold, but it's obviously chic. Just take a look at this model's photo and tell me you don't want to show up at work this way.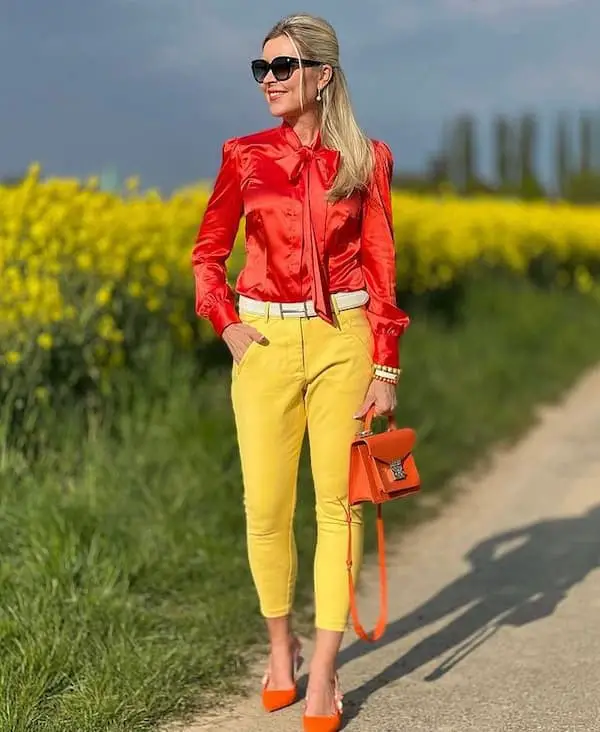 16. Pink Leggings with White Shirt + Black Blazer + White Sneakers
While this doesn't look like the best way to style pink leggings, we'll let it pass because it's chic. Maybe it's for the white shirt-sneaker combination or her amazing smile; whatever it is, it's cute.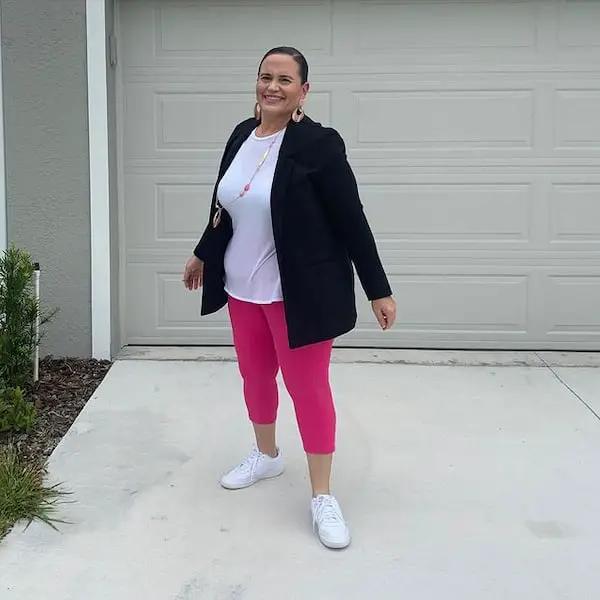 17. White Leggings with White Turtle Neck Shirt + Brown Ruffle Knit Sweater + Sneakers + Clutch Purse + Face Cap
When dressing for work in a chilly weather, you may want to go with a knit cardigan and a turtle neck. What's a better way to style that combination than what she did here? I'll wait.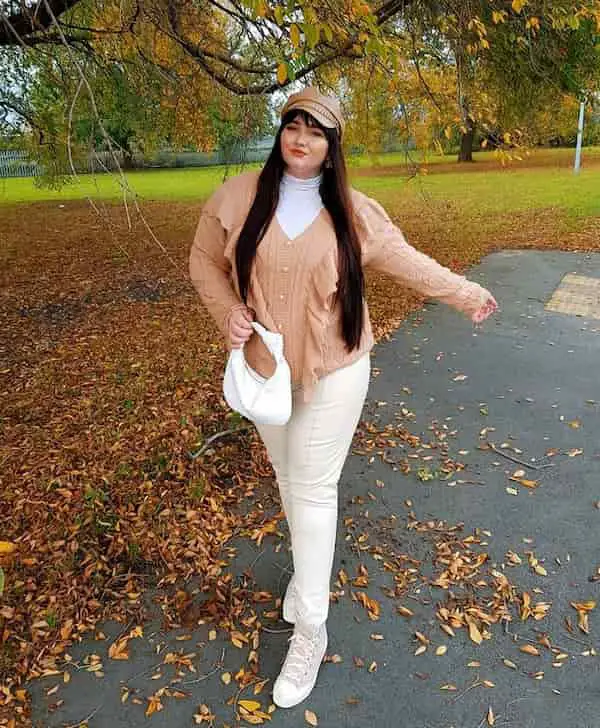 18. Black Leggings with White and Black Strip Top + Tan Oversized Blazer + Loafers
Some models know their way around making an outfit elegant by matching colors. The tan blazers matching the loafers is the charm here, but you shouldn't ignore the handbag either. Overall, it's one of the classiest work outfits with leggings I've seen today.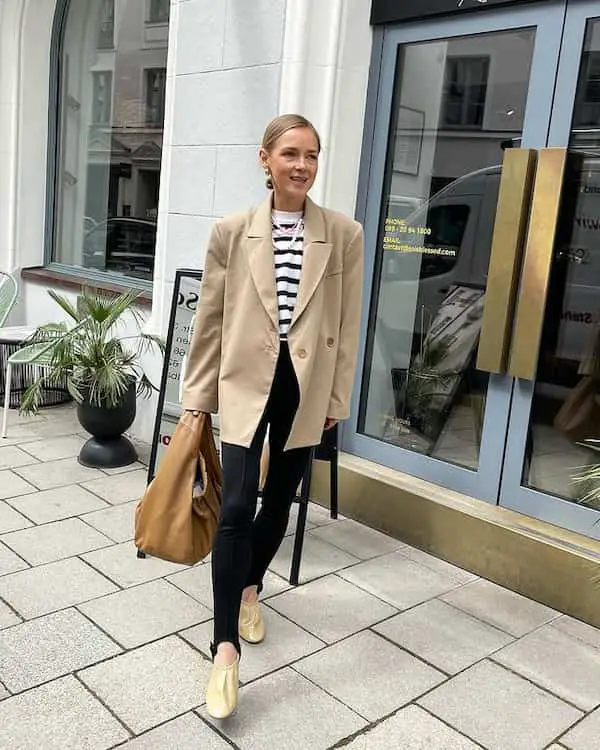 19. White Leggings with White Shirt + Brown Oversized Blazer + Sneakers + Handbag + Sunglasses
When you wear sneakers with two colors, you can make the best outfit by matching those two colors only. That's exactly what this model did here, and look how classy it turned out.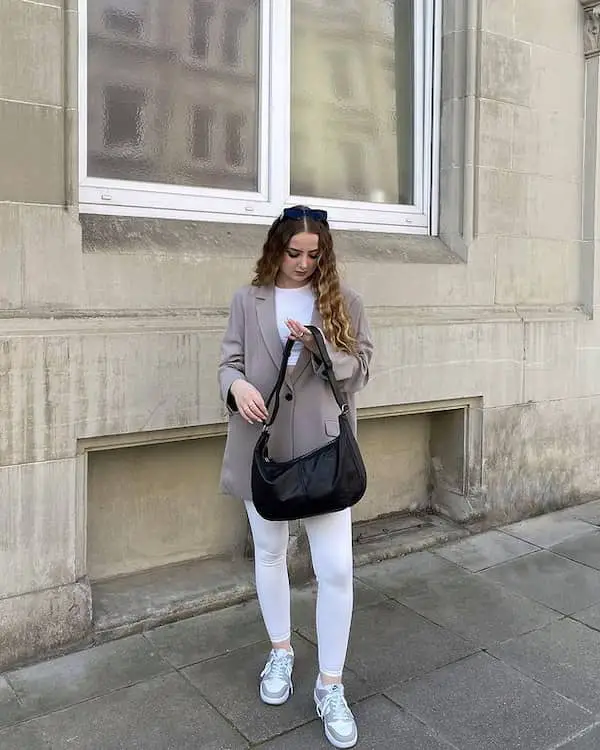 20. Brown Leather Pants with Ash Vest + Brown Blazer + Heels
Brown leather leggings will keep you warm during the cold, so it's only logical that it goes with a blazer. The matching brown heels is also an interesting highlight, so you may want to take note.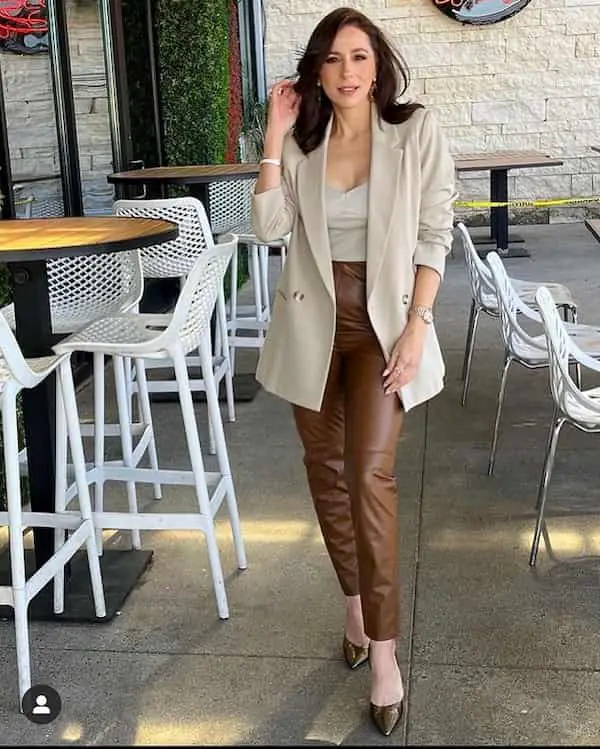 And that's all for my post on some adorable work outfits with leggings. Want some more outfit ideas? Then you might want to check out these blog posts.
I hope you enjoyed this piece of content. Do well to rate this post, and don't forget to share this outfit compilation with your friends.
See you with more exciting inspirations. Trust me; you wouldn't want to miss any of our upcoming outfit compilations, so make sure to follow us on Pinterest.
Pin for Later.