Are you looking for inspiration/guide on what to wear with yellow shoes? Then this post got you covered with insanely fashionable yellow shoe outfit ideas.
Yellow shoes are one of the sorted out after shoes by big ladies. But most ladies complain about its selective nature.
You can say, "yellow show is selective, I don't know the dress to put on to match with it."
Suppose you are among this class of ladies. I want you to know that this article has you covered.
Yellow Shoes Outfit Ideas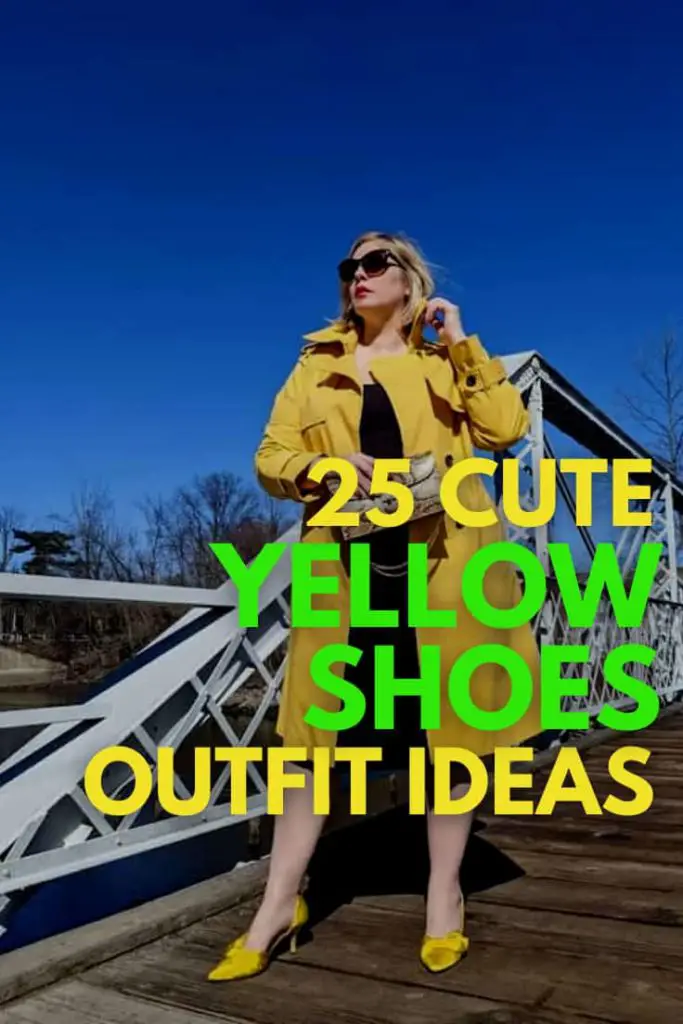 1. Lemon Mini Gown + Pencil Yellow Heels
Who says lemon and yellow can't be mix-matched? This is one of the best combinations ever. A charming and effortless mix to put on.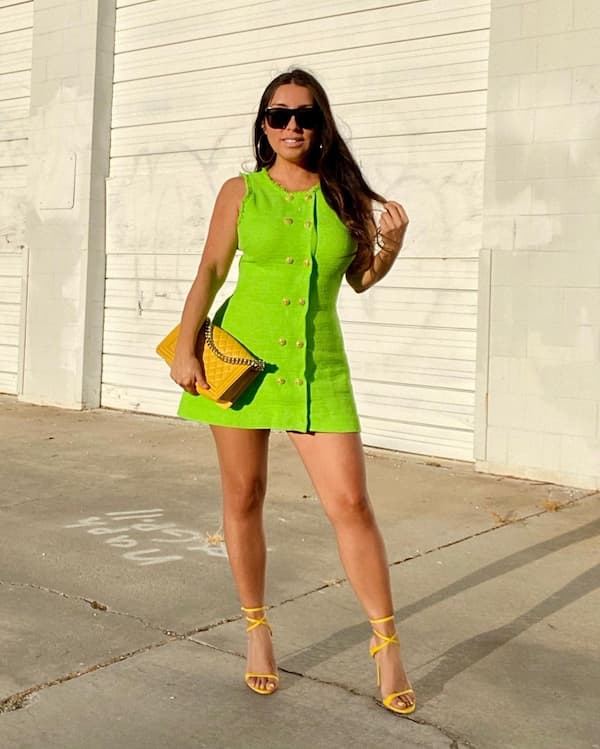 2. Short Floral Gown + Conch Shells Yellow Slippers
Suppose simple footwear with a simple floral gown for a casual outing is what you want. Then, the next inspiration got you covered.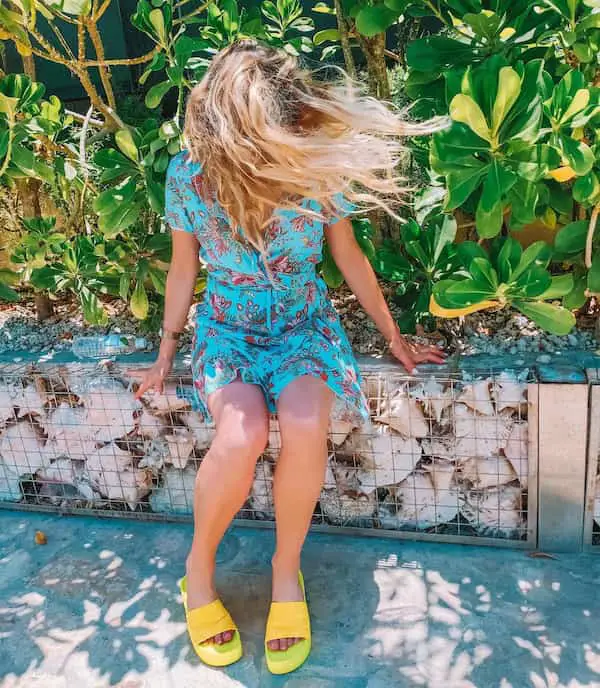 3. Yellow Short Gown + Yellow Sandals
Are you thinking of a simple all-yellow outfit with a matching sandal to fit in with the combo? You can wear this in summer to enjoy the natural warmth of the sun.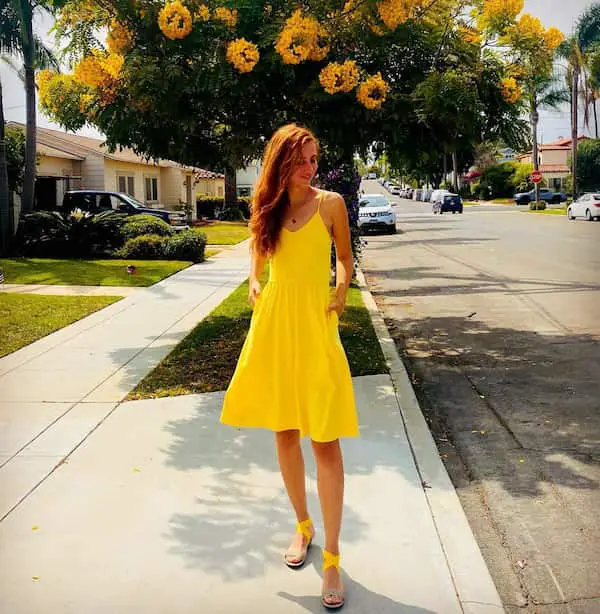 4. Yellow Gown with Upper Cleave + Yellow Cover Shoe
This dressing style is best during classic vacations and tourist catchups. I think you should add this dress to your collection.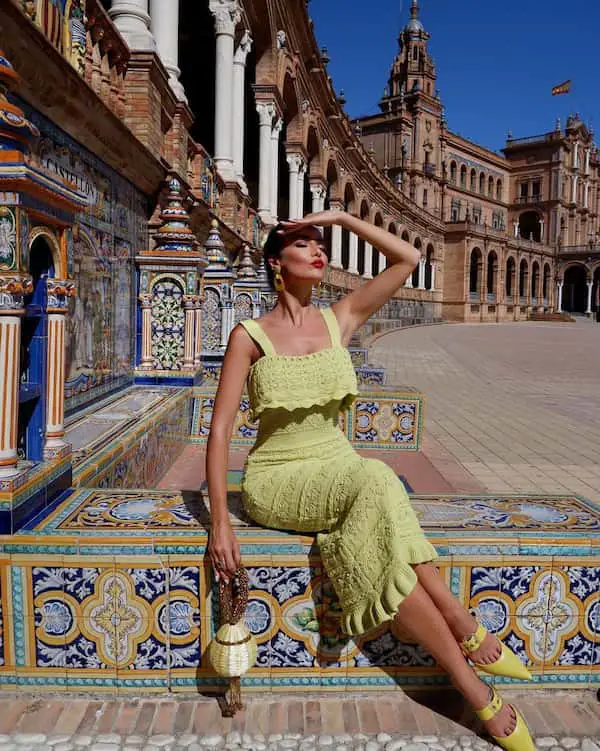 5. Yellow Shoe Outfit for Grandmas
For a simple walk around the neighborhood, you can try out this shoe; this shoe is designed to give you great balance as you walk or run.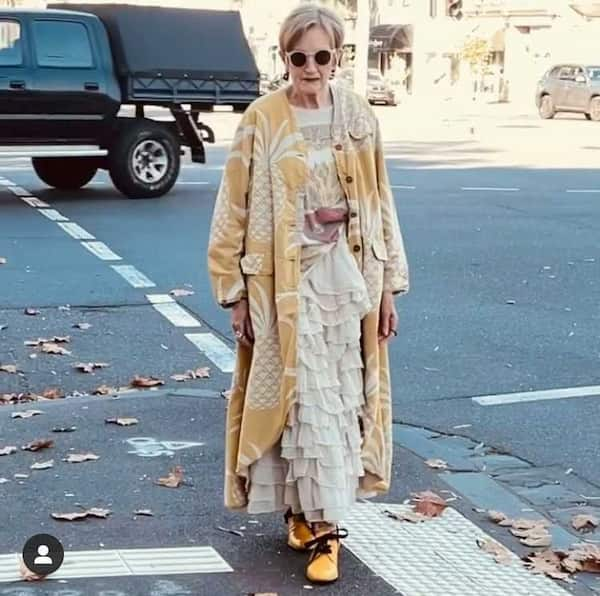 6. Purple Floral Gown + Yellow Loafers
Of course, you can pair this flat shoe with any outfit to attend casual events. You can wear it on with a gown or a pant. It goes well with either of them.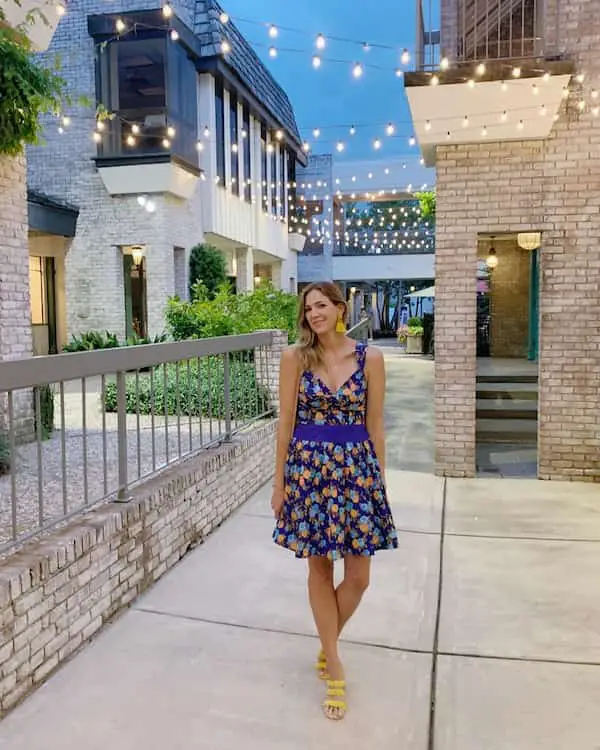 7. White and Black Dotted Gown + Yellow Shoe
As a classic lady, this outfit can be worn for simple events. The flattening belt around its waist helps to bring out your shape.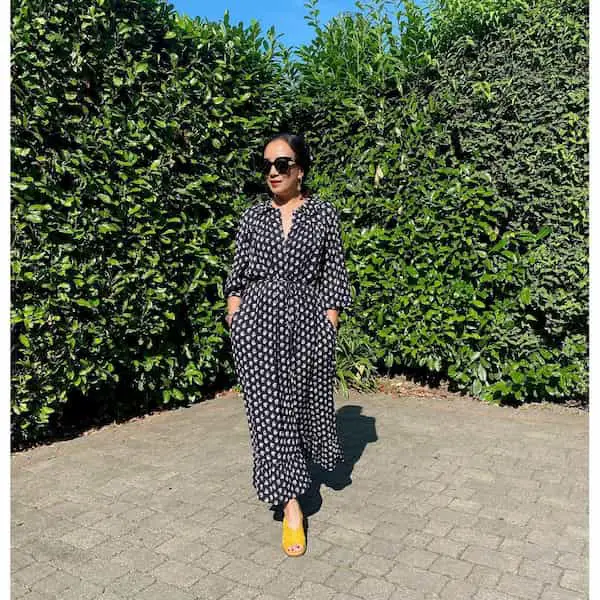 8. Cropped White Top + Black Pant + Yellow Pencil Heels
You can wear this footwear to complement your corporate dressings or even casual outfits like the one above; you have to give it a try.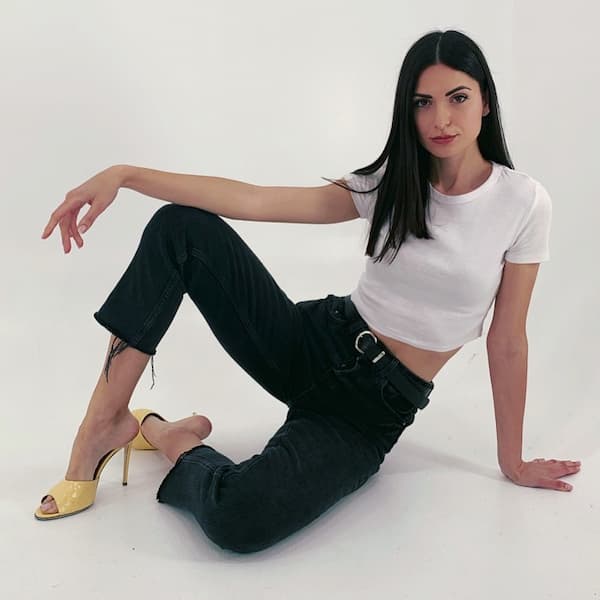 9. Suit + Pant + Yellow Short Heels
To feel the best version of yourself and confidence,  You can wear this outfit and sandals heels on.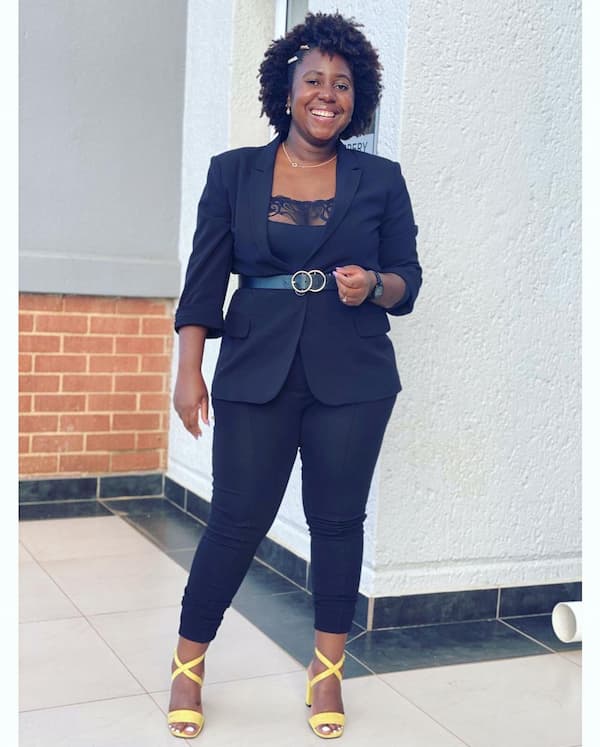 10. Inner Wear + Handless White Top + Jeans + Flat Yellow Shoes
Are you looking for a simple yellow shoe that you can wear to the grocery store or walk around the house? I recommend this flat yellow footwear.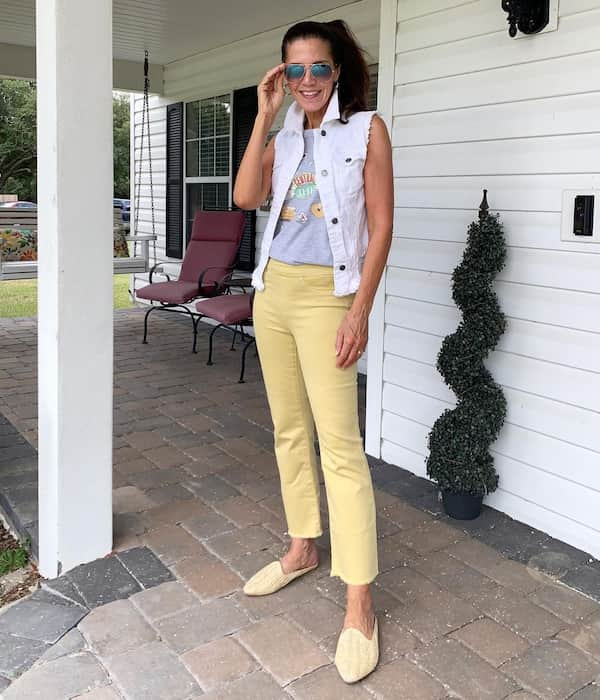 11. Spaghetti Hand Rainbow Dress + Cover Heels
To catch the rainbow vibe and feeling, I recommend this cute rainbow dress with yellow shoes.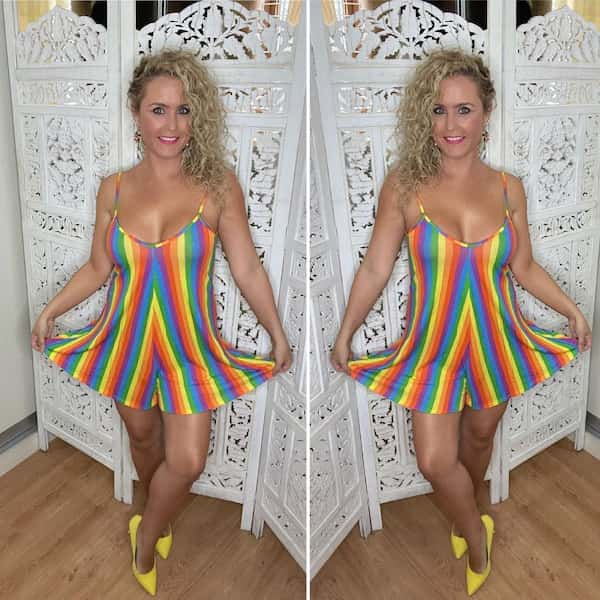 12.  White Long Sleeve Top + Ripped Jeans + Yellow Wedge Shoe
I think you can never be wrong with this dressing style for Friday or Saturday weekend catchups in classic restaurants.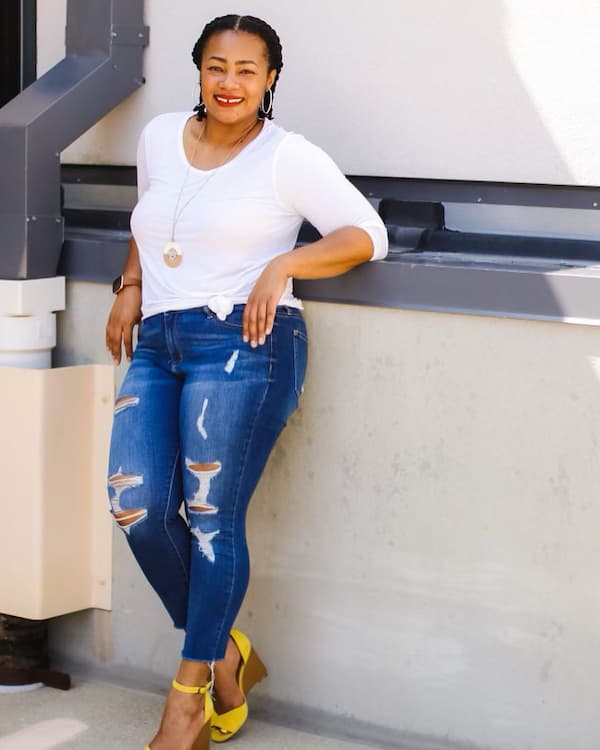 13. Handless Mini Gown + Flat Shoes
As a classic lady, you can wear this outfit for your grocery pickups on Saturdays. this is what I call "slaying as you work."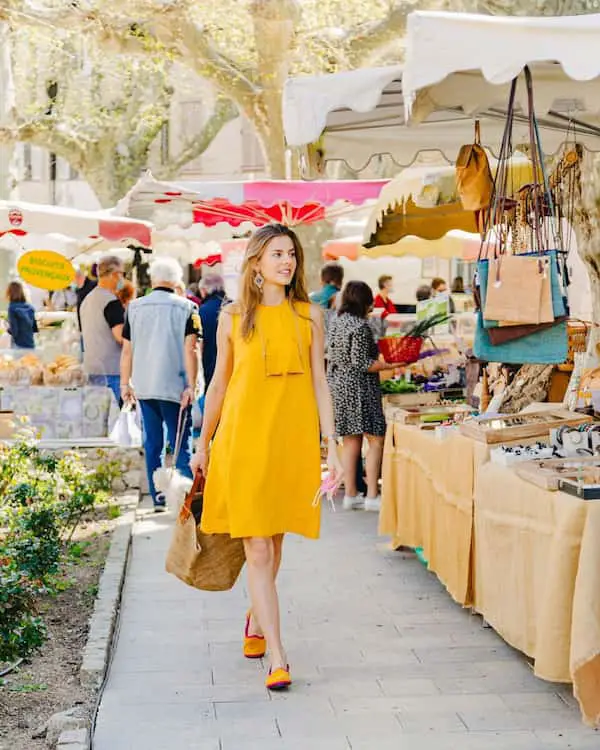 14.  Short Sleeve Floral Romper + Yellow Short Heels
I present to you Jasmine flat with more summer styling to give you a perfect experience during summer.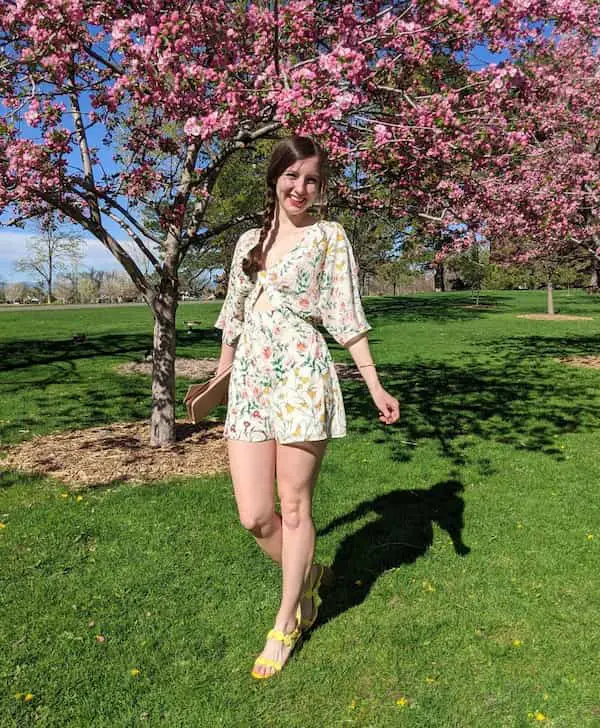 15.  Black Mini Gown + Yellow Short Heels
To complement that short gown for the summer party, I suggest this wonderfully styled mule. You can't afford to miss out on this one.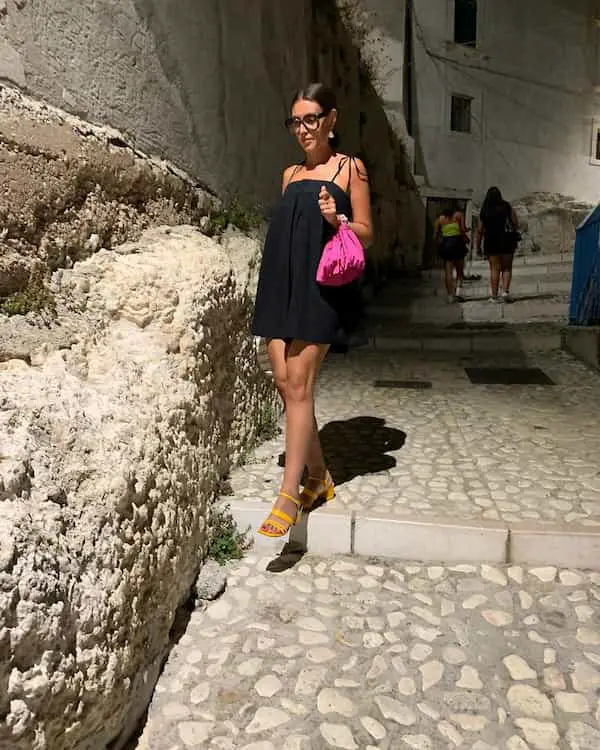 16.  Long Sleeve + Jeans + Yellow Heels
The older ladies are not left out in this fashion. You can also slay with your uniquely designed yellow shoe with gold ringlets all around.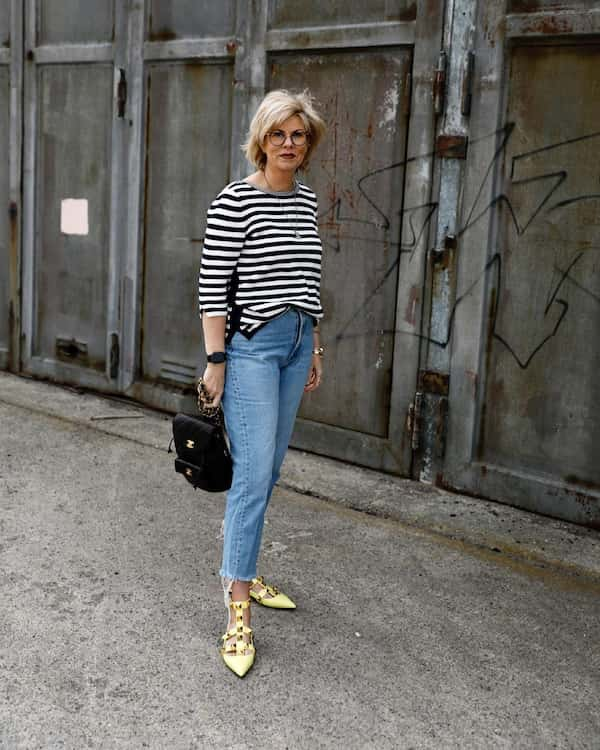 17.  Floral Inner + Jean Short + Blazer + Yellow Heel
There are plenty of ways you can rock Yellow shoes. For a more city girl outlook, you can go with this one.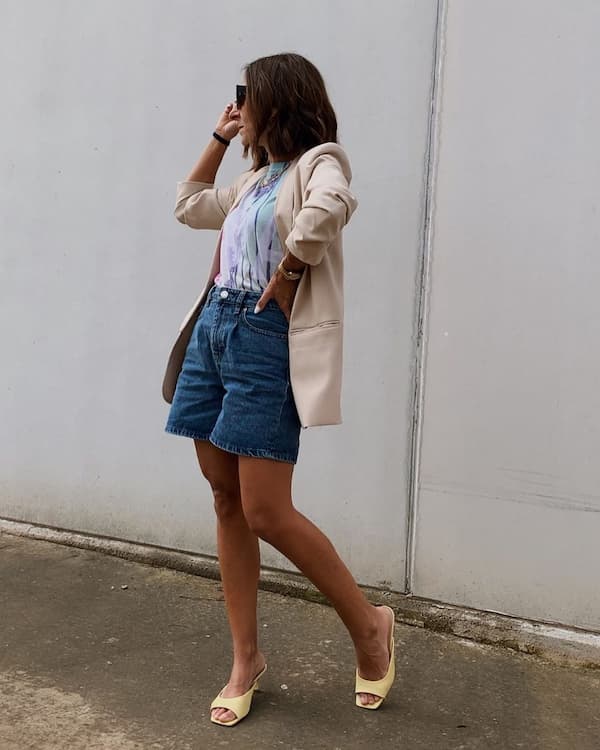 18.  Inscribed Pink Top + Pink Pants + Yellow Heels
The pink and yellow combo is a great way. Forget people who say you can't mix two bright colors. They just haven't given it a try.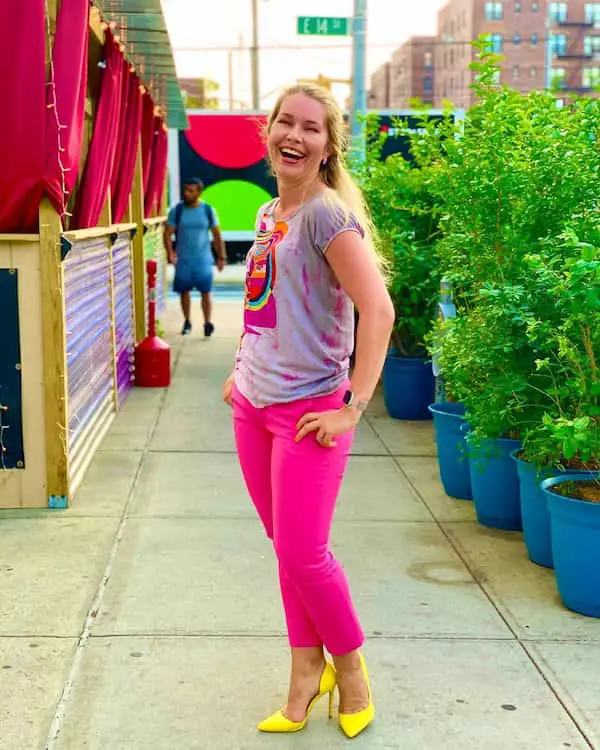 19.  Black Inner + Jeans + Ash Coloured Jacket + Yellow Python Shoe
The perfect shoe to wear in spring. To get people glaring at you while you walk, you have to put on this loafer.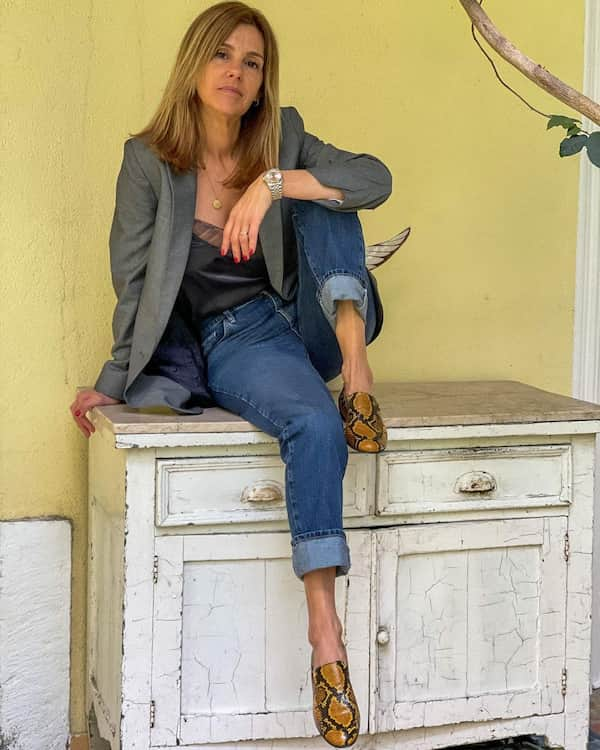 20.  Yellow Mini Gown + Leather Jacket + Yellow Shoe with Animal Coloured-Sole
This style is one of the perfect outfits to wear to any social event during the weekend. Its simple and classic looks add to your confidence as you walk.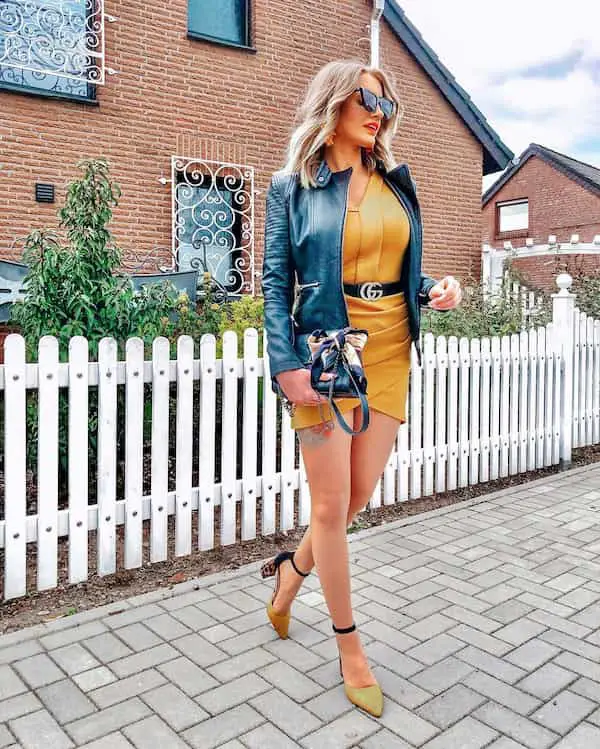 21.  Floral Bikini Suit + Yellow Heels
Where are my western ladies? I present to you the perfect bikini suit to boost your confidence at the beach.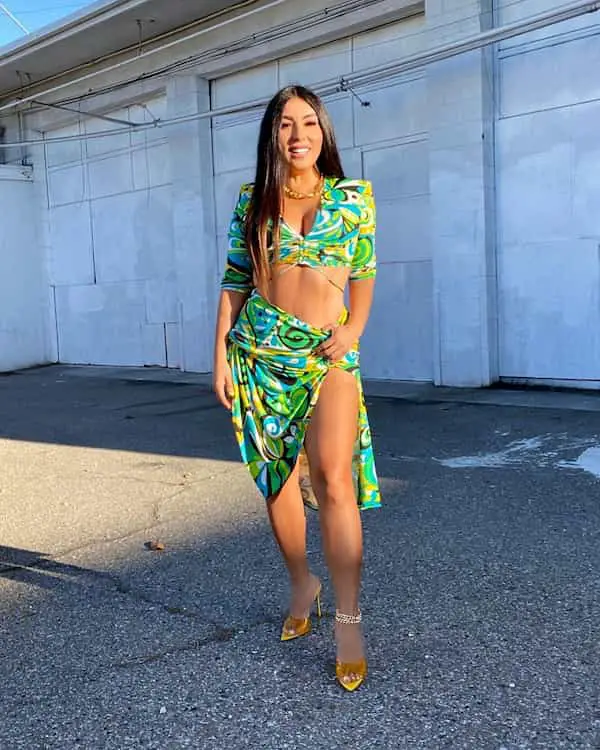 22.  Deep V-Necked Floral Mini Gown + Yellow Heels
Were you looking for footwear to complement that boss lady outfit? Check out this one and tell me what you feel about it.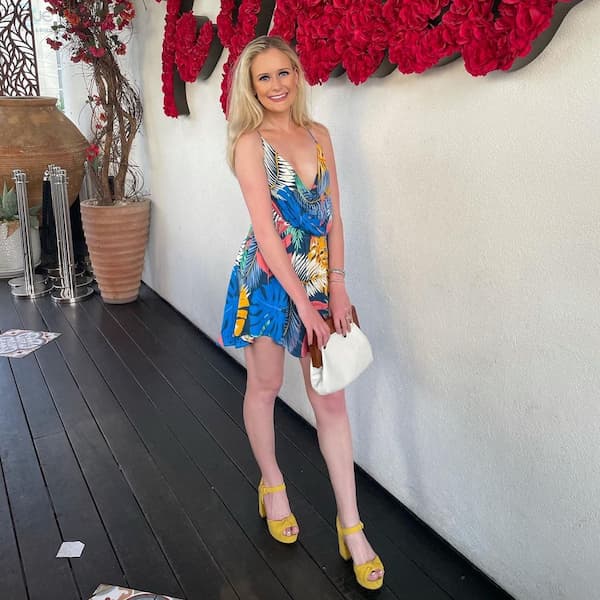 23.  Dotted White and Black Long Sleeve Dress + Love Styled Yellow Slippers
Summer vacation is more enjoyable with beautiful footwear. Do you know that footwear adds to your confidence? You have to get this one.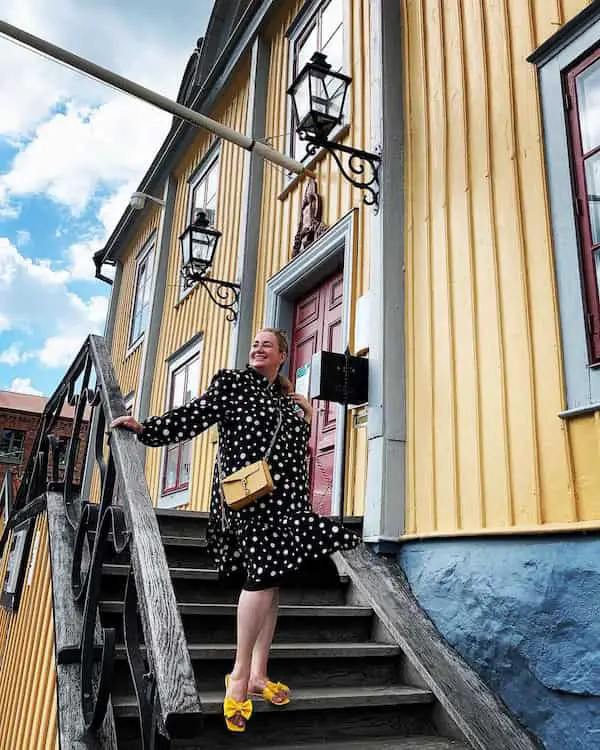 24.  Winter Outfit + Brogues Yellow Shoes
Our old mothers can still get themselves all looking beautiful and covered during the winter season. You have to get this for your granny.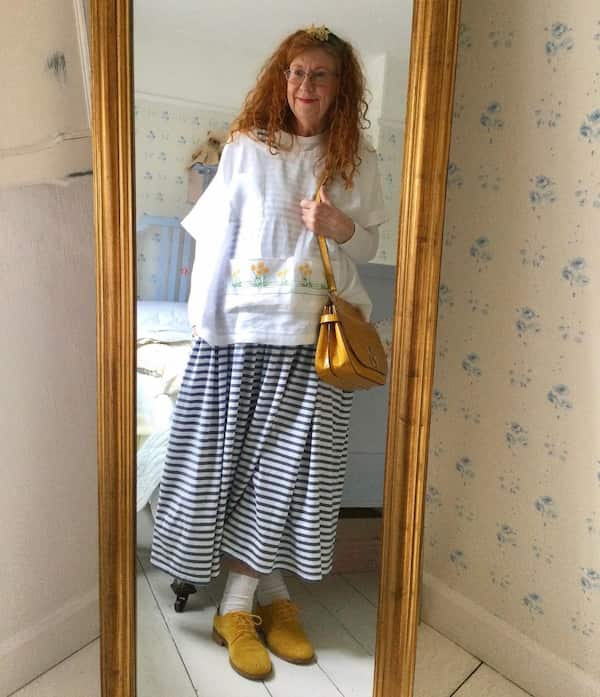 25.  Black Inner Gown + Yellow Trench + Nina Yellow Shoe
This shoe is eye-appealing. Your spring will not be less beautiful with this shoe in your footwear collection.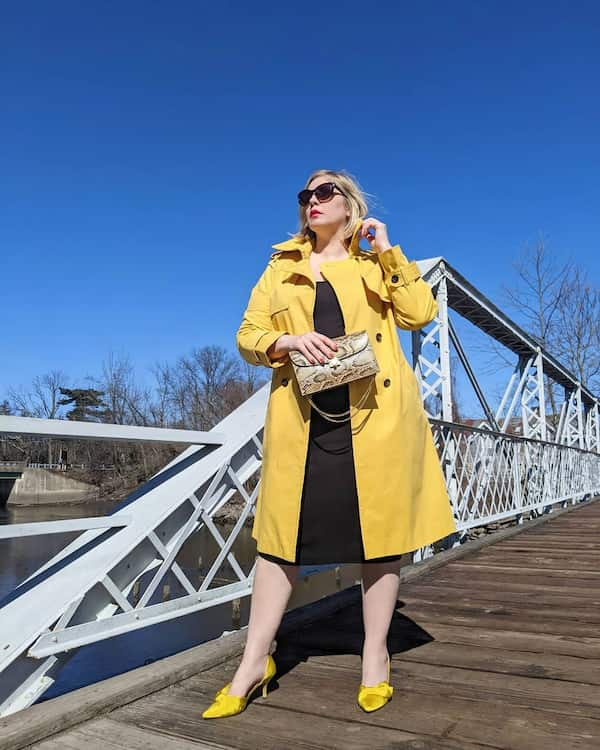 And this is all I got for yellow shoes outfit ideas. Want some more outfit ideas? Check out these blog posts.
I hope you enjoyed this piece. Do well to rate this post, and don't forget to share this article with your friends.
See you with more exciting inspirations. Trust me; you wouldn't want to miss any of our upcoming outfits compilation, so make sure to follow us on Pinterest.