Sweater dresses work best with shoes that are equally warm. Here are some of the pretties shoes to wear with sweater dress for an elegant look.
Sweater dresses are a great part of your wardrobe as you can wear them in the fall, spring, or early spring. However, something to be wary of is the shoes to pair them with. You can hit or miss with sweater dresses, depending on how you style them.
There are different shoes to wear with your sweater dress, and in this guide, we will show you some of those amazing shoes.
What Shoes to Wear with Sweater Dress?
We have the perfect styles for your sweater dress, and this style will see you through different seasons. Let's explore these styles.
1. Sandals
A slide-style sandal is the best fit sandal for your sweater dress.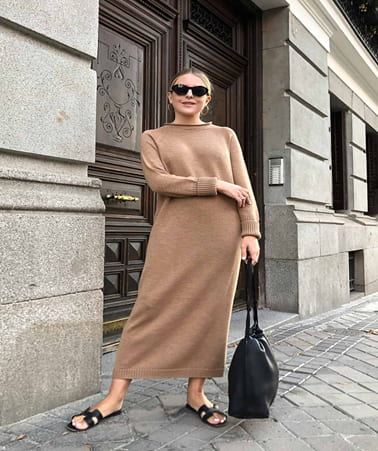 You can style your sandals by wearing a midi sweater dress. This dress extends through the shape of your body, giving you an amazing look. Roll down the sleeves when it gets colder and night, and roll them up during the hotter days.
2. Boots
A mid-calf height boot will pair well with any midi sweater dress, especially when moving from fall to winter. In the early winter season, pair your sweater dress with ankle boots, combat boots, or booties. In the later months, as it gets colder, go for knee-high or thigh-high boots to give you extra warmth.
3. Slouchy boots
This is an amazing way of styling your sweater dress that many ladies don't know yet. Pairing your midi or maxi-length sweater dress with a slouchy pair of boots gives a chic look. This look gives you so much appeal in a spotlight event.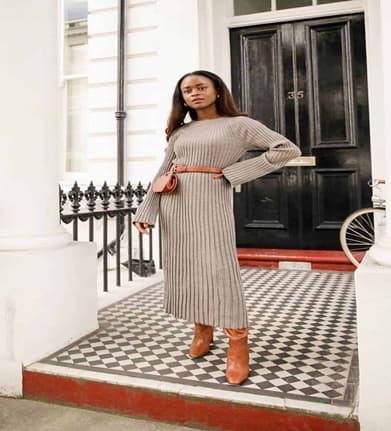 Most people wear their slouchy boots with leggings or pants. Even though this is an unexpected look, it is one that you will love.
4. Mules
Leather mules with closed toes give you a fashionable appeal in the autumn when you pair them with sweater dresses. Since they have open backs, they are great for the fall season. They rock both weather conditions well.
Midi sweater dresses are the perfect allies for mules. To style this look, go for a closely knitted sweater dress, which gives a comfy feeling without making you too hot.
5. Trainer sneakers
Trainers are great allies for your sweater dresses when you style them the right way. You will look amazingly chic in this combination. Even though trainers and other dresses have been the trend recently, you can't go wrong with sneakers.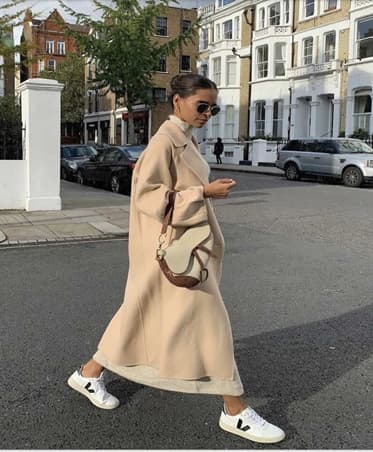 Any sneaker will do the trick, but if you want that amazing look, white leather sneakers or chunky trainers are your go-to. Black or ivory-colored sweater dresses with your lovely trainers give you that sporty look. In the colder seasons, go for more depth with a leather jacket.
6. Loafers
Loafers are for the crème de la crème of the fashion space. From influencers to models on the runway and even celebrities, loafers are seen among top personalities. When you pair loafers with feminine pieces like sweater dresses, you can wear them to formal outings.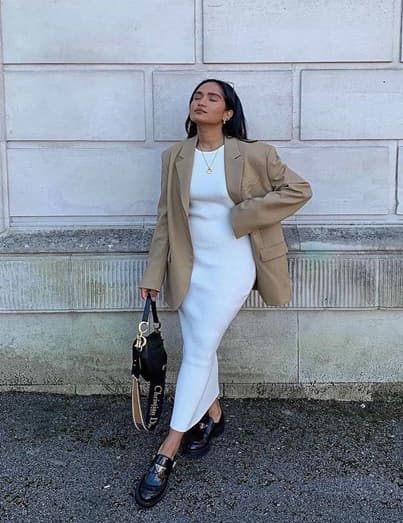 Pair your loafers with long, closely knitted sweater dresses for a chic look.
7. Heels
It's no news that heels add elevation to any outfit you wear. Any heel should work for your sweater dresses, although we recommend chunkier block heels. They will go well with a-lined sweater dresses for you to wear to casual, formal, or classy events.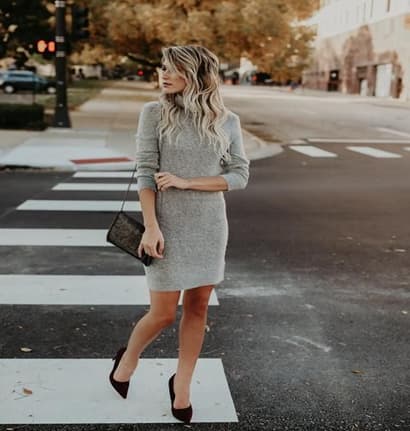 This combination is the perfect fit for you to wear in the fall. You can wear them during the day, at night, during the fall season, or even in winter.
8. Combat Boots
Combat boots are a great pair for your sweater dress. They make you stand out from the crowd and pair well for the fall season. The chunky mini sweater dress and combat boots are a perfect match.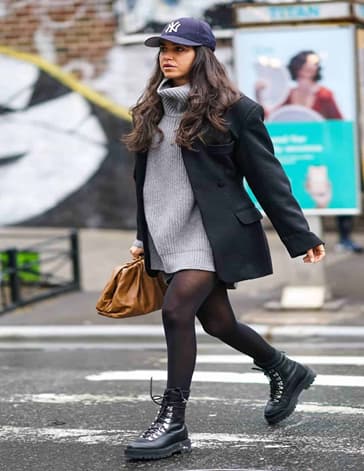 You can style this combination with black tights if you want an outfit that will give warmth during the winter months. An oversized black jacket can come in to give a super dope look.
9. Knee-high boots
Fun, feminine and sexy knee-high boots are a great combination for your sweater dresses. Knee-high boots are your go-to if you want shoes that give warmth during winter. A mini dress can be combined with these boots during the hotter days to show off their beauty.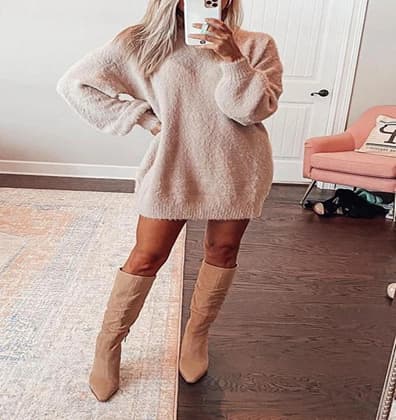 Suede knee-high boots and well-knitted sweater dresses will get you through the cold as they give you a warm and cozy feel. They also feature a great look.
10. Ankle boots
Styling sweater dresses with ankle boots can never be the wrong choice. Go for flat or heeled ankle boots; you will love their combination with sweater dresses.
Another pair of ankle boots that have been trendy lately is the lug boots. You can jump on this trend and style your sweater dress with these lug boots. If you don't fancy combat boots, go for the lug boots to create an edgy vibe and a cool look.
11. Booties
Booties are versatile options that are a great choice to style with your sweater dress. Different people have paired booties with skirts, trousers, and jeans. They don't know, however, that they can switch up the style with sweater dresses.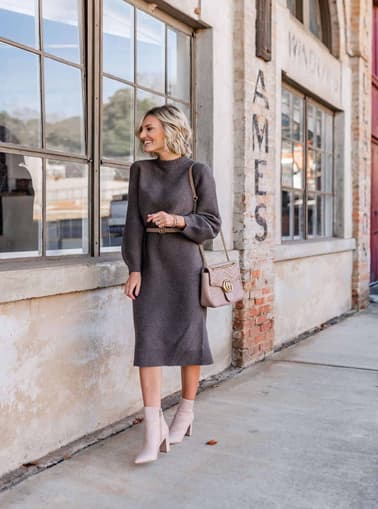 Go for a pair of flat or heeled bootie and spot that chic look. However, heeled boots are widely loved because they pair well with any dress length. For an amazing fall or winter look, look no further than pairing your sweater dresses with sexy heeled booties.
Conclusion
Cozy sweater dresses are great outfits for the winter months, but you should style them well. They are comfortable dresses and work with any body type. Deciding on the shoe you want for your sweater dress can be painstaking.
Our guide has helped you fill that in as we have shown some great shoes to pair with sweater dresses. Look through our list and settle for the shoes that match your style.
Want some even better ideas? Consider checking out some other posts.
I hope you enjoyed this piece of content. Do well to rate this post, and don't forget to share this compilation with your friends.
See you with more exciting inspirations. Trust me; you wouldn't want to miss any of our upcoming outfit compilations, so make sure to follow us on Pinterest.
Pin for Later.