Are you looking for African two piece outfit ideas? This post got you covered with a bunch of cute ideas.
Ankara has become not just a national but an international kind of style. Fashion designers have come up with different styles to make you appear beautiful, elegant, and unique.
So in this article, I will be showing you 25 cute different ways you can wear any African two-piece outfit that will make you look ever beautiful and elegant.
Cute African Two Piece Outfit Ideas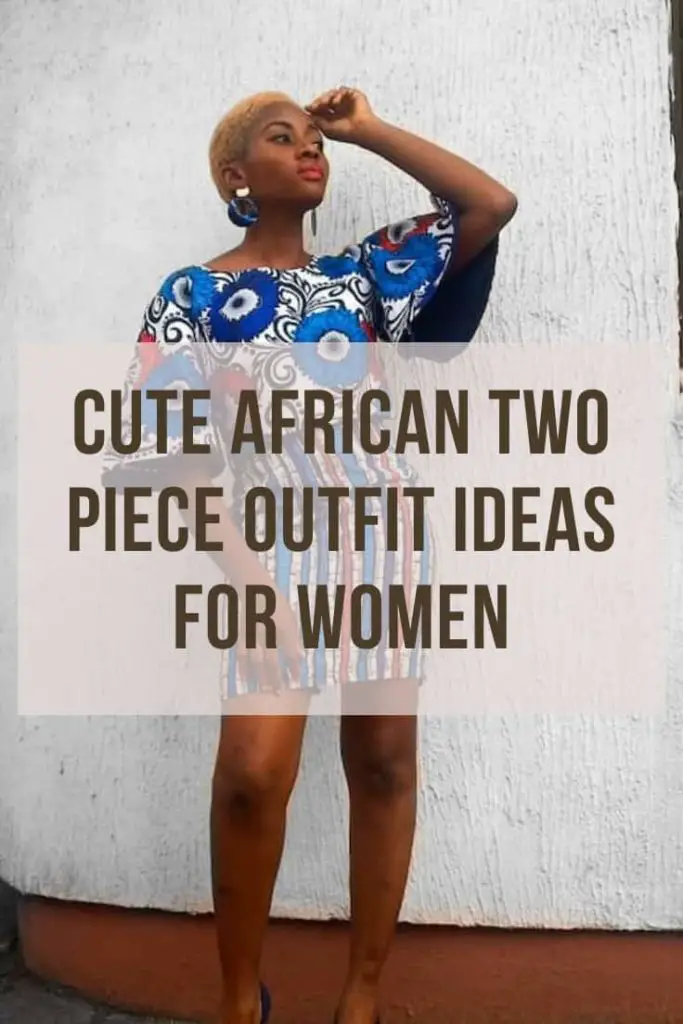 1. Solape Two Piece Set
You can wear this sophisticated set of attire for both corporate and casual events. The best part is that you can decide to wear each piece separately.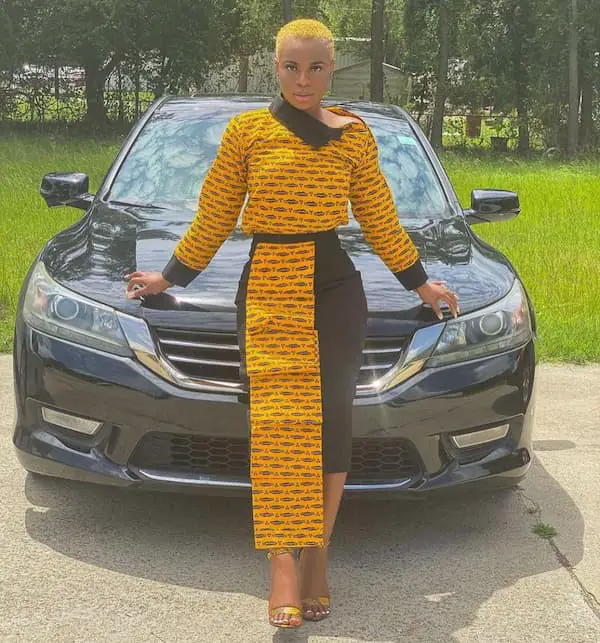 2. Lemon Colored Collar Long Sleeve Shirt and Mini Skirt
Gosh! She and the outfit are looking so classy for me to ignore. If I am to decide, I will wear this classy outfit for exclusive parties and outings.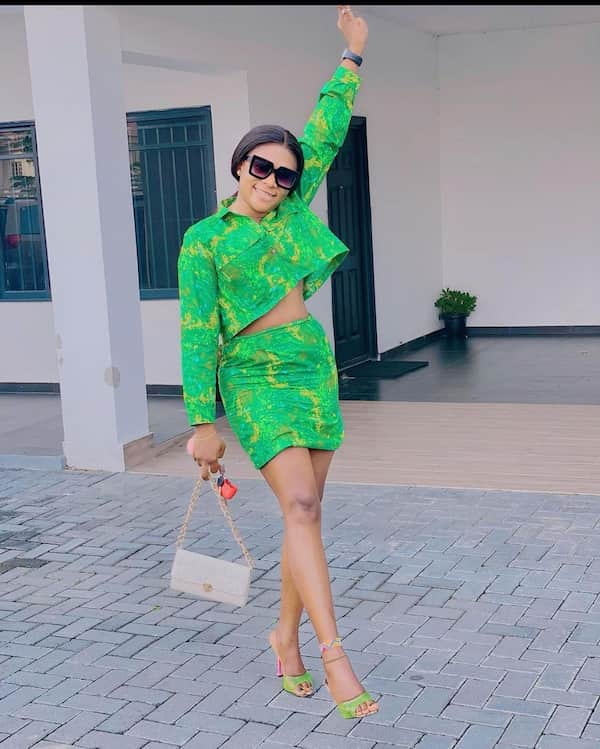 3. The URU Two Piece Set
Where are my sexy queens? Are you guys seeing what I am saying? This style of outfit is a must-have for a vibrant boss lady like you.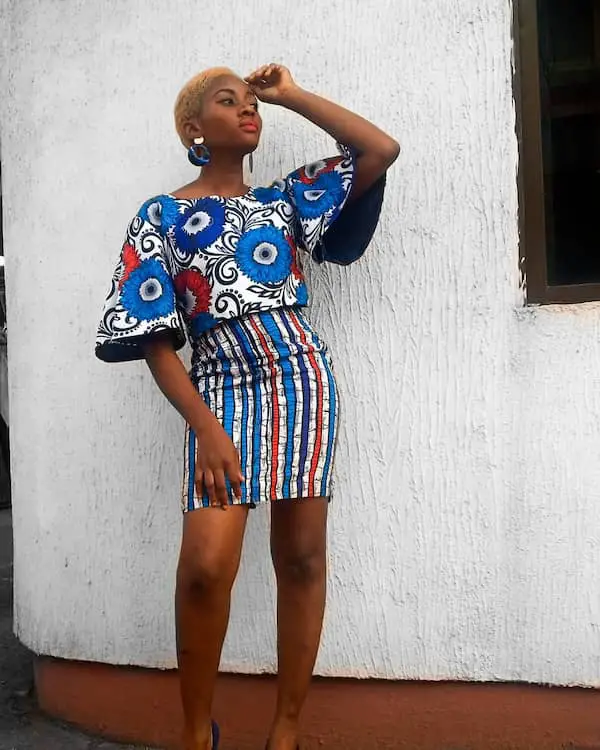 4. Ankara TIE Back Set + Oversized High Waist Trouser
This outfit is called "Tie Backset" because there is an endless option to style the backside. Isn't it wonderful?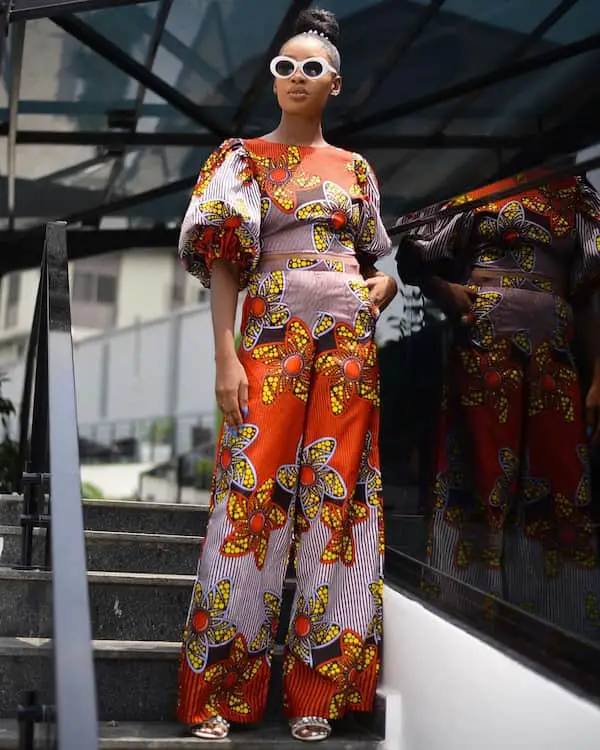 5. Handless Crop Top and Pant
I'm speechless. What! This dress is bae. Right now, you should be saving this picture. It would help if you got this picture to your seamstress to make it.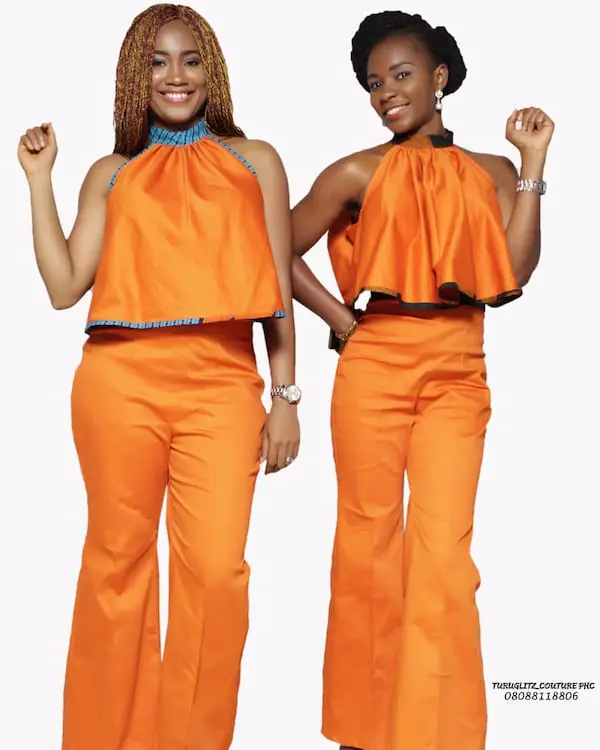 6. Double Colour Print Suit
Are you looking for a dress to go for that presentation in? Search no more for you have found one.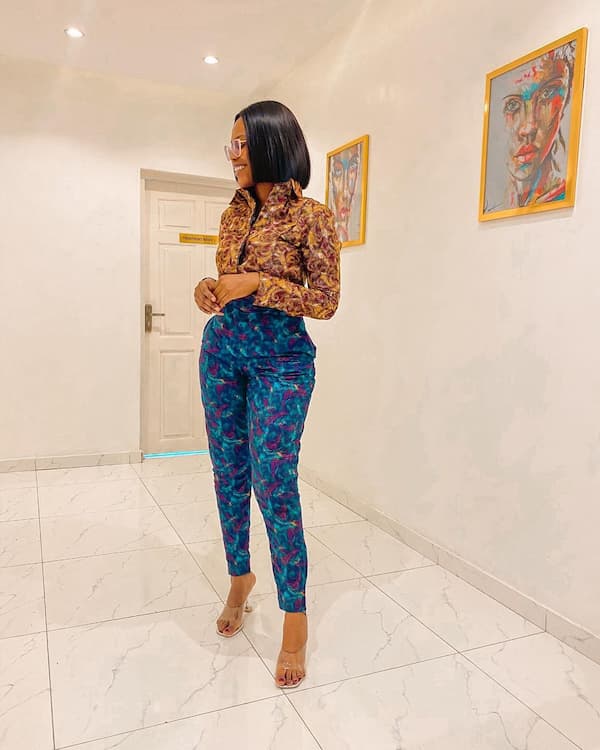 7. Ankara Print Top and Pencil Pant
This outfit is the best choice if you want to slay in causal outings, picnics, and even in running errands.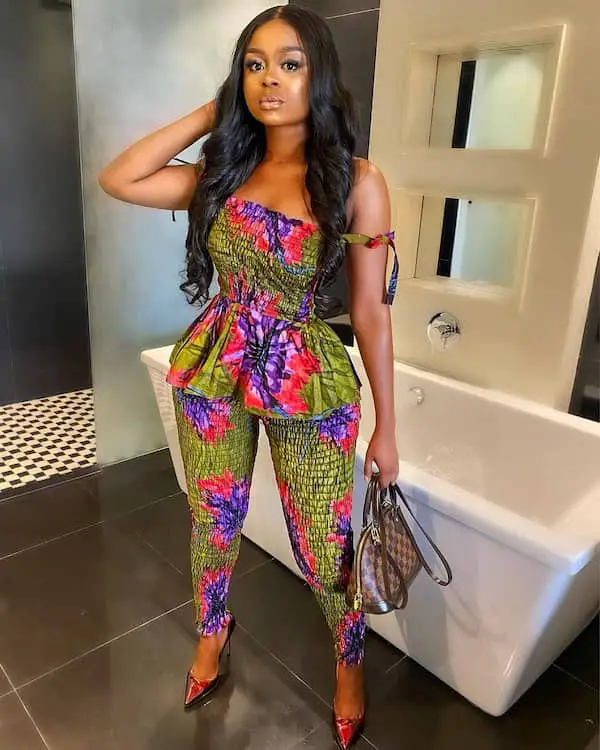 8. Ankara Two Piece with a Higher than High Leg Slit
This is what I called a "Vibe." This outfit would not only make you look beautiful but also elegant like royalty.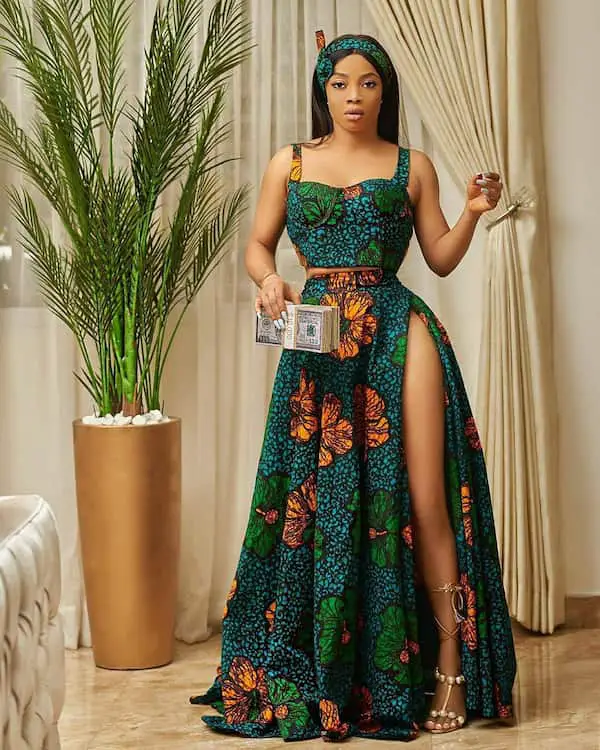 9. Ankara Two Piece Jacket and Mini Skirt
Do you work from home? This is one of the best outfits to wear while working comfortably on your PC.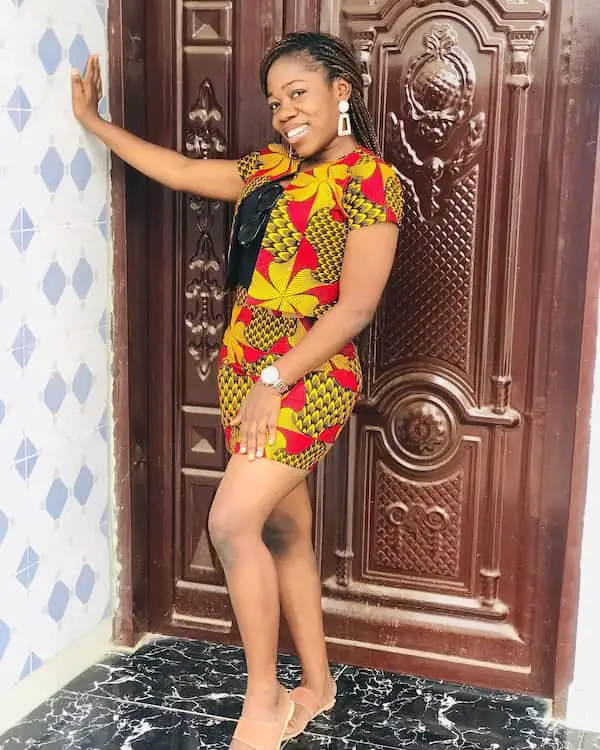 10. Ankara Classy Two Piece Suit
She is slaying effortlessly in simplicity and elegance—the best choice for corporate gatherings.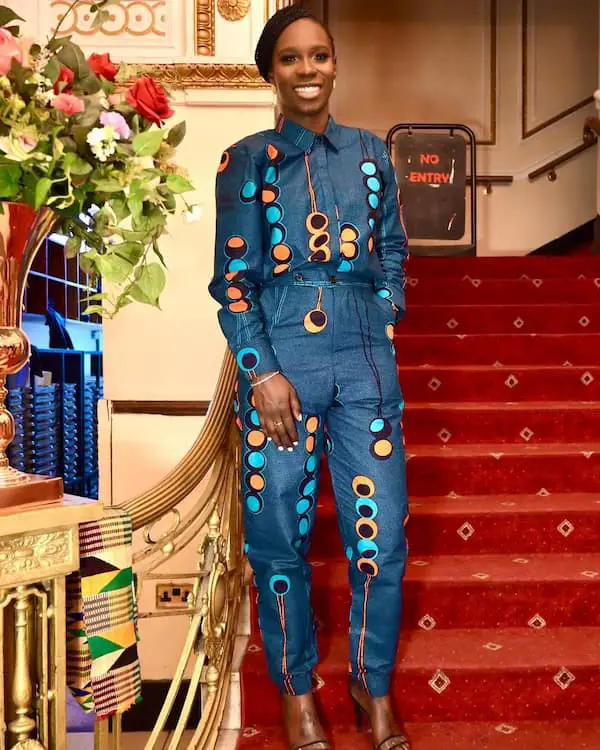 11. Ankara Two Piece Summer Outfits
To look elegant on a sunny day is possible. You have to make the right selection. So, what are you waiting to rock the two-piece outfit while the trend lasts?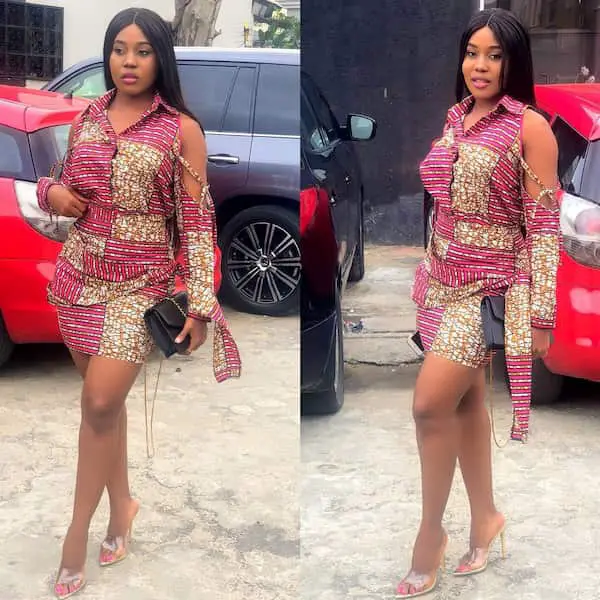 12. Ankara Mix and Match Set
This is what is called "baby la hot." As a hot chick, I expect you to start thinking about which seamstress to call to sew this dress for you.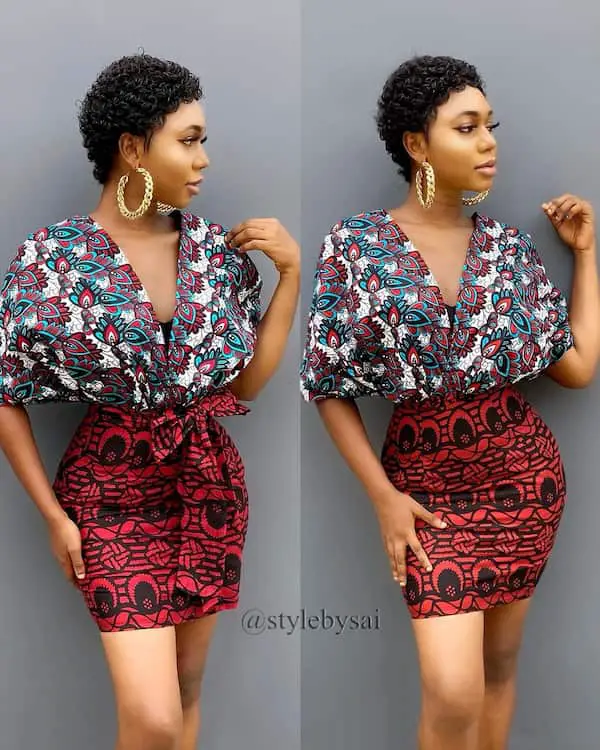 13. Knee Length Jacket + Shorts + Red Heels
For hanging with your babes or with that mama's son, I recommend this cute outfit. Depending on your job, you can also wear this to your place of work.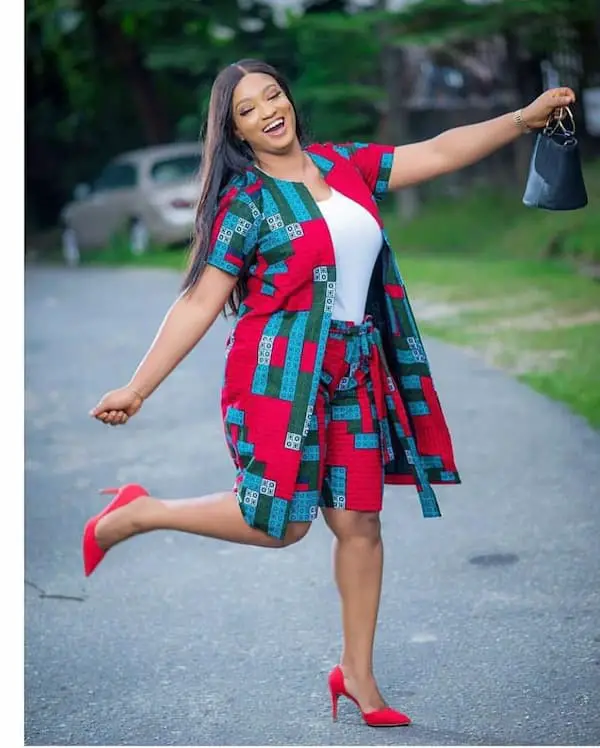 14. Ankara Blouse and Long Flowy Skirt
This is what I call "the perfect Sunday dress." You won't only look decent in this but amazingly beautiful.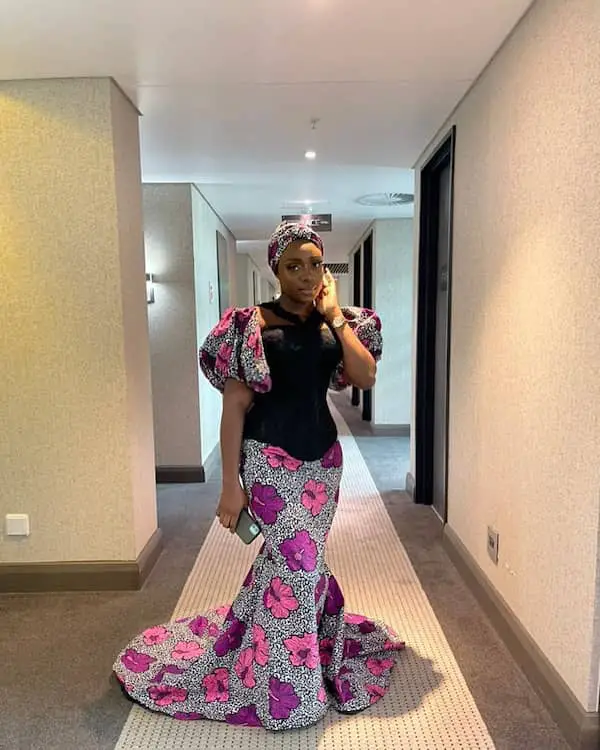 15. Ankara Crop Top and Pant
Suppose you want to flaunt that beautiful flat tummy of yours. You can do it excellently and stress-free with this outfit.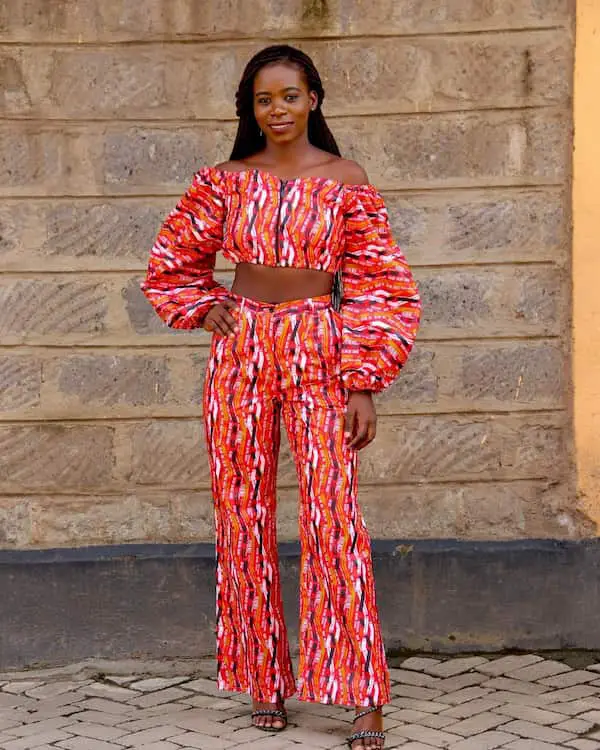 16. Ankara Crop Jacket and Pencil Skirt
Where are my boss ladies? Where are my corporate queens? I hope you are catching the vibe? I'm just speechless. You know what? Let's move to the next point.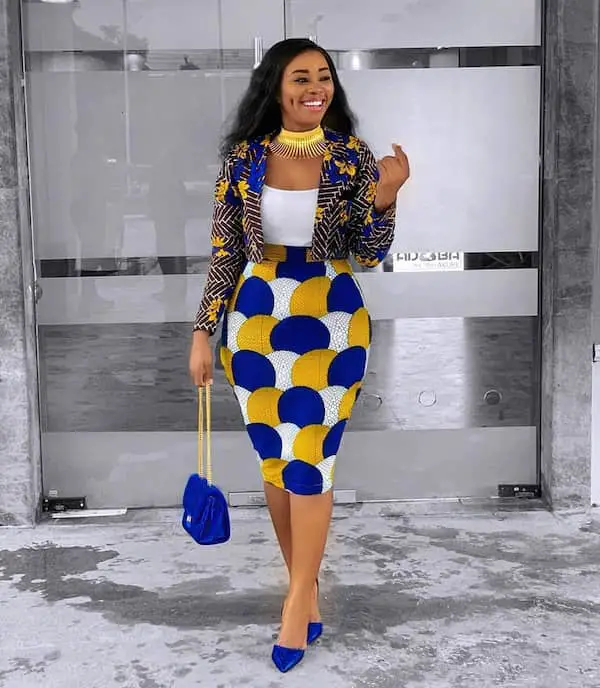 17. The Annie Top and Shorts
I recommend this simple outfit for beach walks and light hiking; who doesn't love it when Ankara is styled to look simple and match with any shoe or heels?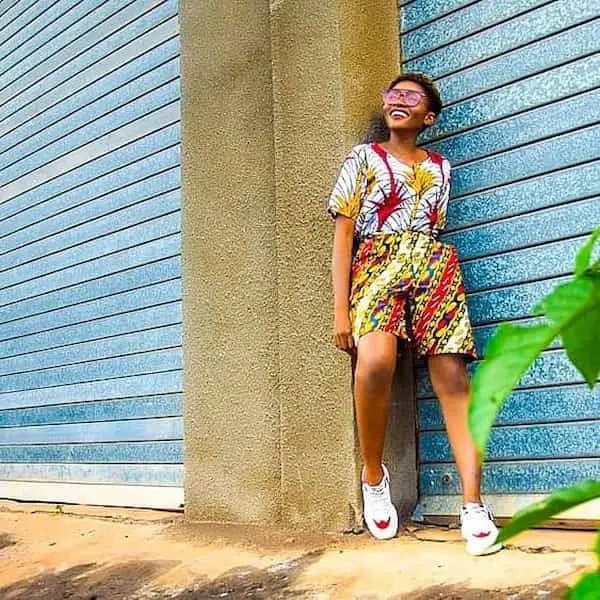 18. The Ankara Picnic Top and Mini Skirt
Do you have a date on a beach or a sunny day and you want to appear simple and beautiful? You don't need to search again for your answer is staring at you.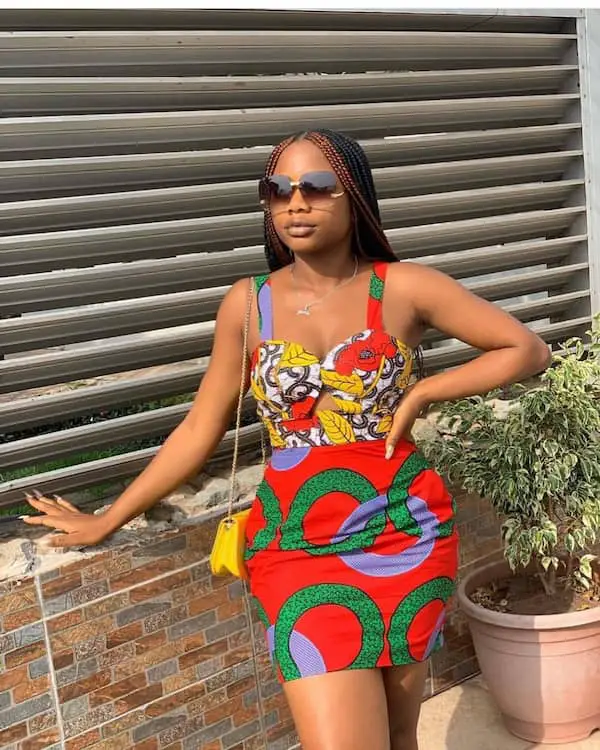 19. The Ankara Centered Stripped Top and Shorts
This outfit is best worn for events like weddings or Owambe. You will certainly be given the front row to sit on when you appear like this.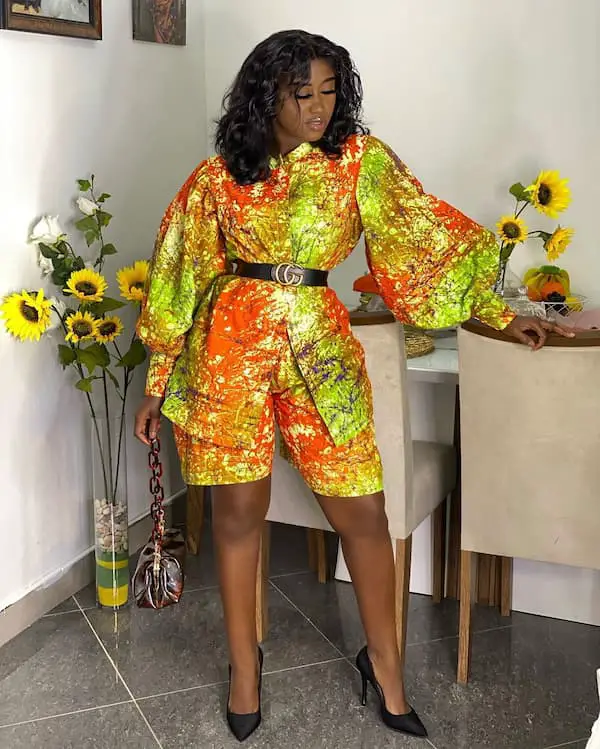 20. Ankara Bubu Top and Mini Skirt
Perfect dress for a perfect Owambe occasion. You can't go wrong in this outfit.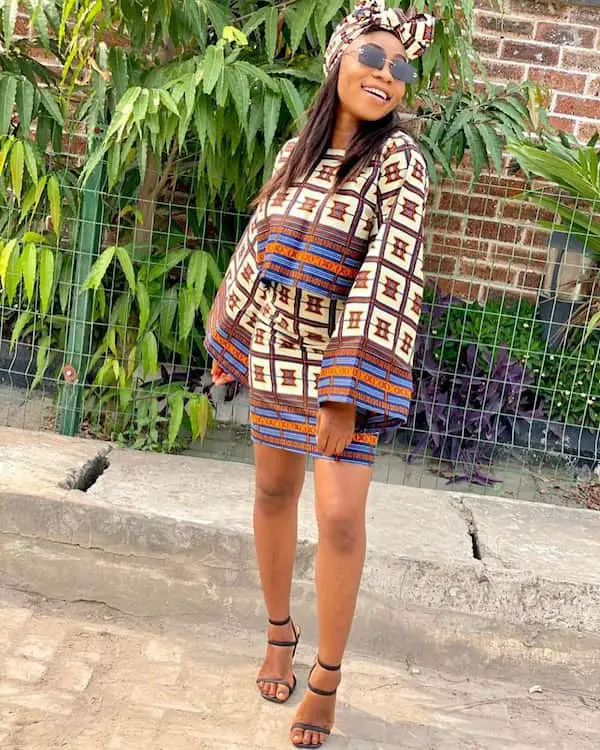 21. Ankara Round Neck Top and Pant
Our mature ladies are not left out on this. You can still look mature and beautiful.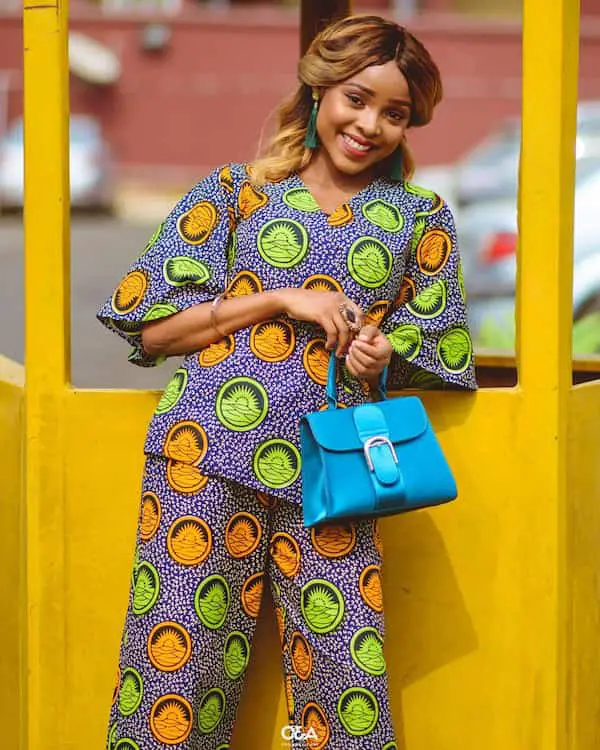 22. Ankara Two Piece Blouse + Mini Skirt
This style should probably be one of the best outfits for a night party or club. You can't appear unnoticed in this outfit.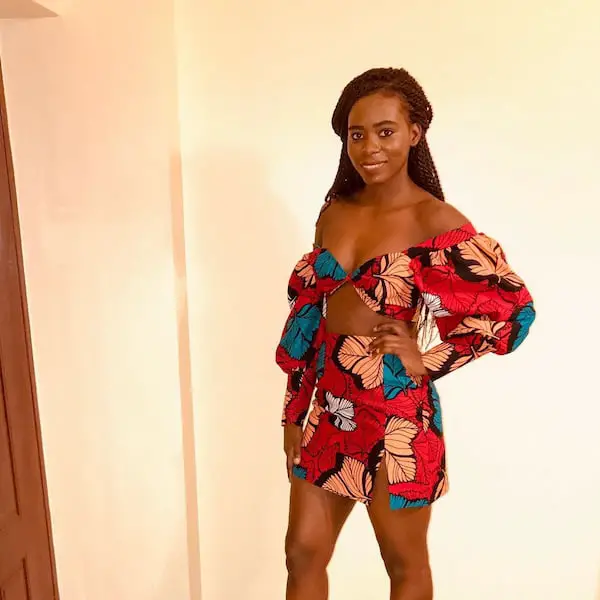 23. Print Mix Frilled 2 Piece
For an elegant look on Corporate Ankara Wear, this outfit is the best choice.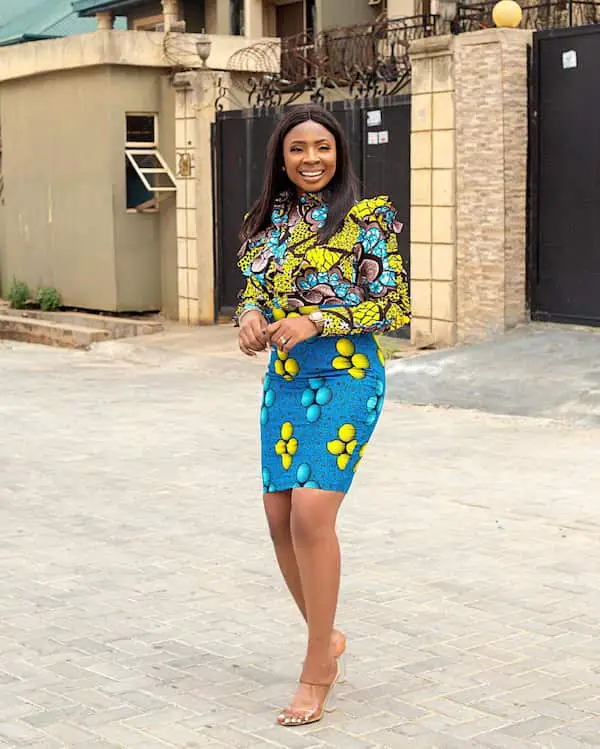 24. Dashiki Crop Top and Shorts
You can wear it for a beach or pool party—an adorable dress for a beautiful lady.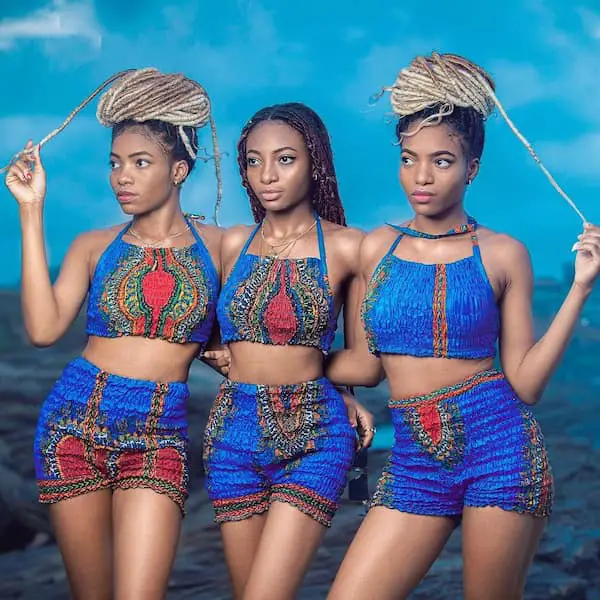 25. Thick Print
A gorgeous outfit for an elegant lady. A must-have in your clothing collection.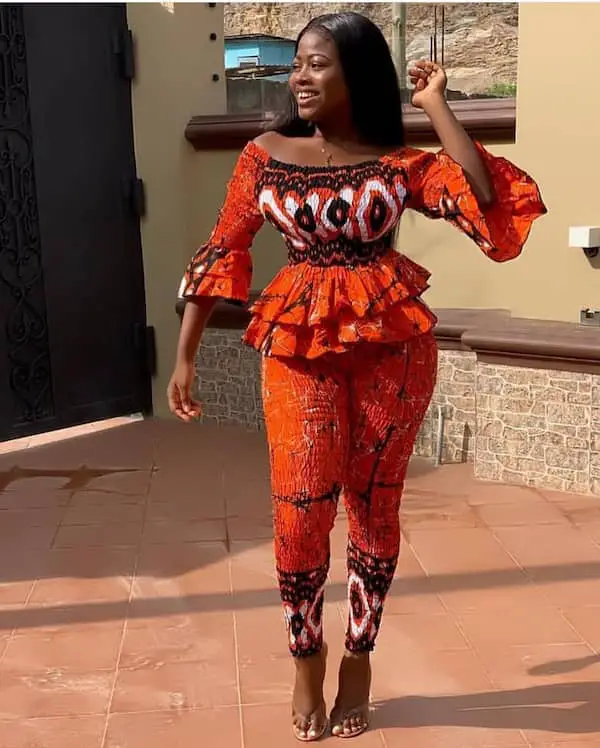 That's all for African two piece outfit ideas. I hope you found this article interesting and inspiring. If you do, please don't forget to rate us.
---
Want some more cute outfit ideas to try out? Check out these inspirations.
See you with more exciting articles on best outfit ideas. One more thing, please do share our page with your friends and families, and don't forget to follow me on Pinterest. Cheers.