Suppose you're looking for inspiration on how to style grey trousers, then this post got you covered with fresh outfit ideas. (outfits with grey jeans)
Wearing grey trousers correctly can be somewhat difficult, as you can easily make a fashion faux pas while trying to style grey pants.
However, that doesn't mean it's impossible to wear grey-colored trousers without making them look boring.
If you're not a professional model, you'll certainly need some help with styling your grey trousers for a near-perfect outfit. Here are some of the most matching apparel to wear with grey trousers for the perfect outfit.
Classy Outfits with Grey Jeans
1. Long Sleeve Crop Top with Grey Jeans + Boots + Body Cross Bag + Sunglasses
The crop top detaches from the grey jeans, creating a fashionable outfit that isn't overbearing. This outfit is best for casual events and gatherings, especially in the hot summer.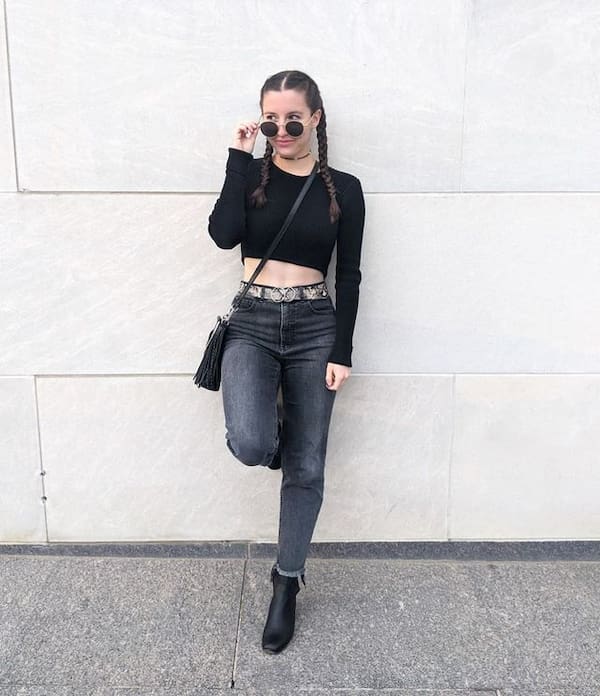 2. High Waist Biker Crop Top with Grey Jeans + Trainers
This outfit is pretty similar to the preceding, but the handbag and sunglasses are gone. Still works for the same events as the preceding outfit with the trainers making for some extra comfort.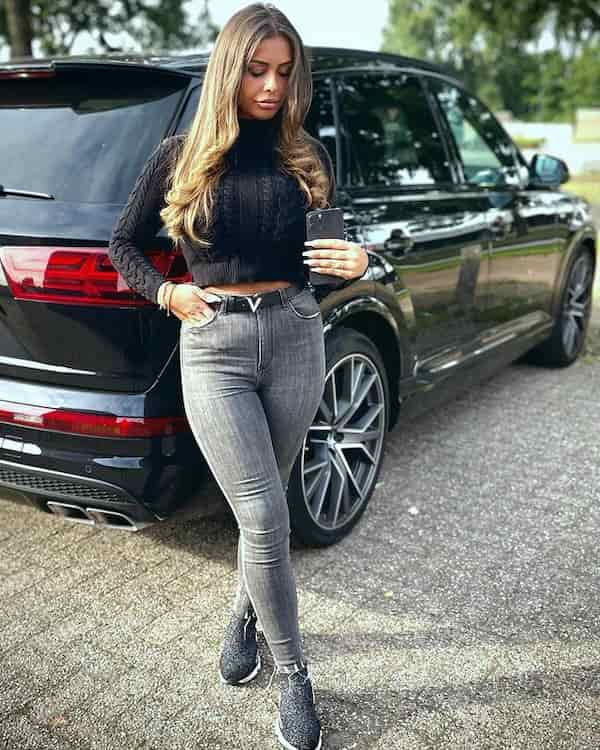 3. White Shirt + Blazer + Grey Jeans + Sneakers + Handbag
Carrying a black handbag always seems to work well with grey jeans, regardless of how the rest of the outfit looks. The black handbag beautifully complements the white shirt and blazer, making the outfit look just perfect.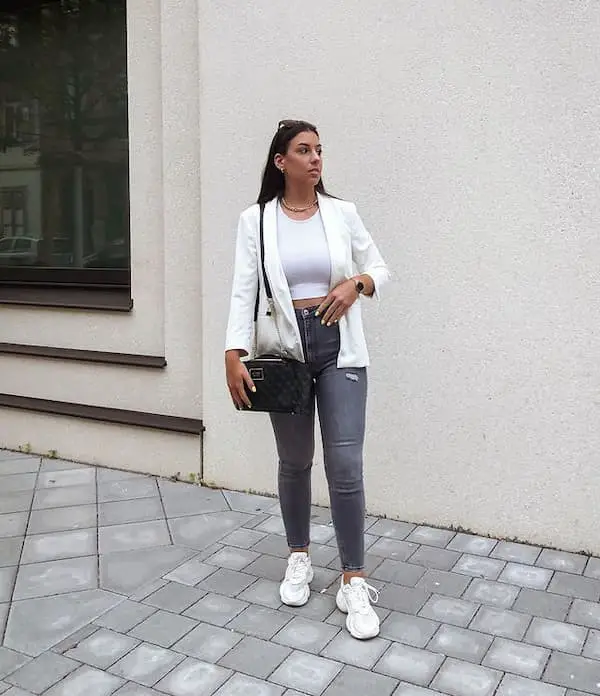 4. Grey Tee + Winter Jacket + Grey Jeans + Sneakers
If you're wearing grey trousers in the winter, you may want to complement them with equally grey apparel to make for a fluid outfit. Here is a classy outfit for inspiration if you think that's a great idea.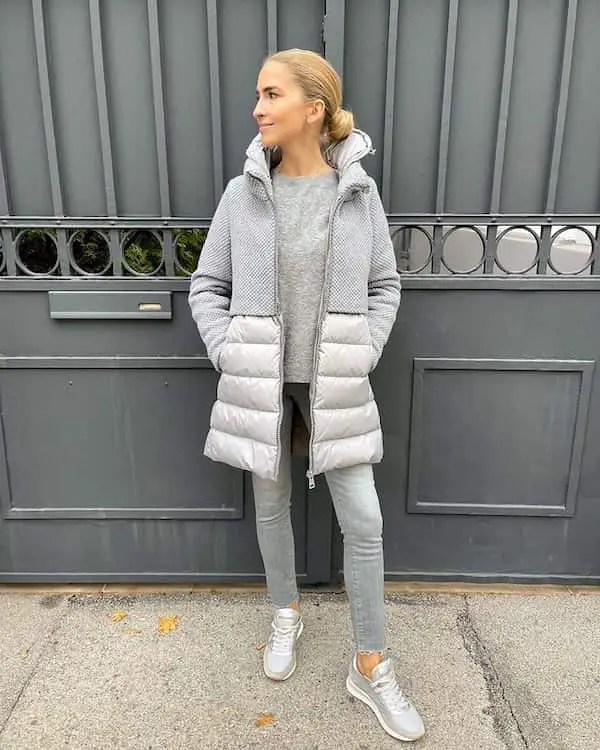 5. One-Handed Top + Oversized Blazers + Grey Jeans + Heels + Handbag
You'd typically want to recreate this outfit inspiration when going out for casual events like a road trip or to see a movie, and it's not forbidden in a work environment too.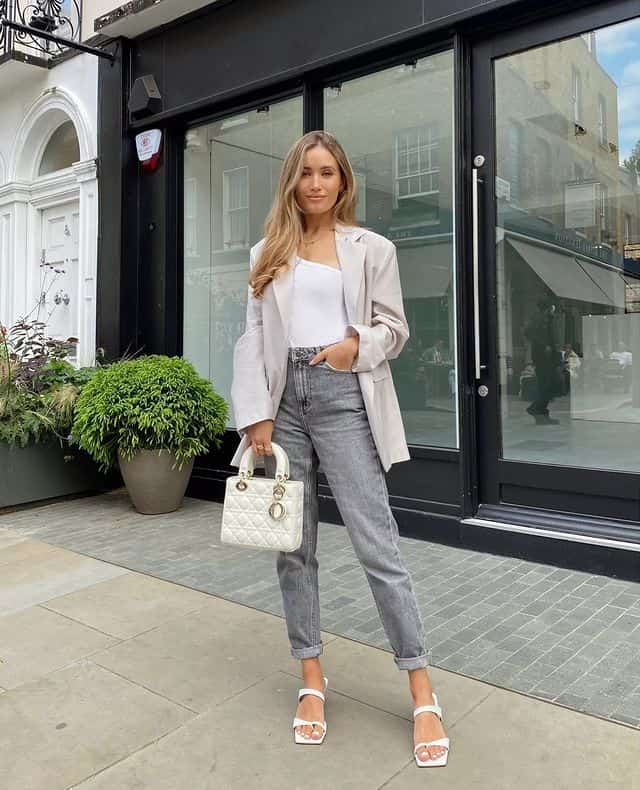 6. Winter Top + Grey Jeans + Boots + Sweat Cap
You'd be hard-pressed to find a winter outfit that looks better than this outfit idea. To keep it casual and chic, you should consider recreating the colors precisely.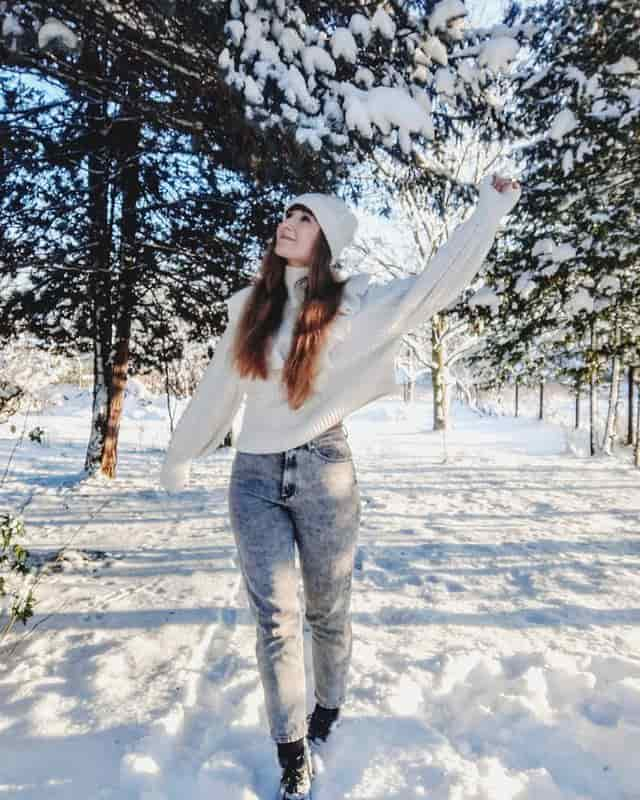 7. Grey Tee + Black Leather Jacket + Grey Jeans + Sneakers
While a grey tee works fine with grey jeans, adding a black leather jacket to it prevents your outfit from being boringly monotone. A pair of sneakers complete the casual look that most people shoot for with a pair of grey pants.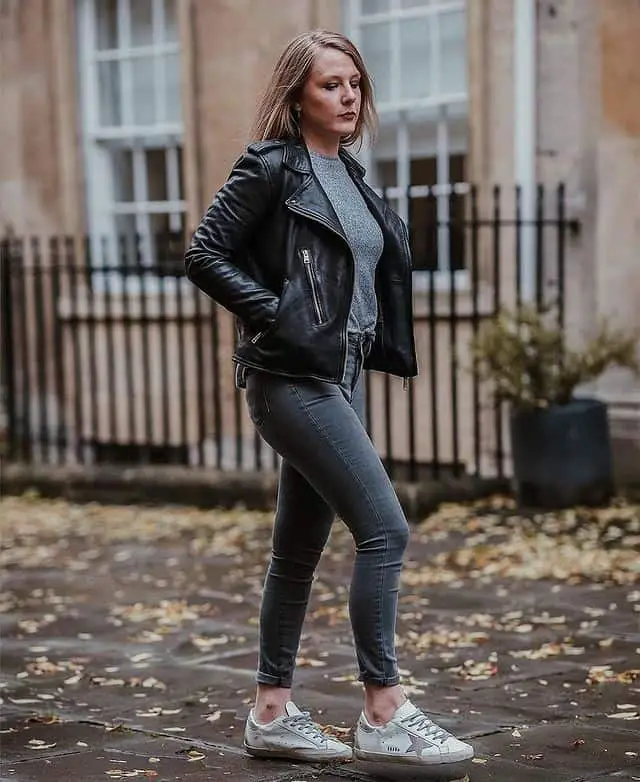 8. Button-down Long Sleeve Crop Top + High Waist Grey + High Heels Boots
Many ideas on this list have proven how a black crop top matches grey jeans perfectly. This outfit is just a minor twist on a proven outfit formula.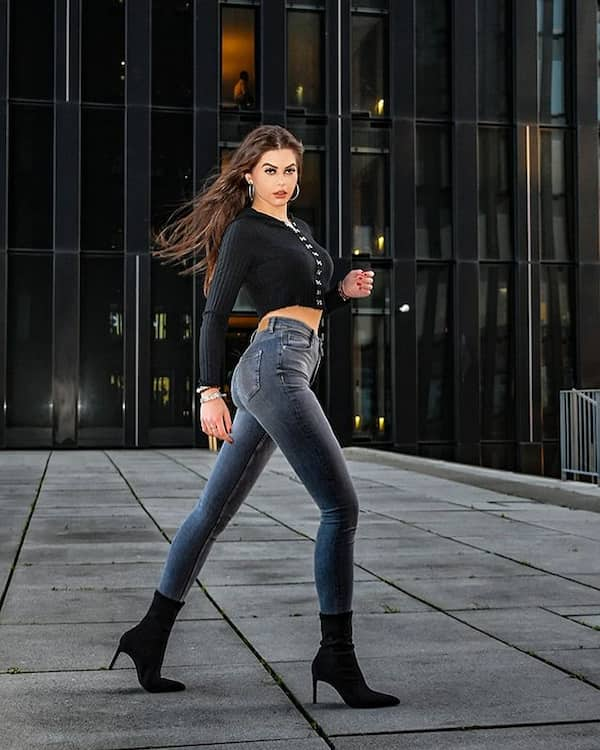 9. Strapless Top + Grey Jeans + Sneakers
A strapless top is a casual way to style grey jeans, especially during the hot summer. The white sneakers contrast the top beautifully to create a complete and casual outfit.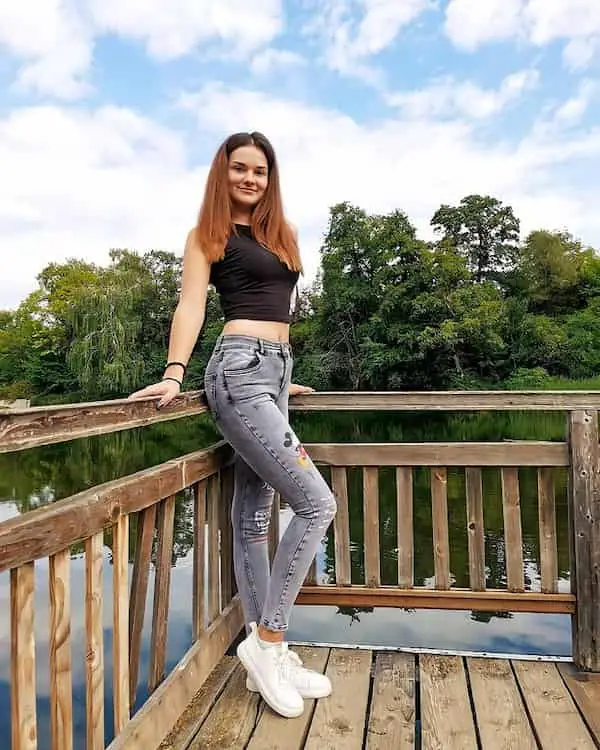 10. Button-down Shirt + Single Ripped Grey Pants + Heels + Sunglasses
Button-down shirts are commonly associated with guys, but no rules outlaw them for ladies. You can recreate this outfit with ripped grey pants to create the perfect independent look.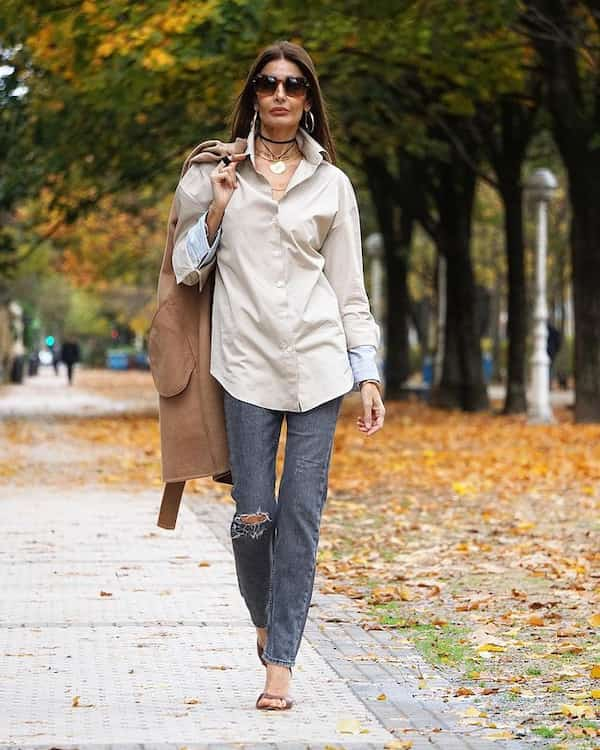 11. Graphic Black Tee + Grey Pants + Boots
Graphic tees are awesome, and they only go with trousers. If you're wearing a black t-shirt with an inscription, you may want to pair it with grey jeans, as indicated below.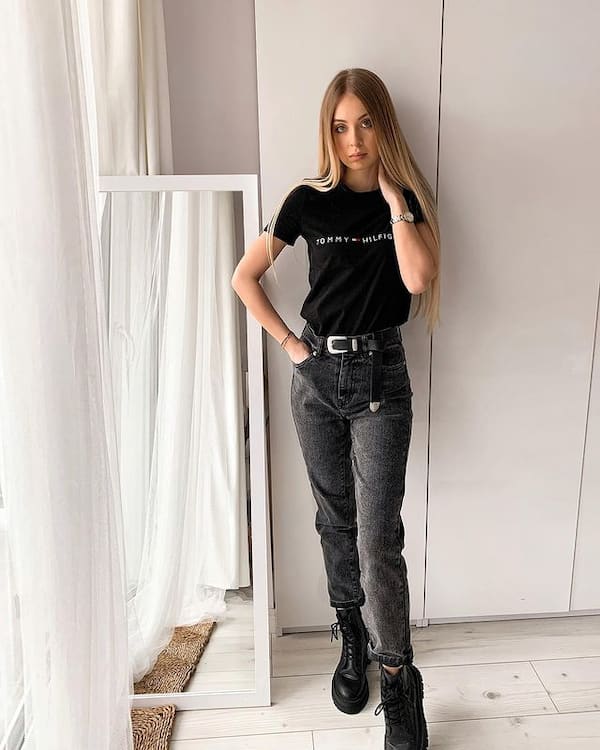 12. Shirt + Pea Cock Coat + Flared Grey Trouser + Sneakers + Handbag
It's frankly difficult to dress fashionably in the winter without running the risk of freezing. This outfit idea is designed specifically to keep you warm in the winter without making it overbearingly unchic.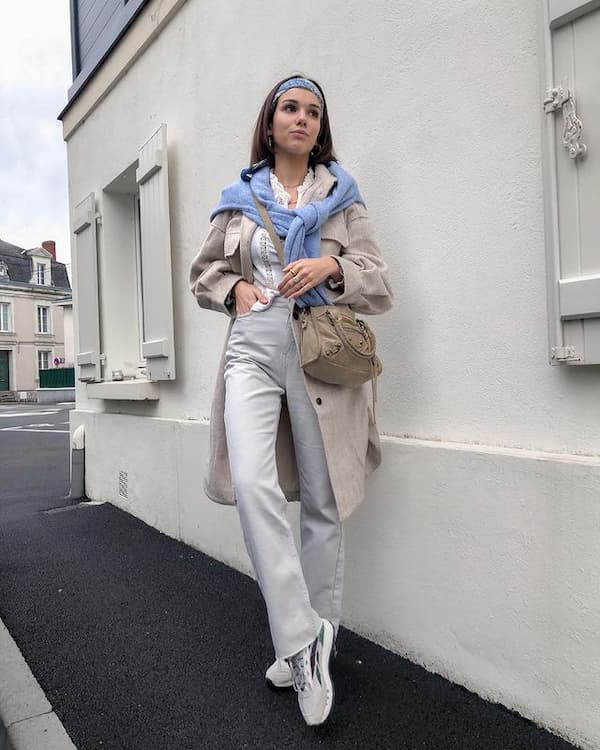 13. Thrifted Vintage Blouse + Vegan Belt + Grey Jeans + Vegan Loafers + Vegan Pocketbook + thrifted Sunglasses
If you're looking for something to wear to a wedding with grey trousers, you should consider recreating this outfit idea. The matching red handbag and loafers make this outfit my favorite by far.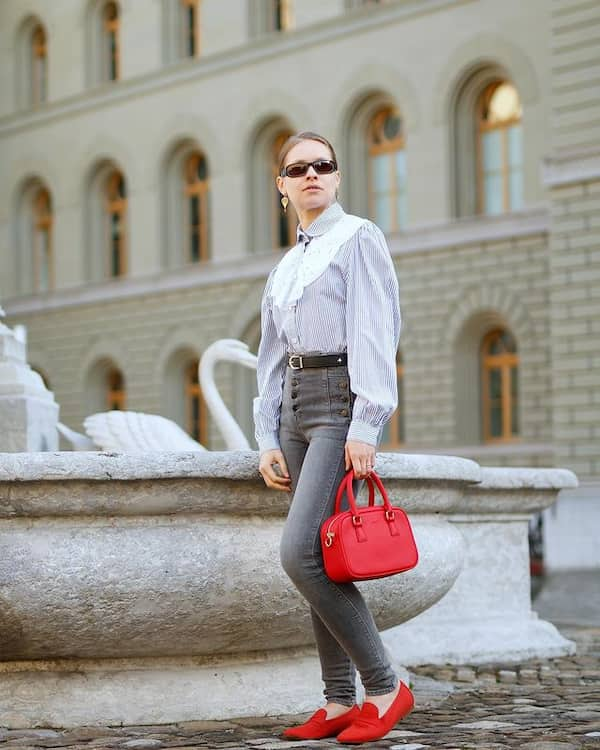 14. Grey Body Suit + Grey Slit Flared  Jeans + Heels + Handbag
This outfit may not be the best for most formal or professional events, but it's perfect for casual home wear. You also don't want to wear this to work if your workplace has a strict dress code.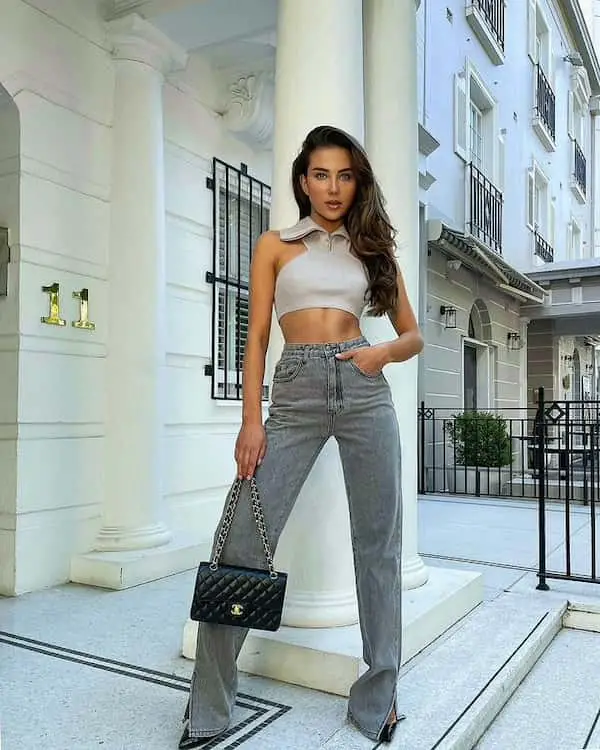 15. White Tee + Grey Cardigan + Grey Pants + boots + Handbag
While the preceding outfit idea won't make a good work outfit, this is the opposite of that. Trying out this outfit to work next week will certainly be a great idea!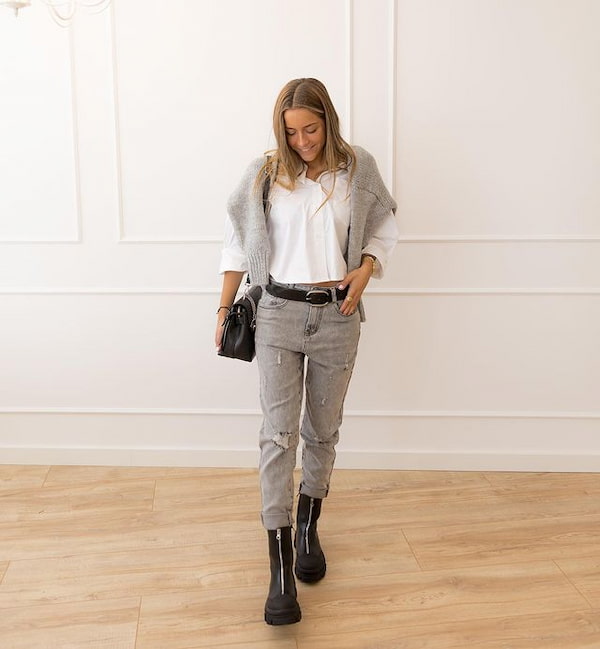 16. Seward Jacket + Grey Jeans + Boots
If you love simple outfits that don't look bland, you won't want to skip this outfit inspiration. It works for most formal and informal events, and it's a hit in the winter.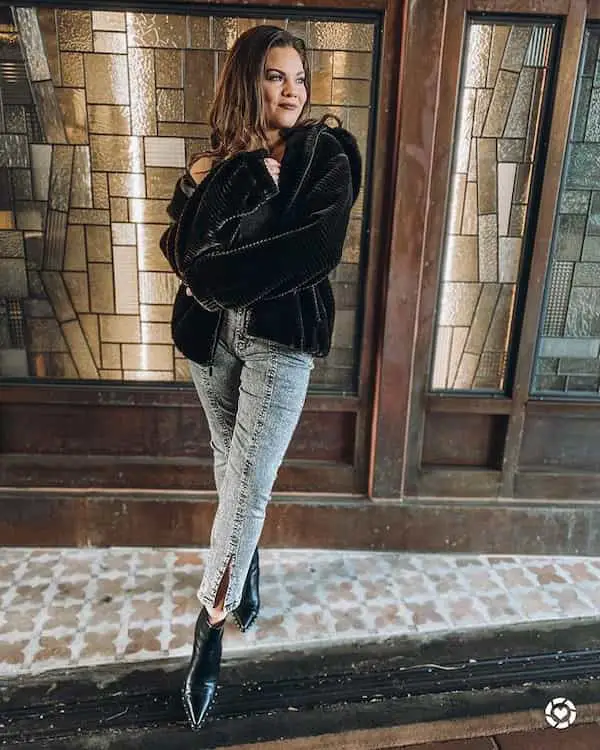 17. Graphic Tee + Grey Jeans + Basic Jacket + Sneakers
If you have a black-colored jacket, you can pair it with grey trousers and a pair of sneakers to make for an elegant outfit. If you're not a fan of bulky clothes, this outfit will inspire a significant part of your closet.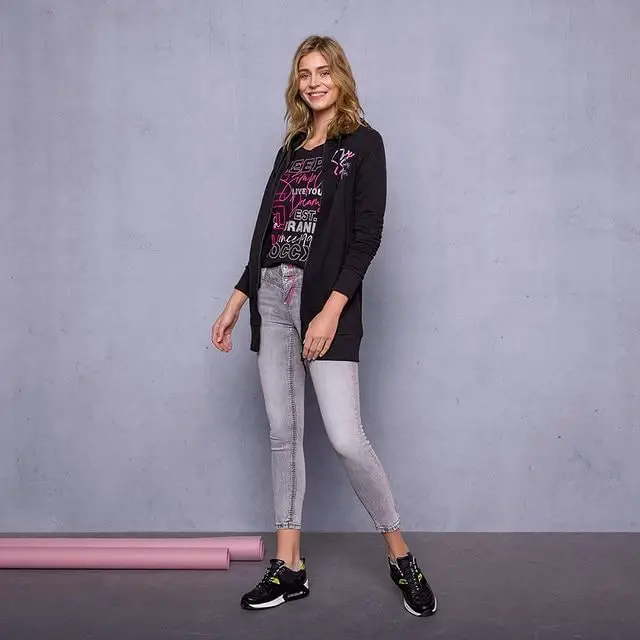 18. Evereve Shirt + Bdakota Jacket + Grey Jeans + Sneakers + Handbag
The names may make the outfit sound sophisticated, but it's one of the simplest ways to wear grey jeans. Try replicating the precise colors and you'll have an alluring outfit that works for all occasions, including work.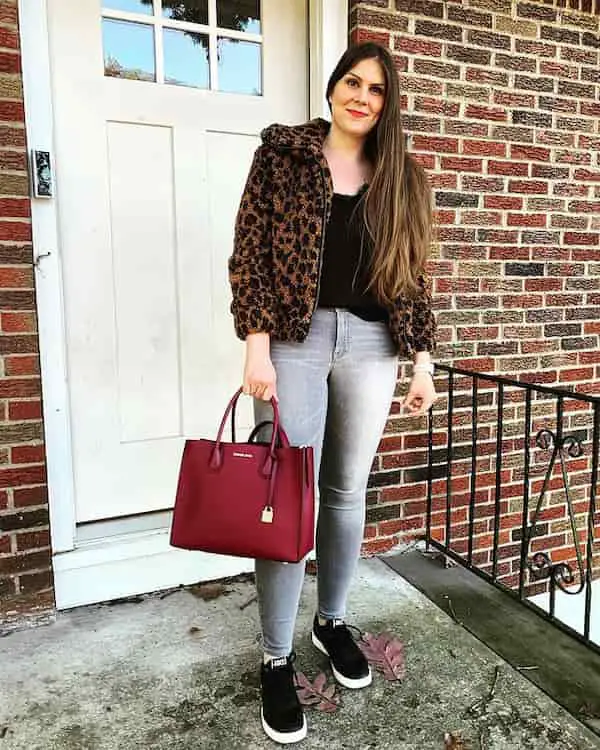 19. Glittering Top + Balloon Jacket + Loose-fitted Grey Jeans + Sneakers
You can feel comfortable, look great, and dress simply with grey jeans in the winter; just recreate this outfit inspiration.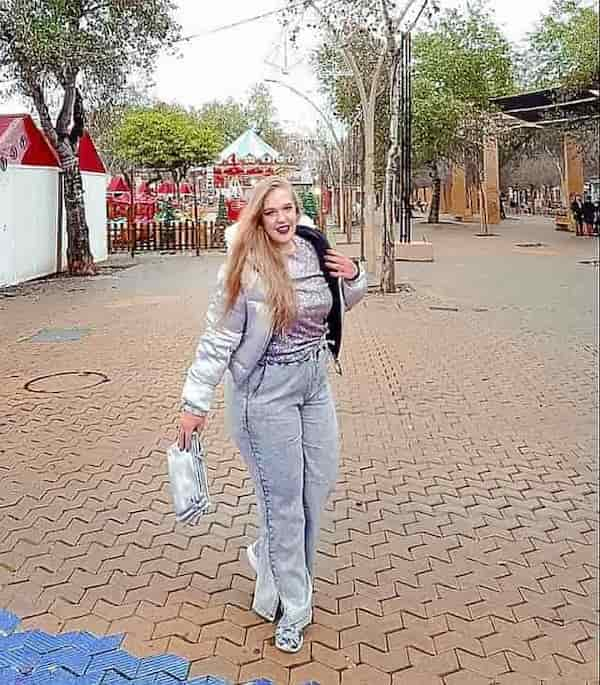 20. Graphic Tee + Grey Jeans + Black Belt + Chunky Sneakers + Handbag
While this article has focused on black tees with grey jeans, why not change it up to try something different. That's what happened here exactly, and it doesn't look too bad.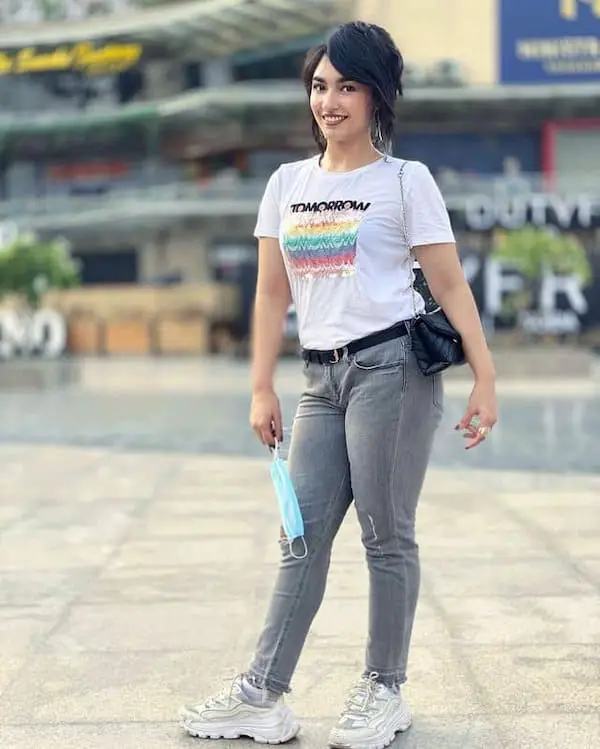 21. Silk Blouse + Grey Jeans + Studded Sandals + Handbag + Sunglasses
While white tees don't look terrible with grey jeans as evidenced earlier, black tops remain the best match. Don't leave out the sunglasses to make the outfit look fashionable.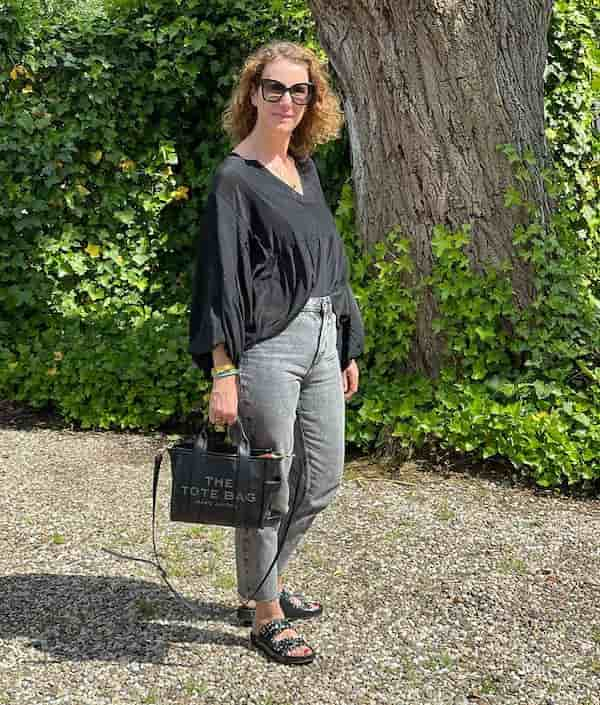 22. Basic Long Sleeve Shirt + Grey Jeans + Sneakers
You don't need a crop top or a graphic tee to look great in grey jeans. You can simply use that basic long sleeve shirt to recreate the outfit below, which works for casual occasions.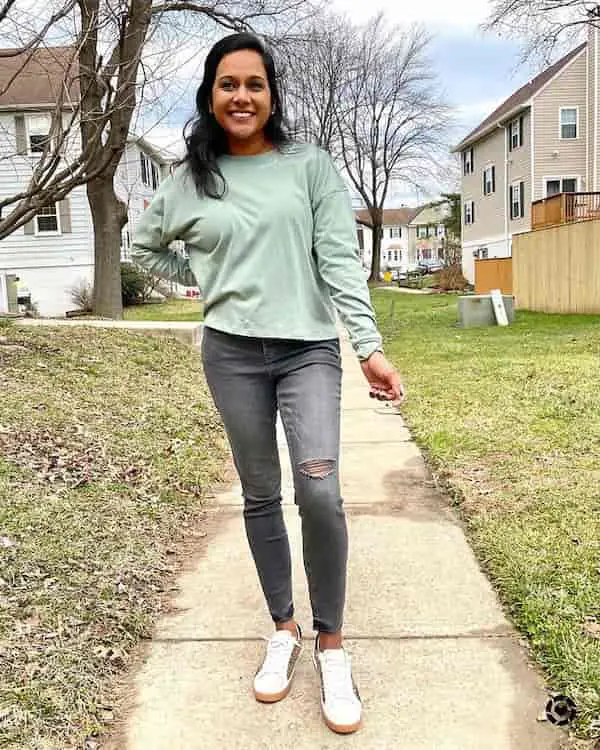 23. White Blouse + Grey Jeans + Cowboy Boots + English Hat + Handbag
The fashionable cowgirl look is getting increasingly popular, and you can recreate it with grey jeans using this chic idea.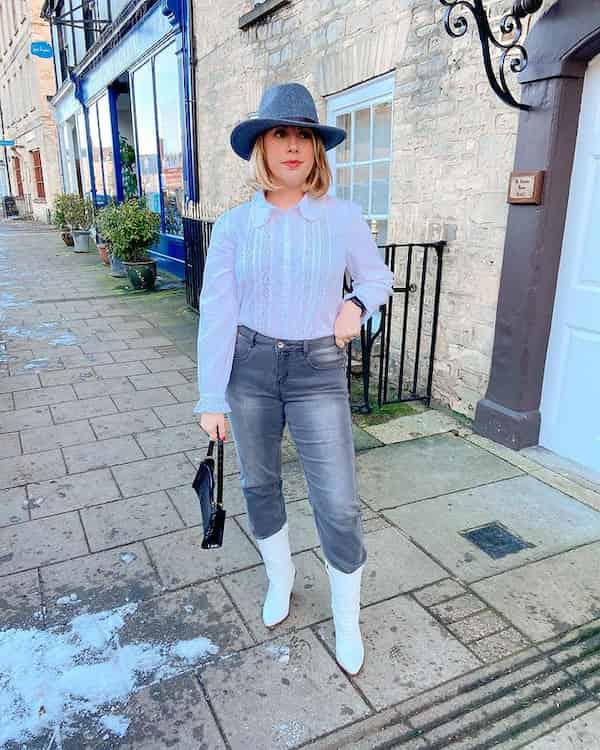 24. Embroided Flowy Top + Ripped Grey Jeans + Loafers + Handbag + Sunglasses
If you're a fan of embroidery, you have nothing stopping you from pairing your embroidered top with grey jeans. As long as your color choice doesn't create a fashion faux pas, you're good to go.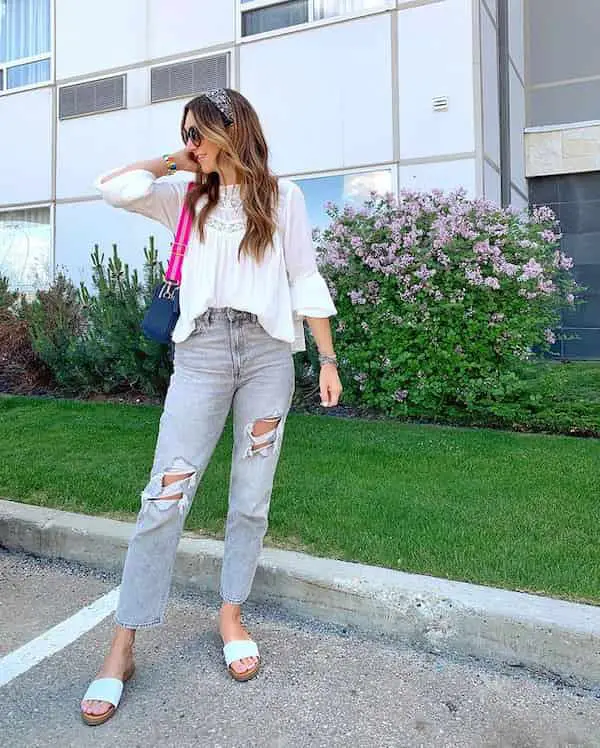 25. Grey Bodysuit + High Waist Grey Jeans + Heels
While this outfit isn't particularly sophisticated, it has an alluring yet simple look to it that makes it one of my favorites. Recreating this outfit should be easy, and you'll struggle to find events or gatherings where it doesn't fit.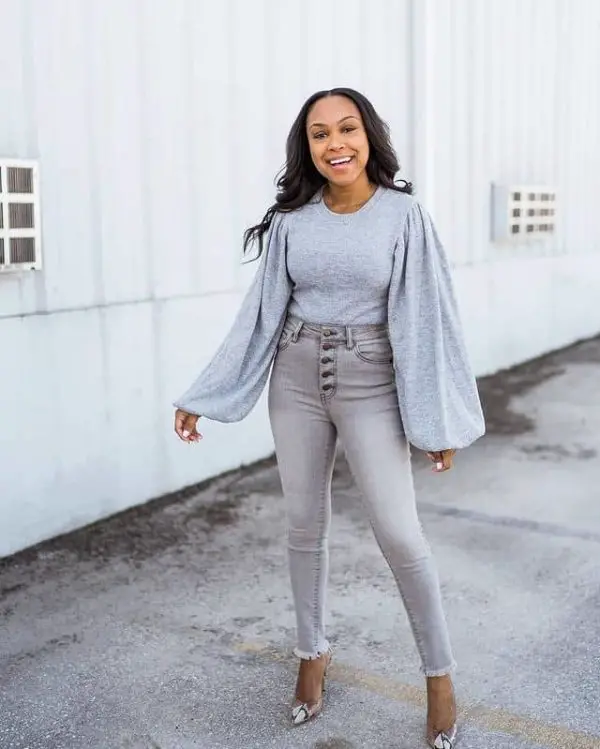 And that's all for my post on outfits with grey jeans. Want some more outfit ideas? Then you might want to check out these blog posts.
I hope you enjoyed this piece of content. Do well to rate this post, and don't forget to share this outfit compilation with your friends.
See you with more exciting inspirations. Trust me; you wouldn't want to miss any of our upcoming outfits compilation, so make sure to follow us on Pinterest.
Pin for Later.