You can't bring your entire wardrobe along on a vacation. This realization births the question: what are the best summer vacation outfits. Here is the answer.
It's the summer again, and it's exactly that time of the year when the vast majority of the population goes on vacation. Vacation is a time to get off work, try some fun activities, and most importantly, dress outside your workplace's strict policies.
But what are the most adorable summer vacation outfits to try when you have the chance? This article will answer that question with a collection of the absolute best summer vacation outfits for fashionable ladies.
Cozy Summer Vacation Outfits for Inspiration
Remember that you don't have to dress formally when on a vacation. Here are some of the outfits you may want to try when not trying to follow company policy.
1. White Crop Top with Cargo Pants + Sneakers + Handbag + Sunglasses
Starting on a simple note, a simple crop top with cargo pants sounds like a vacation classic. You can bring this along on a vacation for the numerous casual outings.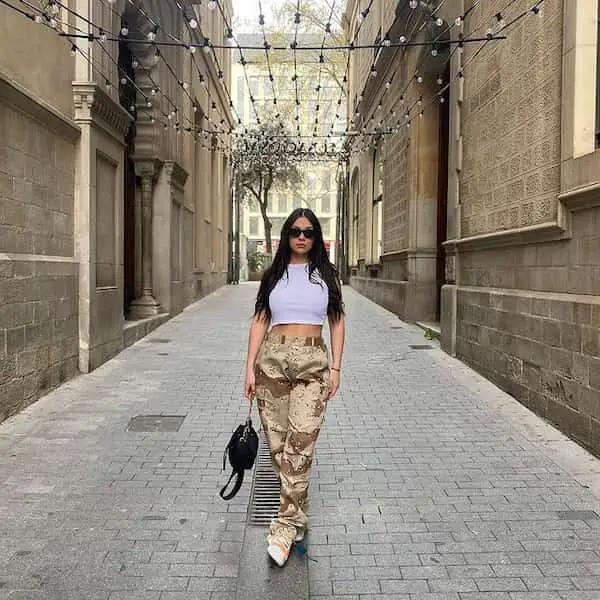 2. Two Piece Sleeve Crop Top with Maxi Skirt + Heels
A two-piece crop top with a giant skirt is a harmless outfit that you don't want to wear to work. Thankfully, you can try it out on your vacation, giving it a place in your clothing collection.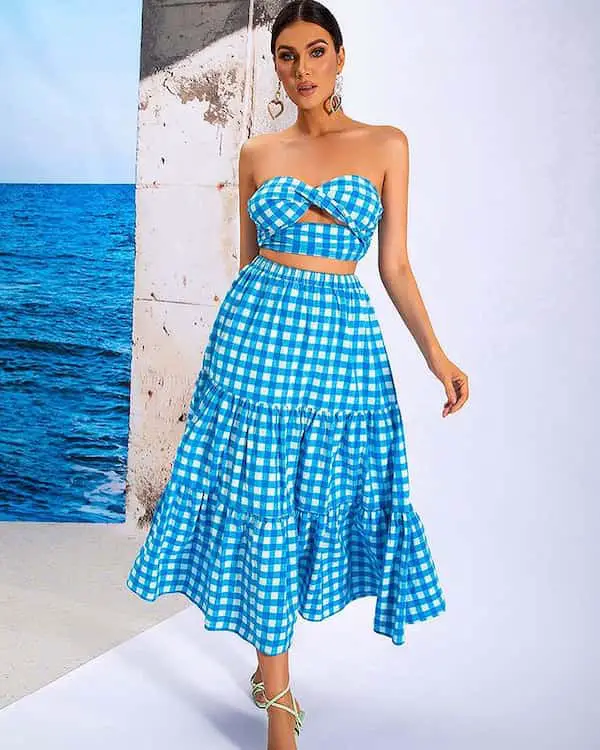 3. White Crop Top with White Mini Wrap Skirt + Slippers + Basket Handbag + Sunglasses
If you enjoy simple looks, you may want this as part of your vacation clothes bundle. The basket handbag isn't an absolute necessity, but it does make the outfit chicer.
4. White Balloon Dress with Heels + Handbag
Dresses have a place in your vacation clothing, and a balloon dress seems like a popular option. To look this chic, get a matching green handbag with heels and you'll wear nothing else throughout the vacation.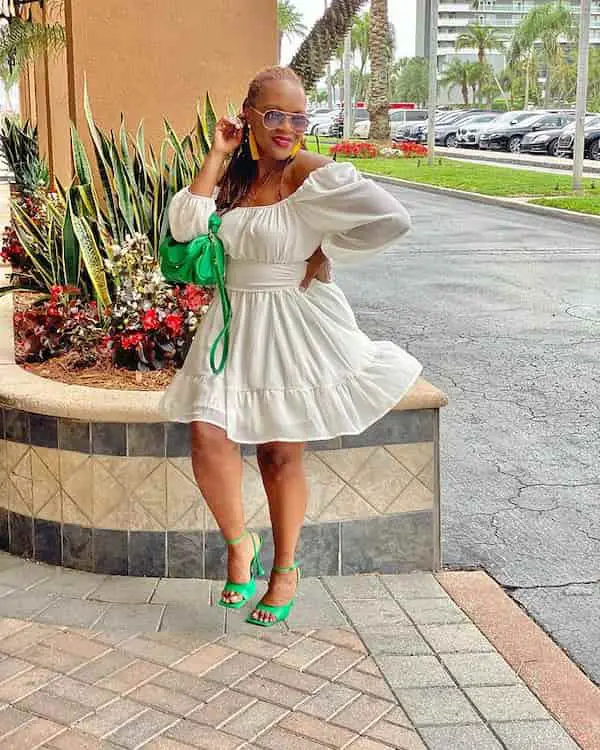 5. Floral Mini Jumpsuit with Sandals + Handbag + Hat + Sunglasses
If dresses aren't your thing, a floral jumpsuit is pretty close but different. This specific design looks especially elegant, and I don't mind it being part of my few summer vacation outfits.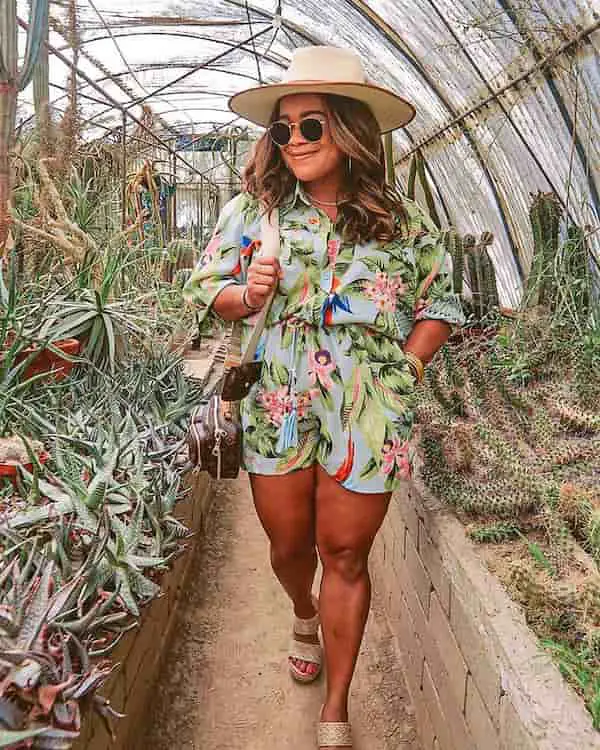 6. White Crop Top with Jacket + White Pants + Sneakers
For some air during casual outings, you may want to pack some white crop tops. The jacket makes it appropriate in most environments and the pants just make a perfect match.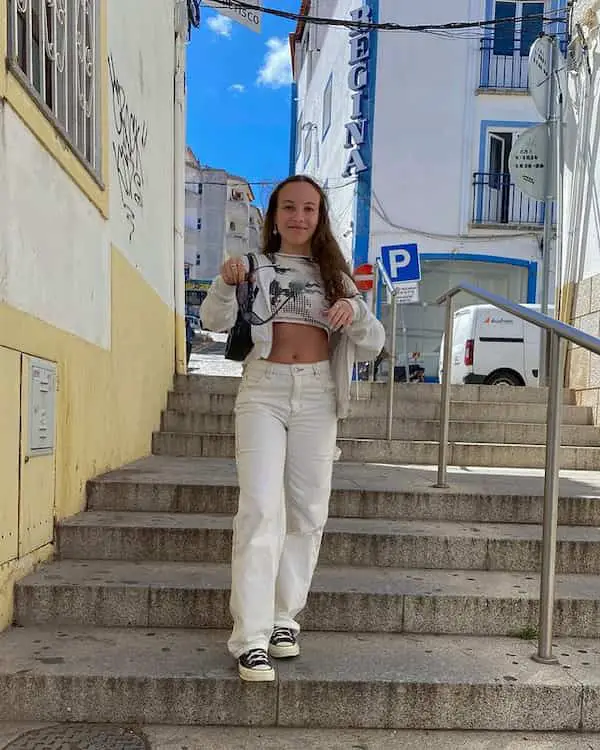 7. Pink Long Sleeve Shirt with White Shorts + Sneakers + Grocery Bag + Sunglasses
A long sleeve shirt becomes very appropriate for summer vacations when paired with shorts. That's exactly what's happening here, and it looks even better than I'd hoped.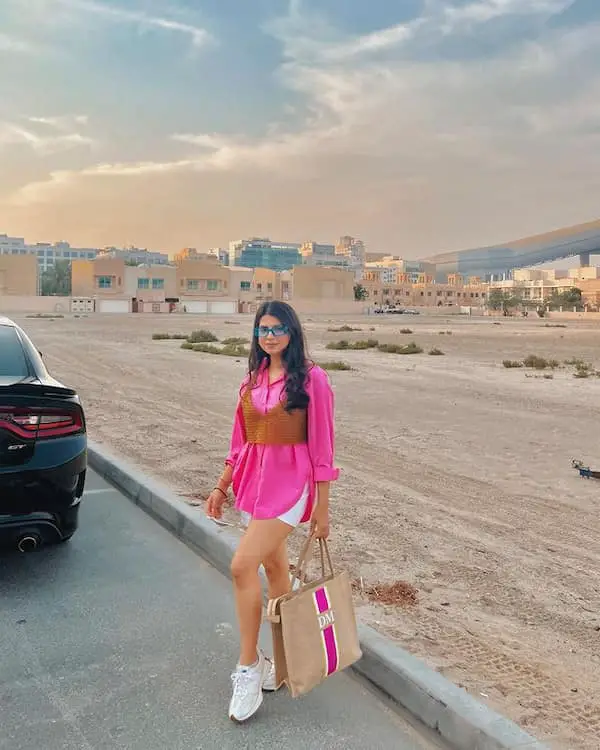 8. Black Long Striped Dress with Heels + Handbag
How about a long black dress with heels to create an all-black outfit? This comes in handy when you need to visit places, and the lack of sleeves makes it cool enough for the summer.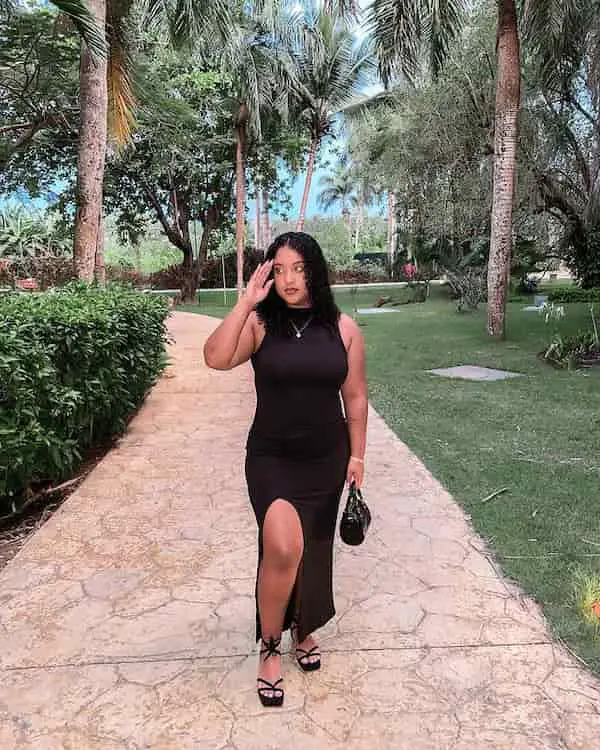 Bringing high cowboy boots along on a vacation may seem excessive, especially during the summer. However, can you blame anyone after seeing how amazing the model looks in this photo?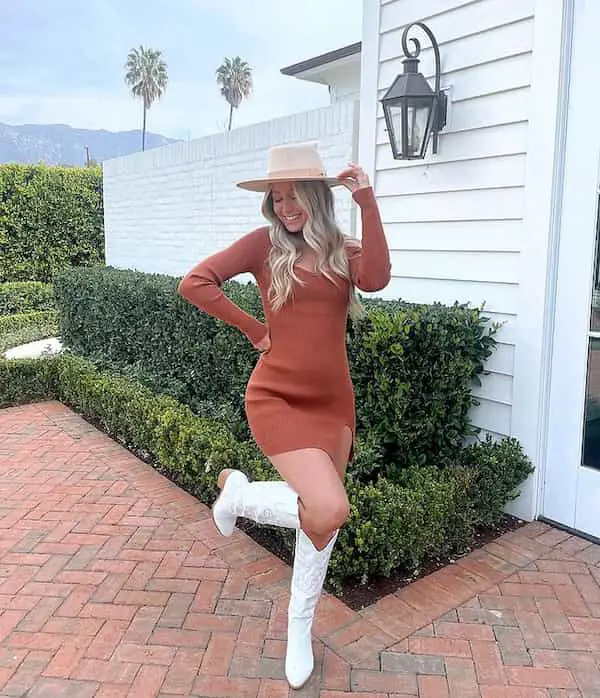 10. Pink Long Sleeve Shirt with Ripped Jeans Pants + Sneakers + Sunglasses
If you happen to fancy pink outfits, here's a classy idea for you. The pink sneakers deserve extra credit; the natural match it creates with the long sleeve top is underrated.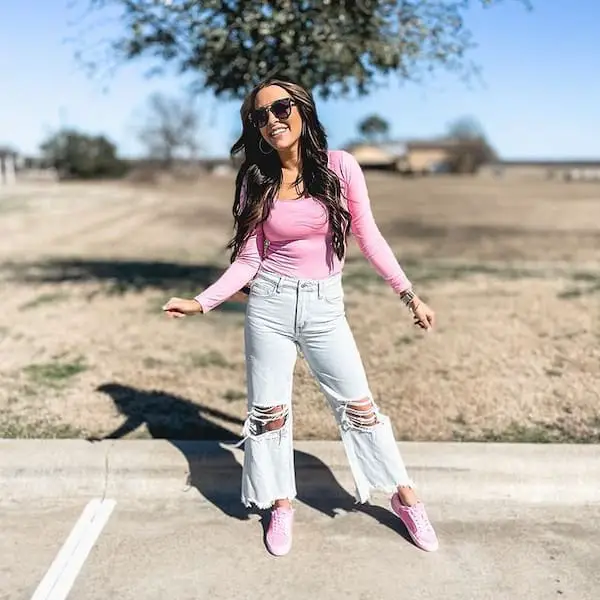 11. Floral Maxi Dress with Heels + Clutch Purse
If you need to drop at a casual gathering during your vacation, you don't want to dress like someone missing their wardrobe. A simple maxi dress with heels works, as she demonstrates in the picture.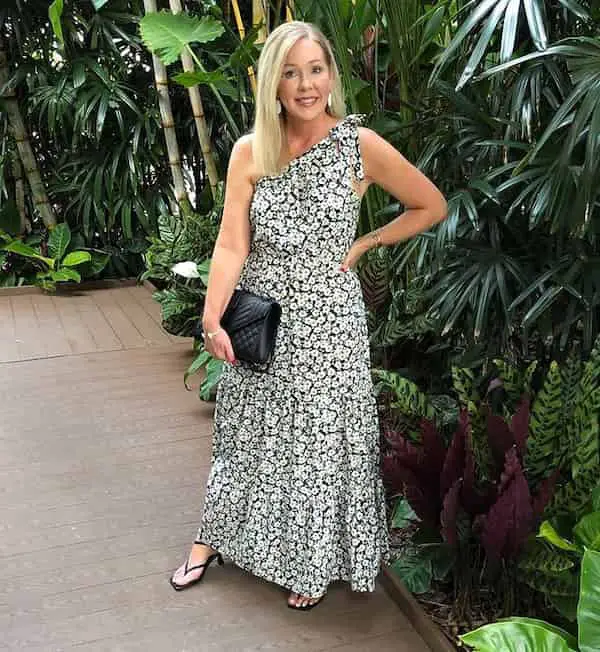 12. White Crop Top with Wide Flare Pants + White Mules
A white outfit may not be the best option for an eventful vacation, but there must be exceptions. With an outfit this chic, who daresay you shouldn't include one in your collection.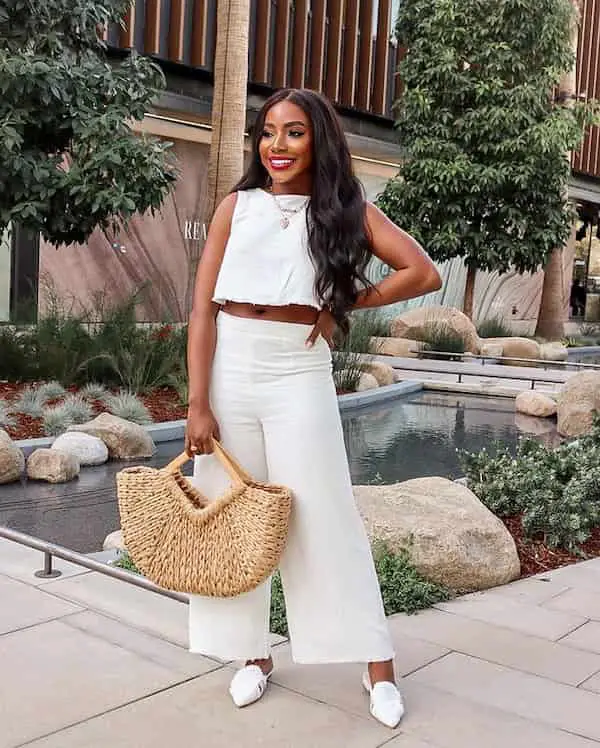 13. White Crop Top with High Waist Free Pants + Loafers + Basket Bag
It doesn't hurt to try to be as comfortable as possible during a vacation. Wearing free clothing items and avoiding heels will help you achieve that, and here's an outfit idea that incorporates those.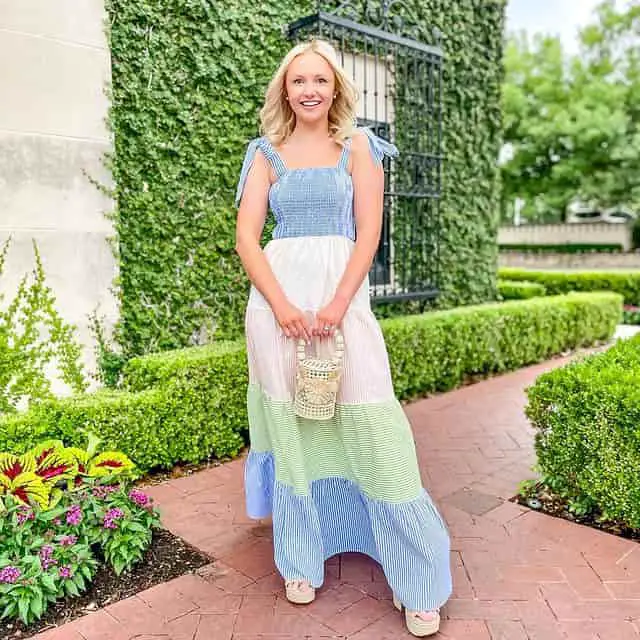 14. Spaghetti Hands Floral Maxi Dress with Slippers + Handbag + Sunglasses
Spaghetti hand dresses are simple, making them a good pick for a vacation. Add an adorable handbag and a comfortable set of slippers and you have perfectly balanced elegance with comfort.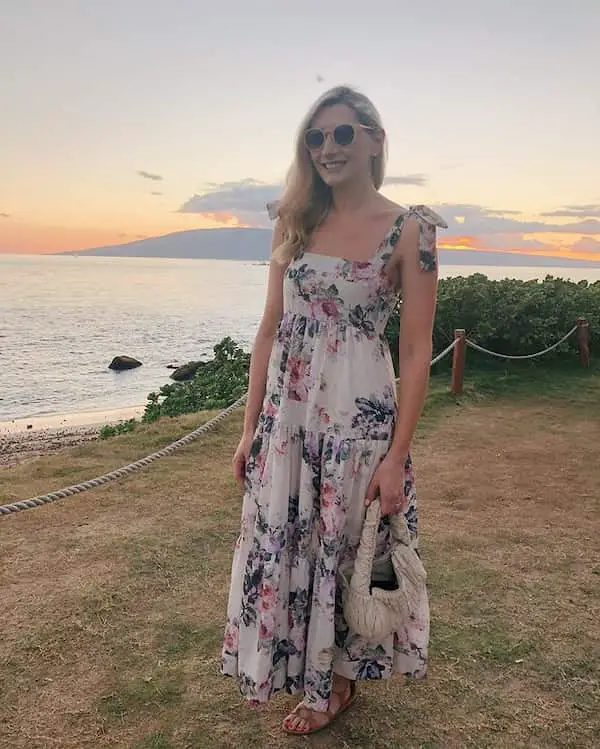 15. Sky Blue Maxi Dress with Heels
Simple outfits usually give you enough space to keep cool, making them awesome for summer vacations. Here's an excellent idea that you should consider bringing along on your next vacation.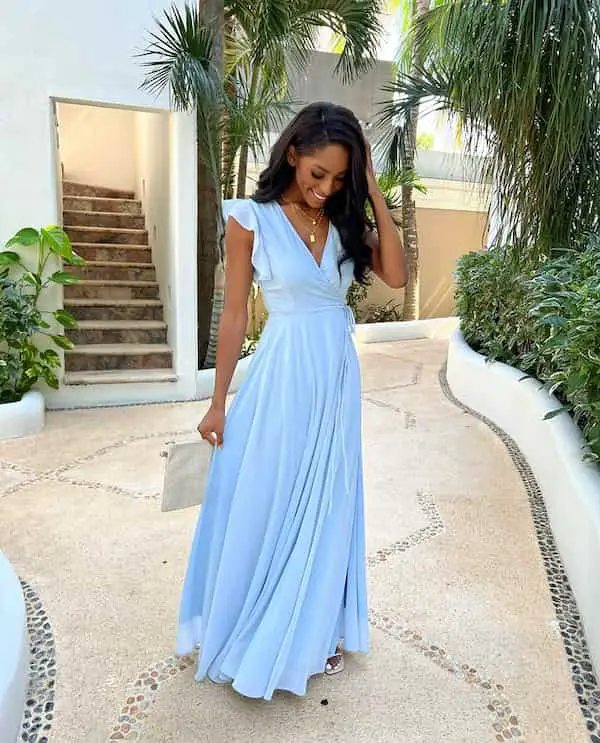 16. Spaghetti Hands Mini Dress with Heels
With the abundance of spaghetti dresses in this collection, explaining why this looks naturally chic is unnecessary. Replicating this outfit isn't much of a task; a simple dress with heels is all you need.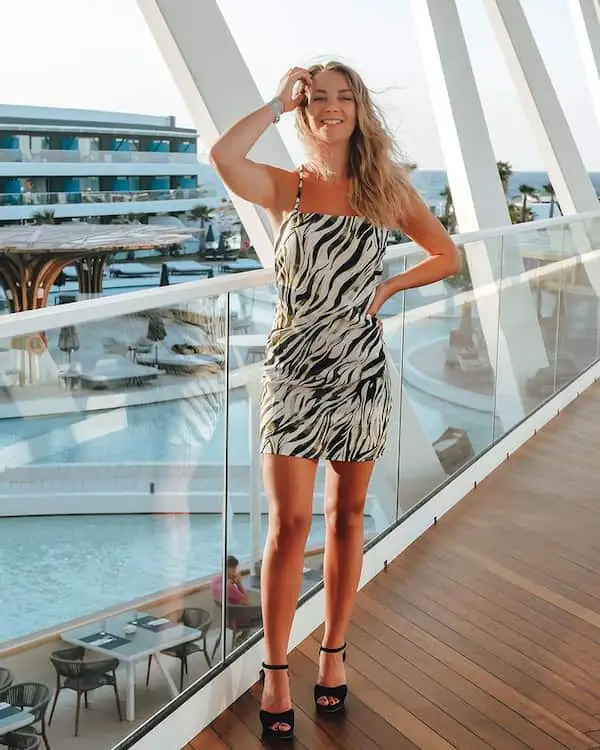 17. Crop Vest with Brown Striped Skirt + Sandals + Handbag
If you plan to do a lot of sightseeing during your vacation, you'll need clothes that will make that easy. Outfits that balance comfort with chicness like this are all you need for eventful summer vacations.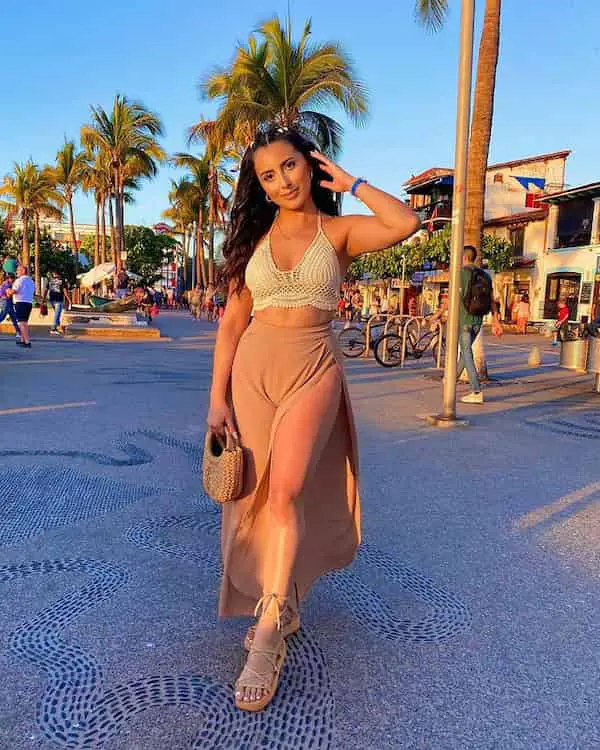 18. Green Feather Long Sleeve Crop Top with Polka Dot Pants + Heels + Sunglasses
Mixing two or more unconventional clothing materials doesn't usually make a masterpiece, but this is an exception. Perfect wear when you need to get to events during your vacation while keeping chic.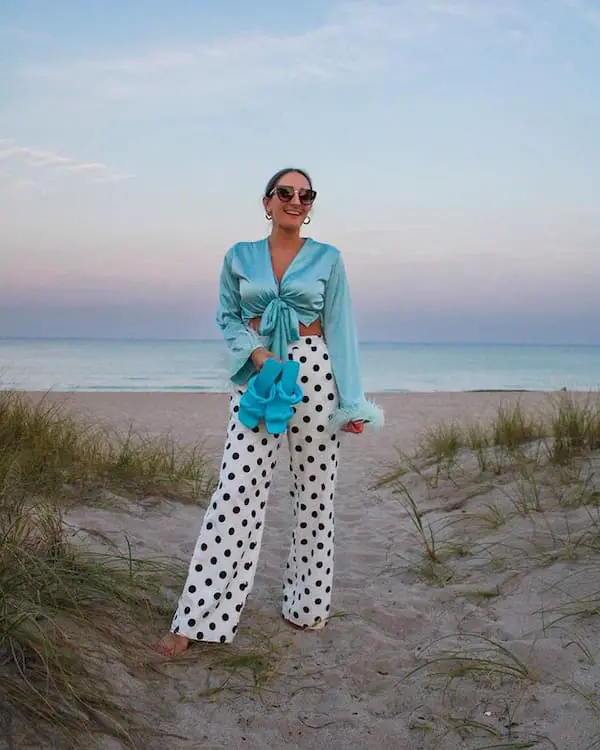 19. Black Spaghetti Hands Dress with Heels + Sunglasses
Another spaghetti hands dress for the times when you only need comfort. While this does feel comfortable, it also stands out for its chicness, which you can also attest to, thanks to the image.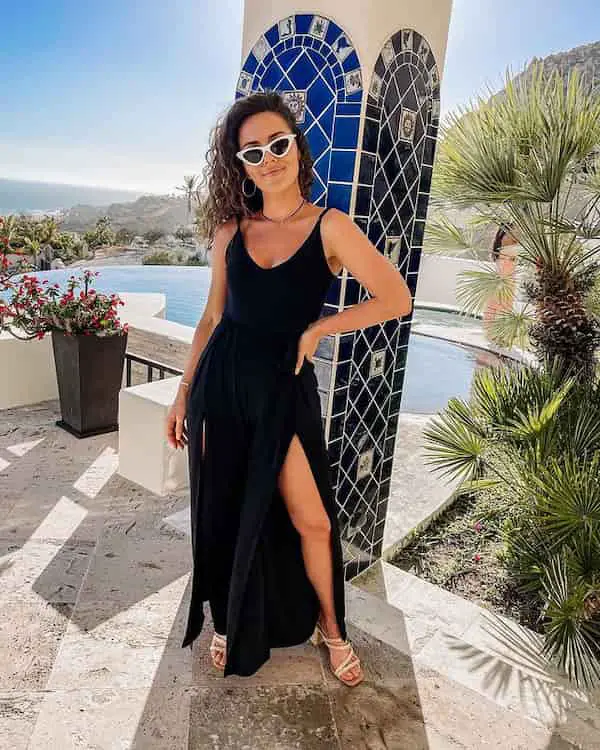 20. Maxi Linen Dress with Slippers
When it comes to dressing for a summer vacation, dresses are usually a decent option. Here is another excellent idea to try, designed specially to keep you cool in the heat.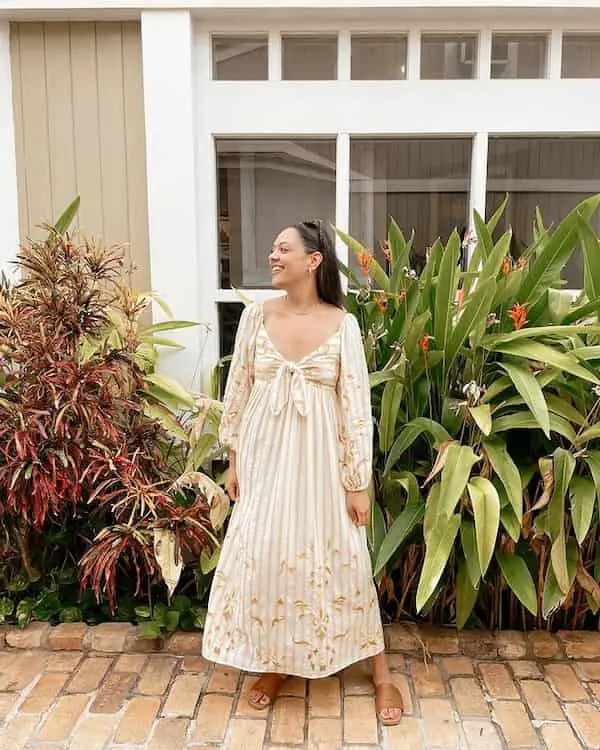 21. White Crop Top with Sky Blue Jacket + Sky Blue Shorts + Sneakers + Handbag + Sunglasses
Sky blue is one of my favorite colors, making this outfit stand out to me. Not only will the colors make it easier to keep cool, but the outfit is also cohesive and chic, making it one of the best summer vacation outfits.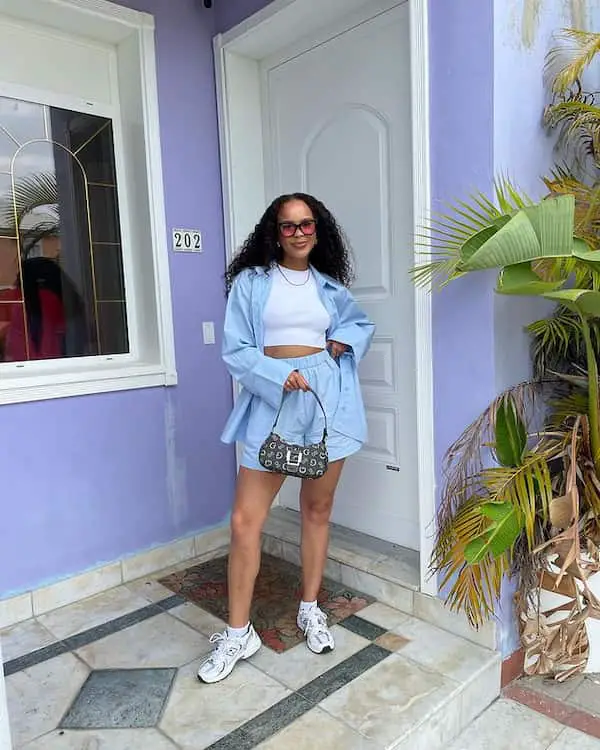 22. Brown Vest with Black Free Pants + Slippers + Hat + Basket Bag + Sunglasses
A vacation involves sightseeing, which should compel you to dress like an adventurer. Here is an outfit idea for vacations in the summer that gives you the unique "ready to go" look.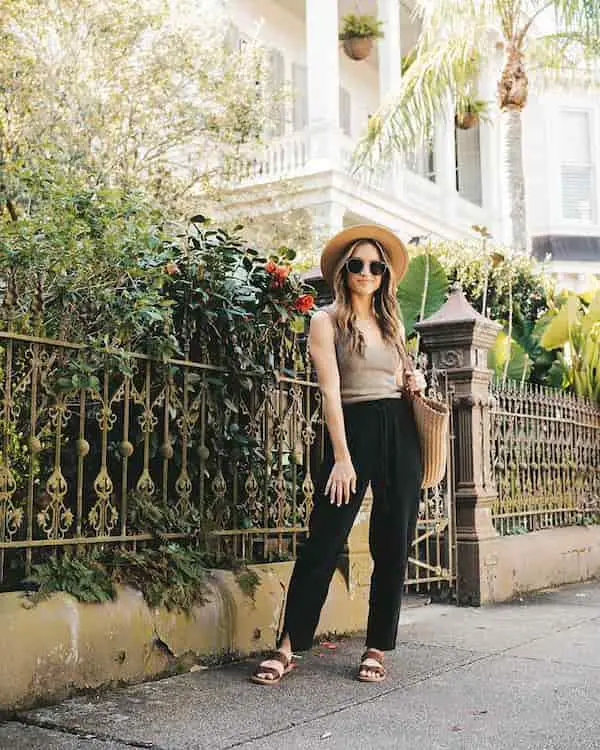 23. White Maxi Romper + Heels + Hat
A maxi romper is another excellent outfit for the summer. If you think the scenario deserves a romper, here's one of the chicest ways to style one during an eventful summer vacation.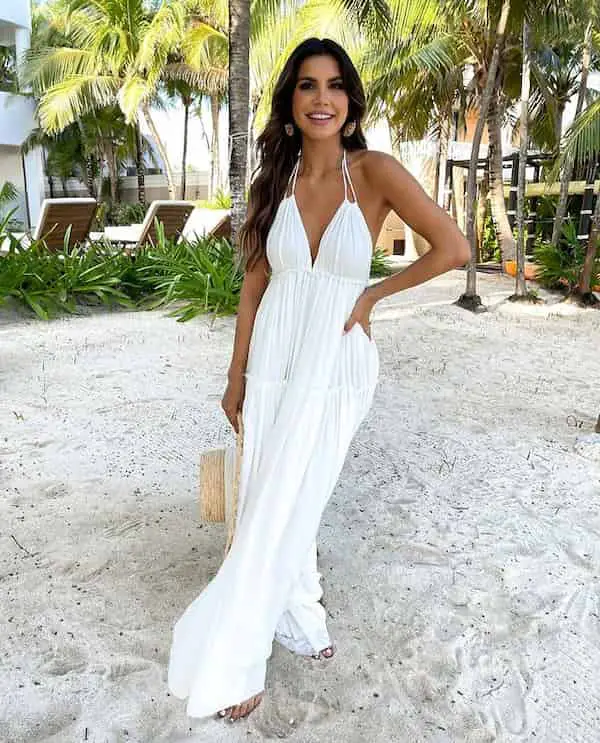 24. Floral Dress with Slippers + Sunglasses +  Clutch Purse
An item I can't imagine omitting from the best summer vacation outfits is a floral dress. While you'll usually need more than one, here's one that looks great.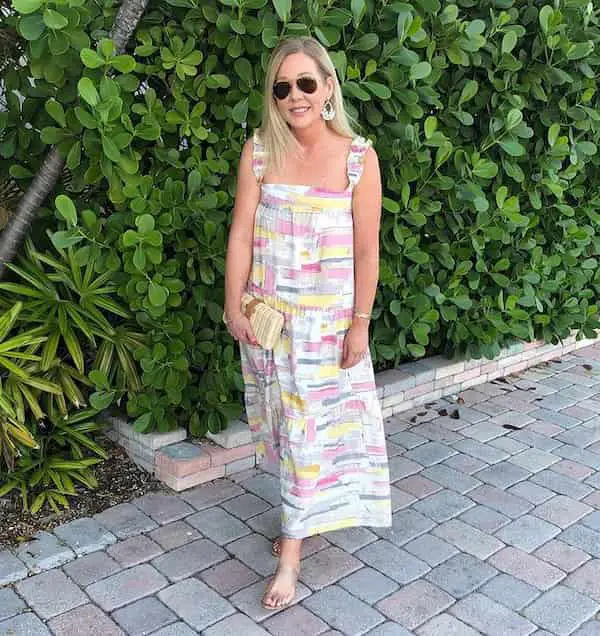 25. Two Piece Crop Top with Striped Skirt + Handbag
A floral dress is great, but what if you need more elegance than a dress can offer. Not only is this chicer than your average floral dress, but it also keeps you cooler since it covers a considerably less surface area.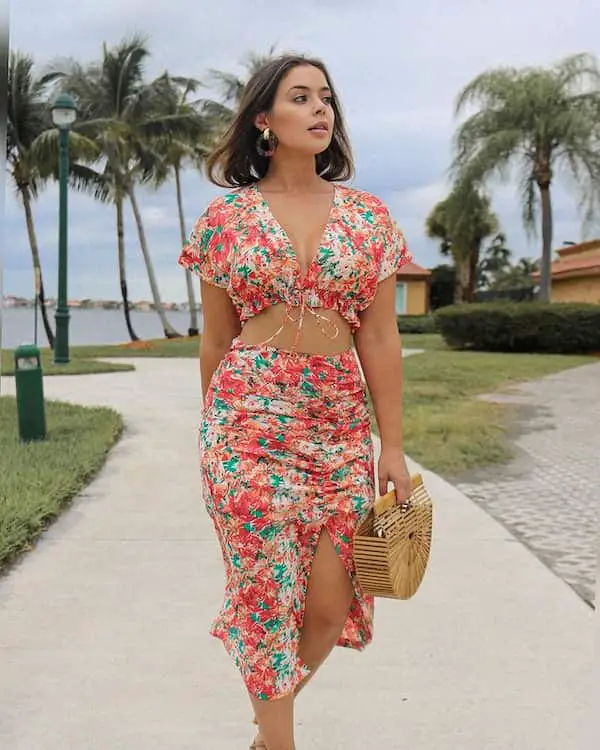 And that's all for my post on excellent summer vacation outfits to consider packing. Want some more outfit ideas? Then you might want to check out these blog posts.
I hope you enjoyed this piece of content. Do well to rate this post, and don't forget to share this outfit compilation with your friends.
See you with more exciting inspirations. Trust me; you wouldn't want to miss any of our upcoming outfit compilations, so make sure to follow us on Pinterest.
Pin for Later.