Are you looking for what to wear with Thigh-high Boots for a night out? In this post, I'll share with you 25 cute outfit ideas.
While nobody has ever complained that knee boots are too short, thigh-high boots are fast becoming a trend. When trying to embrace this trend, you should select your outfit choice carefully to avoid making a fashion faux pas.
If you're not especially proficient with styling relatively new but trendy outfits, don't fret. This article is basically a collection of some of the best ways to wear thigh boots beautifully.
You can copy any of the outfit ideas below to create an outfit for home, play, or work. With that said, let's get browsing.
What to Wear with Thigh-High Boots for a Night Out
1. Black Turtle Neck Shirt with Leather Jacket + Blue Jeans with Thigh High Boots
While dark outfits may make you less visible at night, most people don't walk along the streets during a night out. If you're part of those people, this outfit idea is a must-try.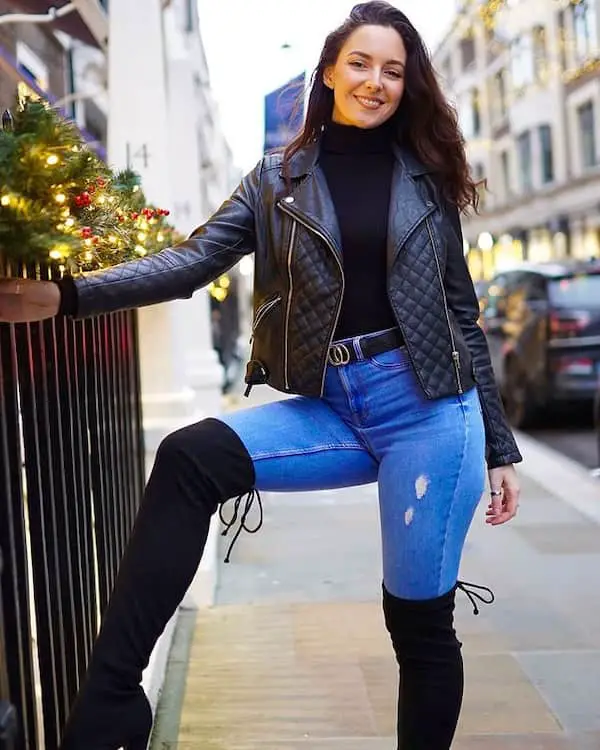 2. Graphic Long Tee With Satin Thigh High Boots
A long graphic top and thigh-high boots leave just enough skin to make your outfit look appropriate. The chicness shouldn't tempt you to wear this to work, remember we already agreed it's a night out.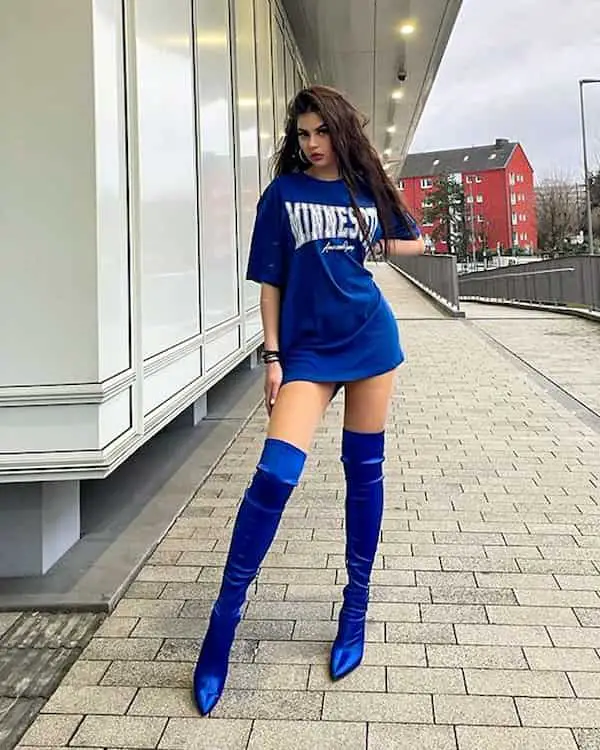 A spaghetti mini dress is best for cocktail parties in the winter, and that doesn't exclude night parties. Wearing thigh boots of a matching color creates a kind of unmatchable elegance.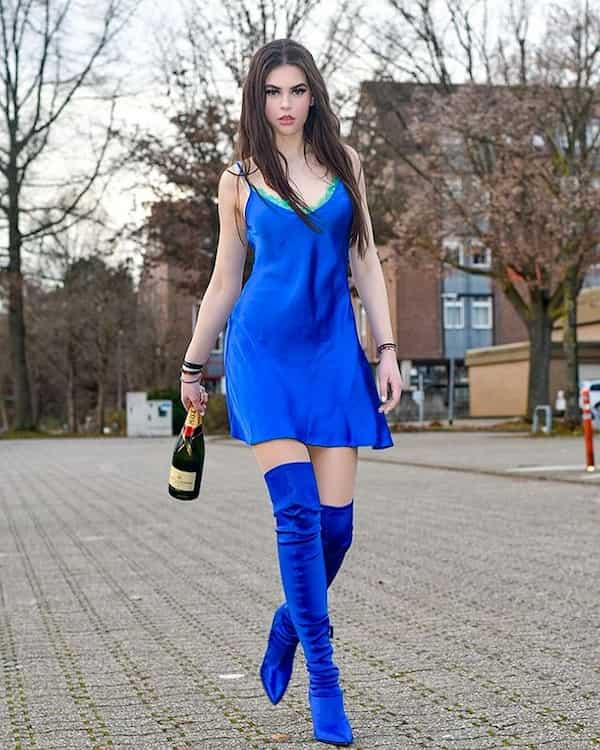 4. White Shirt + Soft Blanket Cover + Mini Skirt with Thigh-High Boots
If you're styling thigh boots with a mini skirt and a regular shirt in the winter, you'll want to come along with a blanket cover, just in case.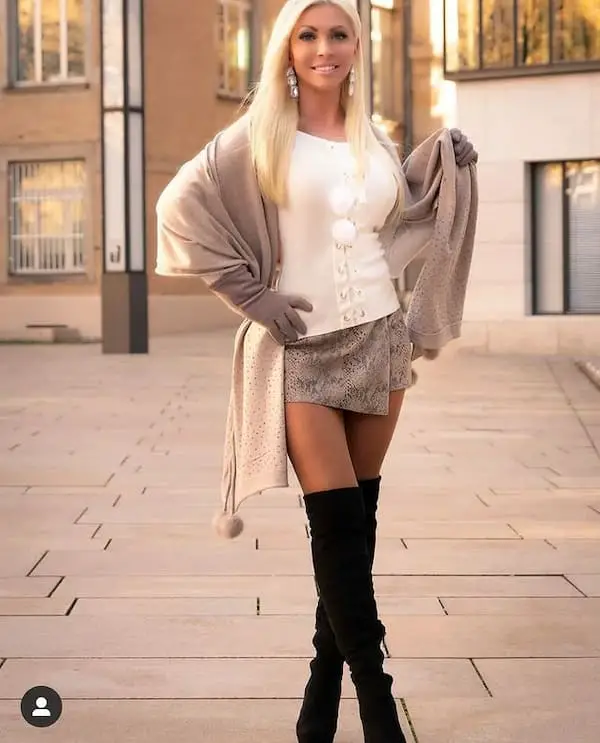 5. Tied Mini Gown with Thigh-High Boots
Wearing a mini gown saves you the trouble of having to select different clothing accessories to match. If you're in a hurry, this is certainly the outfit to replicate for your night out.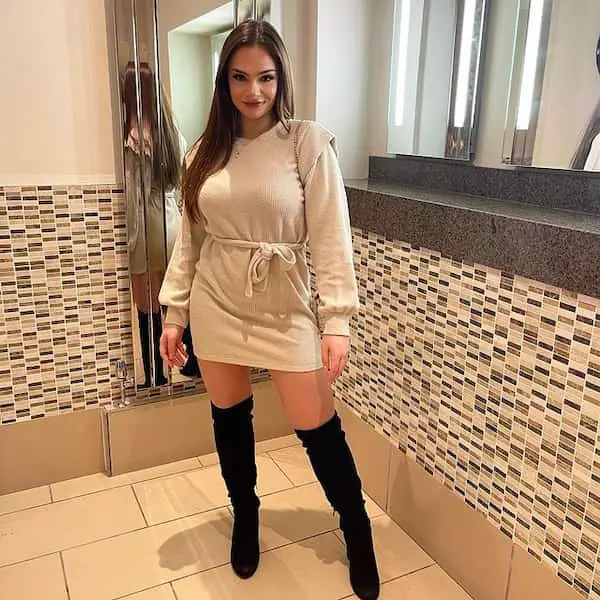 6. Crop Inner Vest with Black Long Sleeve Shirt + Jeans Pant + Leather Thigh-High Boots + Handbag
Going for a night out in the summer gives you the liberty of dressing however you want. If you don't have any dressing constraints, you should definitely consider recreating this beautiful outfit idea.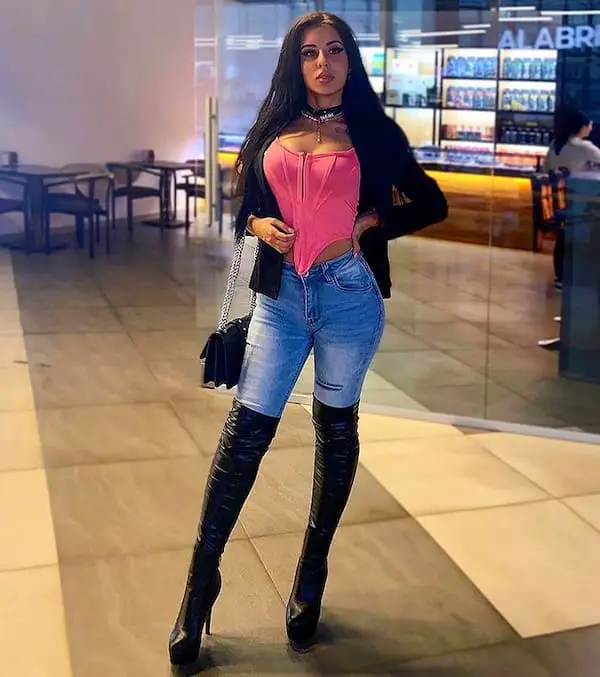 7. Animal Print Mini Gown + Leather Thigh-High Boots
A mini gown of animal print mightn't be very popular at the moment, but thigh boots aren't popular either. This inspiring outfit proves that you can actually pair two relatively unpopular apparel to make a chic outfit.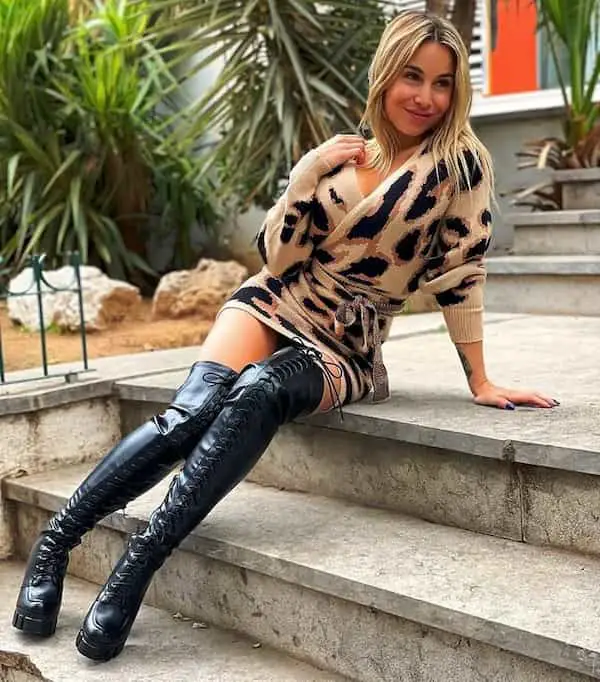 8. Vintage Embroided Mini Dress with Thigh-High Boots
A mini dress is all you need for a night out, but the embroidery adds extra flair. You may want to consider recreating this outfit if you love wearing all-black outfits.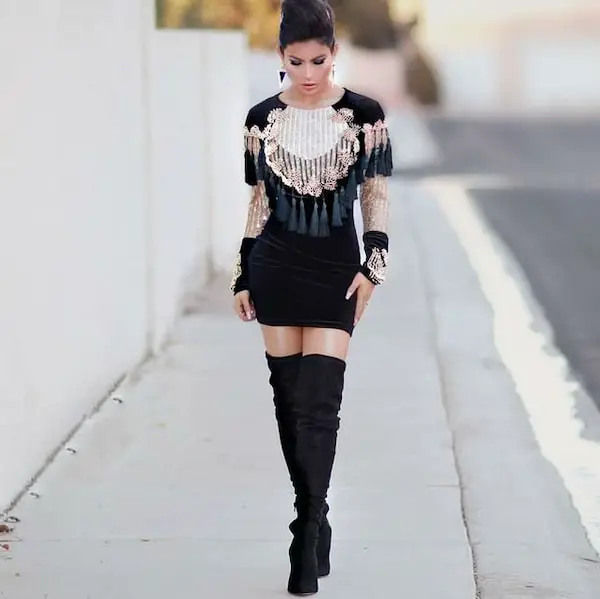 9. Mini Tight Long Sleeve Dress with Thigh-High Boots
I talked about an all-black outfit in the preceding outfit idea, and this is the perfect manifestation of that. This will certainly make you less visible at night, but just hope there are many lights.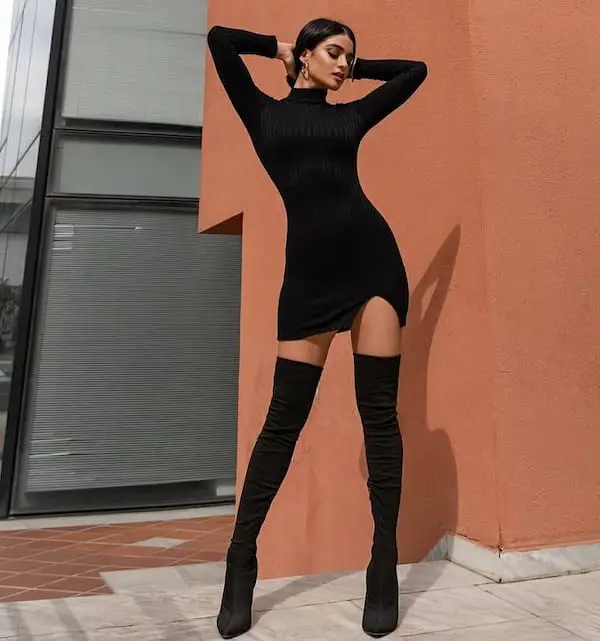 10. Spaghetti Strap Top + Leather Mini Skirt + Black Thigh-High Boots
A summer night out doesn't require anything elaborate, especially if it's within your friends' circle. A strapless top and a mini skirt should be enough dressing to meet up with them for a party.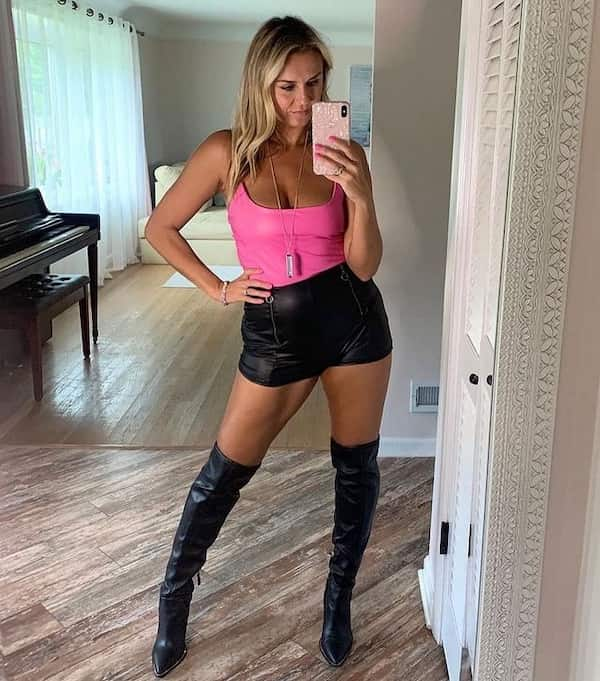 11. Open Backside Dotted Black Dress with Thigh-High Boots
This outfit is perfect for all outings at all times, save for the winter. The heeled thigh boots offer an additional level of elegance that you may want to recreate specifically.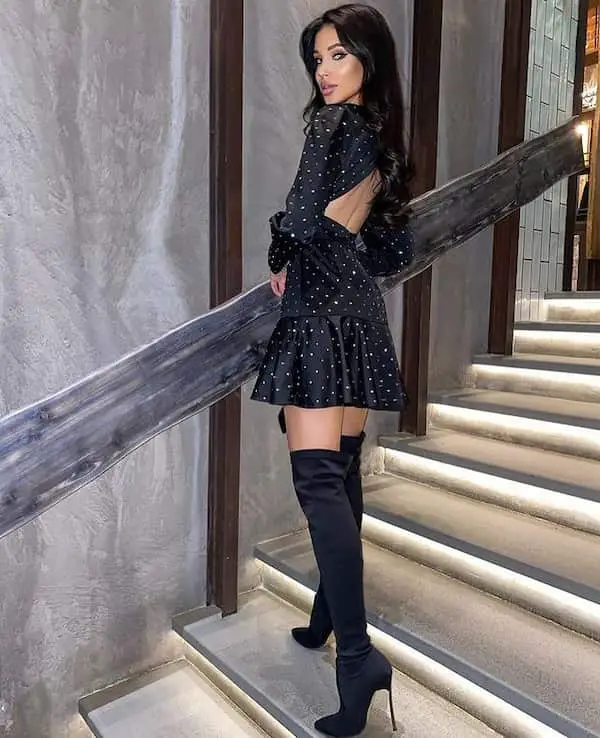 12. Deep-U Bodysuit + Jacket + Mini Skirt with Thigh-High Boots
Wearing a slightly revealing bodysuit with a matching mini skirt and jacket combo is always a win. Add those elegant thigh boots and you'll surely come back with a new boyfriend.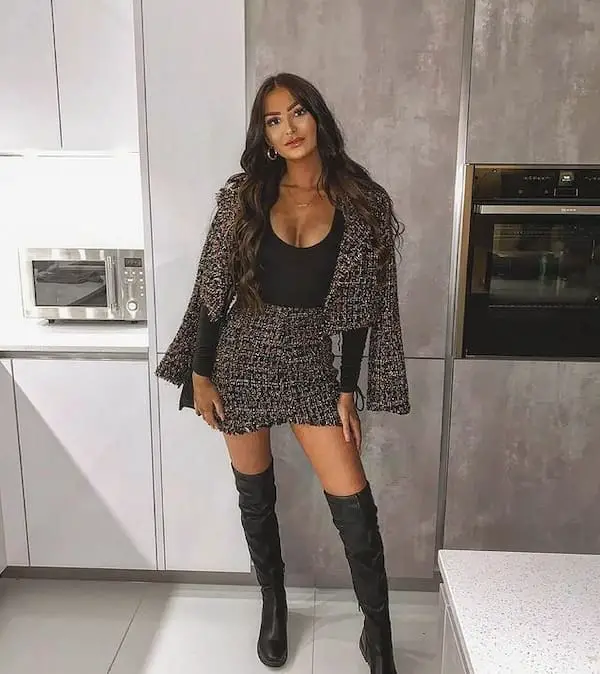 13. Transparent Lace Top + Centre Zipped Mini Skirt with Thigh-High Boots + Handbag
A transparent lace top may look a bit too revealing, but hey, it's night. Night outs are usually among friends, and if they judge your outfit excessively, you should rethink your definition of a friend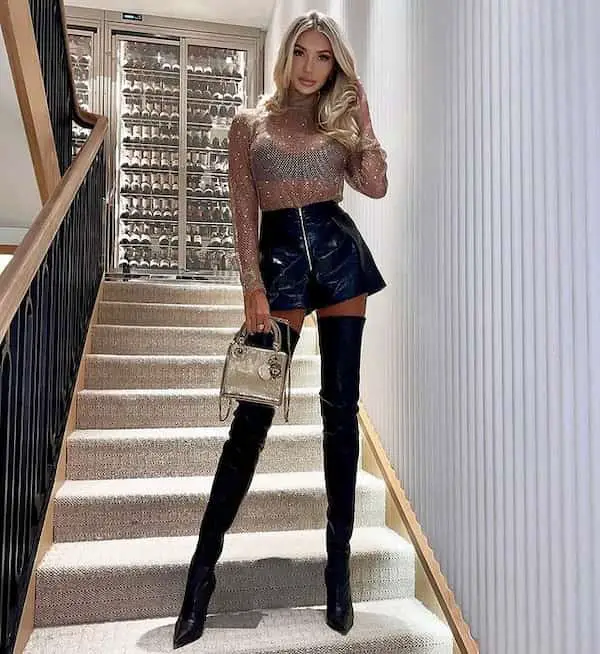 14. Tank Crop Top + Mini Skirt with Thigh-High Boots + Handbag
This outfit looks like it was designed specifically for special nights. It's a bit too casual for the workplace without being excessively inappropriate to not qualify for a night out. Should definitely be at the top of your consideration list.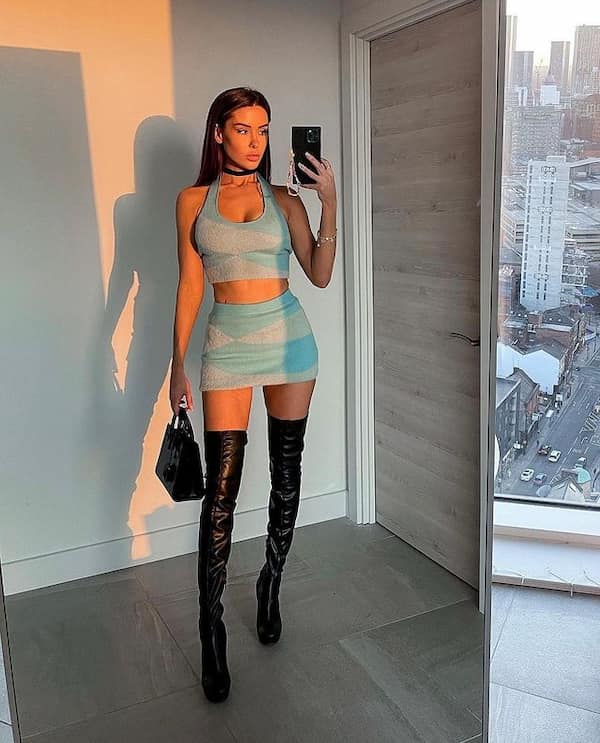 15. Tight Patterned Long Sleeve T-shirt Dress with Thigh-High Boots + Clutch
A tight patterned black and white dress makes you more visible than a completely dark outfit. If you have moderately long legs, copying this outfit inspiration should be easy.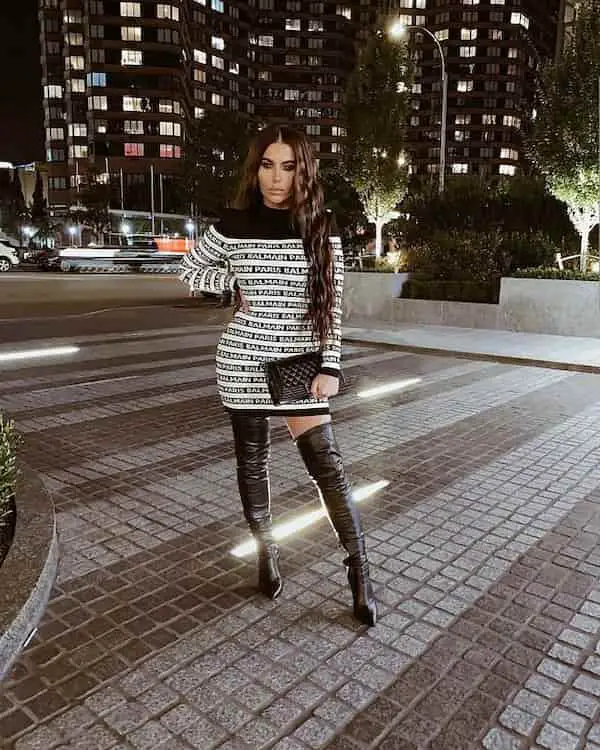 16. Graphic Sweatshirt with Thigh-High Boots
A sweatshirt with the length of a mini gown is an excellent way to style thigh boots, but certainly not for formal events. If you're not comfortable in a slightly revealing outfit, this is probably not for you.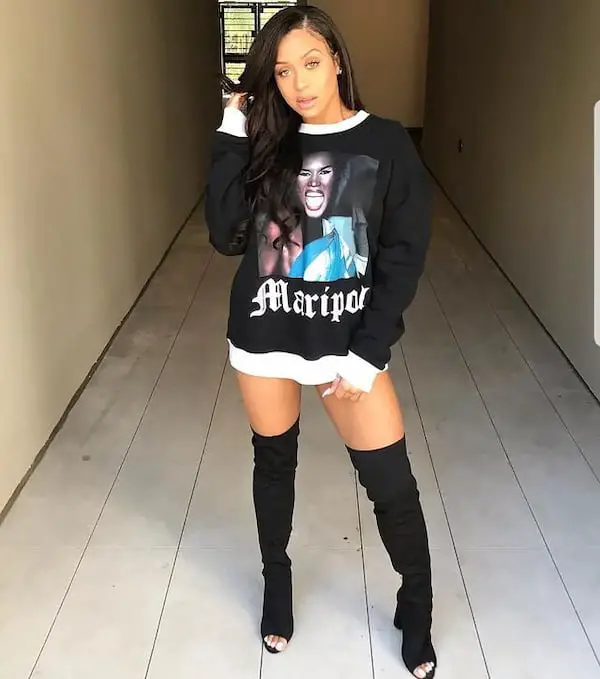 17. Long Sleeve Shirt + Satin Fur Mini Skirt with Leather Thigh-High Boots
Black matches perfectly with red in most outfits, but most especially this. This outfit idea will win a fashion event, but is inappropriate for work, especially if your workplace recommends conservative outfits.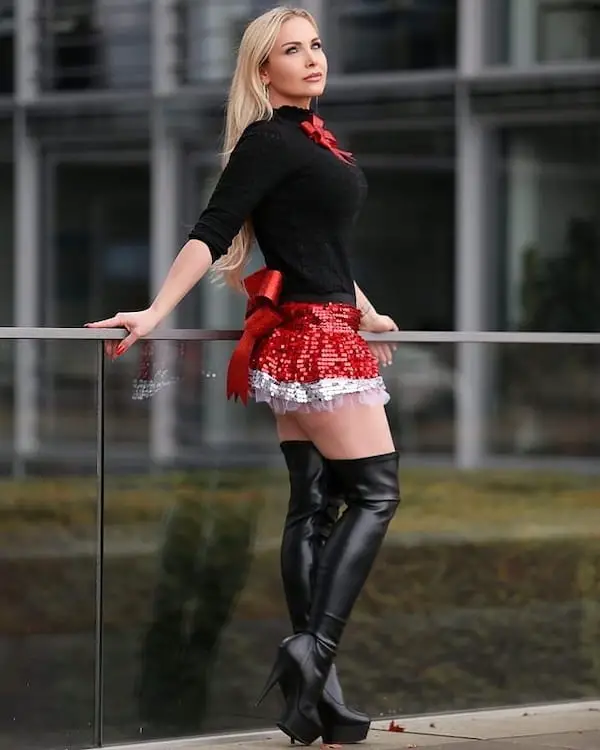 18. Tight Right Sided Zipped Dress with Thigh-High Boots + Handbag
What looks better than an all-black outfit with thigh boots? Going by the picture here, you can easily tell that the only correct answer is nothing. What's more, it's obviously one of the easiest outfits to replicate on this list.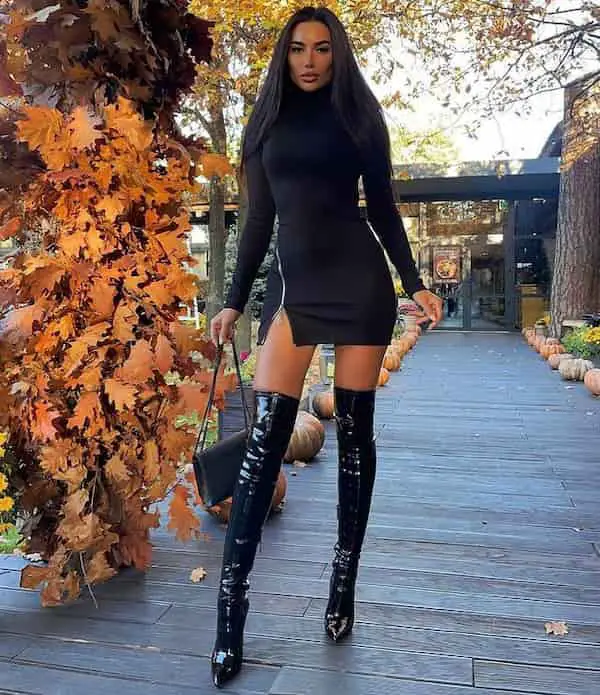 19. Crop Sweat Shirt + Ripped White Jeans with Thigh-High Boots
If you enjoy styling crop tops, here is a cool new challenge for you. While it's one of the least revealing outfits here, that doesn't make it any less fashionable, as the model proves.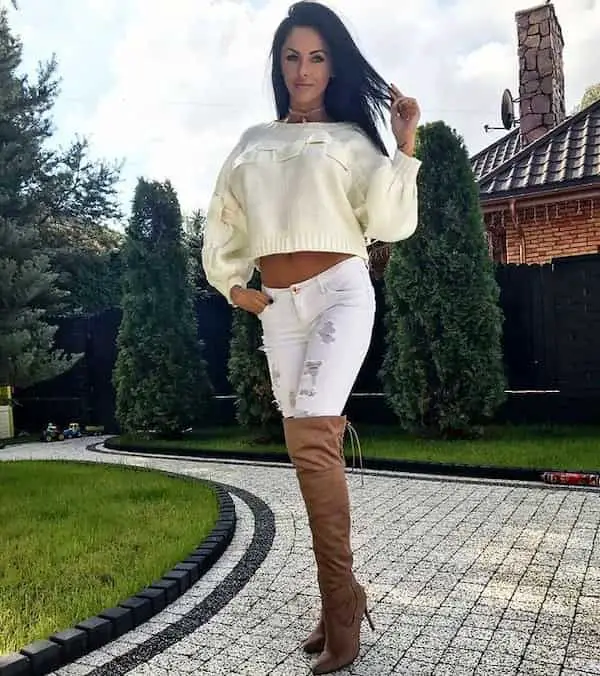 20. V Necked Shirt + Leather Mini Skirt + Thigh Boots
A good thing about thigh boots is that they excuse mini skirts, and that's what's happening here. Showing up like this shouldn't elicit negative reactions from your colleagues.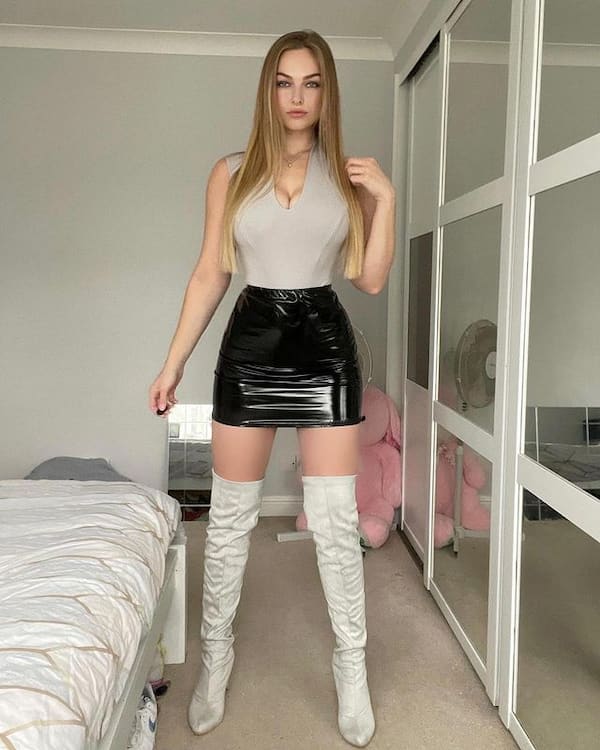 21. Black Netty Dress with Thigh-High Boots + Handbag + Sunglasses
If you're going on a night out with friends, a netty dress is an outfit idea to consider. Go out this way and you'll certainly be the cynosure of all eyes.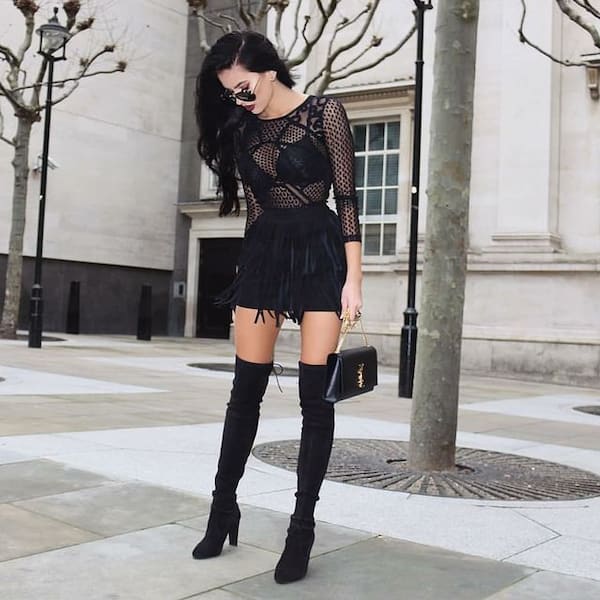 22. Oversized Sweatshirt + Thigh-High Boots + Clutch + Leather Biker Cap
This outfit expertly balances between comfort and fashion, making it the perfect winter outfit for casual events with thigh boots.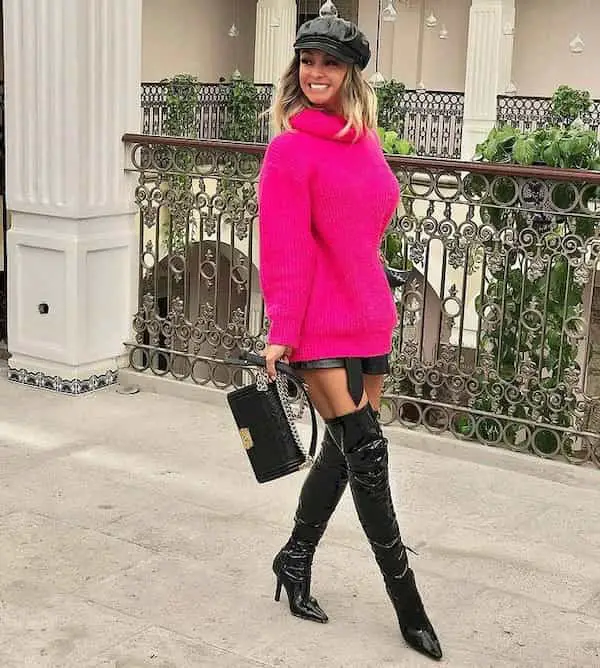 23. Black Tight Dress + Kimono + Thigh-High Boots + Handbag
A bit of Japanese dress culture won't hurt with a white and black kimono. Be prepared to entertain loads of questions when you show up at a friend's birthday with a similar outfit.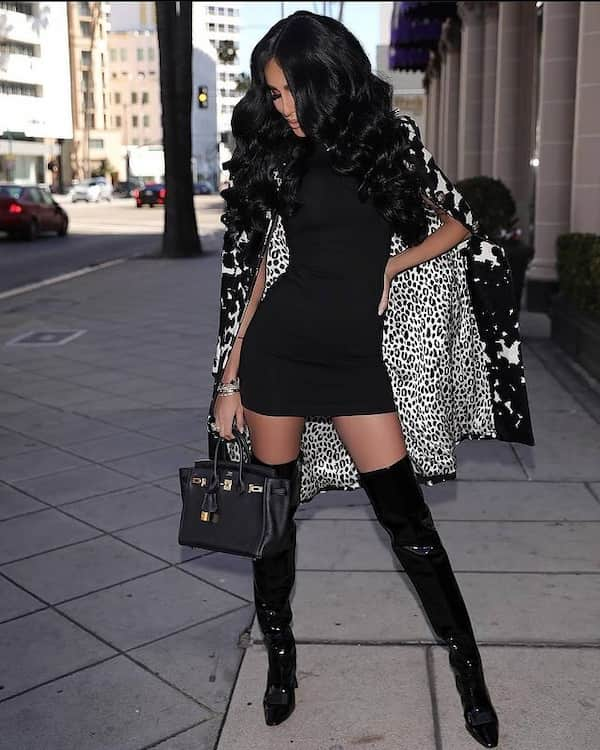 24. Long Sleeve Crop Top + Gray Jeans with Thigh-High Boots + Face Cap
This outfit mightn't be the most fashionable on this list, but you won't be needing the most elaborate outfit every day. Sometimes, all you need is just something comfortable and easy to source, and this perfectly sums that up.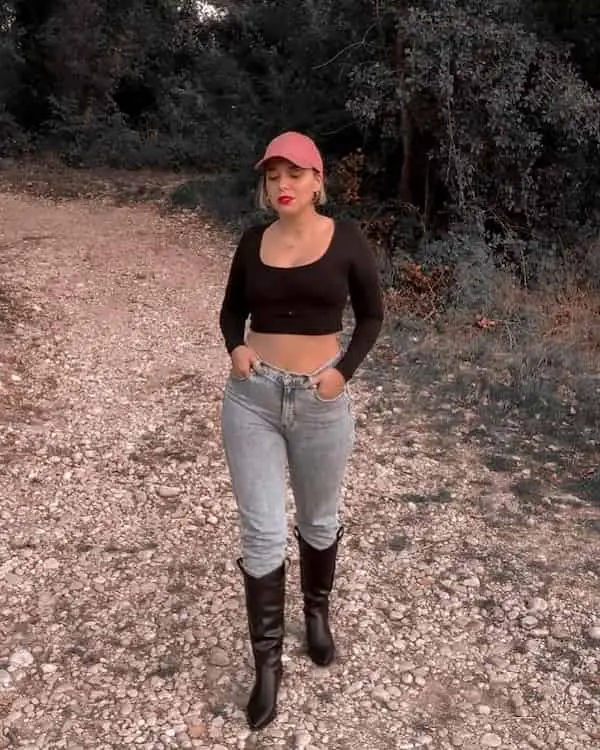 25. Black Crop Top + Jean Short with Kinky Thigh-High Boots
To save the best for the last, this is probably the chicest outfit on this list. As long as you're not off to any formal event, feel free to replicate this outfit down to the colors.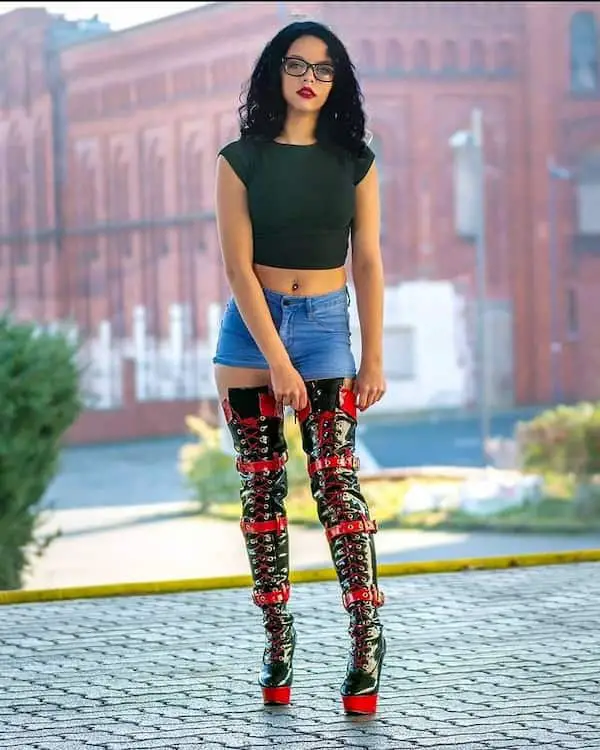 And that's all for my post on what to wear with Thigh-high Boots for a night out. Want some more outfit ideas? Then you might want to check out these blog posts.
I hope you enjoyed this piece of content. Do well to rate this post, and don't forget to share this outfit compilation with your friends.
See you with more exciting inspirations. Trust me; you wouldn't want to miss any of our upcoming outfits compilation, so make sure to follow us on Pinterest.
Pin for Later.