Looking for cute outfits with black jeans to view as an inspiration? Don't worry, this post got you covered with stunning black jeans outfit ideas.
Blue might be the most common color for jeans, but black is undoubtedly the easiest to style. There are just so many outfits that go with black jeans without looking odd or bland.
For someone not really into mixing and matching apparel, styling black jeans might seem like a chore.
To prevent you from sweating over what to wear with jeans, I've made a collection of some of the most brilliant black jeans outfits on the internet. After going through these, you should have no problems styling your jeans with the most appropriate clothes.
Cute Outfits with Black Jeans
1. Satin Spaghetti Strap Top with Ripped Black Jeans + Heels
Starting from the most casual option, a simple satin top will make a perfect match with any kind of black pants, making it the default outfit to wear with black jeans in the summer.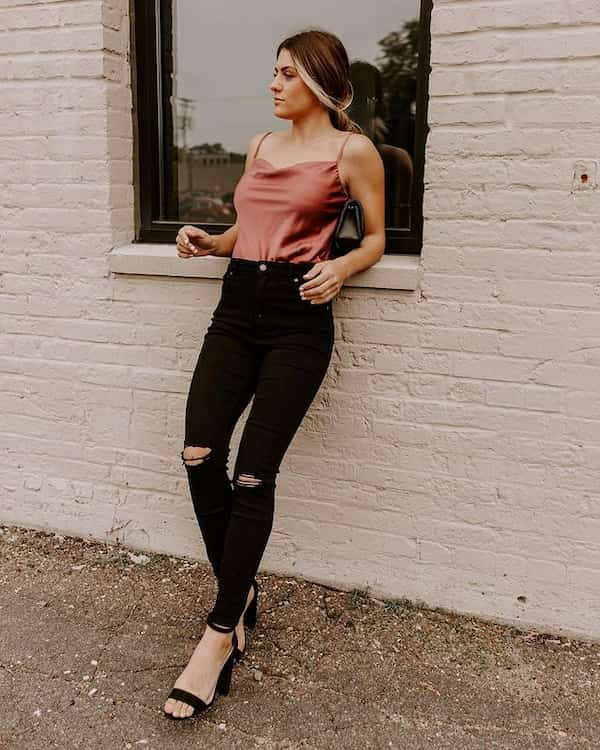 2. Button-down Shirt with Black Denim Jacket + Black Jeans + Boots
A button-down shirt worn under a black denim jacket might be a bit more appropriate for workplaces and professional environments. If you're out for a professionally fashionable outfit, this should be your default choice.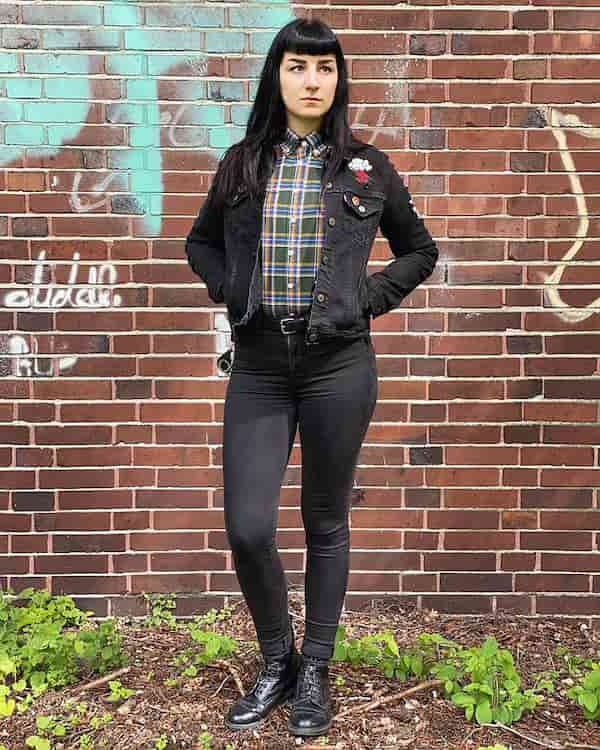 3. Black Bra Vest + Knitted Crop Jacket with Skinny Black Jeans + Black Heel Boots
For this outfit, I'll only say a picture is worth a thousand words. Consider recreating it if you want something that looks hot and professional.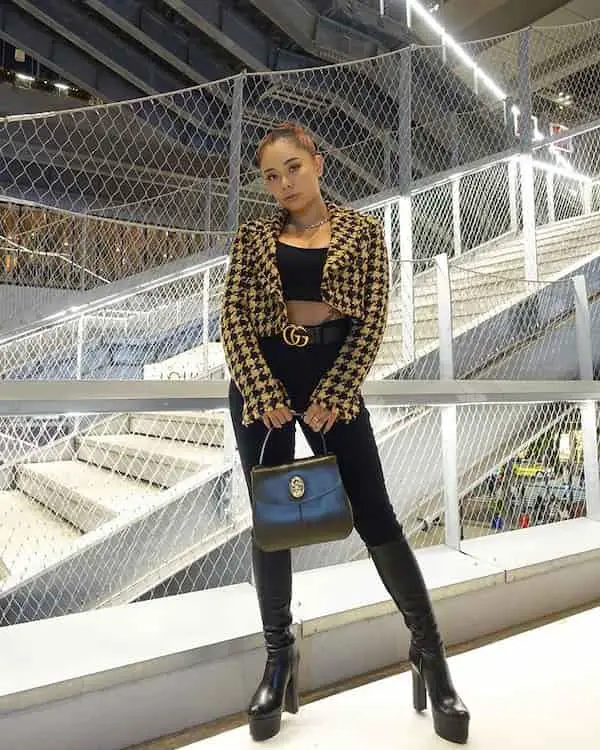 4. Black Hoodie + Pea Coat with Distressed Black Jeans + Boots + Face Cap + Handbag
While everyone loves styling jeans with crop tops, it just doesn't work in the winter. The winter alternative you've always sought after is compounded in this outfit inspiration.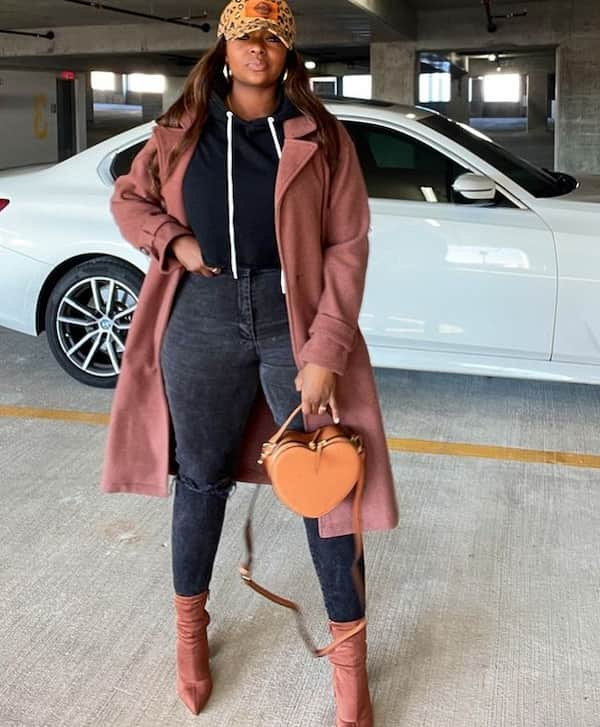 It doesn't matter if it's a Long Sleeve shirt or a graphic tee. You can't deny that a white top pair nicely with black jeans, not after you've seen this idea. Recreate it if you can.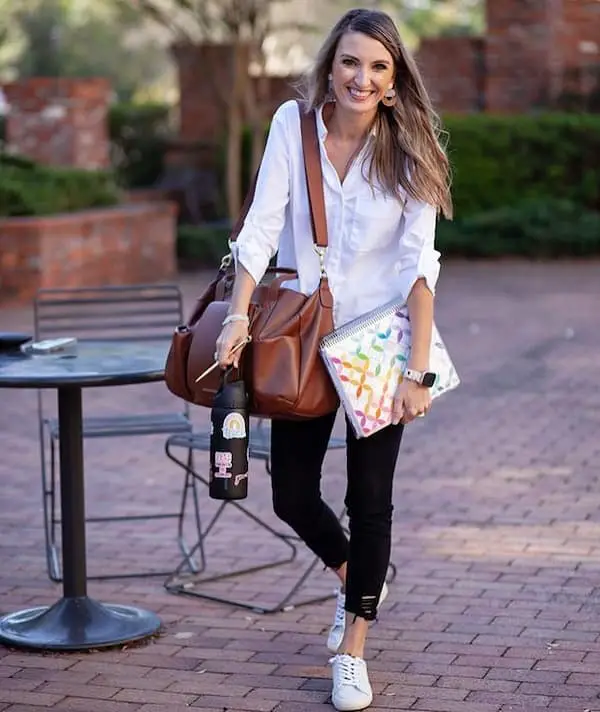 6. White Vest + Leather Jacket with Ripped Black Jeans + Heels
Want to recreate the look of a Hollywood actor? Have everyone do a double-take each time they see you by recreating this with your ripped black jeans.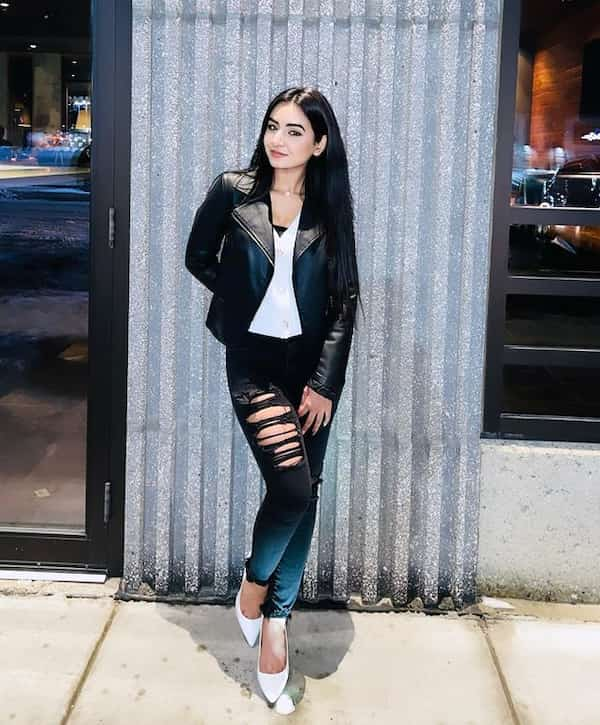 7. Full Fur Shirt + Trench Coat with Black Jeans + Black Boots + Body Cross Bag
This outfit isn't particularly elegant, but it's not like you have plenty of choices during the snowy winter. Frankly, it doesn't look too bad either, especially with the matching handbag and boots.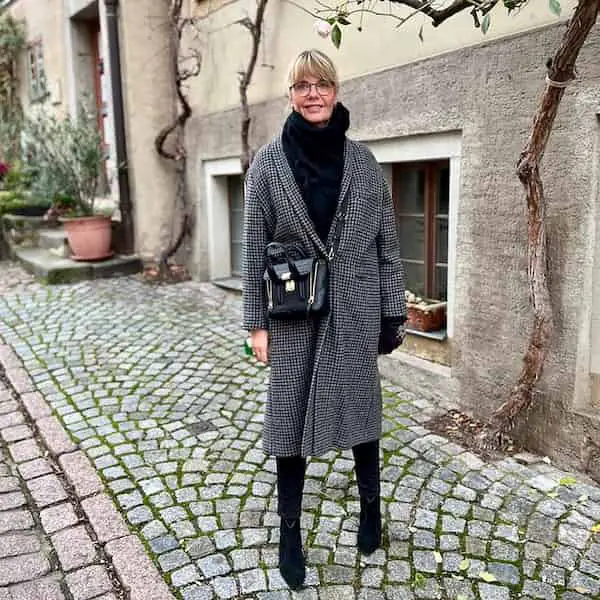 8. Black Long Sleeve Shirt with Black Jeans + Heels
People don't typically favor monochromatic outfits unless you're wearing black jeans. Just ensure the heels are also black to avoid making them look oddly out of place.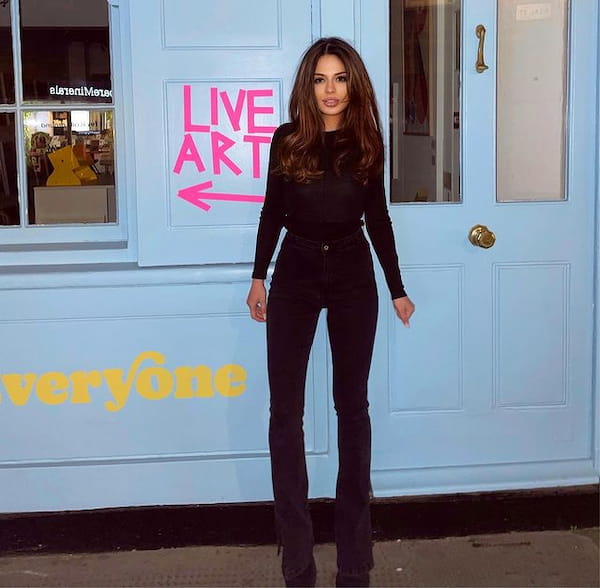 9. Crop Blouse Top with Black Jeans + Boots
Crop tops always seem to be ubiquitous in every list of outfit ideas, and they are, to some extent. An interesting way to style your black jeans is by wearing a crop top in an interesting color.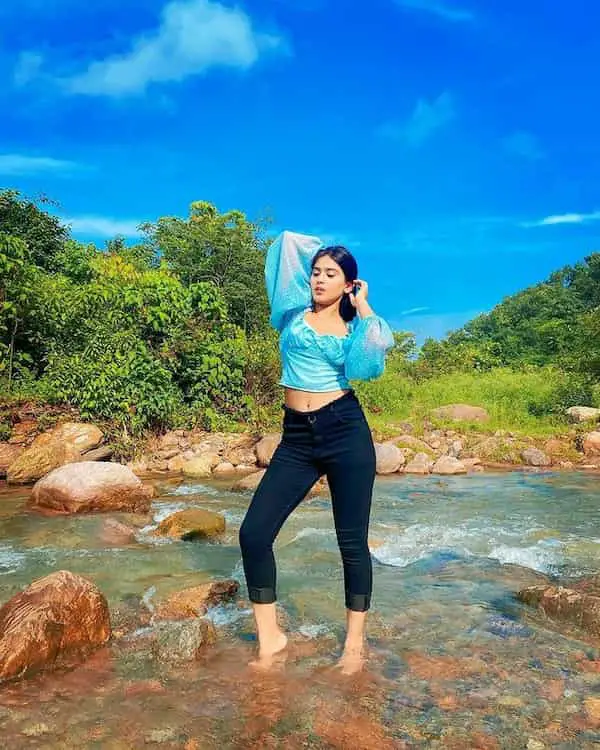 If you've decided to choose comfort over elegance, you can recreate this simple outfit. While it won't win you any modeling contracts, your body will thank you for it.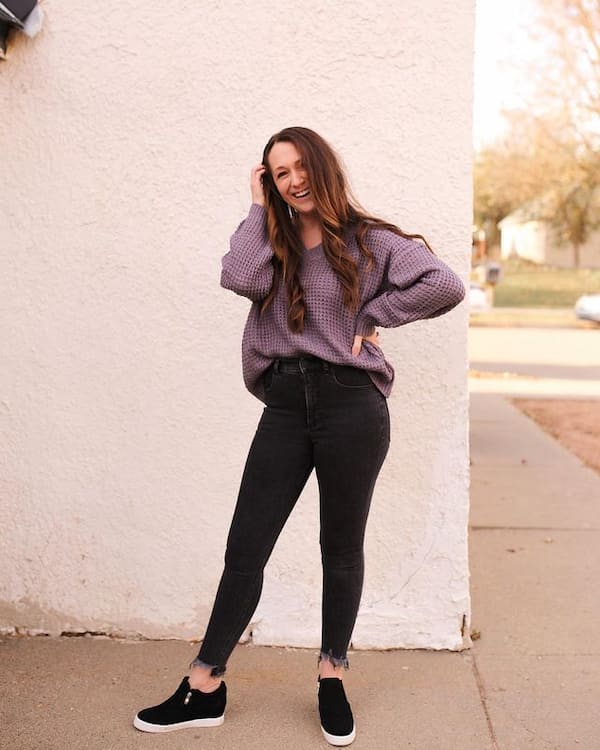 11. Sweat Long Sleeve Shirt + Black Jeans + Boots + Muffle + Sweat Cap + Handbag
White long sleeve sweatshirts and black jeans make a casual outfit that works in almost all scenarios. It's great for work, vacations, meetings, and even religious gatherings, preferably in the winter.
12. Spaghetti Strap Vest + Black Cardigan with Black Jeans + Heels + Handbag
This outfit isn't only incredibly chic, it also looks so professional that it qualifies for a meeting with the president. Remember, the handbag is also a crucial and indispensable part of the outfit too!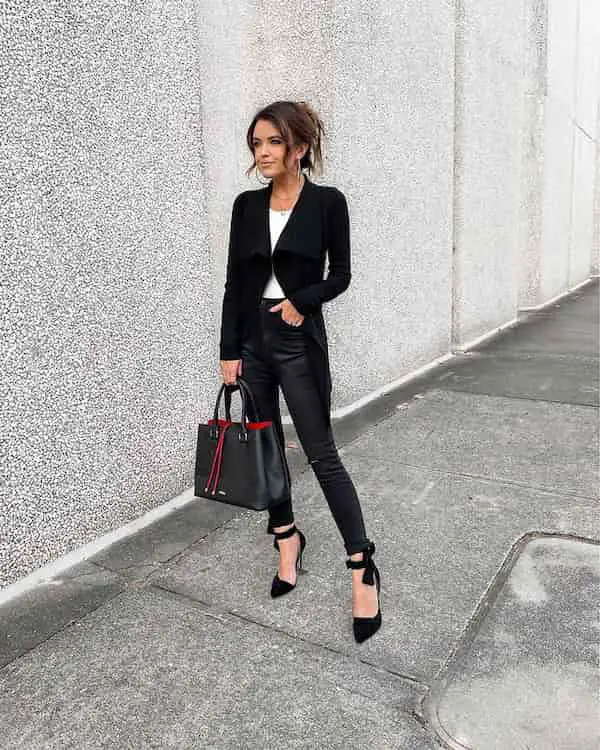 13. Bodysuit + Sherpa Jacket with Black Distressed Jeans + Cowboy Booties
The bodysuit and sherpa jacket are excellent defenses against the winter cold, but the overall outfit still looks elegant. With this inspiration being the perfect embodiment of chicness, professionalism, and comfort, it's my favorite way to style black jeans.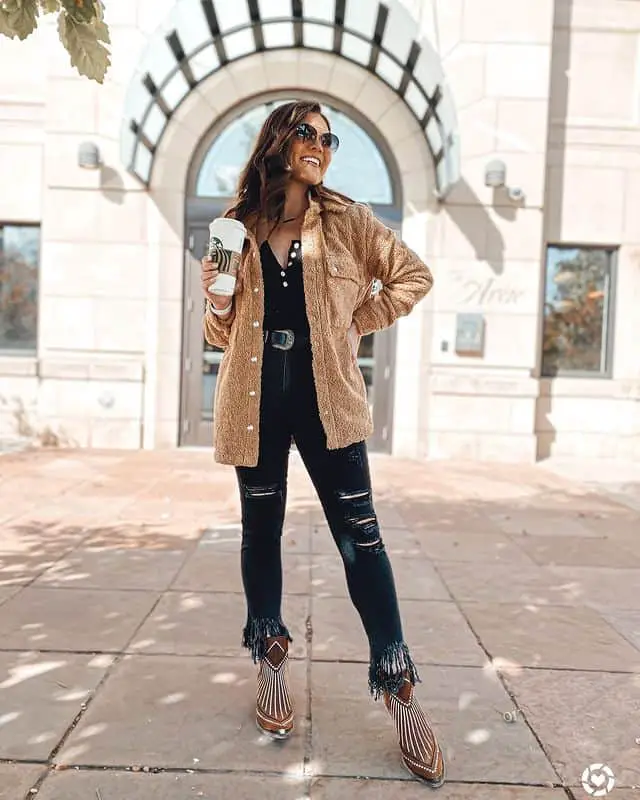 14. Multi Colored Top with Black Jeans + Sneakers + Handbag
Mixing and matching colors is only a good thing when you can do it properly. If you can't, copy this inspiration to create something equally as good; you're welcome.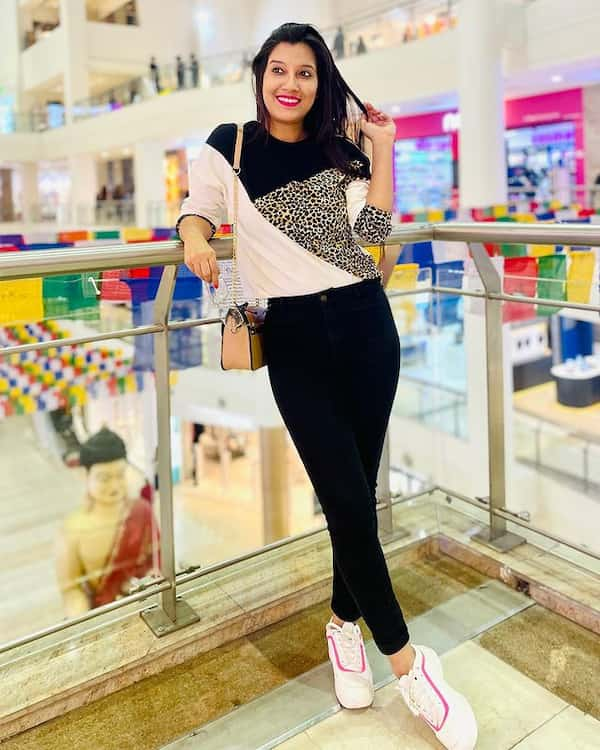 15. Neutral Tank Top + Denim Jacket with High Waist Black Jeans + Boots
It's impossible to deny the excellence of this outfit, with the picture below speaking for itself. For some reason, this combination simply looks excellent in my opinion.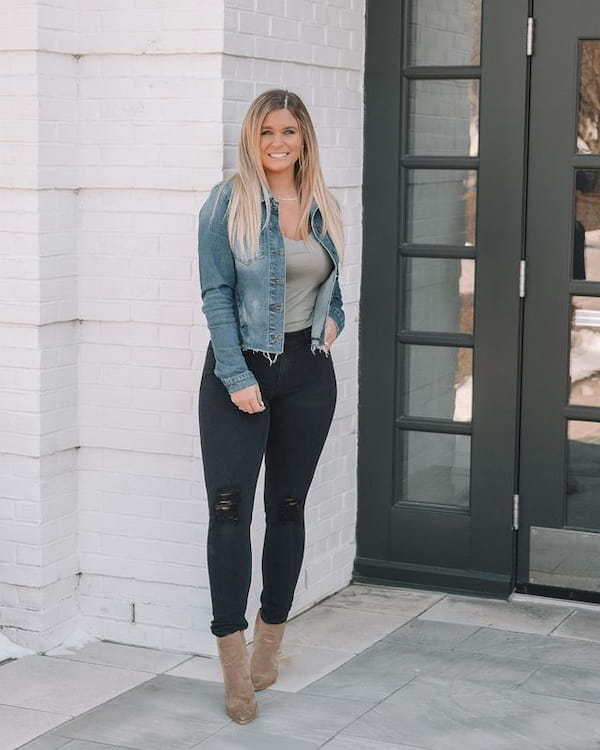 16. Black Top + Trench Coat + Black Jeans + Heels + Sunglasses
Wearing a black top and black jeans can be boring, but what about mixing things up with a brown trench coat and purple heels? Unsurprisingly, the result is something that qualifies as an excellent outfit inspiration with black jeans.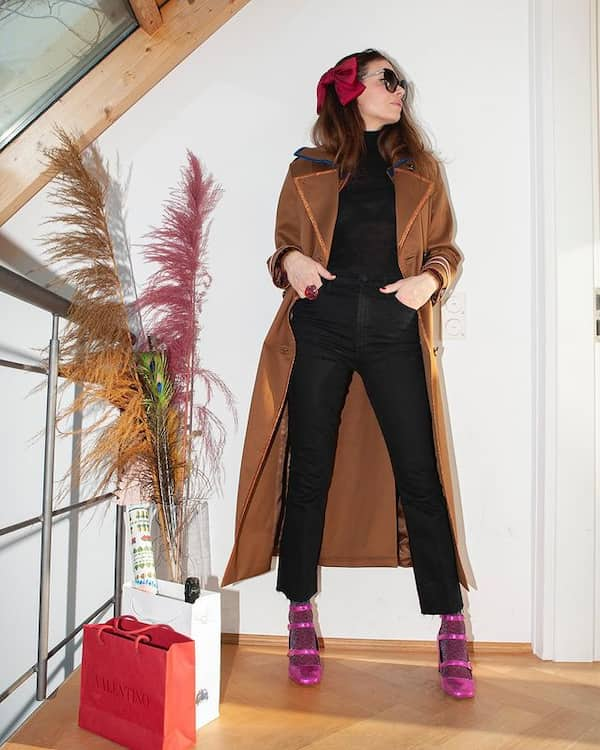 17. Tank Top with Black Detroit Jeans + Heels
This outfit is probably too simple to be termed professional, but it's casual enough to be perfect for visits to the beach.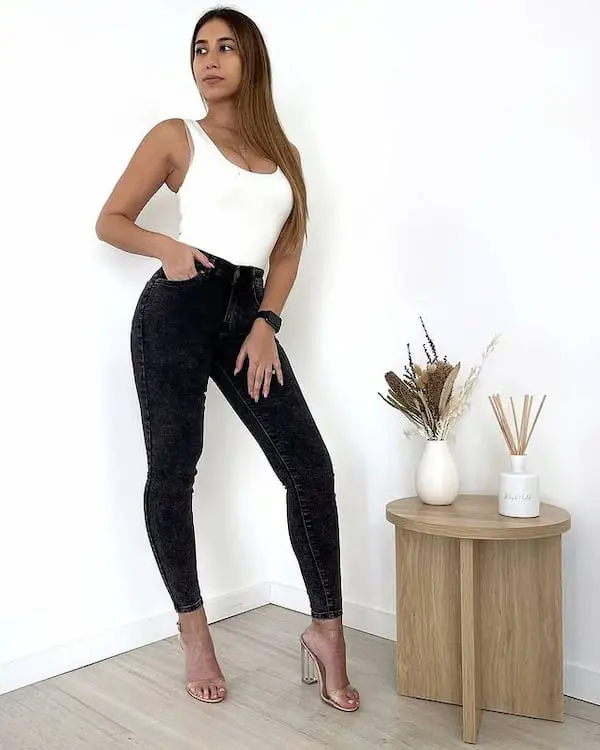 18. Twist Tied Sweater with Black Jeans + Shoes + Handbag + Sunglasses
A twist front sweater does just enough to keep away the cold without looking stuffy. Grab a black little handbag and you're ready to crush it for the day at work, winter or summer.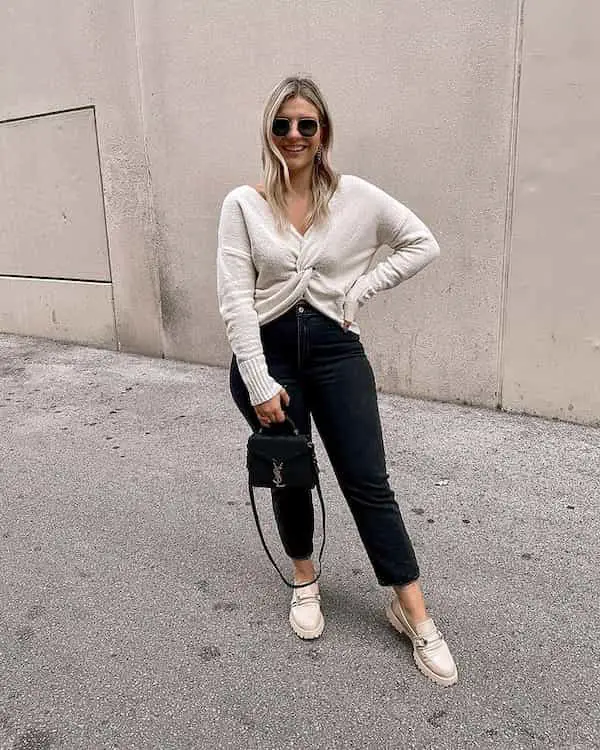 19. Tan Long Sleeve Top with Knee Ripped Black Jeans + Wedge + Black Hat
Anything remotely close to the color white will match black jeans. If you have a tan long sleeve top, you may want to recreate this semi-cowgirl outfit by adding an hat.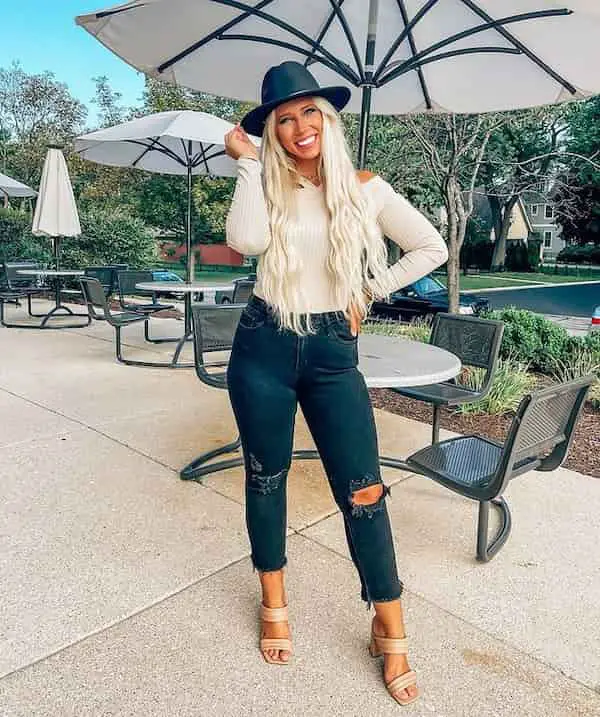 20. Black Plain Top + Fur Jacket with Black Jeans + Above-ankle Boots + Handbag + Sunglasses
Winter dress ideas aren't typically fashionable, but just look at this. Since beauty is in the eyes of the beholder, I'll let you judge if this outfit is truly worth recreating.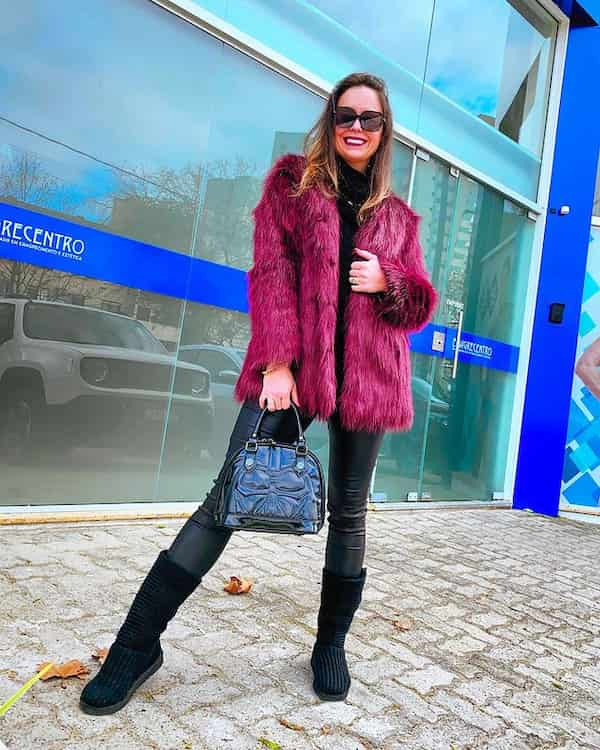 If you're looking to buy into the growing boyfriend jeans trend, you might as well want to pair it with a purple top. Since your boyfriend wouldn't want to carry a handbag, you can also overlook that.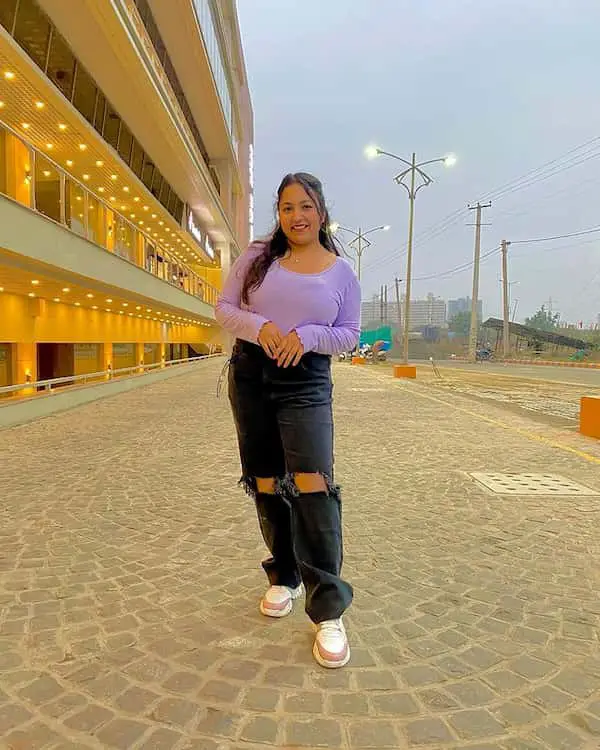 22. Button Down White Shirt + Black Distressed Jeans + Sneakers
If you're not sure what top to wear with black jeans, a white button down shirt will do just fine. Carrying a fashionable bag will make people do double-takes in awe of your elegance.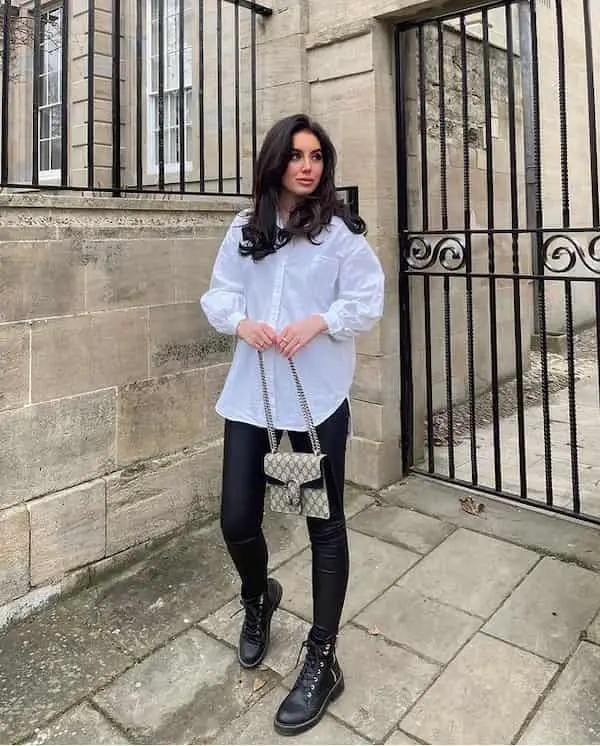 23. Sweat Black Top + Coat with Black Jeans + Boots + Hand Bag
If you're looking to emulate a winter outfit idea, here you go. While this isn't something you'll want to wear as a model, it isn't a terrible outfit idea either.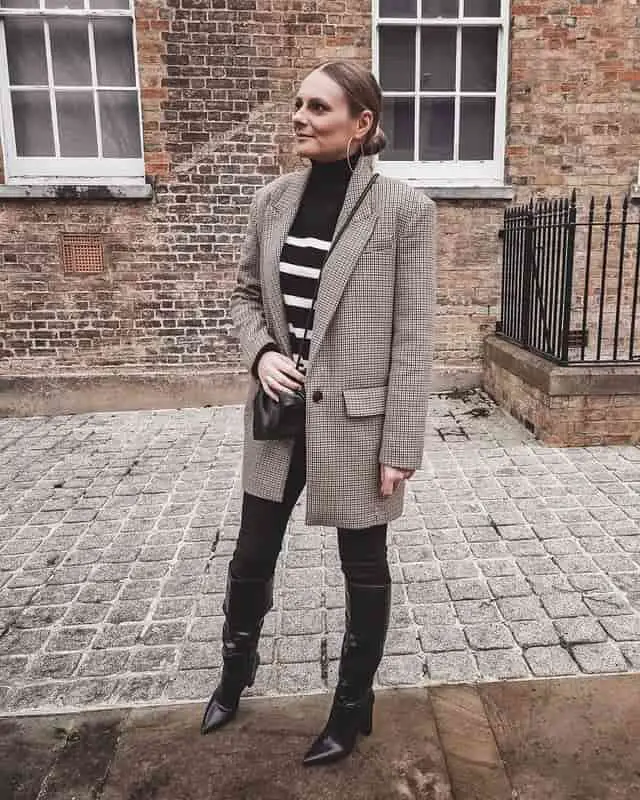 24. Black Lace Top with Black Jeans + Boots
Black matches almost every color, including black. If you have a black lace top hiding somewhere in your closet, I wonder why you scrolled through 23 outfit ideas looking for the perfect way to wear your jeans.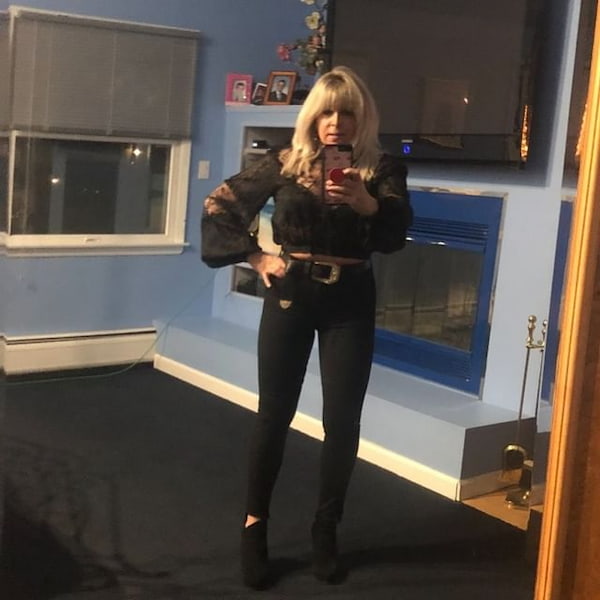 25. White Top + Biker Jacket with Ripped Black Jeans + Trainers + Sweat Cap
This outfit idea is excellent for younger ladies still exploring unconventional outfits. If it's somewhat cold around, you may want to try replicating something similar to make for an alluring outfit.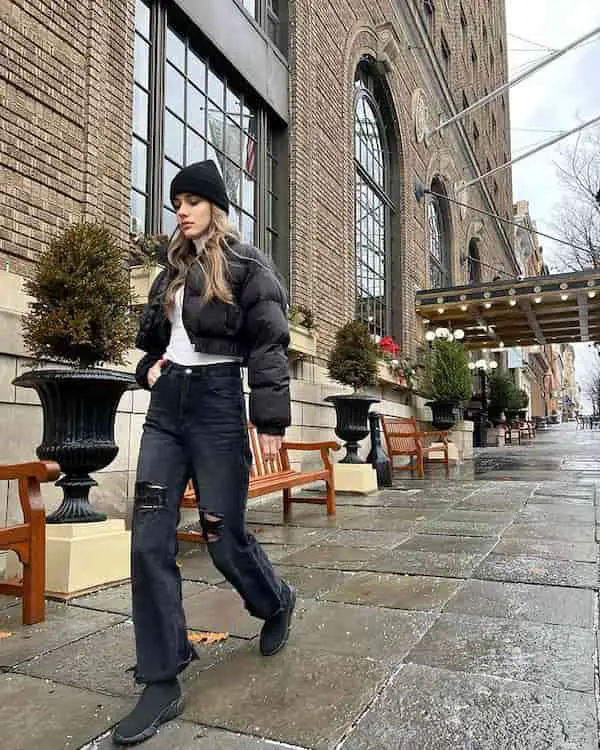 And that's all for my post on outfits with black jeans. Want some more outfit ideas? Then you might want to check out these blog posts.
I hope you enjoyed this piece of content. Do well to rate this post, and don't forget to share this outfit compilation with your friends.
See you with more exciting inspirations. Trust me; you wouldn't want to miss any of our upcoming outfits compilation, so make sure to follow us on Pinterest.
Pin for Later.