Let's talk about how to style Dickies Pants (+25 Dickies Pants outfit ideas for inspiration)
The fashion world has constantly shown us that trends are impossible to predict. One day, everyone is wearing military pants with crop tops, and the next day, it's dickiest pants.
If you've been following the fashion world over the past few years, you'll notice that dickies pants are still very much in vogue. Given its history, however, it's only natural that many tops don't match well with them.
In this article, I'll show you some of the best ways to wear dickies pants for the classiest looks. Below are some outfit inspirations that you should consider copying while styling dickies pants.
How to Style Dickies Pants
1. Crop Sweater Shirt with Dickies Pants + Sneakers + Chic Bag
What's a better way to style dickies than pairing them with a slightly cropped sweater shirt. Sweater shirts offer excellent protection against winter cold and so do dickies pants, making both an awesome combo.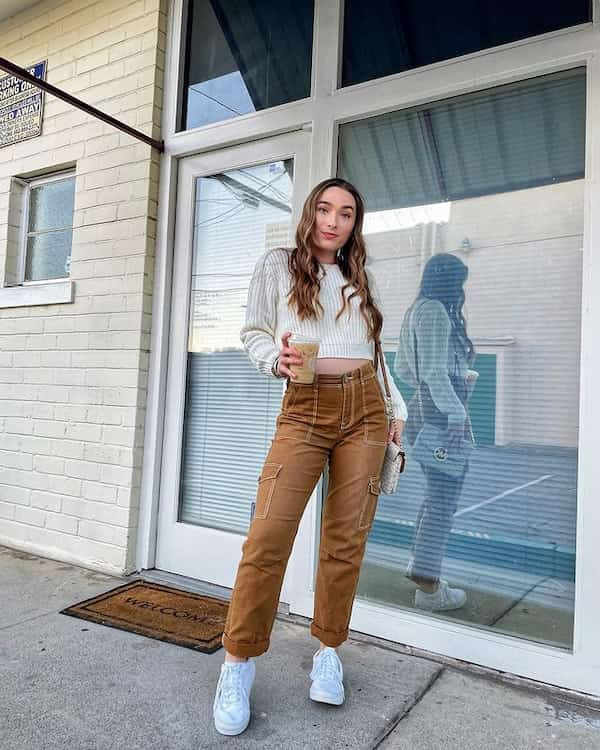 2. Graphic Tee with Dickies Pants +Sneakers
Graphic tees and jeans are a sure match, but have you tried pairing them with dickies? As evidenced from the model in the picture below, dickies pants are excellent replacements for jeans if you're only pairing them with a graphic t-shirt.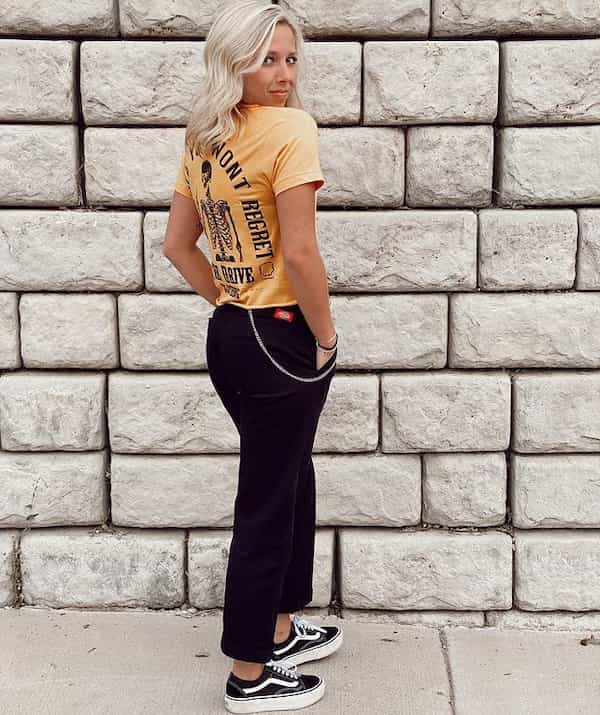 3. Graphic Crop Top with Dickies Pants + Black Boots + Sunglasses
This crop top may not make excellent workwear, but it does match nicely with those dickies. If you can replicate this outfit perfectly, you can wear it to any event that's not formal.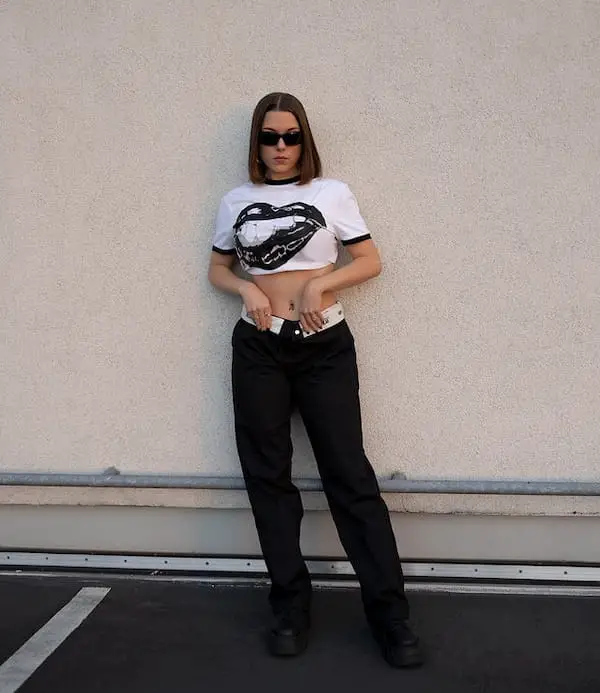 Wearing an oversized flannel over skimpy inner vests seem like the correct combination, but finding pants to match may be tasking. Fortunately, you shouldn't have to sweat over it anymore; just wear dickies and move on.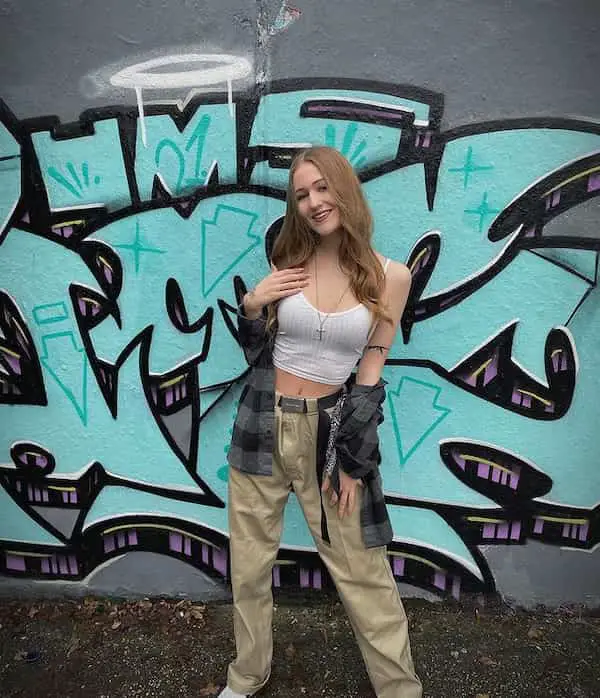 5. Sweat Shirt with Dickies Pants + Sneakers + Handbag
It doesn't matter what kind of clothing you're trying to style, there's always a way to make it a gorgeous all-black outfit. In the case of dickies, this model encapsulates how the perfect all-black dickies outfit should look.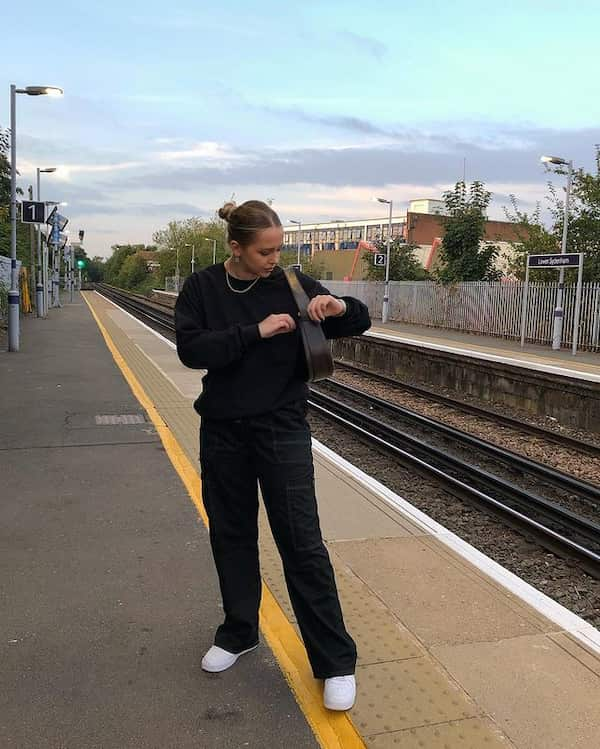 6. Peach Shirt + Blazers with Dickies Pants + Loafers + Handbag
If you're after an outfit that's perfect for work, here's your best bet. However, the appropriacy comes at the expense of its chicness. Don't show up like this on a night out or at a friend's birthday, please.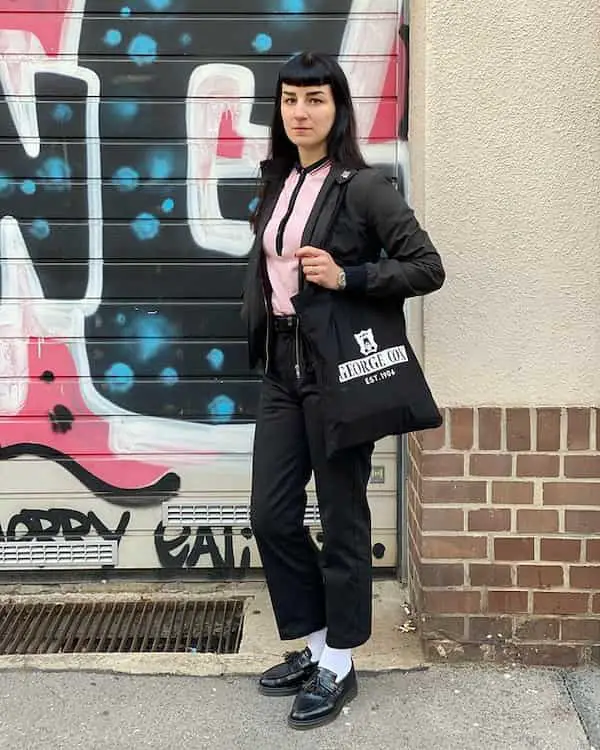 7. Sport Bra with Dickies Pants + Shoes
Sports bras can look awesome with any other clothing material if you get the colors right. That's exactly what she did right here, making the entire outfit look matched from heaven. If you're looking to show more skin than a crop top can, here's your best bet.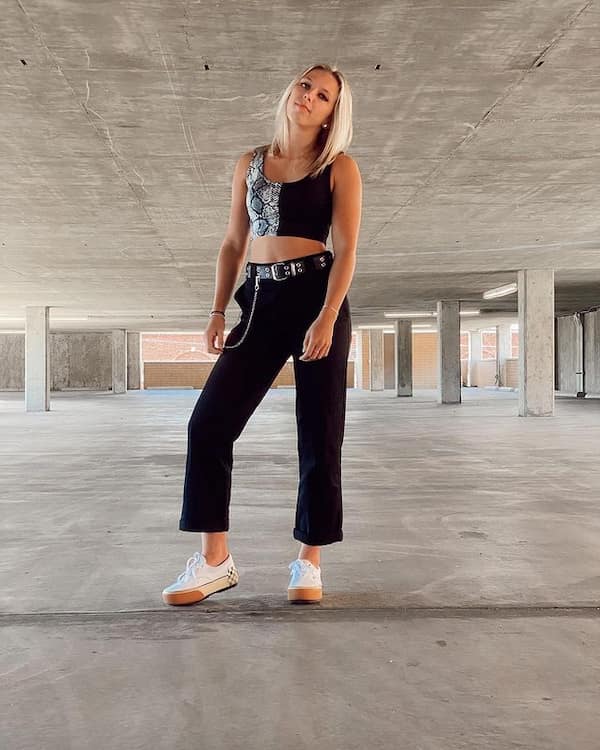 8. Crop Tank Top Vest with Dickies Pants + Converse Shoes
An outfit idea has proven that this combination works but in dark colors. If you prefer lighter colors for your outfits, here is a casual inspiration on which to base your next dressing.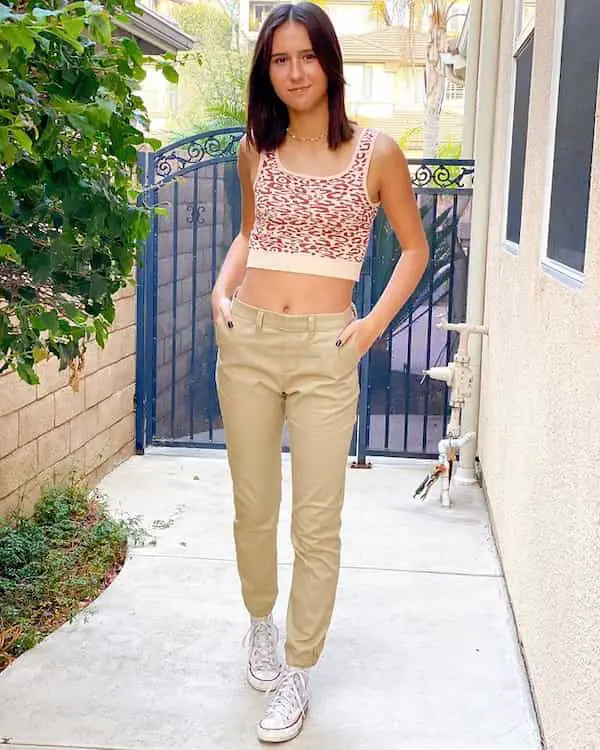 9. Tank Crop Top with Hybrid Dickies Pants +Chunky Sneakers + Cross Bag
All dickies pants look awesome but hybrid dickies pants are just on another level. Just take a look at this outfit, look me in the eye, and tell me you're not going to consider recreating this someday.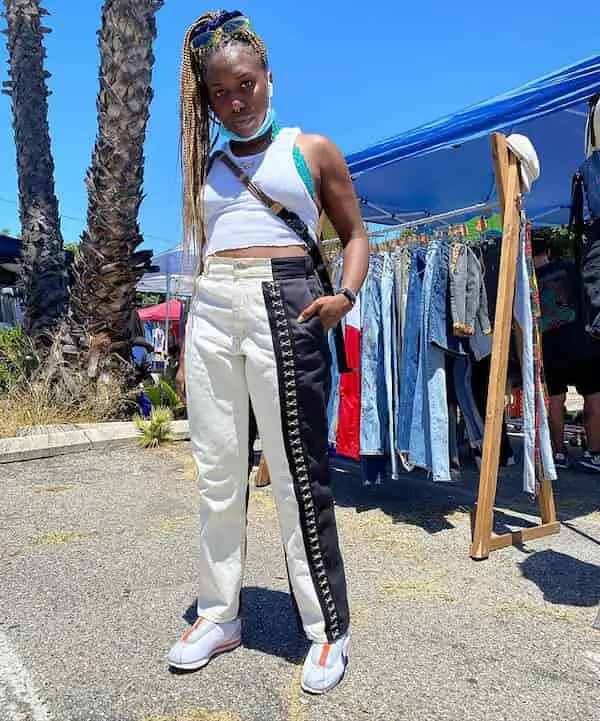 10. Centred Zipped Shirt + Biker Jacket with Loosely Fitted Dickies Pants + Sneakers
If you fancy fashionable outfits, here is a cute outfit inspiration for you. Since the pants aren't ripped and the shirt isn't too skimpy, it qualifies well for a work outfit, barely.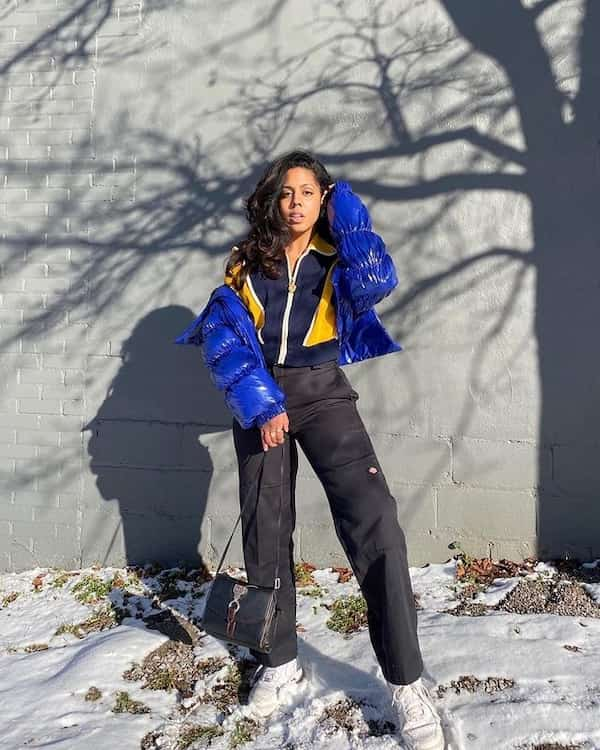 11. Long Sleeve Shirt with Dickies Pants + Knee-High Boots
If you're into all-black outfits, here is another way to style dickies pants to inspire you. My favorite part of this outfit is the smile, but the shirt doesn't look bad either. This outfit will appeal to conservative dressers since it covers almost every inch.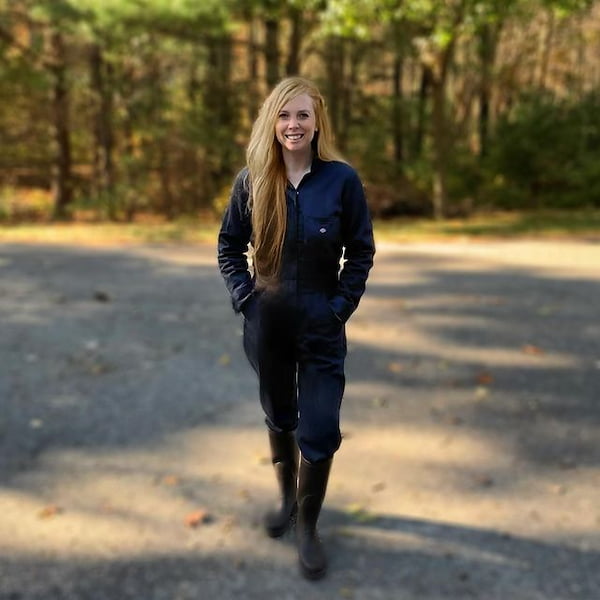 12. White Inner Vest + White Long Sleeve Shirt with Dickies Pants + Shoes + Handbag
All-black outfits are cool, but have you seen an all-white outfit with dickies pants yet? Here's one, and it simply doesn't cease to amaze me. Feel free to copy it and try to be as creative as possible.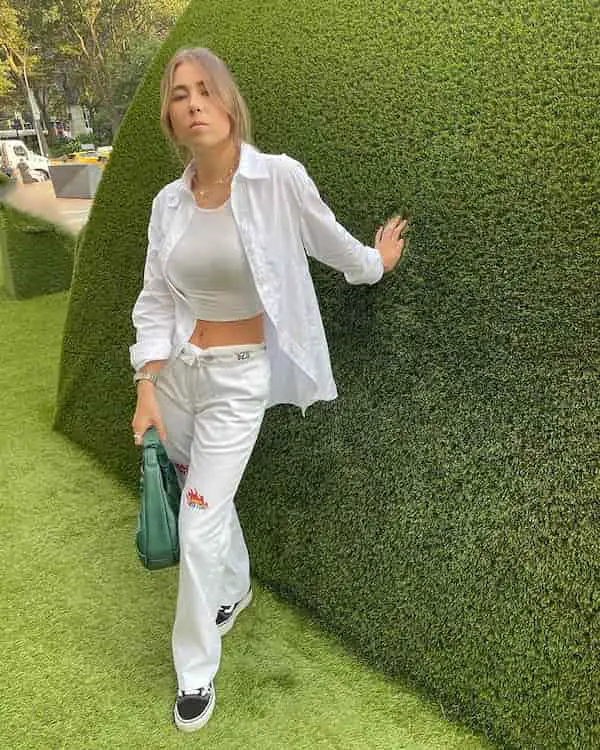 13. Graphic Shirt with Flared Dickies Pants + Sneakers
Yes, flared dickies pants are a thing, and thanks to her, we now know that you can also pair them with graphic tees. I'd prefer matching the colors to create similar levels of chicness.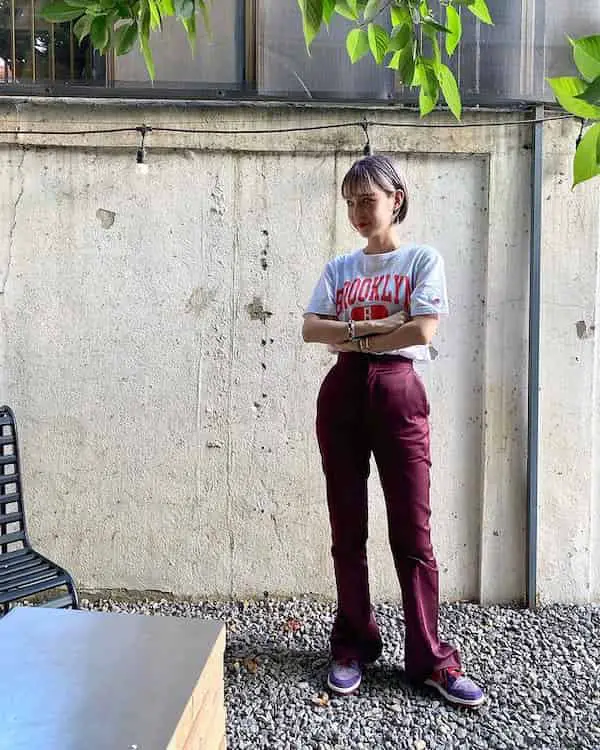 14. Graphic Tee + Jean Jacket with Army Dickies Pants + Black Boots
Matching a jean jacket with army-printed dickies pants takes chicness to another level. It's crucial to warn you to copy this outfit with caution as it can get pretty addictive.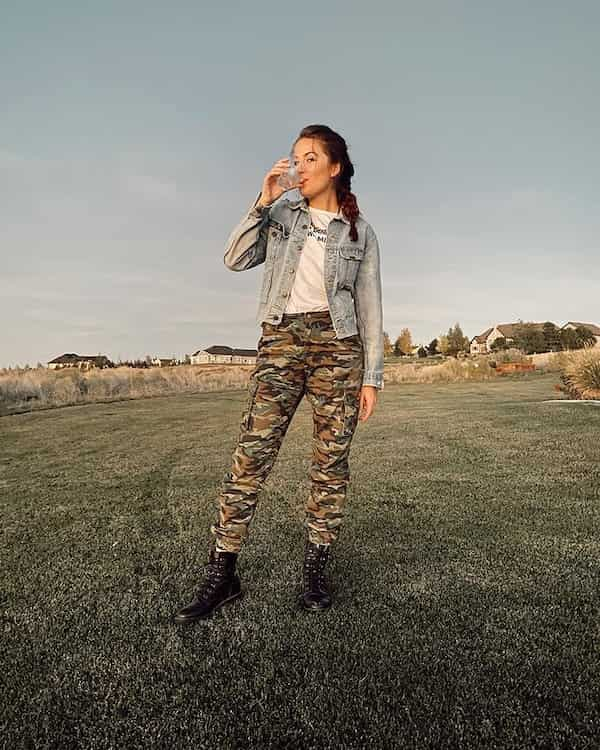 15. Sweatshirt with Loosely fitted Dickies Pants + Sneakers
It's hard to find outfits that go badly with hoodie-like Sweatshirt, and dickies pants are not an exception. You can switch up the colors or add additional apparel, but you must also ensure that you're not changing anything drastic in the outfit.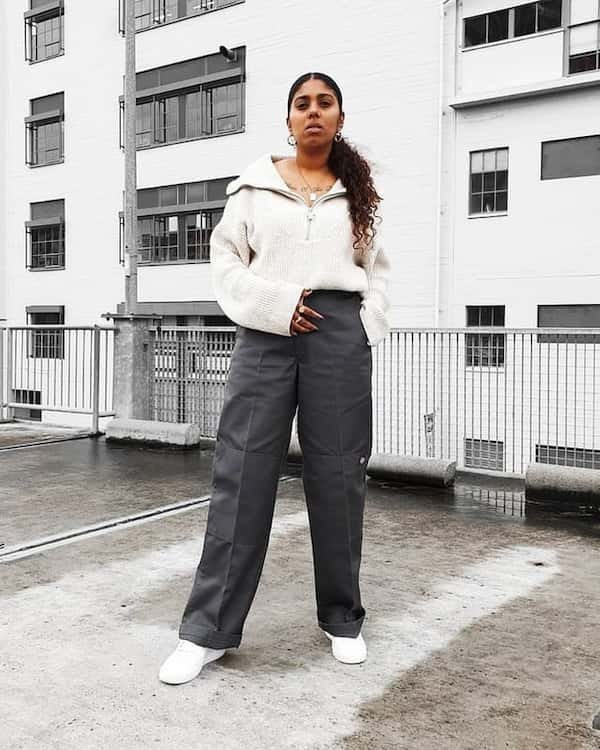 16. Crop Top with Dickies Pants + Nike Sneakers
This isn't the first time that we'll see a dickies pants and crop top, but the multicolored nature of the top simply makes it look better. This outfit appears better in outdoor sceneries and the sneakers are especially chic.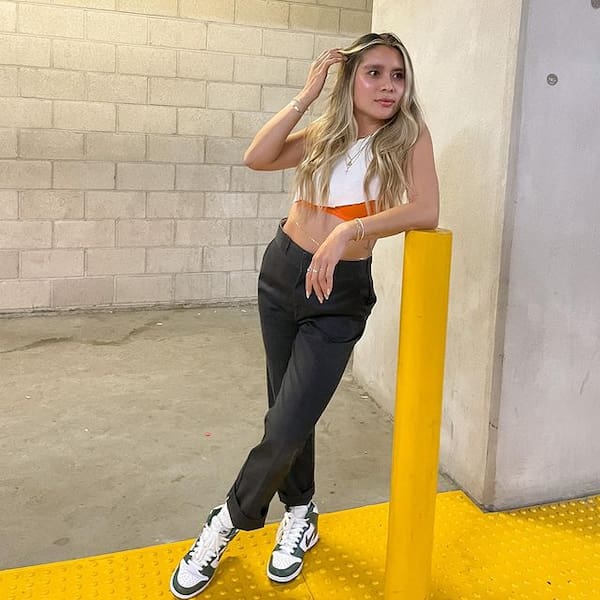 17. Graphic Tank Top with Dickies Pants + Sneakers
A strapless graphic top takes a lot of confidence to wear, but when you do, it always looks amazing. The fact that the inscription on the shirt reads dickies is awesome, given that she's wearing dickies.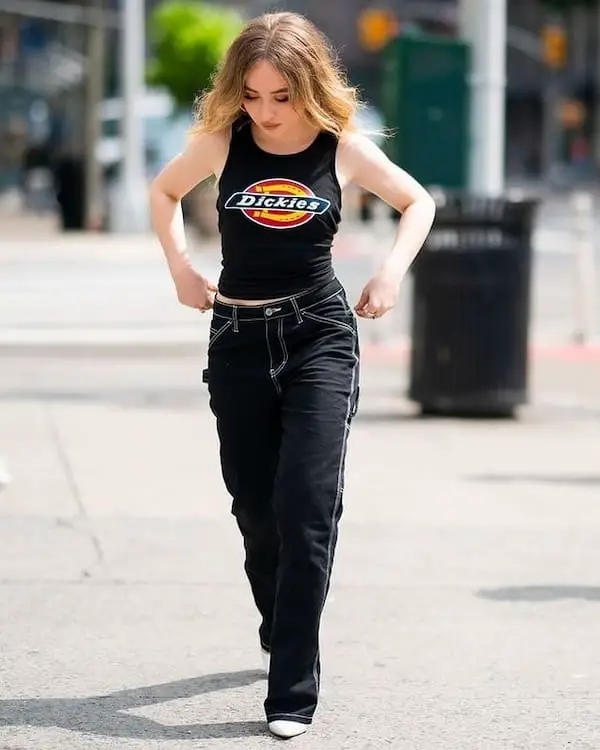 18. Graphic Sweater with Dickies Pants + Sneakers
If you're afraid of styling your dickies incorrectly, simply wear it with a graphic top. It's almost impossible for a graphic top and dickies combination to go wrong. And as she proved with her outfit idea, cropping the outfit a bit won't hurt.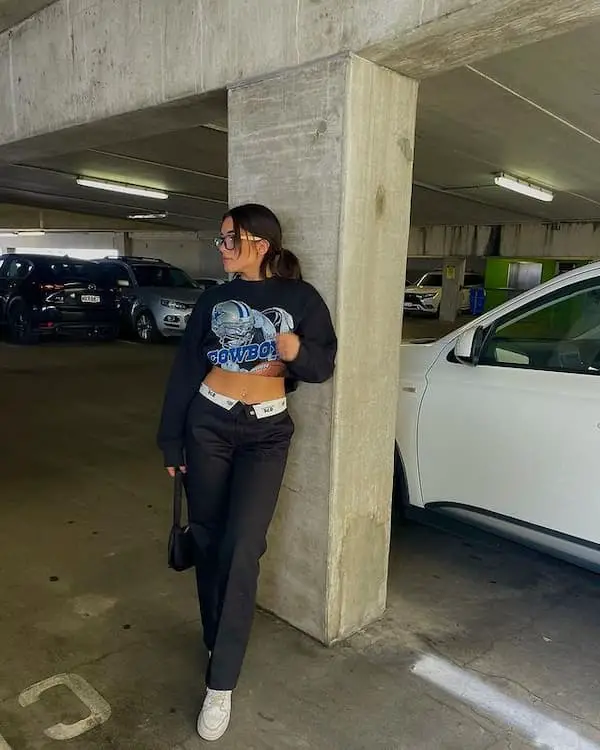 19. Inner Crop Vest with Dickies Pants + Trench Coat
If you're going on a visit to the beach, dressing this way only comes naturally. The trench coat can easily go off when you need some air and you can put it on again to regain her elegant look.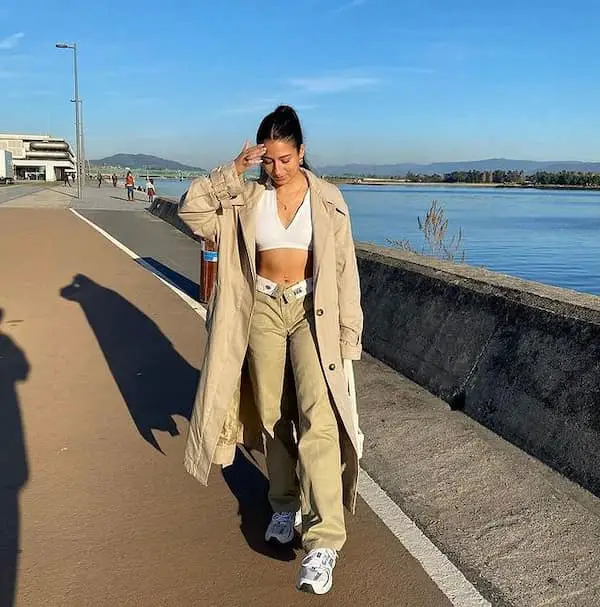 20. Crop Top + Leather Jacket with Dickies Pants + Boots + Sunglasses
If you've noticed, this list doesn't include an outfit with sunglasses yet, but here is an excellent idea to prove that sunglasses work with dickies. Try retaining the color match to look just as chic as she looks in this demonstration.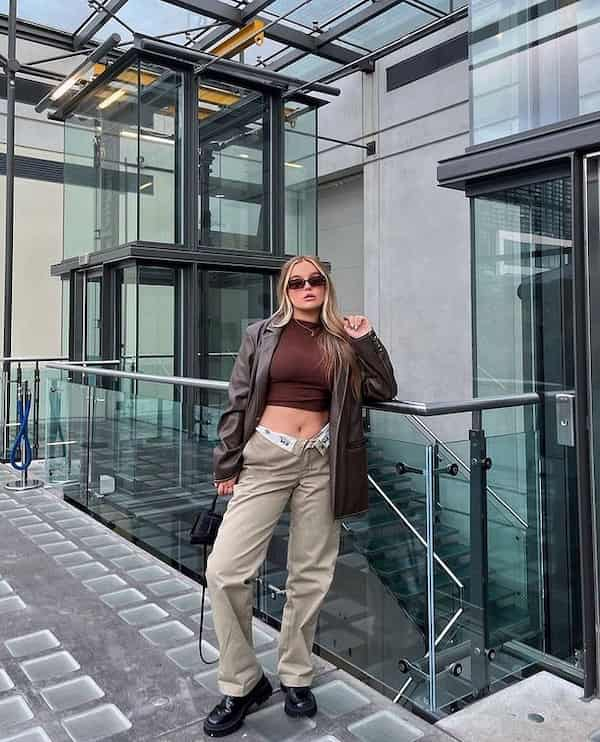 21. Crop Long Sleeve Top with Dickies Pants + Sweat Cap + White Sneakers + Clutch
A cropped long sleeve top also proves to pair excellently with dickies pants. The sweat cap integrates perfectly into the outfit and the white sneakers are just excellent.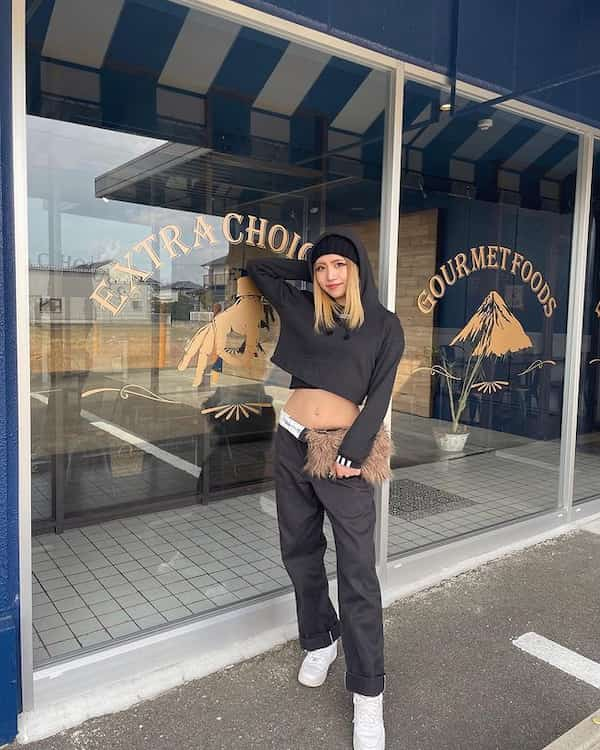 22. Crop Tee with Dickies Pants + Shoes
Again, another crop tee that slightly dabbles into the territory of graphic tees. While it isn't the best gym outfit, it's just perfect for slight walks or cruises on your scooter board.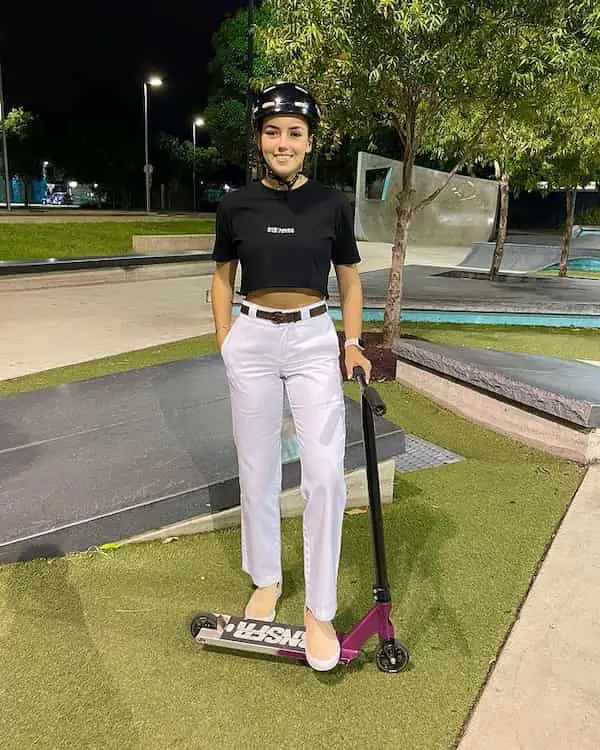 23. Sweat Shirt with Dickies Pants + Converse Shoes
This is my personal favorite of all the outfit ideas in this collection. It's perfect for keeping the cold out in the winter, and it's also a decent work outfit. In addition to that, it doesn't look bad, although, it's not the best Christmas outfit either.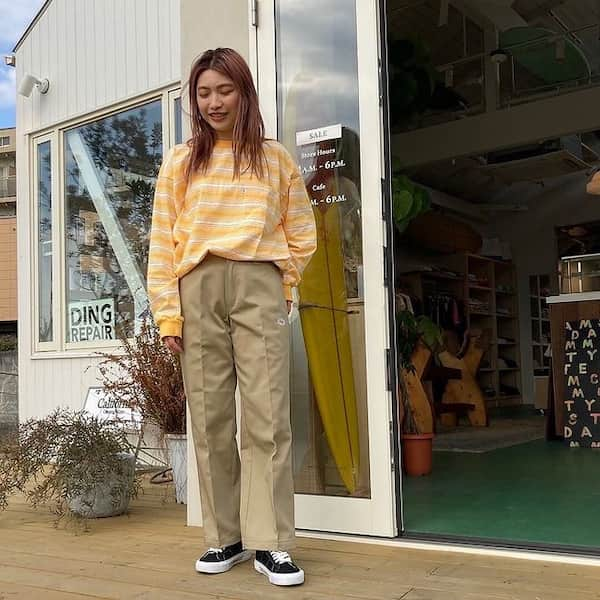 24. Black Shirt + Jacket with Dickies Pants + Trainers + Sweat Cap
Except for the red sneakers, this is another all-black dickies outfit. Since we've already discussed why this works every time, I don't think we have to go over it again.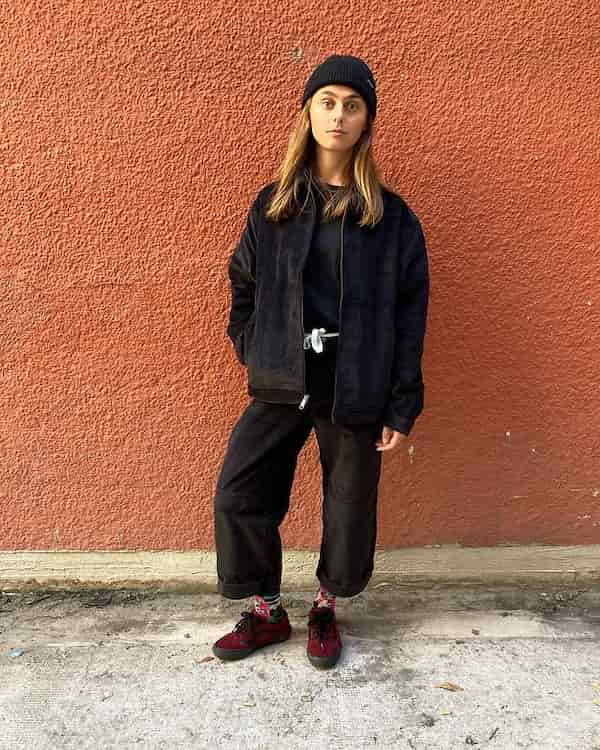 25. Oversized Sweater with Loosely Fitted Dickies + Nike Sneakers
An oversized sweater with loose dickies makes a great and fashionable winter outfit and they shouldn't break the rules at your workplace. Copy the colors precisely and you'll look just as great as she does here.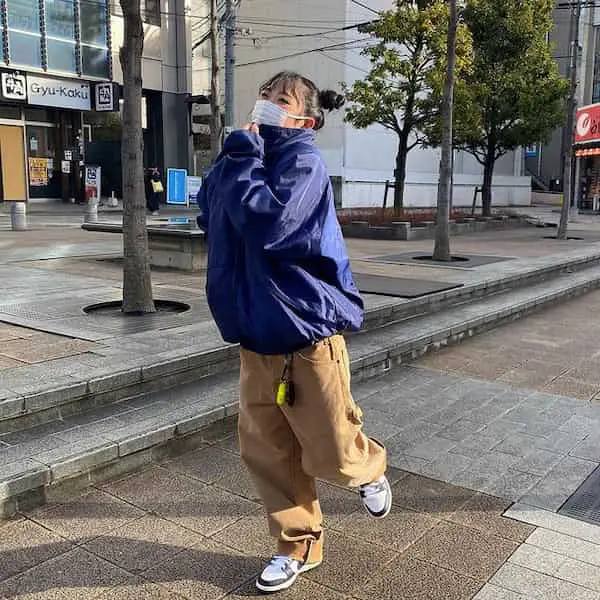 And that's all for my post on how to style Dickies Pants. Want some more outfit ideas? Then you might want to check out these blog posts.
I hope you enjoyed this piece of content. Do well to rate this post, and don't forget to share this outfit compilation with your friends.
See you with more exciting inspirations. Trust me; you wouldn't want to miss any of our upcoming outfits compilation, so make sure to follow us on Pinterest.
Pin for Later.