Looking for plus size outfits with jeans for inspiration? Don't worry, this post got you covered.
Jeans are for everyone: male or female, young or old, skinny or plus-size. If you currently hate it, it's almost certainly because you're wearing them wrongly.
It's not uncommon for plus-sized ladies to abstain from wearing jeans because they believe it's difficult to style for them. As the outfit inspirations below will prove, anyone couldn't be wronger.
In this article, I'll show you some of the hottest ways plus-sized ladies have styled jeans. Using these inspirations, you can also incorporate jeans into your outfit to look however you want.
Plus Size Outfits with Jeans
1. White Vest + Blush Pink Cardigan with Jean Pants + Boots
This outfit sounds like a cross between what a model wears to walk on a runway and what's accepted in the typical workplace. Depending on how you're wearing the cardigan, it can either work for the winter or summer.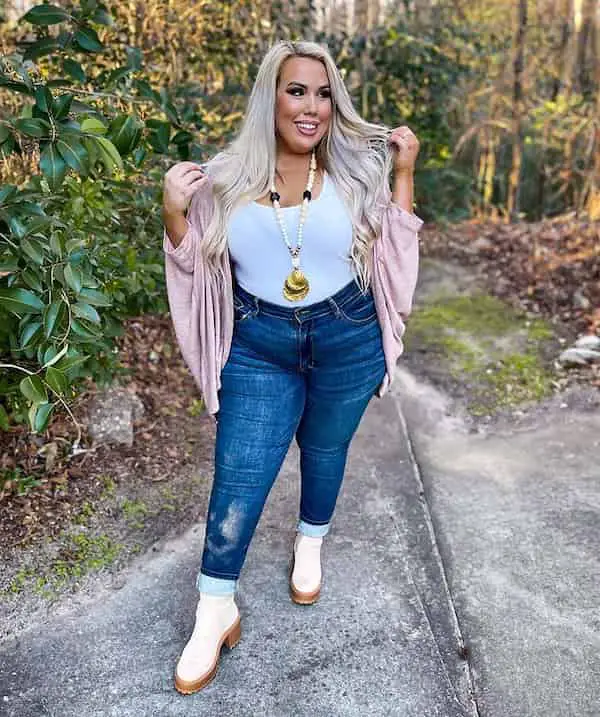 2. Spaghetti Strap Top + Long Sleeve Shirt with Ripped Jeans + Heels
This outfit looks a lot similar to the preceding one, but I doubt you'll want to wear ripped jeans to work. For other casual scenarios, however, I guess it's okay to recreate this outfit.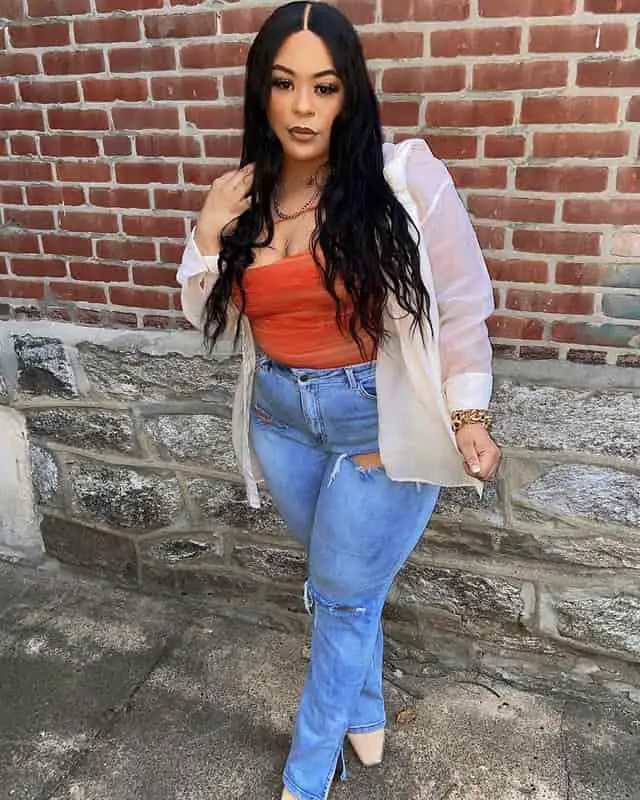 3. Sweat Shirt with Baggy Jeans + Sneakers
See how beautifully a sweatshirt matches a pair of jeans in the below outfit idea. Goes a long way to show how excellent you can look by pairing simple outfits like sweatshirts with jeans.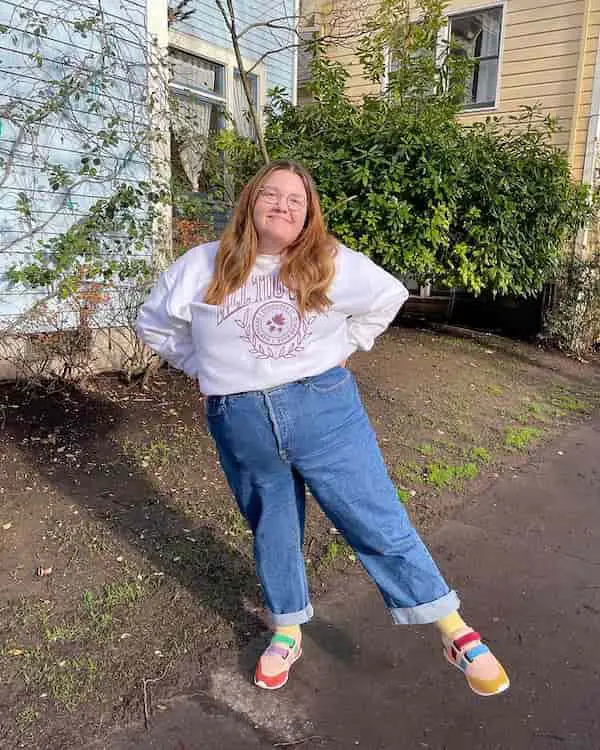 While most plus-sized ladies tend to stay away from crop tops, maybe they only need a bit of confidence to look amazing in it. For instance, look at the model below and tell me chubby ladies shouldn't wear crop tops.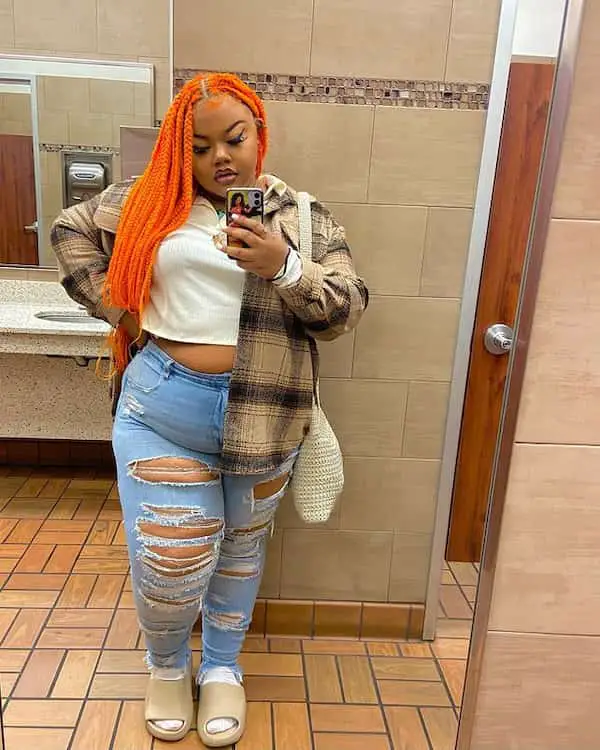 5. Tank Crop Top with Flared Jeans + Slippers
Building on the crop top from the preceding outfit inspiration, here is another way to match jeans with crop tops to look hot. This comfortable outfit is decent for any random afternoon at home.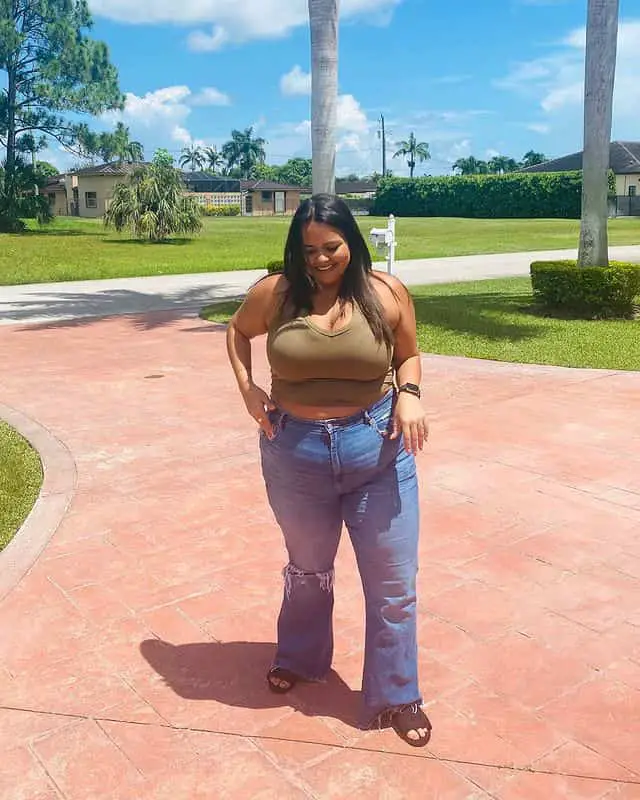 6. Black Shirt + Black Blazer with Ripped Jeans + Black Boots + Clutch Purse
Blacks tend to go with all colors, but blue and black look like a match made in heaven. The entirety of this outfit is either blue or black, down to the sneakers and the clutch!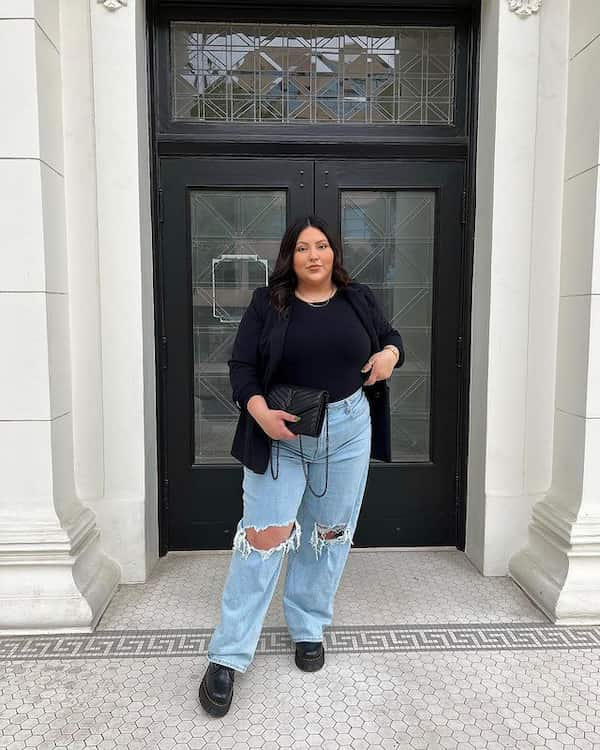 If it's relatively cold, wearing a knitted crop top with knee-high boots might help keep you warm. Since the charm is in the crop, I'm not pretty sure if this is effective against the cold, but you don't know until you try.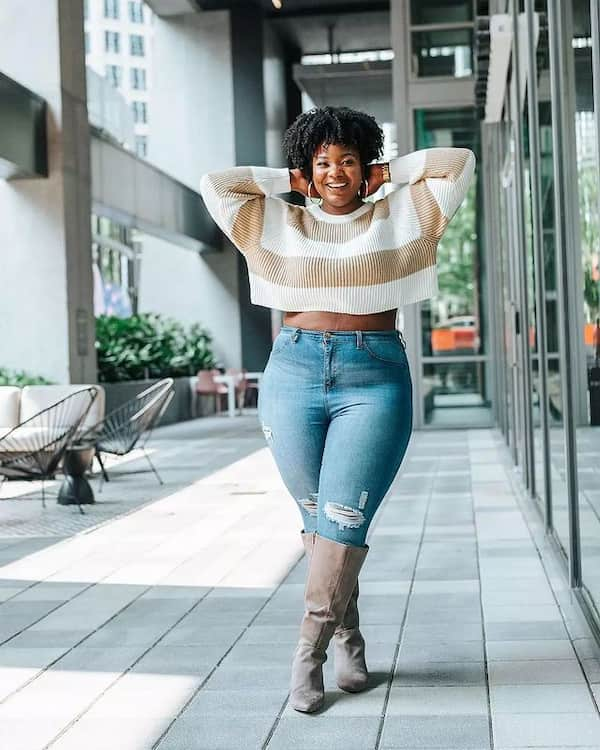 8. White Turtle Neck Top + Trench Coat with Blue Jeans + Ballet Flats + Handbag
This shirt ticks every box in the requirements for elegance. Giving you a bossy look, it's one of the edges that plus-sized ladies have over skinnies when styling jeans. Notice how she tied the trench coat expertly? You must replicate that too!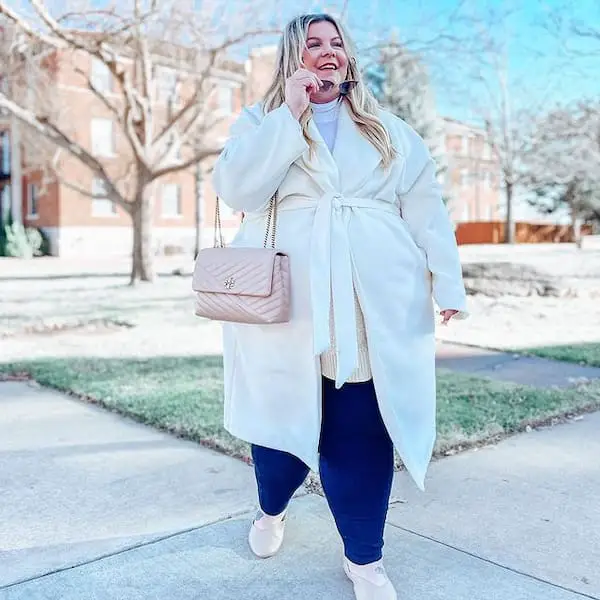 9. Black Shirt + Oversized Flannel Shirt with High Waist Blue Jeans + Boots
I think an unwritten rule mandates wearing blue jeans whenever you wear something over jeans. Since I never knew oversized flannel could be this fashionable, I hope you're taking notes.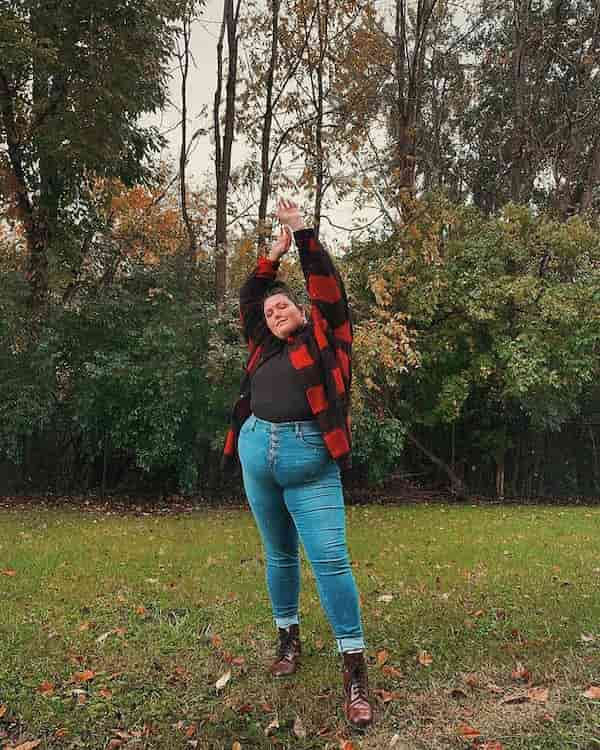 10. V-neck Long Sleeve Crop Top with High Waist Ripped Jeans + Black Boots
If you're off to a friend's birthday, you'll surely steal the show by appearing in this outfit. It looks deceptively simple, but it is excellent in the right ways to help you look your best. My personal favorite from this collection.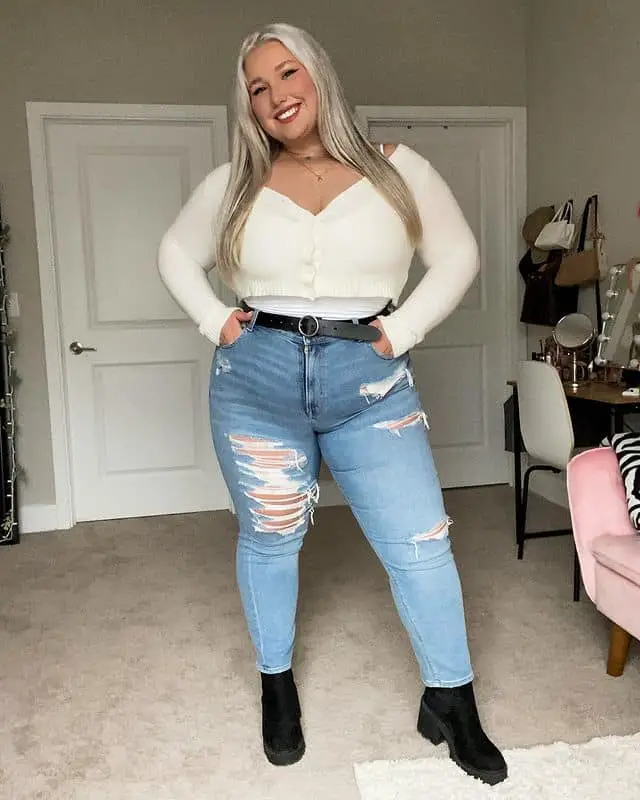 11. Patterned Shirt + Trench Coat with Jeans + Beret + White Sneakers + Handbag + Sunglasses
Most t-shirts work with jeans, but recreating this outfit requires a tee with horizontal patterns. You also need a beret, sunglasses, a handbag that matches your sneakers; in short, you need to shop for new clothing apparel.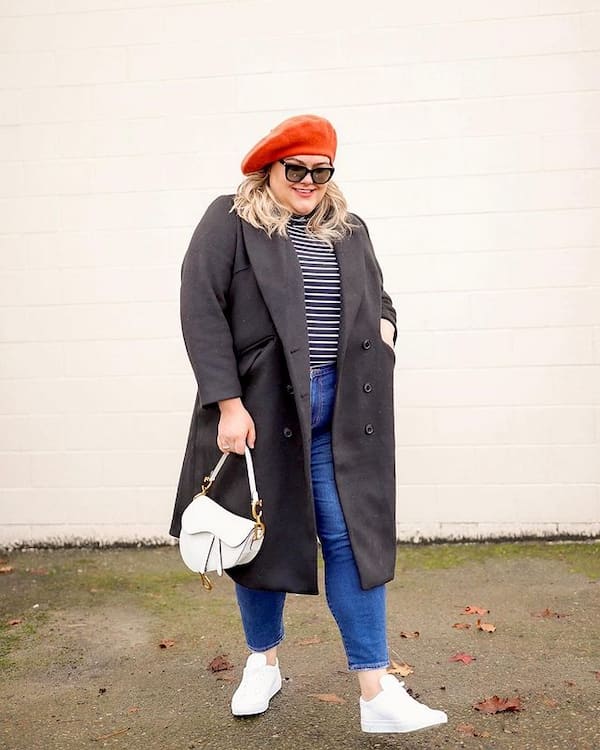 12. Lemon Top + Colorful Jacket with Gray Jeans + Boots
While being a plus-sized lady, the jeans complemented the rest of her outfit, emanating bossiness. The only way to attain a similar level of elegance is by copying the dress as-is; you're welcome.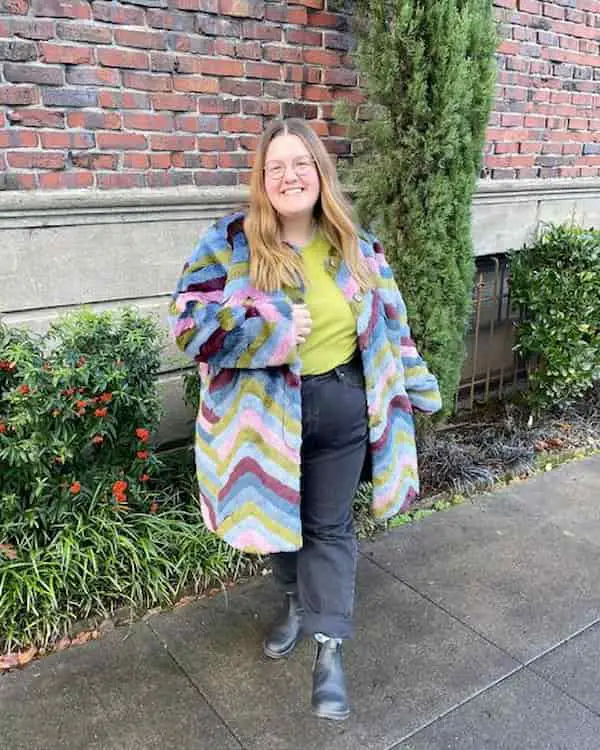 Most kinds of shirts are designed for jeans, including this amazing button-down white shirt. This outfit doesn't look that hard to replicate, but it works across all environments, including formal ones.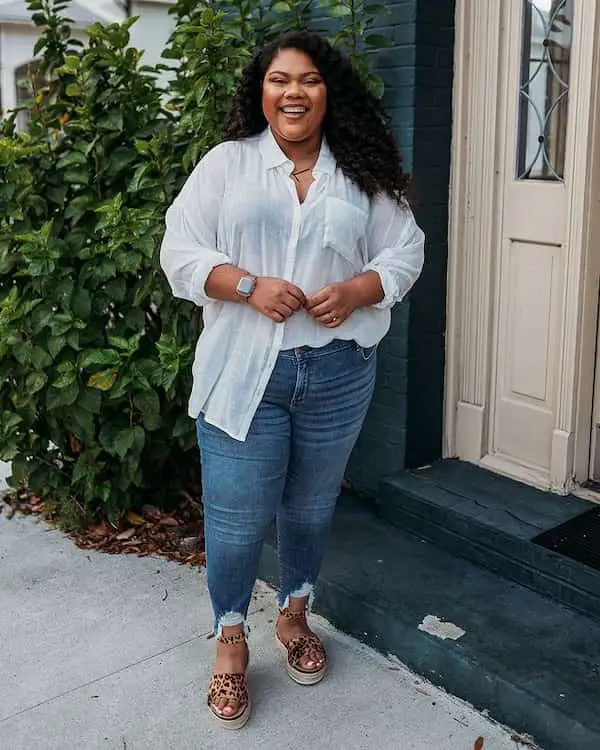 14. Sport Vest + Long Sleeve Shirt with Blue Jeans + Heels + Handbag
You'll need an impressive degree of confidence to pull off a similar outfit idea. If you still love your job, please don't show up at work like this; anywhere else is fine.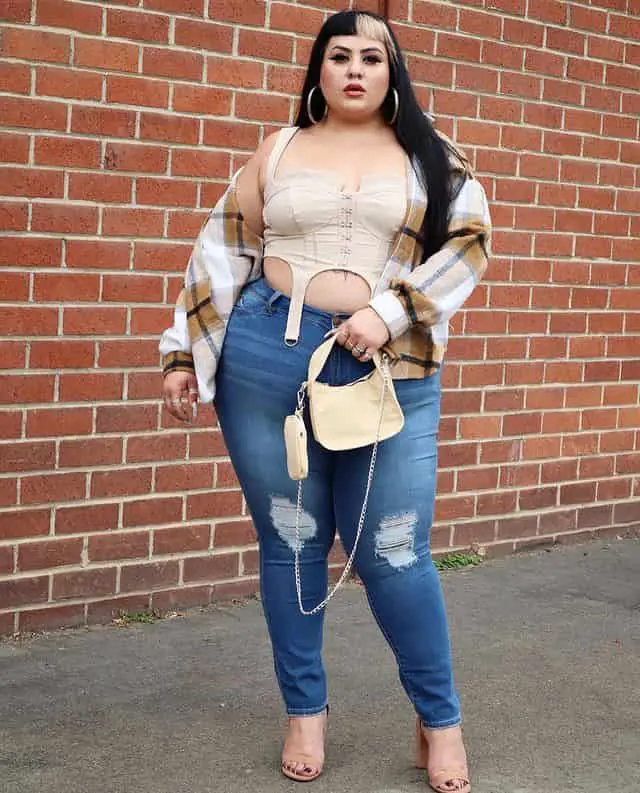 15. Bodysuit + Blazer with Black Jeans + Boots
This outfit would've been an all-black outfit, if not for the blazer. If you're not comfortable with blue jeans, here is an alternative that looks hotter than wearing regular jeans, depending on who you ask.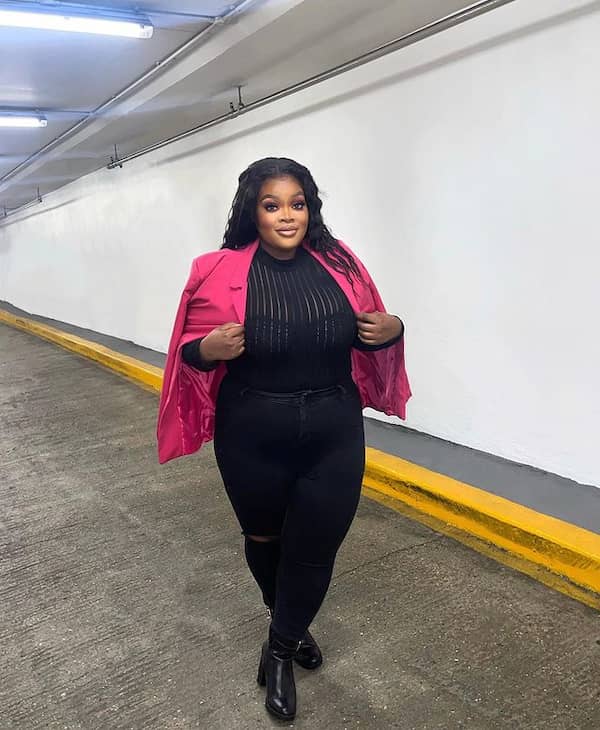 16. Sweat Shirt with Jean Shorts + Shoes + Face Cap + Handbag + Glasses
This outfit idea looks better than the effort that went into styling it. When you discover that wearing simple shorts and a sweatshirt can make you look this good, you'll never want to wear a complicated dress again.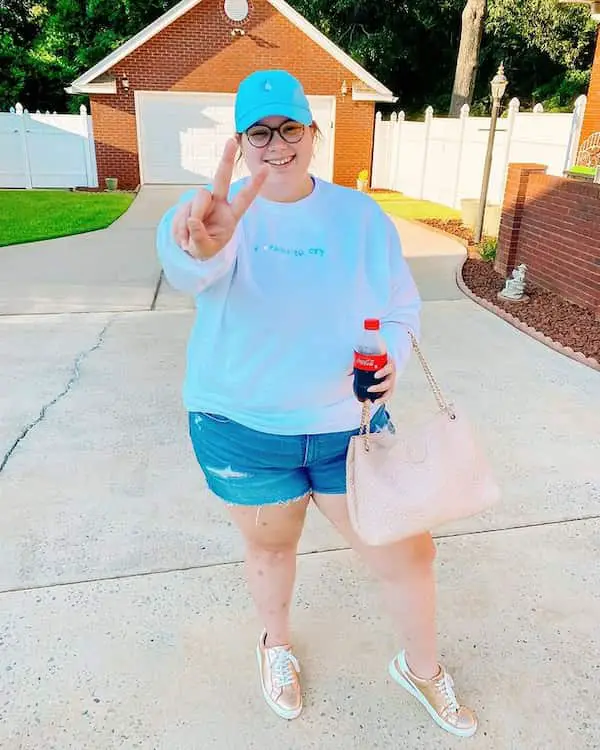 17. Long Sleeve Sweatshirt with High Waist Jeans + Boots + Face Cap
This outfit simply comes together naturally to create a cohesive outfit. I don't need to praise how excellent it looks; you can see for yourself below. And yes, it works for formal gatherings too.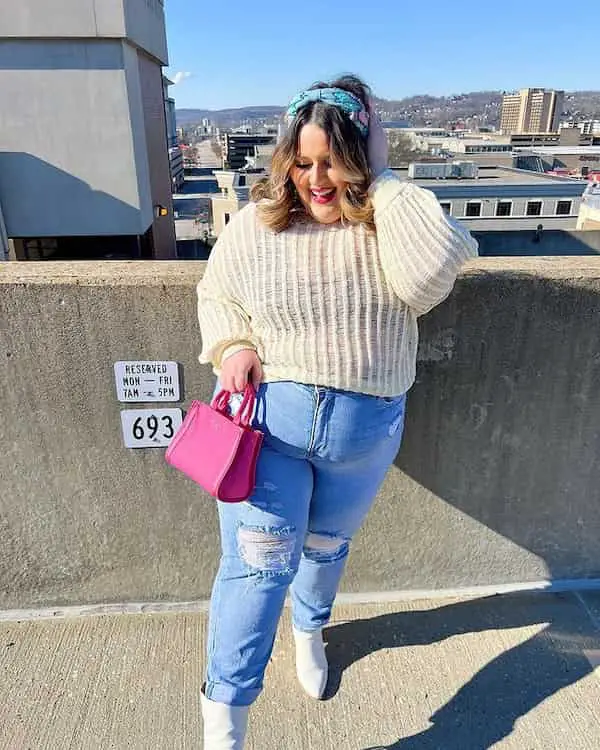 18. Pink Spaghetti Strap Top + Lace Crochet Duster with High Waist Ripped Jeans + Sandals + English Hat + Sunglasses
If you're the celebrant at a birthday, I'm still looking for a better jeans outfit for you than this. Birthdays aside, copy this outfit and you're good to go anywhere casual in the summer.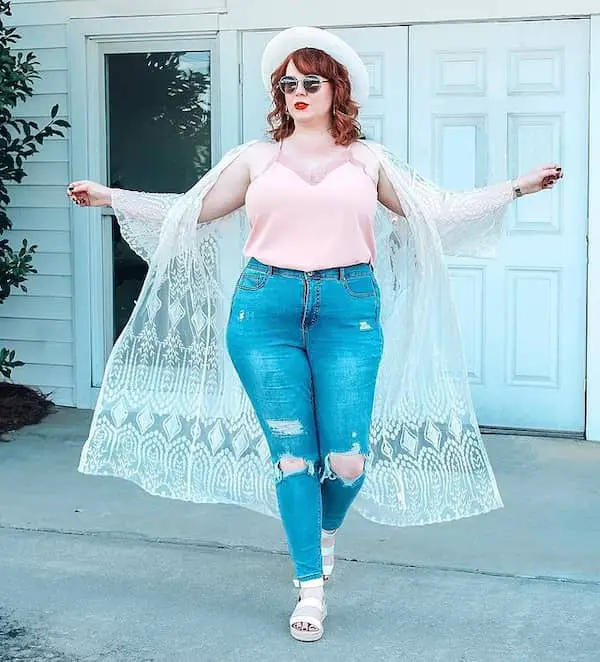 19. Crop Top + Ripped Blue Jeans + Heels + Handbag
Here is another excellent implementation of a crop top, this time with no flannels. This works best if you're going on a night out with the ladies. With developing self-confidence, you'll slowly grow into becoming comfortable with it.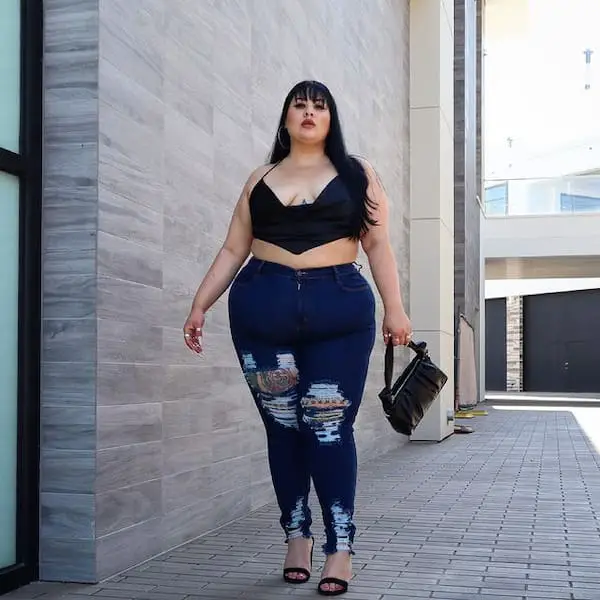 20. Yellow Wrapped-Design Top with Jeans + Heels + Clutch Purse
Who says the perfect work outfit with blue jeans doesn't exist for plus-sized ladies? Wait until they see the sheer elegance of this model. Before then, however, consider recreating this outfit to look just as good.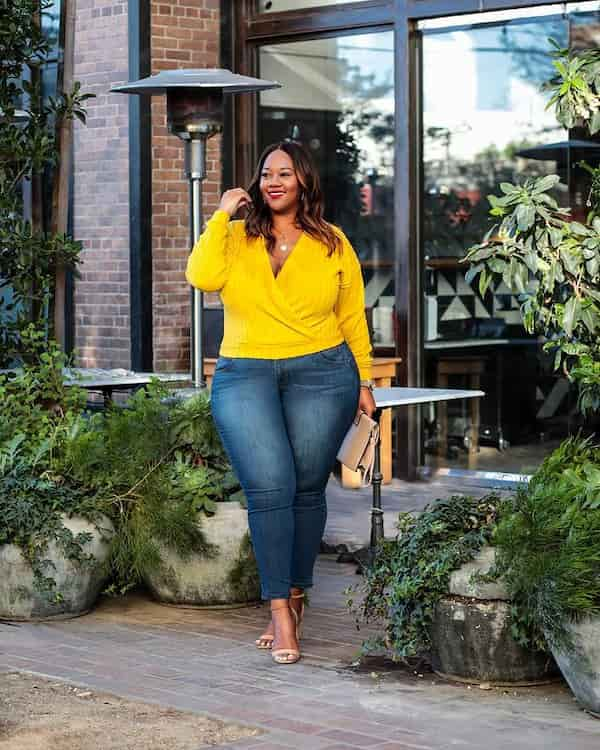 21. Long Sleeve Button Shirt + Vest with Ripped Light Blue Jeans + Heels + Sunglasses
People typically wear flannels over vests, but why must you follow unwritten rules. Here, the model challenges the system, and the result is nothing short of satisfying. Must-copy for ladies that love unconventional outfits.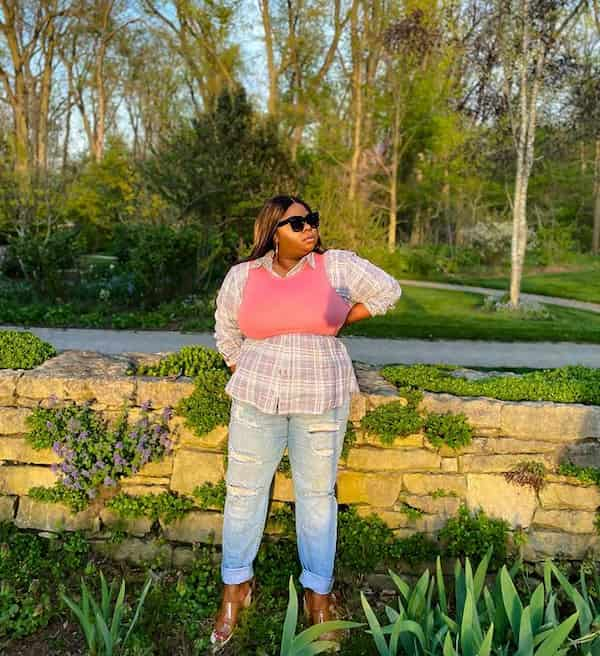 22. White Long Sleeve Blouse + Crop Vest with Black Jeans + Black Shoes + Handbag
This is another version of the previous outfit idea, only that you replace the flannel with an oversized shirt and everything is either black or white. It may be a matter of personal preference, but this looks better than the previous one.
23. White Graphic T-Shirt with Flared Jeans + Shoes + English Hat
Who doesn't love styling a graphic tee with a pair of jeans? Add an English hat to the look and you get an unexplainable chicness, as in the picture below.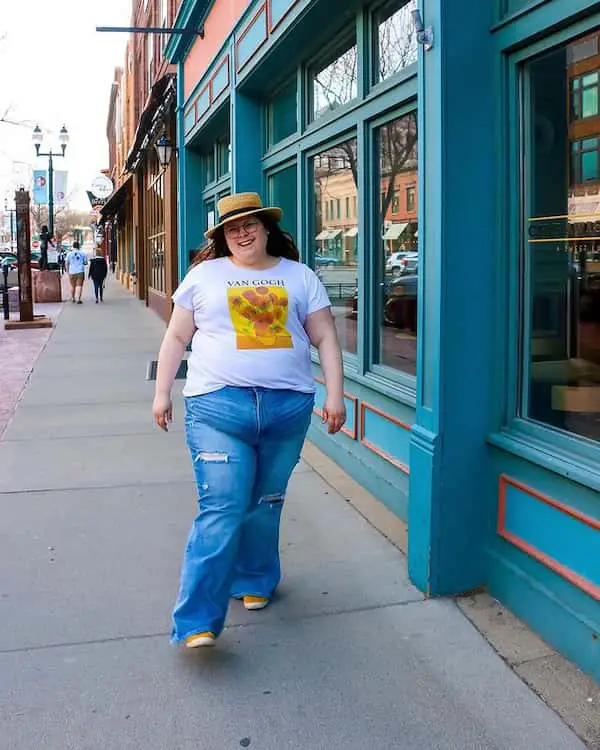 24. Patterned Shirt + Floral Jacket with Blue Jeans + Sandals
Remember how we styled a horizontally patterned shirt with a pair of jeans earlier? Well, this shirt has vertical patterns and looks almost as good, if you're willing to copy.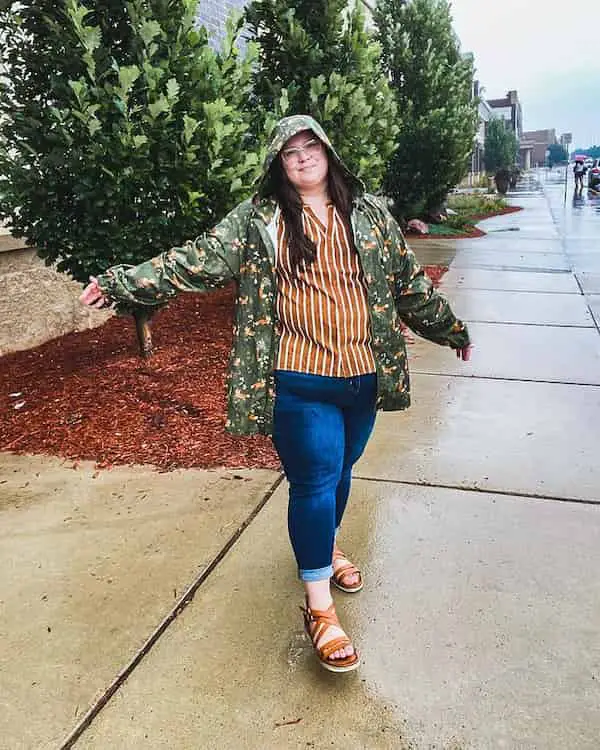 25. Off-Shoulder Crop Top with High Waist Ripped Jeans + Heels
I love how the last outfit is a crop top. With so many crop tops on this list, I hope you'll challenge the misconception that crop tops aren't for chubby ladies. The model looks dope in that outfit by the way.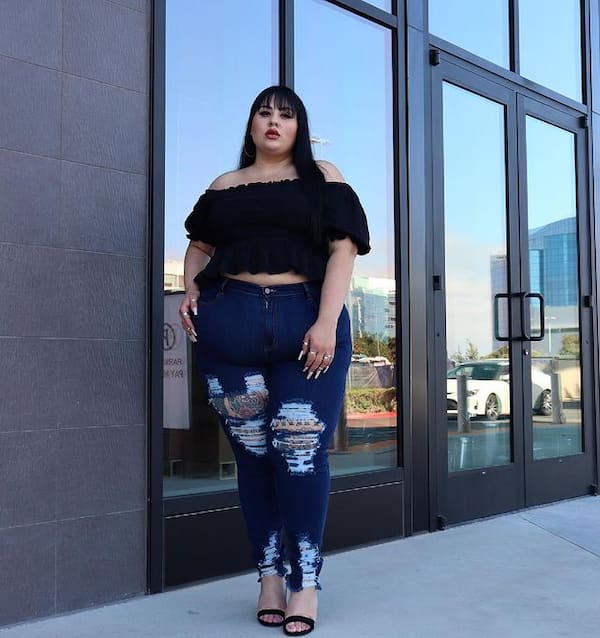 And that's all for my post on plus size outfits with jeans. Want some more outfit ideas? Then you might want to check out these blog posts.
I hope you enjoyed this piece of content. Do well to rate this post, and don't forget to share this outfit compilation with your friends.
See you with more exciting inspirations. Trust me; you wouldn't want to miss any of our upcoming outfits compilation, so make sure to follow us on Pinterest.
Pin for Later.