There's only one thing that most outfits have in common: going with sneakers. Here are the cutest summer outfits with sneakers to look your best.
It's summertime again, and the hassle of deciding what to put on is back in full force.  Sneakers are pretty much the only footwear that goes well with just about any dress choice.
Whether it's those fire-hot Nikes or drip Jordans or just your basic Converse all-stars, you could just about slip into anyone this summer and never get tired of it. I will be feeding your eyes with hot, stunning, chic, beautiful, and the most fashionable combos you can make with your sneakers this summer. Scroll down and enjoy.
Beautiful Summer Outfits with Sneakers
1. White Shirt with Ripped Gray Jeans + Hat + Sneakers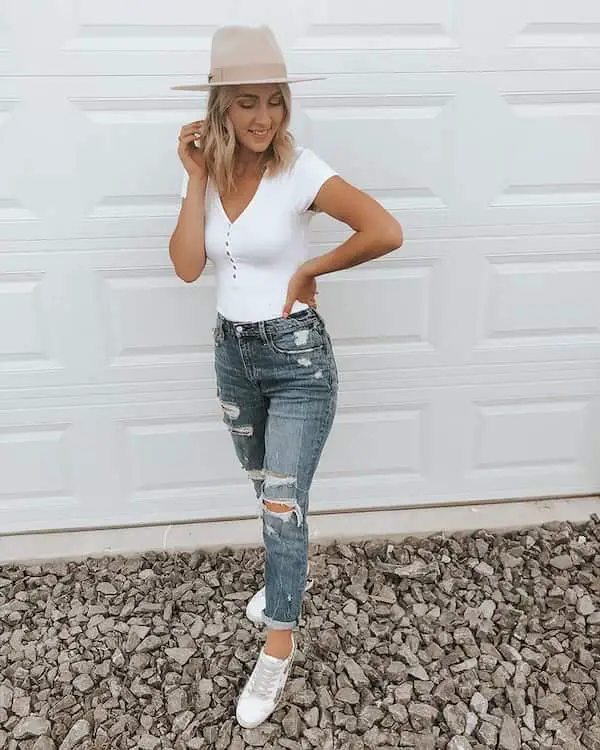 Complete your look this summer by slipping into a pair of sneakers while wearing a white shirt on gray ripped jeans.
2. Brown Dress with Tummy Belt + Sneakers + Midi Handbag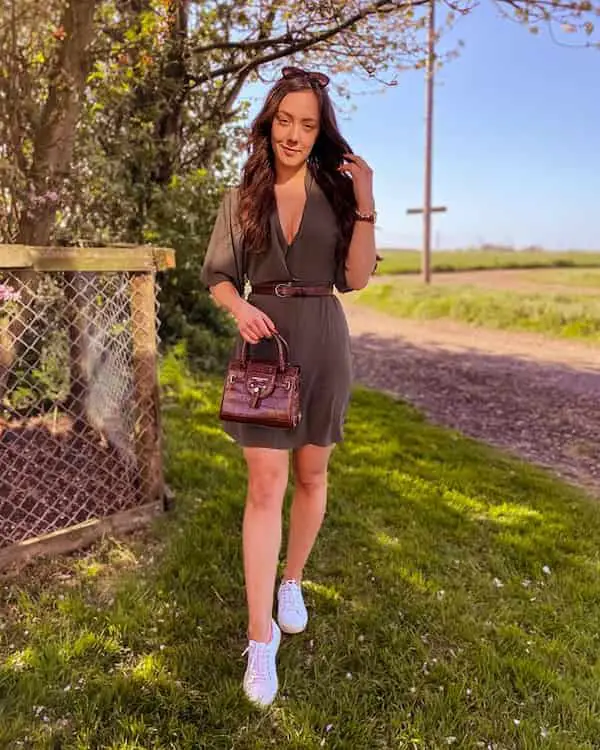 Pairing a tummy-belted brown dress accompanied by a midi bag with sneakers will make you look casual and simple this summer. This is a perfect summer look.
3. Pink Top with Mini Skirt + Sneakers + Maxi Grocery Bag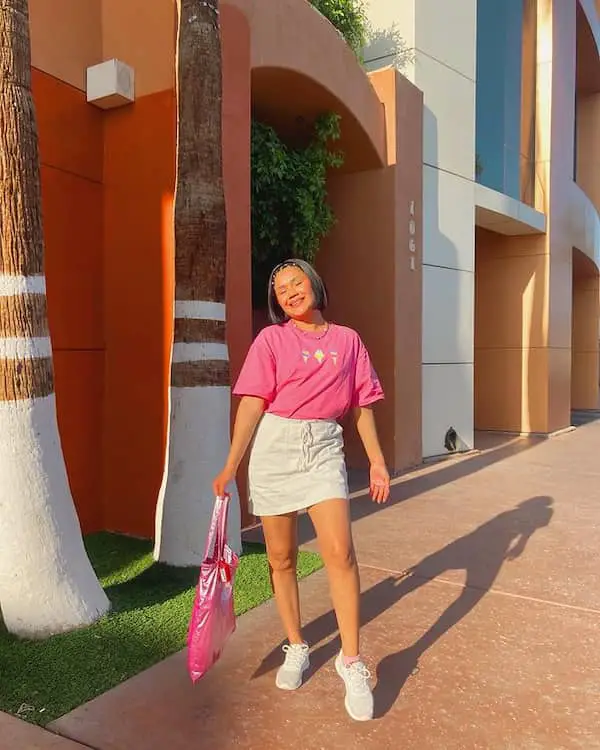 Ladies who love skirts, you aren't left out. You can also pair your pretty skirts with sneakers too. A pink top with a mini skirt could easily go well with a sneaker that matches well.
4. Yellow T-shirt with Denim Shorts + Sneakers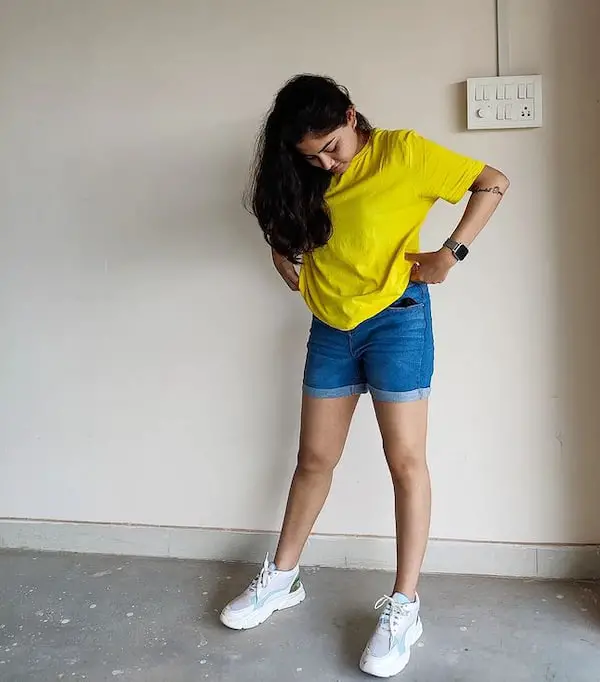 Simplicity in styling! Put on a yellow T-shirt with denim shorts and complete your summer look by sliding into a pair of your most comfortable sneakers and slay.
5. Army Green Crop Top with Matching Color Pants +  Sneakers + Mini Handbag + Sunglasses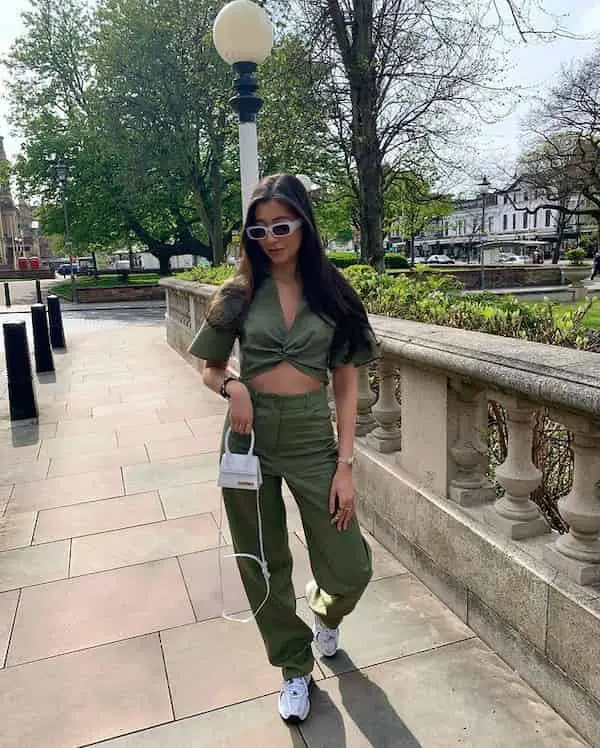 You are probably tired of putting on heels this summer and wish to replace them with something more comfortable. A sneaker like this could do no wrong as it will make you look chic and stand out.
6. Puffed Hands White Shirt with Pink Vest + Pink Shorts + Sneakers + Midi Handbag + Sunglasses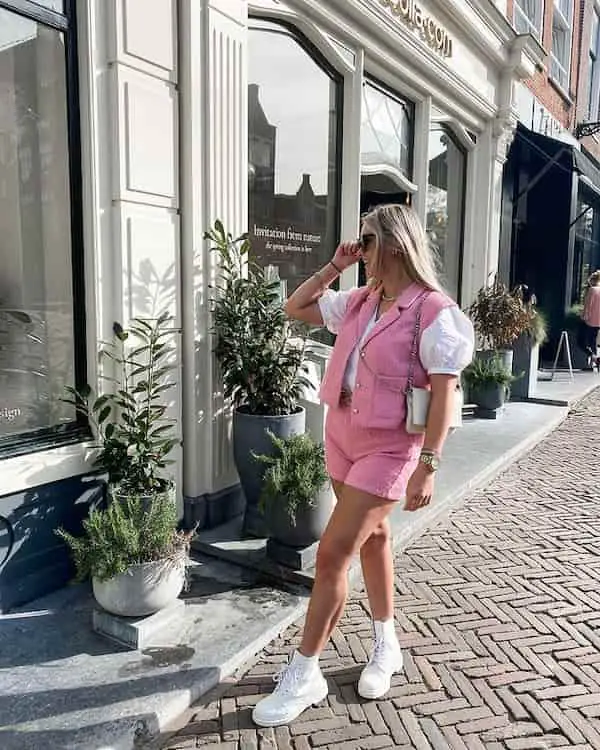 Sneakers this beautifully laced could be paired with any pretty two-piece clothing as seen in the picture. Recreate this perfect walk outfit this summer and turn heads in your direction.
7. Black Tank Top with White Long Sleeve Button Shirt + Denim Shorts + Sneakers + Crossbody Bag + Face Cap + Sunglasses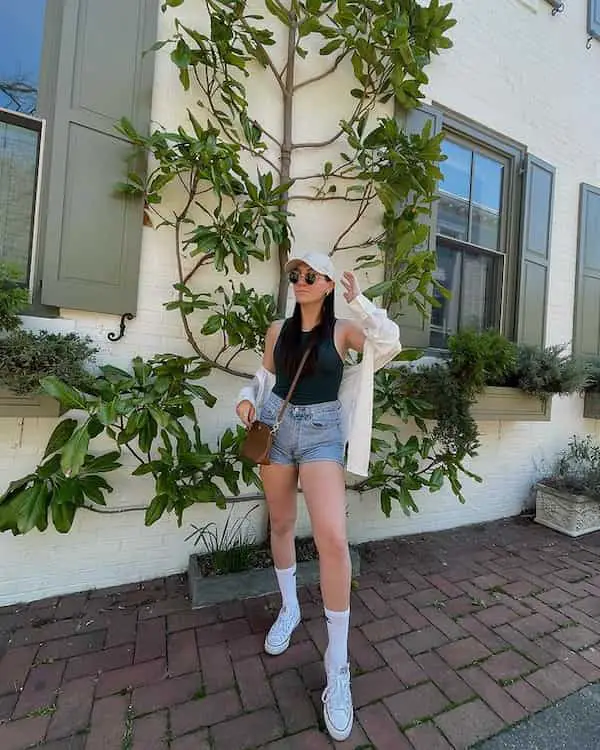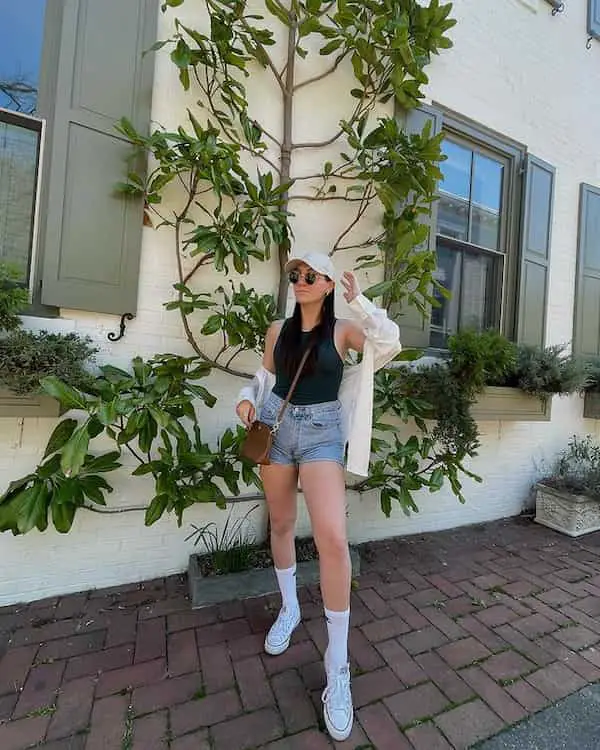 Do you want to go to the gaming center or amusement park this summer? Then recreating this look is a great idea. You wouldn't stand out and at the same time feel very comfortable and cool.
8. Black Cami with High Waist Pink Shorts + Oversized Blazer + Sneakers + Midi Handbag + Sunglasses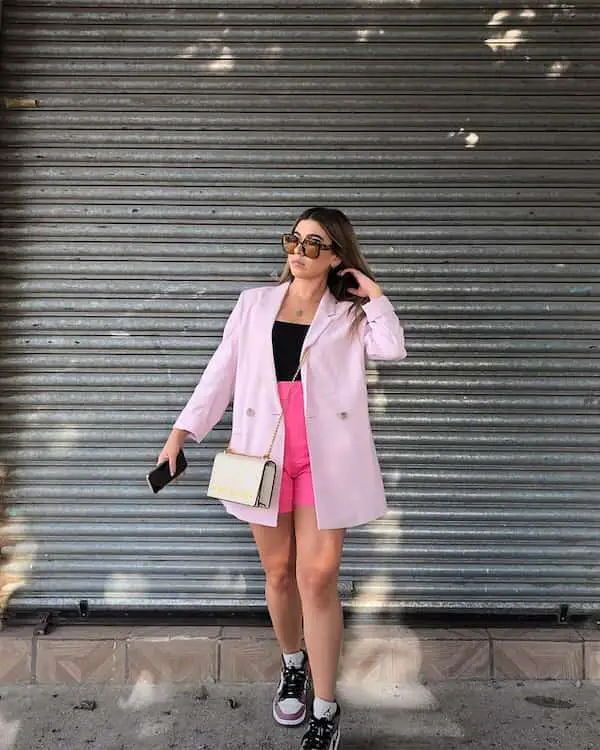 Did you think blazers could go wrong when worn on sneakers? Well, this picture proves you wrong. Snatch that blazer from your wardrobe and wear it over your Cami and high waist shorts accompanied by your pretty midi bag and sunglasses; then finish off your perfect summer look by slipping into your pair of Jordans.
9. White Tank Top with Black Joggers + Midi Handbag + Sunglasses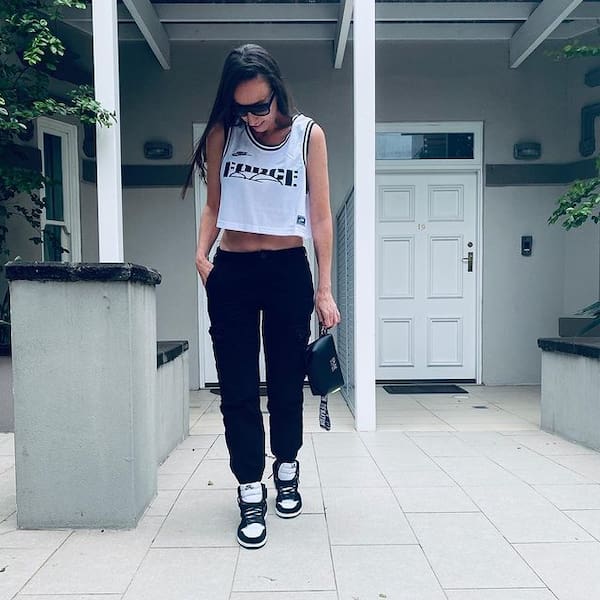 Hello!!! Do you want to look sexy with a touch of smartness this summer? Grab on your Nikes and put them on with your pretty white tank top on joggers.
10. Puffed Hands Black Blouse with Burgundy Mini Skirt + Belt + Panty Hose + Sneakers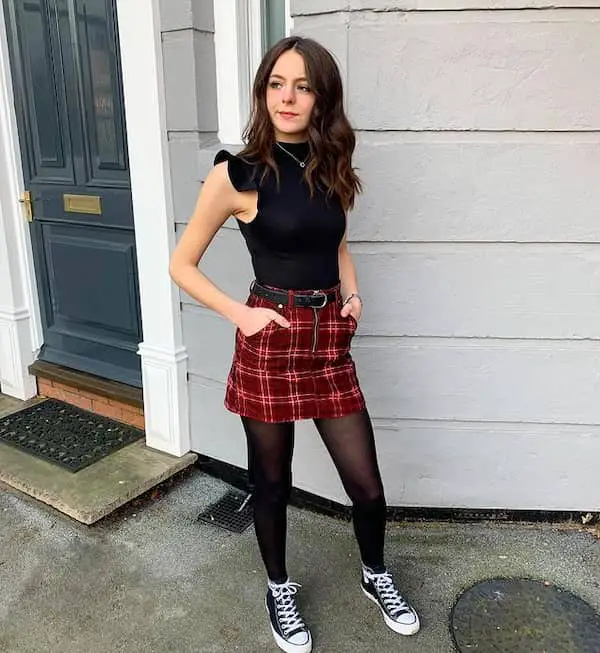 Hot legs well outlined with a pantyhose with a pretty black blouse on a mini skirt with a black and white all stars is your best pick if you want to strike people as the hottest in the room. You could easily do this look to school this summer and stay a Queen.
11. White Top with Oversized Denim Jacket + Leather Mini Skirt + Sneakers + Midi Handbag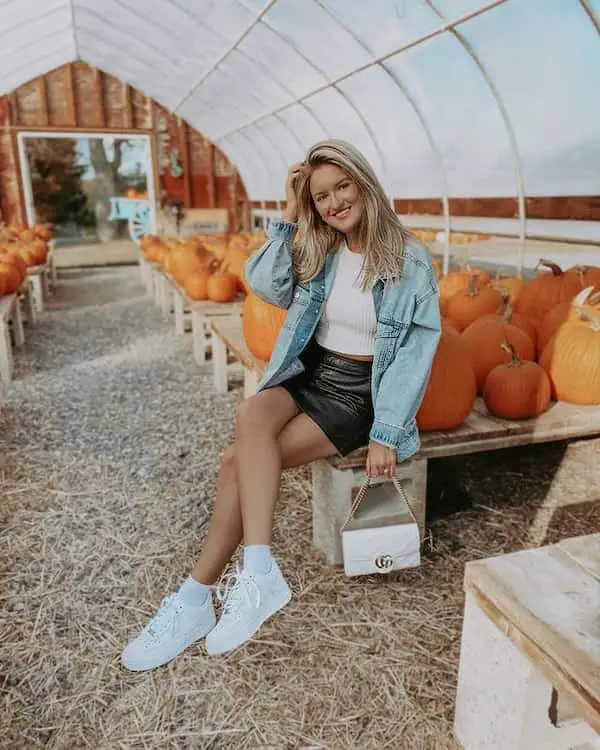 Hey girl, do you own a mini leather skirt and don't know how to pair it up? Well, look no further. Please put on your skirt with a white top and wear an oversized denim jacket over it with a pair of your most comfortable Nikes and slay this summer.
12. Black Sleeveless Top with High Waist Ripped Jeans + Sneakers + Midi Handbag + Sunglasses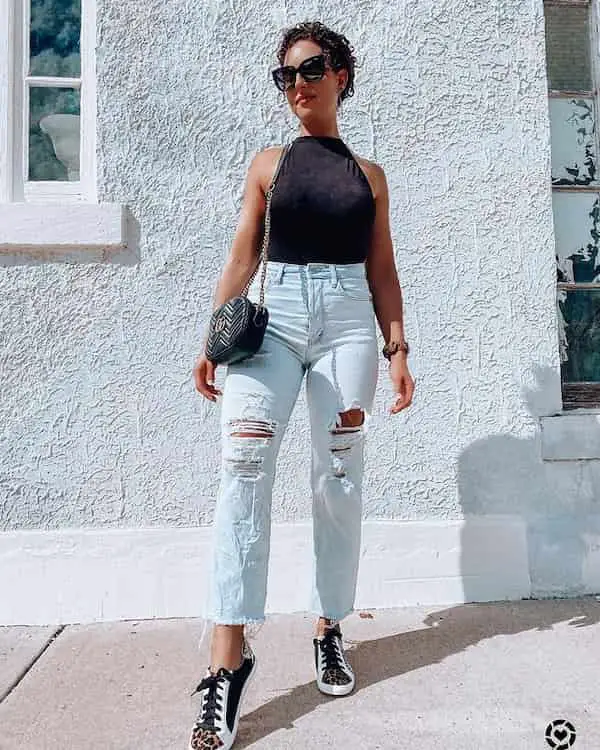 Are you a girl tired of those long sleeve tops or jackets you always have to slip into, causing so much heat? You can comfortably put on this sleeveless top on a high waist ripped jeans and a midi handbag and sneakers and stay well aired this summer.
13. Chambray Dress with Sneakers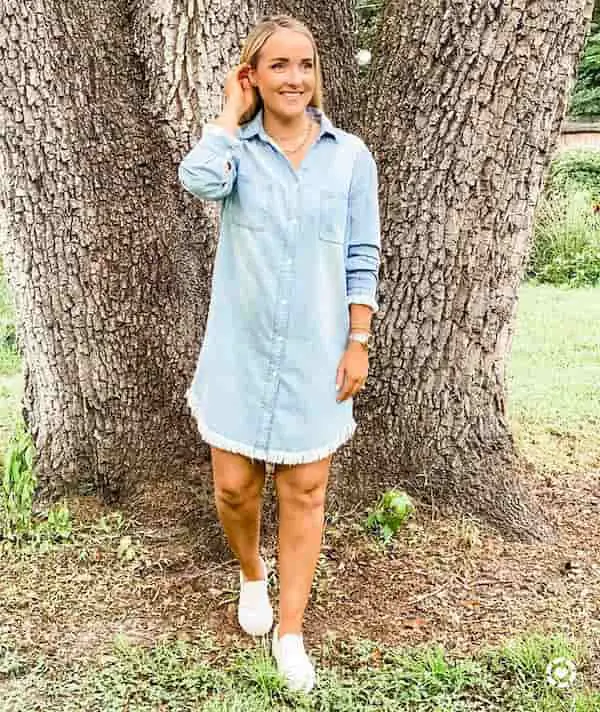 Owning a simple pair of no lace sneakers comes very handy this summer because you can easily pair it with that chambray dress you have. A look like this could easily be worn to church or a meeting with friends.
14. Brown Mini Dress with Denim Jacket + Sneakers + Midi Handbag + Sunglasses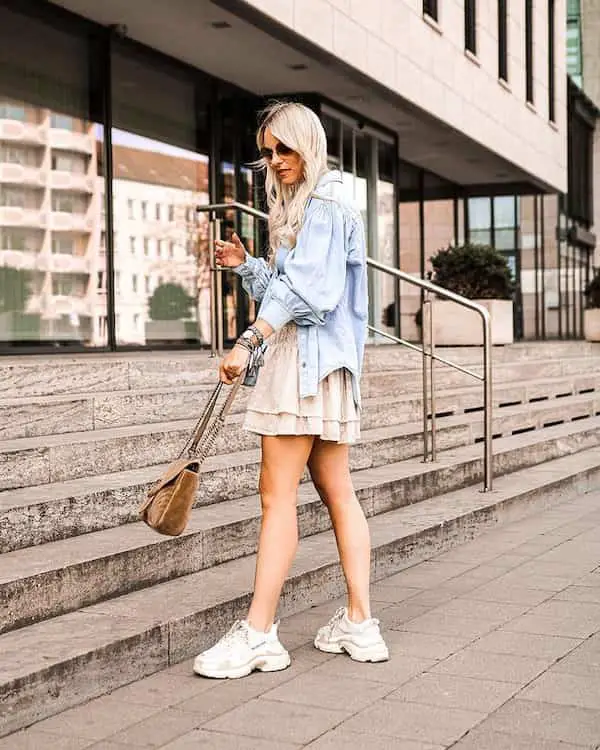 Look casual this summer by doing a mini dress with a denim jacket on well-picked sneakers with a midi handbag and sunglasses as your style.
15. V-neck Plain Top with Black Pants + Sneakers + Maxi Handbag + Sunglasses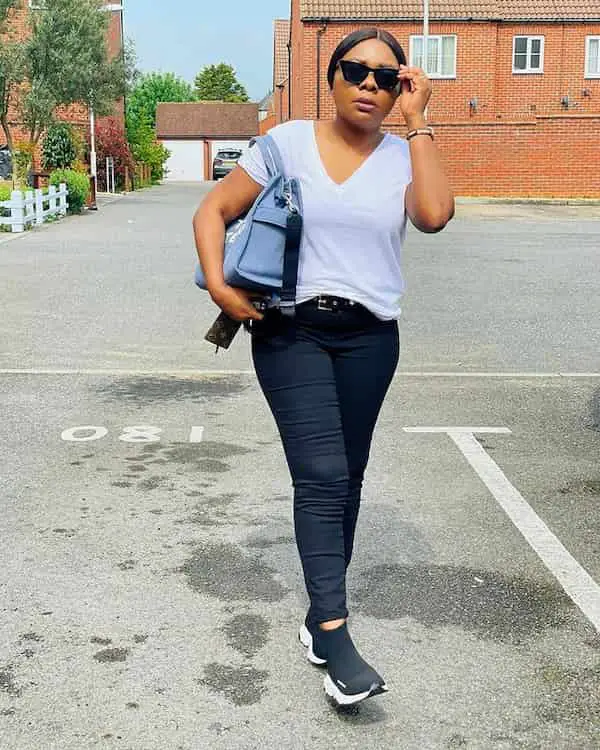 A perfectly simple Summer look. Comfortable enough for you to take a walk or go shopping. Recreate this look if simple is your charm.
16. Black Off-Shoulder Jumpsuit with Sneakers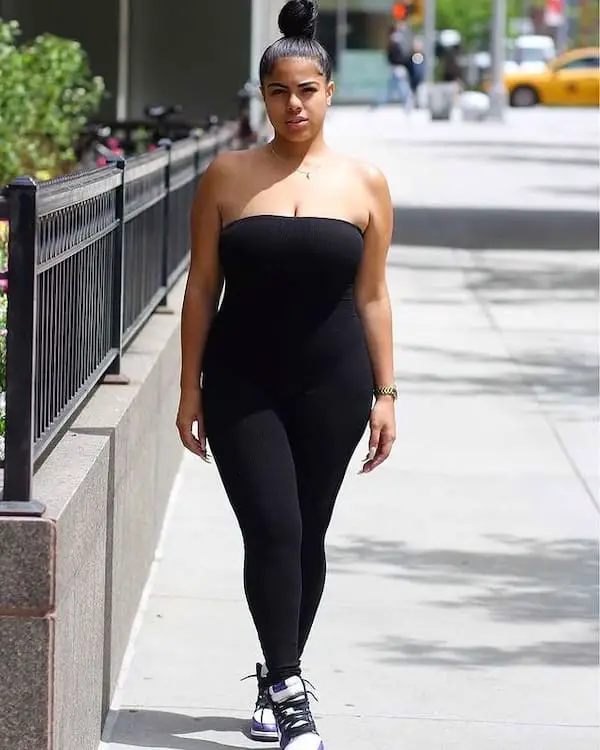 Do you like to show off your pretty neckline and shoulders? Then look breathless in this stunning off-shoulder jumpsuit paired with a fire-hot pair of Nikes this summer.
17. White Graphic Top with Burgundy Pants + Sneakers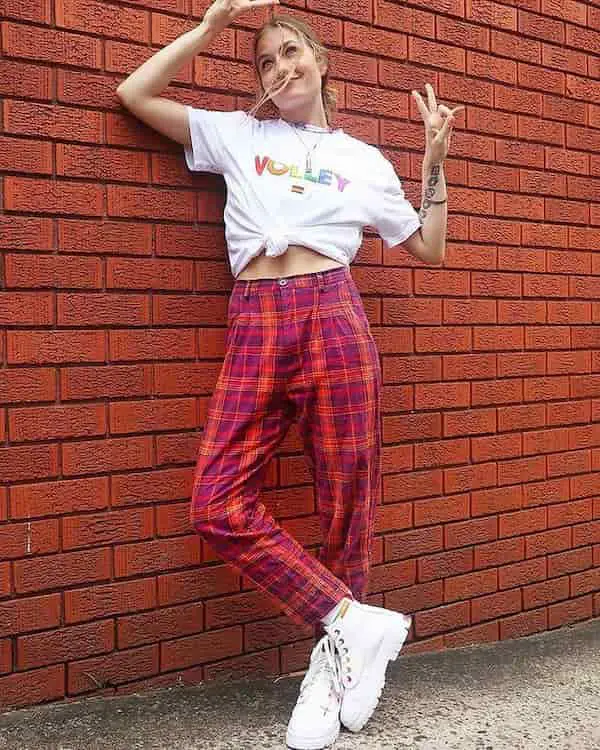 Are you sexy, pretty, and small? Conveniently slay this summer by recreating this look; a pretty white graphic top with a pair of burgundy pants with a classy sneaker boot.
18. White Oversized Graphic T-shirt with Sneakers + Sunglasses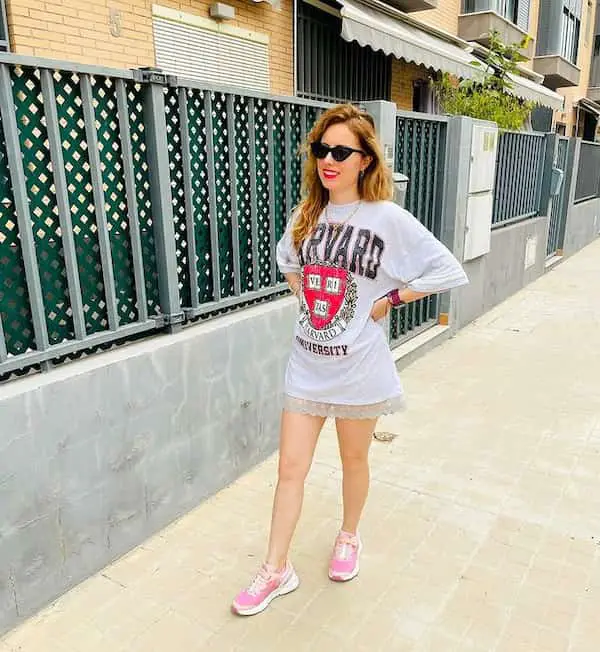 You can always turn your oversized T-shirts into a masterpiece by combining them with the perfect sneakers to match and a pair of sunglasses. This is the most convenient summer look as there is always that oversized t-shirt somewhere up your clothes collection.
19. Lemon Crop Knit Shirt with Denim Pants + Sneakers + Clutch Purse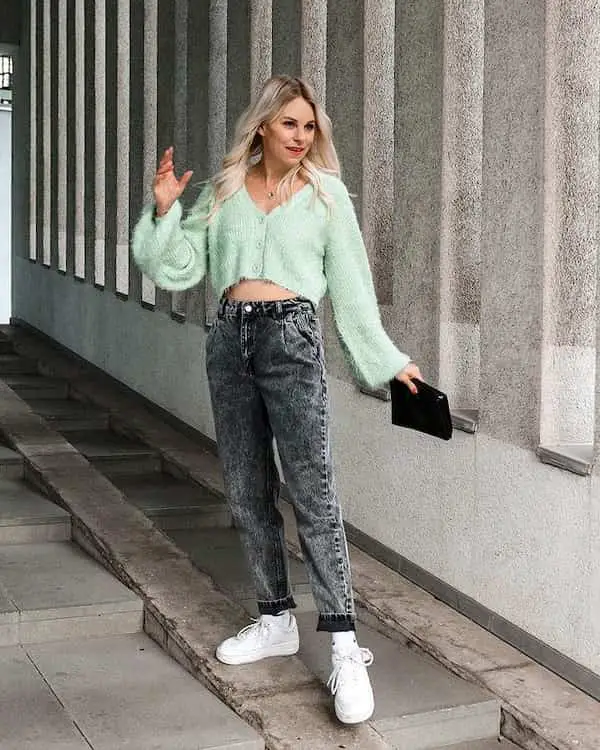 Do you own a knit shirt or want to get one? You can always wear it with black denim pants and a pair of lovely white sneakers plus your little clutch purse.
20. Black Crop Top with Flannel Shirt + Cargo Pants + Nike Sneakers + School Bag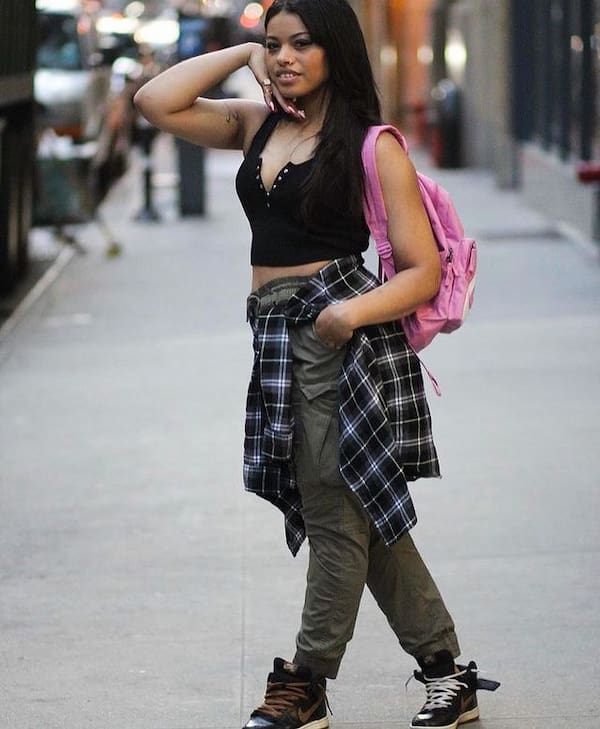 Recreate this hot look this summer and finish it by putting on your best laced-up Nike kicks. They never fail.
21. Black Loose Dress with Sneakers + Sunglasses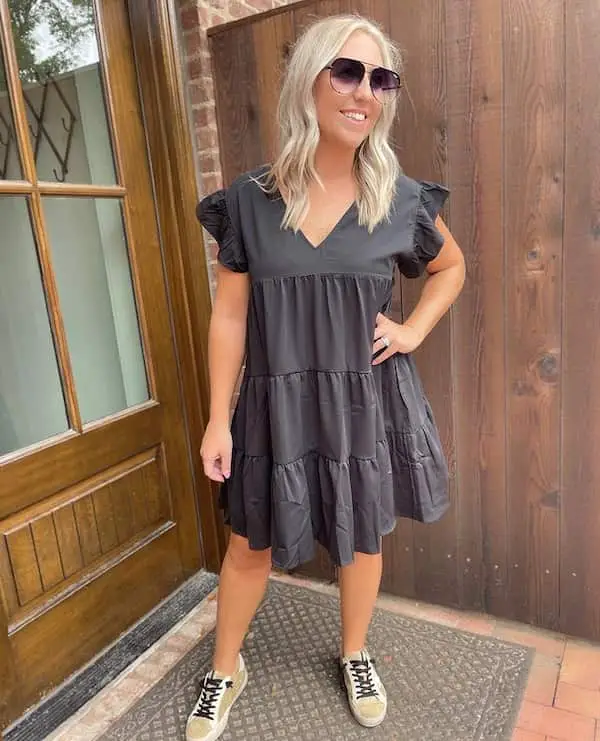 You can recreate this casual summer outfit for a family trip. An easy-to-wear black loose dress, a nice pair of sneakers, and sunglasses. Perfectly casual look for moms to try out this summer.
22. White Shirt with Denim Shorts + Belt + Sneakers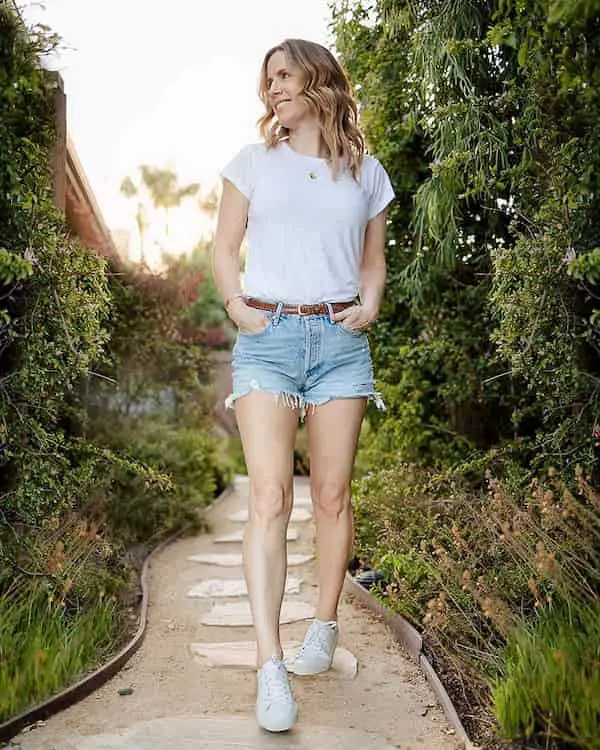 Absolutely nothing goes wrong when sneakers meet shorts. Show off those pretty hot legs this summer by recreating this look.
23. Line Striped T-Dress + Sneakers + Hat + Maxi Handbag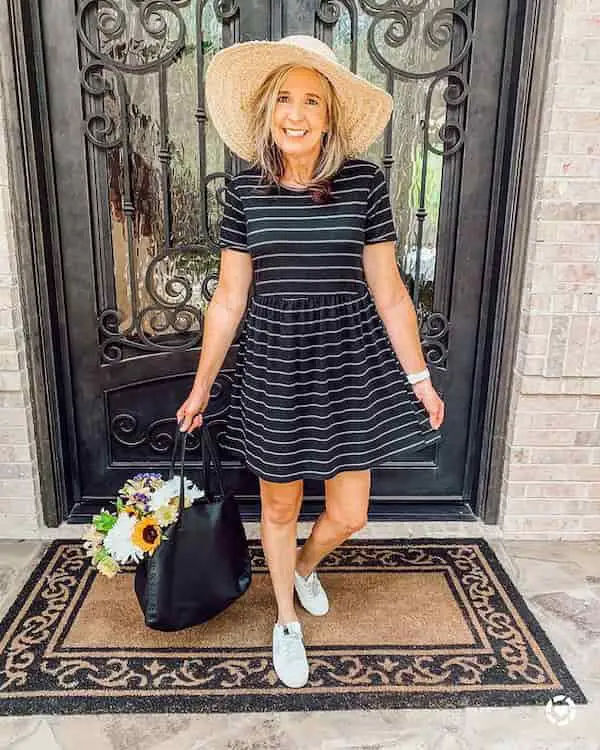 Do you want to recreate a perfect picnic look this summer? Then make this your pick.
A lined striped dress on sneakers and a hat plus a maxi-sized handbag.
24. White Graphic Shirt with Dotted Shorts + Sneakers + Midi Handbag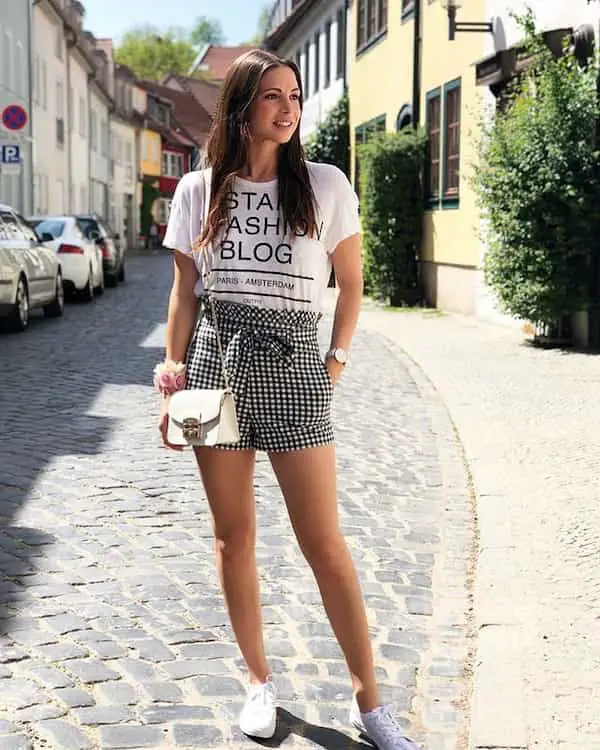 Look exotic for your summer vacation by pairing your white graphic shirt with dotted shorts and a midi handbag with a simple pair of sneakers.
25. White Graphic Top with Black Ripped Jeans + Sneakers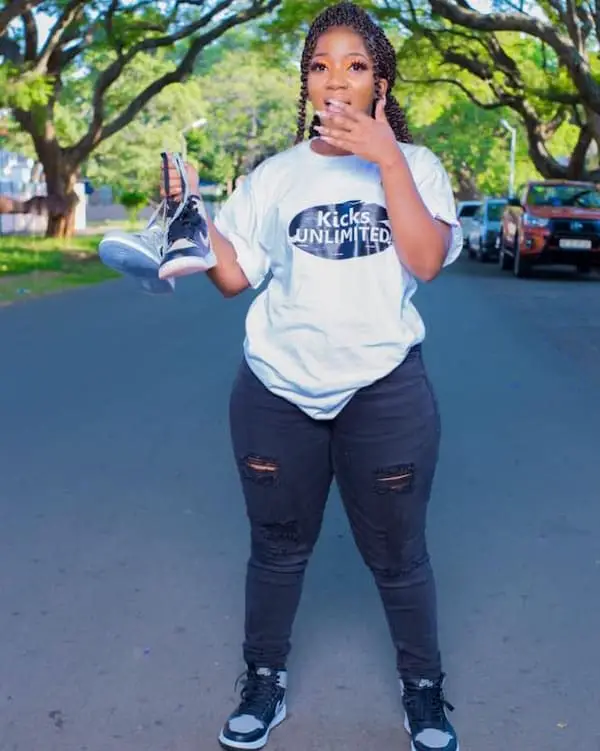 This summer, put on a white graphic top with ripped black jeans on a pair of fire hot Nikes and see how comfortable you would feel despite the hot summer days.
And that's all for my post on the most adorable summer outfits with sneakers. Want some more outfit ideas? Then you might want to check out these blog posts.
I hope you enjoyed this piece of content. Do well to rate this post, and don't forget to share this outfit compilation with your friends.
See you with more exciting inspirations. Trust me; you wouldn't want to miss any of our upcoming outfit compilations, so make sure to follow us on Pinterest.
Pin for Later.