One important consideration when dressing in the summer is to avoid outfits that add warmth. Here are 25 inspiring summer outfits to keep you cool.
The summer is a pretty hot season; wearing dresses that add extra warmth isn't really what you want. All of your outfits should be free enough to make you cool to ensure maximum comfort during the summer.
In a bid to look extremely fashionable, however, most ladies choose outfits that don't necessarily help keep them cool. Of course, that usually backfires, since they're sacrificing comfort for elegance.
With this article, you shouldn't have to do that anymore since I'll compile 25 outfits that look incredibly chic without cooking you during the summer.
Summer Outfits to Keep You Cool
1. White Crop Top with Ripped Jeans + Sneakers + Mini Handbag
When trying to keep cool, a crop top is always a top choice. Here is an excellent way to style a white crop top with jeans for the classic look without adding any extra warmth in the summer.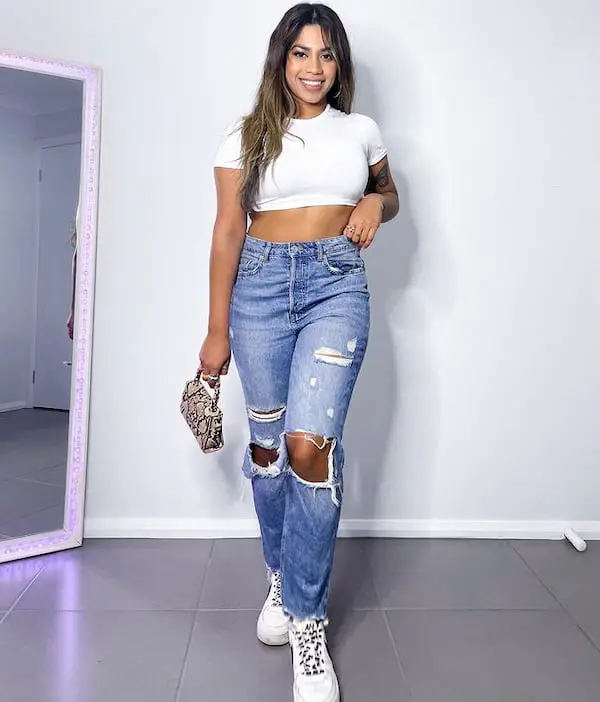 2. Black Pencil Short Dress with Heels
One of the most important rules of dressing to keep cool is "less is more." This model overdoes that pleasantly by limiting the outfit to a short dress with heels, creating an adorable look.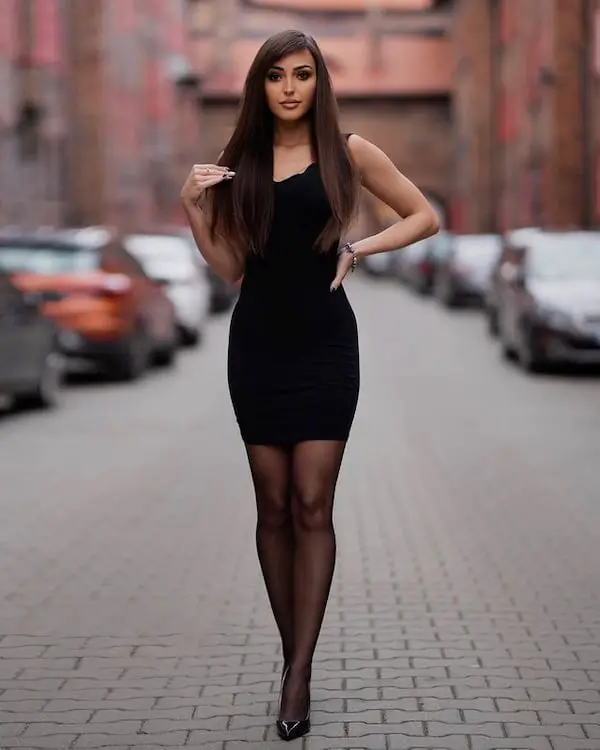 3. V-necked Floral Dress with White Sneakers + Sunglasses
Here's another simple outfit that works for both casual and formal scenarios. In addition to being simple and beautiful, it also lacks inessential layers, helping you keep cool in the summer.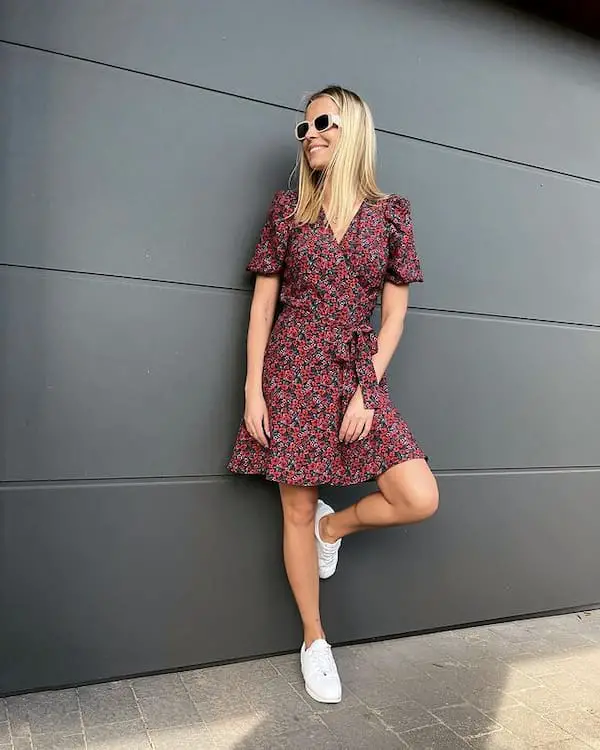 4. Blue Short Dress with Heels
Building on the trope of extremely simple dresses, here's another that's more on the formal side. If you're dressing up for work during the summer, you should consider replicating this outfit, if your workplace is cool with mini dresses.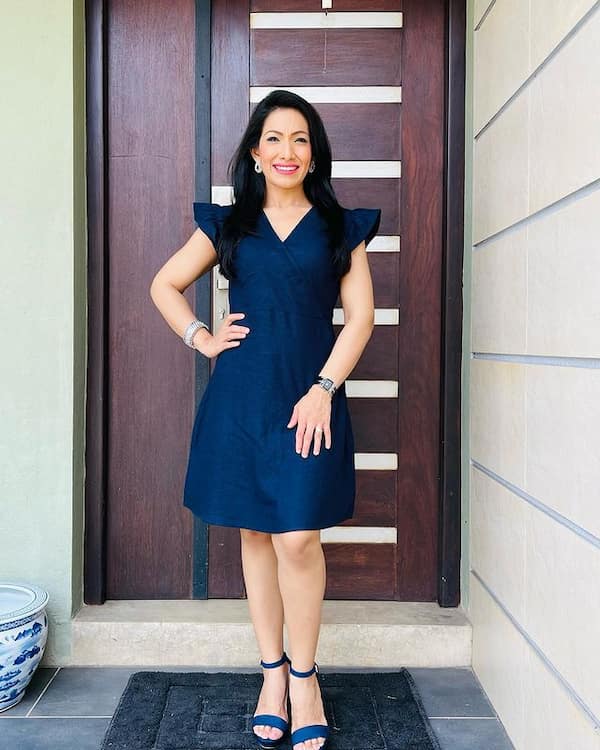 5. Black Tank Top with Black Cardigan Jacket + Leather High Waist Pants + Heels + Sunglasses
If you're after an extremely simple summer outfit, this is the closest you'll find to the opposite. While it certainly looks chic, I'd certainly not want a cardigan jacket on a hot summer day.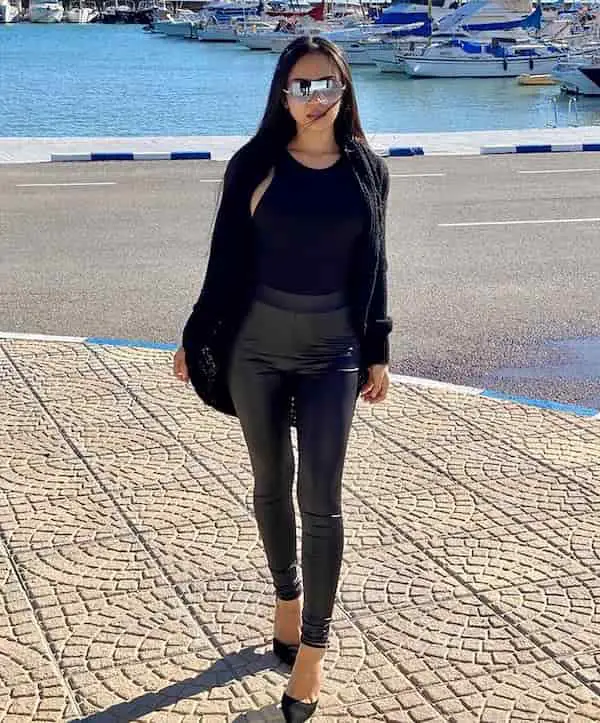 6. White Top with Floral Joggers + Hat
Who says you can't wear a hat in the summer? With a white top and floral joggers, the only missing piece from your outfit should be a fashionable tan hat to replicate her outfit.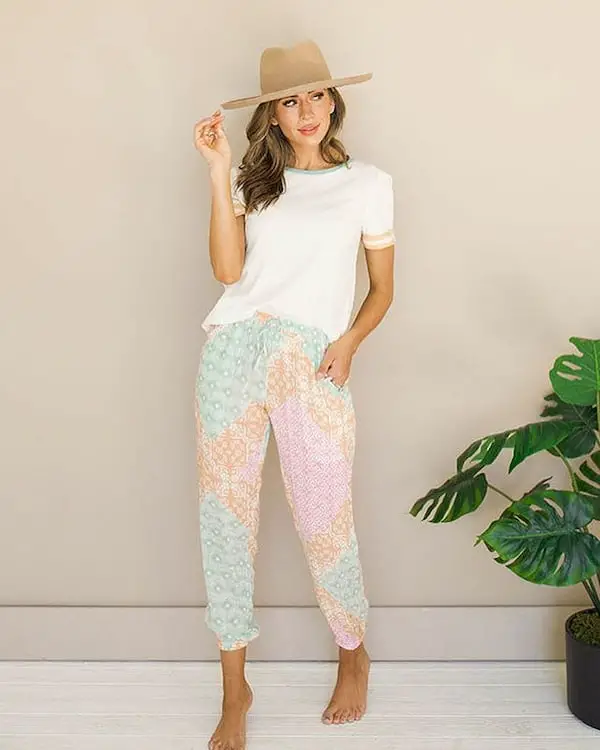 7. Oversized Shirt with High Waist Joggers + Flat Shoes + Clutch Purse
When dressing for the summer, you should always gun for a comfortable look. No one should ever have to deal with heat and an uncomfortable dress at the same time. This model shows how to get the most comfortable look with joggers and an oversized shirt.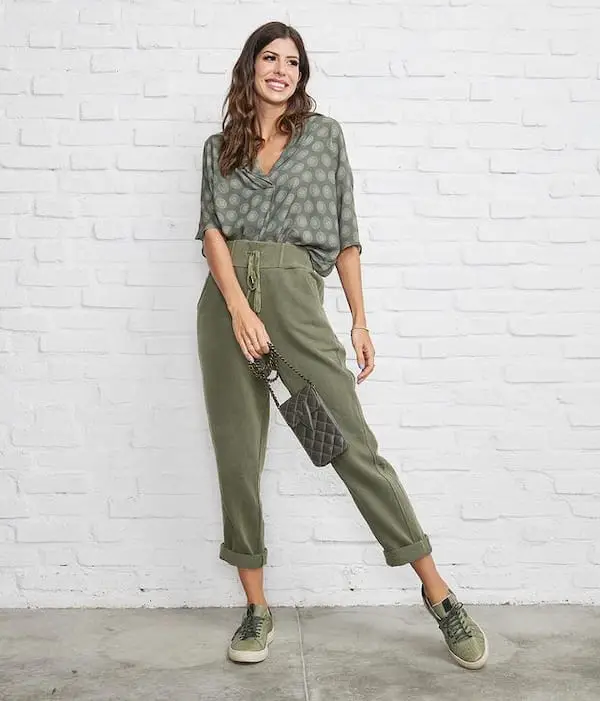 8. Red Mini Dress with Wedge Shoes + Midi Handbag + Hat
Mini dresses are always elegant, and they leave enough room to keep you cool. This inspiration takes maximum advantage of a mini dress while styling it with a hat, a bag, and shoes of matching colors for extra flair.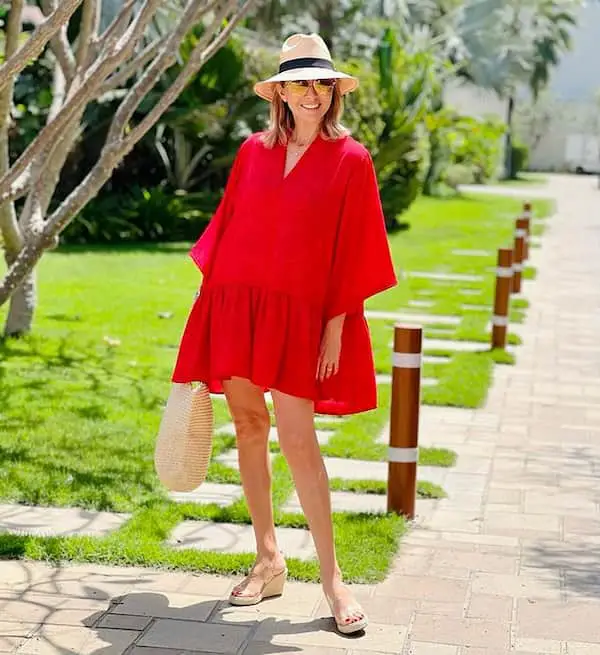 9. Floral Jumpsuit Dress with Sneakers + Midi Handbag
How about a simple floral jumpsuit dress with a pair of sneakers. Next to a free maxi dress, this might be the most comfortable way to dress in the summer. The huge sneakers look exceptionally chic, hijacking the focal point of the outfit.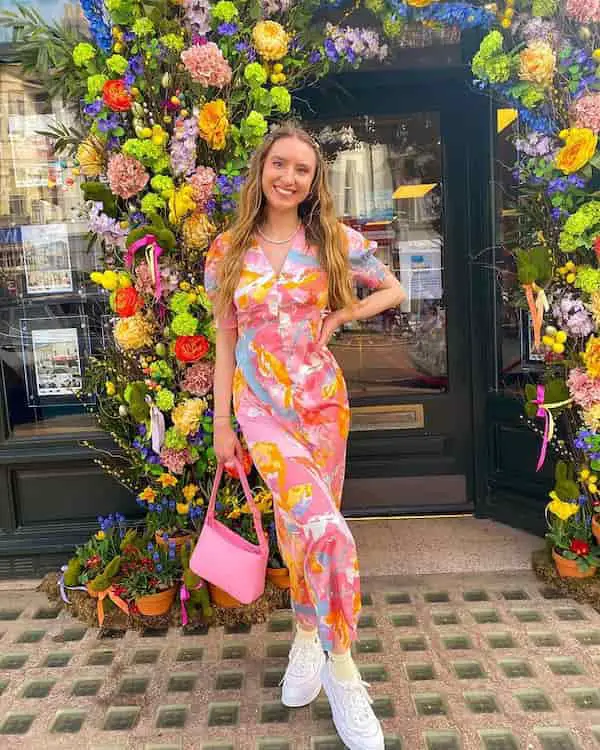 10. Black Mini Dress with Heels + Midi Handbag
Here's a mini-dress idea for fans of all-black outfits. It's perfect for simple gatherings and casual outfits but you don't want to show up at work like this. On the plus side, it's guaranteed to keep you cool.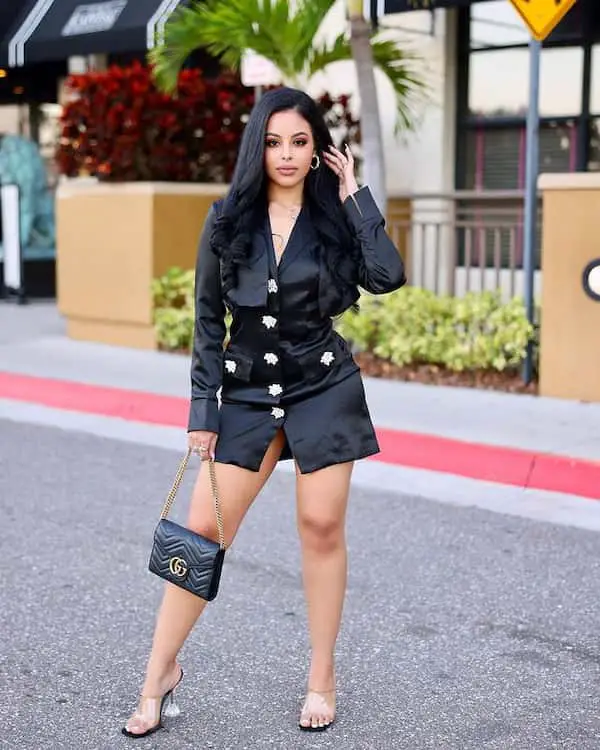 11. Black Crop Top with Denim Jacket + High Waist Denim Jeans + Midi Handbag + Sneakers + Sunglasses
A denim jacket and denim jeans are made to match, as the model in this outfit idea shows. When you add a white handbag with white sneakers, you create a beautiful contrast that makes for an elegant outfit.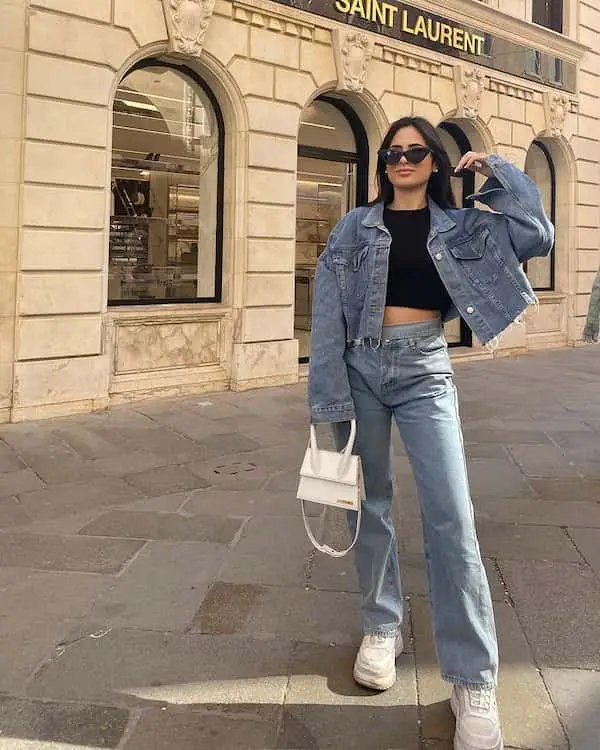 12. Crop Tank Top with High Waist Jeans Pants + Green Heel Shoes
First off, I'm not a fan of the green shoes since they don't match the overall look. Other than that, this is a contender for the chicest-looking dress that will also keep you cool.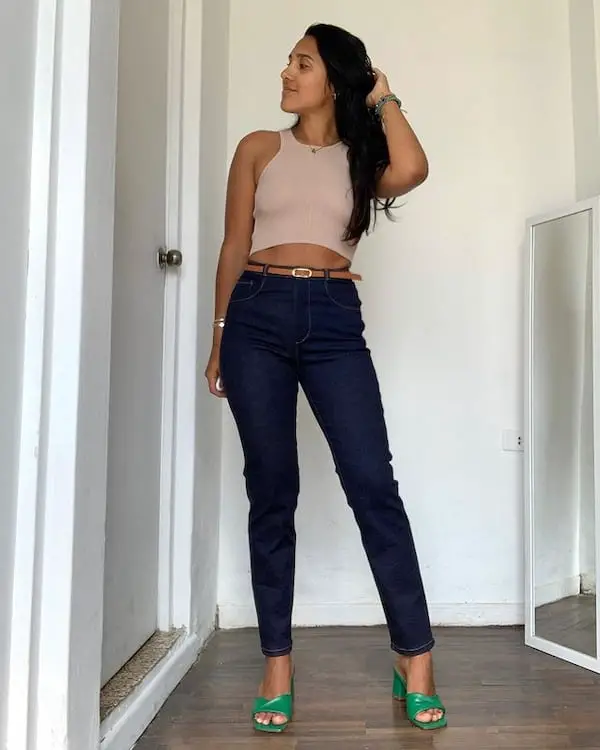 If you're looking for a comfortable outfit that's not a traditional dress, why not go for a denim dress? As the model illustrates, it's just as good as a regular floral dress if you get all the colors right as she did.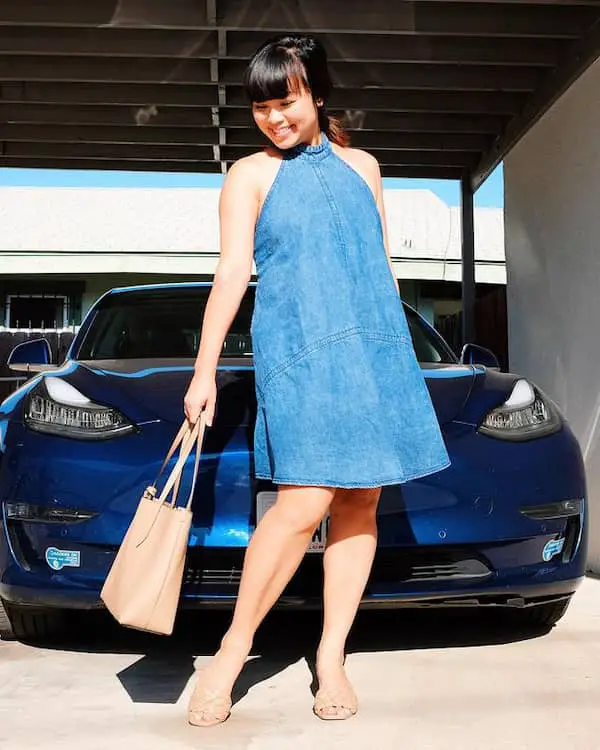 14. Black Handless Top with Skinny Jean Pants + Heels + Midi Handbag + Sunglasses
Leaving your hands bare is the least you can do to keep yourself warm in the summer. This outfit idea shows that you can look amazing while doing that, especially if you can replicate her amazing smile.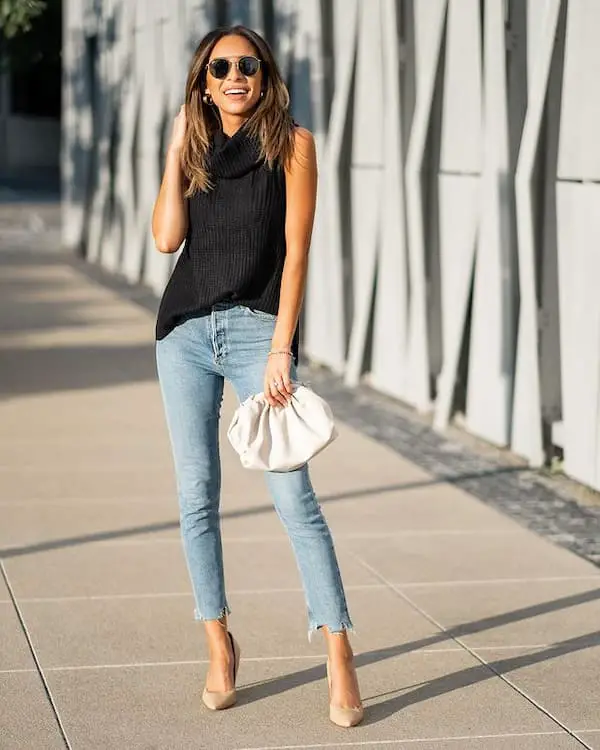 15. Sleeveless Top with Ripped Jeans + Loafers + Sunglasses
Here's another outfit idea that utilizes the idea of a handless top without losing any chicness. If you can switch the jeans to a regular non-ripped version, this will make a good summer work outfit.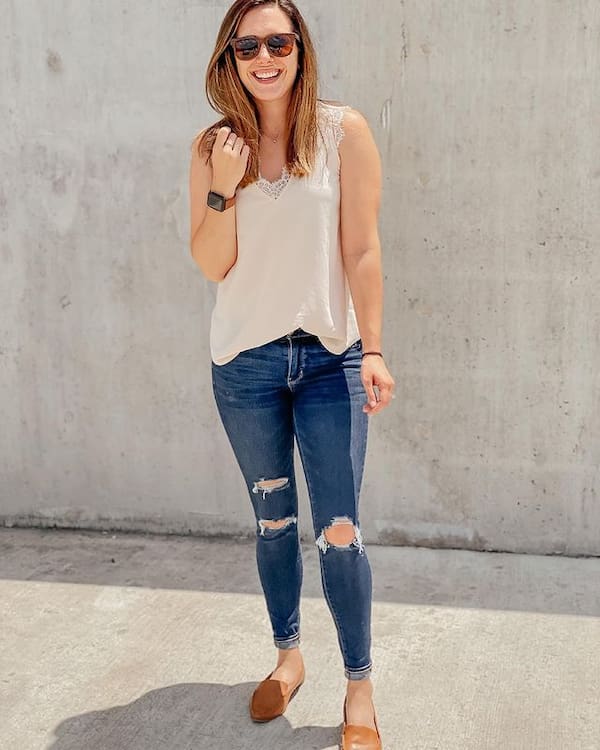 16. Long Sleeve Floral Top with Mini Pleated Skirt + Heels
If you're not a fan of keeping your hands bare while dressing in the summer, here's an outfit idea for you. While it covers the entirety of your arm, it also keeps you cool, thanks to the mini skirt and the lightness of the top.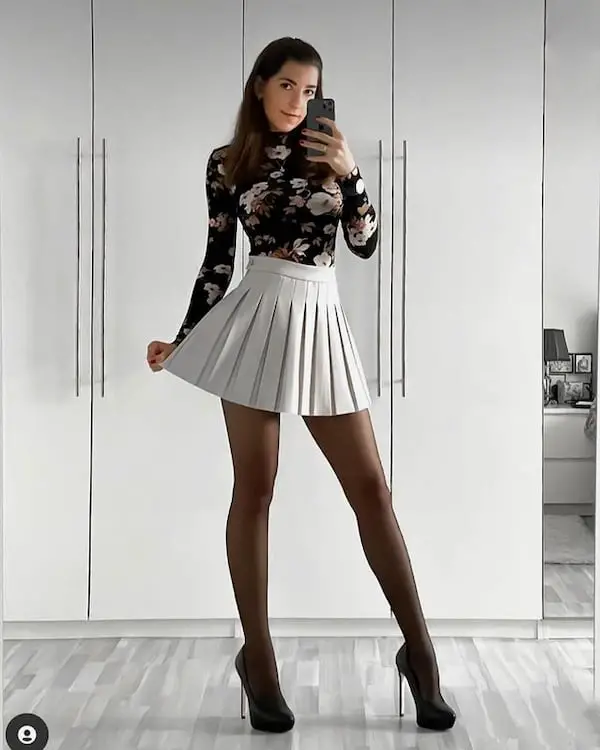 17. White Vest with Jacket + Denim Shorts + Sneakers
A white vest and denim shorts make a perfect combination, and you can also add a jacket for extra flair. Using this outfit as inspiration, you can get a long sleeve pink jacket that makes the entire outfit adorable.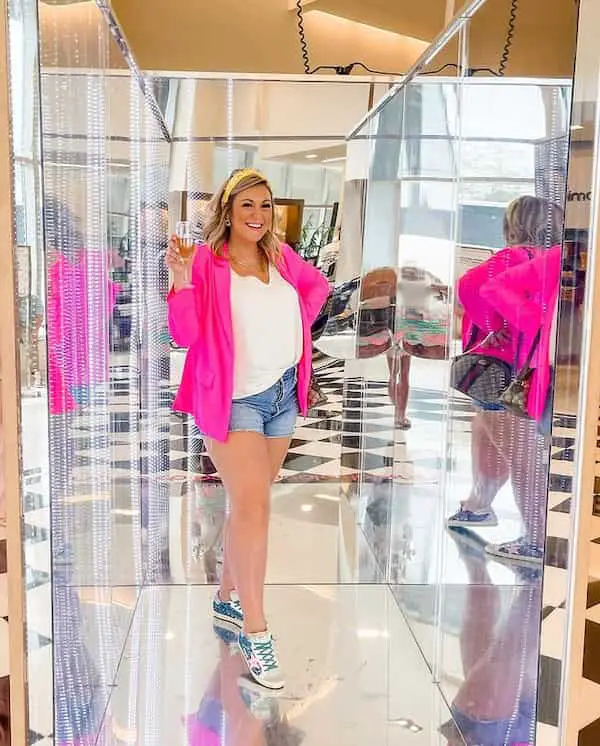 18. White V-neck Top with Cardigan + Joggers + Sneakers + Sunglasses
Light-colored dresses are known for keeping you cool, and here's an outfit idea to show you a fashionable way to wear them. If you have black hair, try not to skip the sunglasses, it's adorable.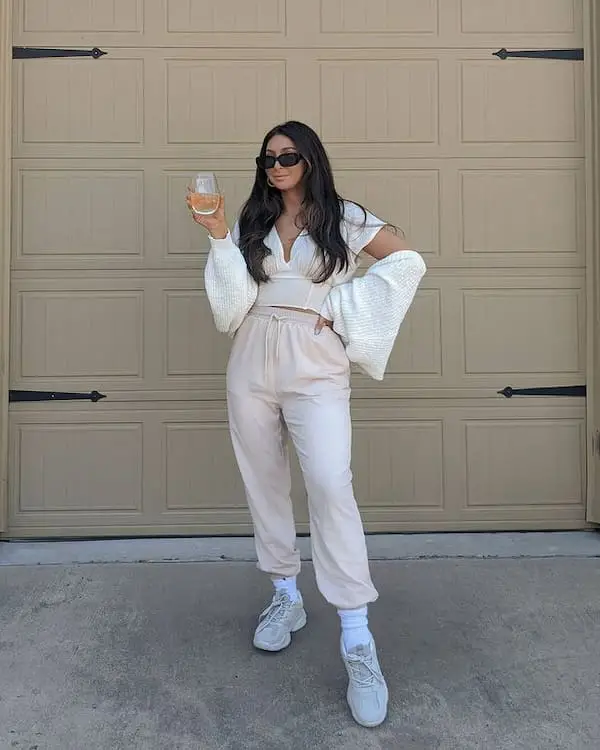 19. Floral Tank Top with Joggers + Sneakers
Any fashionista will understand why this outfit naturally looks chic, even with simplicity. It builds on the idea of a white vest with jeans, even if those aren't the components. Also, it leaves just enough room to keep you cool.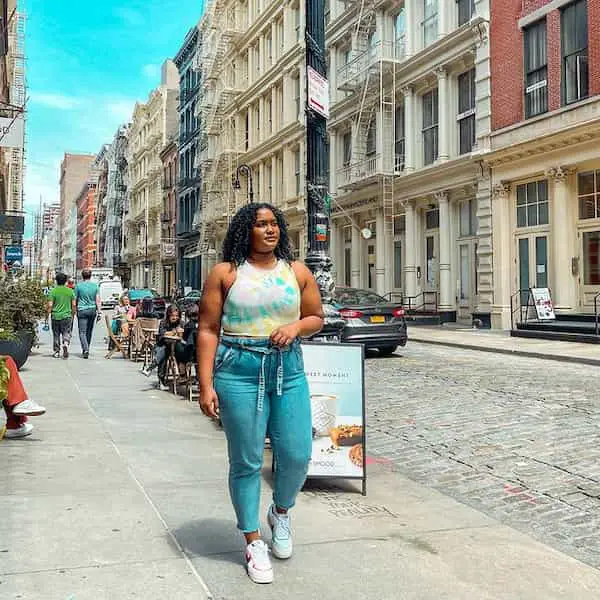 20. Brown Mini Dress with Flannel Shirt + Black Boots
The brown mini dress is enough to look amazing, but why not add the similarly-colored flannel shirt? I'm imagining how a brown shoe will look with this; feel free to experiment.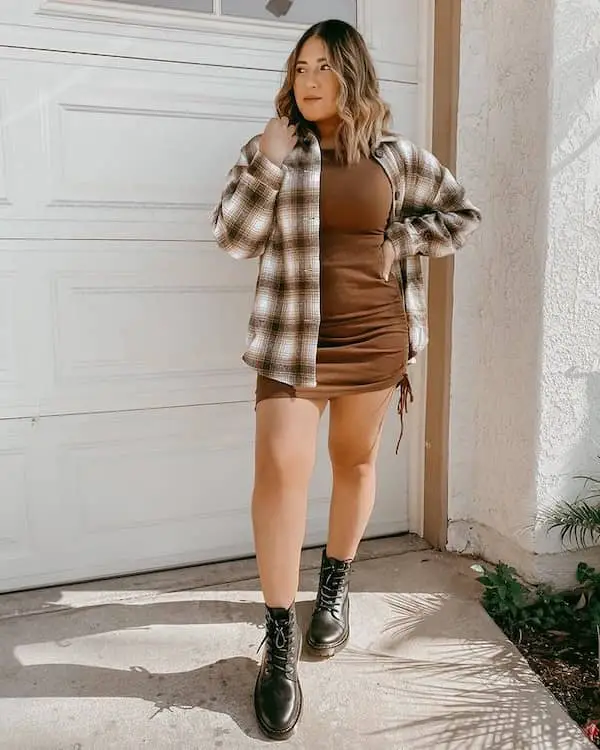 21. Peplum Top with Plaid Skirt + Heels
If you're out for a conservative dress, this should make a good outfit inspiration for you. While it's not the most fashionable on this list, it's acceptable for work, and that's a plus.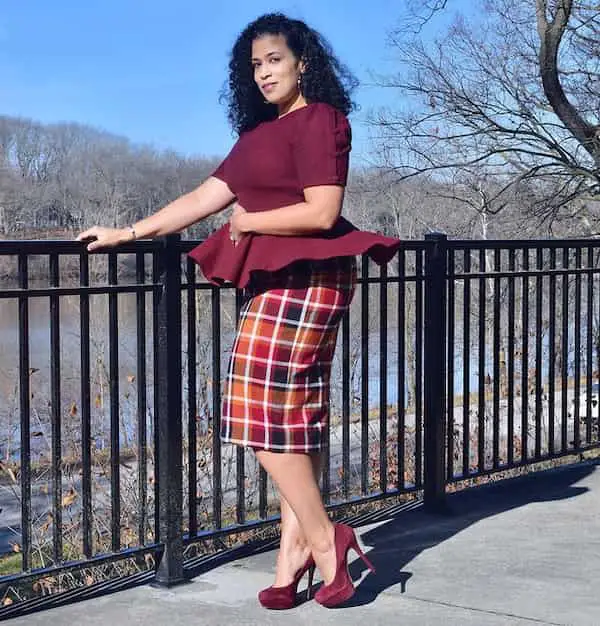 22. Flannel Jumper T-Dress with Knee-high Boots + Midi Handbag
How about wearing a flannel t-dress as a jumper. Yes, it exists, and as this outfit idea shows, it's elegant as well. Add knee-high boots to the mix to replicate her look perfectly.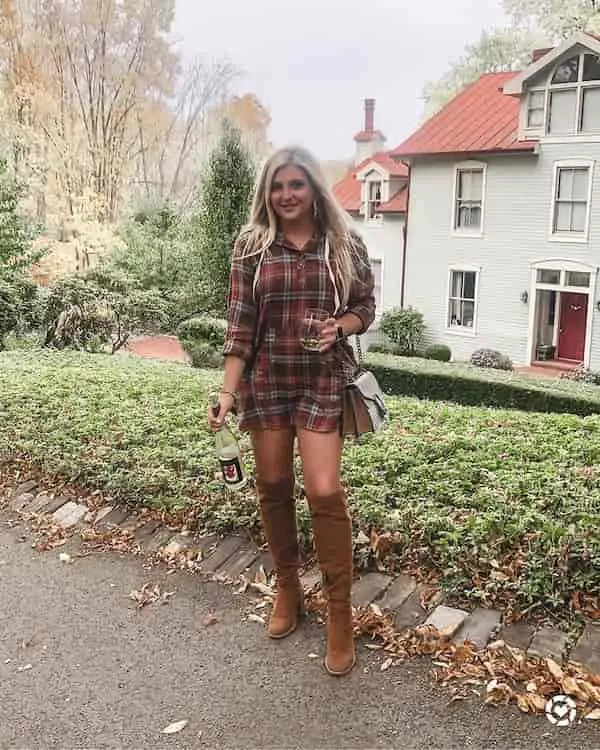 23. Black Tank Top with High Waist Plaid Pants + Wedge Shoes + Hat + Sneakers + Sunglasses
For casual outings, you want something that leaves room for as much air as possible. If you're trying to do that while looking fashionable, there's no better outfit idea to try than this.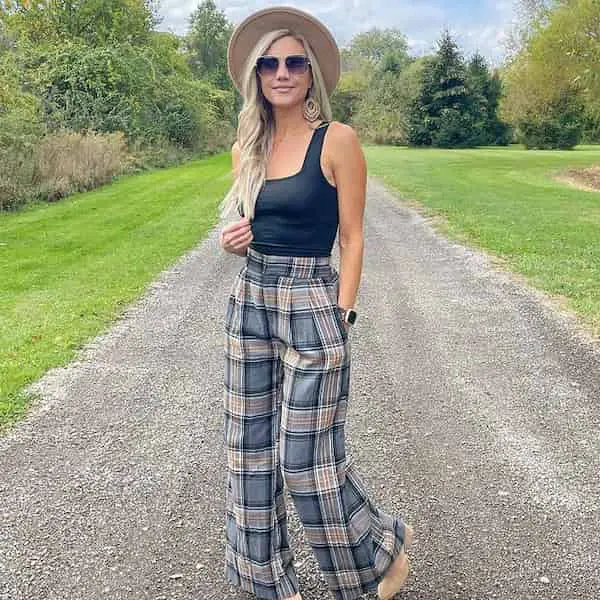 24. Crop Vest with Plaid Jacket + Plaid Mini Skirt + Combat Boots + Hat
A cropped vest doesn't look like something that could qualify for "business-casual" until you throw a plaid jacket into the mix. Add a plaid mini skirt and you'll be left with an elegant outfit.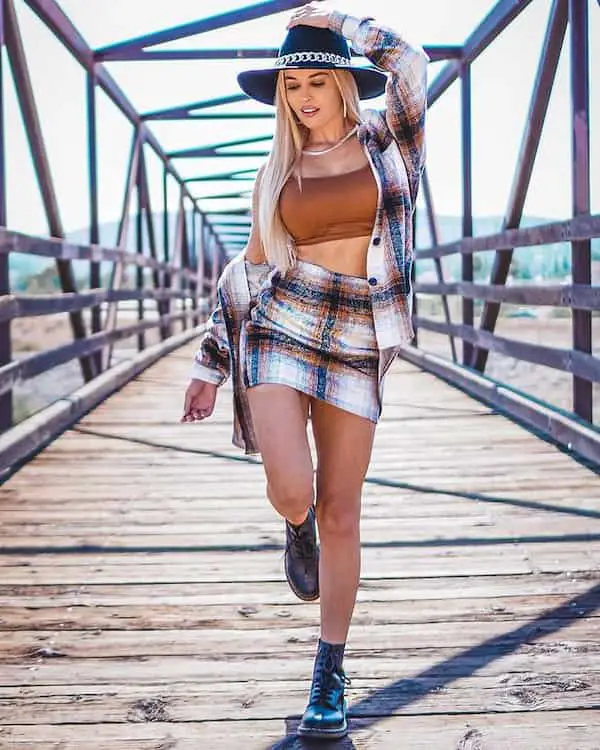 25. Red Mini Body Hug Dress with Heel Sandals + Midi Handbag
If you want something for a night out, here's a simple but powerful idea. In most cases, you shouldn't need any extra purchases to replicate this outfit, and you're guaranteed to look chic, even without a smile.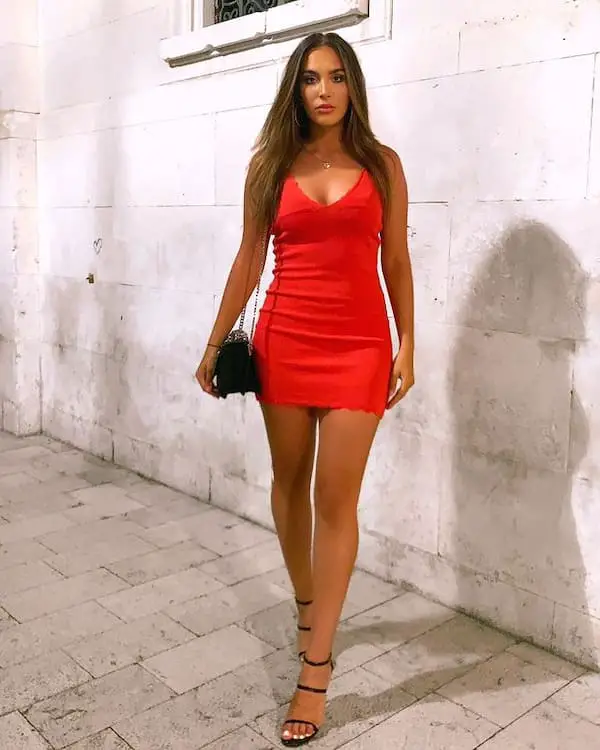 And that's all for my post on the classiest summer outfits to keep you cool. For even more outfit ideas, consider checking out these blog posts.
I hope you enjoyed this piece of content. Do well to rate this post, and don't forget to share this outfit compilation with your friends.
See you with more exciting inspirations. Trust me; you wouldn't want to miss any of our upcoming outfits compilation, so make sure to follow us on Pinterest.
Pin for Later.